Just 15 minutes off the coast of Cancún by boat – OK, maybe 20 minutes – you'll find a small, unassuming island that feels a world apart from the massive all-inclusive resorts, prepackaged tours, and loco beach parties of the infamous Hotel Zone: It's called Isla Mujeres.
Maybe you've heard of Isla Mujeres or even picked out this sliver of land on a map. It's one of an assortment of islands just off the Yucatán Peninsula, with a growing reputation for offering the beach and sun that Cancún is known for with a smaller, more laid-back and lived-in vibe. But while many tourists flock to Isla Mujeres for just a few hours on a day trip, it's worth so much more than that.
The entire Thrifty Traveler team headed here for our annual retreat last month – and it was my introduction to Mexico. After a few nights on Isla Mujeres, you start to feel you can have it all: An escape from colder temperatures on the beach, sure … but also an oasis to relax not too far from the airport. There's rich history and lush, unspoilt nature. And piping-hot tacos from a street cart, too!
Here's why you should leave the towering resorts of Cancún behind and head for Isla Mujeres instead … and what to do once you get there.

How to Get to Isla Mujeres
No matter where you're going in Mexico, any trip starts with a flight. And you're in luck: You'll want to fly in and out of Cancún (CUN) in order to get to Isla Mujeres … and it's not just a hotspot for spring break, but also for cheap flights.
With nonstop service into the airport from around the country and competition on many airlines, Cancun is almost always a safe bet for the cheapest flights to Mexico. We regularly send our Thrifty Traveler Premium members alerts for roundtrip flights under $300 total – and sometimes even under $200. There's also the occasional Delta SkyMiles flash sale as low as 11,000 SkyMiles roundtrip.

Read more on how to find your own cheap flights to Cancun!
Once you've landed in Cancun and cleared customs, it's fairly simple to make your way to Isla Mujeres. You'll start by heading to the ferry terminal at Puerto Juárez, not far from downtown Cancún and just a 30- to 40-minute drive, depending on traffic. Depending on your budget, there are a few options for getting there.
The cheapest route would be to take the ADO airport bus from your terminal to downtown Cancún, then hop in a taxi to Puerto Juárez. Each one should cost about $5 per person, according to the Isla Mujeres website.
You could take a taxi directly from the airport, though it'll cost more at about $45 or more each way.
For larger groups, you may want to pre-book an airport transport through a company like USA Transfers to the ferry port for about $85 to $90 roundtrip. Just meet your driver at the airport and hit the road.
Thrifty Tip: See if your accommodations can help book your transportation for you. There may be a convenience fee, but it can save time and effort.
The UltraMar Ferry to Isla Mujeres departs about every half hour from 5:30 a.m. to 5:30 p.m., and every hour after 6 p.m. until 11 p.m. The ride costs roughly $11.50 one way or $23 round trip per adult, and $9 or $17.50 for children, respectively. The ferry includes a luggage allowance up to 55 pounds or so, with some size limits for bags as well.
The ferry also departs from the Cancún Hotel Zone, leaving from Playa Tortugas and Playa Caracol. These routes operate mostly midday and will cost you a couple extra bucks, but it's a convenient option if that's where you are staying.
There's one last option to get to Isla Mujeres if you're looking to splurge: We chartered a private boat from the mainland to the island, hitching a quick ride on the cleverly named Vodkatonic.

Getting Around on Isla Mujeres
Looking at the map of Isla Mujeres, you might think you can walk from end-to-end in just a few minutes.
But looks can be deceiving: You'll want a set of wheels. Cabs are few and far between, and cars are otherwise not allowed.
That makes renting a golf car on the island the most popular way around – and even then, it can still take 20-plus minutes to drive from point to point. Depending on where you're staying and what you have planned, having a golf cart could be a necessity to really explore Isla Mujeres.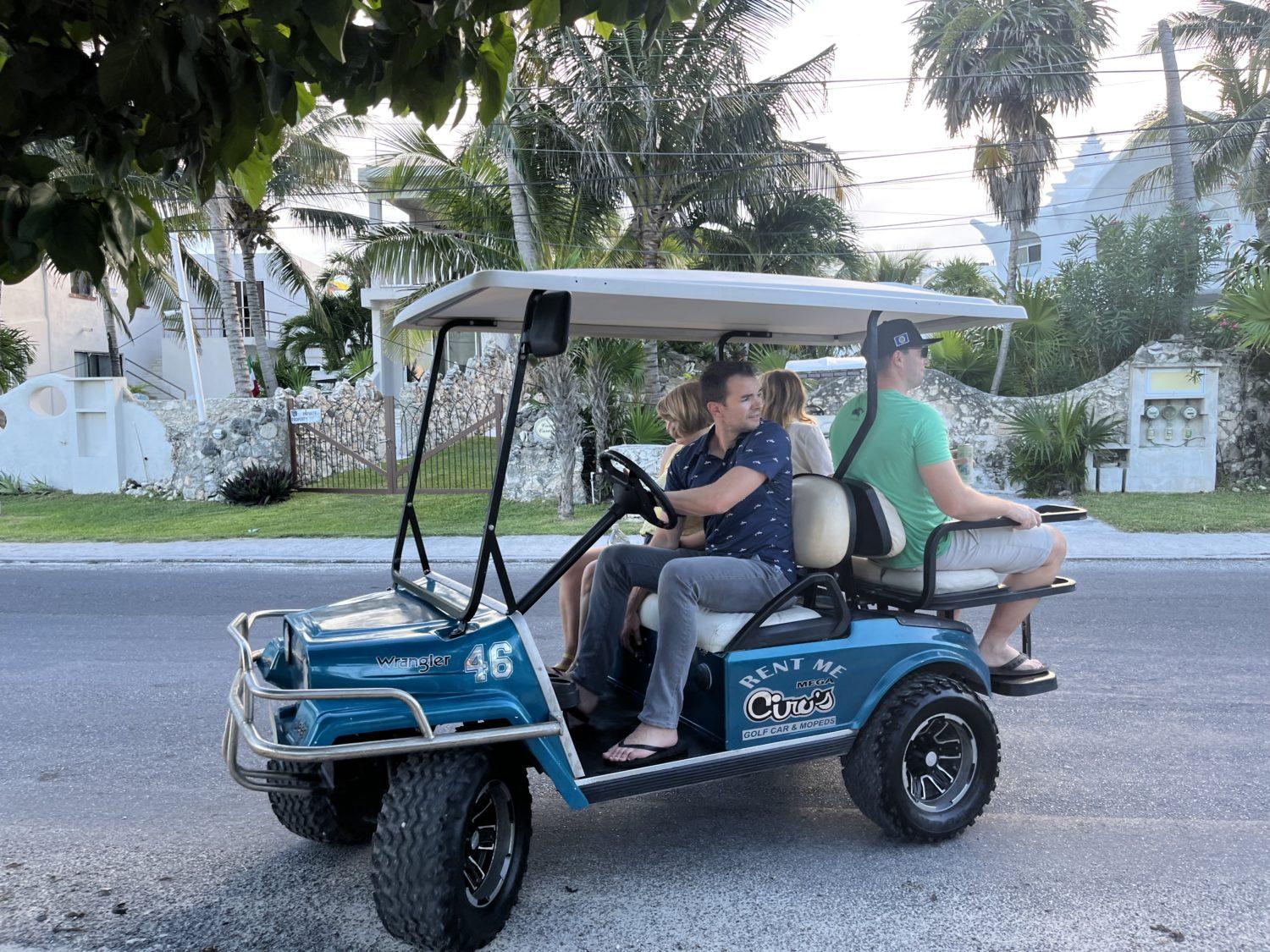 Fortunately, there are a number of companies around the island that rent golf carts, including several right by the ferry terminal. Most rentals range from about $45 to $55 a day, though rates depend on the size of cart you need, the time of year, and the length of your rental. We'd highly recommend booking ahead of time with a company like Ciro's to ensure you've got a cart when you arrive. Some companies will even deliver the cart to your accommodation when you arrive!
What to do in Isla Mujeres
See the Sunrise & Visit Temple Ixchel on Punta Sur
On Isla Mujeres, you can see the sun rise before anyone else in Mexico.
The southern point of Isla Mujeres is also the country's easternmost point. That makes Punta Sur's "Cliff of the Dawn" the first part of the entire country to see the sunrise.
Even if you are not an early riser, I promise it's worth it to watch the sun rise over the horizon, with breathtaking views of the rocky shore and sea.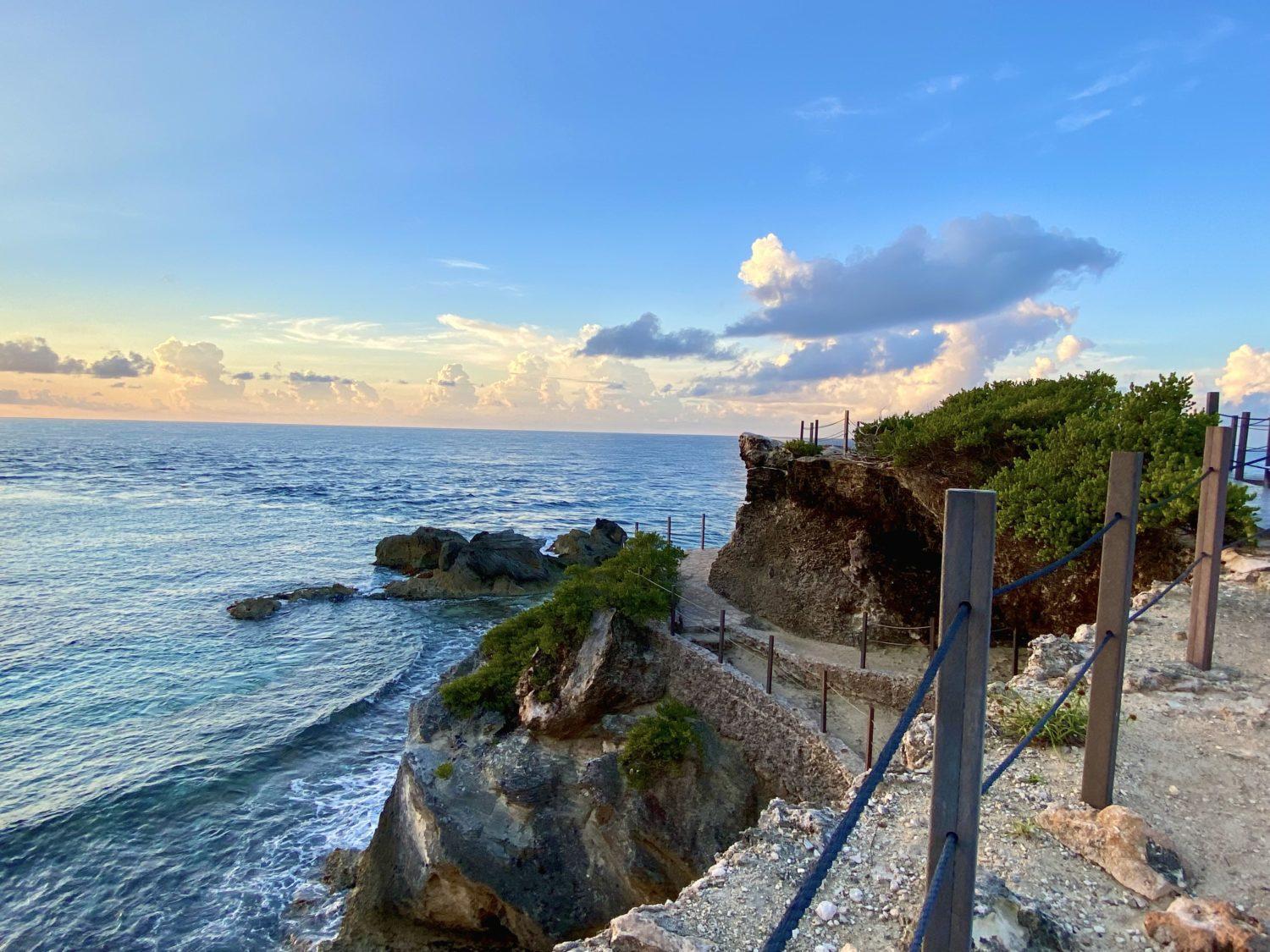 But there's more to Punta Sur than just the sun and good views. You'll also find what remains of a temple to the Mayan moon goddess Ixchel – that's how the "Island of Women" got its name. According to Isla Mujeres website, at the time of its "discovery" by conquistadores in the early 1500's, the island was inhabited by only female followers of Ixchel. Back then, statues of the goddess were found all over the island.
According to the plaque on Punta Sur, Ixchel was the patron saint of all that is governed by the moon cycles, including water, harvests, and fertility. She also lorded over art, such as painting and textiles, and medicine and healers.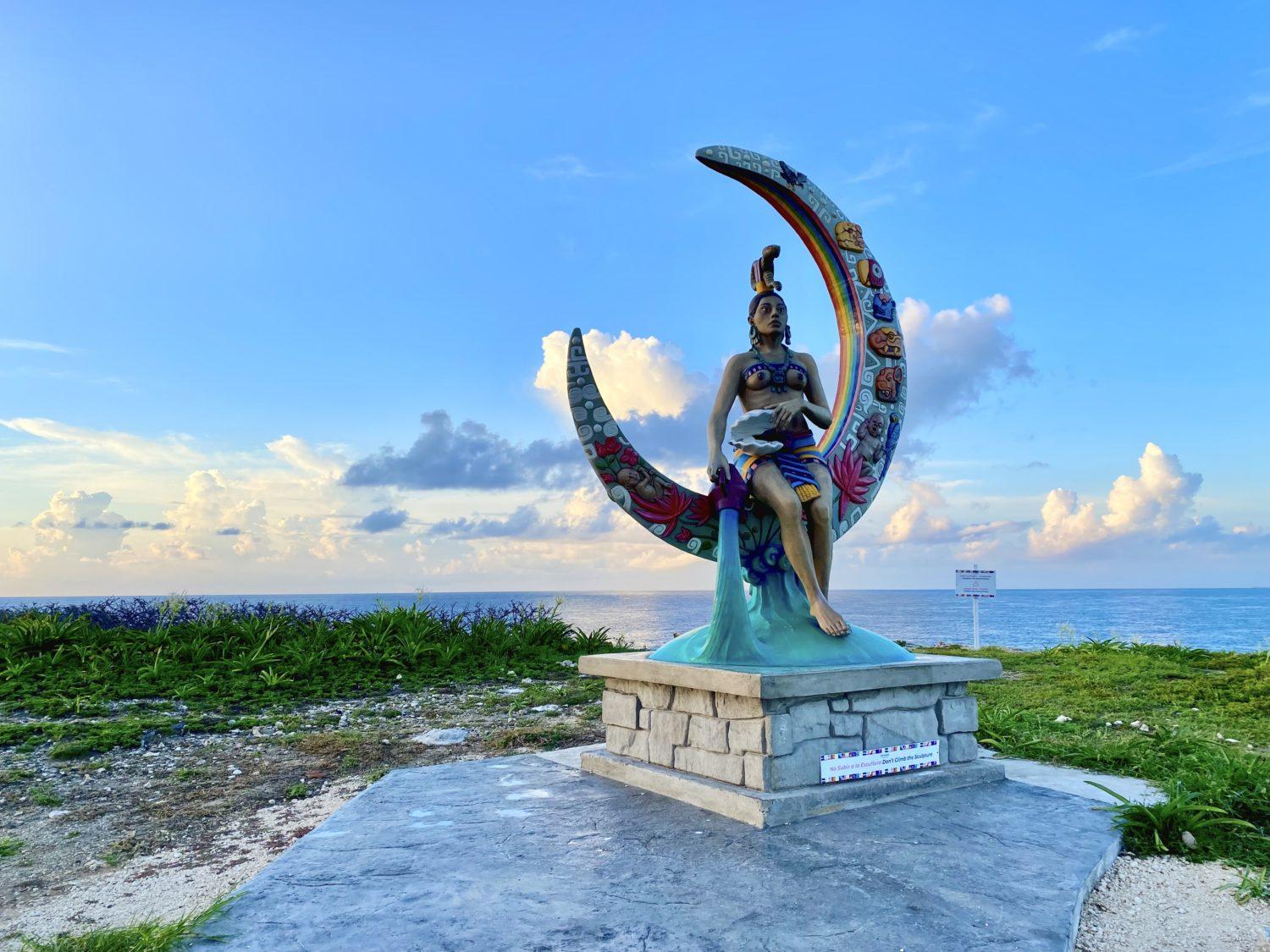 The park at Punta Sur walks you through history with its numerous sculptures depicting Mayan culture and history, a perfect way to spend a morning.
Hit the Beach
Isla Mujeres' Playa Norte is consistently ranked on top 10 lists for Mexican beaches, and for good reason!
With its warm, shallow waters and powdery white sand, Playa Norte is the perfect place to unwind for the afternoon – or even the entire day … or a few! We were there on a weekday, and the beach was lively without feeling too crowded.
Nearby, Playa El Cocal essentially blends into Playa Norte on the northern tip of the island. Playa Centro is another beautiful beach just off of Playa Norte on the west side of the island. We drove past Bella Beach a number of times on the central part of the island, a kind of hidden spot if you are looking to escape the crowds.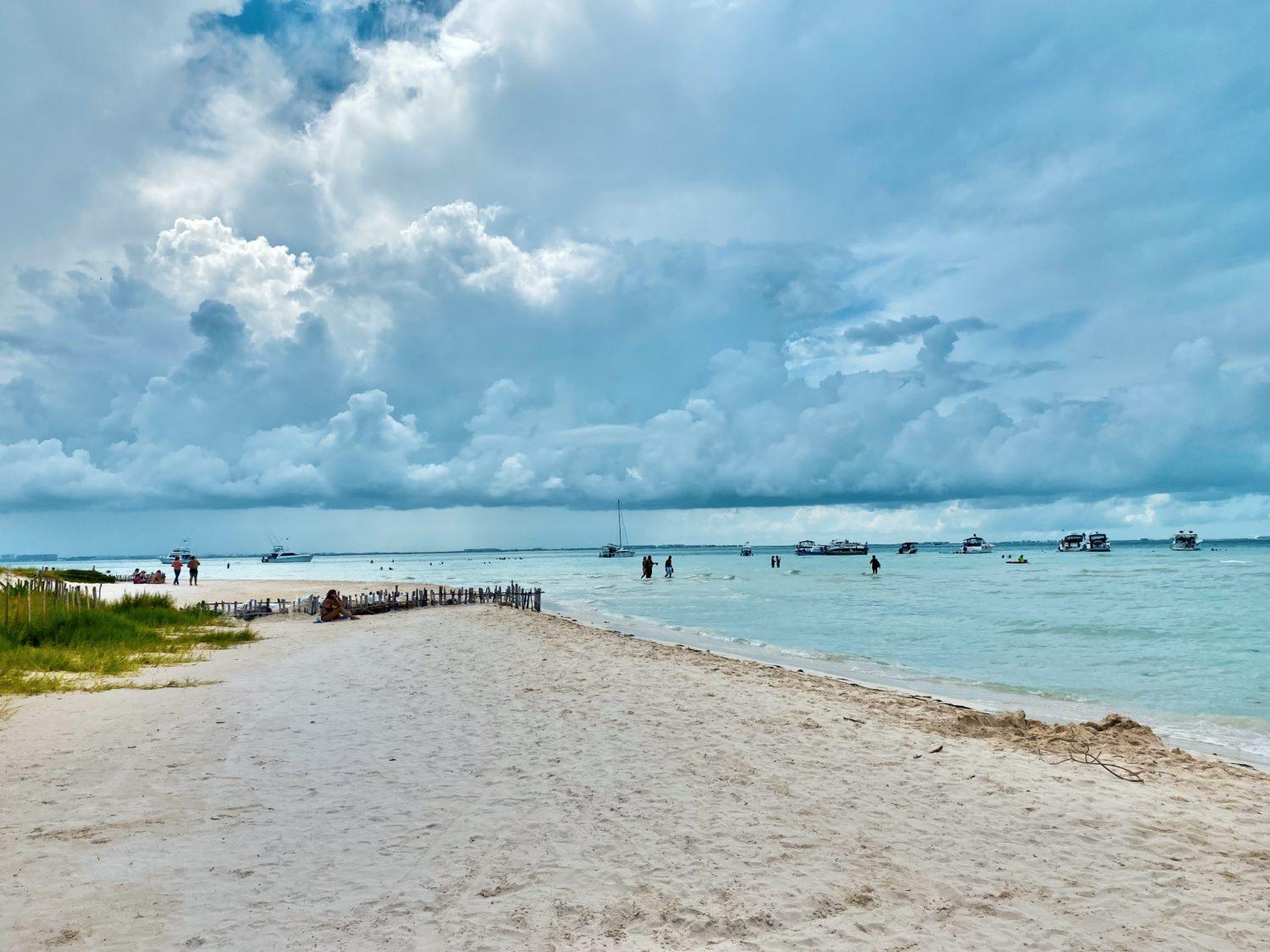 If you are looking to take your beach going experience up a notch, there are plenty of beach clubs along the shore with reserved beach chairs as well as food and drink menus.
Visit Isla Contoy
It's an island escape within an island escape.
Isla Contoy is a national park about a one-hour boat ride from Isla Mujeres. An uninhabited island only open to 200 visitors a day, Isla Contoy is home to incredible flora and fauna and a truly blissful beach. We booked a tour through Island Adventures Mexico, which included the boat ride, several hours on the island, lunch, and snorkeling for $110 a person.
Our tour guide brought us to a gorgeous overlook at the highest point of the island. From there, we could see all kinds of vegetation, crashing waves on all sides of the island, and hundreds of birds circling overhead. Iguanas scampered up trees on either side of the walking path, and we had to be careful to avoid stepping on the not-so-shy hermit crabs.

At the overlook, we ran into some park staff carrying a green tote bag who opened it to reveal … at least two dozen baby sea turtles! The staff told us that they move the turtles after they hatch so they don't get eaten by other critters, and would release them back into the water when conditions were safer.
But the mosquitoes during our September visit were absolutely brutal – even with plenty of bug spray in hand. Our guide warned us off visiting the lagoon, where they would be even worse. If I were to do it again, I would have worn pants and long sleeves for touring the island to protect myself from the bugs.
Instead, we spent the rest of the time on Isla Contoy on the beach, which put even the best stretches of Playa Norte back on Isla Mujeres to shame.

The strict visitor limit made the beach much quieter, with pristine blue water. A couple of us even saw a full grown sea turtle bobbing through the water, just on the other side of the swimming area!
On that note: Sunscreen was not allowed on Isla Contoy, even if it is labeled reef-safe. We were told we could apply a little bit on our boat ride in, and that was it. While we appreciated and acknowledged the need to keep the water clean and safe, every last one of us got sunburnt.
Lesson learned: Be sure to apply a thick layer (or two) of sunblock before heading out for your tour. Pack a big hat, light scarf for over your shoulders, and maybe even a swim shirt to protect your skin.
Go Snorkeling
Cozumel might be the pinnacle of snorkeling around these parts, but there's still plenty to see off the coast of Isla Mujeres.
Isla Mujeres is right on the The Mesoamerican Barrier Reef system, so there are countless opportunities for diving and snorkeling. Lucky for us, snorkeling was also included in our tour with Island Adventures. So on our boat ride back to Isla Mujeres, we suited up with our masks, life vests, and flippers and explored the reef.
During our 20-minute swim, we saw coral formations, sea plants, and all kinds of colorful fish. If I were to go back, I would definitely check out the underwater art museum MUSA (Museo Subacuatico de Arte) to see the otherworldly sculptures designed to draw attention to climate change while creating more habitat for marine life.
Eat and Drink
Isla Mujeres may be small, but it's still packed with bars and restaurants serving everything from Mexican classics to tourist favorites and more pizza spots than you might expect.
Let's start with the obvious: tacos. You could spend an entire evening eating tacos on Isla Mujeres (and trust us, we did) and still not eat them all. But a few options stand out.
We tried the shrimp tacos at Lola Valentina, located on the restaurant-dense tourist main street, Avenida Miguel Hidalgo. While the side of marinara was unexpected, the shrimp were lightly battered and perfectly cooked. Reviewers also speak highly of their fish tacos.

But we'd bet the best fish tacos on the island – and maybe the best tacos, period – are at Los Tacos de Humo, an unassuming little joint with a near-perfect rating on Tripadvisor. Buttery, soft fried fish served with slaw and pico and a dash of habanero salsa on top of a fresh-grilled tortilla are what taco dreams are made of.

If red meat is more your taste, try the tacos al pastor from Al Natural. The bright pink plastic salsa caddy with four different homemade salsas let you know it's the real deal.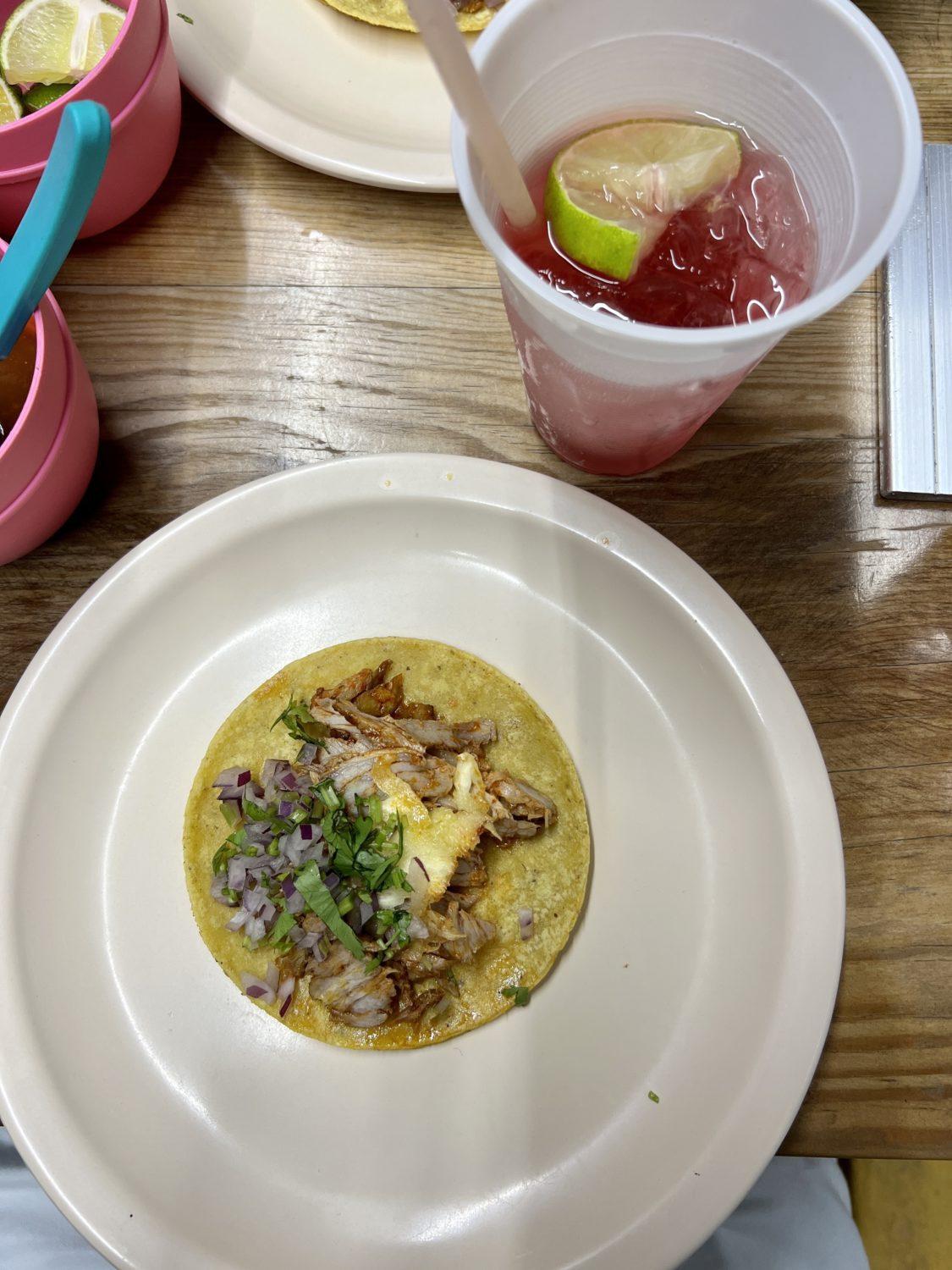 And you can't visit Mexico without going to a taco truck. We hit up the Taqueria al Chilango truck to try some of their house special tripa. While I'm not a huge fan of intestines, these tacos helped me understand why some people are – plus, they've got some standard options like tacos al pastor and arrachera.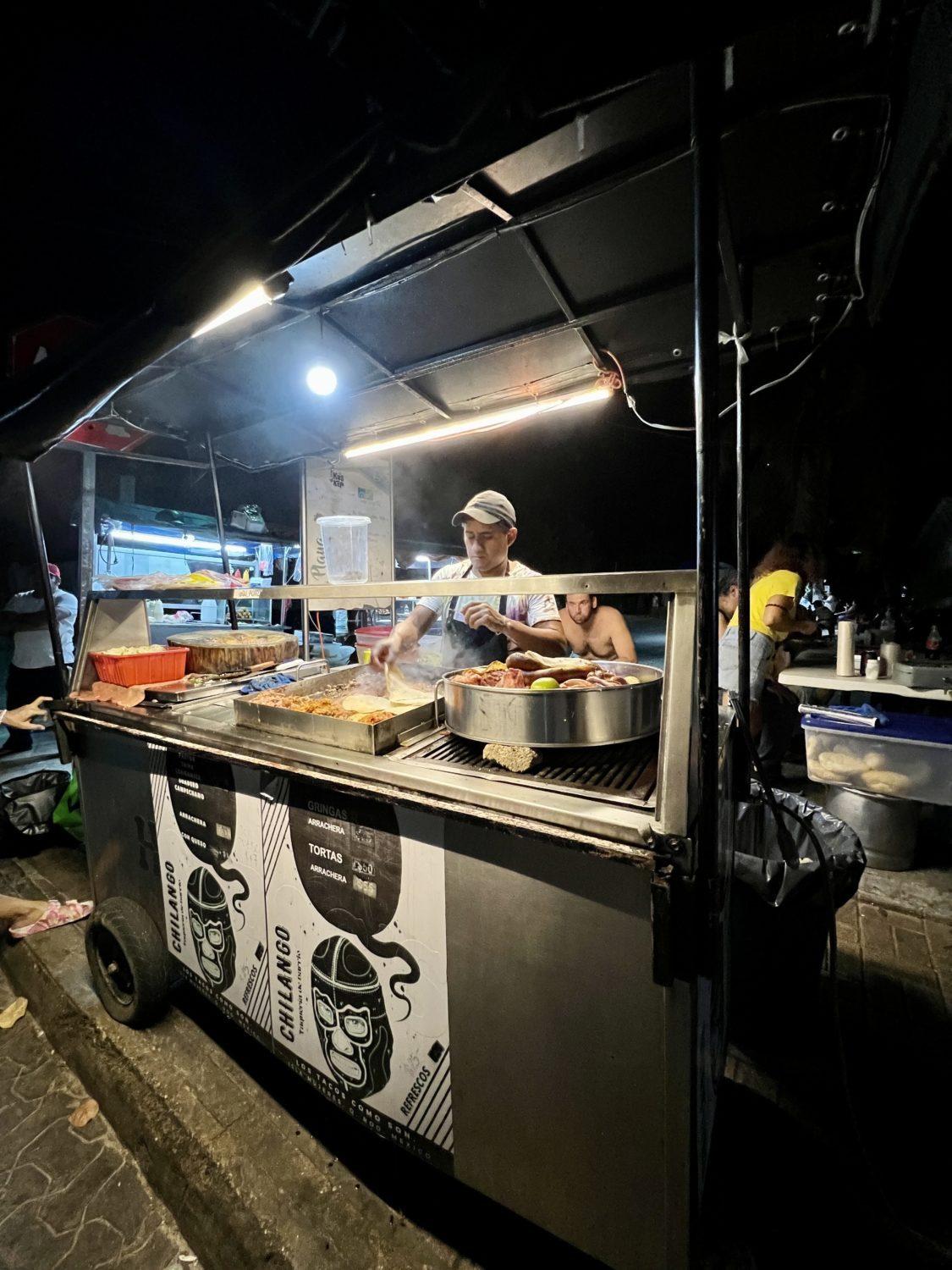 For an Instagrammable and delicious drink or frozen margarita, head to Xantolo – but maybe skip the food. Fish & Gin is another cool spot if you are looking for something different … or just a break from tequila.
Our Airbnb came with the option of booking a chef, and we're glad it did: The food was so good we ended up eating at "home" a number of times. Victor and Geni at Casa Yáax were absolute rockstars: warm, friendly, and incredible cooks. How can you complain when you're eating fresh-made fish tacos, ceviche, fajitas, and huevos rancheros … all with a side of homemade salsa!

Where to Stay on Isla Mujeres?
Don't look for big chain hotels here.
You'll find some boutique hotels up near Playa Norte and a few more scattered across the island. The hottest all-inclusive resort is Mia Reef Isla Mujeres, located on a tiny island a boardwalk away from Playa Norte.
But really, Isla Mujeres is the perfect spot to rent a seaside house and book on Airbnb or other home-sharing platforms.
There are a plethora of Airbnbs on Isla Mujeres no matter your travel party size or price point. Even if you're not traveling in a big group but would like a Caribbean villa experience, check out Marina Comodoro or the Tortuga Suite. You can go as crazy as this seashell house, or as simple as this condo. The island is small enough that you have an ocean view most anywhere! Just remember: Renting a golf cart may be critical.
We loved our stay at Casa Yáax and think it'd be a perfect choice for larger groups. In addition to its eight bedrooms, open air floor plan, infinity pool, and bar with swinging chairs, we also had the option of booking our transportation through our stay, making the whole process seamless.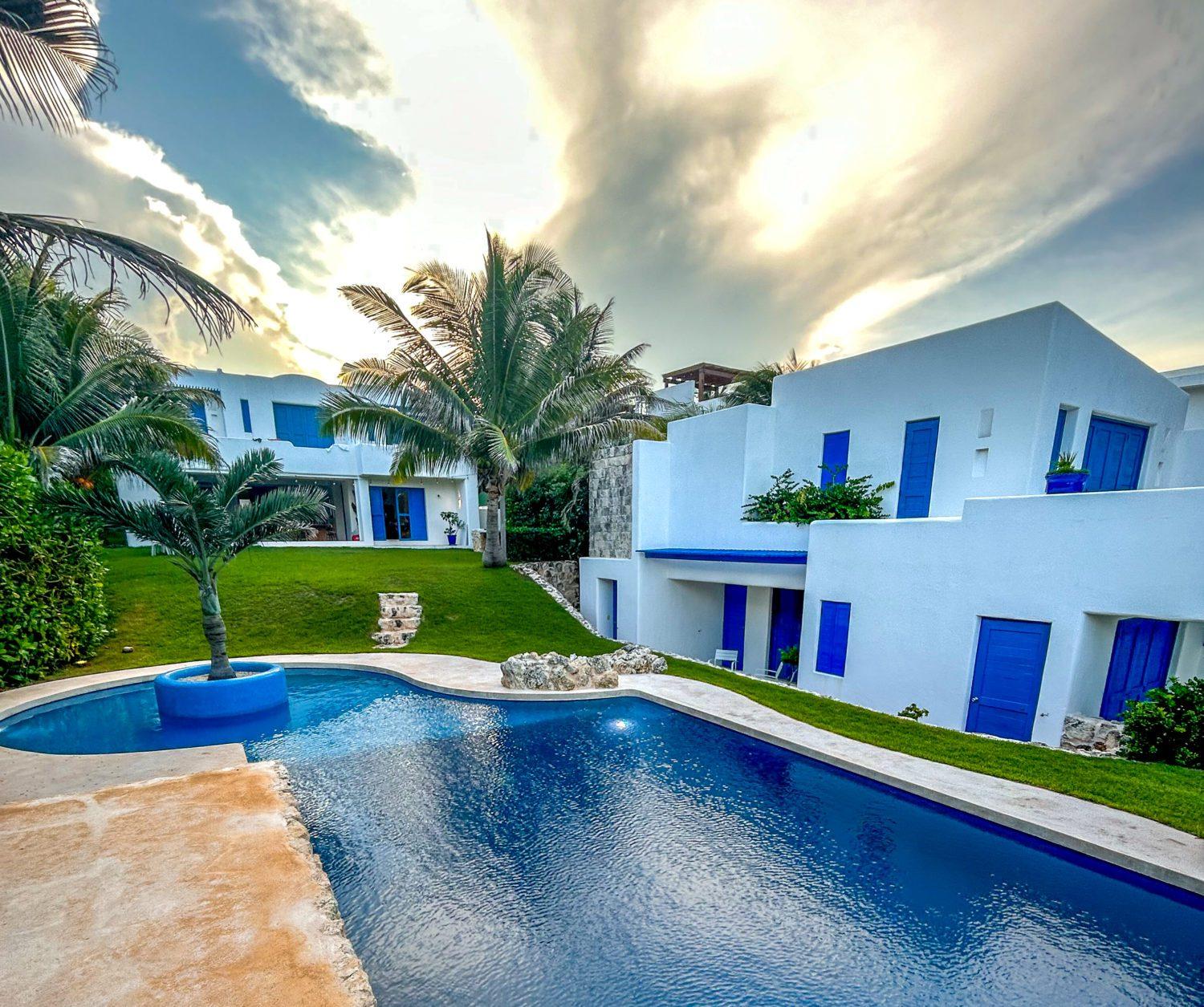 Check out our tips on how to book the best Airbnb no matter where you're going!
Bottom Line
You could just take a day trip from Cancún over to Isla Mujeres – and if that's all the time you've got, you should. But with its beautiful beaches and laid-back island atmosphere, I promise you'll wish you could stay longer.