Cancún is one of the top tourist destinations in the world. The turquoise waters and exciting nightlife are a beachgoer's dream, and the nearby Mayan ruins also help attract over six million visitors each year. It's a dream location for many, but finding a cheap flight to Cancún (CUN) can sometimes be tricky.
In this guide, we'll go over how to get the best deals on flights to Cancun, from choosing the right airlines to selecting the cheapest days and months to fly. Before you know it, you'll be an expert at finding cheap Cancún flights – and your friends will all want to join you down in the tropical beaches … for less.
Read on to find out how to get cheap flights to Cancun.
What Are the Cheapest Days to Fly to Cancun?
It's not about when you book your flight: There's no best day to book flights – to Cancun or anywhere. Instead, you should focus on the cheapest days to fly.
Typically, you'll find that it's cheapest to fly to and from Cancun on a Tuesday or a Wednesday. Taking that a step further, it is usually cheapest to fly to Cancun Sundays through Wednesdays, and return home Tuesdays through Fridays. This means weekend trips will cost more. But if you're flexible with your travel dates, you'll have an easier time finding cheap flights to Cancun.
But finding cheap flights is more art than an exact science, and the cheapest days of the week to fly to Cancun can vary depending on your departure city. For instance, if an ultra-low-cost carrier such as Frontier or Spirit has limited nonstop service to Cancun just a few days per week, you'll usually find those days to be the cheapest. And not just on those budget carriers, but to fly on almost any airline from your home airport.
What Month Is the Cheapest to Fly to Cancun, Mexico?
In general, you'll find more cheap flights to Cancun for travel in September, though you'll often find similar prices for travel in October as well.
Of course, this coincides with the rainy season, so it might not be the best time to head for the beaches of Mexico. But even during rainy season, it's unlikely that there will be prolonged rains unless there is a tropical storm.
If you want to avoid this season, you can usually also find cheap airfare to Cancun in January and May, which are generally some of the cheapest times to travel anywhere.
Cheap Flights Can (& Do) Pop Up Anytime
But a good deal on a flight to Cancun can pop up for travel any time of the year. Take it from Thrifty Traveler Premium members, who continually receive cheap flight alerts to Cancun for travel throughout the year.
Earlier this year, we sent out a deal with flights starting from $250 roundtrip in economy, which included travel dates from May all the way through February of 2023!
Get flight deals like this one sent straight to your inbox with Thrifty Traveler Premium!
It will be easier to find flight deals to Cancun in certain months, but that doesn't mean a good deal for travel in your preferred month of travel will never come up. If you have specific travel dates, start tracking flights and set up Google Flights price alerts to know what flight prices are looking like. And if you're flexible with travel dates, be sure to sign up for cheap flight alerts to get the best deals sent straight to your inbox.
How Much Does it Usually Cost to Fly to Cancun?
On average, flights from the U.S. to Cancun (CUN) typically cost between $500 and $550 roundtrip in economy. But it can get much cheaper than that.
Of course, this can vary quite a bit depending on your departure city. And while it makes sense that flights from the East Coast will often be cheaper than flights from the West Coast, this is not always the case. The main factor that determines how much it costs to fly to Cancún: Competition.
More Competition Means Cheaper Flights
Take, for example, a comparison of flights from Charlotte (CLT) or flights from Los Angeles (LAX) to Cancun, Mexico. It's about a 1,000-mile flight from Charlotte and double that distance, a little over 2,000 miles, from Los Angeles. Most Americans would assume flights from Charlotte should be cheaper, right? But since Los Angeles has several more competing airlines flying to Cancun, flights tend to be cheaper from LA to Cancun than they are from Charlotte.
Charlotte only has service from the four major U.S. airlines: American, Delta, United, and Southwest, with American the only carrier offering direct flights to Cancun, Mexico. At the time of writing, nonstop flights in economy from Charlotte to Cancun were selling for $437 roundtrip in January.

Meanwhile, flights from Los Angeles to Cancun on those same exact dates were going for as low as $270 roundtrip for connecting flights on VivaAerobus – or $360 nonstop on Alaska Airlines. And it can get even cheaper than that: Google Flights data suggests that's a high price for this route and travel dates.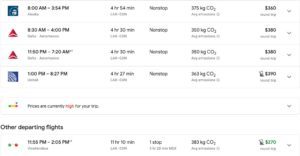 The best airlines to fly to Cancun operate nonstop routes from Los Angeles, including Alaska, American, Delta, JetBlue, and United. Couple that with connecting flights flying Aeromexico, Southwest, and budget airlines Frontier, Spirit, VivaAerobus, and Volaris, and the fierce competition from LAX to Cancun makes flights from Los Angeles cheaper than flights from Charlotte even though the flight is twice as far.
That's just one example of many across the country where competition plays a bigger role than the distance in determining the cost of a flight to Cancun.
How Much Do Cancun Flights Cost by Month?
As we mentioned earlier, the time of year you travel can also impact the price you'll pay.
To get an idea of what it costs to fly to Cancun in each specific month, let's take a look at flights from Minneapolis-St. Paul (MSP). It's in the center of the U.S. and has some – but not widespread – competition between airlines flying to Cancún. You can find nonstop flights on Delta, Frontier, and Sun Country, with connecting options flying American, Southwest, Spirit, and United.
Here's what it typically costs to fly in economy roundtrip from Minneapolis to Cancun by month, which will be slightly different than flights from NYC to Cancun or Dallas to Cancun. Still, it should give you a general idea of average prices by month from around the country.
January: $450
February: $500
March: $600
April: $600
May: $450
June: $500
July: $500
August: $500
September: $400
October: $400
November: $500
December: $600
Looking for somewhere to stay in Cancún? Read our full review of the Hyatt Ziva Cancún!
When is it Most Expensive to Fly to Cancun?
If you're looking to travel during the holiday season or during spring break, expect airfare to be considerably higher than during off-peak travel periods.
That means you can generally expect higher airfare for travel from late December through early January, the week of Thanksgiving in November, and spring break travel in March and April. While a $450 flight might not seem like much of a deal in the off-season, it could be an excellent deal for travel during a holiday.
Why Are Flights So Expensive Right Now?
It's undeniable that flight prices have gotten higher recently.
As airlines are bouncing back from the pandemic with limited staff, demand for travel is increasing. That's especially true for flights to Mexico since it has never had any travel restrictions for entry. In fact, Cancun has been the most popular international destination for U.S. travelers since the start of the pandemic.
This low-supply, high-demand scenario is the main reason why flights are so expensive right now. Other factors such as higher fuel costs and inflation are also contributors to more expensive flights. But there is good news: Cheap flights to Cancun are still out there! It may just be a little harder to find them these days.
But don't worry, we're here to help…
Tips for Finding Cheap Flights to Cancun
If you've been asking yourself how to get cheap flights to Cancun, the biggest solution is a simple one.
You need to be flexible. If you have a little wiggle room with your travel dates, airline, connections, and flight times, that will give you the best opportunity at scoring a deal on flights to Cancún, Quintana Roo, where you'll be just a short drive from the Mayan ruins of Chichén-Itzá in the Yucatan.
Read more: The Flight First Rule, the #1 Way to Save on Travel
How Far in Advance Should You Book Tickets to Cancun?
While you'll typically find the most flight deals to Cancun between one and four months in advance of travel, the most accurate answer is to book flights to Cancun when the price drops. And the best way to find out about price drops is to sign up for cheap flight alerts.
Legacy airlines like American, Delta, United, and Aeromexico, sell tickets as far out as 11 months in advance of travel so you can start tracking prices early and be ready to buy when the price is right. Southwest loads flights into its schedule in blocks, usually four-to-six months in advance of travel. Discount airlines like Frontier and Spirit follow a similar model as Southwest. Meanwhile, Mexican budget carrier Volaris sometimes sells tickets for flights more than a year in advance of travel.
The best strategy is to start tracking prices as soon as flights are for sale and book whenever you see a good price that fits your schedule. If you're looking for a last-minute deal, you're likely out of luck.
All airfare has some sort of advance purchase requirement and the cheapest flights to Cancun usually require at least a 21-day advance purchase. Inside that window, prices usually rise again if you're purchasing less than two weeks before departure … and flights tend to get even more expensive within one week, three days, or the day before departure.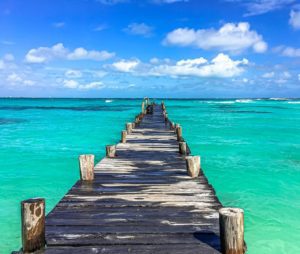 Which Days of the Week to Book and When to Fly?
We've said it many times before and we'll say it again … there is no magic day of the week to book flights.
Sometimes, you'll find the cheapest flights to Cancun when searching on a Thursday afternoon. Other times, it may be a Sunday night or a Tuesday morning. We've seen great deals to Cancun pop up any day of the week, which means the best day to book flights is simply whenever you find a cheap flight deal.
However, when you actually get on the plane to travel does often make a difference in price. The cheapest days to fly to Cancun are usually Tuesdays or Wednesdays. If you need more options, cheaper flights can typically be found flying to Cancun Sundays through Wednesdays; returning home Tuesdays through Fridays.
Which Cities Are the Cheapest to Fly Out of to Cancún?
In the U.S., you'll generally find cheaper flights to Cancun from larger hub airports and cities with competition from ultra-low-cost carriers such as Frontier, Spirit, and Volaris. Some of the cheapest airports for flights to Cancun include:
Atlanta (ATL)
Austin (AUS)
Baltimore (BWI)
Boston (BOS)
Chicago-O'Hare (ORD)
Dallas (DFW)
Denver (DEN)
Ft. Lauderdale (FLL)
Houston-Intercontinental (IAH)
Los Angeles (LAX)
Miami (MIA)
Minneapolis-St. Paul (MSP)
New York City (JFK)
Newark (EWR)
Orlando (MCO)
Philadelphia (PHL)
Tampa (TPA)
Washington D.C.-Dulles (IAD)
There are cheap flights available from other airports around the country, but if you're having trouble finding the cheapest flight to Cancun, you may want to have a look at flying from one of these airports to see if you can find a lower price.
If you live near the southern border, you may even want to consider flying from Mexico. This is the easiest flying from Tijuana (TIJ) with the Cross Border Xpress bridge connecting San Diego directly to Tijuana's airport terminal. Aeromexico, Volaris, and VivaAerobus have several flights from Tijuana to cities throughout Mexico, including direct flights to Cancun. And it's a fraction of the price you'll pay departing from the U.S.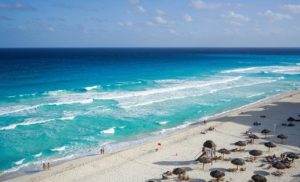 Don't Forget to Check Southwest
While Google Flights is overall the best search engine out there for finding cheap flights to Cancun, it doesn't include all airlines that fly to Mexico's most popular tourist destination.
Most notably, you'll need to check Southwest.com to find its fares in order to make sure you're booking the cheapest flights.
Southwest began flying to Cancún in 2014 and it is one of the best airlines to fly to Cancun for travelers who check bags. Two free checked bags are included with all Southwest fares, including the cheapest Wanna Get Away tickets as well as its new Wanna Get Away Plus fares. You can currently fly Southwest Airlines direct to Cancun from 17 U.S. airports, with connecting flights available from many more.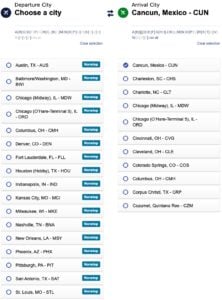 Volaris May Have Cheaper Flights to Cancun on Its Website
While budget carriers are not for everyone, the presence of Volaris helps keep airfare to Cancun low.
The Mexican ultra-low-cost carrier has expanded dramatically over the past 15 years and now operates out of 20 U.S. airports. That's more than Mexico's flag carrier Aeromexico.
You'll see fares on Volaris when searching Google Flights but it's always a good idea to double-check Volaris.com to see if there is a lower price since you sometimes may not see all options on Google Flights.
For instance, Volaris frequently has sticker-shock promo code sales with discounts up to 90% off. Don't be fooled by this marketing tactic. The discount only applies to the base fare, which is generally very low, so the actual discount may not seem like much on already low fares. Still, there can be considerable savings if you book during one of these sales.
Volaris has special pricing for its v.club members, which you'll only find on its website. The difference in price can often outweigh the annual fee to join the club (starting from ~$30 USD) with just one flight purchase, so it's well worth it to check these prices if you're considering flying Volaris.
If you do book a flight on Volaris, keep in mind that while its basic economy fare does include two carry-on bags, there is a total weight limit of 22 pounds on these fares. Make sure to pay for extra baggage during booking. We recommend booking the classic economy fare.
Volaris does not fly direct to Cancun from any U.S. airports, but you'll be able to connect via Guadalajara (GDL) or Mexico City (MEX) when departing from several airports in the western U.S. And if you live in Southern California, you can fly direct to Cancun from Tijuana (TIJ), just across the border from San Diego.
Historical Cheap Flights to Cancun
We've seen plenty of dirt-cheap flights to Cancun in the past and we're sure to see more great deals to Cancun in the future. To get an idea of how low prices have been, here's a look at some cheap flights over the past few years.
Low season: May, September, & October
High season: June – August & November – April
Cheapest flight: $135 roundtrip from Miami
Average price roundtrip: $550
Good price roundtrip: Under $400
Good price one-way:

Under $200
One of the cheapest deals we've found to Cancun was a nonstop economy flight from Miami (MIA) for just $135 roundtrip on American. This deal was found back in 2020 for travel in June, a time when not too many people were traveling.

But we've also seen some great deals more recently, such as this deal Thrifty Traveler Premium members were sent in January 2022 with nonstop flights on American and Delta from seven different cities nationwide. Every flight was under $198 roundtrip in economy, including one of the best-ever deals on a flight from Chicago to Cancun for just $165 roundtrip.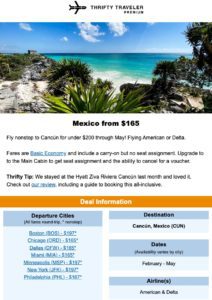 If you think only major cities get cheap flight deals to Cancun, think again. Back in 2020, we saw flights from over 90 cities drop below $298 roundtrip for summer and fall travel. This included departures from Albuquerque (ABQ), Bangor (BGR), and even Sioux Falls (FSD).
Some airlines were even flying their larger planes with lie-flat seats down to Cancun back when travel had come to a halt almost everywhere else in the world. And it was possible to book these business-class beds in the sky on American for as little as $466 roundtrip from Dallas (DFW) to Cancun or $590 from Philadelphia (PHL).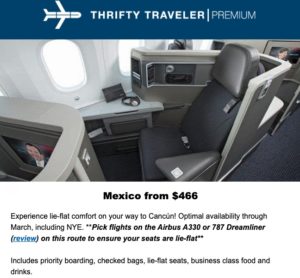 If you've got a stash of Delta SkyMiles, you may be glad to hear that we think it's one of the best ways to fly to Mexico using points and miles. In fact, earlier in 2022 Thrifty Traveler Premium+ members were alerted to a SkyMiles flash sale with basic economy flights to Cancun, Mexico starting from 11,000 SkyMiles roundtrip for travel between August and March.
History tells us that cheap flights to Cancun aren't going anywhere.
What is the Cheapest Time to Go to Cancun?
The cheapest time to fly to Cancun generally coincides with the low season, and, therefore, it's also a great time to find a deal on hotels and activities. You'll often find deeply discounted rates at resorts in the months of September, October, and May. Hyatt has even started charging off-peak rates when booking rooms with points, which means you may be able to get cheaper rooms at hotels like the Hyatt Ziva Cancún or the Hyatt Ziva Rivera Cancún.
Read more: How to Book Hyatt's Incredible All-Inclusive Resorts with Points
If resorts aren't your thing, we recommend going beyond Cancún and exploring nearby cities along the Riviera Maya such as Playa del Carmen, Tulum, and Puerto Morelos. Either way, if you've got budget travel on your mind, plan your trip during the off-season to help reduce the cost of a trip to Cancun.
Bottom Line
Flights to Cancun don't need to be expensive. By simply avoiding the busiest travel periods, signing up for cheap flight alerts, and being flexible with travel dates, you'll have all the tools you need to book a cheap flight to Cancun.