Editor's Note: Welcome to our Points Principles series, an ongoing series dedicated to explaining the basics behind the confusing world of frequent flyer miles and travel rewards points. Follow along as we lay out some of the building blocks to travel for nearly free. And check back to the Points Principles page to see what ground we've already covered.
We constantly preach about the value of points and miles, but there's no question that there's a learning curve. We're learning every day, too. 
Airlines make frequent flyer miles difficult to understand and use for a reason. And it's constantly changing as they try to stay ahead of consumers, making this world even harder to grasp.
But there are a few basics that are helpful to understand as you dive deep into this ever-changing, opaque, and confusing world. We call them the 6 Laws of Frequent Flyer Miles.
Want to learn more? Check out our YouTube channel!
1. They're Not Just for Frequent Flyers
You can earn a boatload of frequent flyer miles without flying frequently. 
Let that sink in for a bit. Seems a little less daunting now, doesn't it?
The easiest – and fastest – way to start bundling frequent flyer miles is to sign up for a credit card and spend $1,000 to $5,000. Will you spend a few thousand dollars on your normal expenses over a three-month period, and pay off your entire bill every month? Or do you have a big purchase coming up that will allow you to hit a $3,000-$5,000 spending requirement in one fell swoop? You need to start slow and ensure you're not making purchases you can't afford. Play it right, and you can take advantage of sign-up bonuses on a new credit card for some free flights.
Not sure where to start? Check out our list of the best credit cards of the month. This list is always changing, but there are some mainstays – especially for beginners. You can't go wrong with the Chase Sapphire Preferred Card, which offers 60,000 points after spending $4,000 within three months. The Capital One Venture Rewards Credit Card is another strong option, as it gets you 50,000 Venture miles after spending $3,000 within three months, along with a host of other perks.
That said, you should still be earning miles on every flight you purchase. Make sure you're signed up for the major airlines' frequent flyer programs when you're booking a ticket.
Thrifty Tip: Read our Beginner's Guide to Credit Cards and guide to Getting Started with Travel Rewards Credit Cards.
2. You Can't Combine Miles from Different Airlines
It's one of the most frequent questions we get from people just getting started with miles and points. Sadly, you can't combine your Delta and United miles. Or United and Singapore miles. They're all separate currencies, regardless of whether or not the two airlines are a part of the same alliance.
Aside from one notable exception – the ability to combine or transfer Avios between British Airways, Iberia, and Aer Lingus accounts – your airline miles are stuck in that airline account.
Luckily, there's a world of points that are far more flexible than your airline's frequent flyer account. Bank points like Chase Ultimate Rewards, American Express Membership Rewards, and Citi ThankYou points allow you to use points to book with any airline directly. And better yet, they allow you to transfer miles to dozens of different airline partners. It's one of the main features that underscore the difference between credit card points and airline miles.
That level of flexibility is one of the main reasons we've named the Chase Sapphire Preferred our #1 starter card and the Chase Sapphire Reserve our #1 travel rewards card.
Whether you're new to miles and points or a seasoned pro, having a mix of transferrable currencies and airline-specific miles is critical. It helps expand your options when booking flights with points.
3. Not All Points and Miles Are Created Equally
Pop quiz: Would you rather have 100,000 Chase points or 100,000 Delta SkyMiles? 
If you answered that they're the same, you failed. While we personally love SkyMiles, there's no question Chase Ultimate Rewards points are more valuable.
And that's an important piece of the learning curve of mastering miles and points and one of the key laws. Points are just like currencies around the world: They're worth different amounts, and those values can change over time.
Just how much SkyMiles, American AAdvantage Miles, United MileagePlus miles, Chase Ultimate Rewards Points (and on and on) are worth varies wildly. Every major airline blogger, not to mention every flyer, values each currency differently based on their needs and travel patterns.
It depends on where you want to fly, whether you want to fly business class, if your travel dates are set in stone or flexible, and more. Much of it hinges on the strengths and weaknesses of an airline's award chart, which sets how many miles they charge for a given flight. 
For example, if you want to book a flight to Europe, a stash of Southwest Rapid Rewards miles is worthless because Southwest doesn't fly across the Atlantic. If a trip to Japan in business class is on your mind, you may rather have American Airlines miles than miles with Delta or United, because American charges far fewer miles for those flights.
And the flexibility that comes with bank points like Chase Ultimate Rewards gives them an automatic boost. It allows you to transfer them to airline accounts or book a cheap flight directly through the Ultimate Rewards portal.
4. Understanding Airline Alliances and Partnerships is Key
You can use Delta SkyMiles to book a flight on Air France or KLM. United miles can get you on a flight to Germany on Lufthansa or Taipei on EVA Airways. One of the best uses of American Airlines miles is for a flight on Qatar Airways or Japan Airlines.
Welcome to the world of airline alliances and partnerships, your key to getting more out of your miles. For most beginners we talk to, this is their "aha!" moment that helps them realize that their miles are far more valuable than they once thought.
There's too much to get in to here, but we'll give you a quick rundown. There are three major airline alliances, each with a main domestic partner.
Sky Team

is the alliance of Delta airlines. Other SkyTeam airlines include Air France/KLM, Garuda Indonesia, Vietnam Airlines, Alitalia and Korean Air.

Star Alliance is the home of United, as well as other major partners like Air Canada, ANA, Lufthansa, Swiss, Singapore, Turkish and Thai
Oneworld

features American Airlines and some other top airlines like British Airways, Cathay Pacific, Iberia, Japan Airlines and more.
There are also a ton of one-off partnerships between airlines, allowing you to earn and redeem miles on flights with different carriers.
For example, Alaska isn't in a major airline alliance. However, it's one of the best ways to book first and business class flights on both Emirates and Cathay Pacific – two of the best airlines out there. A partnership between American Airlines and Etihad makes AAdvantage miles a great way to book a seat in Etihad's First Class seat called The Apartment. Delta's partnership with Virgin Atlantic is a major win for flyers, as booking Delta flights with Virgin Atlantic miles can save you a boatload of SkyMiles.
5. Flight Miles May Not A Thing for Frequent Flyer Miles
Just because your flight from Minneapolis-St. Paul (MSP) to London-Heathrow (LHR) is 4,015 miles doesn't mean you'll need 4,015 miles to book the flight. Far from it. And the same is true of how you earn miles.
The days of mileage-based redemptions and earning are long gone. Further, airlines are masters at making it more difficult to understand how far your miles will get you. Don't give up: That's where the Thrifty Traveler team comes in.
Most airlines operate under an award chart, which sets the price for a given flight based on what region you're traveling to and where you're departing from. Every airline's award chart is different, with varying sweet spots and weak points. Some set the price you pay based just on regions (think U.S. to Europe, U.S. to Northern Asia, etc.), while a handful price it in tiers based on the distance you fly. Part of mastering points and miles is identifying (and then remembering) which frequent flyer programs are best for a given route.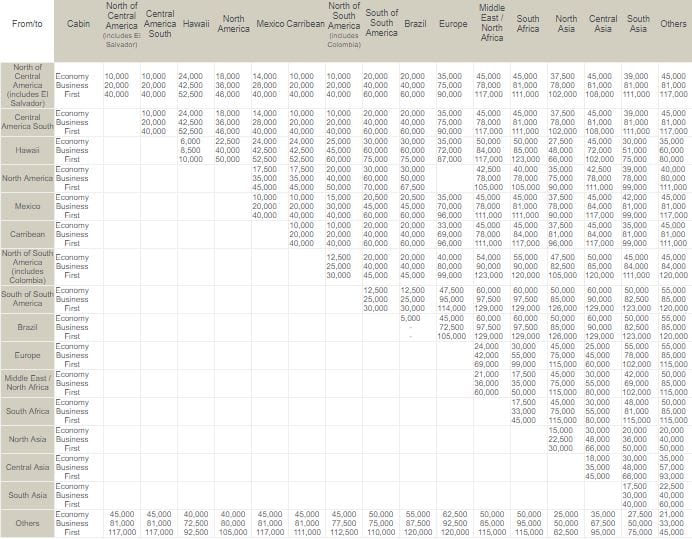 For example, British Airways Avios are great if you want to fly to Hawaii because BA charges just 26,000 for a round trip on American Airlines from the West Coast to the islands. Japan's flag carrier ANA is a great choice to book a business class flight to Asia because they charge roughly the same as most airlines do in economy.
Unfortunately, not every airline makes it easy to work this all out. Delta stopped publicizing an award chart and replaced it with a highly variable, multi-tiered award system. It's called dynamic award pricing, and it's all the rage these days. Read our guide on understanding Delta SkyMiles to learn how to get the most out of your SkyMiles.
United has followed Delta's lead, and even American isn't far behind. 
It can be even more convoluted when determining how many miles you'll earn for a flight you purchased. For some airlines like Delta, United, and American, it's based purely on the cash price you paid. For others, there's a more complex formula based on distance, ticket price, and more.
The airline alliances and partnerships that help you use your miles also apply to earning miles. Use great online tools like WhereToCredit to help figure out the best place to credit your miles for a given flight.
6. Use Your Miles – They'll Get Less Valuable Over Time
In the ever-changing world of aviation, there is one constant: Airlines will devalue your miles. It comes in the form of increasing how much award redemption costs, tacking on additional fees, or adding new restrictions to award flights.
Some programs are more are more stable, while others will jack up the cost of a flight overnight with no notice. But over time, airlines will always try to get more money out of their customers by making their miles less valuable.
Let's make this clear: Points and miles are not an investment. This makes it imperative to spend your miles when you can. They are your license to see the world – whether you're seeing more of it with frequent trips, or getting there in style in first or business class.
Frequent travelers make conscientious decisions about when to use cash versus spending their miles on a flight. We can't blame you for trying to get the most out of your miles. However, it's important not to get paralyzed in your quest to get the best value.
Book the flight, take your trip, see the world. If you don't, you might wake up one morning and find that your miles are worth substantially less.
Bottom Line
It's critical to have a few basics in mind and an understanding of how airlines approach the miles you've spent years collecting. While mileage redemptions and values may change, the guiding principals of how you can best maximize them shouldn't.