What's in a point? What's in a mile?
It sounds silly and philosophical, but it's an important question as you chart your own course to becoming a points and miles guru. To get the most out of your stash of credit card points and airline miles, you need to know what each currency is worth.
It's a tough question to answer. Let us help.
It's Subjective
Trust me, we wish we could give you a reliable, definitive number for every credit card point and frequent flyer mile currency out there. Other travel websites like The Points Guy do it.
But we think that's misguided, and it can be confusing. Why? Because it varies widely trip by trip, person by person. Two people can have drastically different valuations of the exact same point or mile. And neither would be wrong because it all comes down to how you use those miles.
Let's spell this out a bit with an important metric that shows you how much you're getting out of your points and miles: cents per mile. It works like this:
Cost of flight in cash / cost of same flight in miles = cents per mile (cpm)
So let's say you spent 25,000 Delta SkyMiles to book a round-trip flight from New York City-LaGuardia (LGA) to Washington, D.C.-Reagan (DCA) that normally costs $250. $250 / 25,000 = exactly 1 cent per mile. 
You'll generally get the most bang for your buck from your miles by booking a business or first class flight, so let's take a look at an example.
After a blissful two weeks in Bali, I booked flights on Singapore's incredible business class for 88,000 Singapore KrisFlyer miles each. And these flights from Bali (DPS) to Los Angeles (LAX) were selling for more than $5,800 per person at the time. So in this case, $5,880 / 88,000 = nearly 6.7 cents per mile.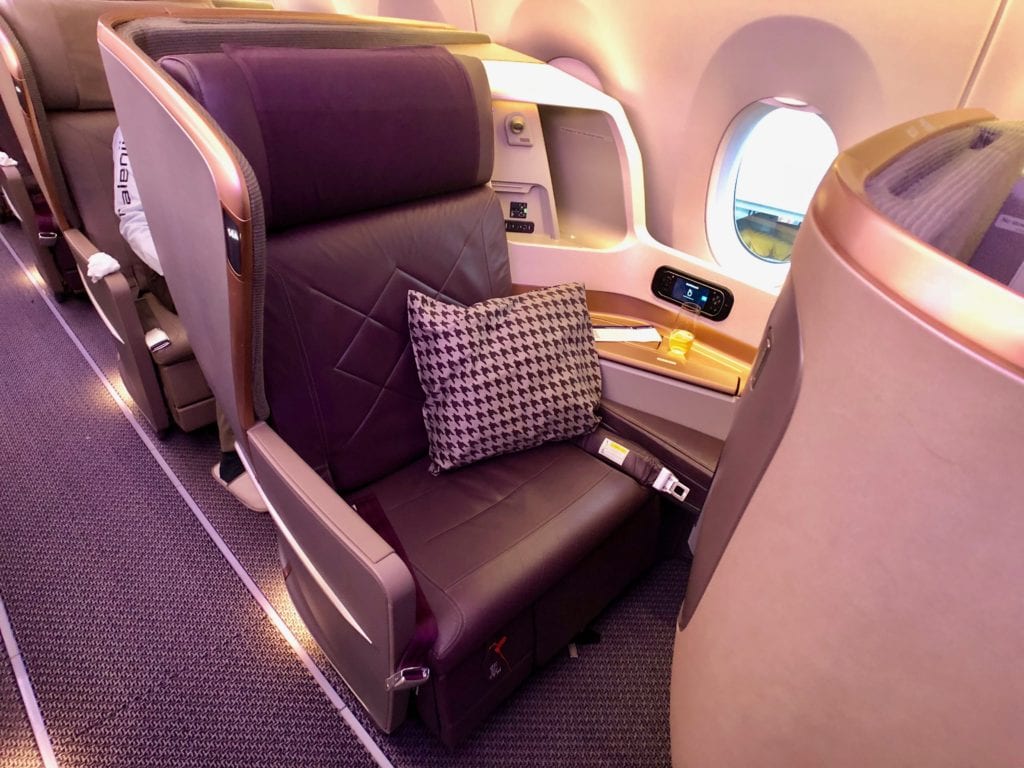 This could go on for hours. As you get more examples from your own travels, it starts to flesh out an overall picture of what each airline's mileage currency is worth – and also discover the limits of how far certain airline miles can really get you.
Once you start adding in credit card points like Chase and American Express – each of which you can transfer to nearly a dozen or more airlines – there are even more examples to consider. But if you're not interested in flying business class to Asia, the extra value that you can get doesn't mean much to you.
So here's what it all comes down to: Points and miles are worth what you're able to get from them. And while you should always try to get as much value as you can out of points, there's one thing that's more important – using them. Because there's one undeniable truth: Points and miles will get less valuable over time. 
So rather than obsess over the value of what each airline mile is worth, we'd rather help you decide what each airline mile and credit card point is worth to you. 
Flexibility is Key
While we'll shy away from giving you a specific cent amount, there's one absolute truth to keep in mind. Credit card points are worth more than airline miles. 
Why? Because with the right credit cards, you can transfer the points from banks like Chase, American Express, and Citi to a handful of different airlines and hotel chains. And that opens up more travel opportunities – and potentially more valuable opportunities.
As an example, let's look at the list of Chase transfer partners.
| Program | Type | Transfer Ratio | Transfer Time |
| --- | --- | --- | --- |
| Aer Lingus | Airline | 1:1 | Instant |
| Air Canada Aeroplan | Airline | 1:1 | Instant |
| Air France/KLM | Airline | 1:1 | Instant |
| British Airways | Airline | 1:1 | Instant |
| Emirates | Airline | 1:1 | Instant |
| Iberia Plus | Airline | 1:1 | Instant |
| JetBlue | Airline | 1:1 | Instant |
| Singapore Air | Airline | 1:1 | 12-24 hours |
| Southwest Airlines | Airline | 1:1 | Instant |
| United Airlines | Airline | 1:1 | Instant |
| Virgin Atlantic | Airline | 1:1 | Instant |
| World of Hyatt | Hotel | 1:1 | Instant |
| IHG | Hotel | 1:1 | 1 day |
| Marriott Rewards | Hotel | 1:1 | 2 days |
Why are these transfer partners so good? For starters, you can transfer points to British Airways and use them to book domestic flights on American Airlines and save some points in the process. Iberia is another great option to save on short flights within the U.S., but you can also use their miles to book business class to Madrid (MAD) by transferring just 68,000 Chase points. Or follow my lead and transfer some points to Singapore and book a swanky first or business class seat, getting a ton of juice out of your miles.
These examples are just the tip of the iceberg of what's possible. And this transferability is the main thing that differentiates credit card points from airline miles, which generally can't be transferred or combined with other airlines. That's why these points are more valuable than airline miles with Delta, United, American, and other carriers.
Having trouble remembering which points you can transfer to what airlines? Bookmark our master guide to credit card transfer partners.
A Baseline of What Credit Card Points are Worth
While using transfer partners are all the rage, there's another way to use credit card points to book travel. And it gives you an important benchmark of what they're worth.
Travel rewards credit cards that aren't tied in with an airline allow you to take your points and put them directly toward the cost of your cash fare. It's the best way to take a flight deal and make it free.
This feature is available with many banks, but there's one stand out: Chase. That's because with the right credit cards like the Chase Sapphire Preferred Card, every point is worth 1.25 cents when booking flights or hotels directly through Chase.
So that should tell you: If you've got the Chase Sapphire Preferred, every Chase point you have is worth at least 1.25 cents.
Have the Chase Sapphire Reserve, the Preferred card's grown-up (and far more expensive) sibling? Every point is worth 1.5 cents toward travel, so that's your baseline. 
If you've got the Citi Premier card, you can also use those ThankYou points toward travel at 1.25 cents each. So that's the baseline for those points.
Capital One's "purchase eraser" function is by far the most versatile, as you can simply go back and zero out your purchase using points. But each mile is worth exactly 1 cent, so the Capital One Venture Rewards Credit Card's 50,000-mile sign-up bonus after spending $3,000 in the first 3 months allows you to cover up to $500 in travel expenses.
The 5 Most Valuable Points and Miles 
We said we wouldn't assign a specific value to the many points and miles out there, and we won't. Instead, we'll give you five of the most valuable currencies in this world, and give you a brief taste of why they reign supreme.
American Express Membership Rewards: While Chase has the edge thanks to how great they are to book flights directly, American Express has some of the strongest transfer partners. Better yet, you can occasionally get bonus miles by cashing in on a special promotion, like a 30% bonus when transferring points to Virgin Atlantic last year. Those are basically free airline miles, and they can't be ignored.
Chase Ultimate Rewards: The Chase Sapphire Preferred is our #1 card for starters for a reason. The Chase Sapphire Reserve is our #1 overall travel rewards card for a reason. And that's chiefly because these points are so valuable. Between some great transfer partners and the bonus you get when booking travel directly through Chase, they're almost unbeatable.
Citi ThankYou Points: Citi ThankYou Points are still among the best out there, and the ability to transfer points to airlines and hotel chains gives you some great flexibility – as do occasional transfer bonuses like American Express offers. But their transfer partners aren't nearly as strong as either American Express or Chase. And critically, there isn't a U.S. airline to which you can transfer your ThankYou points.
Alaska Airlines MileagePlus: If flying first or business class is on your bucket list, you need some Alaska Airlines miles. While transferring miles isn't an option, Alaska miles are undoubtedly the most valuable among the dozens of airlines. Get this: It costs just 60,000 miles to fly business class from the U.S. to Tokyo or elsewhere in Asia. Want to fly Cathay Pacific First Class, one of the world's most luxurious seats? You can do it – and enjoy $300 bottles of champagne – for just 70,000 Alaska miles.
Capital One: Capital One and its popular Venture card are a newcomer to the world of transferrable points. And despite the fact that these transfers aren't the best – in most cases, you'll get just 1.5 airline miles for every 2 points you transfer – Capital One points can still be very valuable. The ease of using them with the bank's purchase eraser function just underscores that.
Bottom Line
Asking someone how valuable points and miles are is like asking about their favorite color. You're bound to get a different answer from everyone.
But with the right mindset and a critical view, you can decide for yourself what each point or mile is worth. And that's a lot more valuable.