Looking for cheap domestic and international flight deals from your home airport? Award alerts to use your points and miles? Maybe even a deeply discounted first or business class fare? You've come to the right place.
Here at Thrifty Traveler, we find flight deals for a living. Cheap flights is what we do. And if cheap flights are what you're after, you'll want to be a Thrifty Traveler Premium subscriber. Join us and you'll get:
Dirt-cheap domestic and international cash fares
Deeply discounted business and first class tickets
Award alerts to use your points and miles, whether you've got Delta SkyMiles, American AAdvantage miles, transferrable credit card points, and countless more
The occasional (and ultra-rare) mistake fare or unicorn alert!
Other great perks like one-on-one travel credit card consulting and access to our members-only Facebook group
We're the best flight deal alert service on the market that finds both cheap cash tickets as well as points and miles deals. Our members get instant email alerts for deals from their home airport (or any airports they want deals from – we find deals from 200-plus airports and counting!) then book direct with the airline. And now, members can see all their deals online!
Each and every flight deal we send saves our members $200 or more on fights – and in some cases, thousands! You'll get deals like domestic flights as low as $100 roundtrip (or less!), trips to Hawaii under $200, fares to Europe for $300 to $400 or less, award alerts to fly lie-flat business class around the world, and much more. We even send Premium members ultra-rare mistake fares and deals on business class, too!
Curious how our flight deal alerts will save you money on travel? Take a look.
How Our Flight Deal Email Alerts Work
Our team of flight deal experts are constantly on the hunt for the best flight deals, flash sales, and mistake fares. And we share these deals with Thrifty Traveler Premium?members. Unlike other services, we also find and send our Thrifty Traveler Premium members award alerts so you can use your credit card points and miles to book and save even more!
No matter what kind of deal it is, these are cheap flights on full-service airlines with just one stop – or maybe even nonstop. We're not putting you on day-long flights on budget carriers to find you a good deal.
Here's how it works: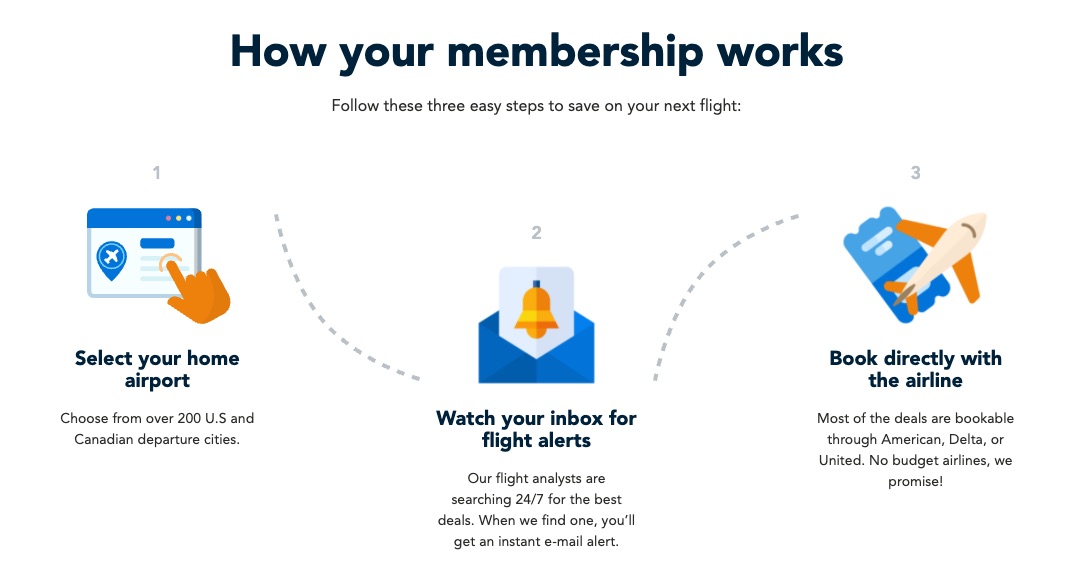 Our team uses multiple tools to search all day, every day for the unadvertised flash sales, fare wars, and cheap deals you won't find otherwise.
When we find one from your home airport, you'll get an instant email alert with a link to book your flights.
All you have to do? Book directly with the airline.
We aren't a travel agency, and we don't make the flight deals … we find them. And if you ask us, we find the best, cheapest deals! And whether you near a major U.S. hub or a small regional airport, we've got you covered: We find flight deals from more than 200 U.S. and Canadian airports – more than any other service!
Wanna see what these alerts look like? Keep reading.
Related Reading: Check out Thrifty Traveler Premium Reviews from our community.
See All Your Deals Online, Too!
Thrifty Traveler Premium members can now see all their deals online!
Just log into your Premium account (and bookmark that page!) and you can scan through all the recent deals we've found and sent … whether they're from one of your departure airports or not! You can filter for cash or points & miles deals, set price limits, and even search for specific destinations.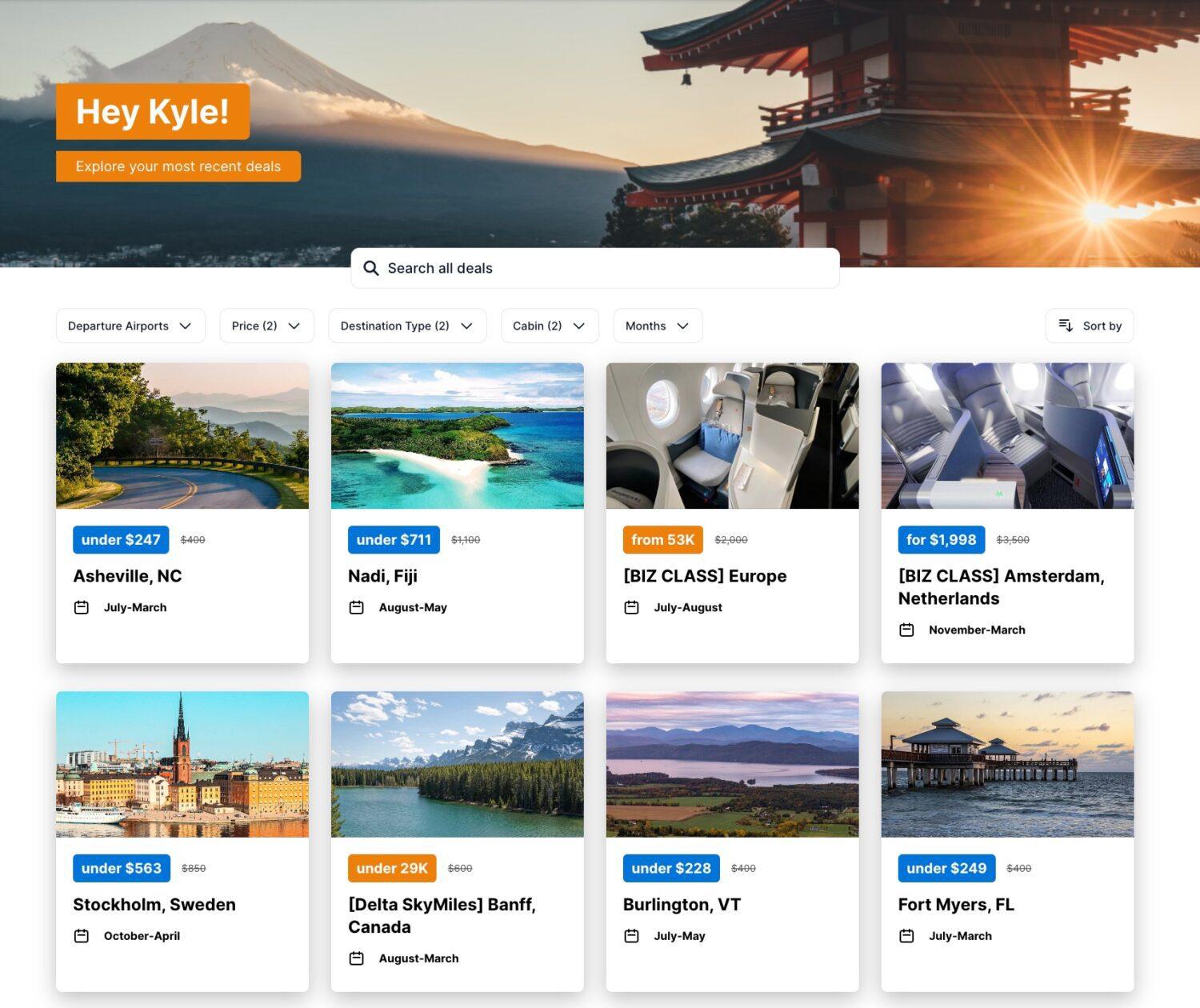 One note: This new hub defaults to showing deals from your selected airports – just click "departure airports" to add more airports to your display.
We'll continue sending every email alert to members' inboxes – some deals are so time-sensitive that they can disappear within hours. But this new deals page should be travelers' new, one-stop shop for all Thrifty Traveler deals.
What You Get with Thrifty Traveler Premium
This is our Cadillac plan. We might be biased, but we know it's true: It's the best flight deal service on the Internet.
We find and send members both cheap cash fares as well as award alerts to book flights using points and miles – and we've doubled down on that lately, helping travelers save even more as they get back out there. That means more award space alerts, more deeply discounted business and first class fares, and more outstanding deals.
In June 2023 alone, we've sent members more than 80 flight deal alerts and counting, including:
Dirt-cheap economy fares to Puerto Rico as low as $202,  under $230, Hawaii from $149, and destinations throughout Europe for $387 – all for trips throughout 2023 and into 2024
Several discounted business class fares to Europe, including a $1,310 lie-flat ride to Paris-Charles de Gaulle (CDG) – a fraction of the typical fare!
More than 20 award space alerts, including a chance to book Qatar Qsuites with miles for next year, wide-open United Polaris business class award space several European cities bookable for 45,000 points, and many more
A resurgence of amazing Delta SkyMiles flash sales like roundtrip flights to Auckland (AKL) in New Zealand as low as 37,4000 SkyMiles, Santiago (SCL) in Chile from 44,000 SkyMiles, and Hawaii for just 13,600 SkyMiles roundtrip!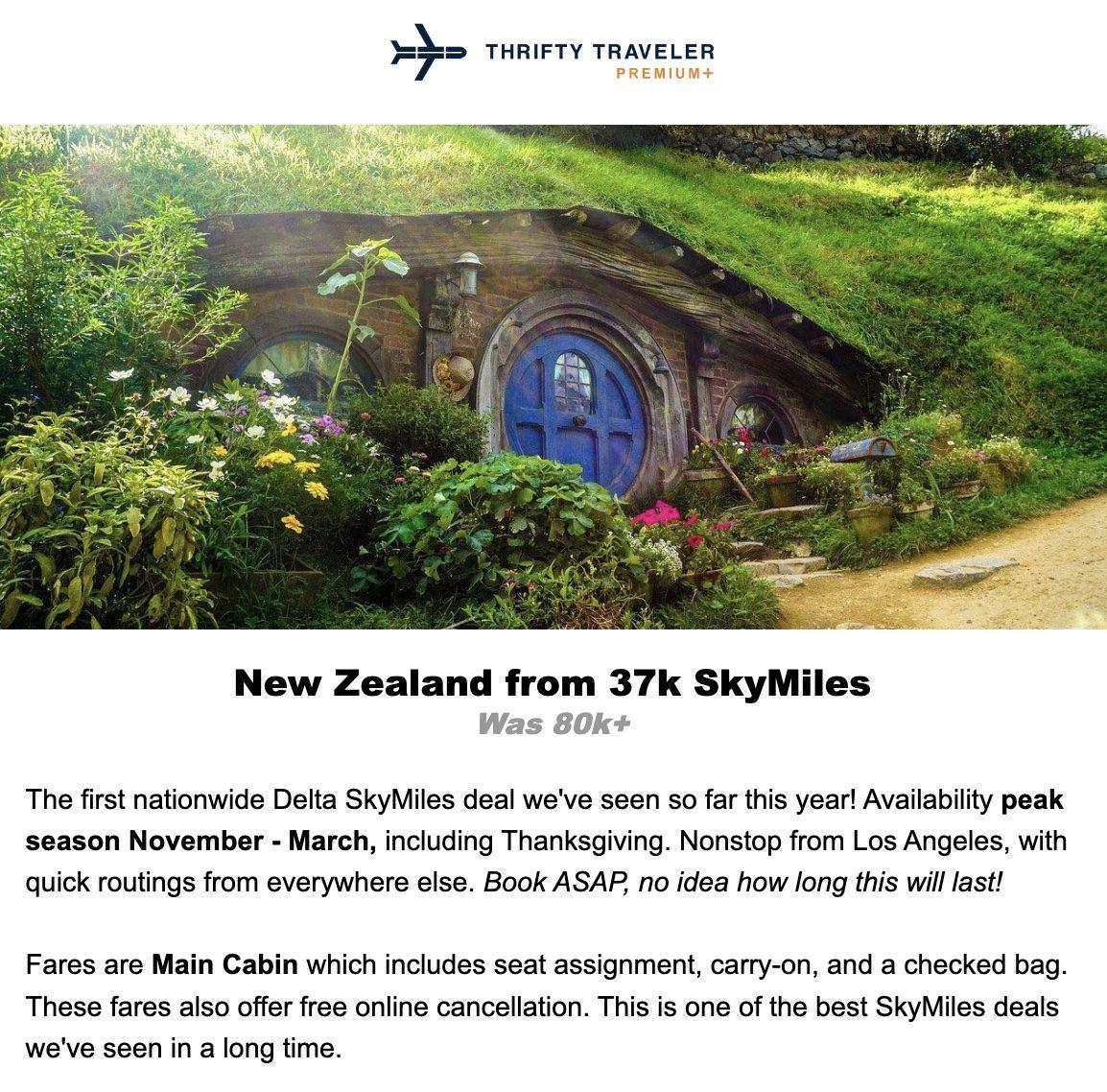 This deal is long gone now – get the next one in your inbox with Thrifty Traveler Premium!
You can pick just one or two preferred airports to get alerts from or all 200+ cities in the U.S. and Canada we cover. But Premium members can really fine-tune their deals, getting deals only from select airports … but still receive all business and first class fares, no matter where they depart from.
You can also toggle off points and miles deals … or you can take things to the next level, if you want. Premium members can opt in to get text message alerts for the rarest "Unicorn Fare" deals as well as Nerd Alerts – tailor-made for the points and miles aficionados out there who don't mind booking last-minute or want rare first and business class deals wholly outside the U.S.
Beyond all those amazing flight deals, our Premium members get some other exclusive benefits, like …
Price lock for life! Once you've signed up for Premium, your annual price will never increase!
One-on-one consulting with our experts to help pick the right travel credit card
Access to our members-only Facebook group to chat with fellow travelers
Recent Premium Deals
We scour the globe for Thrifty Traveler Premium members to find the cheapest domestic and international flights and award deals, then send them straight to your inbox. If you like what you see, you book your flight directly with the airline to save $250 (or much more – especially with a great award fare or premium cabin deal), and start planning your trip.
Our members love getting award alerts to use their miles, and we're constantly finding deeply discounted sales to use your Delta SkyMiles, American AAdvantage Miles, United MileagePlus miles, and even Southwest points. When Delta typically charges 80,000 SkyMiles roundtrip to Europe, nothing beats getting there for just 32,000 SkyMiles thanks to one of our Delta SkyMiles flash sale alerts.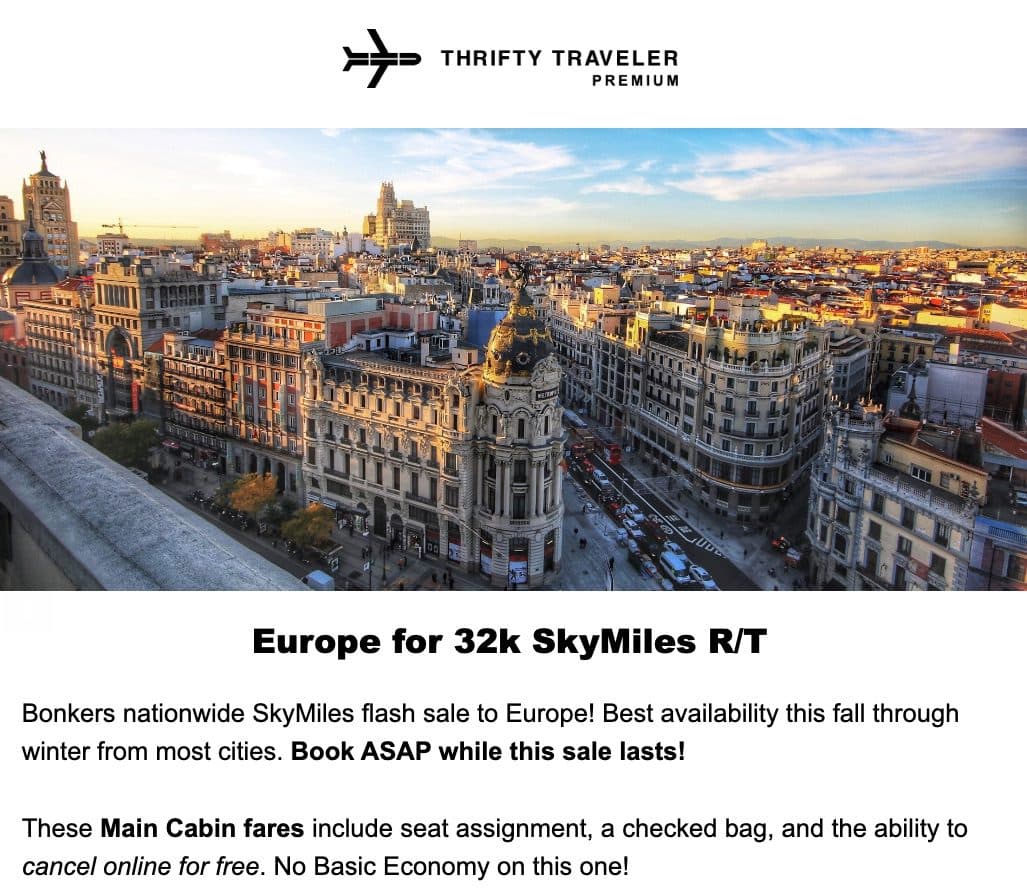 Hoping to splurge with your points and fly lie-flat? No problem: We hunt down rare business and first class award seats and alert members – and we'll do even more of it in the weeks and months ahead. We do the legwork for you, letting you know what's available and the best ways to book with points.
For example, we're constantly on the lookout for chances to book Delta One business class to Europe for just 50,000 points – or less.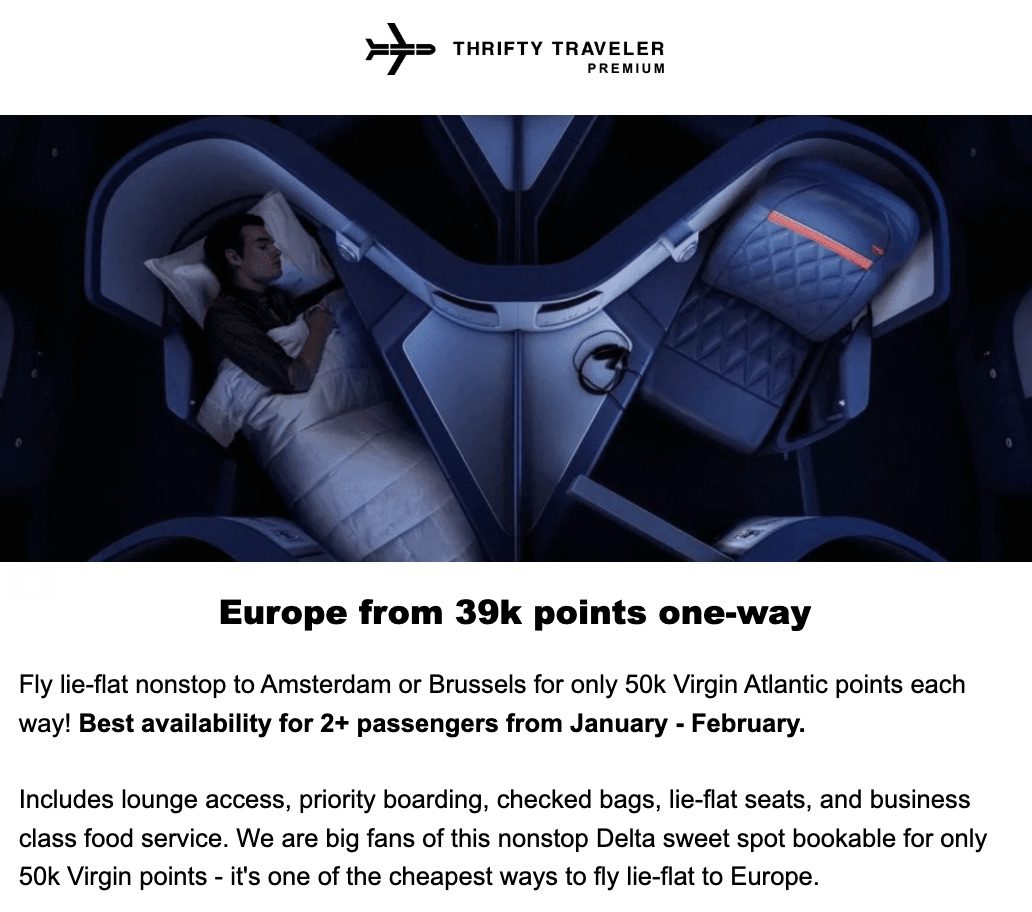 Want to fly the world's best business class, Qatar Qsuites? You're not alone. These suites have gotten much harder to find lately … until just last week, when we tipped off Thrifty Traveler Premium members to wide-open award space next year to fly Qsuites nonstop to Doha (DOH) – or even continue all the way down to South Africa!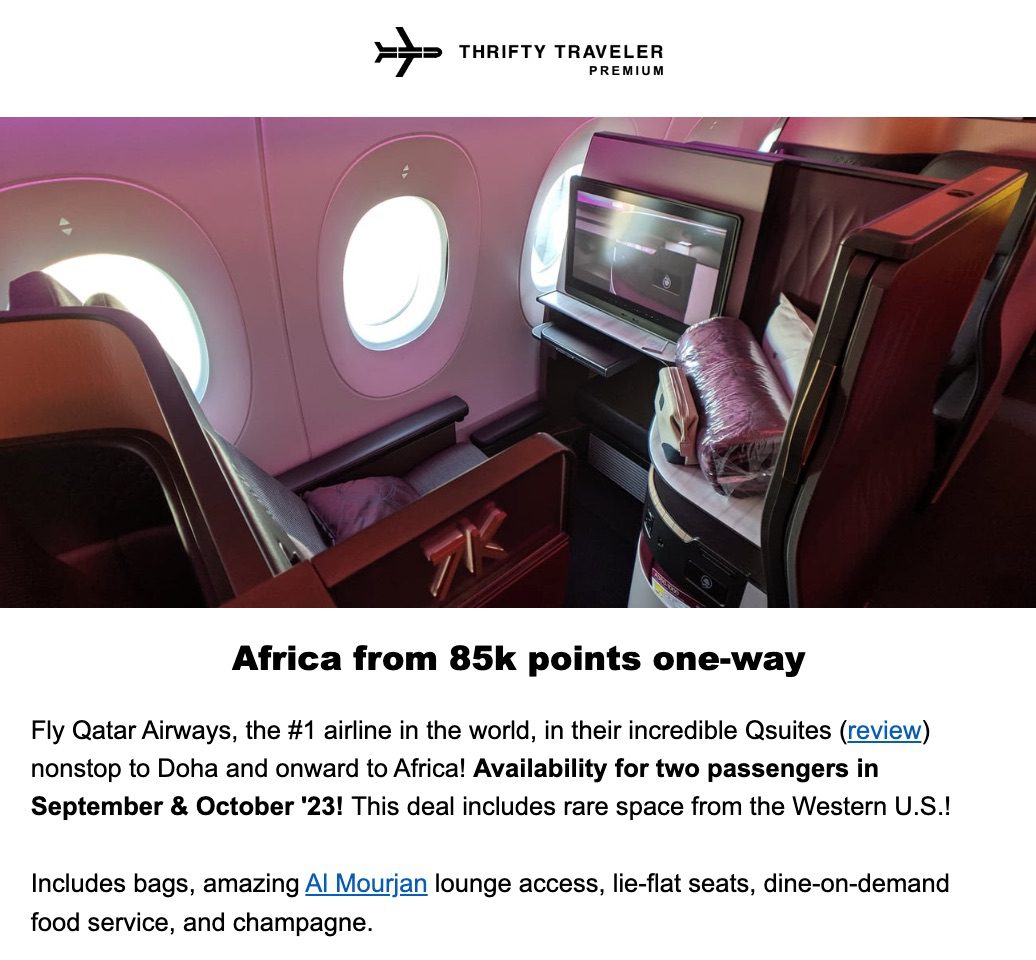 Cheap cash fares flying business or first class are even rarer – but they do happen, and we find those, too. In early October, in fact, we sent members a $1,700 roundtrip fare in British Airways or Iberia business class to Spain. That's more than 50% off normal prices!

But you'll still get all the dirt-cheap fares in economy we find every day, too. How cheap? How about sub-$200 domestic flights all across the country … or roundtrip flights to Europe for $354 or less … or winter getaways to Mexico from $227. We could go on and on.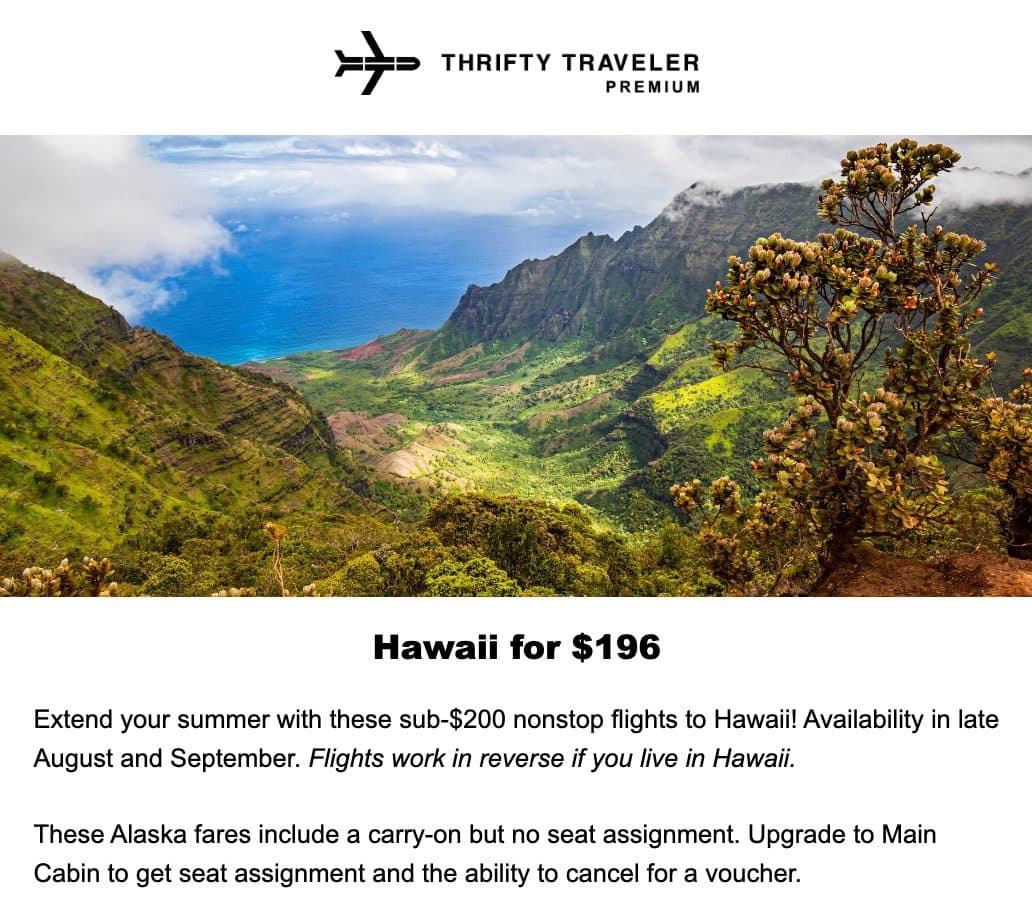 And then there's the holy grail of all flight deals: Mistake fares, when airlines mess up and accidentally sell flights at deep, deep discounts. These insane fares only crop up once or twice a year, but we always let our subscribers know with both an instant email and a text alert, like this $900 roundtrip fare to London in Virgin Atlantic business class from earlier this year.
Sign up for Thrifty Traveler Premium+ to get deals like these  – you'll make your subscription fee back (and then some) when you book your first deal!
More Cheap Cash Fares
Just how cheap can flights get? Instead of telling you, we'll show you.
We find domestic deals around the U.S. from as low as $50 … roundtrip!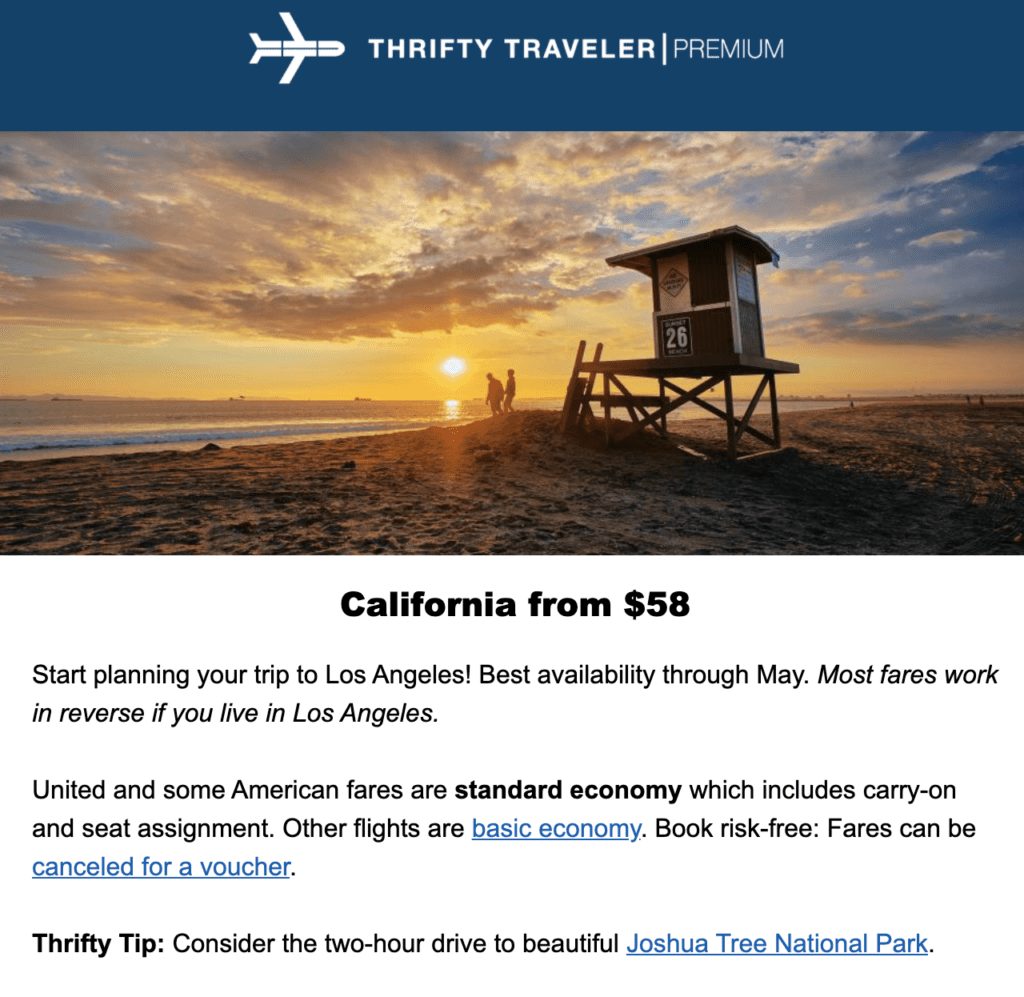 Every alert we send to your inbox has links so you can book directly with the airline. In each deal, we also keep you up to speed on any pertinent travel restrictions and point you to the best way to book a fare that can be changed or canceled for free – just in case. And because trips only start with a cheap flight, we also include destination guides so you can start planning, too.
We regularly unearth jaw-dropping fares to your bucket list destinations like these record-low fares to Hawaii we found earlier this year.
But the cheap flights continue to countries across the globe. And no, the deals we find aren't just from major airports. Check out these fares to Spanish cities like Madrid (MAD), Barcelona (BCN), and even Valencia (VLC) for less than $400 roundtrip – from almost every airport across the country!
We've been sending Thrifty Traveler Premium members tons of dirt-cheap fares to Caribbean islands lately, even harder-to-reach destinations like Aruba (AUA) or St. Maarten (SXM). With these alerts, you can snag flights that normally cost $700 or more for $250 or less!
These recent flight deal examples are no longer live … but there will be plenty more! The hotter the deal, the shorter it lasts.
Who Are Our Services Good For … And Not?
We think most travelers could benefit from our Premium flight deal alert service. Who wouldn't want the heads up on the cheapest flights from their home airport?
But there's no question that some travelers can benefit from this service more than others.
Who It's Best For
You're sick of overpaying for flights: No matter where you're going, Premium flight deal alerts often save travelers at least $250 – or much more – compared to normal prices.
You're open to traveling wherever a cheap flight will take you: Our long-time, most-loyal members tell us that getting flight deal alerts has changed how they travel because it's opened their eyes to new destinations they wouldn't have otherwise considered.
You want to travel both domestically and internationally: Sure, you could just focus on one or the other. But since we send both domestic and international flights to Premium members, travelers who want to go somewhere both near and far stand to gain the most.
You've got points and miles to burn, too: Thrifty Traveler Premium is the only flight deal service that finds both cheap cash fares as well as award alerts to use their points and miles – including first and business class redemptions!
Who It's Not Good For
You've got one trip in mind: If you already know exactly where and when you want to go and don't care about other trips, you won't get the most value out of Thrifty Traveler Premium.
Your travel dates are set in stone: If you can be even a little bit flexible with your schedule, you could come out ahead. But if you can only travel on specific dates, you may find that the deals we send you don't work with your plans.
You want a travel agent to book your flights for you: We're not a travel agency. Instead, we simply send you the best deals from your home airport and put the power to plan your trip (for less) in your hands.
You're looking to travel last minute: Some travelers assume this is what our service is all about, but we never send out flight deal alerts that would force you to hop on a plane in the next few days or weeks.
Thrifty Traveler Premium FAQs
What if I want a refund?
We're so confident in our flight deals, we offer a 100-day money-back guarantee. If you give our flight deal email alerts a try and the deals don't blow your mind, shoot us an email.
I'm looking for a specific flight on specific dates. Will this work for me?
Our flight deal alert service works differently than a travel agency: we don't make the deals, we find them! This service works best for travelers who are open to travel to more than one destination. We always say: let the cheap flight be your guide of where to explore next.
If you only have one specific destination and date you need to travel on, we recommend using Google Flights to search and setting a Price Alert for the specific dates you need to travel. 
Can I search for deals, like on Expedia or Priceline?
You will receive flight deal email alerts as we find them, rather than searching for deals. You can expect at least one email a day from larger cities – or a few emails a week from smaller airports. Thrifty Traveler Premium members typically get a few award alerts and premium cabin fares a week, too.
Unlike a search engine, you won't put in your destination or dates. When you get an email alert for a deal you're interested in, simply follow our instructions to book direct with the airline.
Bottom Line
It's as simple as that. We find flight deals, we send them to you, you book directly with the airline and save $200 to $500 or more on each flight.
Never overpay for a flight again! Sign up for Thrifty Traveler Premium today, and join the thousands of subscribers who are flying for half (or less!) the price.