There's hotel elite status, and then there's Hyatt Globalist status. And one unique benefit of the Hyatt's top-tier status vaults it even further ahead of the competition.
It's called World of Hyatt Guest of Honor – and it's one your friends and family will appreciate. With Hyatt's Guest of Honor benefit, Globalist members can book a stay for someone else and bestow their elite benefits on that guest … even if you're not staying with them.
That means that a Guest of Honor will get most of the perks as a top Globalist – even if it's their first time stepping foot in a Hyatt hotel. Free breakfast each morning? Check. Waived parking fees? You got it. Room upgrades and a 4 p.m. late check-out? You bet!
So what's the catch? This benefit only works when booking a "free night" for a Guest of Honor … and that means it won't work on paid stays. You can, however, use points or Hyatt free night certificates to make a Guest of Honor booking. And thanks to Hyatt being a transfer partner of both Chase and Bilt, it's quite easy to earn the points needed for a free night.
Here's everything you need to know about how Hyatt Guest of Honor bookings work and exactly what kind of benefits you can expect.
Read more: Why Hyatt is the Best Hotel Rewards Program
What Benefits Do You Get With Guest of Honor?
Hyatt's top-tier Globalist elite status is the best-of-the-best … but it's not easy to earn.
Unlike other hotel chains, Hyatt doesn't offer many shortcuts to the top. And while having a co-branded credit card like The World of Hyatt Credit Card or *world of hyatt business* will help get you there faster, it's no golden ticket.
Since Globalist status is reserved for Hyatt's most loyal customers – those spending upwards of 60 nights per year with the hotel chain – it comes with some pretty desirable perks: Free daily breakfast, free parking on award stays booked with points, regular upgrades (including to suites that other hotel chains won't bump elites up to), and more.
And most of them get passed onto your Guest of Honor when you book them a free night, too.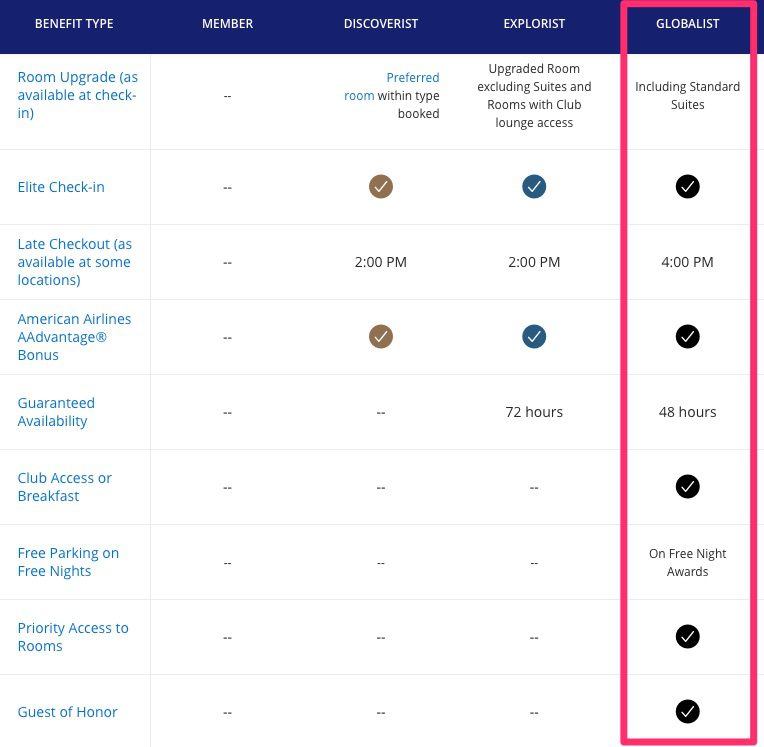 Here's what you can expect when staying as a Guest of Honor.
Complimentary Breakfast or Club Lounge Access
One of the best perks of being a Hyatt Globalist is having Club lounge access – or, in most cases, getting free breakfast.
If the hotel or resort you're staying at has a Club lounge, Guests of Honor will receive access and get complimentary breakfast, daily refreshments, and evening drinks and hors d'oeuvres there. Most Hyatt's in the U.S. have done away with their Club lounges, but you can still find them at many of the hotel chain's top international outposts.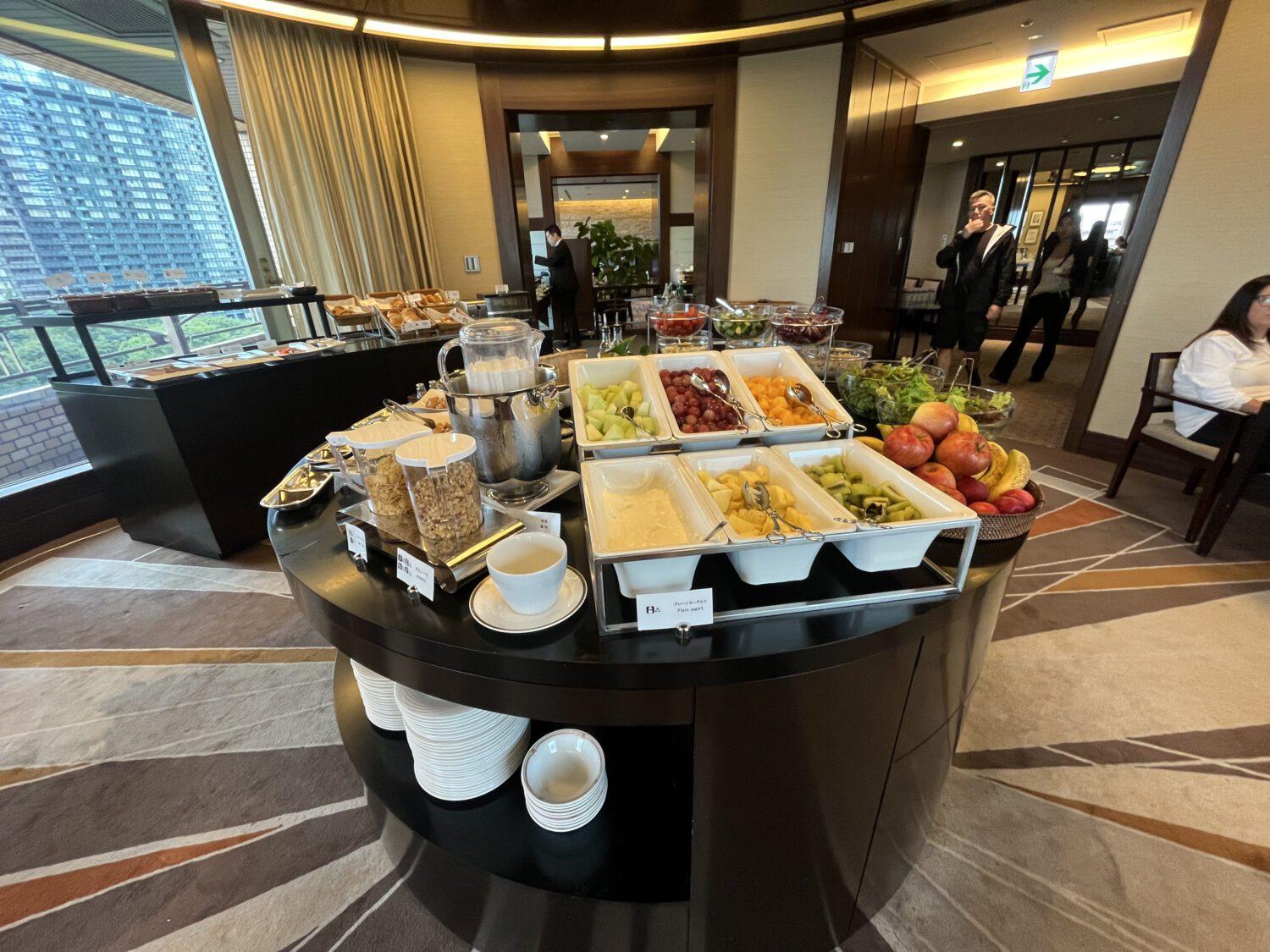 When you're staying at a property without a Club lounge (or if it's closed), Guests of Honor will receive full breakfast each day in the hotel's restaurant. This breakfast benefit applies to each registered guest in the room – up to a maximum of two adults and two children. Complimentary breakfast includes an entree or breakfast buffet (and in some cases, both), juice, and coffee. Tax and tips are included, too.
So it really is a full breakfast … and complimentary.
Room Upgrades
Guests of Honor are eligible for a room upgrade to the best available room at time of check-in. The "best room" may be a room type or category higher than the one that was booked, all the way up to standard suites.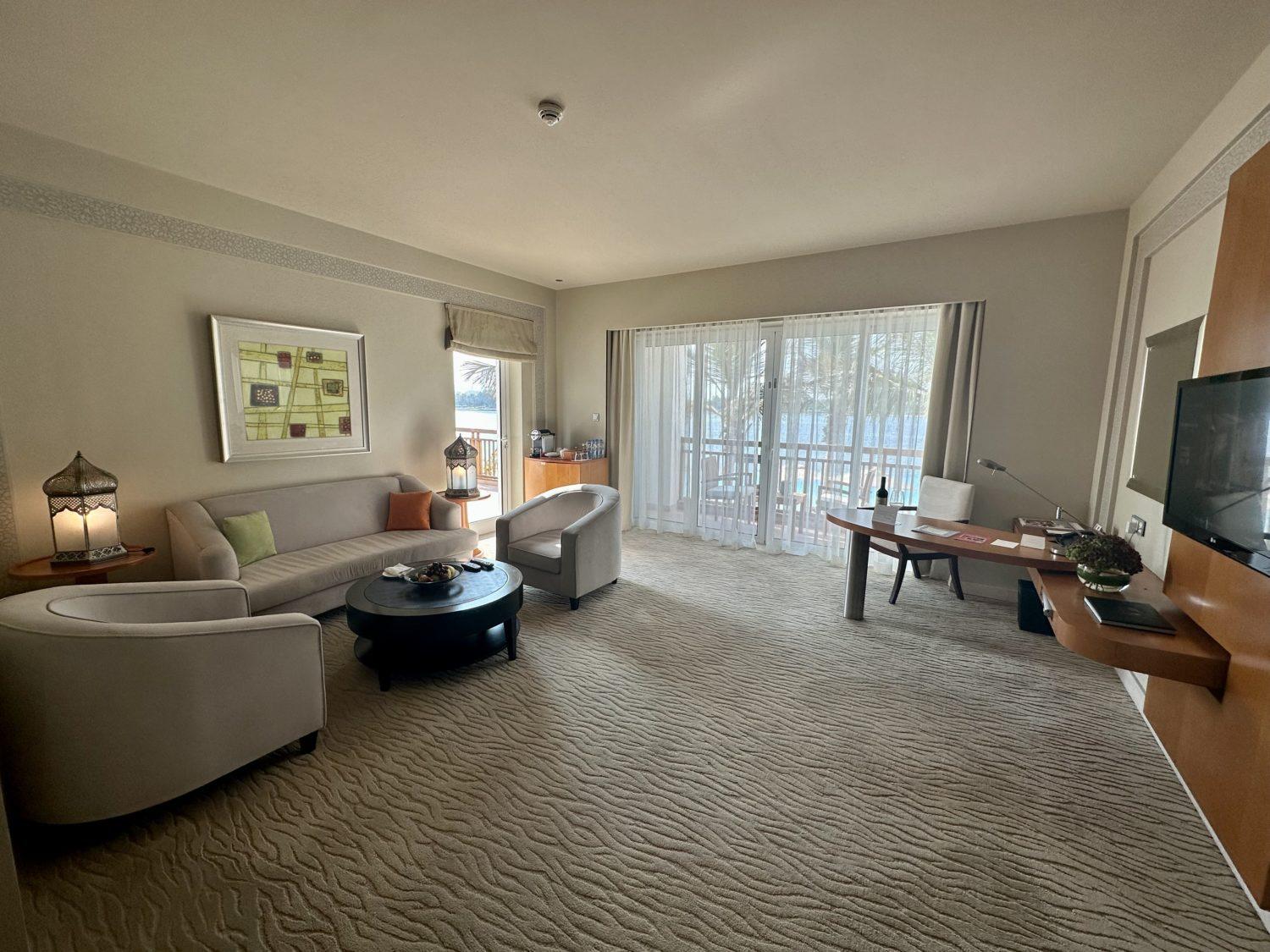 It'll vary by property and how busy the place is, but Guests of Honor can benefit from some amazing upgrades.
At the Andaz Capital Gate in Abu Dhabi last year, our editor Kyle was bumped all the way up to a Capital Suite – nearly twice the size of the standard king bedroom with a separate living room and excellent bathroom.
Premium, specialty, and presidential suites are not eligible for this upgrade benefit. And you shouldn't expect an upgrade, period, at Caption by Hyatt, Hyatt Place, Hyatt House, Destination by Hyatt Residences, or Hyatt Vacation Club hotels and resorts.
Buyt overall, consistent upgrades are one reason why frequent travelers love Hyatt above other hotel chains. And even Guests of Honor can benefit from them.
Free Parking and Waived Resort Fees
Free parking on award stays is a huge, money-saving benefit that get's passed on to Guest of Honor bookings. If you're staying at Hyatt property in a metropolitan area like Chicago or New York City, it's not uncommon for nightly parking rates to cost as much as $100 per night.
If you're staying for multiple nights and would otherwise be paying for parking, this benefit can be extremely valuable.
4 p.m. Late Check-Out
Another big benefit of Hyatt's Globalist elite status that gets passed on to Guest of Honor bookings is a 4 p.m. late check-out.
Late check-out isn't exactly guaranteed to Guests of Honor or even top Globalist members themselves. Hyatt terms clearly spell out that it's possible "as available at some locations." But in our experience, that's a much safer bet than with the likes of Hilton or Marriott. And a 4 p.m. checkout is far later than you'll get at other chains.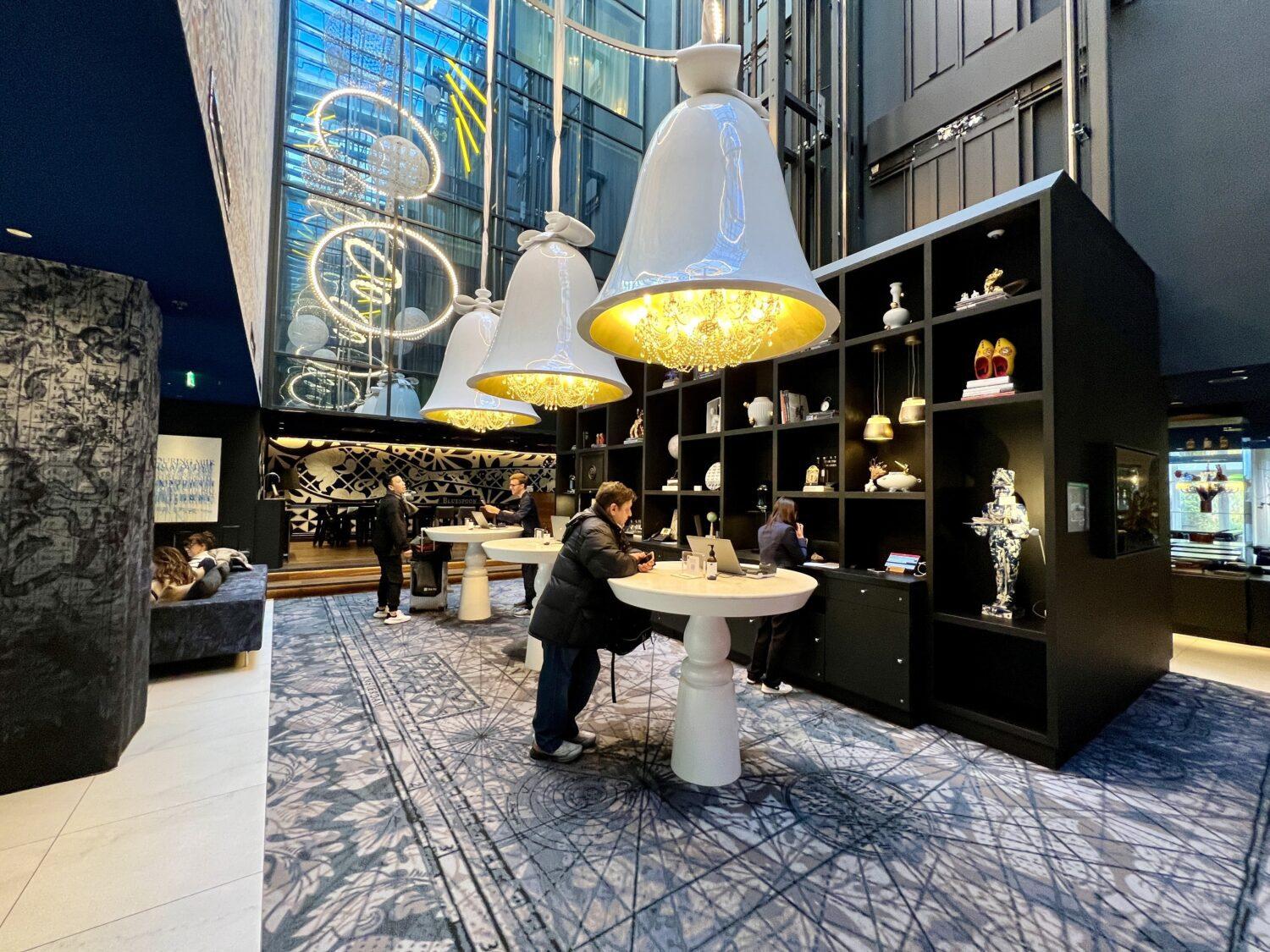 That can be key for anyone with an evening flight or business meeting late in the day. Having the option to return to your hotel room to regroup after being out sightseeing – or even just having a secure place to store your luggage – is another nice perk that comes with being a Guest of Honor.
What Benefits Don't Come With Guest of Honor Bookings?
It's a short list, but there are a few Globalist benefits that don't get passed on to a Guest of Honor booking.
One such benefit is the 30% point boost that Globalists get on Hyatt purchases. Since Guest of Honor benefits are only available on free nights this isn't a huge loss, but if you charge any meals, spa treatments, or gift shop purchases to your room, you won't earn the typical Globalist bonus.
Finally, Hyatt Globalists are unable to use Suite Upgrade Awards on Guest of Honor bookings. These suite upgrades are available to Globalist members as Milestone Rewards upon reaching 50 and 60 nights with the hotel chain. Guest of Honor bookings are still eligible for complimentary room upgrades, including suites, but there isn't a way for Globalists to apply one of their prized Suite Upgrade Awards ahead of time in order to guarantee a suite.
Read more: The Best Ways to Use a Hyatt Free Night Certificate
How to Make a Guest of Honor Booking
If you're a Hyatt Globalist ready to treat a friend or family member to an elite-like stay, it's not quite as simple as logging into your Hyatt account and putting someone else's name in the "Guest" field. But it's still quite easy.
You've got two options. You can either call or email your Hyatt Concierge to complete the reservation for you. Hyatt Concierges are just another one of the many perks that come with being a Globalist: A dedicated representative that helps with requests like this and any other hotel-related issues that come up.
Calling your concierge is the quickest way to complete a Guest of Honor booking, but emailing will be the most painless. Unfortunately, Hyatt eliminated the ability to book these reservations by messaging on social media platforms like Twitter a few years ago.
Either way, be prepared to provide your concierge with the name of the hotel, dates of the stay, number of guests, their name and contact info, as well as their World of Hyatt member number.
Earning Hyatt Points & Free Nights
Hyatt points are undisputedly the most valuable of any major hotel chain. You'd think that would also mean they're the toughest to earn … but thankfully, that's not the case.
Hyatt is a transfer partner with both Chase and Bilt, which means you can easily earn Hyatt points through new card welcome offers, day-to-day credit card spending, or even by paying your rent!
If you've got the ultra-popular *chase sapphire preferred* – or the business version, the *chase ink preferred* – in your wallet, you're already earning Hyatt points.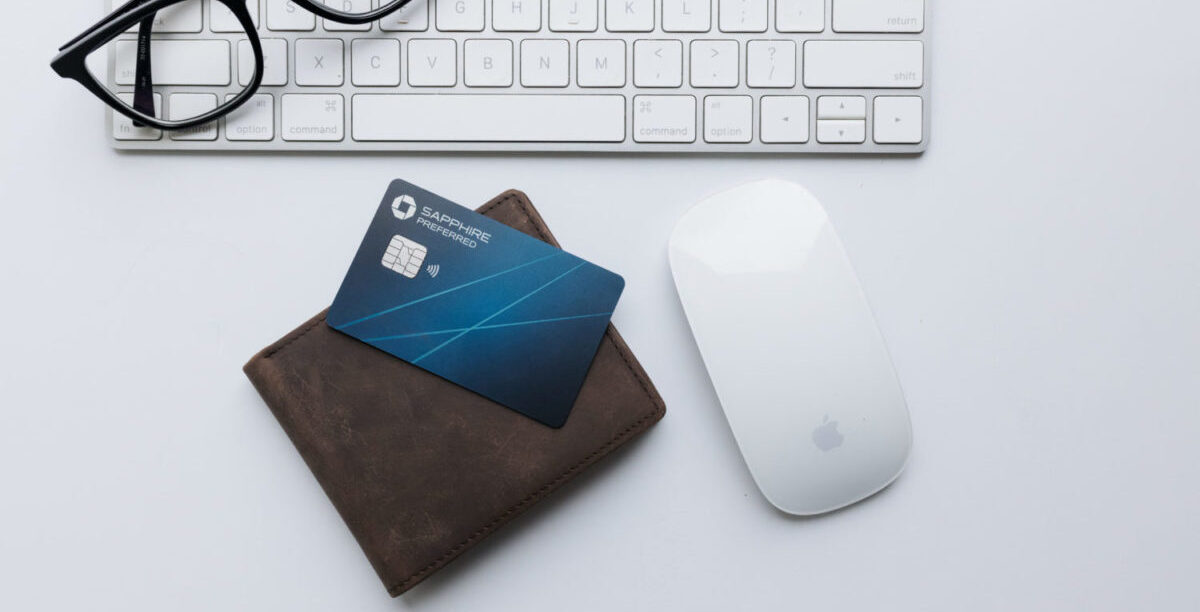 If you carry a Hyatt co-branded credit card like The World of Hyatt Credit Card, you're obviously earning Hyatt points, but you can also use the card's annual free night certificate to book a Guest of Honor stay. Since the card also earns an additional free night with $15,000 of spending each year, it's possible to use two certificates per year for a Guest of Honor booking, plus any additional points you may have earned.
Thrifty Tip: Earn additional free nights with Hyatt Brand Explorer! Once you stay at five different Hyatt brands, you'll earn a free night certificate that can be used at any Hyatt category 1-4 property within the next 12 months.

Transfer Points Between Hyatt Accounts!
Another option for getting the points needed to complete a Guest of Honor booking is to have your guest transfer them to you. In this case, they'll benefit from getting your Globalist perks and it won't cost you a thing (aside from a little time) to help them out.
If you're planning to go this route, you'll need to complete Hyatt's "point combining request form" with both Hyatt members' information, then e-mail (or snail mail) it back to Hyatt's customer service team. Point transfers (sending or receiving) can only be completed once every 30 days, but there is no limit on the amount of points you can combine each year. These transfers typically take anywhere from 24 hours to a week to complete.
Transferring points from one Hyatt account to another isn't the most seamless process. But with a little effort, it can be done – and the benefits you get with a Guest of Honor booking will surely make it worth the trouble.
FAQs about Guest of Honor Bookings
We've covered a lot of ground about Hyatt Guest of Honor, but there are a few other details worth calling out – and others that bear repeating.
Are All Hyatt Properties Eligible for Guest of Honor?
Most … but not all.
From your standard Grand Hyatts and Park Hyatts to smaller Alila properties and the Joie de Vivre portfolio of boutique hotels, most Hyatt properties are eligible to book for your Guest of Honor.
But one specific kind of property misses the cut: Small Luxury Hotels of the World (SLH), a collection of hundreds of independently operated hotels and resorts across the globe. While you can redeem your own Hyatt points for free nights at these properties, they're not eligible for a Guest of Honor booking.
Can You Book Paid Nights for a Guest of Honor?
No, sadly.
You must redeem a free night in order to book a Guest of Honor stay. Paying for a standard stay using cash won't confer any of your Globalist benefits to a friend or family member.
But that doesn't just mean just award nights booked using points.
What About Free Night Certificates?
Yes! Whether you use points or a free night certificate from a card like the The World of Hyatt Credit Card, both work for Guest of Honor bookings.
Just keep in mind that you'll need to follow the terms of your free night certificate in order to use it for a Guest of Honor stay. For example, The World of Hyatt Credit Card's free night certificate is only eligible for Category 1-4 properties. That means you'll need to focus on properties that cost 15,000 points – or as much as 18,000 points, the rate for a peak night stay at a Category 4 property.

Can I Confer Guest of Honor Benefits to A Previously Booked Stay?
No, you cannot.
You have to actually book the night from your account with your own points, Globalists. That means there's no way to "transfer" your Guest of Honor benefit to an upcoming hotel stay that a friend or family member has already booked.
You'll need to have your loved one cancel that existing reservation and book it from your own account using your Globalist concierge.
Bottom Line
Hyatt's Globalist elite status is without a doubt the most rewarding top-tier status of any hotel rewards program – but one key benefit is ofter overlooked. Hyatt's Guest of Honor benefit allows Globalist members to book a free night – using points or certificates – for a friend or family member and pass on nearly all of their elite benefits for that stay.
This means that Guests of Honor will get valuable perks like free breakfast, waived parking fees, late check-out, and even room upgrades – even if they've never stepped foot in a Hyatt hotel.
Featured image courtesy of Hyatt Hotels