Alaska is having its moment in the spotlight. And Anchorage is right in the center of it.
As mainlanders stay closer to home but flock for the great outdoors this summer, Alaska has become one of the hottest destinations. Airlines are flying more than ever into Anchorage (ANC), Fairbanks (FAI), and other Alaskan cities. Flights to Alaska are cheaper than ever – though rental car prices are another issue.
Once you're there, you won't have a problem finding things to do. From hiking to kayaking, train rides and boat tours, spotting bears, whales, and more, Alaska is a truly unique destination.
Here are our top tips and things to do in Anchorage.
How to Get to Anchorage
In normal times, flights to Anchorage or elsewhere in Alaska would run you $600 or more roundtrip. But these are not normal times.
Alaska, American, Delta, and United all have service into Anchorage (ANC), and they've launched more flights (with cutthroat competition) for the summer and fall of 2021. That's resulted in a slew of fares at half-price or less. We've seen flights to Anchorage hovering under $300 from airports nationwide, big and small.
Scoring a cheap flight up to Anchorage has become easier than ever in the past year.
Even from Midwestern cities like Minneapolis-St. Paul (MSP), we've seen roundtrip fares on Delta – flying nonstop, no less! – to Anchorage drop as low as $207.
Get flight deals to Alaska, Hawaii, and other domestic and international destinations sent straight to your inbox with Thrifty Traveler Premium!
Renting a Car in Anchorage
Renting a car in the U.S. has become incredibly difficult and expensive due to a rental car shortage. And that problem is perhaps most pronounced throughout nearly all of Alaska.
Use the following tips to get a better deal on a rental car for your trip to Anchorage.
Search Early on Several Rental Websites
Always search Priceline, Kayak, Hotwire, and other online travel agencies, in addition to searching directly with rental agencies like Hertz, Avis, National, and others.
Pricing can vary substantially depending on where you're looking. So here's a general rule of thumb: Never check less than three travel agency sites before booking a rental car.
Most importantly, start your search for a rental car as early as possible. While we always recommend booking flights first, a rental car search should be your next step for any trip to Anchorage.
Use Autoslash
Autoslash is a little-known car rental search engine, but it should be more popular. It finds the best coupons for your rental and also tracks your reservation after booking and will rebook if the rate drops!
Already book through another site? No problem! You can input your existing rental and track it in case the price drops. When it does, just rebook and pocket the savings!
Check Out Turo Instead
There's Airbnb for houses, and Turo is for cars.
Car owners post their vehicles on the Turo platform which can then be rented by users in need of a car. Skip the long lines and high fees at the car rental kiosks at the airport. The Turo website and smartphone app allow you to select your car type, dates, features, and amenities you need.
Read up on Turo and give it a whirl for your next trip.
Try a U-Haul
Yes, really. When all else fails, search U-Haul.
Many U-Haul locations nationwide have pickup trucks and vans available at very reasonable daily prices. And trust us, you won't be alone: Grabbing a U-Haul has become a common solution in Alaska and elsewhere in the U.S. when rental cars aren't available.
Can't Find a Vehicle Anywhere? 
If you can't find a vehicle, don't write off the trip altogether. Get creative!
While other Alaskan cities may require a rental car to get around, you can make it work in Anchorage. Stay in downtown Anchorage so you can walk to coffee shops and restaurants. Use Uber or Taxis to get around in Anchorage. You can also rent bikes in downtown Anchorage.
Take the train to get to Seward or Denali where you can join a boat or bus tour right in the area. If there are other activities on your list, research tours that offer transportation from your hotel.
Thrifty Tip: Use the Chase Sapphire Preferred Card or Chase Sapphire Reserve to rent your car and take advantage of the primary car rental insurance benefit these two cards offer! Just note that this benefit does not extend to cars rented through Turo.
Visit the Alaska Zoo in Anchorage
The Alaska Zoo is a great spot for kids and adults alike. Besides all of the great animals, the zoo has live music on select Saturdays, behind-the-scenes tours, and up-close animal encounters. Tickets cost $17 per adult and $10 for kids ages 3-17.
Thrifty Tip: Don't have a rental car? The Zoo is also offering free shuttle service (donations accepted) from downtown Anchorage during the summer.
Tony Knowles Coastal Trail
The Tony Knowles Coastal Trail is an 11-mile trail winds along the coast from downtown Anchorage to Kincaid Park. This trail is very popular with bikers, rollerblades, and hikers – and even cross-country skiers in the winter.
The trail will give you views of Denali, possible encounters with moose, Beluga whales off the coast, and provide tons of nature from start to finish as you ride or walk through wooded areas.
There are a few spots to rent bikes in downtown Anchorage, whether you want a bike for a few hours or the whole day. Prices vary based upon how long you rent and what type of bike you rent.
The Anchorage Botanical Gardens
The botanical garden is a good hour- to two-hour-long activity if you're looking for something to do right in Anchorage. There are a handful of outdoor gardens displaying local flowers and plants, along with a mile-long trail in the woods.
You can also attend workshops related to health and wellness or crafts like cement leaf casting. Throughout the summer, they host picnics in the garden where you can eat a catered picnic after the gardens have closed to the public.
Tickets cost $12 per adult, $8 for children 7-17, and children 6 and under are free.
The Alaska Wildlife Conservation Center
The Alaska Wildlife Conservation Center, just an hour from downtown Anchorage, is an outdoor animal sanctuary, dedicated to preserving Anchorage's wildlife through education and research. The animals in the sanctuary have either been permanently wounded, orphaned, or are otherwise unable to survive in the wild on their own.
Tickets cost $17 per adult, $13 for children ages 7-17, and admission is free for children 6 years old and under. The park is a 1 1/2-mile loop that you can either walk or drive. There is a gift shop, bathrooms, and a food truck selling snacks and hotdogs.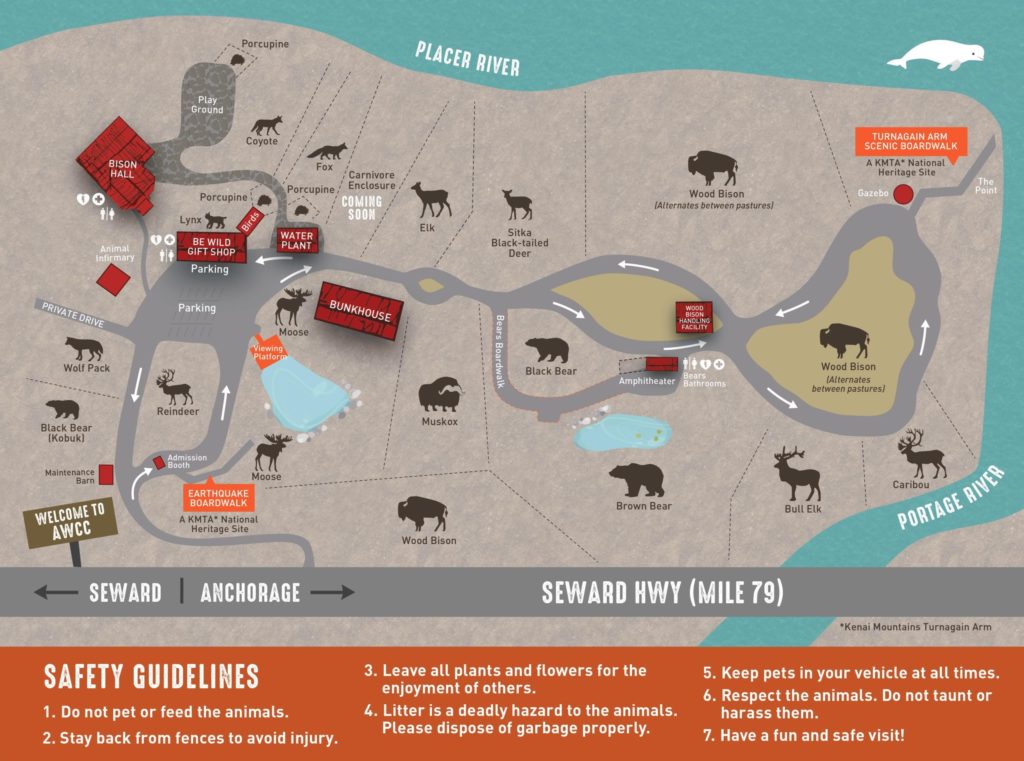 Portage Glacier Boat Tour
Portage Glacier, a glacier on Portage lake, is 1 hour 20 minutes from Anchorage – or just 25 minutes from the Alaska Wildlife Conservation Center.
You can take a boat tour on the lake with Portage Glacier Tours to get a great, up-close view of the glacier. The tour costs $45 per adult and $25 per child and lasts about one hour. You can purchase tickets in advance or you can buy tickets the day of at the gift shop – or sometimes, right on the boat itself.
You'll boat out to the glacier, which is located inside the Chugach National Forest. Guides on the boat are forest rangers, with tons of knowledge about the glacier itself and the surrounding area. It's a great activity for adults and kids alike.
Ride the Alyeska Arial Tram for Great Views
The Alyeska Resort is a well-known ski resort in the area, but it's still a great summertime activity.
You can ride the tram up the mountain in the off-season for unbeatable views of the Girdwood Valley and a drink or snack at the ski lodge.
The tram runs every day, with tickets starting at $35 per adult, $25 for students 13-18, $18 for kids ages 6 to 12, and free for kids 5 years old and under. You can't buy tickets online ahead of time, but it's easy to just walk up and get tickets during operating hours.
The resort also has plenty of hiking trails starting right at the property. You can find a map for all of the trails right on the Alyeska Resort website.
Lunch or Dinner in Whittier, Alaska
Making a day trip from Anchorage to surrounding sites like the Wildlife Conservation Center, Portage Glacier, or Alyeska Arial Tram, there's not much in-between – and few spots to stop to eat. That makes Whittier a perfect pit stop.
Whittier is a fun town right on the western edge of Prince William Sound, just 20 minutes west of Portage Glaciar with a handful of restaurant options. The Inn at Whittier is a great spot for lunch or dinner. Enjoy fish and chips, chowder, or king crab with a great view of the harbor.
If you decide to head that way, just know that you have to drive through a one-lane tunnel to get there and back. Traffic through the tunnel is staggered: It opens for entry into Whittier on the half-hour, and traffic leaves Whittier on the hour. It's a good idea to check the tunnel schedule ahead of time so you aren't sitting in your car for 45 minutes waiting for your turn.
Take a Day Trip to Seward from Anchorage
Seward is the perfect day trip from Anchorage.
Right on the Gulf of Alaska, Seward is about a 2 hour, 30 minute-drive south of Anchorage, but you can also take the scenic train ride down. While the ride takes twice as long and tickets start at roughly $100, you'll be rewarded with great views and food and drinks onboard. Plus no one is stuck behind the wheel!
This is a popular starting point for fishing, kayaking, and boat tours of the fjords. There is a ton of wildlife to see when you are on the water, including whales, seals, and puffins.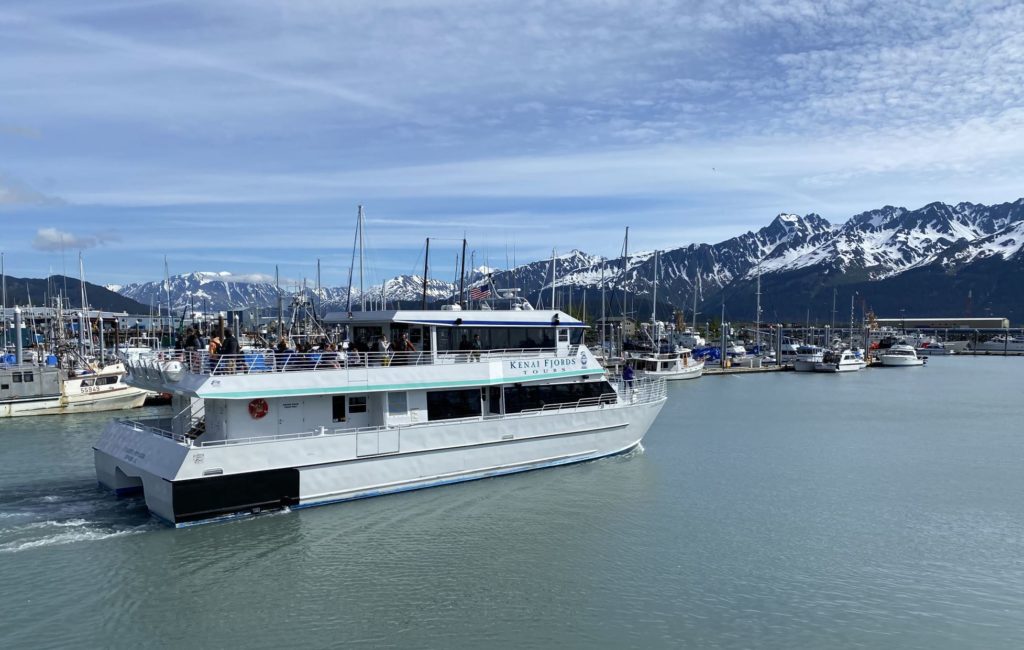 Kenai Fjords Boat Tours
There's no shortage of companies to pick from for a boat tour of the ara, but one of the most popular options is Kenai Fjords Boat Tours.
And there are plenty of options among tours, too, with tours of just four hours to more than eight hours, and different ventures to choose from. Even if you're in Seward just for the day, there are good options for a quicker jaunt by boat.
We chose a six-hour national parks tour for $153 per adult, which came with lunch. Onboard, you can also purchase snacks, beer, wine, and soft drinks. No matter how nice and sunny it is in Seward, it will get cold on the boat. Bring lots of extra layers and a hat.
We spent much of the day boating to different spots, including a glacier. We were able to see both orca and humpback whales, seals, puffins, a bear on the shore, a sea otter, and lots of birds.
Thrifty Tip: If you get any sort of motion sickness, you will want to take Dramamine or other motion sickness medication before the tour starts. You can buy some onboard, but it won't kick in for a while.
Where to Eat in Anchorage
There is something for everyone in Anchorage including brewpubs, seafood restaurants, pizza, taco spots, and more. But a few spots stood out during our recent visit to Anchorage.
49th State Brewing Co. has a menu that will please anyone in your group with sandwiches, fresh fish, pizza, and more. Plus, it's a large restaurant with space for large groups. Give their beer a try or try one of their craft cocktails. If it's nice out, there is a great rooftop patio.
Moose's Tooth Pub and Pizzeria is a popular restaurant known for its specialty pizzas. If you head here, be prepared for a wait. This massive restaurant is always busy … but it's worth the wait. The portions are incredibly large – even the small pizzas. Unless you want to take home leftovers, consider sharing.
Glacier Brewhouse is a little bit more upscale than 49th State Brewing Co and the food is more on the expensive side. But the seafood here is delicious and they have some of the best seafood chowder in town. You will want to make a reservation – especially if you have a larger group.
El Jefe Taco Joint is a brand new, small taco spot with street-style tacos. If you're looking for a change from breweries and pizza this is a great, easy dinner.
Can You Visit Denali from Anchorage?
Denali National Park is a popular destination in Alaska – and for good reason.
If you want to visit Denali, flying into Fairbanks (FAI) is a much better starting point. But it's still doable from Anchorage: It's about a four-hour drive or six-hour ride by train. But that means you should probably plan to stay overnight if a Denali visit is on your list.
To see the park, you'll need to book a bus tour. Make sure to book it well in advance as tours tend to sell out quickly.
Bottom Line
There is so much for almost every traveler in Anchorage. Its nature is almost unparalleled in the U.S., with plenty of easy spots to visit nearby as well as amazing day trips within reach.