Dreaming of splurging – or saving up some points and miles – to fly first or business class for the first time? It's impossible to forget the first time: Sipping champagne after boarding, eating a multi-course meal, slipping into airline-provided pajamas and reclining your seat into a bed for a snooze as you make your way halfway across the world.
Leaving the cramped economy seats doesn't have to be a pipedream or cost a fortune. Just ask Thrifty Traveler Premium member Jessica, who considered herself a novice when it comes to traveling on the cheap just a few years ago. But this year, she combined the right points and miles strategy and one of our award alerts to fly international business class for the first time. And she's not stopping there.
Read up: This is how it's done.
The Makings of a Thrifty Traveler
Jessica and her husband, Nate, just got back from their first business class flight to Europe – on a Thrifty Traveler Premium deal, of course. And she simply had to share their success story from their trip in our Premium members-only Facebook group.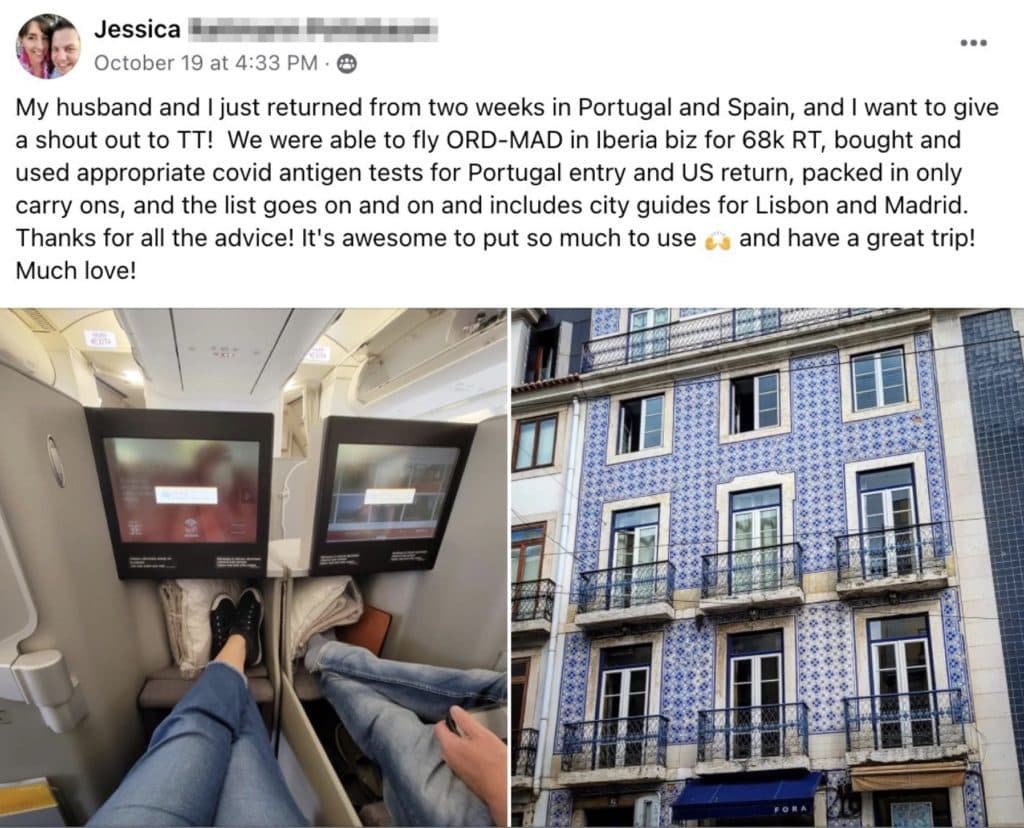 So how did she make it happen? Jessica said the planning process for this trip started more than two years ago: at one of our in-person Thrifty Traveler University travel-hacking seminars, where we teach travelers the ins and outs of finding cheap flights, using miles, and other money-saving strategies. Jessica said she came to the seminar "starting at zero" when it comes to traveling more for less.
Equipped with what she learned, Jessica opened her first travel credit card: the Chase Sapphire Preferred® Card. From there, she set out to diversify her points and miles, earning more welcome bonuses to fuel her future travels.
In the months and years since, Jessica and her husband have been busy booking flight deals we sent to Premium members, like a mistake fare to Santiago (SCL) for under $200, another mistake fare to fly Delta One business class to Sao Paolo (GRU), a Delta SkyMiles flash sale to Alaska, a cheap fare to Aruba (AUA), and many more.
But first, it was off to Europe … and they were determined to do it in style.
Flying Up Front to Europe
Let's fast forward to 2021.
Normally, a business class flight to Europe would cost $3,000 to $6,000 or more roundtrip. Instead, Jessica jumped on an alert from Thrifty Traveler Premium to fly Iberia business class to Madrid (MAD) for just 68,000 miles each – less than what most airlines charge to fly in economy! It's one of the best deals in the world of points and miles.
Thrifty Traveler Premium members get award alerts like this, plus cheap domestic and international fares! 
So Jessica transferred a stash of Chase Ultimate Rewards and American Membership Rewards points to Iberia to book flights from Chicago-O'Hare (ORD) to Madrid for herself and her husband. Then, they booked a positioning flight from their home in Minneapolis-St. Paul (MSP) to Chicago to hitch their fancy ride across the Ocean.
Read our full guide on how to book Iberia business class for 68,000 miles roundtrip!
This is one of our favorite ways to fly in lie-flat seats to Europe for less. Iberia business class includes advanced seat assignment, lie-flat seats, business class meals, checked bags as well as lounge access, including AA's outstanding Flagship lounges in Chicago, NYC, & Miami.
And it lived up to the hype for Jessica and Nate. This was Jessica and Nate's first business class experience, and as you could expect, they're ready to do it again! When your inflight legroom looks like this, how can you ever go back?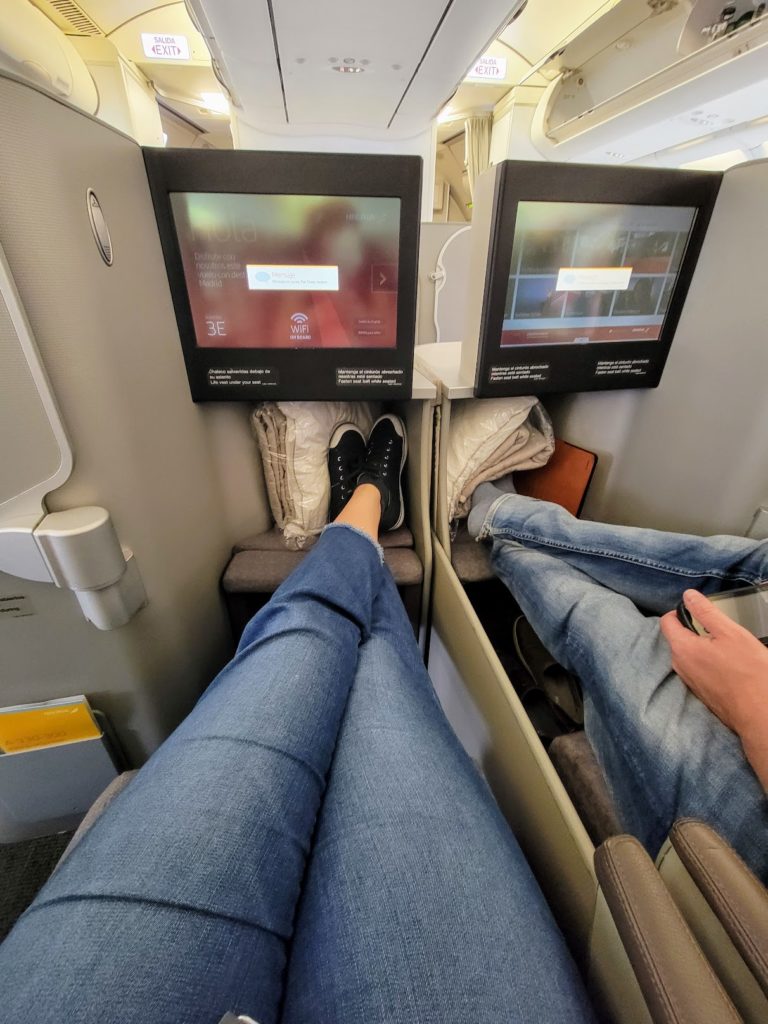 Check out our full review of Iberia business class!
It wouldn't have been possible without learning the basics of points and miles – and the value of using credit card transfer partners to airlines to squeeze even more. Jessica said that's been one of her biggest lessons since diving deeper into travel and becoming a Thrifty Traveler Premium member.
"I really want to keep flying business and first class now that I've had a taste!" she said.
And when the "taste" of business class looks like this multi-course meal, who could say no?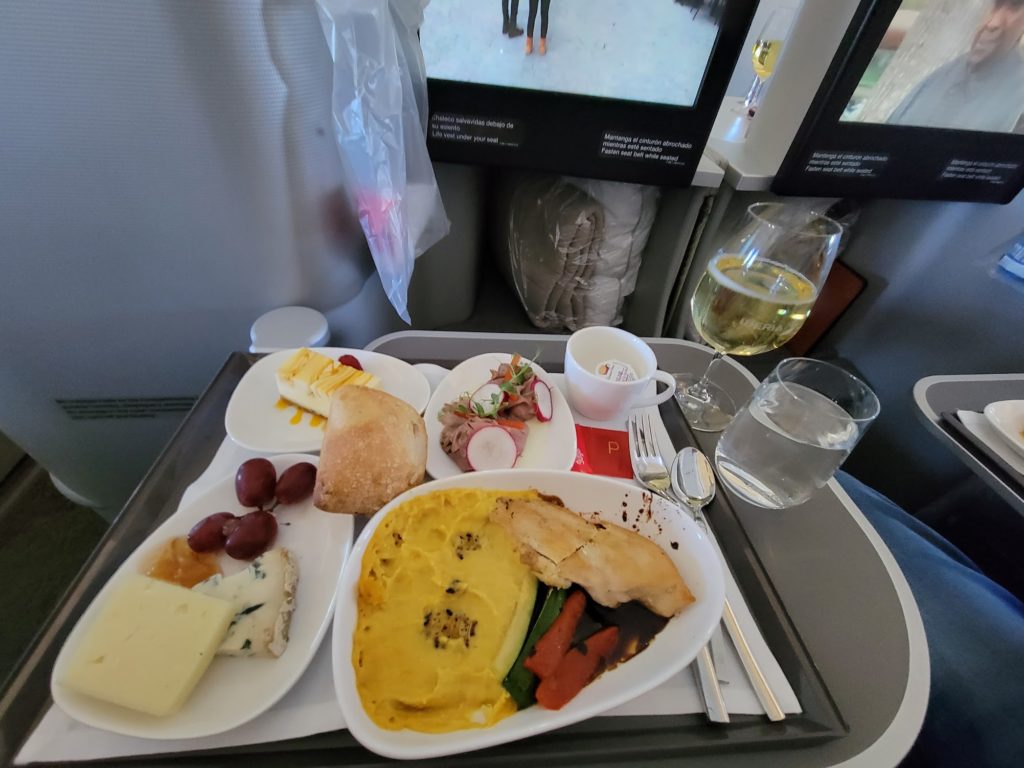 More Thrifty Tips in Portugal
But the Thrifty Traveler tips they used for this trip didn't stop when the flight ended and it was time to get out of bed in those business class seats.
Jessica and Nate had been to Spain before, and wanted to explore a neighboring country this time. They had heard from the Thrifty Traveler team that Portugal was incredibly underrated so they added it to this trip!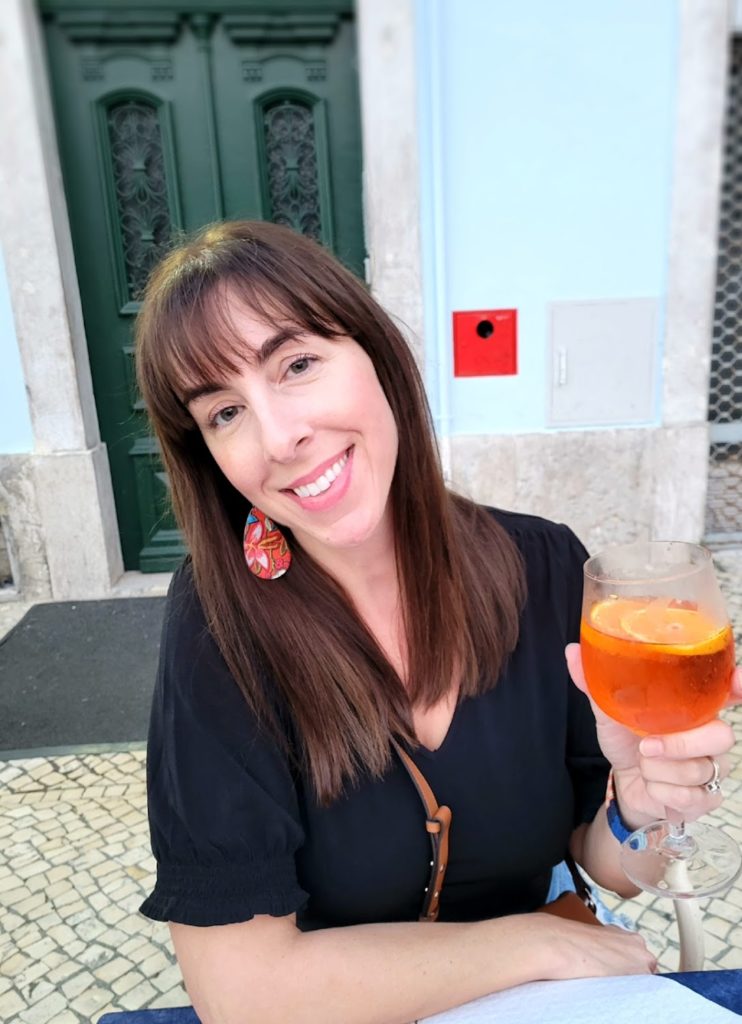 After learning of Airbnb Experiences through Thrifty Traveler and the members-only community, the couple did a few Experiences in Portugal. First, they booked an Airbnb Experience riding tuk-tuks around Lisbon to see various areas of the city from a local's perspective. The host offered great recommendations for restaurants, sunset rooftop bars, and markets.
Then they took the train to Sintra where another Airbnb Experience guide took them around the castle, the countryside, and the westernmost point in mainland Europe.
"The guide shared sooo much history and really knew his stuff!" Jessica said.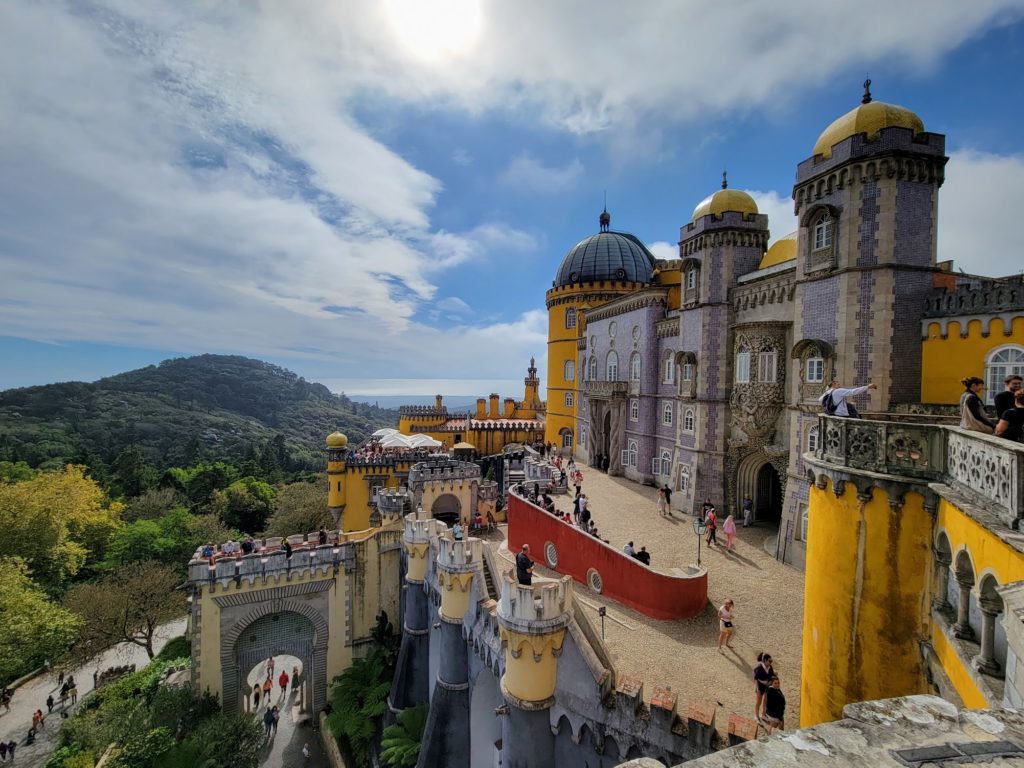 Jessica didn't use all she had learned about points and miles for just the sweet flight over the Atlantic. They also used Chase points to book their hotel, Casa Balthazar. Yes, even quaint little hotel bed and breakfasts are bookable with points through the Chase travel portal –  and the couple absolutely loved it!
After that, the two jetted off to Tenerife for a few nights on the beach. There, they went on a tour of Mount Teide, Spain's tallest mountain, that included dinner, sunset champagne, then amazing stargazing with our guide.
Jessica shared more about this trip highlight: "It was phenomenal all we could see from there – the Milky Way, Andromeda, you name it. Above the cloud line, we could even see smoke from the La Palma volcano!"
Points & Miles in Spain
Points and miles came into play again for their last stop of the trip: Madrid.
They used Marriott points to stay at the Aloft Gran Via. With free accommodations, the two had more travel funds to spend on the fun stuff: a walking tour of many of the tourist sites, shopping and eating along Gran Via, Madrid's Royal Palace, and a flamenco show.
Read our guide on all the best things to do in Madrid! 
But this won't be the last thrifty trip for Jessica and Nate – they've already got more on their docket. In January, they are putting another Thrifty Traveler Premium deal and points & miles hack to use: using British Airways miles to fly to St. Thomas (STT) in the U.S. Virgin Islands.
"I owe it to Thrifty Traveler for transforming me from an uninformed person who loves to travel to a shrewd, decisive, and thrifty traveler!" Jessica said.
That's the power of points and miles. Cheers to your first business class seat, Jessica: A trip paid mostly on points. Here's to many more!