No matter where you decide to visit, there's no doubt that Switzerland is an enchanting, post-card perfect destination. But what will you find if you zoom past Zurich, go beyond Basel, and take a jaunt outside of Geneva? These small towns are our favorite itinerary-worthy picks for escaping the hustle and bustle of the city.
Chur
With a population of around 35,000, tiny Chur is the oldest town in Switzerland with a history dating back over 5,000 years. Just 90 minutes from Zurich, Chur is easily accessed via train. Once you arrive, you'll find a picture-perfect town nestled in the hillside amidst local vineyards and the Swiss Alps.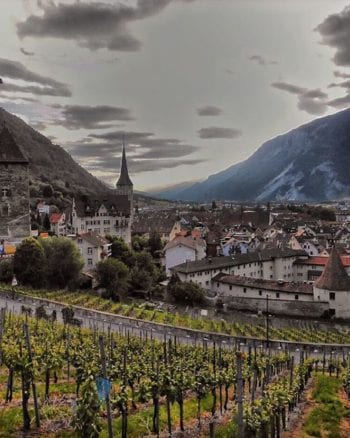 The Old Town is meticulously preserved and completely car-free. Take a stroll down the quiet streets to discover beautifully painted buildings and a plethora of local shops. Then, head over to Arcas Square in the central area of Chur, to experience the heart of the city. Often times, there will be celebrations and street performances going on in this area.
The city has a number of historic churches. Follow the iconic clock tower through the city to Saint Martin Kirche, the most famous of these churches. The churches in town date back to the 1500s and make for a great walking tour. You can spend an entire day finding the best photo opportunities through the stained glass.
After a busy day post up at a local bar with a well-known Calanda, the local beer of Graubunden. Each province or "canton" in Switzerland has its own beer and you can decide for yourself which one is your favorite. For those looking for an extraterrestrial experience, check out the alien-themed Giger Bar on the outskirts of the city.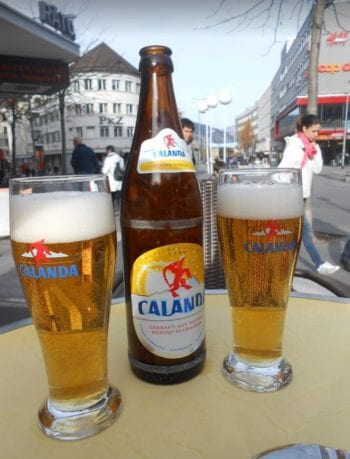 Thrifty Tip #1: The area has an easy to use and affordable bus system, making day trips to nearby towns and hiking expeditions a breeze.
Bad Ragaz
Just 20 minutes from Chur lies the even smaller and more charming Bad Ragaz with a population of just over 5,000. Regarded by many as the wellness capital of Switzerland, Bad Ragaz is a prime place to visit to find relaxation and rejuvenation.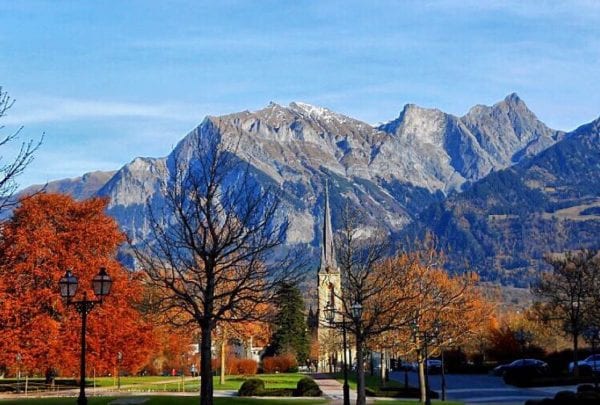 The town is home to Tamina Therme, a world-class thermal spa and sauna village. The spa is connected to the five-star (and very expensive) Grand Resort Bad Ragaz but is able to be used by the public without a hotel stay.
The spa is fed by hot springs directly up the mountainside which you can also visit. The Tamina Gorge makes for a fantastic day trip. You can either take a bus up the mountain and get dropped off or make a hiking trip out of it. Once at the gorge, you can hike into the mountain, drink directly from the hot springs, and visit the museum.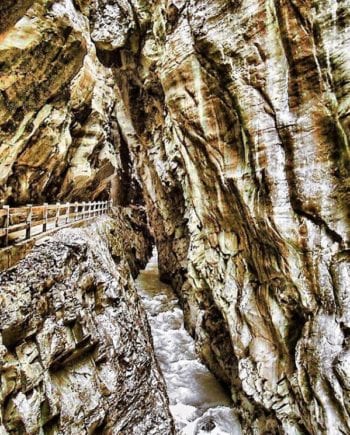 Just a few miles outside of Bad Ragaz is Heidiland. If you're looking to catch some majestic views of the Swiss Alps, experience agriculture, and learn more about true Swiss culture, make a stop at Heidiland.
Thrifty Tip #2: Liechtenstein is just a 15 minute trip from Bad Ragaz and can be easily accessed by bus, train, or car. Spend a day checking another country off your list!
Lucerne
Clocking in at over 81,000 residents, Lucerne is the largest city on our list but still has a small town feel. Lucerne is just under an hour train ride from Zurich, making it a popular getaway. Located on a pristine lake and littered with 14th-century architecture, you'll quickly fall in love.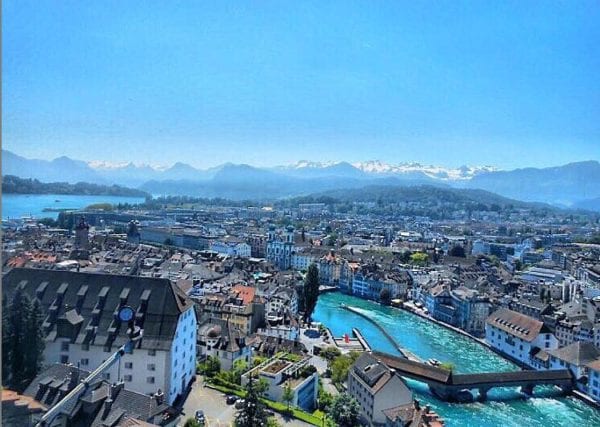 Start your day by wandering the clean and quiet Old Town, with a visit to the famous Chapel Bridge being a must. The bridge was originally constructed in 1333 and underwent restoration after a fire in the 1990s. It is considered the oldest wooden bridge in Europe. Near the bridge are a number of shops, restaurants, and vantage points with sweeping views you'll love.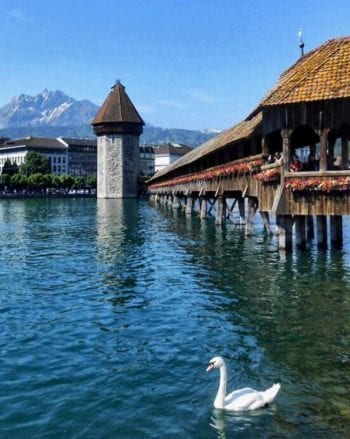 Make your way through the city over to the Lion Monument, an 1800's rock carving that commemorates the Swiss Guards massacred in the French Revolution. Mark Twain has regarded the lion as the "most mournful and moving piece of stone in the world". The park-like setting is great for a quick stop during the day. There are many coffee shops and restaurants near the monument which allows for an ideal lunch break.
Finish your day by taking in dinner at any of the waterside restaurants that line the area.
Interlaken
Don't let the population of 5,500 fool you; there's plenty to do in Interlaken. Spend time relaxing in Interlaken and seeing a more remote side of central Switzerland. Some of the most towering Alps will surround you on every side. Lake Brienz borders the city and is an easy way to spend a day.
A trip to Harder Kulm and Jungfraujoch is a must while you're in the area. Both destinations will offer you a birds-eye view that can't be beaten. Jungfraujoch boasts the highest railway stop in Europe and an opportunity to step outside at an elevation of over 11,000 feet. Bring a jacket because no matter what time of year it is, you'll be cold!
You can purchase tickets for the train and experience here. Jungfraujoch is definitely a full day trip, so factor this into your plans when considering what you have time for.
Bottom Line
You can't go wrong anywhere in Switzerland since you'll find endless mountain views and pristine water everywhere you turn. But if you're looking for a stop off the beaten path to kick back and relax, consider one of these small cities.