Iceland quickly gained popularity over the last few years, turning into a bucket-list location for travelers around the globe who want to immerse themselves in its incomparable natural beauty. From glaciers and waterfalls to rivers, canyons, mountains, prairies and, of course, lagoons and geysers, there's no place like it.
Airlines have scaled back their flights to Reykjavik (KEF) during the pandemic, but it's still fairly easy to snag a cheap flight to Iceland when you're ready to scratch it off your list.
Read our guide to Iceland's reopening to make sure you've got what you need to get in!

The Basics of Reykjavík-Keflavík Airport (KEF)
If you're planning a trip to Iceland from North America, you'll be flying into Reykjavík (KEF). It's the only option.
Reykjavík International Airport is actually located about 30 miles southwest of the city Reykjavik itself, in a small town on the southwest shore of the island called Keflavik. Any trip to Iceland is best with your own set of wheels, so your best bet is scoring a cheap rental car.
There are some affordable public transport options, though the development of rail service from KEF to downtown Reykjavík is still in the works after being postponed last year. And  getting a taxi all the way into Reykjavik will cost a small fortune
When it comes to flying into Iceland, there are a handful of airlines across the globe with service to Reykjavik – but Icelandair is by far the biggest carrier. Icelandair is a hybrid between a budget airline and a full-service carrier, with decent planes, good service, and typically cheap fares to Iceland!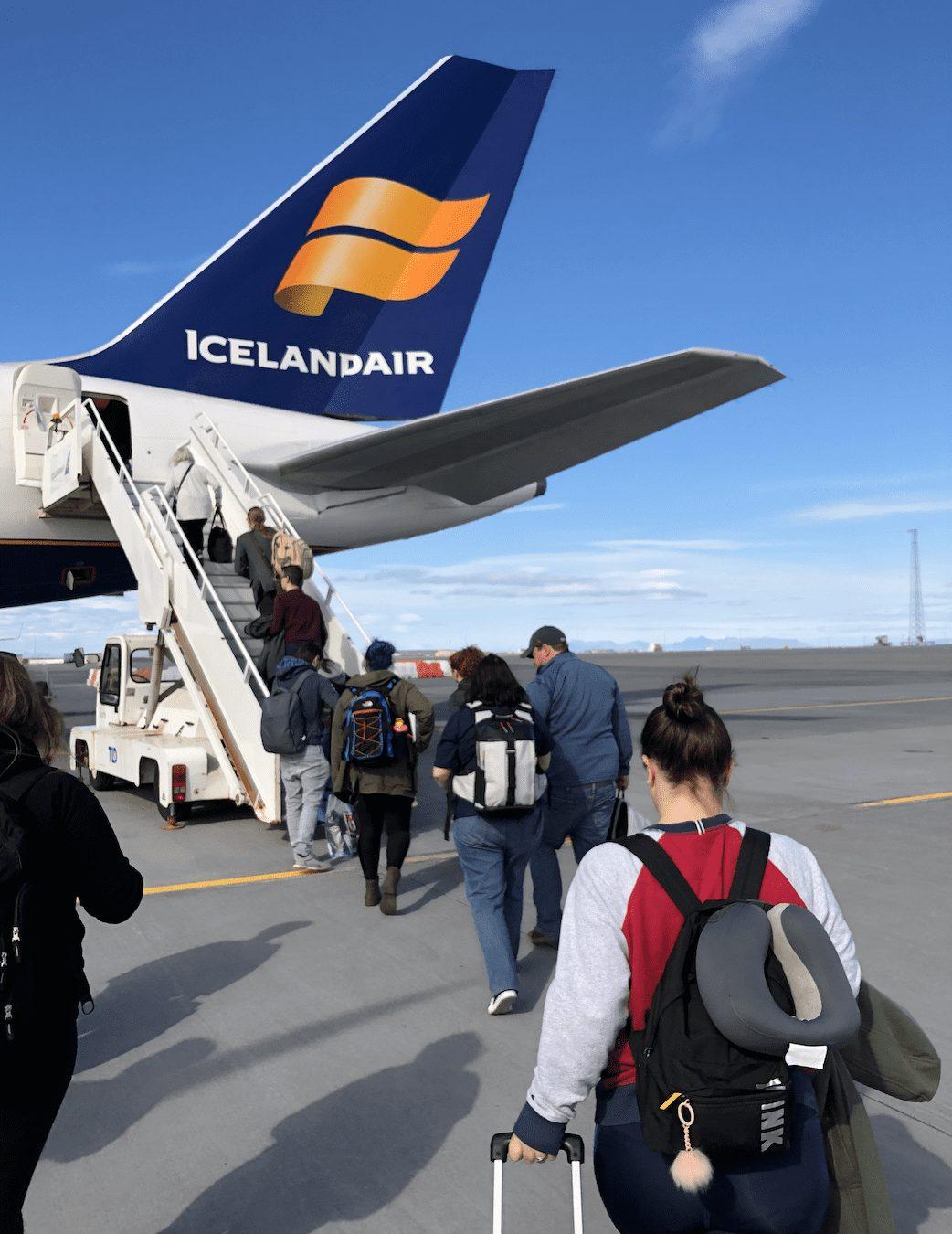 Read our review of what it's like to fly Icelandair!
While there is more competition between European carriers on routes through Iceland, American carriers still have a small footprint in and out of the country. In fact, just three airlines total have nonstop service between the U.S. and Iceland: Icelandair, Delta, and United.
Here are the airlines that fly to Iceland – at least in normal times. 
airBaltic

Air Canada

Air Greenland

Atlantic Airways

Austrian Airlines

British Airways

Czech Airlines

Delta Air Lines

easyJet

Edelweiss Air

Eurowings

Finnair

Iberia Express

Icelandair

Jet2.com

Lufthansa

Norwegian Air Shuttle

S7 Airlines

Scandinavian Airlines

Transavia

Transavia France

TUI Airways

United Airlines

Vueling

Wizz Air
These days, it's a different story – especially from the U.S. Airlines have drastically cut back on flights to Iceland during the pandemic, so your options are currently quite limited.
Today, only Icelandair is currently operating flights from Boston (BOS) a few times a week – though it is scheduled to restart service from New York City (JFK) and Chicago-O'Hare (ORD) later in April. Other Icelandair flights from cities like Minneapolis-St. Paul (MSP) and Washington, D.C.-Dulles (IAD) are currently scheduled to resume in May, though that could be pushed up if travel demand booms.
Delta recently rescheduled nonstop flights from Minneapolis-St. Paul (MSP) and New York City (JFK) to Reykjavik starting in late May. And United is currently set to resume its nonstop service to Iceland from Newar (EWR) in early June.
The Cheapest Flights We've Found to Iceland
Looking for a deal to Reykjavík (KEF)? How do you know if it's a score or a bust?
We consider anything under $600 a decent deal to Iceland, especially if you're traveling from smaller regional airports in the U.S. Fares less than $500 (especially nonstop) are exceptional, though we regularly see roundtrip flights under $400. 
When WOW Air first entered the Iceland travel market in 2012, they consistently shoveled out unthinkable low nonstop fares from a host of U.S. airports. We sent out deals to our Thrifty Travel Premium members for roundtrip flights less than $200 or one-ways for only $69 from a ton of U.S. airports!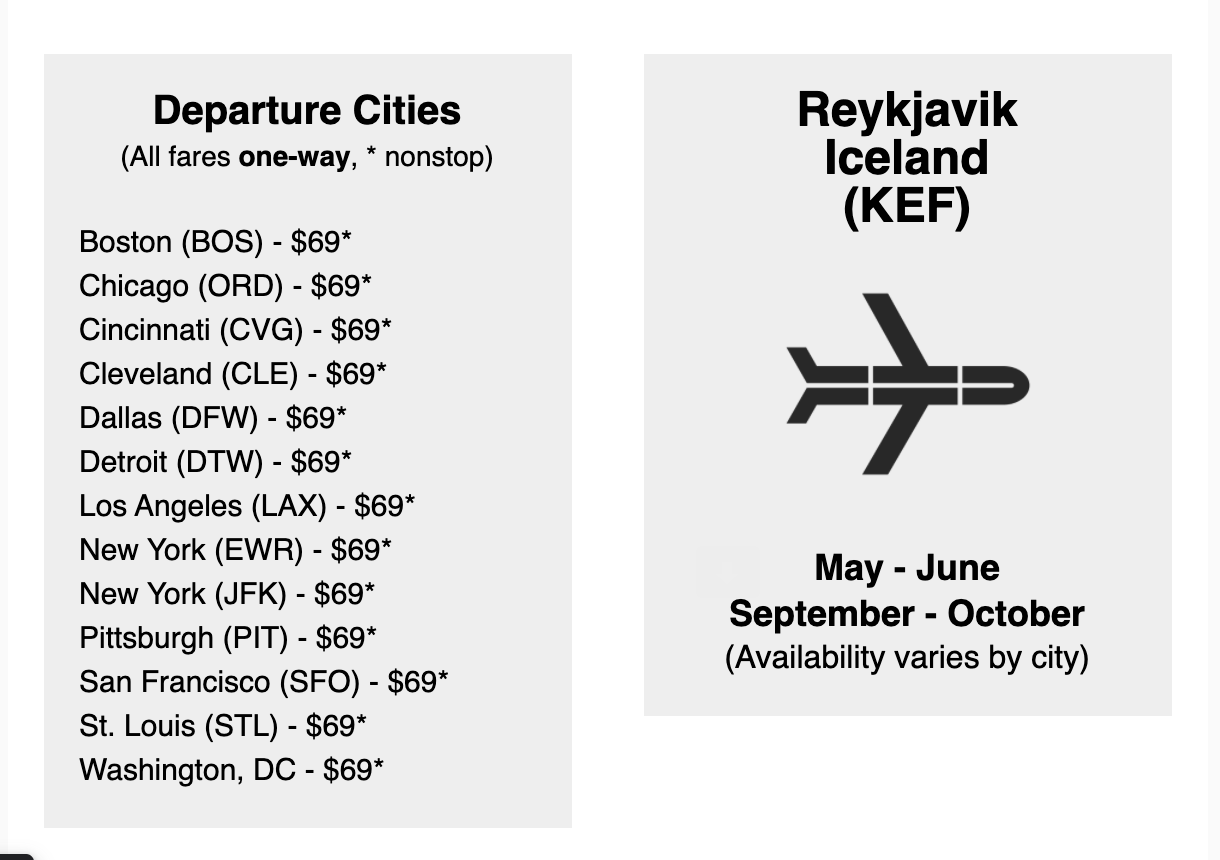 But that couldn't last forever: WOW air folded in 2019. However, they were a key player in driving down flight prices into KEF.
Luckily, Icelandair's presence continues to keep flight deals to Iceland on tap to and from their home country. On occasion, they will drop fares from all their hubs in the U.S. Nonstop, roundtrip flights under $350?! Yes, please!
And for those of your who prefer traveling in business class, Icelandair isn't shy about dropping fares for their Saga Premium Cabin once in a while! It may not be a fancy lie-flat business class seat, but you can get more space, better food, and lounge access for the price of flying in back. 
But the best deals go beyond Icelandair. While flying a major U.S. carrier will typically cost you more, we've seen some great deals from Delta with cheap flights to Iceland in the past. 
And it's not just largest hubs getting attention on these sales to Iceland. Every once in a while we see a fare war to Iceland, and airports from all across the U.S. get some hot deals to Iceland! This is a recent deal we sent to Thrifty Traveler Premium members:
Want instant alerts for cheap flights like this one? Get Thrifty Traveler Premium flight deal alerts for just $5.99/month! 
Airports with the Cheapest Flights to Iceland
Delta and United have a small share of flights to Iceland, but Icelandair has the biggest market share of any airline flying between Reykjavik and North America.
And lucky for us travelers, those cities they serve often benefit from some of the cheapest fares.
We typically find the cheapest fares to Iceland from these airports:
Boston (BOS)

Chicago-O'Hare (ORD)

Minneapolis-St. Paul (MSP)

New York City (JFK)

Newark (EWR)

Washington, D.C.-Reagan (IAD)

After American Airlines dropped their flights altogether to Iceland, we saw Icelandair hold their fares at a competitive level. This is not a common occurrence, especially on routes with such low pressure from other airlines. So, there are still many great opportunities for cheap flights. With the recent news of Iceland relaxing travel restrictions, we'll see just what the airfare competition holds for this upcoming spring and summer! So far, the flight prices are very good:

Pro Tips for Finding Cheap Flights to Iceland
Always Use Google Flights (Avoid Online Travel Agencies)
Google Flights is the best search platform out there. Yes, we said it – and we'll take it to the grave.
Unlike any other search engine, Google Flights is the most reliable, useful, and helpful tool that we swear by day after day. Stop using other online travel agencies such as Skyscanner or Hopper, save your time and a headache. 
The pros outweigh the cons by a landslide when it comes to using Google Flights. It has the most features and filters, assuring that you will find the best (cheapest) fare with a reliable booking. You'll be prompted by clear links to book directly with airlines. Without question, Google Flights is the number one method to find the next best flight deal.
Read our guide: How to Use Google Flights to Find Cheap Flights Like a Pro
Start with the Cheap Flight, Then Plan Your Trip
In some ways, finding a cheap flight to Iceland is no different than finding a cheap flight to anywhere: The key is flexibility.
If you are start your search with travel dates locked in and no wiggle room, you've dug yourself a deep hole from the start. The absolute key to scoring a deal is flexibility – not only on the day of the week you travel but also the time of year.
Sometimes, shifting your dates by just a day or two can save you hundreds of dollars. Flying on Tuesdays, Wednesdays, and Saturdays can save you quite a bit of money. 
Traveling in peak summer (mid-June through mid-August) is ideal for great weather, time off from school for the kids, and many other advantages. But airlines know this, forcing you to pay a premium for travel over those high-demand months. If you're willing to move your dates to late spring or late summer you could save hundreds.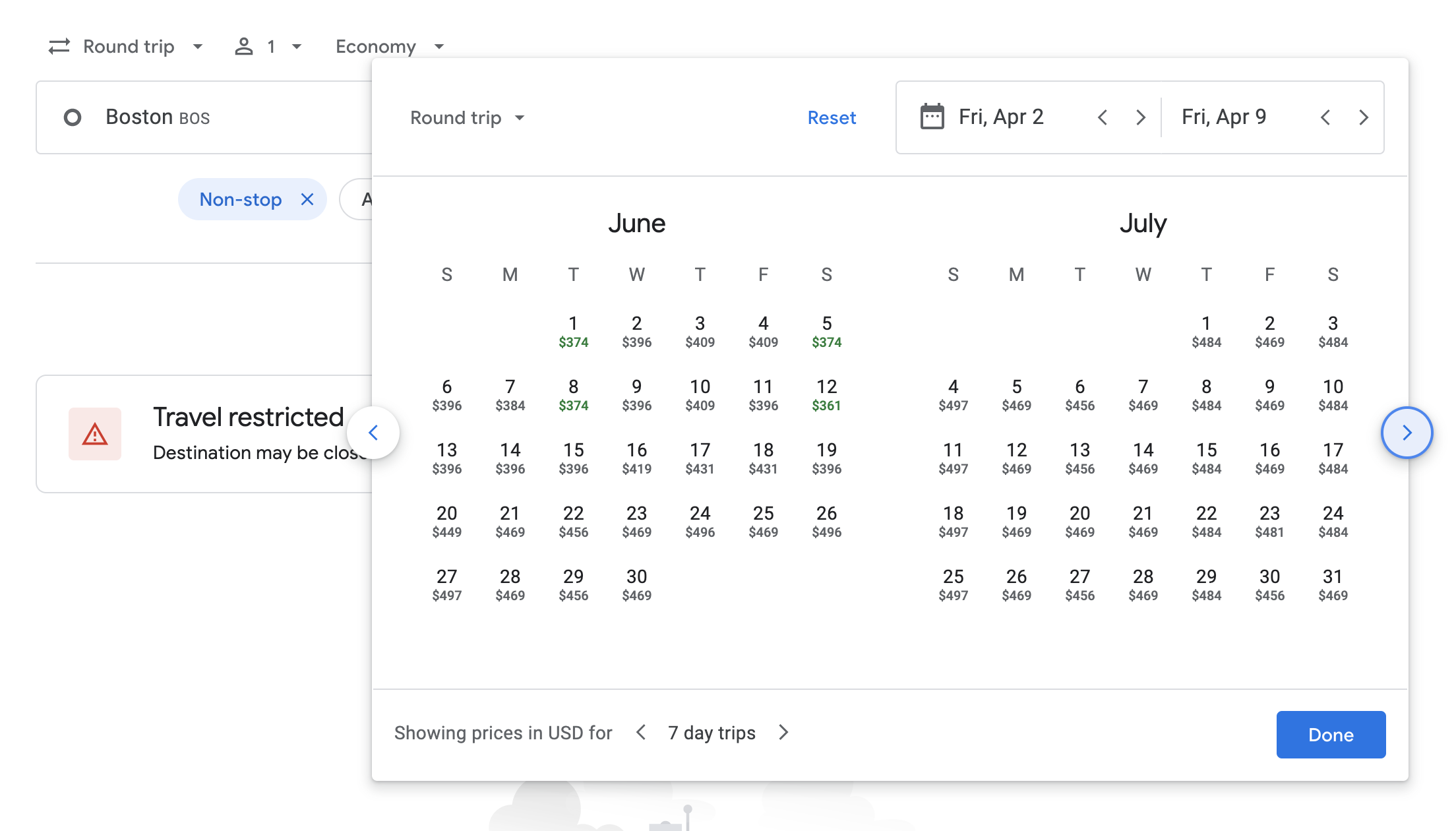 It pays to have flexible travel dates. Let Google Flights guide you to the cheapest fares, and open up your schedule to allow you the ability to capitalize on those deals!
Consider Positioning Flights to Save The Most
Do you feel like you're never seeing cheap fares from your home airport? You may want to expand your search and look at flights from a larger city that you can fly out of instead.
It's called using positioning flights, and it's one of the best ways to save on flights to Iceland and any international travel. Think about which major airports around you are easy to snag a cheap flight – or even drive – and check out airfare from there.
Let's say you live in a smaller city in the midwest like Peoria (PIA) or Madison (MSN), and flights to Iceland for this summer are looking pricey at more than $700 roundtrip.

But what if you search from Chicago-O'Hare (ORD) or Minneapolis-St. Paul (MSP)? You can snag a nonstop flight on the same dates for almost half the cost! Then just add in a cheap flight to get there before hopping on your flight across the pond.
Learn all you need to know about the do's and don't's for positioning flights. Putting this concept to use can saves you hundreds –  especially if prices from your home airport never seem to be affordable.
Let Us Find the Best Deals for You
Don't spend hours of your own time searching for the best fares to Iceland. Let us do the work for you! Our team of experts spends day and night finding the best fares, saving you hundreds on airfare.
Sign up for Thrifty Traveler Premium and you'll be the first to know about the next hot deal to Iceland. You'll be instantly emailed about the best sales from your home airport. We find fares from more than 160 U.S. and Canadian airports. We'll do the hard part for you!
We sent this ultra-low fare to Iceland to our Thrifty Traveler Premium members earlier this year!
With an average savings of 50% or more on most flights, you're sure to come ahead in your membership fees – especially since it starts at just $5.99 a month!
Book A Stopover in Iceland
Believe it or not, you might save even more by seeing Iceland and another European destination.
Icelandair is one of a handful of international airlines that offers a free stopover program. This is exactly what it sounds like: You have the chance to spend up to seven days in Iceland for no extra charge on your way to Europe or back home!
Visiting two countries for the price of one? It doesn't get any better. And sometimes, you can even score a better deal than the nonstop flight to Reykjavik.
Icelandair has promoted this type of ticket for years – it's their bread and butter. And it gives you the ability to stay for up to seven days at the same price as a standard ticket. Explore Iceland and then continue on to mainland Europe for one low price.
Use Points and Miles Instead
Sitting on a stack of Delta SkyMiles? Put those miles to use when booking a flight to Iceland.
Just this week, we found a Delta SkyMiles flash sale with flights from several U.S. airports to Reykjavík (KEF) starting at just 30,000 SkyMiles roundtrip – for Main Cabin fares! These fares included a free checked bag and advanced seat assignment.
A cheap flight is great, but what's better? A free one! Instead of paying cash for a cheap flight to Iceland, use your Chase Ultimate Rewards points to cover that flight. Using these points is one of the easiest and most powerful ways to unlock free travel
The Chase Sapphire Preferred Card is the best spot to start if you're looking to dip your toes into travel credit cards. With a low annual fee and a generous sign-up bonus, it could easily cover two roundtrip tickets to Iceland. 
Bottom Line
Now that you've absorbed all you need to know about cheap flights to Iceland, put these concepts to use! Iceland is welcoming back travelers today and this picturesque country may be the best spot to reboot your international adventures.