Iceland is known for its hot springs and geothermally-heated pools, none more recognizable than the Blue Lagoon. But one of the most famous attractions in Iceland has its lovers and haters … and not much in between.
The Blue Lagoon is Iceland's best-known geothermal spa, named for the unique, milky blue color of its waters, which are rich in silica, algae, and other minerals. It's been built up over the years, and the property now includes a hotel, several upscale restaurants, and an expansive gift shop.
Ask anyone who traveled to Iceland whether the Blue Lagoon is worth the price and you'll get a ton of answers on both sides of the spectrum. But when I visited Iceland earlier this month, I had to find out for myself.
Read on to see whether the Blue Lagoon lives up to the hype.

Buying Tickets to the Blue Lagoon
The Blue Lagoon is one of the priciest thermal pools in Iceland, but what you'll actually pay depends on how far in advance you book and what time of day you visit.

The company uses dynamic pricing to account for busy travel times and limits the number of tickets they sell. There are three options for tickets: Comfort, Premium, and Luxury. Here are the typical costs, and what you get with each.
Comfort: The general admission ticket
Prices generally range from $69 to $110
Includes towel, free silica mud mask, and first drink of choice.
Access to sauna and steam room.
Premium: The slightly upgraded ticket
Prices generally range from $87 to $129
Includes all Comfort amenities listed above, plus:

Two additional masks of choice
Slippers
Bathrobe
Free glass of sparkling wine if dining at the Lava Restaurant
Luxury: Retreat Spa
5-hour exclusive retreat spa package.
Prices generally range from $525 to $625.
Includes private changing rooms, a free first drink of choice, and to access to the private "Retreat Lagoon" within the Blue Lagoon.
This ticket also grants you access to the "Retreat Spa", which includes:

Lava Cove private suite with a private lagoon, fireplace, kitchen, butler, on-call chef, masseuse, and yoga instructor. In-water massages are an additional cost.
Private steam cave, nest, lava spring, and subterranean fireplace
Blue Lagoon Ritual: Silica, algae, and mineral skincare treatments
Thrifty Tip: Prices tend to be cheaper in the first and last few hours of Blue Lagoon's open hours. If you're looking to save, choose the cheapest time to visit! There isn't a time limit on how long you can be there, so picking a morning time can get you more bang for your buck.
I went with the basic Comfort ticket and was satisfied with my decision. I paid about $99 for a 9 p.m. entrance time in late June. It's pricey … but Iceland is a notoriously expensive country no matter what you're doing. And remember, that price includes a free drink and a silica mud mask, which is more than you get at any of the other thermal pools.
How to Get to the Blue Lagoon
The Blue Lagoon is about 50 minutes from Reykjavík and only 20 minutes from Keflavík (KEF) Airport, which makes it a great place to go the day you arrive or the day you fly out.
There's even a dedicated shuttle bus directly between the Blue Lagoon and the airport, which makes the Blue Lagoon a great option if you booked an Icelandair stopover on your way to or from Europe.
There are free lockers at the Blue Lagoon to store your personal items, but Blue Lagoon also offers luggage storage for about $6 a bag.
What to Expect at the Blue Lagoon
We visited several thermal pools during our trip to Iceland, but the Blue Lagoon was a … well, it's a unique experience.
We checked in ahead of time online, so we got to skip the longer check-in line and were directed to another which got us into the facility faster. We each got a wristband that operated as both the lock for our locker and a credit card for any purchases throughout our visit.

The women's locker room, while clean and nice, was overwhelmingly large which gives you an idea of just how many visitors the Blue Lagoon sees per day. At the time we visited during the peak summer surge, it was crowded. Finding a locker wasn't a problem, but there was a wait to take a shower – something that was required at all the thermal pools we visited.

The size, number of people, and confusing signage made it difficult to find my way to the actual pool entrance. Needless to say, I wasn't feeling very relaxed by the time I actually entered the Blue Lagoon.
After exiting the locker rooms before heading into the thermal pool, there is a lounge area with drinks and snacks for sale.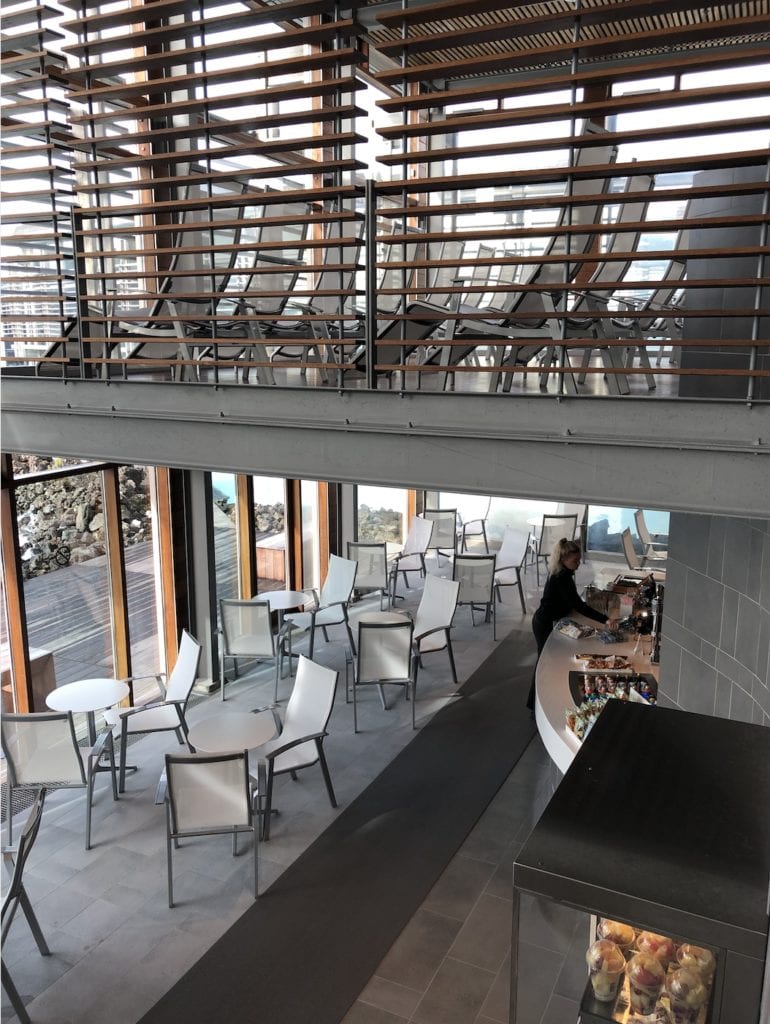 Hold onto the railing down a somewhat slippery ramp into the pool, walk into the hot water, and you're in the Blue Lagoon! The water has a gorgeous milky blue color that you won't find at any of the other thermal pools in Iceland.

Although it was 9 p.m. when we visited, it was completely light out thanks to Iceland's summer midnight sun. The country gets nearly 24 hours of daylight in the period immediately after the summer solstice, which also means many attractions like the Blue Lagoon are open later.
We had been warned to take off jewelry and coat our hair in a special conditioner provided in the locker rooms. As we entered, I quickly realized why: The silica that gives the Blue Lagoon its signature color is a strong mineral. The lagoon didn't have the rotten egg smell some of the other thermal springs of Iceland had, but you'll definitely notice its strong mineral effects on your hair.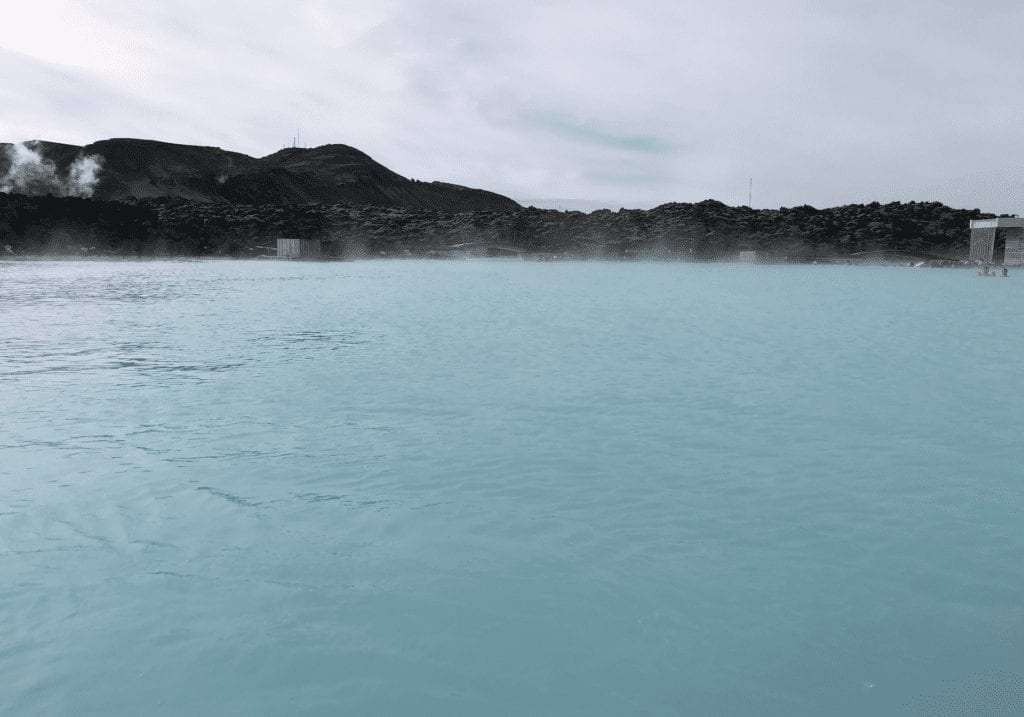 The Blue Lagoon isn't just one big pool: There are numerous little alcoves and offshoots where you can swim away from the main large center and enjoy a quieter experience. The lagoon isn't deep at all, and I could touch at all times. I sometimes even crouched down on my knees to stay submerged in the warm water! Dip under these little bridges to relax in an alcove and snap an Insta-worthy pic without any photobombs.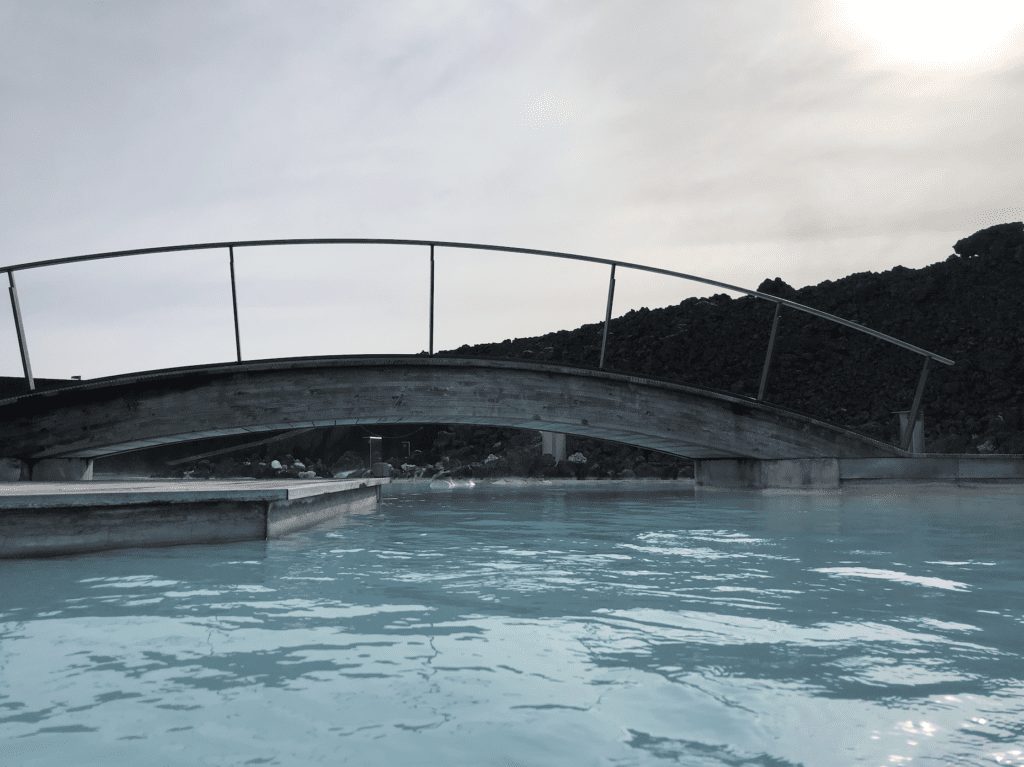 On the far side of the lagoon is an area that's especially peaceful. It's a designated quiet zone, so we found it was a great spot to relax and hang out away from some of the other guests.
There's also a thermal sauna and steam room. If your fingers are starting to prune and you need a break, stop into one of these rooms for a good sweat session.
All tickets also include a complimentary silica mud mask, which you can get from the in-water mask bar. This mask felt amazing! It spreads on easily and has a cool, tingling sensation. Keep out of your eyes and wash off in the Blue Lagoon after 10-15 minutes. Additional algae mud masks, mineral masks, and lava scrubs are available for an additional cost, which can also be charged on your wristband and paid for as you leave.
Food and Drink at the Blue Lagoon
Head to the opposite side of the lagoon and you'll find the bar. Belly up to this floating cabana and get your first drink free – it's included with all tickets. The in-water bar offers juices, smoothies, water, wine, and beer.
Prices range from roughly $5 to $12 but there's no price cap to your first free drink, so pick the pricey one first! I got a sparkling wine, while my friends opted for beers. If you want a second beverage, simply scan your wristband and pay upon exit.

There are two upscale restaurants – Lava Restaurant and Moss Restaurant – at the Blue Lagoon. But if you're on a budget, skip them. You can also get snacks or smaller packaged entrees like you'd see at an airport stand inside the Blue Lagoon lounge area.
Thrifty Tip: Prices were unsurprisingly expensive, so if you plan to stay for multiple hours, I'd recommend packing your own snacks and a refillable water bottle. There aren't many dining options around the Blue Lagoon, so we planned ahead and packed sandwiches to eat in the parking lot beforehand.
How to Avoid the Crowds at the Blue Lagoon
The Blue Lagoon is about far from a hidden gem as it gets. It can get incredibly busy, especially during the peak summer tourism season. For example, we arrived at 9 p.m. on an evening in early July and the parking lot was still full.
The Blue Lagoon is huge though, and there is a limit on how many people can be in it at one time. So there are plenty of ways to avoid crowds and have a relaxing and enjoyable time.
Going during the shoulder seasons (May and September and October) and booking a morning or late evening time will help you beat the crowds. There were plenty of people in the pool when we arrived at 9 p.m., but we stayed right until close and had the pool to ourselves by the end.
Plus, there's a dedicated quiet section in the thermal pool where cell phones are supposedly not allowed. This was where we ended up spending the majority of our time and it made for a much more enjoyable experience.
Is the Blue Lagoon Worth It?
Everyone will have their own preferences, but I think visiting the Blue Lagoon is a great way to either start or end your trip to Iceland. And here's why.
It's close to the airport, so it's a great start to your trip or cap it with a day of relaxation before boarding your flight home.
It seems expensive, but the cheapest dates and times start at $69, so book a cheap time in the morning and make a half-day spa day out of it! For comparison, the other most popular hot springs in Iceland aren't much cheaper: The Sky Lagoon starts at $65, the Secret Lagoon is $25 and Myvatn Nature Baths are between $35 and $40.
Other hot springs in Iceland don't offer the same amenities and complimentary items as the Blue Lagoon. The Secret Lagoon and Myvatn Nature Baths mentioned above don't include a towel, free drink, or mud mask.
I'm sure the Blue Lagoon can get packed during peak summer when most tourists visit Iceland. But it's tough to describe just how large the Blue Lagoon is. And you can avoid the worst crowding by going during the shoulder seasons (May and September-October) and booking a morning or late evening time to beat the crowds.
I spent nearly $100 for a relaxing end to a long day of driving and sightseeing, enjoying a complimentary drink and mud mask and soaking in the mineral benefits. It's as beautiful as it looks in images if you're facing the right way and by booking a time in the late evening, we had the pool all to ourselves by the end of the night.
Other Thermal Pools to Visit in Iceland
If the Blue Lagoon doesn't sound like the right fit for you, Iceland has plenty of other hot springs and thermal pools, each with its own unique appeal.
The Secret Lagoon, located along the Golden Circle, is a much less costly hot springs alternative to the Blue Lagoon and comes at a quarter of the price. The business calls itself the "Oldest Swimming Pool in Iceland" and only costs about $25 to enter. The beautiful warm waters are set amongst the foothills of Iceland's interior mountains. It's a pretty low-key setup, with a quick check-in desk, a locker room, and a pool.

Geosea is located in north Iceland about an hour from Akureyri, Iceland's second-largest city. The spa-like thermal pool rivals the facilities at the Blue Lagoon, but for half the price (around $45) and with half the crowds. And you can't beat the view overlooking the Arctic Ocean from the pool's infinity edge.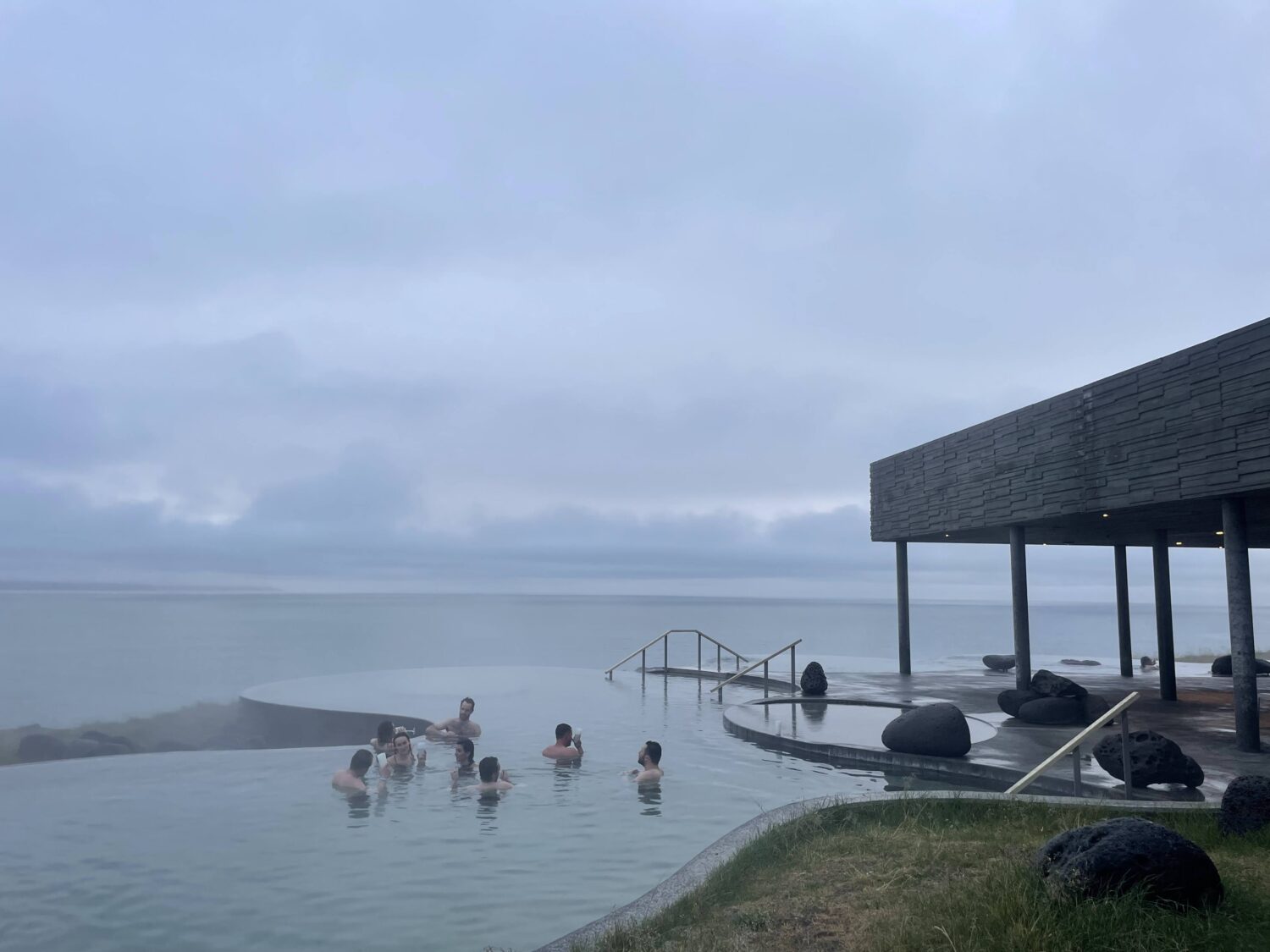 The Mývatn Nature Baths is another popular option in the north, near Lake Mývatn. For around $49, you can enjoy a soak in geothermally-heated waters with a stunning view of the surrounding landscape from the infinity pool edges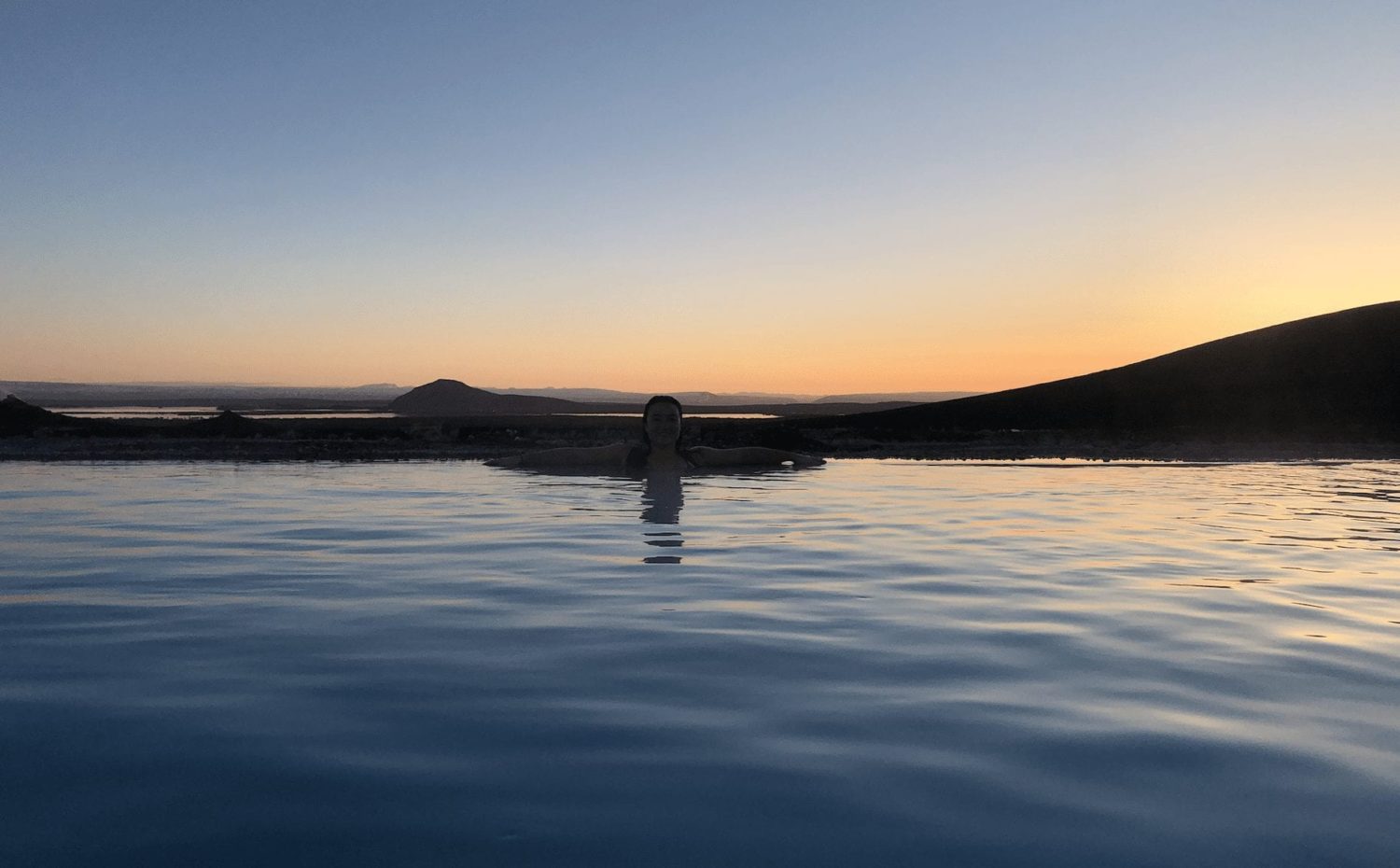 On my recent trip, we stopped at the Blue Lagoon, Geosea, and the Sky Lagoon, which was my personal favorite and one I think is worth your attention.
Sky Lagoon
The Sky Lagoon is the Blue Lagoon's direct competitor and you'll notice plenty of ads for it from the moment you land in Iceland. It's located about 15 minutes from the center of Reykjavík.
Part of the Sky Lagoon's appeal might have to do with the fact that it's still relatively new. It opened in 2021 and doesn't yet have the same level of notoriety as the Blue Lagoon.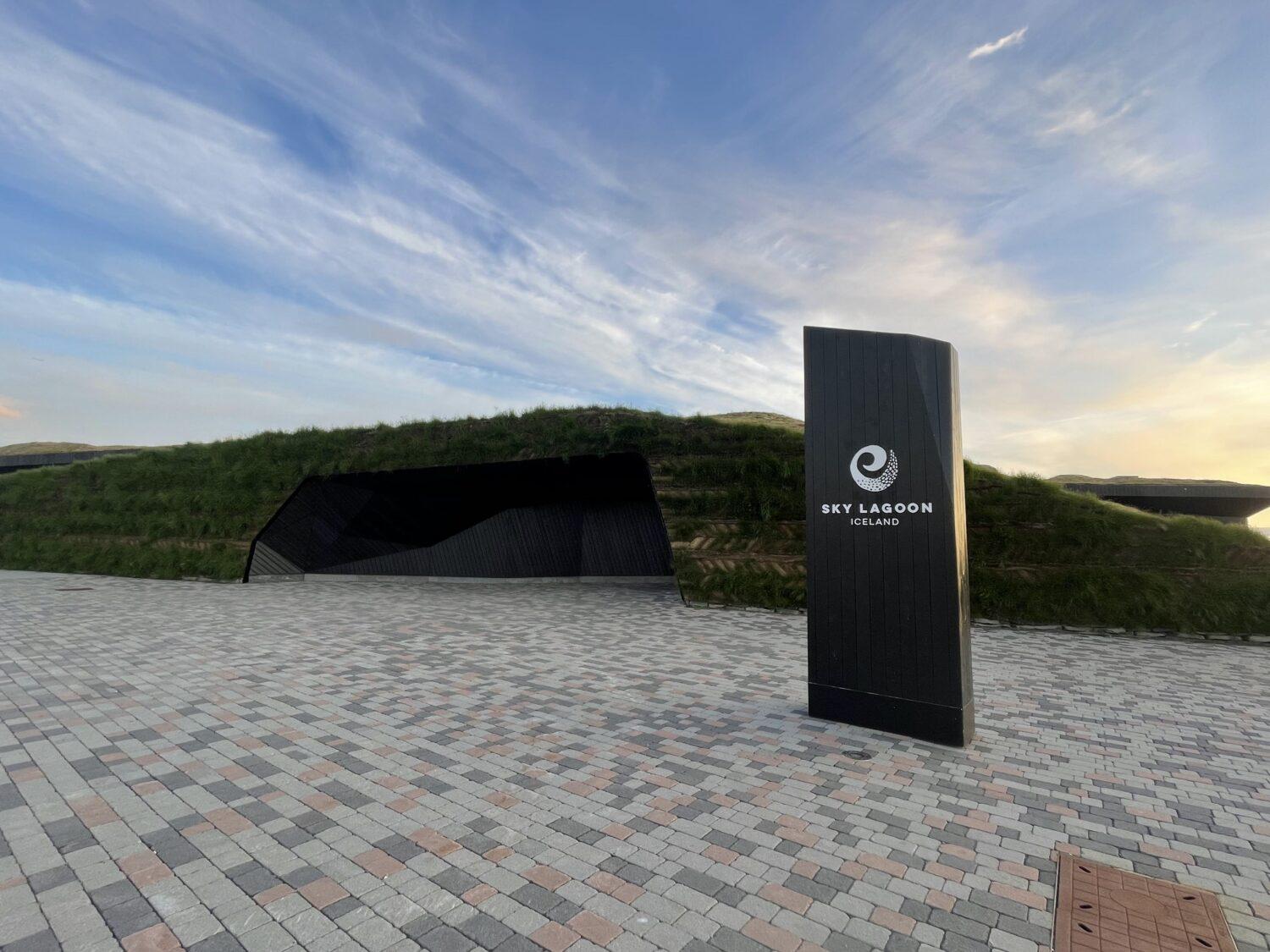 Cost-wise, it's on par with the Blue Lagoon, although your ticket doesn't come with a free first drink or mud mask. But the experience more than makes up for it.
Like the Blue Lagoon, the Sky Lagoon uses dynamic pricing to account for busy travel times. The general admission ticket starts at $65, but we paid about $22 more to partake in the Sky Lagoon's seven-step ritual, inspired by traditional Icelandic bathing culture.
After checking in, you're given are given a wristband that locks and unlocks your locker and a credit card for any food or drinks you purchase during your stay. The locker rooms were the nicest I encountered at any of the thermal pools I visited during my time in Iceland. They were spacious and upscale, with soft wood and stone accents.
You first enter the pool through a cave tunnel, then follow the twists and turns of the high lava rock walls through the pool until you're met with an incredible vista of the ocean. The pool's infinity edge makes it easy to forget you're just minutes from the center of Iceland's largest city.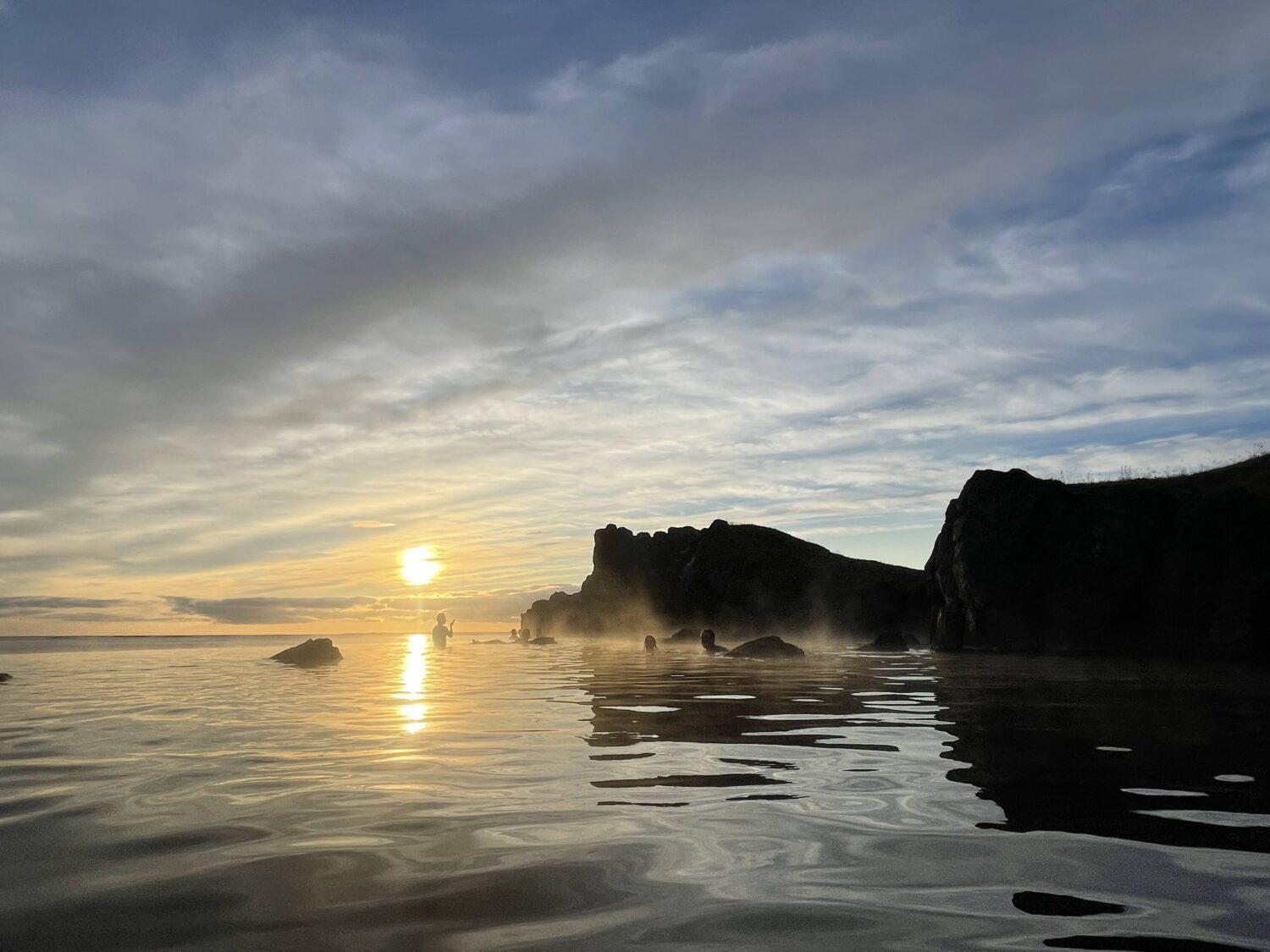 There's a swim-up bar with juice, beer, wine, and cocktails, and plenty of alcoves to tuck into for a little privacy.

On one end of the spacious pool, there's a waterfall you can swim under. On the other are a cold plunge pool and a building where you'll go through the seven-step ritual, built in the style of an Icelandic turf house.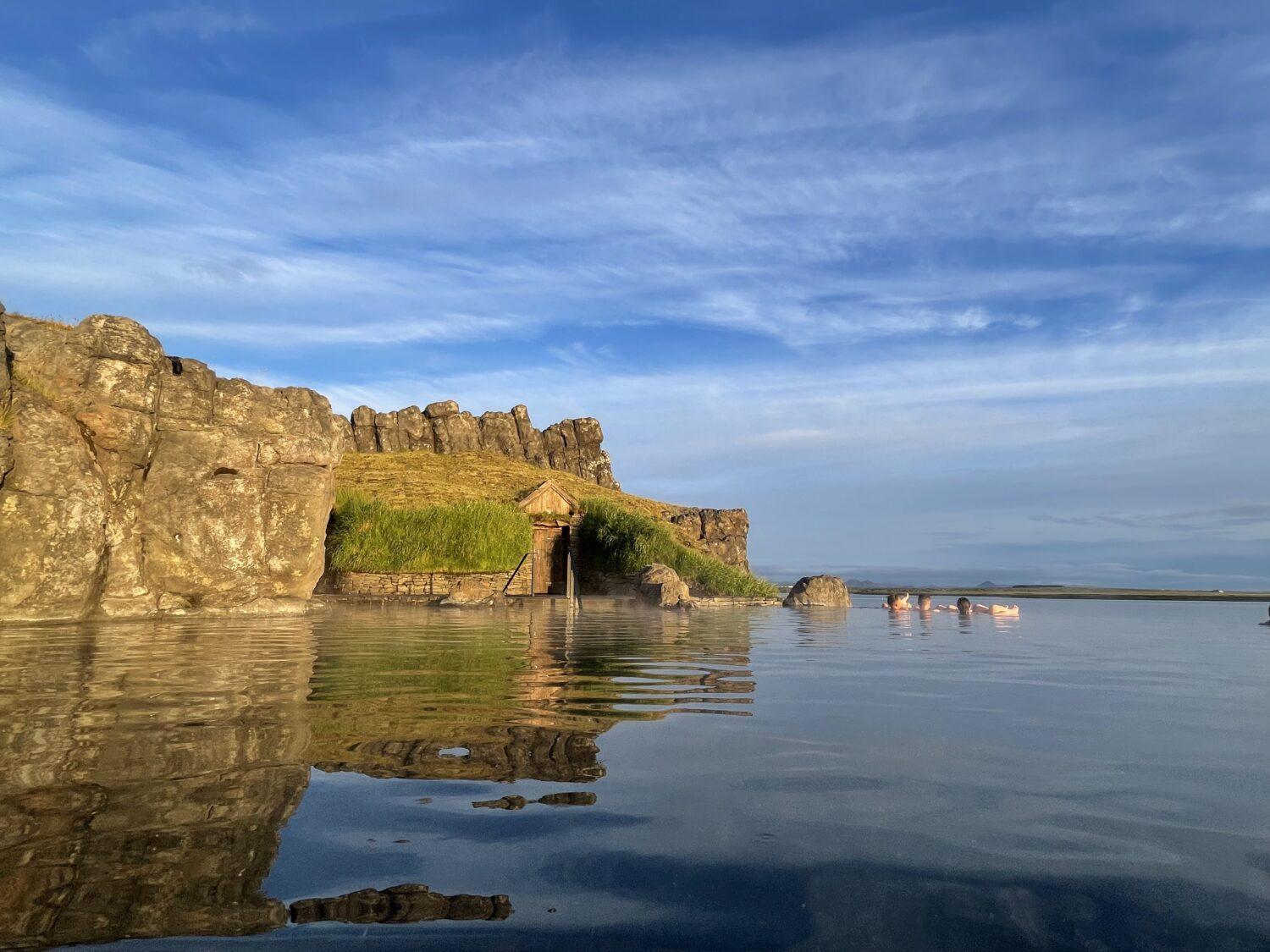 If you booked the ticket that includes the seven-step ritual, you'll get a second wristband that will get you into the turf house. A staff member will take your wristband before you enter, as you'll only get to go through the ritual once (although all guests are welcome to use the cold plunge pool as many times as they wish).
The seven-step ritual includes:
Relax in the thermal pool
Cold plunge
Sauna
Cold mist
Cleansing sea salt scrub
Steam
Shower
Overall, I felt it was worth it. I returned to the main pool feeling both relaxed and invigorated.
Like the Blue Lagoon, going in the morning or the evening is going to give you the most bang for your buck, as there's no time limit on how long you can stay. We arrived at 7 p.m. and stayed until close, which was great as the pool emptied out towards the end of the night and we had it practically to ourselves. That made the experience even better.
From the upscale locker rooms to the unique Icelandic design of the pool to the seven-step ritual that was well worth the money, the Sky Lagoon stood out as my favorite of the three thermal pools I visited during my recent trip to Iceland. If you're spending any time in Reykjavik, the Sky Lagoon should be on your list.
Bottom Line
If the Blue Lagoon doesn't seem like a good fit for you, don't fret! There are plenty of other thermal pools and hot springs to explore in Iceland, like the Sky Lagoon, Secret Lagoon, Myvatn Nature Baths, and many more.
But if you've only got a few days in Iceland or want to visit several of the pools Iceland has to offer, Blue Lagoon can easily be worth the cost and hype. It may not be a hidden gem anymore, but it may be exactly what you need to relax and enjoy your first or last day in Iceland.