Memorial Day weekend is already poised to be the busiest for travel since before the pandemic, and it could set the tone for how the rest of the summer goes at airports and for airlines. In fact, the rush has already started.
This past weekend, the Transportation Security Administration (TSA) reported 2.6 million travelers passed through security at U.S. airports each day on Thursday, Friday, and Sunday – the most since 2019. Federal officials expect similar (if not higher) numbers through this weekend, with Thursday expected to be the busiest travel day of the holiday weekend.
Travelers may be anxious, but airlines are promising they'll avoid a repeat of last year's mess of delays and cancellations in 2023. This time last year, airlines were forced to scrap or delay flights by the thousands after stretching themselves too thin, overscheduling flights even as they struggled to hire enough staff to fly them. Delta was one of the worst offenders, with the Atlanta-based airline proactively canceling hundreds of flights over Memorial Day weekend and into the early summer.

Delta CEO Ed Bastian has repeatedly assured passengers that his airline and others had learned from last year's mistakes. Delta and other airlines have also trimmed their schedules through the summer, proactively canceling some flights to ensure they aren't stretched too thin for a second summer in a row.
"We are, not just at Delta but the industry, in such better shape," Bastian said in a recent interview on CBS This Morning. "At Delta specifically, we have hired over 25,000 people – hired and trained and they're ready to go. Summer's always busier than other parts of the year but our team's ready internationally, our team's ready in the U.S. and I think it's going to be a really, really good travel period."
Read more: What to Expect at Airports and on Planes This Summer
Delta isn't the only airline to have ramped up its staffing levels this year. As they gear up for what's expected to be the busiest Memorial Day weekend in years, American said it has already hired 17,600 more employees than it had in 2021, and United says it has already hired 7,000 new employees this year with plans to bring on 7,000 more. The TSA, too, has been staffing up.
Memorial Day weekend will certainly be a test to see how well-equipped airlines are to handle increased travel demand. Read on for what you can expect over the holiday weekend and tips for preparing for the busy summer travel season ahead.
Prepare for Crowds, Arrive Early
All signs point to this being one of the busiest Memorial Day weekends for travel in years. AAA reports 42.3 million Americans will travel over Memorial Day weekend. Nearly 3.4 million travelers are expected to fly to their destinations – up 5.4% compared to pre-pandemic levels in 2019, according to AAA.
In short: Airports will be more crowded than in previous years. That means travelers should prepare for longer lines at bag drop, security checkpoints, and beyond over the next week.
The Federal Aviation Administration (FAA) says Thursday will be the busiest day for air travel ahead of Memorial Day weekend, followed by Friday, Wednesday, and next Tuesday, May 30. With remote work allowing more travelers to extend their trips, airlines are reporting higher demand on what previously used to be slower days of the week for travel.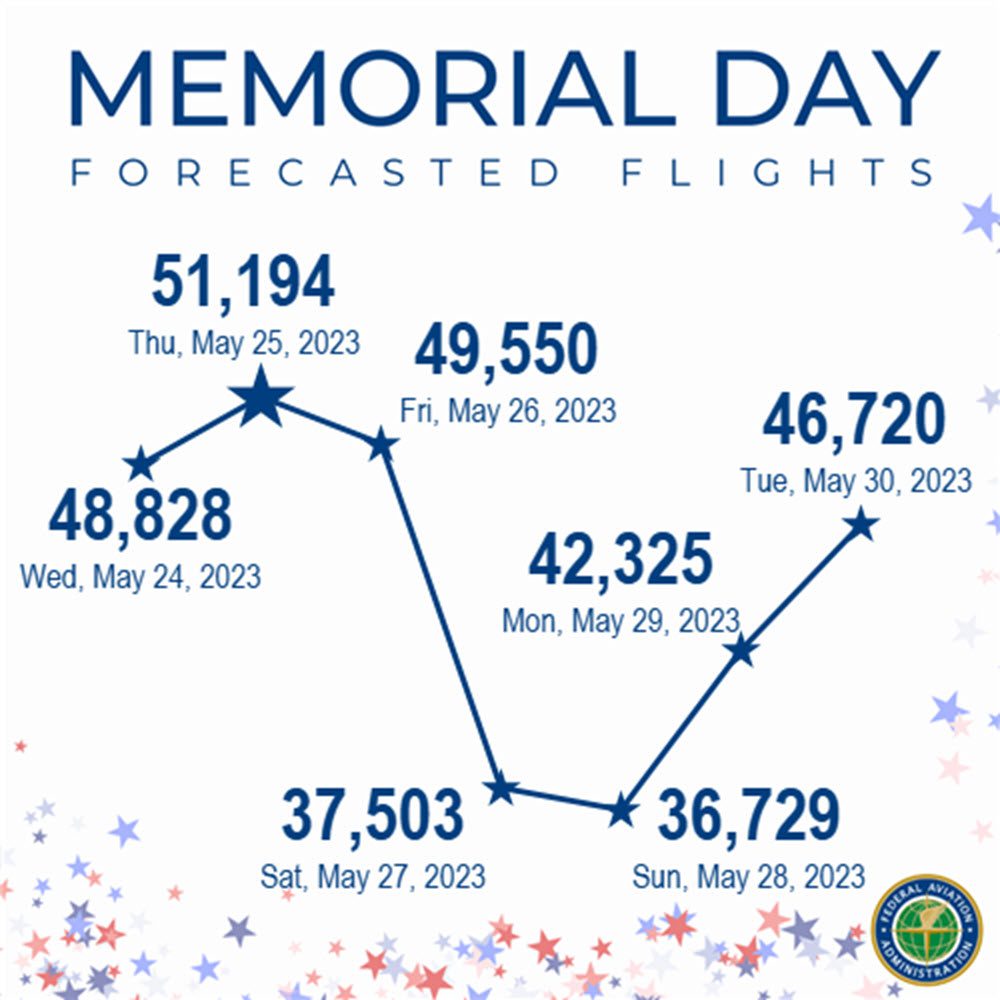 No matter which day you're heading out or returning home for Memorial Day weekend, give yourself plenty of time to get to the airport. It's better to have more time at your gate – or relaxing in an airport lounge – than risk missing your flight and ruining your trip.
Airport security checkpoints inevitably get backed up during busy travel periods – and having TSA PreCheck or CLEAR isn't always a guarantee for a speedy trip through security. To be safe, add at least 30 to 45 minutes to your typical airport routine. And if you have to fly on one of the busier travel days, arrive two hours or maybe even two and a half hours before your flight.
Travel with Only a Carry-on Bag
Save yourself even more time at the airport by packing in just a carry-on bag. Queues to check or drop off luggage have been a major pain point lately, and Memorial Day weekend is going to be no exception.
Especially during peak travel seasons like summer, opting not to check a bag means you won't have to wait in line to drop it off or wait for it at baggage claim and you won't have to worry about the airline losing your luggage. Plus, by packing in just a carry-on bag, you can easily check-in for your flight online. Then, just pull up your boarding pass on your smartphone and head straight for the security line.
Not convinced you can fit it all in one suitcase? Follow our tips for how to pack a carry-on bag for any trip. 
Watch Your Airline & Track Your Flight
While we always hope any trip will be smooth sailing, some things are just completely out of your control with air travel. Changes can happen without warning, so it pays to be vigilant.
If you're traveling over Memorial Day weekend, start keeping tabs on whether there have been any changes to your reservation. Downloading your airline's app to monitor your flights is a must, but one tool is even better to track your flights: Flighty Pro. You'll get instant push alerts about any schedule changes, delays, or cancellations to any flights in your queue.
Read our full review to see why the Flighty Pro app is our favorite travel tool right now!
It also pays to monitor FlightAware.com's daily dashboard of delays and cancellations to scope out your airline in the days leading up to your departure for potential warning signs. If you're flying on Friday and FlightAware shows your airline is struggling on Wednesday and Thursday, there's a good chance those disruptions are going to continue.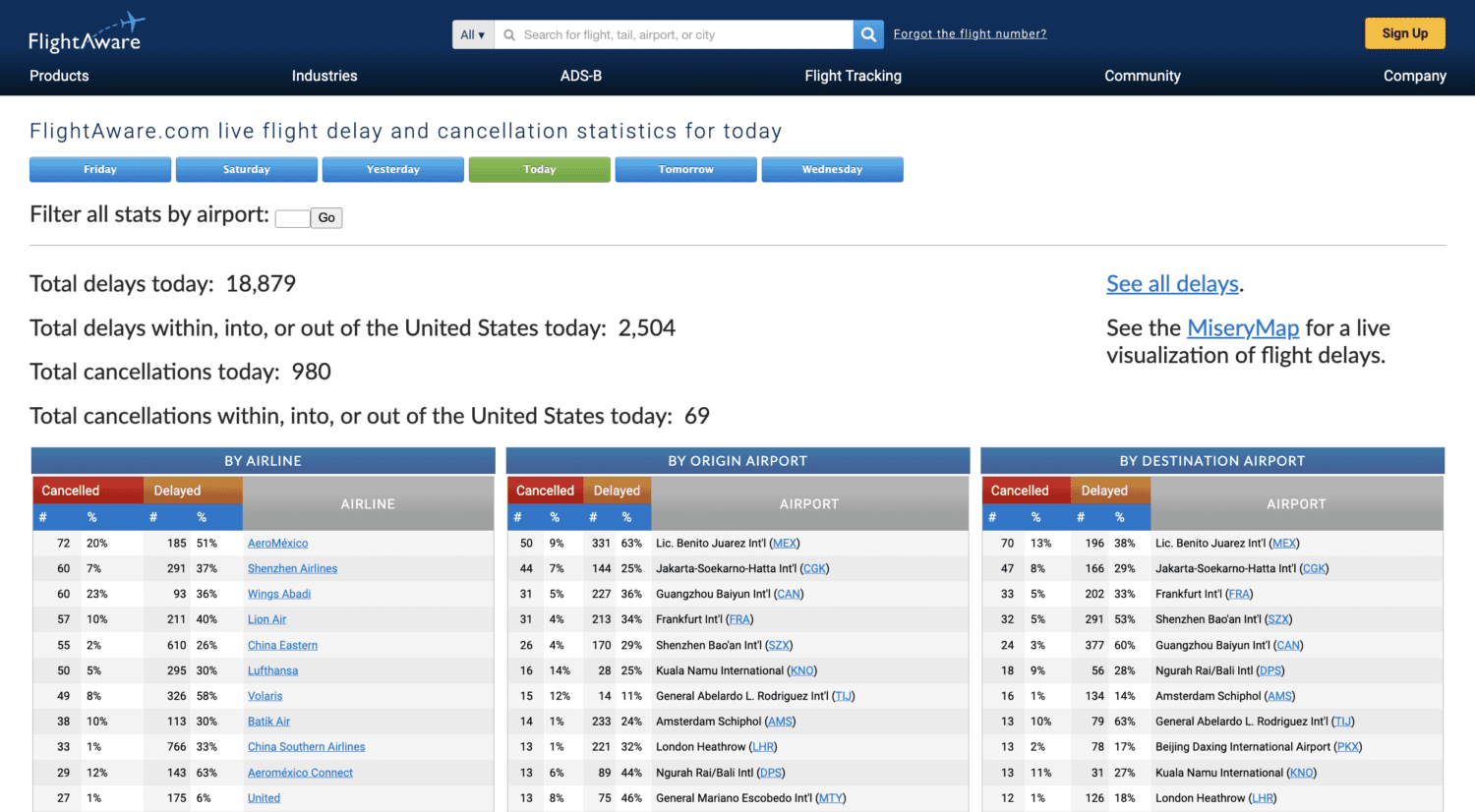 If the worst happens and your flight is delayed or canceled, don't just stand in a long line to speak with a gate agent or employees at check-in. Call up your airline while you wait and slide into their DMs on social media, too. If you've got airport lounge access, it's also worth heading to the Delta Sky Club or American Admirals Club to see if a lounge agent can help you.
Remember: If an airline cancels (or significantly delays) your flight, you can cancel your reservation and get a full refund – not just a voucher or credit that expires in a year, but your money back. You can use that money to rebook a last-minute flight to get where you need to go or pocket it for a future trip.
Plan Ahead for Summer Travel
Even if you're not planning to travel until later this summer, there are still things you can do now to make sure your trip goes smoothly.
Book your flight for as early in the day as you can. Data shows the earlier your flight departs, the better odds you have of getting on and off the ground on time. That's because airlines' (or airports') problems can stack up throughout the day, resulting in disruptions in later flights.
Monitor your flight and rebook if the price drops. We're seeing flight prices, especially domestically, drop as summer closes in. Now's the time to set a Google Flights price alert for your flights (if you haven't already) so you can rebook and save.
Sign up for TSA PreCheck or CLEAR. TSA PreCheck and CLEAR are two trusted traveler programs that make the process of getting through airport security faster and far less stressful. And they can be invaluable during busy travel periods like the summer months.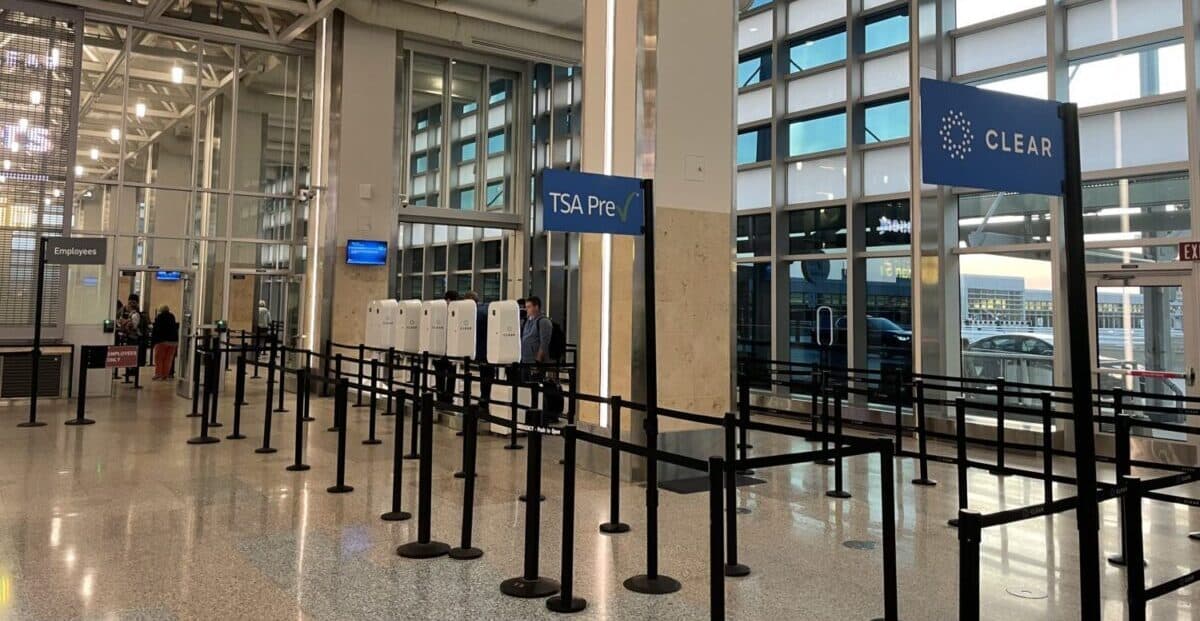 See all our tips to travel like a pro this summer! 
Bottom Line
Memorial Day weekend is generally considered the unofficial start to summer. This year, it's the official start of what's expected to be the busiest travel season on record.
With more people planning to take to the skies over Memorial Day weekend than in years past, it will be a test to see whether airlines can deliver on the promises they've made for a smoother summer of travel.