Before there were budget airlines, there was Icelandair.
With roots way back to the 1930s, the Icelandic airline began flying to the U.S in 1947. Today, it's still known as one of the cheapest ways to get to Iceland or onward to Europe.
And while its reputation remains as a budget airline, few parts of the Icelandair experience feel "cheap." I found out firsthand recently on the nonstop flight from Minneapolis-St. Paul (MSP) to Reykjavik (KEF).
Read on for a review of the entire Icelandair experience, from booking to arrival.
Booking Process
Icelandair flies to Reykjavik (KEF) from 11 cities nationwide, from San Francisco (SFO) all the way down to Tampa (TPA). The airline also flies to Iceland from Vancouver (YVR) and Toronto (YYZ).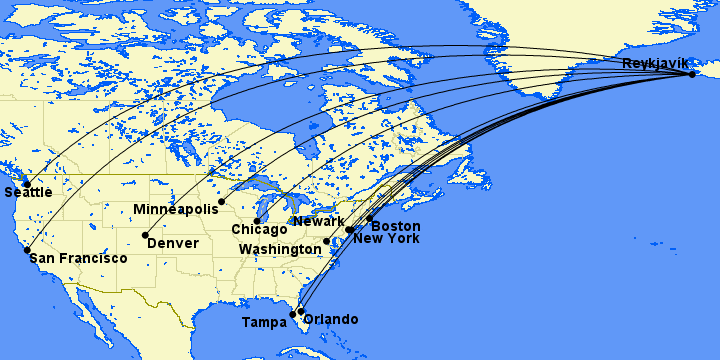 I searched Google Flights for a reasonably priced fare from Minneapolis (MSP), and eventually pulled the trigger on a $479 fare for eight days in early May.
Thrifty Tip: Need help getting a cheap fare to Iceland? Check out Thrifty Traveler Premium, our international flight deal notification service. We find cheap flights with average savings of $250 – $500 off of typical fares.
Booking on Icelandair is straightforward. I selected an Economy Light fare, but be sure to view the comparison chart and choose a fare class that's best for you based on checked baggage, whether meals are included, and more. Unlike most budget airlines, you don't have to pay for a seat assignment on Icelandair, regardless of which fare you choose.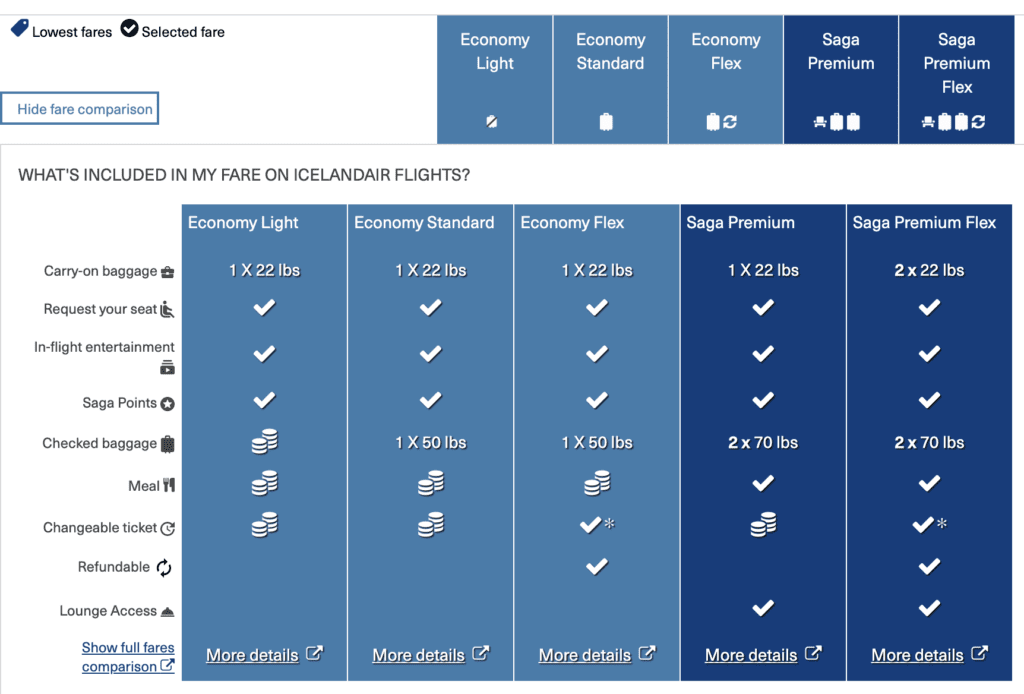 Even with an Economy Light fare, you can bring one personal item, one carry-on bag (up to 22 pounds) and select your seat.
Bidding for Upgrades
Icelandair offers the option to upgrade your regular economy seat, but with a novel twist: You can bid for an upgrade to Icelandair's business class, called Saga Class. Select how much you want to offer for your one-way upgrade, submit, and keep your fingers crossed!
Here are a few things to know about upgrade bidding on Icelandair:
The opportunity to bid on an upgrade opens ten days before your flight departure.
Bidding closes three days before your flight departs.
You bid separately for the departing and return flights, and pricing is one-way.
If your request for an upgrade is approved, Icelandair will notify you via email at least 36 hours prior to departure.
You will only be charged the bid amount if your offer is accepted. Otherwise, your travel itinerary remains the same.
The bid amount is additional to and does not include the original flight ticket cost.
Each bid is per passenger. If Icelandair accepts your bid, that value will be multiplied by the number of passengers on your itinerary.

Saga Class passengers get the following benefits.
2x checked bags (up to 70 pounds each)
1x carry-on bag (22 pounds) and a small personal item
Priority Boarding
Priority Check-in
Seat Reservation
More Comfortable Seats
Gate-to-Gate Wi-Fi Access – Included for 2 Devices
In-flight Entertainment
Lounge Access
Saga Points Accrual
The Saga seats themselves are similar to what you'll find in domestic first class – not a lie-flat business class seat. And while the more comfortable seat and lounge access were tempting, it wasn't worth nearly $300.
The lounge access and comfortable seat were tempting! For me, an upgrade to Saga Premium on my flight home wasn't worth nearly $300, so I didn't bid.
Check-in and Boarding
On our way home from eight days exploring the Ring Road in a camper van, we got a better feel for the Reykjavik (KEF) airport. When we arrived for our afternoon flight, the Icelandair check-in line was completely empty.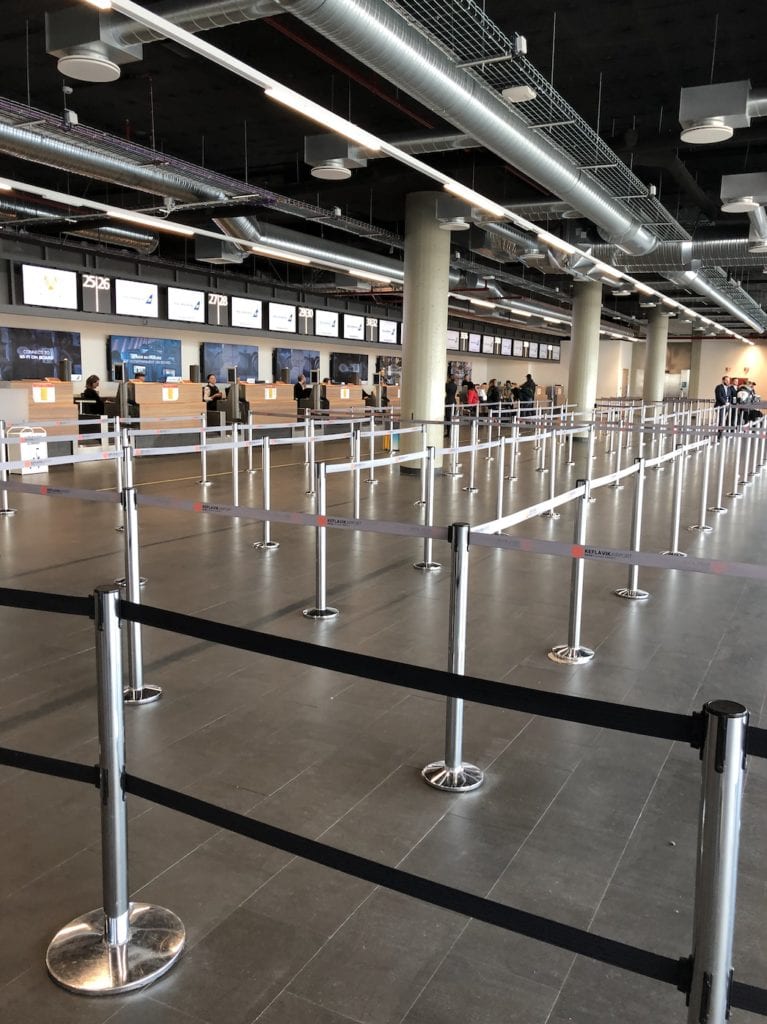 They do have automated check-in kiosks, but we checked in online the day before so we wouldn't have to worry about the (nonexistent) lines at the KEF airport. We made sure to measure and weigh our personal item and carry-on bag before our flight, but it didn't hurt to check-in online and hopefully bypass anyone looking to weigh our bags.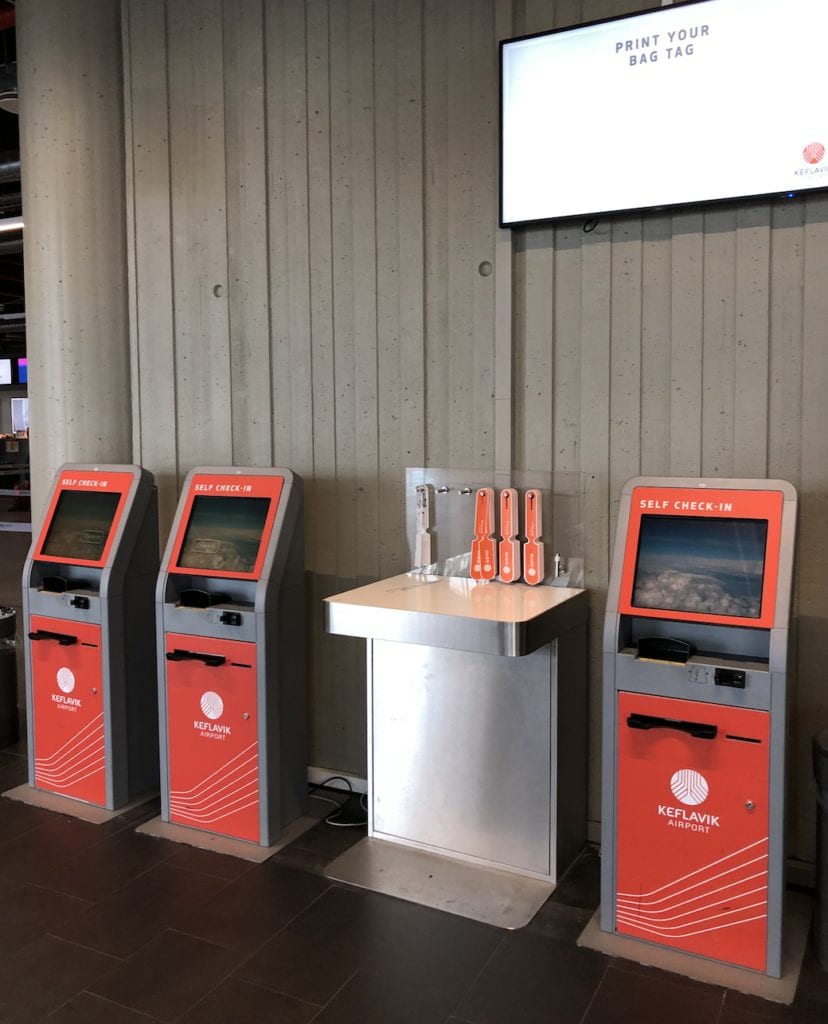 Boarding
The automatic ticket scanner system was down when we boarded, so the boarding experience quickly became backed up and crowded. Eventually, we all got our passports and tickets checked by the two gate agents and lined up to board a shuttle bus to board the plane on the tarmac.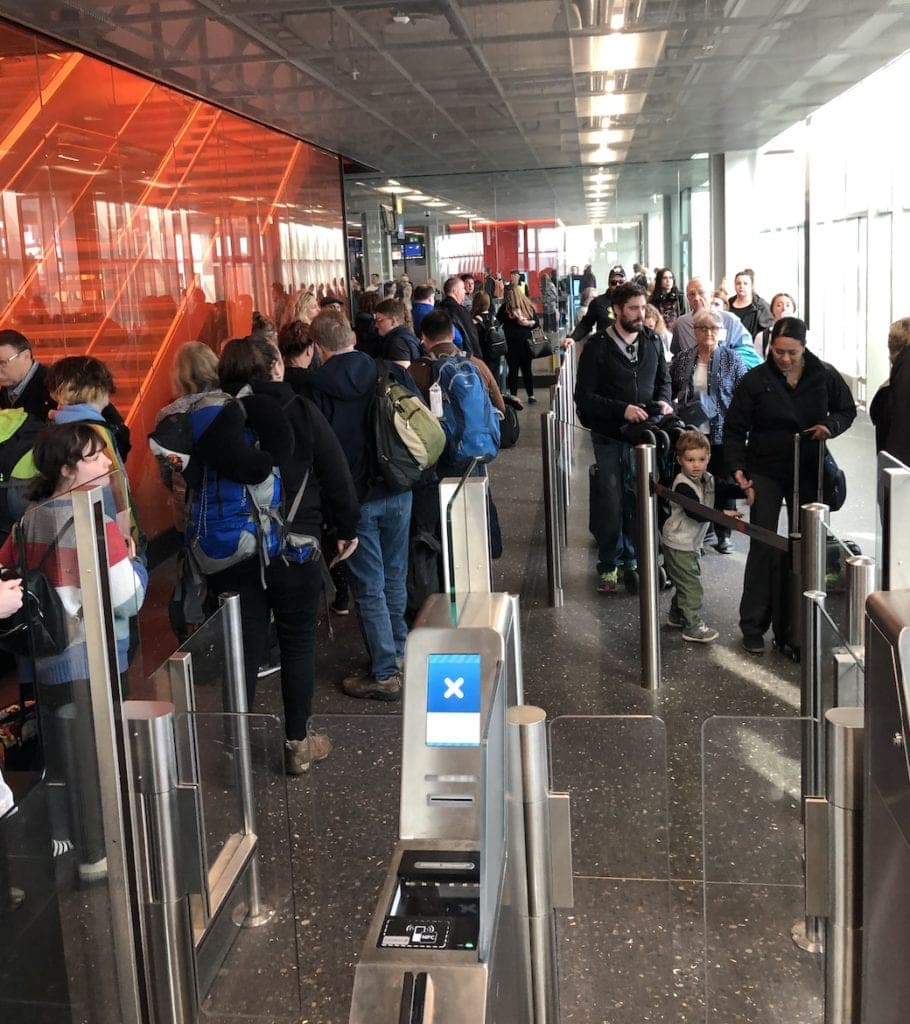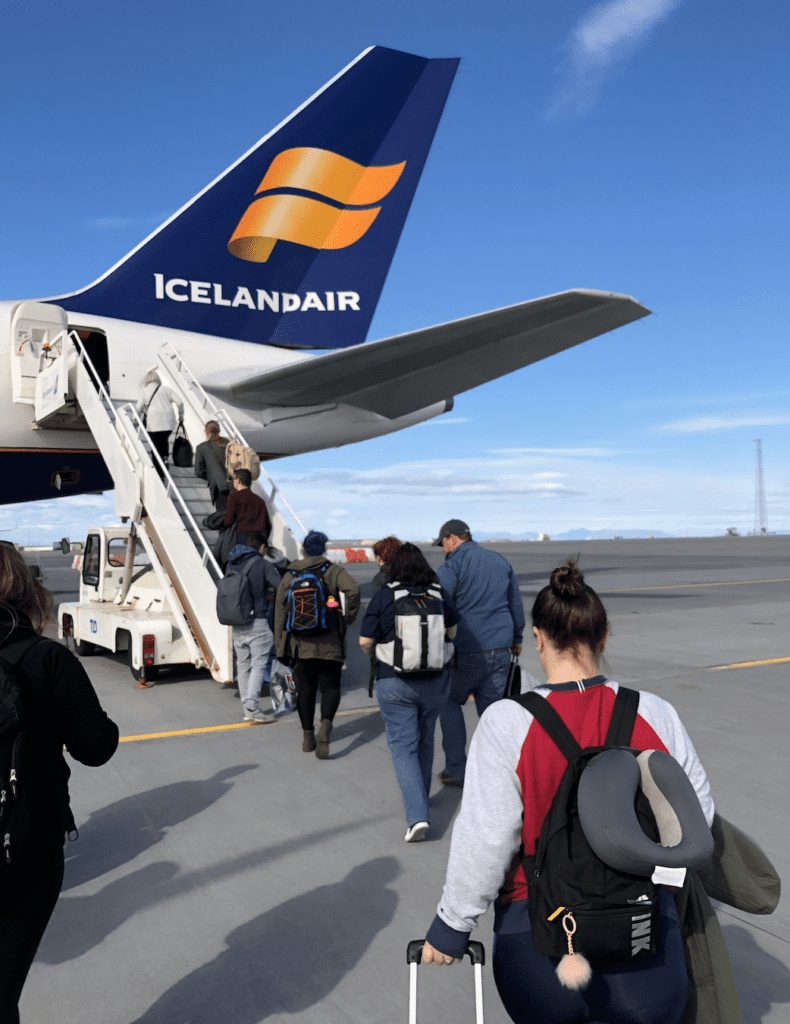 Upon boarding the aircraft, we were greeted by a stewardess and given a bottle of water straight away – a very nice touch.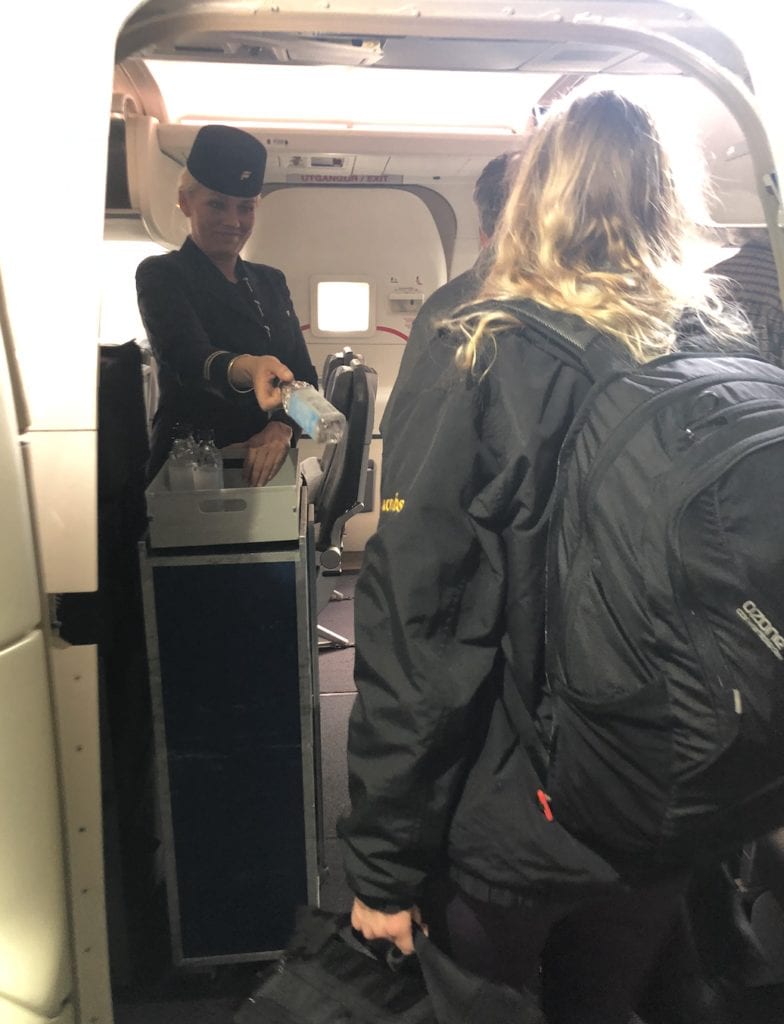 Seats
As we boarded, my first impression was that the seats looked fairly spacious and had a touch of Iceland. The headrest cover had a quote about Iceland, as did the pillow cover and blanket.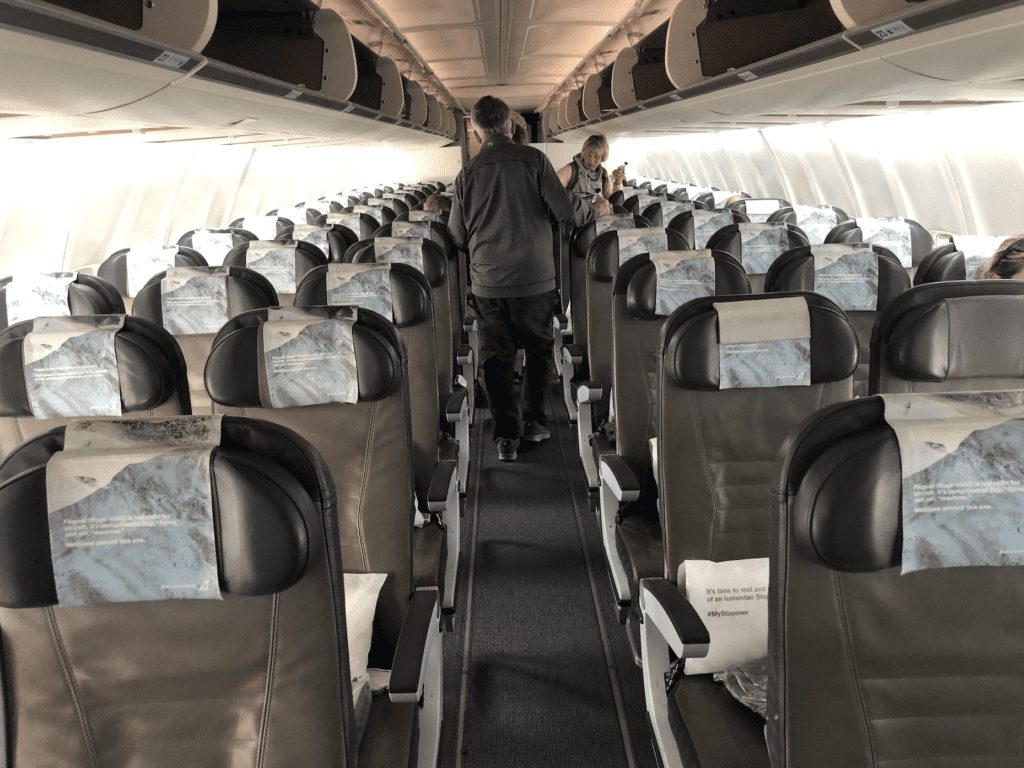 This flight was on a Boeing 757-200, which has some of the most spacious seats in Icelandair's fleet. Each seat in economy is 19 inches wide, compared to the 17 inches you'll get on most of Icelandair's other planes. And trust me, those extra 2 inches are huge. It means the seats are wider than you'll find on most airlines flying to Europe – from Norwegian to even the major carriers like Delta or American.
The blankets were nice and thick, and big enough to actually cover your feet and arms at the same time.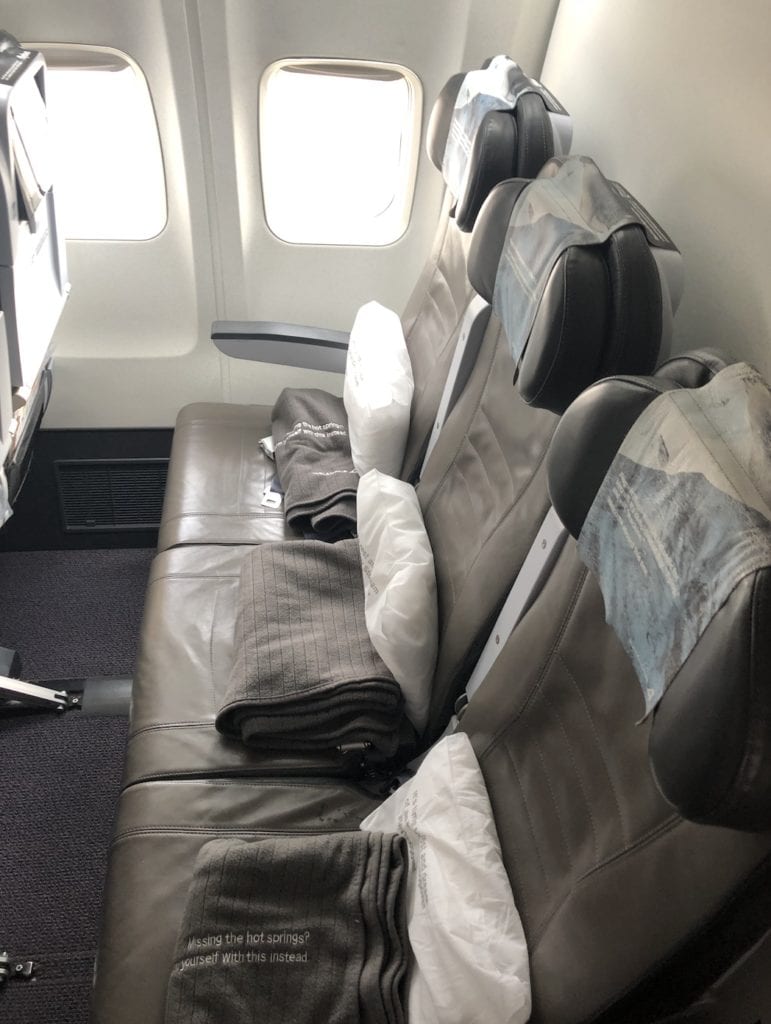 With 33 inches of pitch in economy, I found the legroom to be reasonably comfortable. For reference, I am 5 feet 9 inches tall. It's more legroom than you'll get on Norwegian Air and most major international airlines flying to Europe, where 32 inches is the norm.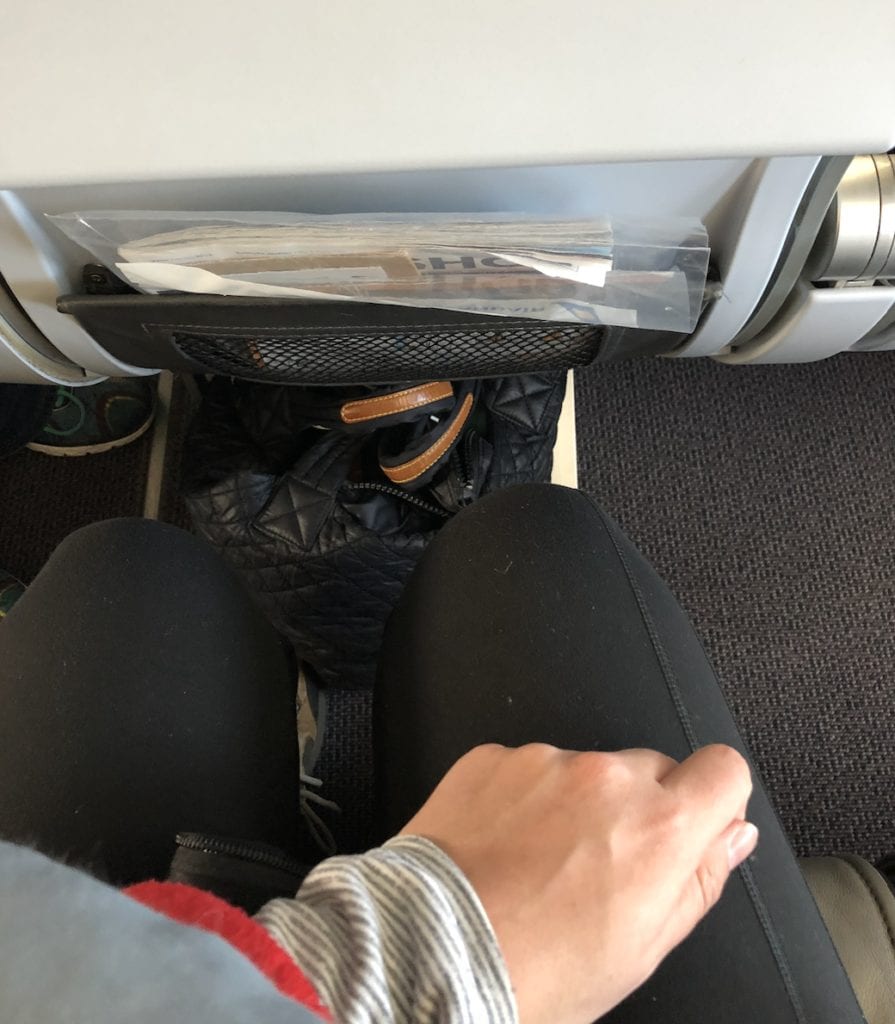 My only complaint with the seating was that the aisle seat I selected had a smaller storage space beneath the seat in front of me. My purse barely squeezed in, leaving me with little room to stretch my legs out.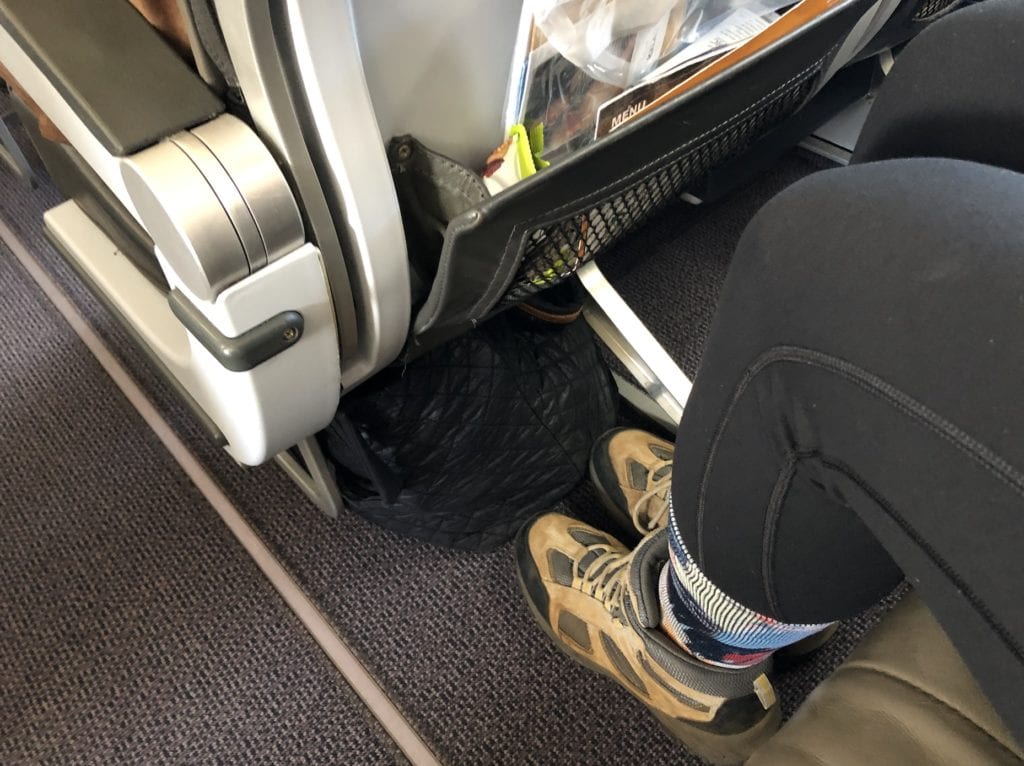 Entertainment
While budget carriers (and even some major airlines) are pulling out seatback screens, Icelandair has some fairly modern and crisp TVs at each seat, each with its own headphone jack and USB outlet to keep your devices charged.
The in-flight entertainment offered plenty of movies and shows, mostly leaning toward older hits and just a few newer releases. Check out everything streaming onboard Icelandair flights. 
But what interested me more were the Iceland videos that Icelandair offered. You could watch short segments on each area in Iceland to prepare for your nearing trip, or reminisce on your way home.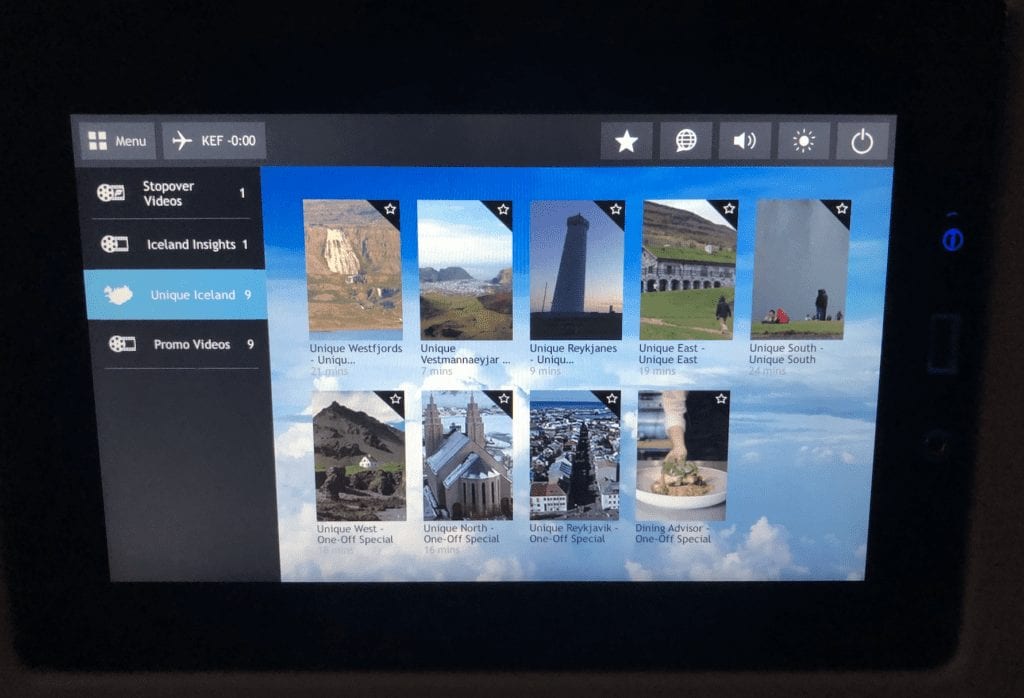 Ahh, the soothing overhead lights! The nonstop route between Minneapolis/St. Paul (MSP) and Reykjavik (KEF) goes fast.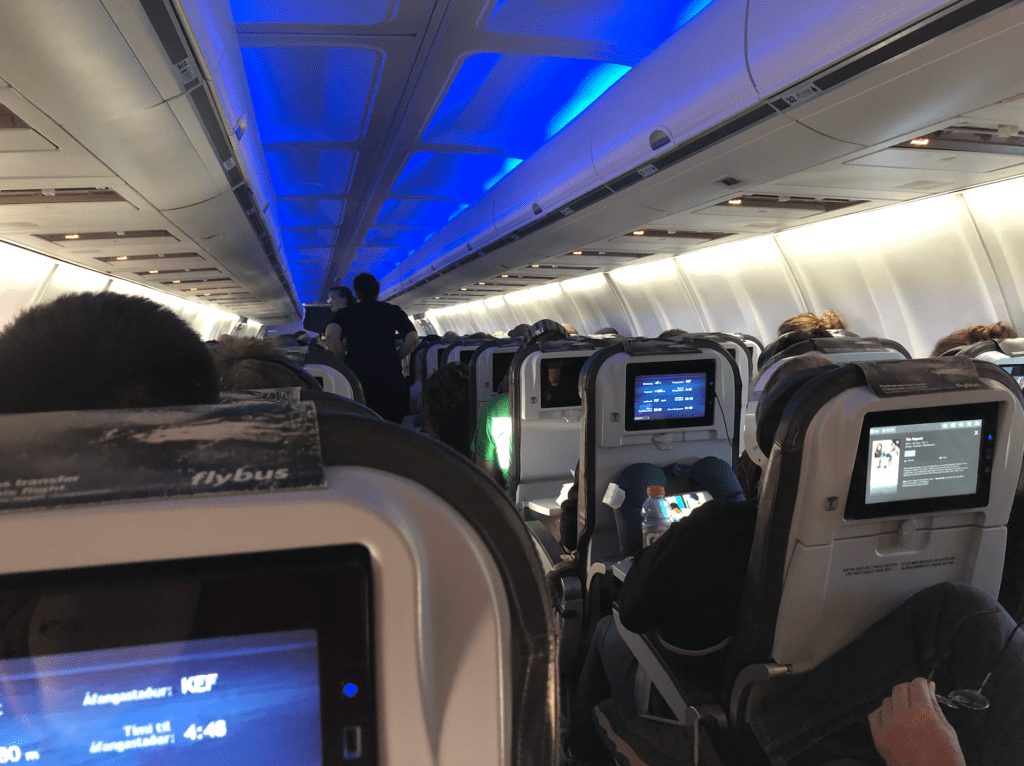 Food and Drink
Icelandair's website says Economy Standard passengers and up get free non-alcoholic drinks, but I was provided beverages as well. The standard juices, coffee, tea, and soft drinks were available.
With the Economy Light and Economy Standard fares, food is not included free. But there was food available for purchase from a lengthy menu. I typically pack my own food but decided to try out one of the Icelandair offerings from the four-page menu.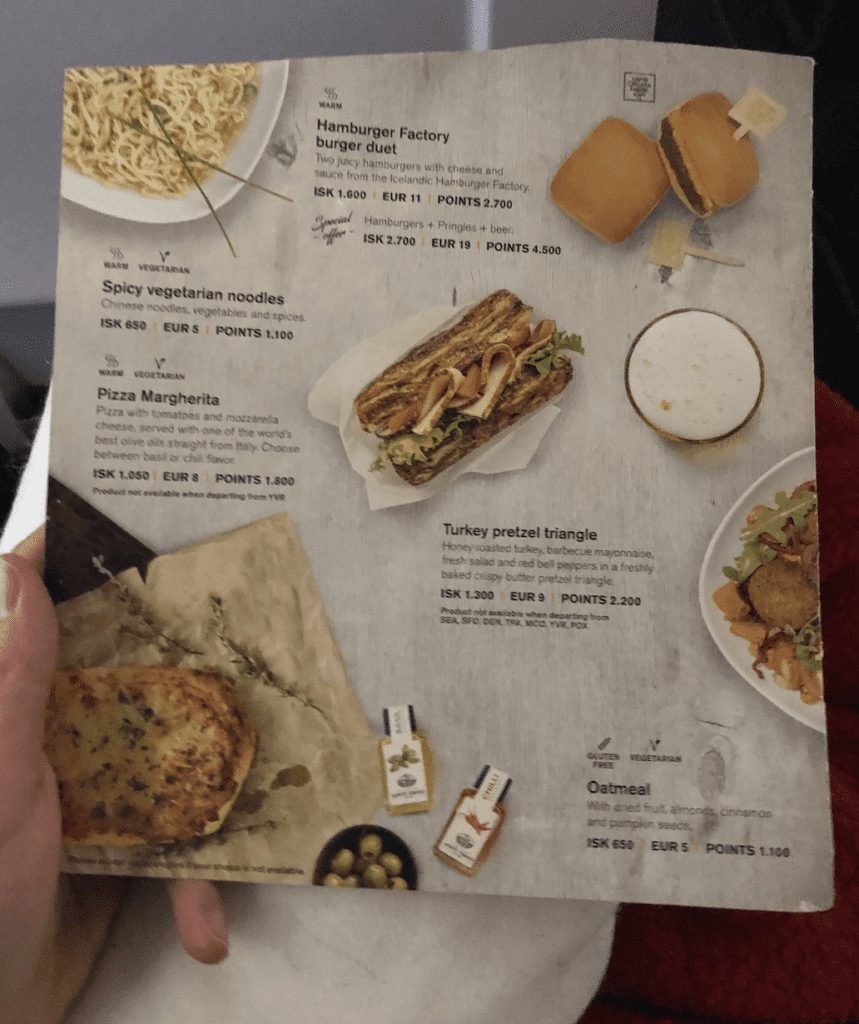 I ordered a Tapas Snack Box, which was 9 euro. While still expensive, it was on par with what I expected to pay for food inflight (and in Iceland). I was pleasantly surprised by the amount of food included in the Tapas Box: Serrano ham, mini breadsticks, mini fuet cheese, bruschetta dip, and Iberico cheese.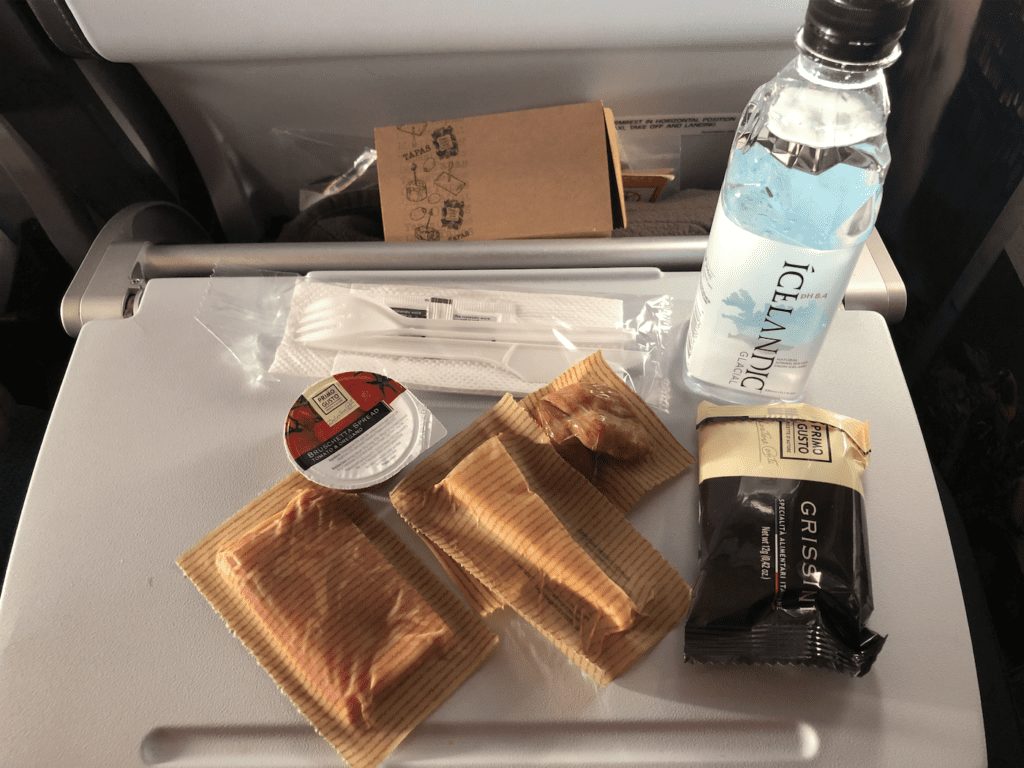 Other snacks like chips, hummus, protein bars, and chocolate were 3 euro.
Service
The service was exceptional on this Icelandair flight. I loved the hospitable touch of a bottle of water upon boarding. The stewards and stewardesses were attentive and came around frequently to fill up waters, tea, and coffee. They offered to fill up the water bottle rather than using a new glass and save on some waste.
Bottom Line
While Icelandair is often considered a budget airline, and I did get a crazy cheap fare to Iceland, my experience on Icelandair didn't feel "cheap."
Depending on what aircraft you fly, the seats are more spacious than what you'll find on most top-dollar airlines in economy. The service was attentive, and getting a water bottle upon boarding was a step above.
As with most airlines, the key is knowing what you're getting into. Make sure your carry-on bag is under 22 pounds, and bring your own food (or get ready to buy some onboard).
Keep those factors in mind, and you can hitch a cheap ride to Iceland or elsewhere in Europe without sacrificing comfort.