Beware. Travelers are coming.
With Thanksgiving just ahead, airports, airlines and the TSA are bracing for the busiest travel period of the year. The TSA estimates nearly 27 million people will pass through airports in the 10 days surrounding Thanksgiving. That's up almost 5 percent from last year, and would set a record. 
But it doesn't have to be miserable. Follow our tips to make it home for turkey unscathed this year or next.
Avoid the Busiest of Busy Days
Even during this crazy holiday season, your home airport won't be jam-packed every day. But a few days stick out.
The TSA suggests that the Wednesday before Thanksgiving (Nov. 27) and the Sunday (Dec. 1) after are the busiest days of the year. The TSA expects to screen between 2.7 million and 2.8 million travelers at airports nationwide on each of those days.
If you want to avoid the rush of crowds and long lines at security or Starbucks, plan accordingly.
Book Early, Save Big Bucks
If you haven't booked your airfare home for Thanksgiving this week, don't expect to score any deals. But we'll help you out for next year.
Google rolled out a new tool called Travel Trends earlier this year. It analyzes airfare data to help pinpoint the cheapest time, on average, to buy a plane ticket for holiday travel: Thanksgiving, December Holidays and New Years.
At this point, only a handful of routes from the nation's largest airports – plus London-Heathrow (LHR) – are viewable. Think New York City-JFK (JFK), Los Angeles (LAX), Chicago-O'Hare (ORD) and a few others.
But no matter where you're flying to or from, the trends should hold up. And in general, they'll show you that the cheapest time to buy a Thanksgiving plane ticket is 90-70 days before departure.
Use this helpful tool to help you decide when to buy that plane ticket for any holiday travel.
Traveling internationally? It's a different story. In our minds, Thanksgiving is one of the best times of the year to head abroad. Cheap flight deals are plentifyl
Pack Light, Arrive Early
Getting to the airport early is one of the necessary evils of air travel. It only gets worse during the holidays.
Lines to check a bag get longer than ever during Thanksgiving as families hop on a plane. So skip it altogether: Pack in just a carry-on.
We encourage all readers to travel with only carry-on luggage, no matter the season. It's cheaper, faster and frees you of the mental weight of keeping track of more things – or the possibility of the airline losing your bag.
But there's no time it pays off more than when you can walk from the curb directly to the TSA security checkpoint as holiday travelers line up to check a bag. Travel with a carry-on, and there's one less line you need to wait in.
Need a new carry-on bag? Read up on five of our favorite bags out there.
Still, don't think you can waltz into the airport with 25 minutes until departure. Give yourself more time this holiday season. To be on the safe side, add at least 30-45 minutes to your typical airport routine.
Want a sneak peek at what's ahead for you at the TSA checkpoint? Download the MyTSA app to scope out security wait times at your home airport.
Get TSA PreCheck or CLEAR
Clearing airport security can be a nightmare during the holidays, but it doesn't have to be.
A pair of trusted traveler programs can help you skip the lines at security. The first and most popular option is TSA PreCheck, a government-run security program that gets you in a shorter, dedicated queue at the airport. You get to keep your shoes, belt and a light jacket on. No need to take your laptop or carry-on approved liquids out of your bag either.
PreCheck costs $85 for a five-year membership. And, better yet, you get PreCheck with Global Entry, the traveler program that helps you get through immigration faster when returning to the United States. At $100 for five years of both programs, it makes Global Entry a no-brainer.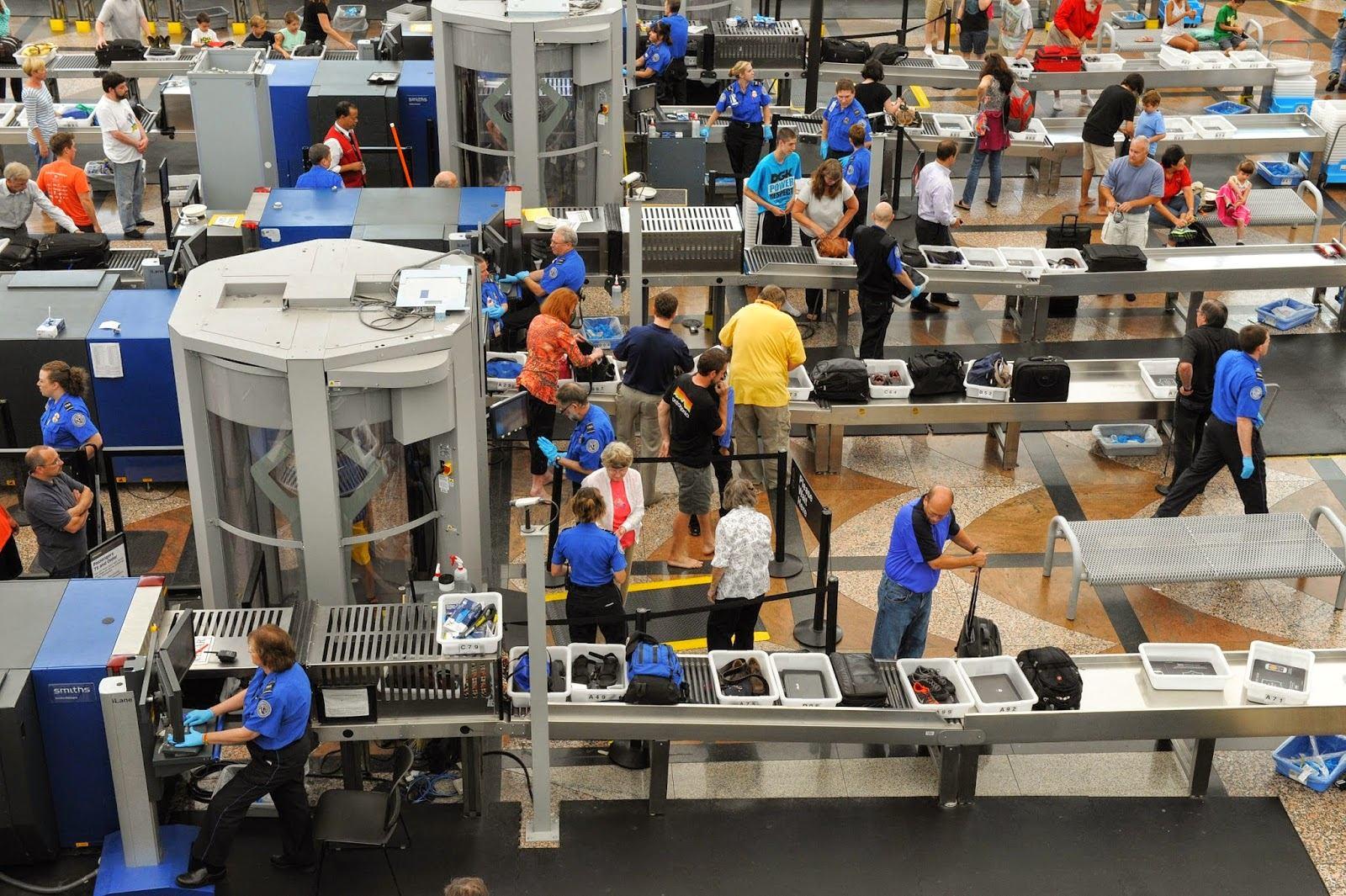 Even better: You can get it for free. A handful of credit cards offer cover the fees for either Global Entry or PreCheck. Check our list of credit card perks to see if your card is included.
Another option is CLEAR, an independent trusted traveler program involving both fingerprints and a retinal scan. You can enroll online and finalize your membership at the airport. If you frequently depart from a Delta hub city like Minneapolis-St. Paul (MSP), Detroit (DTW) or Atlanta (ATL), CLEAR is worth a look.
CLEAR isn't available everywhere: It's currently running at a few dozen airports and counting, plus a handful of professional sports stadiums.
Unlike the five-year membership for PreCheck, CLEAR has an annual fee, and it's hefty: $179 per year. Delta flyers can get some big savings. It costs $119 for a general SkyMiles member, and only $109 per year if you hold one of Delta's co-branded American Express cards or status with Delta. CLEAR is free for top-tier Diamond Medallion status members. And most recently, United also recently started offering similar discounts. 
Live it Up in Lounges
No doubt about it, your airport terminal will be bustling this week and on any holiday. Need an escape (and maybe a drink)? You're looking for an airport lounge.
At a minimum, you'll get free drinks and snacks, a place to recharge your devices and far better seating than the stiff chairs at your gate. In major hubs and overseas, you might find full buffets, a la carte dining, showers, and even private sleeping rooms.
Check out the app Loungebuddy or the site Sleeping in Airports for a rundown of what lounges are available at any airport. Both tools will also tell you whether you can buy a single-visit day pass to a lounge.
But a handful of credit cards will get you access to more than 1,000 airport lounges worldwide for free. One of our favorites is the Platinum Card from American Express, which opens more lounge doors than any other credit card.
You'll get access to the nine posh Centurion Lounges in the US, 1,000 Priority Pass lounges worldwide and can get into Delta Sky Clubs if you're flying Delta that day. You can also access Escape Lounges, which is our favorite at our Minneapolis-St. Paul (MSP) home base.
Another option is the Chase Sapphire Reserve, which is our #1 travel rewards card. It comes with free Priority Pass membership, a huge network of lounges and some airport restaurants, too.
Bottom Line
You might be dreading spending any of your holiday season inside an airport, and you're not alone. But with some proper planning and a few of these tools, you can make it through.