Back in October, Mr. TT and I took a roundabout way to Doha, Qatar. Our end goal was flying Qatar Airways' new Qsuites business-class product back to the US. These fully enclosed and spacious Qsuites are widely regarded as the best business class product in the world. To say I was excited to try them out is an understatement. Read on for a full review of our experience.
Booking Qsuites
One of my favorite things about Qatar Airways is how easy it is to book award flights. You can book flights on Qatar with American AAdvantage miles and it is one of our favorite ways to use them. Just recently, American Airlines made it possible to book Qatar award flights online, making the process even easier.
As the American Airlines award chart shows, a flight from Doha, Qatar (DOH) to the continental U.S. will cost 70,000 miles in business class.

All told, we booked our seats in business class for 70,000 American AAdvantage miles and $39.38 of international taxes and fees. Considering American AAdvantage miles can easily be earned through the co-branded credit cards offered from both Citi and Barclays, getting 70,000 miles doesn't require much effort. To learn more about these cards, visit the airline credit cards section of our Top Credit Cards page.
If you're looking to fly the Qsuites, make sure you are flying a route that is currently equipped with this new business class product. Though Qatar Airways has many U.S. gateways, not all of these routes feature Qsuites product just yet. As of publishing this article, the following routes originating out of the US have Qsuites onboard:
Chicago (ORD)
Houston (IAH)
Los Angeles (LAX) – Starting Feb. 2nd, 2019
New York (JFK)
Washington DC (IAD)
Pre-Flight Experience
We arrived at Hamad International Airport (DOH) in Doha early so we could enjoy some time in the Al Mourjan business class lounge. After getting dropped off by an Uber, we entered the terminal into the special check-in area for both business and first class passengers.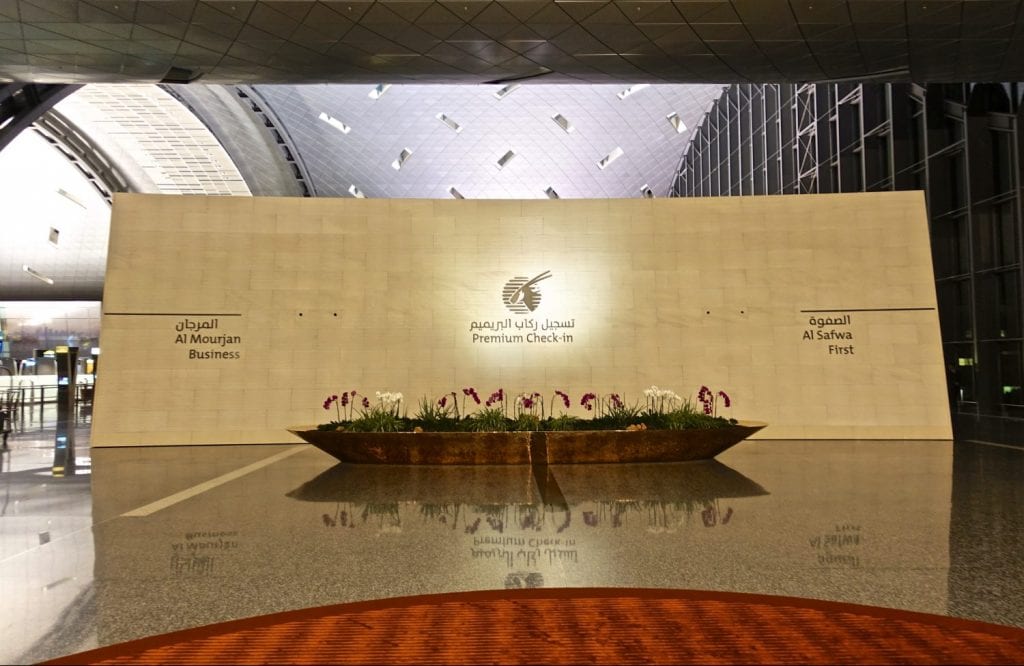 After heading to the left and getting our boarding passes, we headed through our first security checkpoint. As part of the electronics ban being lifted in 2017 for a handful of Middle Eastern airlines, separate security checkpoints were implemented at the departure gate in addition to the initial screening to get into the terminal (more on this later).
After working our way into the terminal, we were greeted by the famous giant lamp bear in the grand foyer of Hamad International Airport. I didn't know anything about this big teddy bear before the trip, so the sheer size of the display caught me off guard.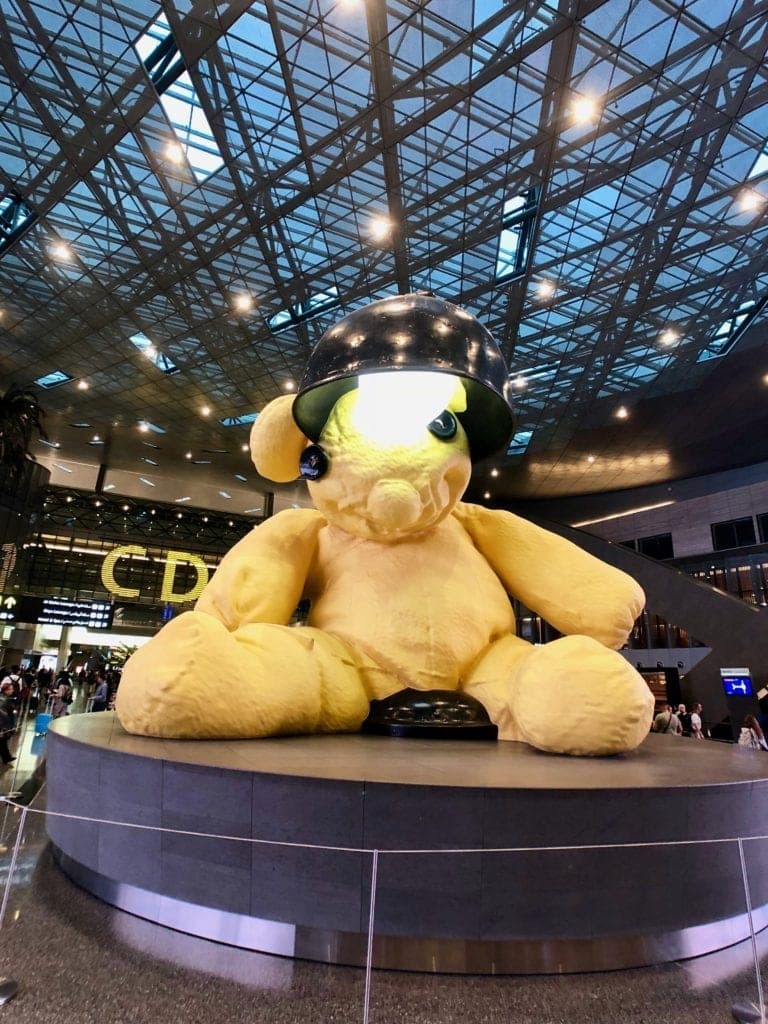 From here, we made our way up the escalator into the Al Mourjan business class lounge. The lounge itself is massive – it's easy to forget you are actually in an airport. It offers multiple dining areas, a business center, and endless room to unwind and relax before your flight.
We went into the main dining area and enjoyed a delicious traditional middle eastern breakfast with Arabic coffee. Sadly, I forgot to snap a picture before devouring it.
After enjoying our breakfast and getting some work done in the lounge, it was time to head to the gate to board our aircraft.
As mentioned above, part of the electronics ban coming to an end in 2017 involved adding an additional security checkpoint at the gate. Once we got to our departure gate, both Mr. TT and I were ushered into a separate line where all of our electronics had to be removed and examined.
Each of my devices was swabbed and tested for explosive materials. Meanwhile, we both had to make our way through the metal detector for the 2nd time since arriving at the airport. Although the extra security checks added time, the process was still efficient.
The Cabin
Flying the Qatar Qsuites has been a goal of mine since the product launched a few years ago. Qsuites are widely considered the best business class seats in the sky. When you first enter the aircraft, it isn't hard to see why.
Qatar doesn't have any first class seats onboard the Boeing 777s equipped with their Qsuites. There are 42 business class seats arranged in a 1-2-1 layout. The business cabin is separated by a galley and essentially creates two different business class cabins. I was seated in seat 5A for our flight, while Mr. TT was two rows in front of me in 3A.
As you can see from the seat map below, both seats are rear facing and colored green on Seat Guru – indicating it's gotten good reviews and could be worth choosing.
Both of our seats were great, as they are closer to the window and further away from the aisle than the front-facing window seats. This provided a bit more privacy which I appreciated. While being rear facing was odd at first, after takeoff I didn't think about it again for the entire 14-hour journey. If you are traveling solo, I would highly recommend the odd-numbered seats on the window as these are the true window seats.
The Seats
I can wholeheartedly say that this is the best business class seat I have ever flown in. Both the design and functionality of the seat were well thought out. There was seemingly a place for everything. While I thought my seat onboard the Singapore Airline's A350 was better looking, the functionality of Qatar's Qsuites blows it out of the water.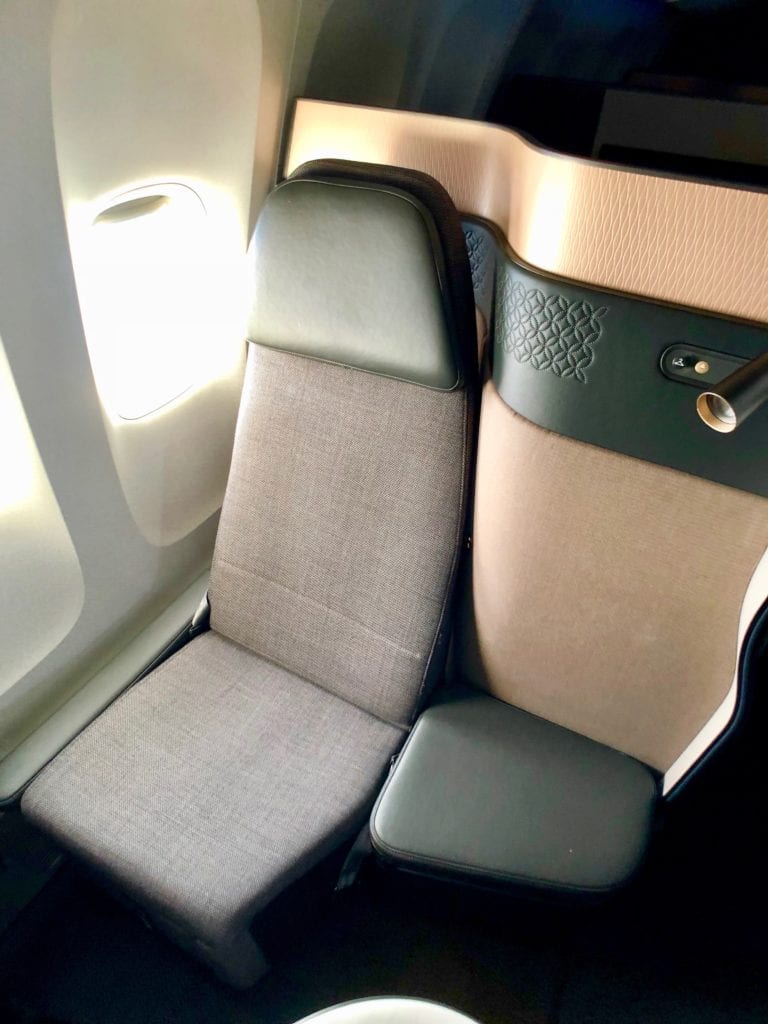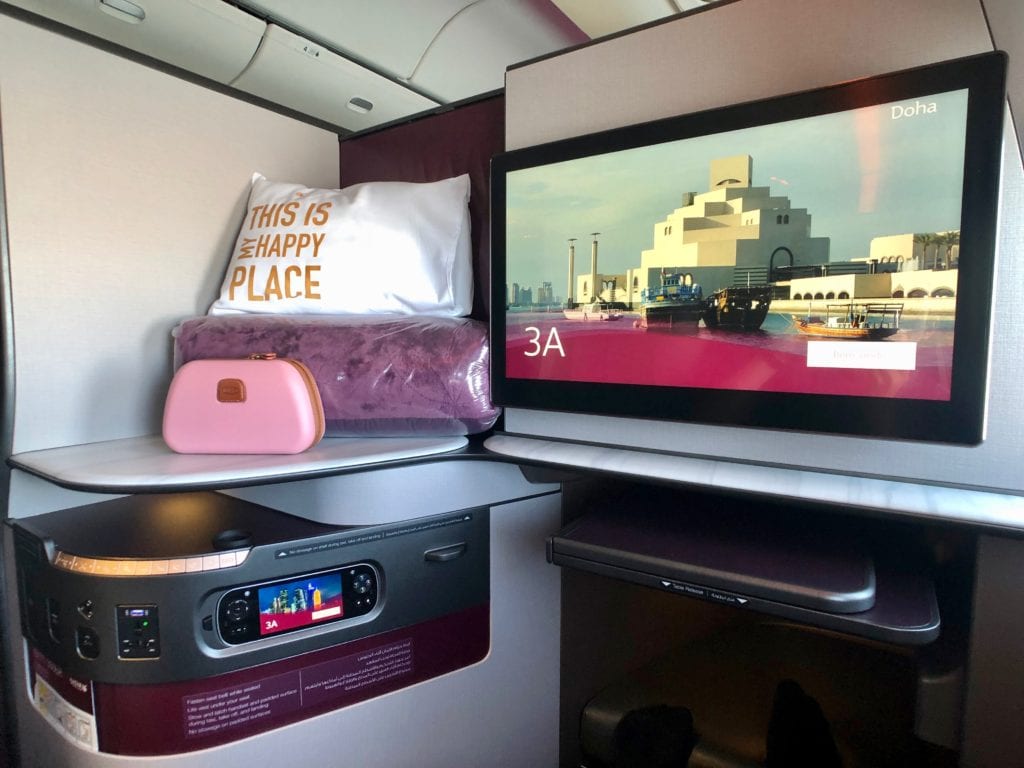 I found the location of all the electronics plugins to be spot on. Even with things plugged in, cords were never really in the way. There is even a small cubby above the plugins and below the top shelf for storage. I found myself using this quite a bit during our flight for things like my phone, headphones, amenity kit, etc.
This might not be a big deal for some, but I couldn't get over how awesome the tray table was. When you pulled it out, it fit perfectly in the space and was extremely sturdy. It made eating or getting a bit of work done very easy. At times, it almost felt like a desk of sorts. You could adjust the closeness to the seat as well as the height. It made it very easy to find a comfortable position.
Similar to the Delta One suites, each seat comes equipped with a door to provide the utmost privacy when you wanted it. When the door was shut, your seat number on the outside of the door would turn green indicating to the flight attendants that you didn't mind them stopping by for service and other visits.
Near the electronic plugin panel, there was a "do not disturb" button. When you pressed it, your seat number turned red, indicating to the flight attendants that you didn't want to be bothered. A great option when you want to get some shut eye.
This was by far the most comfortable business class seat I've ever flown in when it came time to sleep. Shortly after takeoff, I decided to go right to sleep to ease the jetlag and help myself get adjusted to the time once we landed in Washington, D.C. I found the footwells to be more than adequate: My feet didn't feel cramped at all.
Top-notch pillows and blankets added to the comfort. I generally don't sleep well on airplanes – sometimes due to sheer excitement of the business class product I'm flying, and other times out of discomfort. But I easily slept almost five hours in my cozy Qsuite. Sadly, I forgot to get a picture of my seat in lie-flat bed mode, but it looked similar to the image below. Of course, this is in the middle section with two seats, which are known as the honeymoon seats. 
If you are traveling with a spouse or significant other, do what you can to try and grab these honeymoon suites. When you put these paired suites into lie-flat bed mode, it essentially becomes a double bed. If you're not into sharing a bed with a stranger, don't worry – you can raise a partition between the seats for privacy.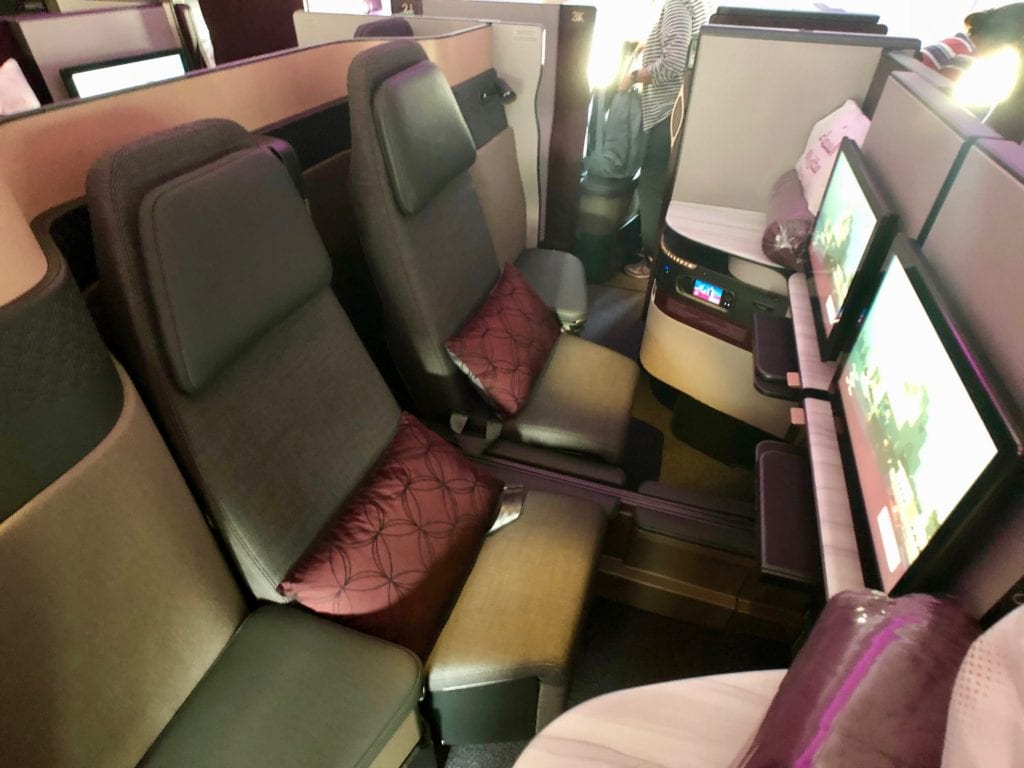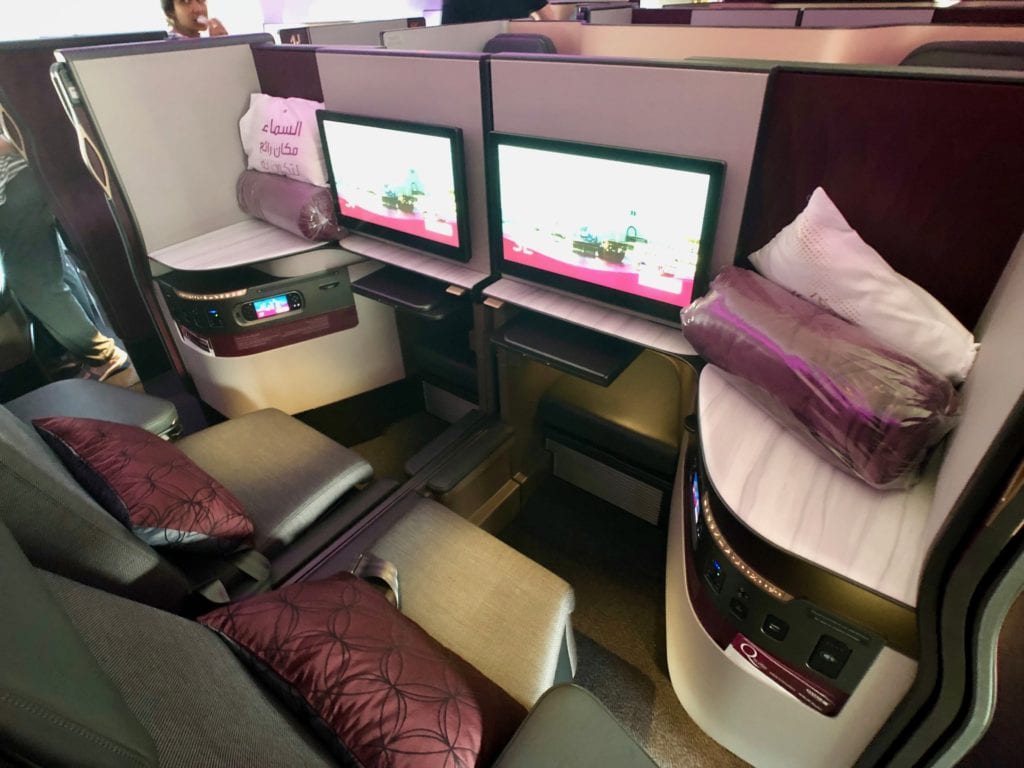 While the window seats are rear facing in odd-numbered rows, the middle seats are rear facing in the even rows. Thhis arrangement means that if you are traveling with a group of four, you can actually open the partitions and create a pod so all four people can converse. There was nobody doing this on our flight, but it would look something like this.
Interestingly enough, when we booked our flights we weren't able to select seats in the middle section. All of them were showing as unavailable. I checked a few times before our flight all the way up until the day before departure. But after boarding, it was clear that a lot of the seats were empty. It's possible Qatar doesn't make all honeymoon suites available for passengers who are booked on a partner award ticket, but I can't confirm that for sure.
The Amenities
The amenity kits provided on our flight were designed by the Italian luggage company Bric's exclusively for Qatar Airways. The kits were also pink, in honor of October being breast cancer awareness month.
Inside the kit were the usual items: earplugs, a sleep mask, lip balm, moisturizers, and compression socks. The toiletries inside the kit were provided by Castello Monte Vibiano, another Italian company. I am not an expert on moisturizers or beauty products, but a quick Google search tells me that their stuff is pretty high-end based on the price.
Inside the lavatory, there were a number of additional products not included in the amenity kits, including toothbrushes and toothpaste, razors and shaving cream, and a few different body sprays to freshen up.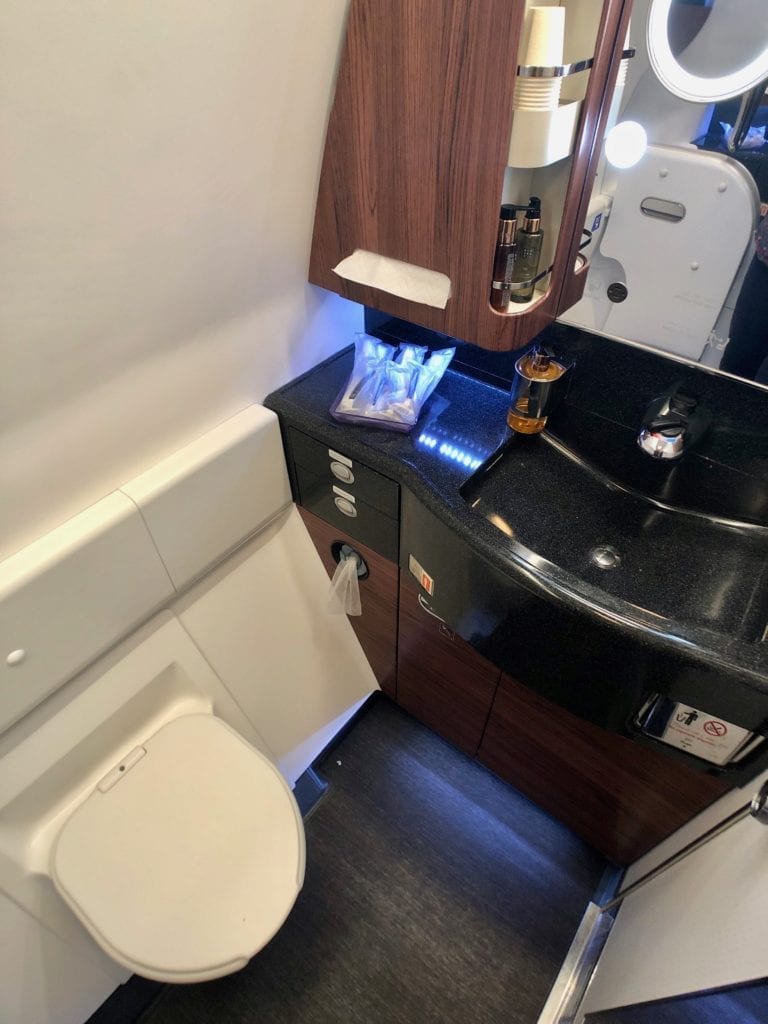 The Service and Dining
Let me just come right out and say the Qatar Airways dining experience is incredible. The food was excellent, but so was the structure of the service.
Before takeoff, a flight attendant came to my seat to introduce himself and make sure I had everything I needed (including a glass of Rosé champagne). He then handed me a dining menu and explained how it worked. Qatar handles their food service in an a la carte fashion. This means you order what you want, when you want it and are not tied to the designated service times to eat.
This was perfect, as I wanted to sleep for the first part of our flight. Upon waking up, it was roughly 7 a.m. in the U.S. and I figured I would start with breakfast. I rang my flight attendant call button and within seconds, the flight attendant working our row was at my seat to take my breakfast order. I started with a bowl of oatmeal and fresh fruit and a coffee.
After logging a few hours of work, I decided it was time for a mid-morning snack. I again rang my flight attendant call button and ordered the traditional Middle Eastern Mezze plate served with fresh Arabic bread. It was delicious. If you are flying Qatar, make sure to try one of these. Mr. TT and I both agreed it was one of our favorite items.
For lunch, I started with the cheese and cracker plate along with a delicious cocktail with Champagne and Cognac. Both were fantastic.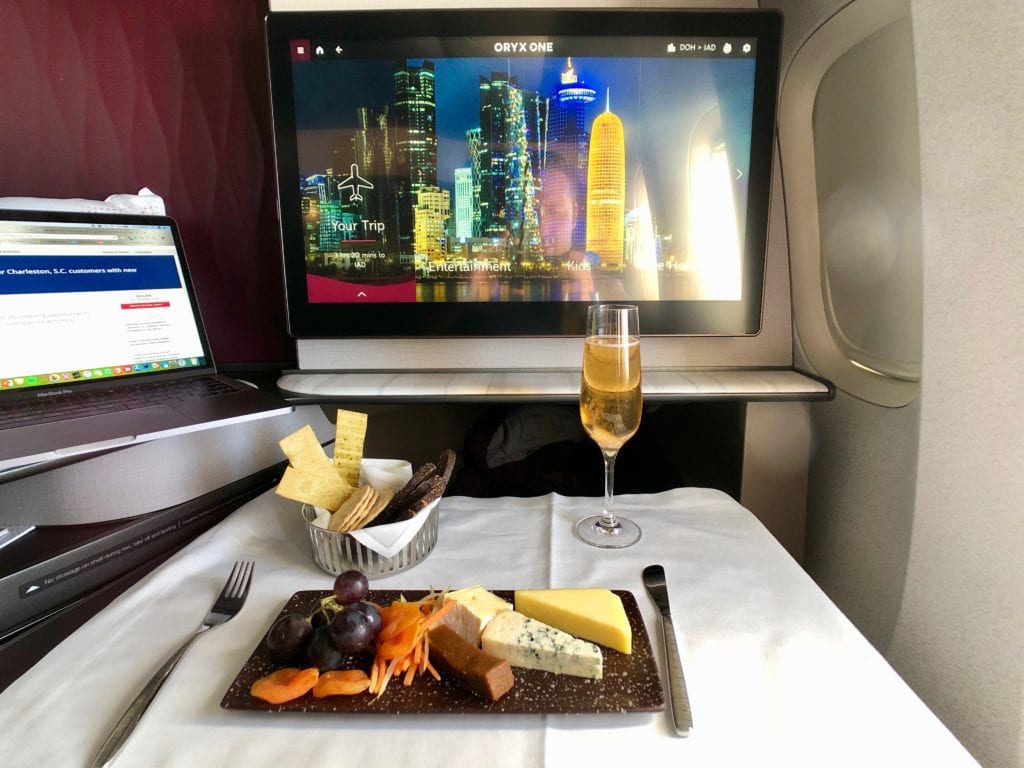 After enjoying the cheese plate, my main course was served. Chicken kabsa skewers with yellow lemon rice and chargrilled marrow and tzatziki sauce. Again, absolutely delicious.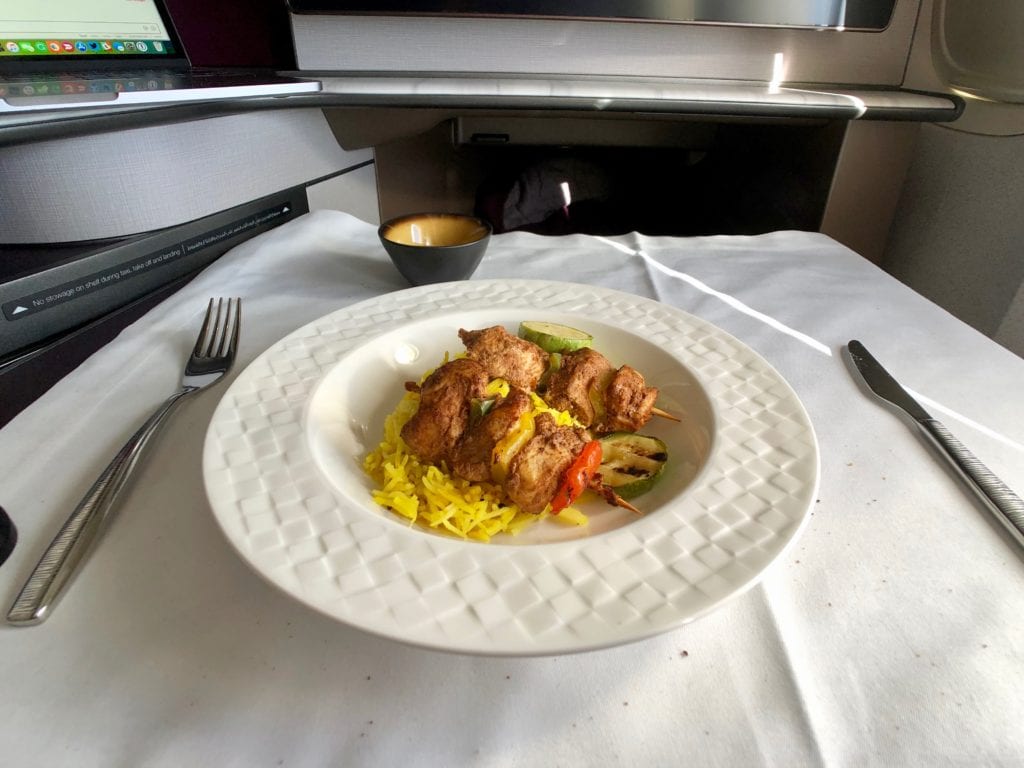 For dessert, I opted for just a glass of Cognac to sip on and the Godiva Belgian chocolates promptly delivered by the flight attendant. It was the perfect finish to a delicious meal.

I can't think of one bad thing to say about the food and service experience offered by Qatar. When your flight is over 14 hours long, having the ability to order food and drinks whenever you want is amazing. You don't have to worry about missing service while you sleep or being served when you aren't hungry.
The flight attendants were all extremely prompt, friendly, and professional. It was clear that their number one priority during the flight was making sure everybody in the business class cabin was comfortable, well fed, and enjoying themselves. I checked all three of those boxes.
Entertainment 
Qatar's Qsuites are equipped with beautiful high-resolution entertainment screens. These displays are about as sharp and crisp as they come.
Unlike the screens onboard Singapore Airline's business class, the screen is both a touchscreen and can be controlled by the wired remote.
Additionally, I found the in-flight entertainment selection to be fantastic. There were at least 300 movies on board, with a great mix of new releases and older classics. 
Bottom Line
I loved my first experience in the Qatar Airways Qsuites. They nailed almost every detail with this product. I couldn't believe how fast a 14-hour flight can feel when you are flying in the comfort of Qsuites. With how easy it is to book Qatar award tickets, flying in the Qsuites should be on your list. Qatar Airways makes for a great way to connect on to Asia or the Middle East and is now one of my favorite airlines.
Lead Photo (CC BY 2.0):  Mark Harkin