It's a comfortable ride on a full-service carrier that can put you an hour away from some of the best skiing in Europe. Flying SWISS economy on the A330-300 from New York City (JFK) to Geneva (GVA) recently, the seats were great … but the plane was showing its age.
That was one of my main takeaways after flying SWISS economy for a ski trip to Chamonix. But above all, it's convenient: While many carriers fly in and out of Zurich (ZRH), this is one of the few nonstop routes from the U.S. to Geneva. Combined with a sneakily cheap way to book these typically pricey flights using miles, that convenience put me in row 31 of SWISS's A330-300 heading to the Alps and back over the New Year.
SWISS Economy has a lot going for it, including some above average economy food and service and a 2-4-2 seating layout and well-appointed seats that make the ride more comfortable than other carriers. But the outdated plane meant an ancient entertainment system onboard and not an outlet in sight.
Still, it's a worthwhile way to get to Europe – especially for the price I paid during the hectic and expensive holiday season.
Want to splurge for business class instead? Read our review of SWISS business class on the 777!


How to Book SWISS Economy
Booking economy, you can occasionally find some cheap fares through its Zurich (ZRH) hub and to its other major airport in Geneva (GVA). We search for and find these fares all the time for our Thrifty Traveler Premium members.
For example, we're still seeing some great availability on really low fares on this nonstop route from New York to Geneva. In this case you could get to Geneva for $519 in early March, the very tail end of ski season in the Alps.


These lowest-priced economy light fares include a small, 18-pound carry-on bag. You can pay a fee to check a bag or upgrade to Economy Classic to get a free checked bag and seat assignment.
One note: At no point did anyone weigh my carry-on bag, which was closer to 50 pounds than the 18-pound limit as it contained my ski boots. I can't promise you'll have the same experience, but weighing carry-ons is something most airlines skip.
But there can be a better way to book SWISS economy tickets – especially if you're traveling over the holidays to visit Christmas markets or hit the slopes. And that's by using points and miles.
Swiss is part of the Lufthansa Group along with Austrian Airlines and Lufthansa itself, but you likely won't use the airline conglomerate's own Miles and More loyalty program. These miles are incredibly hard to earn unless you live in Europe – plus, the booking process is a pain.
Instead, turn to one of SWISS's Star Alliance partners like United MileagePlus, Air Canada Aeroplan, or Avianca LifeMiles. All these points are easy to earn through credit cards with transferrable points like the Chase Sapphire Preferred® Card, the American Express® Gold Card, or the Capital One Venture X Rewards Credit Card.
You could book roundtrip flights to Geneva for 63,000 United miles and under $60 in taxes and fees. United is a Chase transfer partner, which makes those miles easy to earn.
You can also book these flights with Air Canada's awesome and easy-to-use mileage program for 70,000 Aeroplan points roundtrip and $54 in taxes and fees. Aeroplan is a Chase transfer partner, an Amex transfer partner, and a Capital One transfer partner, too.
The cheapest method by far is Avianca LifeMiles. Thanks to one of its many little-known sweet spots, you can book the one-way from New York to Geneva for just 16,500 miles (and sometimes less). Add on 30,000 miles for the return, and it's just 46,500 LifeMiles and about $100 in taxes and fees for a roundtrip to Geneva. You can transfer LifeMiles from American Express, Capital One, and Citi ThankYou points.


That's the route I took, transferring a stash of American Express Membership Rewards points instantly to my LifeMiles account to book. Considering the cash price of these flights was close to $1,000 roundtrip, it was a tremendous deal. To top it all off, booking through LifeMiles meant I got an Economy Classic fare, which meant both my ski and boot bag were free!
At Thrifty Traveler, we don't accept freebies. We use our own points, miles, or cash to pay for every single flight or hotel you see reviewed here – including this one!
That said, LifeMiles are from perfect. Their customer service is lackluster in even the best of times – I've found the best way to reach them is by chatting via WhatsApp, while getting what you need through their customer support line is incredibly hit or miss. Plus, the airline charges a whopping $200 redeposit fee on award tickets like these if you need to cancel to get your miles back.
No matter how you book, you should be able to select your seat on the SWISS app with the same confirmation code. It's a very simple process.
Check-in & Boarding
Checking in for both legs of this SWISS Economy roundtrip was a breeze. There was a short wait at JFK's Terminal 1 because we arrived almost exactly three hours before the flight.
Flying SWISS out of JFK, you check in at the Lufthansa check-in area along with everyone flying on Lufthansa and Austrian Airlines flights. That means lines can get a little long.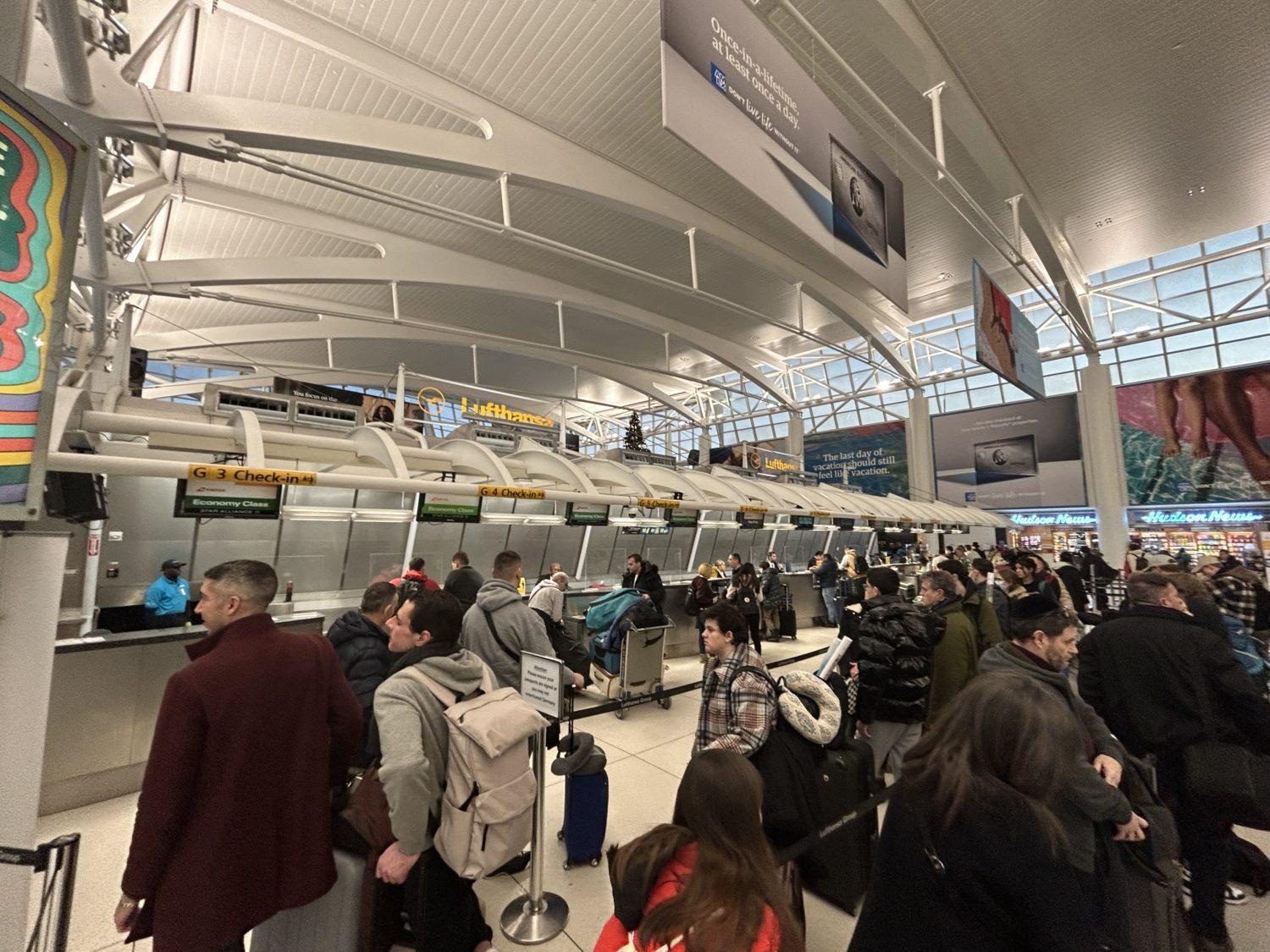 In Geneva, a much smaller airport, the check-in was even simpler. There were many helpful agents ready to help when I arrived about four hours before the flight. I waited behind exactly one person to be helped.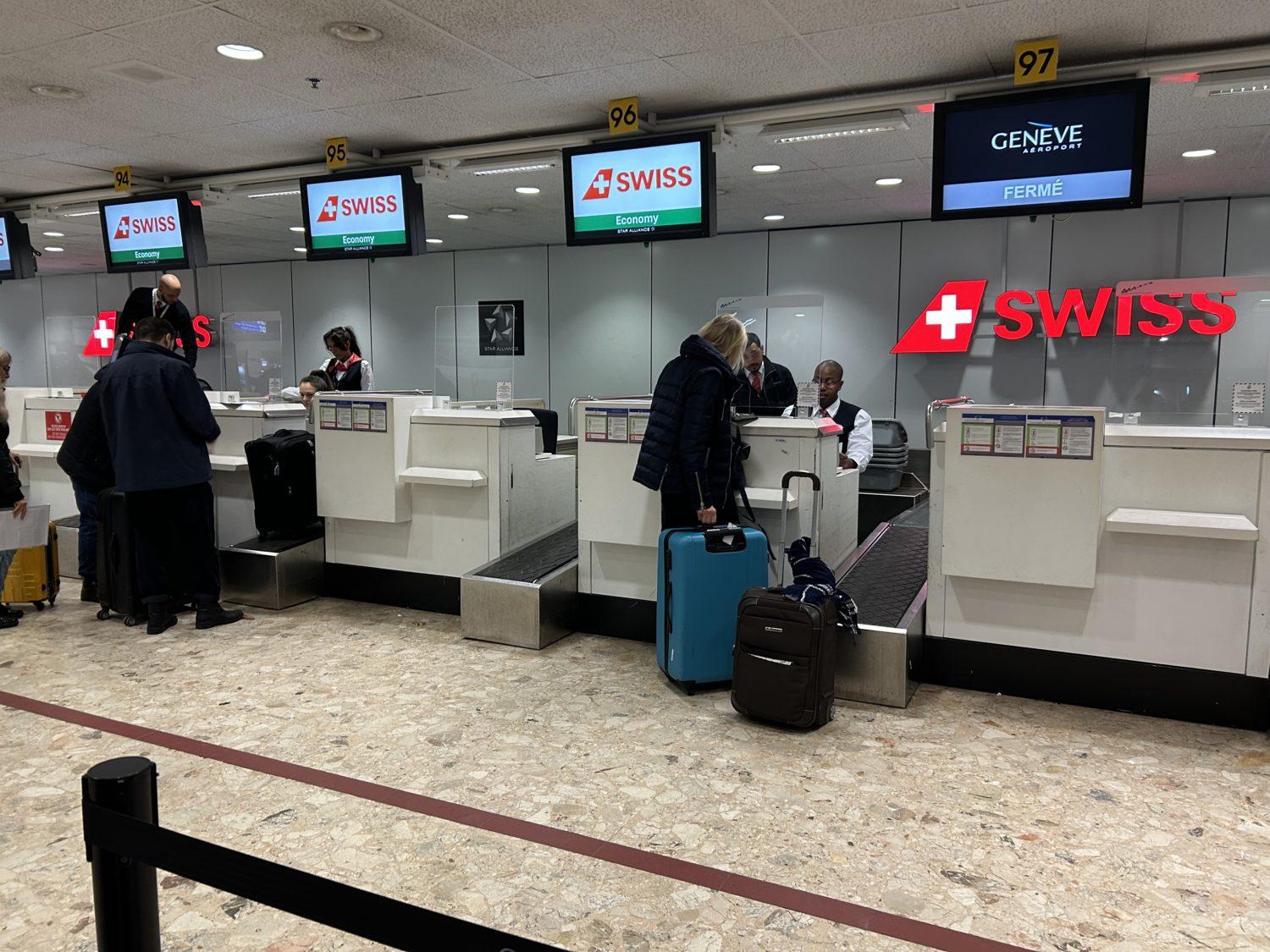 Back at JFK, the boarding areas in Terminal 1 are…intimate…to say the least. There are lots of strange bottlenecks when boarding all of these international flights. The economy customers boarded in groups 4-8 depending on the fare class and the seat assignment. On the way to Geneva, I sat on the window, putting me in group 4. On the way back, I was on the aisle and was in group 6.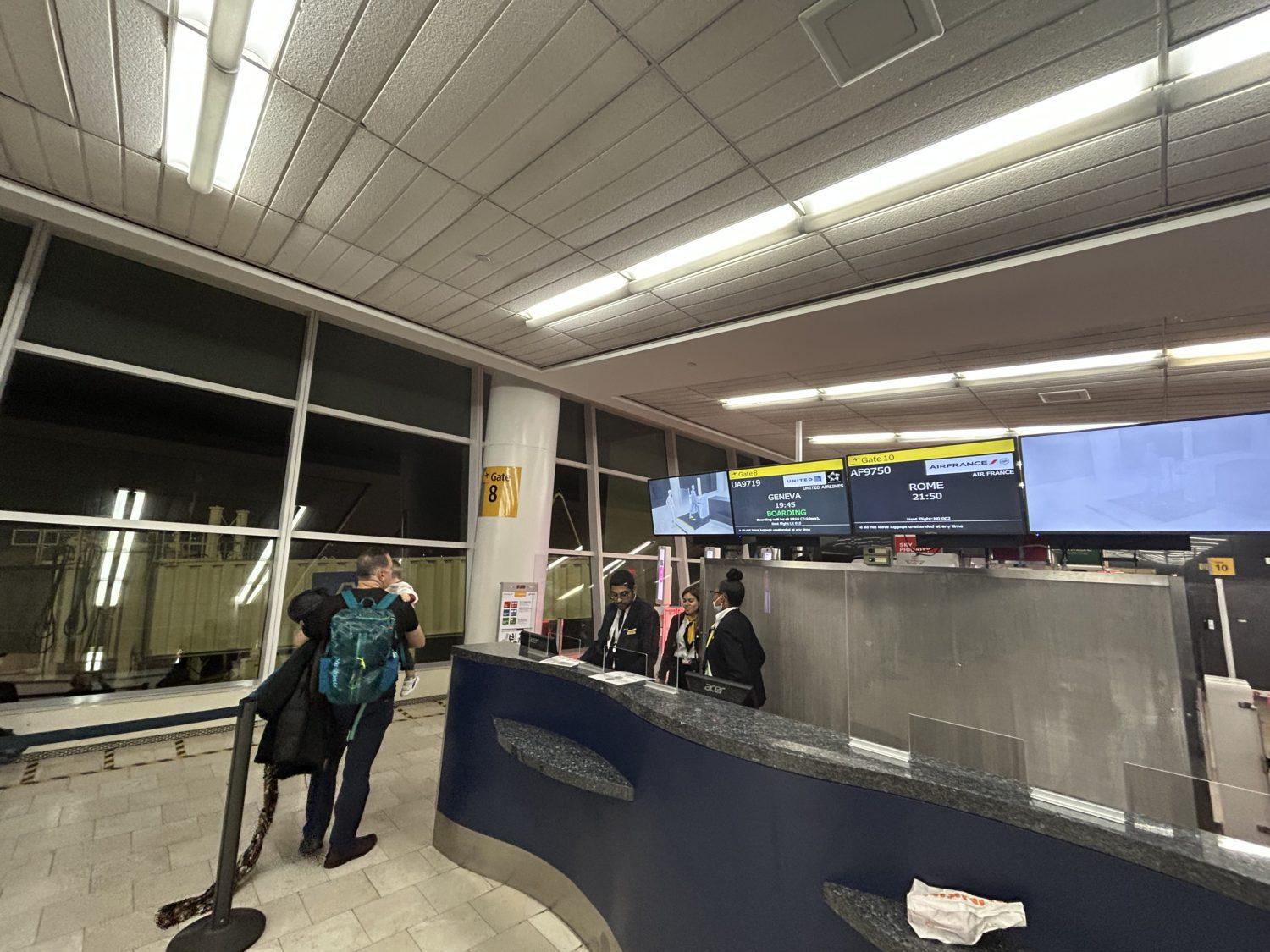 The boarding process in Geneva was a little longer thanks to an extremely busy passport control line and a bonus security check for the U.S.-bound flight right at the gate. Still, the boarding was orderly and quick once you got through both queues.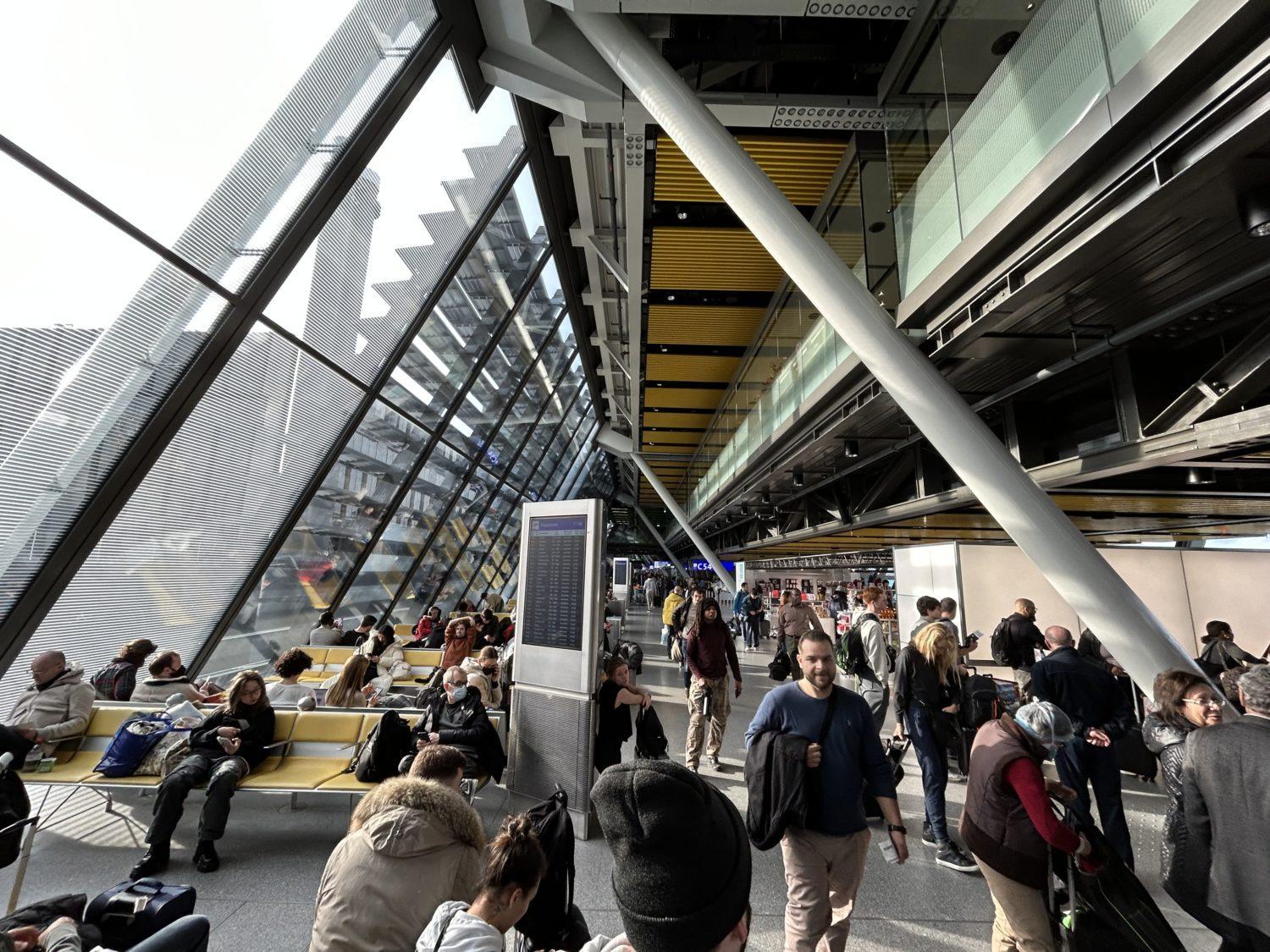 Also, the Geneva airport is just cool with the sloped, glass walls on one side and the planes and jetways on the other.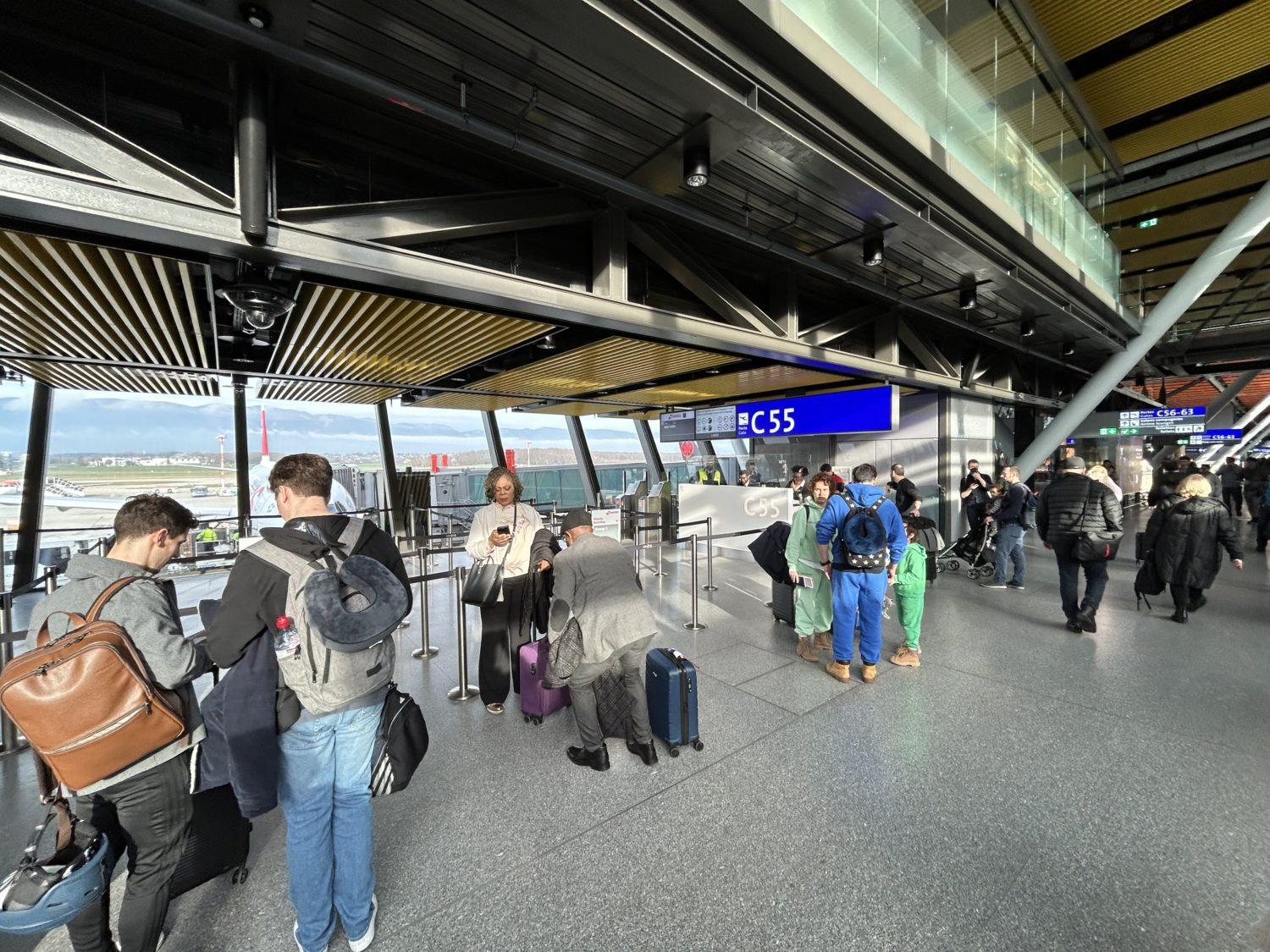 Thrifty Tip: Use the Marhaba Lounge at Geneva before your return flight. It was roomy, empty, and a super comfortable way to burn a few hours and get some work done before my daytime flight. It's a little off-the-beaten path, but it's worth the walk for the peace and quiet. You can enter with Priority Pass or you can buy access through LoungeBuddy for $45 a visit.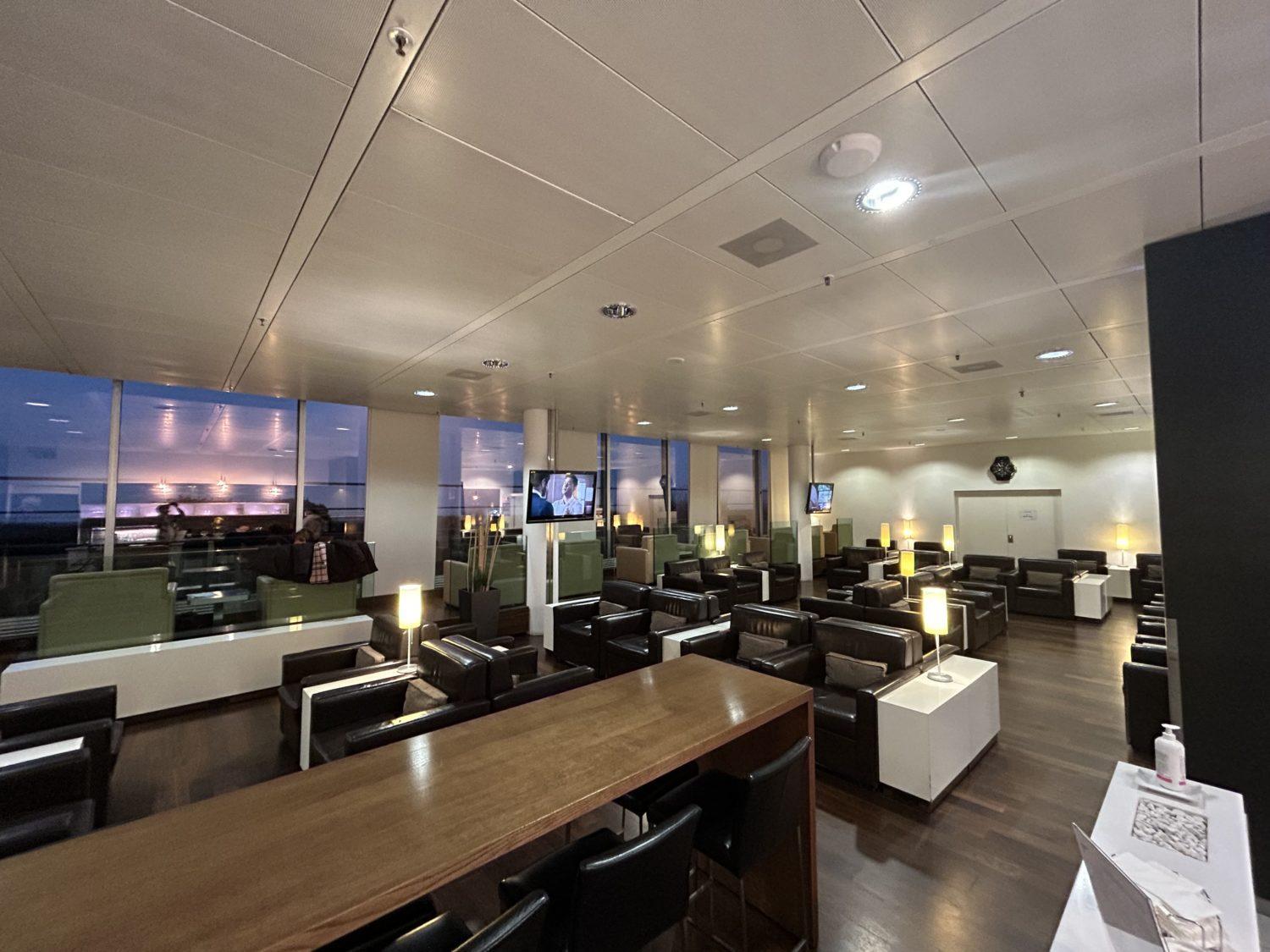 Baggage Quirks
SWISS's checked baggage system had some…peculiarities during my roundtrip to Geneva.
I was traveling with two other friends who were both checking ski bags on the journey. At no point, at either JFK or GVA, did anyone even weigh my bag, which was about 49.9999 pounds when I packed it. Another friend had a different check-in agent who made him remove his ski boots from his bag to get it under 50 pounds, even though his bag was barely a pound overweight.
The baggage weight discrepancies aside, all of the check-in agents were well aware of SWISS's policy of checking a ski bag and boot bag as one, single checked item, which can be hit or miss with some airlines not used to skiers. SWISS is certainly accustomed to dealing with skiers.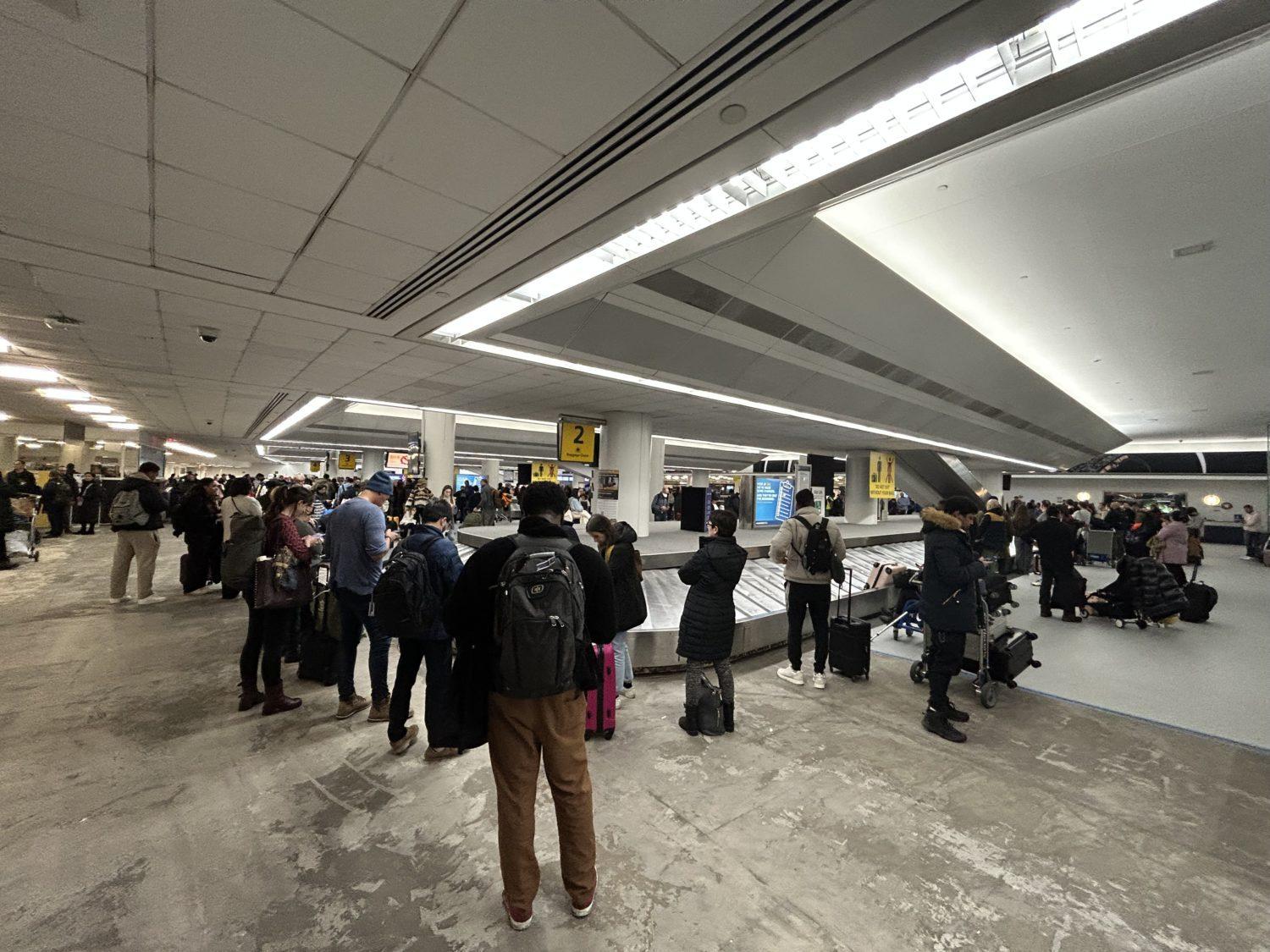 Another strange moment happened when we landed in Geneva (GVA) and seemingly everyone on the plane got a text notification from SWISS that their baggage wasn't loaded onto the plane and alerted them to contact baggage services.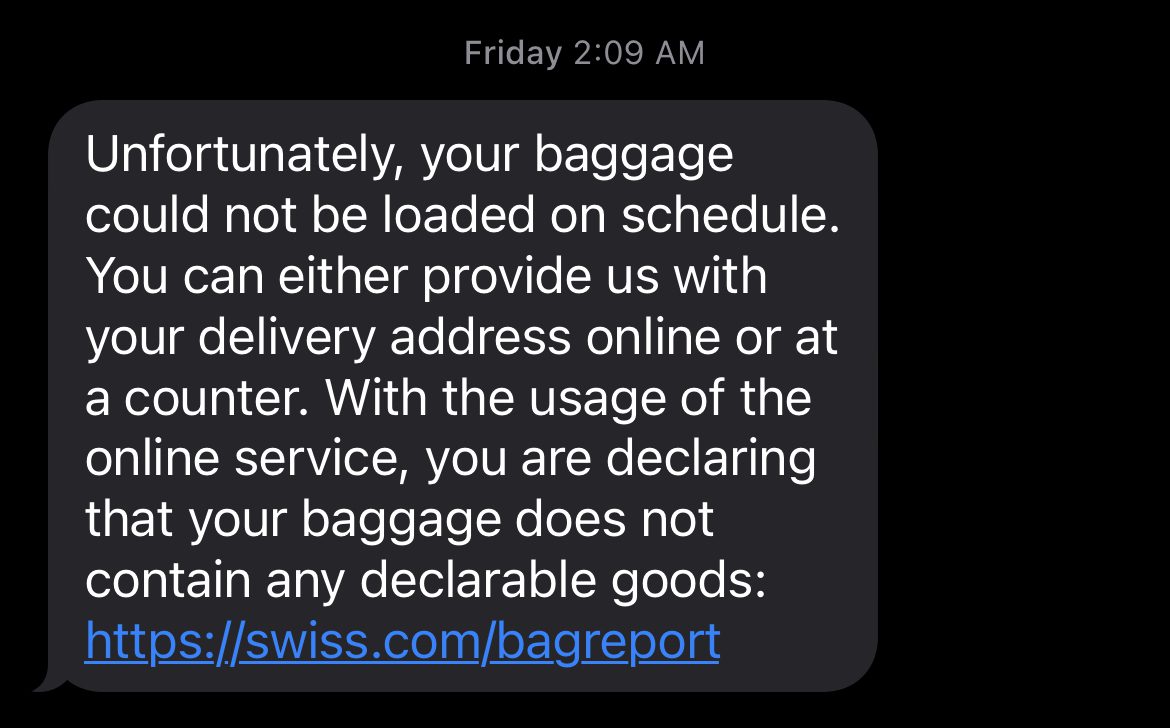 All of the bags ended up at the carousel as usual, however. Very strange.
If you're checking bags with SWISS, everything should be fine, but I'd be sure to adhere to the rules for weight limits before heading to the counter.
SWISS Economy Cabin and Seats
The economy cabin on SWISS flights on its A330-300 is laid out in a way that makes it among the most comfortable economy cabins I've ever flown.
This isn't your typical 3-3-3 seating arrangement you find on most international airlines, with three seats in the center as well as on each side of the aisle. That setup means many passengers have to climb out of their seats over two other people, or people have to stand up to make room for the other travelers three times as often.
The 2-4-2 cabin on SWISS on these planes is ideal. That means travelers only have to jostle with one other person at most. And it's perfect for travelers flying in pairs or families of four, who can claim their own little section.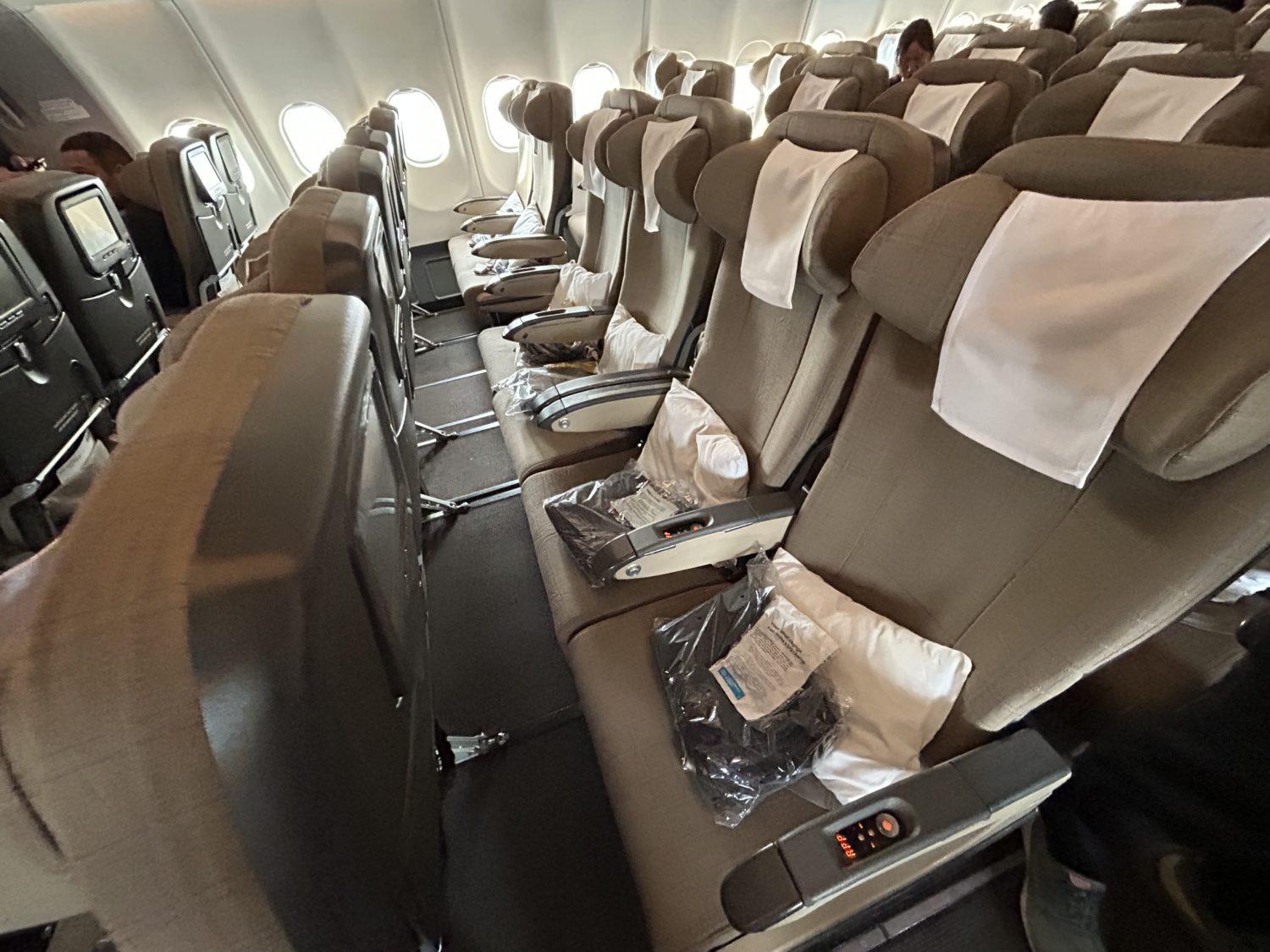 If you have seat selection, I'd recommend booking the seats on the window. The simple two-seat layout is a pretty stress-free flying experience no matter what seat you're in. You don't have to sit next to two people, ever. It's perfect for couples or traveling duos. I opted for the window seat on the red-eye there and the aisle seat on the way home.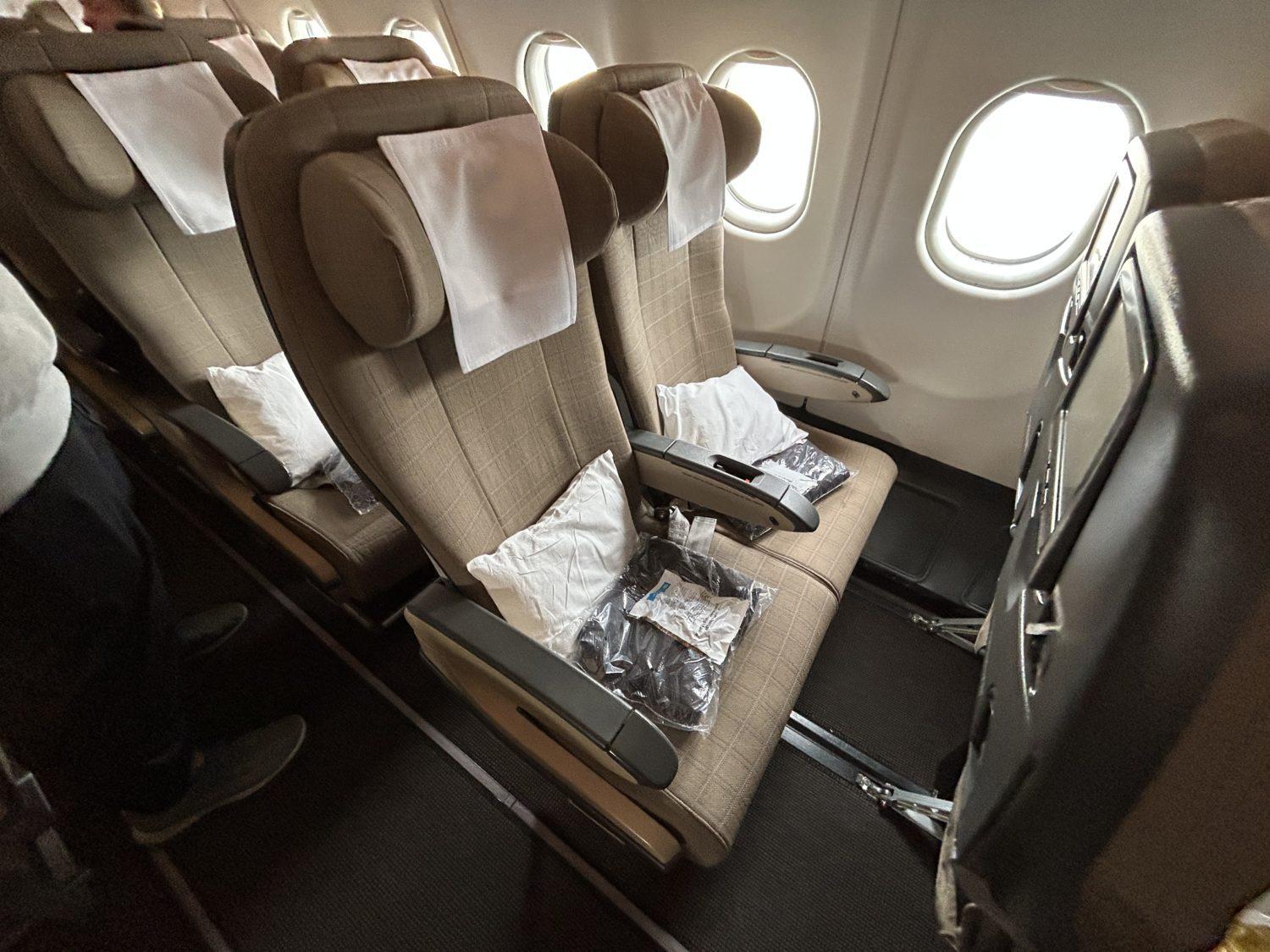 The economy cabin is divided in two by a galley: A small cabin at the front and a much longer cabin at the rear. Picking a seat in the smaller, forward cabin is often more expensive.
The back cabin starts at row 29. I opted for row 31 on both legs of the journey. Here's a look at the rear cabin.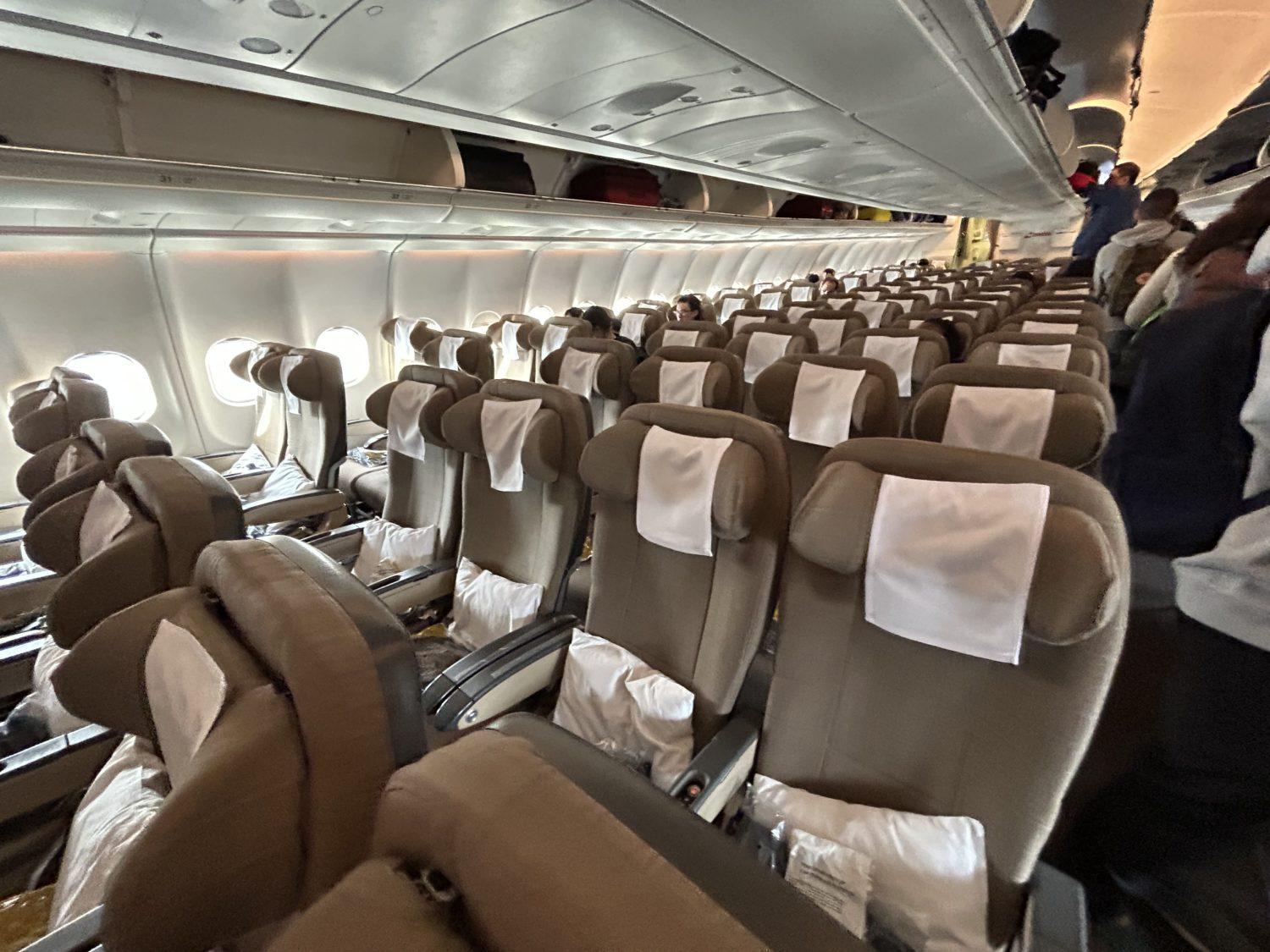 When you get to your seat, you have a very simple amenity pack consisting of a pillow, a blanket, and a pair of ear-bud headphones.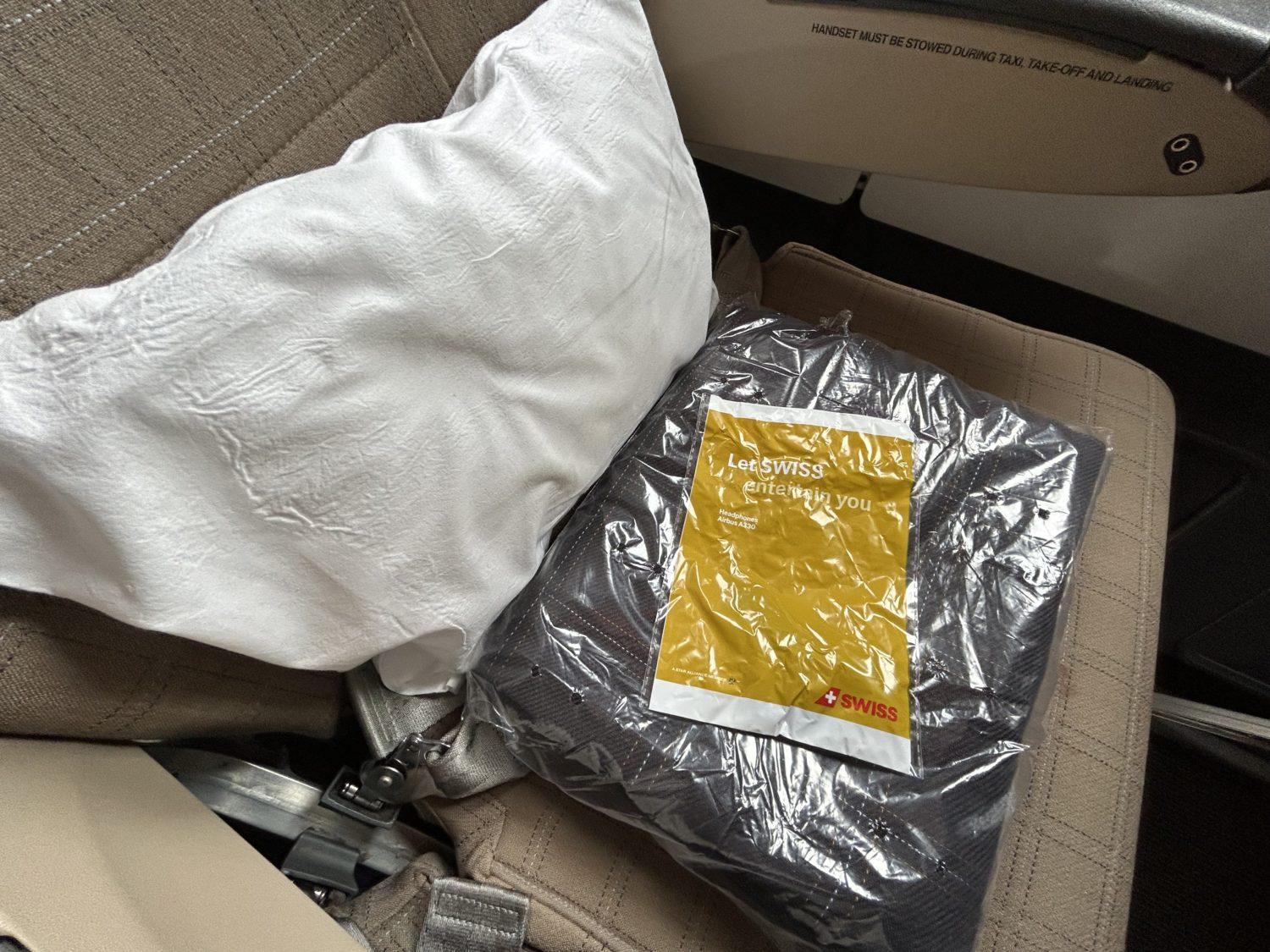 The legroom on these planes if very typical of an economy flight, with 31 inches available to economy passengers (unless you pay up for an exit row or bulkhead seat).

Each seat comes with a cupholder from the tray table.

The tray table is also a standard size with a place for a drink. It was big enough to hold my laptop when I needed it and could also fit my iPad along with a drink no problem.

The seats all come with a USB power port at every seat, which is really nice. My port worked just fine on both flights. But aside from these USB ports, you won't find any other power available: There's no universal power socket in SWISS economy on these planes. That surprised me: I was hoping to get a computer charge during the journey, but couldn't.

The cabin was dimly lit, but mostly dark during the nighttime hours. It made for easy sleeping with a mask and a travel pillow.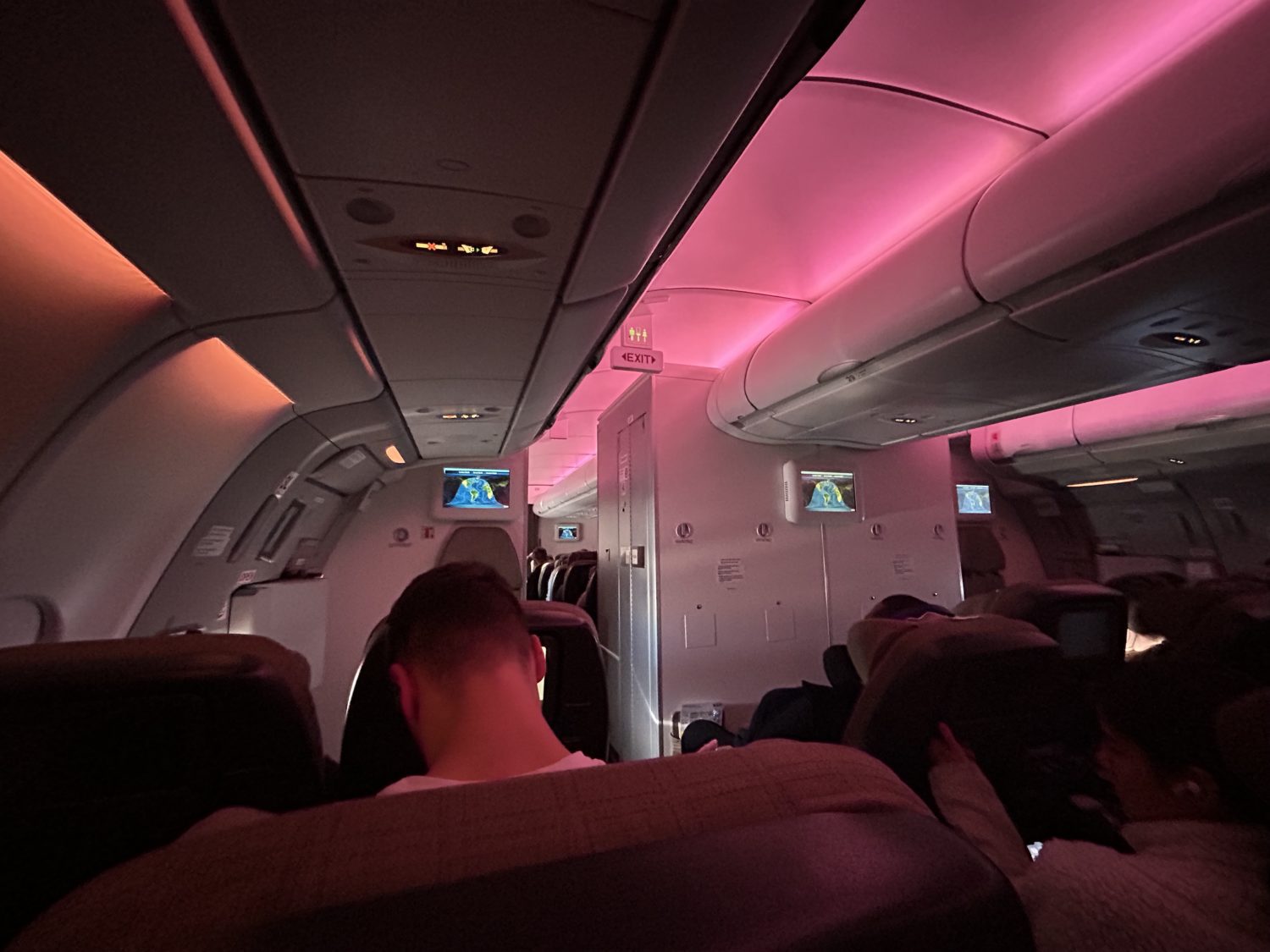 Food, Drinks & Service in SWISS Economy
Overall, the food and drink in SWISS economy were excellent. I was very pleased with both legs of my trip.
The service started after we get to cruising altitude as flight attendants come around with waters for everyone onboard.
As soon as that was complete, they came around with a full drink service, as well as some mini breadsticks that were very tasty. The only thing that wasn't offered before the meal was coffee, which was offered afterward.

The main course came soon after. We were given a choice of chicken or pasta on one flight and beef or pasta on the other. I chose the beef on the way there (not pictured due to a dimly lit cabin) and the pasta on the way back. It also came with ample sides.

Though dull in appearance, this curry pasta was tasty. Sure, the veggies were a little soggy, but this was one wholly adequate plane meal flying economy.

I couldn't quite figure out what this side was, but it consisted of rice and some sweet fruit or vegetable, too. You can also see a piece of wrapped Swiss cheese on the tray, too.

There was also bread and butter on every tray.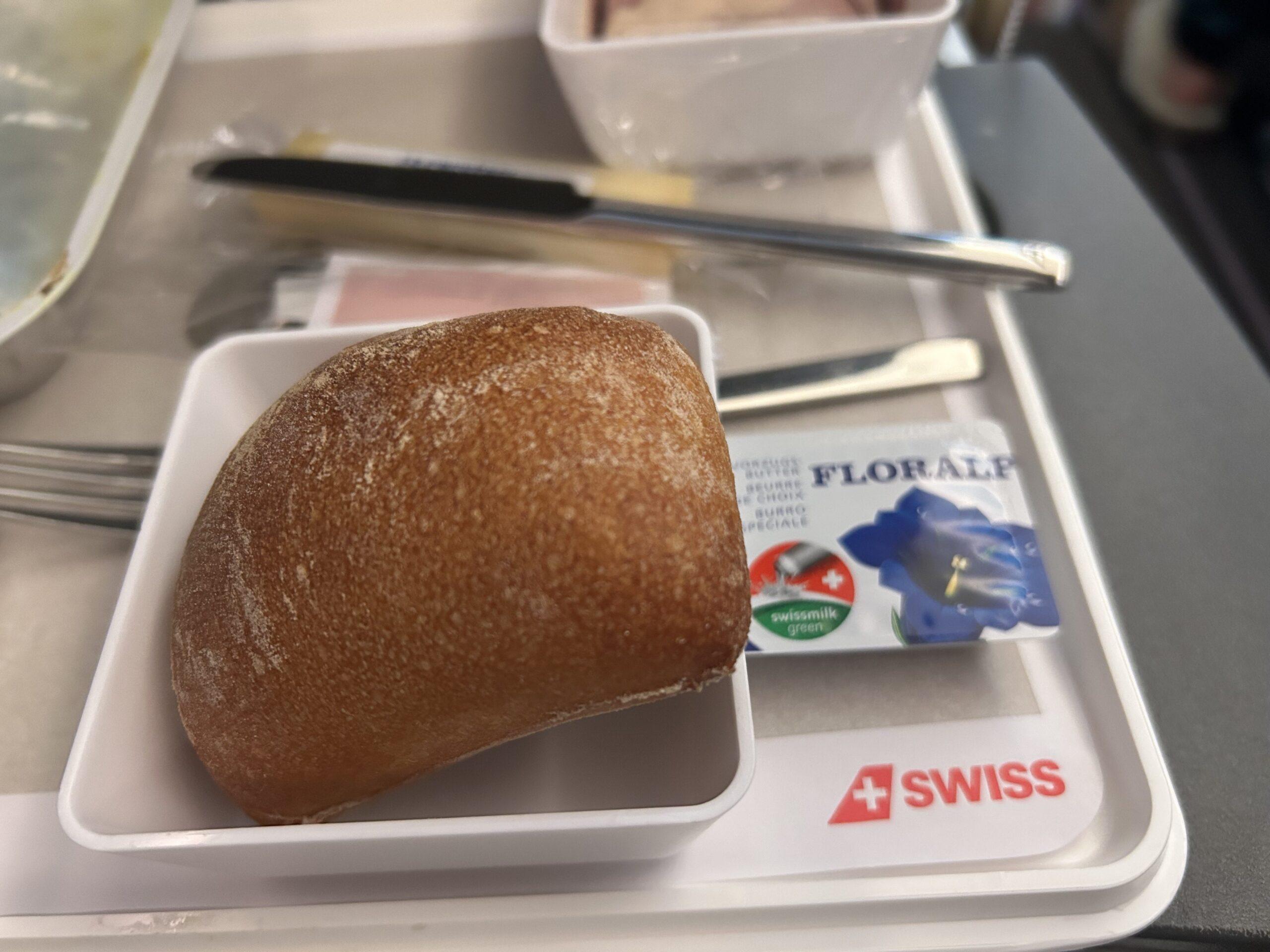 And finally this raspberry-flavored creamy dessert was a nice touch on the meal.

Before landing, we got one more snack-sized meal which consisted of this savory pastry pie and a mini-tub of Movenpick ice cream. Both were awesome served with another cup of coffee, if you so desired.

And finally, a staple of every Swiss flight: The flight attendants brought everyone a bar of chocolate before landing. I thoroughly enjoyed mine, so much so that I forgot to take a photo of it. It's a bar of chocolate wrapped in red; you can paint the picture.
Wi-Fi and Entertainment
My SWISS economy experience was very good overall, but this is where SWISS really fell short.
The Wi-Fi situation on these SWISS flights was bad – if you're planning to fly SWISS, make sure you don't have any work to do. While many airlines have switched to Wi-Fi purchase options that last the entire flight, SWISS charged by the megabyte. And it's not cheap.
The CHF to USD conversion is close to 1:1, so you can get a pretty clear picture of what these Wi-Fi packages cost. But I had no clue how fast I'd burn through each of these options.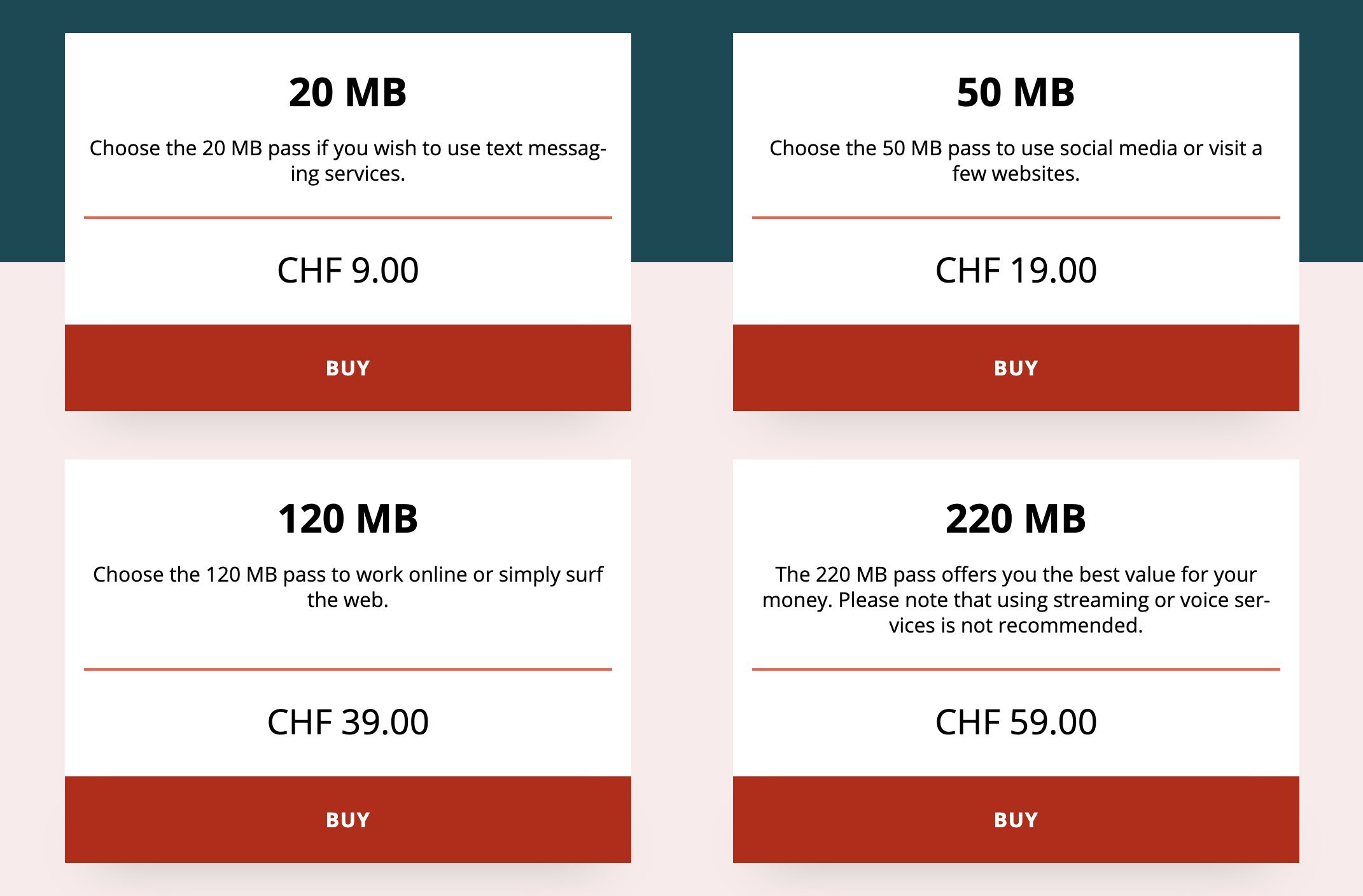 First, I purchased the $39 120 megabyte connection which it said was best to "work online." A few Google Flights searches and Slack messages later, that data was gone just 45 minutes or so into an eight-hour flight. Not good.
I then went back and purchased the full 220 megabyte package, which I rationed to last the remaining six hours. If you're keeping count at home, I spent about $100 on internet for a single flight. Don't be like me.
You can keep track of how much data you have left on the site where you sign up for the internet, but it goes fast unless you're only using it for email and text messages.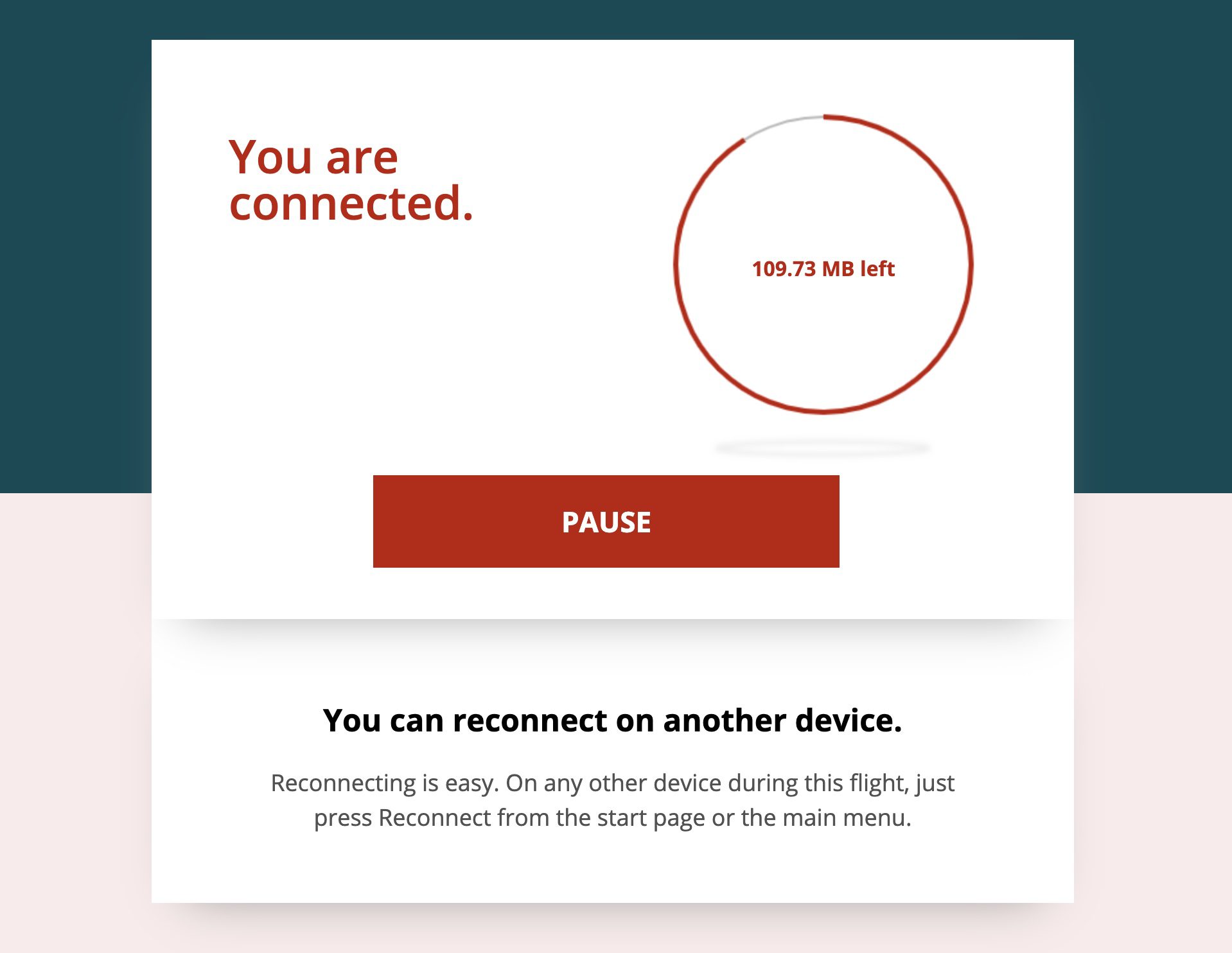 The one upside is that you can easily transfer the connection from one device to the other. You can't, however, use two devices at once. You can only connect one at a time using your email and login.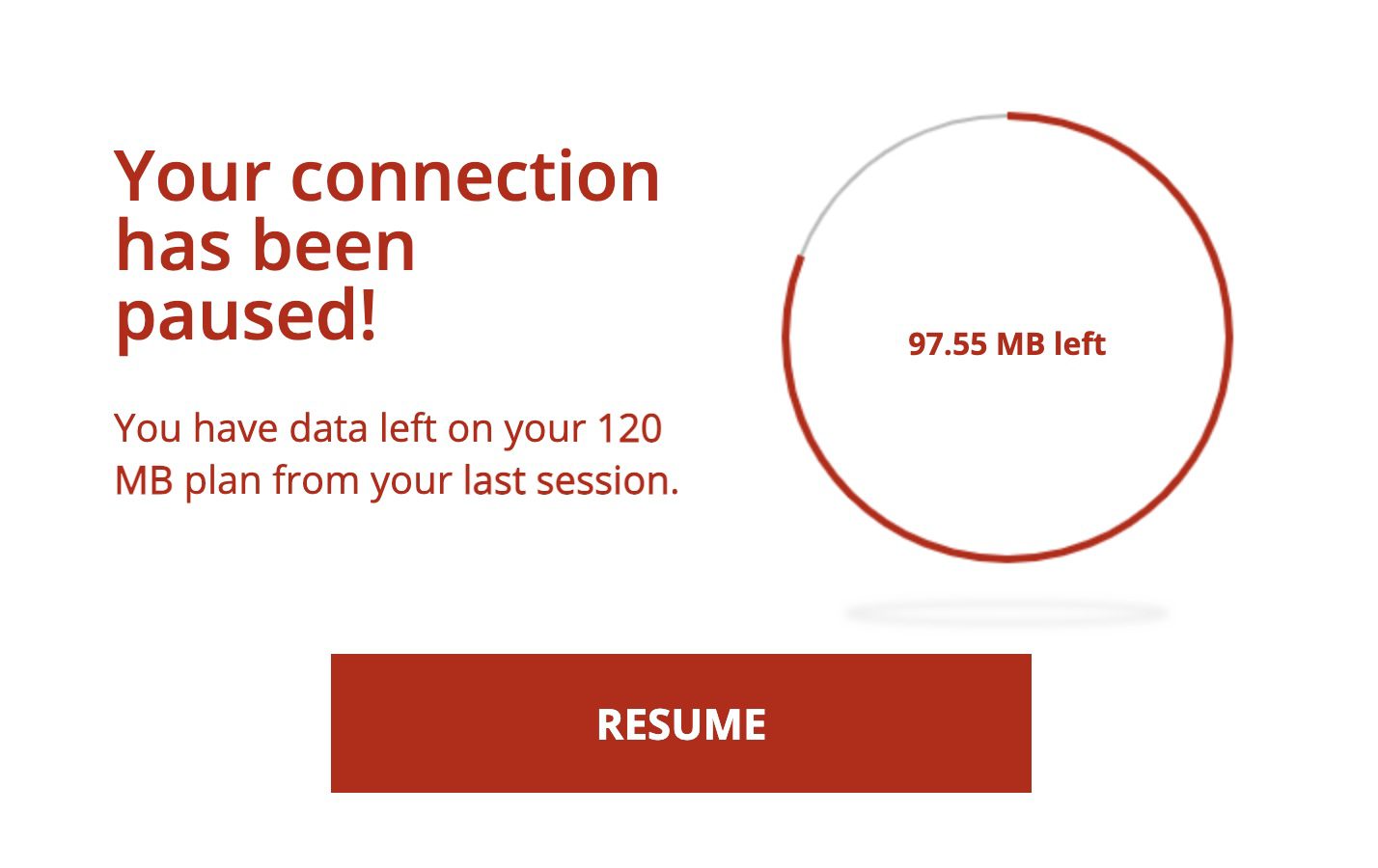 The entertainment screen on SWISS's economy seats left a lot to be desired, too. Each seat had this very old, small, standard definition screen. These are in need of an upgrade if you ask me.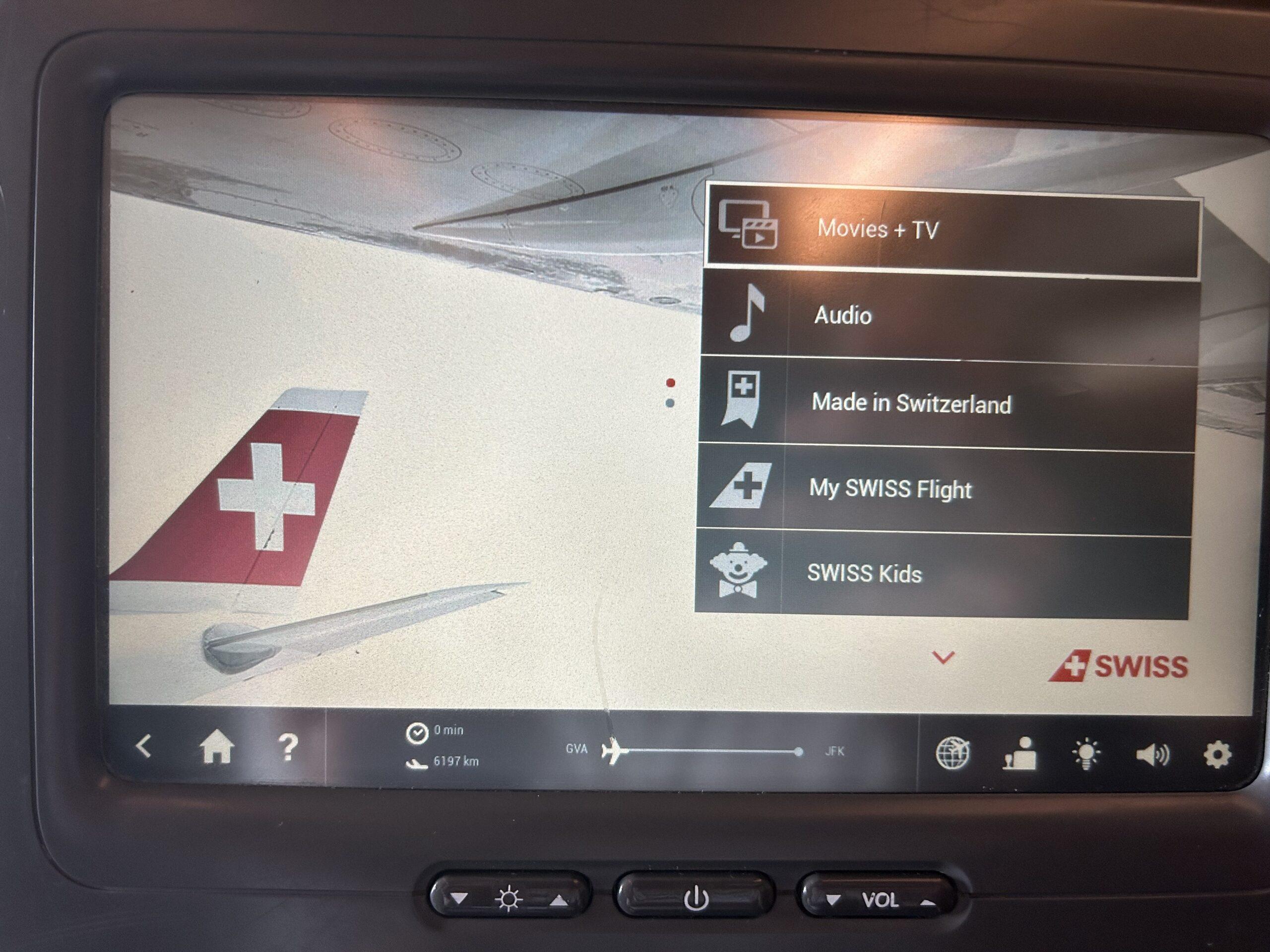 While it was a touch screen, it was very difficult to actually on both of my seats. There is a small remote in the armrest that makes controlling the screens easier, but it's a clunky, outdated setup that wasn't a perfect solution, either.

The movie and TV offerings were just fine. I was able to find a few titles that piqued my interest slightly, but I opted to watch my own saved content on my own devices on both journeys. The selections weren't super abundant, either.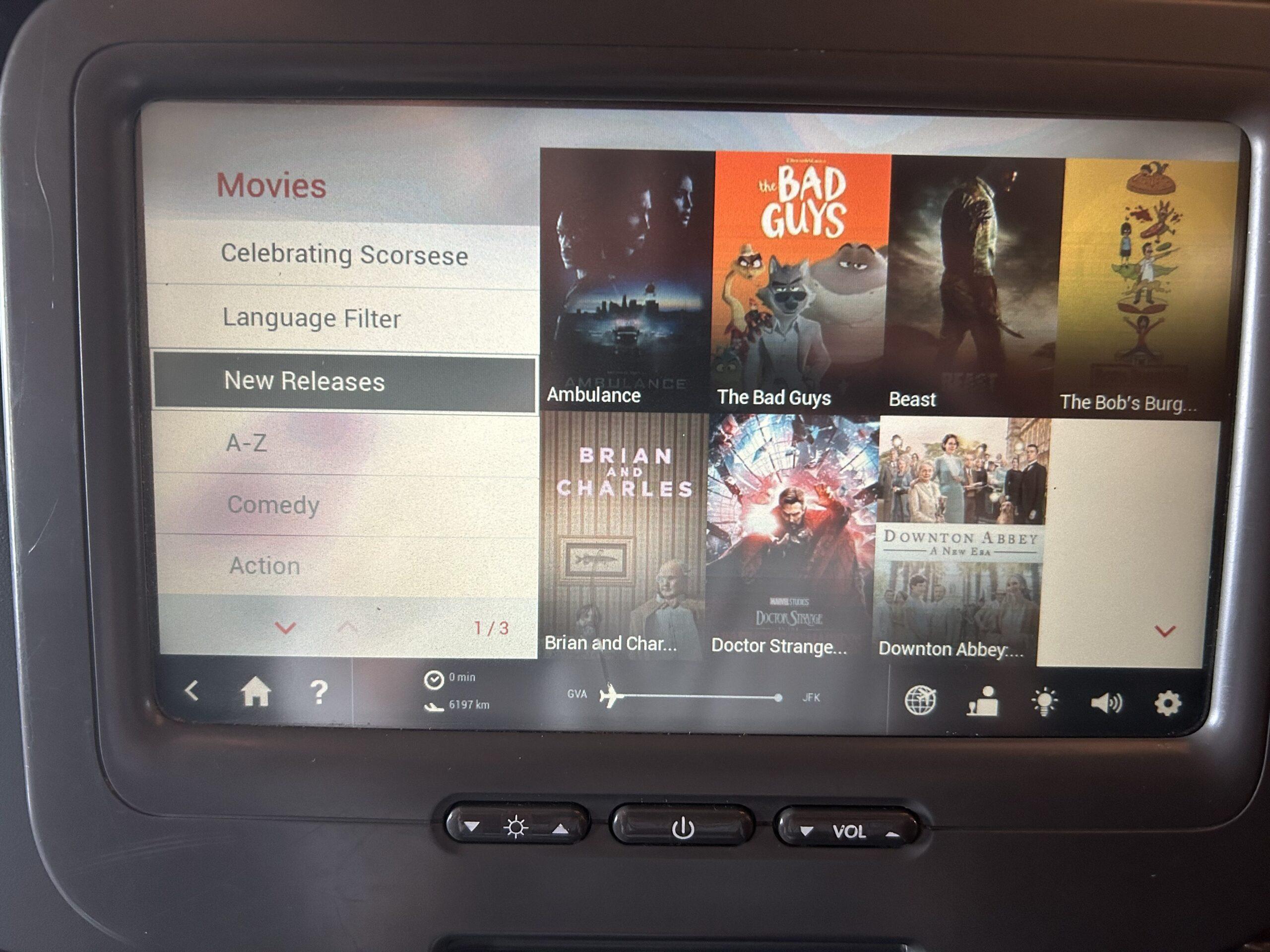 Like many international carriers, SWISS only has the two-pronged headphone jacks. The jack is located in the armrest.
While the seats themselves were great, the Wi-Fi and inflight entertainment paled in comparison to what you'll find flying many other U.S. or international carriers across the Atlantic Ocean.
Bottom Line
SWISS Economy is a super comfortable way to cross the Atlantic thanks to a great 2-4-2 seat layout, good food and drink, and a comfy seat. But the seats and entertainment are in bad need of a modern update on the A330-300.
If you can book SWISS Economy for a good cash fare or a cheap award rate, it's certainly worth it to fly the Switzerland-based carrier to Europe and back or beyond.