Breathe in … and breathe out. That anxiety you feel before a big international trip is normal – we get it, too. That's why we've whipped up this guide to address all your questions, concerns, and must-haves before your next international flight.
When you're heading abroad, there's much more to consider than for a quick trip to Chicago or Orlando. There are the simple necessities like a passport and more clothes, of course. But then there are bigger questions, too: How long is long enough for a layover? What's the best way to get cell service abroad? Should you exchange money and bring it with or get some local currency after you land?
Here's a checklist of questions to ask yourself and what to pack before your next international trip to help with those "in-the-Uber-to-the-airport-oh-crap-what-did-I-forget-to-bring" jitters.

How Early Should I Get to the Airport?
Here's the easiest answer I can give you: Earlier is almost always better.
For an international flight, most airlines recommend you get to the airport at least three hours before your scheduled departure time. Overall, that's solid advice: Three hours should be plenty, whether or not you're checking a bag. The cutoff for most international flights is one hour before departure.
Fortunately, most countries around the globe have ditched international travel restrictions from the pandemic, which means the check-in process is much faster than it was just a year ago. If your destination still has vaccination or testing requirements, you might want to head to the airport sooner rather than later.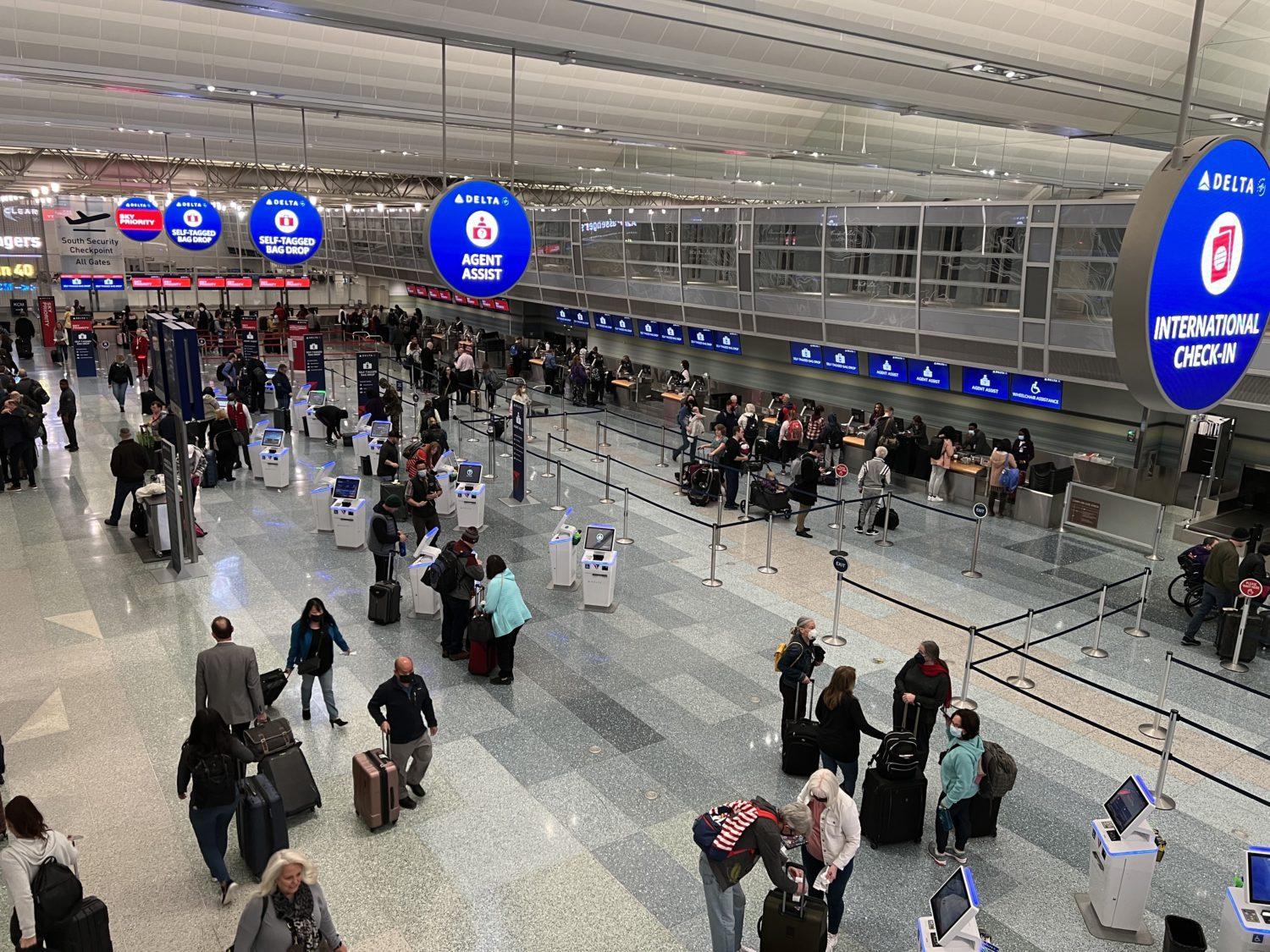 If you're abroad and about to make your trek home, check with a hotel concierge, the taxi or bus company, or with a few locals to see what they recommend for arrival times at their airport. If it's a major hub like Amsterdam (AMS) or Paris (CDG) in Europe, three hours is a safe bet. If you're going out of a smaller airport like Geneva (GVA) in Switzerland, however, the locals will tell you that two hours is plenty … and they're often right.
A handful of international airports from Canada to the Caribbean to Dublin (DUB) and even Abu Dhabi (AUH) have Preclearance facilities, which means you clear customs before boarding your flight home – not after touching down on U.S. soil. In those cases, three-plus hours is almost always the right move.
Read next: 5 Easy Ways to Get Through the Airport Faster
In the end, it's almost always better to be safe than sorry. I will often drag my wife to the airport three hours before boarding, instead of departure, just to be safe.
By giving yourself as much time as you can, you're taking airport stress out of the equation. Hustling through the airport is an anxiety I wouldn't wish on anyone – especially if it means missing an expensive international flight. In the unpredictable travel world where things can change in a split second, control what you can control by getting to the airport early.
Plus, a longer wait before your flight isn't so bad if you've got airport lounge access. Once reserved for business travelers, the right credit cards can get you into airport lounges, giving you a comfortable spot to relax and charge your devices as well as free food and drinks. Get out of the cycle of $15 airport margaritas or mediocre $20 sandwiches.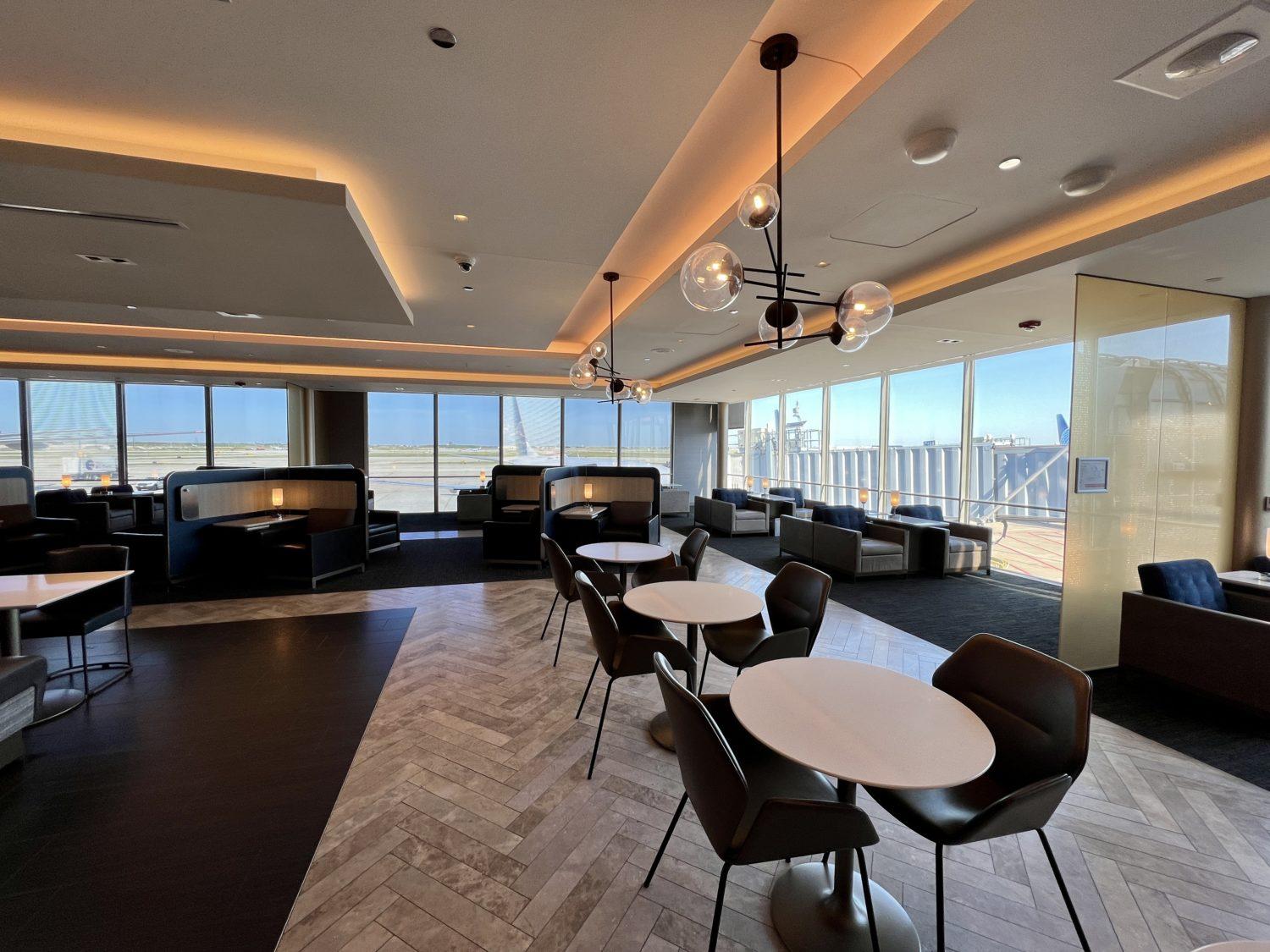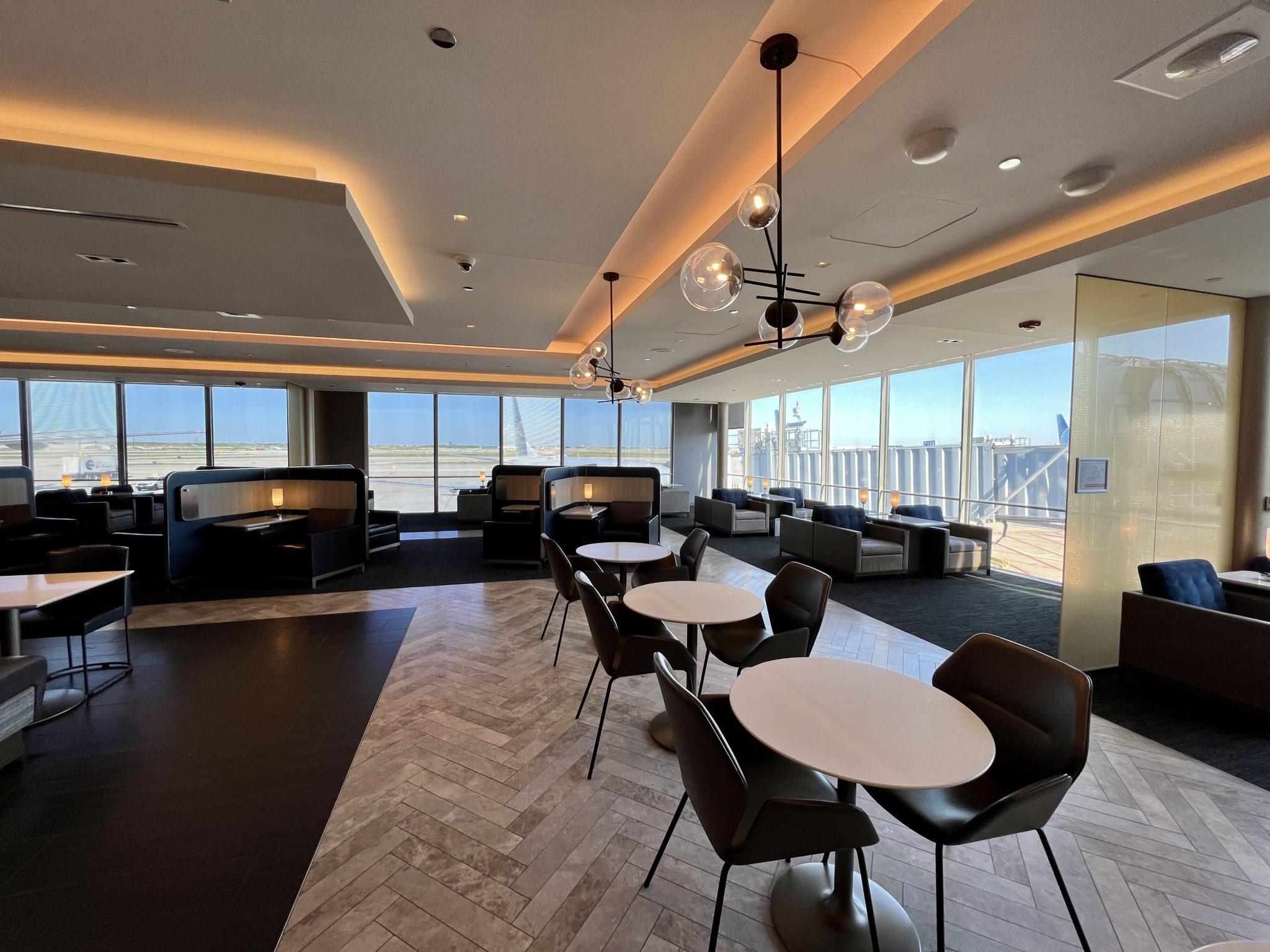 Thrifty Tip: Use LoungeBuddy to find the best lounges at your airport and even purchase one-time passes through the app.
Should I Check Bags or Carry-on?
Cover your ears, golfers and skiers: Your travel journey is always going to be easier and smoother without checked bags. Period.
When you check a bag, you're giving the airline control of an incredibly important part of your travel journey. If you can stomach packing a little less or a little more efficiently, you're keeping control of your possessions throughout your journey. The fear of lost luggage or missed connections fades away when you've got everything with you.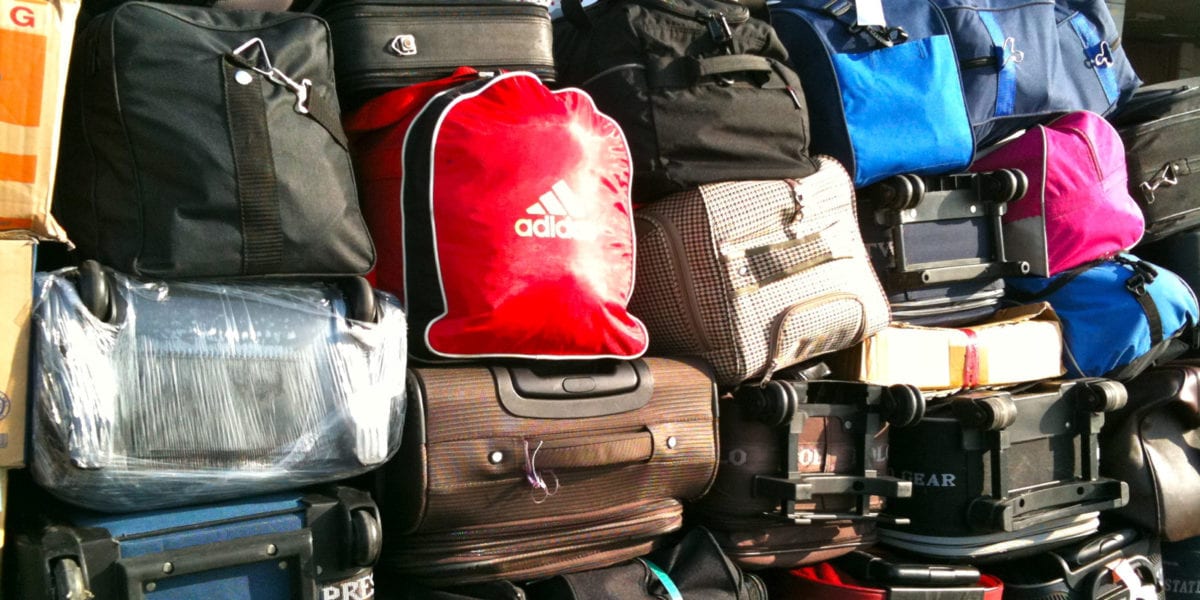 Trust us: The first time you force yourself to pack in just a carry on, you'll never go back. Need some assistance? Read our guide on how to pack in a carry-on bag for every trip!
Consolidate your shoes, bring fewer items of clothing and find somewhere to do laundry mid-trip instead. Most hotels offer wash-and-fold laundry service for a fraction of what it costs to check a bag overseas. Otherwise, look for an Airbnb that comes with free laundry onsite.
The benefits of packing in a carry-on bag go far beyond making sure you've got what you need. Lines to check bags at airports are often longer than security – on a busy morning at even mid-sized airports, these lines can be atrocious, doubling the time it takes to get to your gate. Plus, while some airlines may offer a free checked bag on long-haul flights, others charge you $30 to $60 or more each way, depending on where you're going.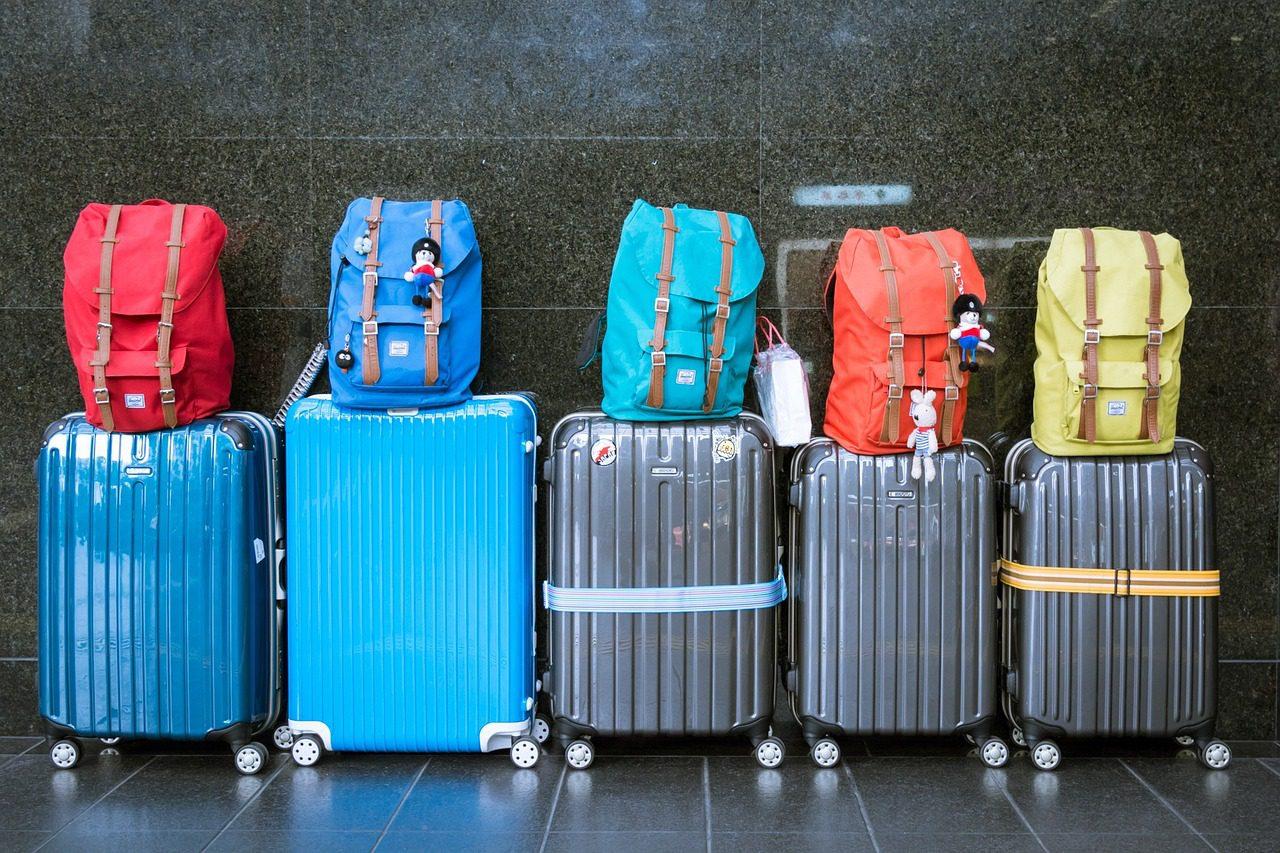 Golfers, skiers, and snowboarders might need to check bags. But you could also use services like Ship Sticks or Ship Skis to pre-ship your gear to your destination before your flight, allowing you to travel with the rest of what you need in a carry-on bag. These services aren't cheap, however – in many cases, it's significantly cheaper to bring your equipment as checked luggage on the flight.
Thrifty Tip: If you're checking skis or snowboards, try to make room in your carry-on for your boots. Rental skis aren't the end of the world on a ski trip, but renting boots can be a real nightmare.
There's only one time I'll gladly break this carry-on only rule: When I'm on the way home from my international journey. If my final destination is my home airport, I don't really care if the airline loses my bag for a day or two. Traveling a bit lighter when stakes are lower is nice. And if you're concerned about fitting souvenirs and other goodies from your travels, you can pick up a cheap bag abroad and check it all the way home.
Is My Layover Long Enough?
I'll level with you: There are so many factors to this equation that a black-and-white answer is impossible. Let's dig into some considerations to work through to make sure your layover is long enough.
Are You Flying on a Single Ticket? Or Two?
Did you book your flight abroad all the way from your home airport to your final destination? You may not have much to worry about. But if you booked separate positioning flights in the name of saving money, paying attention to your connection times could be critical.
Let's say you booked a single itinerary from Peoria (PIA) in Illinois all the way to Madrid (MAD) with a tight, 56-minute layover at Chicago-O'Hare (ORD). When you book that route all on one ticket, the airlines are responsible for getting you to your final destination. If there's a delay and you miss the flight to Madrid, it's up to the airline to rebook you to Madrid as soon as possible.
The risk of missing a connection on these single-ticket itineraries just isn't as large. But if you book a domestic and international jaunt separately, you could be on your own.
Let's say I want to get from Peoria all the way to Japan, but the only decent flight I could find to Tokyo-Haneda (HND) was by booking direct from from Chicago-O'Hare (ORD). If you book that first flight to Chicago and the transpacific hop to Tokyo separately and something goes wrong, the airline has no obligation to rebook you. If you miss that flight, you're probably out of luck.

You can save a ton of money on international trips using positioning flights, but the margin for error is much greater. That's why we recommend building in at least a four-hour layover to ensure you make your connecting flight. If it's really important, it's worth considering flying in a whole day early.
Depending on which airlines you're flying and where you're heading, you'll have to check in again, maybe re-clear security, and possibly even change terminals. Add in the possibility for delays and cancellations, and you'll want to give yourself plenty of buffer time.
Honestly, I'd aim as long as you can when building your own layover. For my honeymoon last October, I built in overnight layovers for both directions of my journey to Africa and back, staying a night in Chicago on the way there and a night in Miami on the way home. It will cost you a little bit more, but will save you the peace of mind knowing that you can absorb even a 12-hour delay and still make all of your flights.
What Airport are You Connecting Through?
Some airports are just better than others for handling connections. If you're traveling through one of these airports, you might want to opt for a longer connection if possible:
Are You Checking Bags?
Depending on which way you're traveling and how you booked, you may need to collect and re-check your bags. Add it to the list of reasons why packing in just a carry-on is a time-saver.
If you're departing the U.S. and booked your trip on one single ticket, your baggage will connect all the way through to your final destination. Shorter connections in these situations should be just fine.
But if you've booked separate domestic and international legs, you'll almost always need to gather your luggage and re-check it with your second airline. And heading back to the U.S., you'll always need to clear customs, grab your bags, check back in, and re-clear security. In both situations, longer connection times are better.
How Do I Get Money Abroad? What Currency Should I Pay With?
While you can use your credit cards all over the world when abroad, you still might want some cash while you're on the ground for tipping, taxis, and other expenses. And when it comes to pulling out cash, you shouldn't worry about doing it before your trip or at the airport.
We have two cardinal rules:
Always avoid the currency exchange counter at the airport. They exist for one reason, and one reason only: to rip you off. They profit from the poor exchange rates, which is why you see them everywhere abroad.
Don't bring a small fortune of foreign currency with you – take out cash from a local ATM instead.
No airport currency exchange kiosks or sketchy exchange rate counters. You'll get the best currency exchange rate possible in every city by simply pulling cash out of the ATM on the ground. And if there's no ATM fee to withdraw your money? That's as good as it gets.
That's why we recommend the Charles Schwab debit card. This free checking account is a must in any traveler's wallet because it means you'll never pay ATM fees, in the U.S. or internationally. We don't get paid to promote this card – it's just the best solution for travelers to get money while on the road.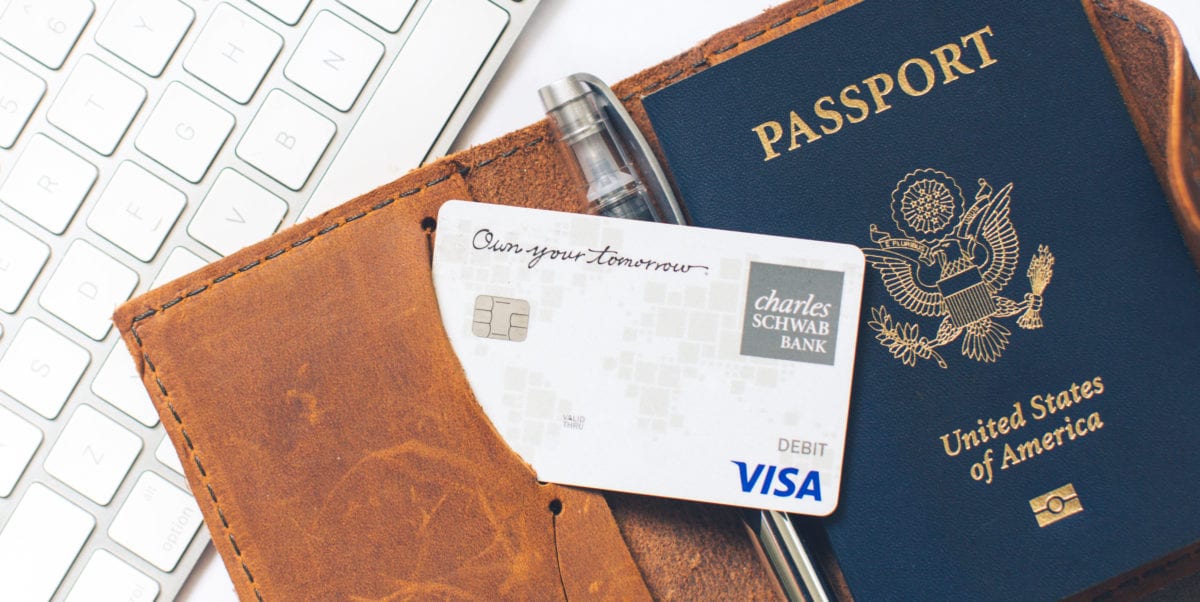 This card allows you to transfer money from your primary checking account straight to Schwab, then withdraw money from any ATM around the world. Charles Schwab refunds 100% of any withdrawal or ATM fees you pay every month. It's a foolproof way to avoid international ATM fees and get the best currency exchange rate possible.
Thrifty Tip: If and when you use a credit card to pay for anything while abroad, you might be asked if you want to pay in U.S. dollars or the local currency. Always pay in the local currency! When you pay in U.S. dollars, you might get charged an exchange fee to convert your U.S. dollars to the local currency. Skip that step and just pay with the local currency for the best rate.
What Should I Do About Cell Service Abroad?
Depending on where you're going, getting a cell phone signal should be no problem. But getting connected to that signal can cost you money.
The days of buying local sim cards are a thing of the past. From AT&T to Verizon, major U.S. cell phone providers have rolled out international travel plans to stay connected abroad, typically for just $10 a day. Calls may cost extra, but it's often the easiest way to get some data while traveling so you can keep up on messages or navigate your way around a new city. Plus, Mexico and Canada are almost always lumped in with the U.S. on these major carriers – no need to pay more!
While its coverage in the U.S. can be hit or miss, T-Mobile offers arguably the cheapest method to stay connected in 200-plus countries – though at lower speeds.
When I land in a foreign country and turn off airplane mode, I get a text message from Verizon welcoming me to the country and explaining the parameters of my international plan. With my cell phone plan, I get a few free days of international service per year, then I pay $10 a day. To me, that's easily worth it.
But if you need a high-speed connection and travel frequently, we have one favorite service: Google Fi.
Google Fi offers coverage in more than 200 countries or territories and counting. Check out the full list of countries, and you'll see that every major destination (and many of the smaller, less-touristed spots) is covered, from Albania to Zambia – and almost always at blazing fast, 5G or 4G speeds, meaning you can easily use your phone as a hotspot to connect to the internet when you need it..
Safe to say, you'll likely have high-speed coverage no matter where you're heading. Unlike traditional cell phone carriers that levy big charges for international service, the prices don't change whether you're at home or abroad. Here are the two pricing options:
The best part: You can pause your service when you don't need it – and not pay a dime to do so. This is one of the most generous policies you'll find among cell phone providers. If you only want Google Fi when traveling, this ability to pause your service in three-month spans is unbeatable.
All that said, it's not quite perfect. The biggest drawbacks for Google Fi is that it doesn't perform the best on iPhones, despite some recent advances. And if you're a digital nomad traveling all the time, it may not work for you: Google has been cracking down on users who spend months away from home at a time, saying their service is meant to be used "primarily" in the U.S.
Check out our full review of Google Fi!
How Do I Get From the Airport to My Destination?
You can book yourself a private car through your hotel or through a third party to get from the airport to your destination. Having someone standing in the arrivals hall with your name on a placard is the best and easiest way to get where you want to go … but it's also certainly the most expensive route.
But what about public transit? Or taxis? If you want to find a cheaper – and sometimes fastest and most efficient – way to get from the airport to your destination, use Google Maps or Rome2Rio.
Google Maps is an extremely powerful way to figure out how best to get from the airport to your destination. You can search for public transportation options including schedules and fare estimates, rideshare options, and simple drive times, too. It's the first search you should make before you book anything.
But for the most options, you should also be searching using Rome2Rio. Rome2Rio can help you get from any point on the globe to almost any other point using planes, trains, boats, automobiles, and more!
It'll show you some options on the map like Google Maps, but also includes detailed timetables for trains and buses and gives you links to those operators' websites so you can get booking after you're done with your search.
You can use Rome2Rio to find your way into the city center from the airport, or find the best way to hop between cities on a longer journey.
Make sure you do a thorough search through all of your transit options before your travels. Sometimes booking ahead of time will save you tons of time and money. And if a taxi or private transfer is the most cost effective option, it pays to know that well before you land.
Thrifty Tip: Many members of the Thrifty Traveler team print out detailed itineraries of our trips before we go abroad – that way you'll have important information like your Airbnb or hotel address after you land when you may or may not have cell phone service.
Our International Travel Packing List
Here's everything I won't leave for the airport without when I'm traveling internationally, from the basic must-haves to some items you may not expect.
Must-Haves to Stay Comfortable & Refreshed
The Best Travel Apps
We have a full guide to our favorite travel apps and tools to use while flying, but here are some of our must-haves:
Bottom Line
Breathe easier on your way to the airport because you've read through our frequently asked questions and our pre-travel checklists before your next international flight.
With careful planning, your next international trip should be smoother than the last.