This guest post is written by Maja Proescholdt, a Minnesota-born traveler currently living in England.
You can find more of her writing on her blog Away with Maja.

No, we're not talking about the state.
Tucked along the Caucasus Mountains and the Black Sea and sandwiched between Russia and Turkey, the country of Georgia is fascinating and beautiful. And safe to say, it's an up-and-coming destination within Eastern Europe.
There are so many reasons to visit Georgia – and it starts with just how friendly it is on your wallet. Here's why Georgia should be your next destination.
Getting to Georgia
It can be tricky getting to Georgia. There are no direct flights from the U.S. – but flying is still the best way to get there.
Your best bet is routing through one of several major European hubs, like Amsterdam (AMS), Paris-Charles de Gaulle (CDG), or Munich (MUC). If you're planning a trp to Turkey, consider tacking on a trip to neighboring Georgia at either end. There are regular flights from Istanbul (IST) to Tbilisi (TBS) on both Turkish Airlines and Pegasus. You could also consider flying into Kutaisi (KUT) – European budget airline Wizz Air has plenty of flights from all around Europe.
If you find yourself in eastern Turkey, you can make your way into Georgia by bus or train. Otherwise, just plan a longer trip all over the Caucasus region! In two or three weeks, you can easily check out Georgia and its neighbors Armenia and Azerbaijan.
Head for the Capital
Tbilisi is a fantastic city and one of my favorite places in the world. From stunning architecture to historic churches and an amazing vibe, this city has it all.
You'll need a minimum of three days here to really get a handle on Tbilisi – but five days would be better. Either way, make as much time as you can to explore the city and set out for short day trips.
Don't miss walking the quieter streets of the Old Town, visiting the Peace Bridge, admiring the Holy Trinity Cathedral, or taking the cable car up to Narikala Fortress.
Thrifty Tip #1: While many areas of Tbilisi are walkable, the Metro system is easy to use if you're going across the city. Buy a transport card for 2 lari (70 cents USD) and simply add money. One Metro ride costs 0.50 lari – about 17 cents.
Engorge on Georgian Food
The food in Georgia is phenomenal, with lots of different choices.
Khachapuri is arguably the most famous Georgian dish – think of it like cheesy bread. Adjaruli khachapuri is the most popular variety: It's a bread boat with cheese in the middle topped with butter and an egg.
Another popular Georgian dish is khinkali, or dumplings that are typically made with lamb or pork. And you'll also find plenty of salads, as they're a staple in the Georgian diet. You can find cucumber and tomato salad, drizzled with walnut sauce, at most restaurants. Georgia is definitely a destination where you should arrive hungry!
Thrifty Tip #2: Café Pavilion in Tbilisi's Old Town was one of my favorite spots for adjaruli khachapuri. You can try this tasty dish for less than $4!
Drink Georgian Wine … and Chacha
While it doesn't get the attention of France or Italy, Georgia is famous for its wine.
People have been making wine in this part of the Caucasus since 6000 BC! It grew popular during the rise of the Soviet Union, as it was some of the most exported wine throughout its republics.
Local Georgian wine is produced by fermenting in clay pots, called qvevri, which give the wine a hint of earthiness – and the white wines a hue of orange. The Kakheti region is the best-known wine-producing region of the country, although there are other pockets scattered across the country with wineries galore.
Once you've had your fill of wine, move on to chacha – a grape brandy and the national liqueur of Georgia. It's strong and high in alcohol content, typically served as a shot or in a carafe.
While normal chacha tastes like, you guessed it, grapes, you can find all different kinds of chacha varieties if you know where to go. Don't knock watermelon chacha until you've tried it!
Low, Low Prices
Georgia is an extremely affordable destination for those lucky enough to have dollars – or euros or pounds – but still looking to save as much as possible.
Whether you're making your way across Georgia or traveling within the cities, transportation is cheap. My four-hour marshrutka  (shared minibus) from Kutaisi in Western Georgia to Tbilisi took only cost 10 lari – $3.65 USD!
Meals in Tbilisi cost anywhere from $4 to $10 USD – it just depends on how many courses (and drinks) you order.
You'll also find a broad range of accommodations throughout Georgia. I rented a private apartment through Airbnb in Tbilisi that included local wine, homemade khachapuri, excellent Wi-Fi, and air-conditioning (a must in the summer months) for just $25 per night!
If you're looking for a budget destination, look no further than Georgia.
The History of Georgia
Georgia has a rich and deep history, and there's no better way to learn it than visiting the country and exploring it yourself.
There are stunning churches, cathedrals, and monasteries – most are Georgian Orthodox – around the country to visit. That includes the monasteries at Mtskheta, a UNESCO World Heritage Site.
If more recent history is your thing, visit Gori. This central Georgian town is the birthplace of Joseph Stalin, the longtime dictator of the Soviet Union.
Mountains and Scenery
Georgia is home to truly spectacular scenery – especially in the north of the country in the Caucasus Mountains.
Just imagine an endless view of green rolling hills, topped by snow-capped mountains.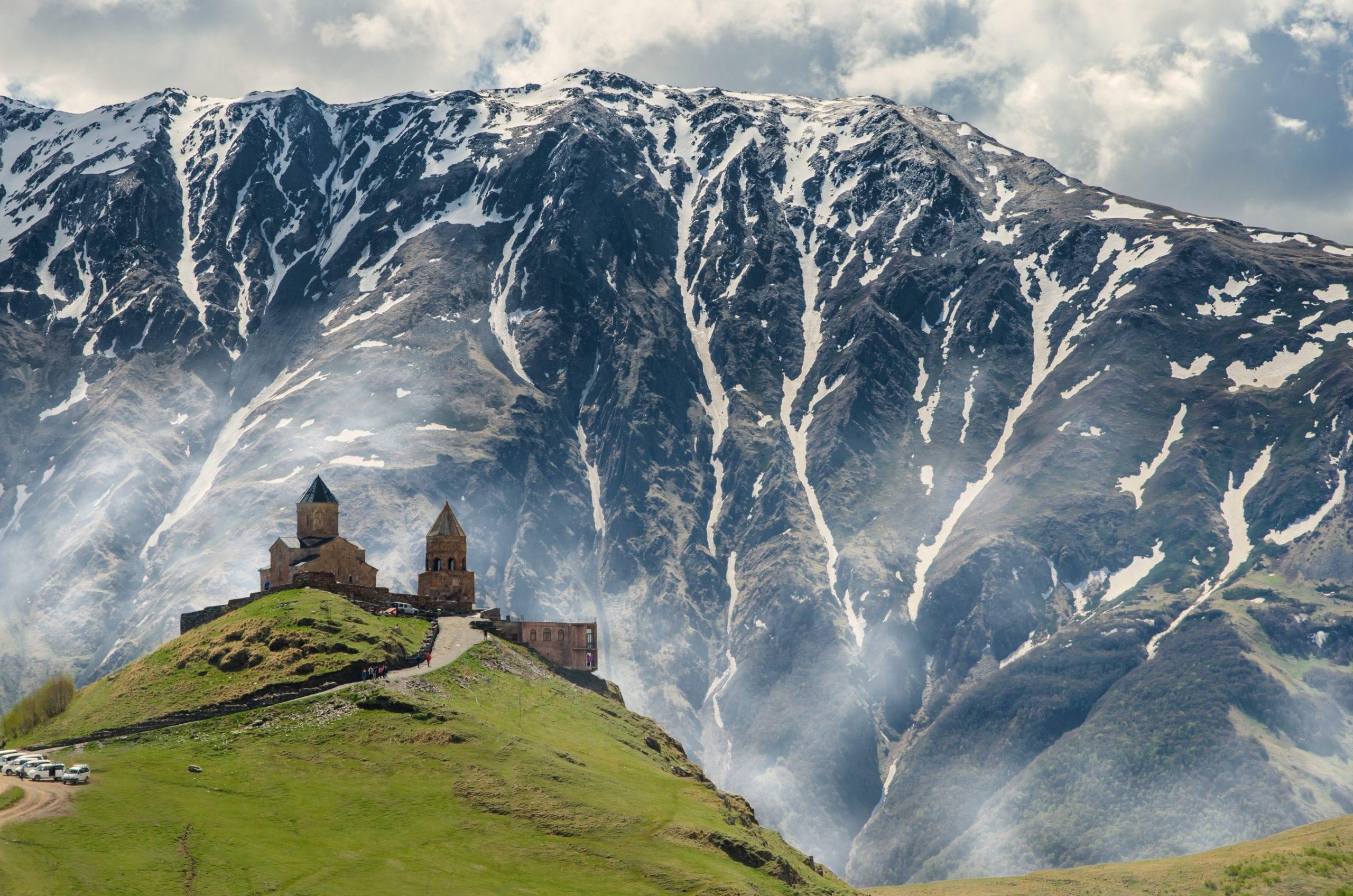 Georgia's rugged terrain makes for some amazing hiking. June through September is the time to go if you want to head into the mountains – many areas are closed through the winter due to snowfall.
There's skiing in Georgia, too, particularly the resort at Gudauri. And one of the most popular day trips from Tbilisi is to Kazbegi and Stepantsminda (via Ananuri) along the Russian Military Highway. The road connects Russia and the rest of the Caucasus region.
Excellent Base for Exploring the Caucasus
Georgia is by far the most-visited country in the Caucasus, a region that also includes Armenia, Azerbaijan. And it has the best tourist infrastructure in the region.
That makes Georgia the perfect introduction to the Caucasus, as you'll find many more English-speakers and plenty of transportation options than in other neighboring countries.
It's a great base to visit Armenia and Azerbaijan, both of which are fairly easy to access thanks to flights from Tbilisi (TBS) to Yerevan (EVN) and Baku (GYD). Want to save even more? Take a train or marshrutka.
Bottom Line
I can't say it enough: Georgia is fantastic, with so much to see and explore on a tiny budget. If you're looking for a place to stretch your money even farther, this is it.
But go now to beat the crowds. Georgia won't stay a secret forever.
Want the best flight deals and travel tips delivered to your inbox?
Sign up for Thrifty Traveler, and like us on Facebook or follow us on Twitter & Instagram

Editorial Note: Any opinions, analyses, reviews, or recommendations expressed in this article are those of the author's alone, and have not been reviewed, approved, or otherwise endorsed by any card issuer.