Starbucks fans rejoice! The Seattle-based coffee giant has officially added the ability to place mobile orders at Starbucks airport locations nationwide via the free Starbucks mobile app.
After years of complaints from travelers about long lines for coffee, Starbucks began testing mobile ordering last June at Washington, D.C. – Dulles (IAD). In the months since, they've been (not so) quietly rolling out that feature to a growing list of airport locations. Then, this week, Starbucks Rewards members received the following email informing them of the big news.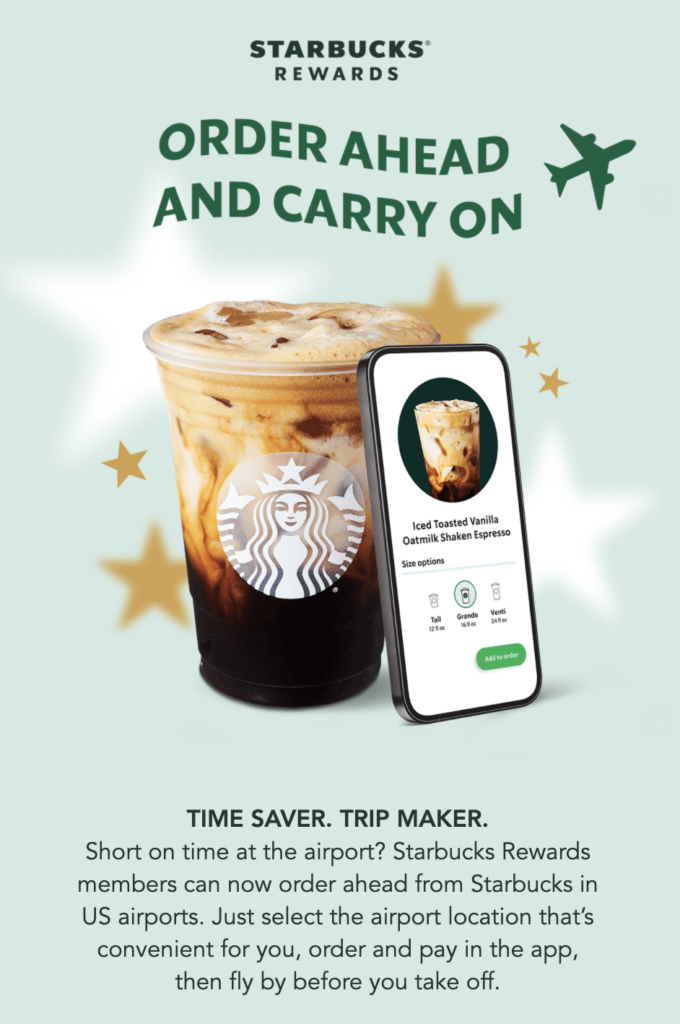 While ordering ahead via the Starbucks mobile app has been available at standard Starbucks locations for years, it was a feature that had not yet expanded into airports, much to the chagrin of Starbucks fans. The ability to order coffee ahead and pick it up should help reduce notoriously long lines at airport Starbucks locations – especially in the morning.
But why did this take so long?
Starbucks airport locations are not company-owned. Rather, they are operated by airport concession giant HMSHost, which, until recently, had an exclusive agreement to operate Starbucks' airport locations. That relationship hindered Starbucks' ability to integrate this feature at airports.
But as of April 2022, Starbucks says mobile ordering is now available at more than 230 stores located across 70 U.S. airports.
Just keep in mind that mobile ordering is not up and running at all U.S. airport locations. The easiest way to see which airports are available is to search via the Starbucks mobile app.
How to Place a Starbucks Mobile Order at the Airport
First things first, you'll need to join the free Starbucks loyalty program – Starbucks Rewards – if you're not already a member.
Once you have an account, you can download the Starbucks mobile app in either the Apple App Store or Google Play and log in. You can easily search for airport locations by typing in the three-digit airport code of any location. If you've allowed the Starbucks app to use your location, it will show you options near you.
By doing a quick search of Seattle's airport (SEA), you can see multiple Starbucks locations offering mobile order-ahead. The app also makes very clear if the location is before security to help avoid blunders of ordering coffee before having to clear the TSA checkpoint.

After a delay coming online at our home airport of Minneapolis-St. Paul (MSP), all three three main Starbucks storefronts throughout Terminal 1 currently have order ahead available!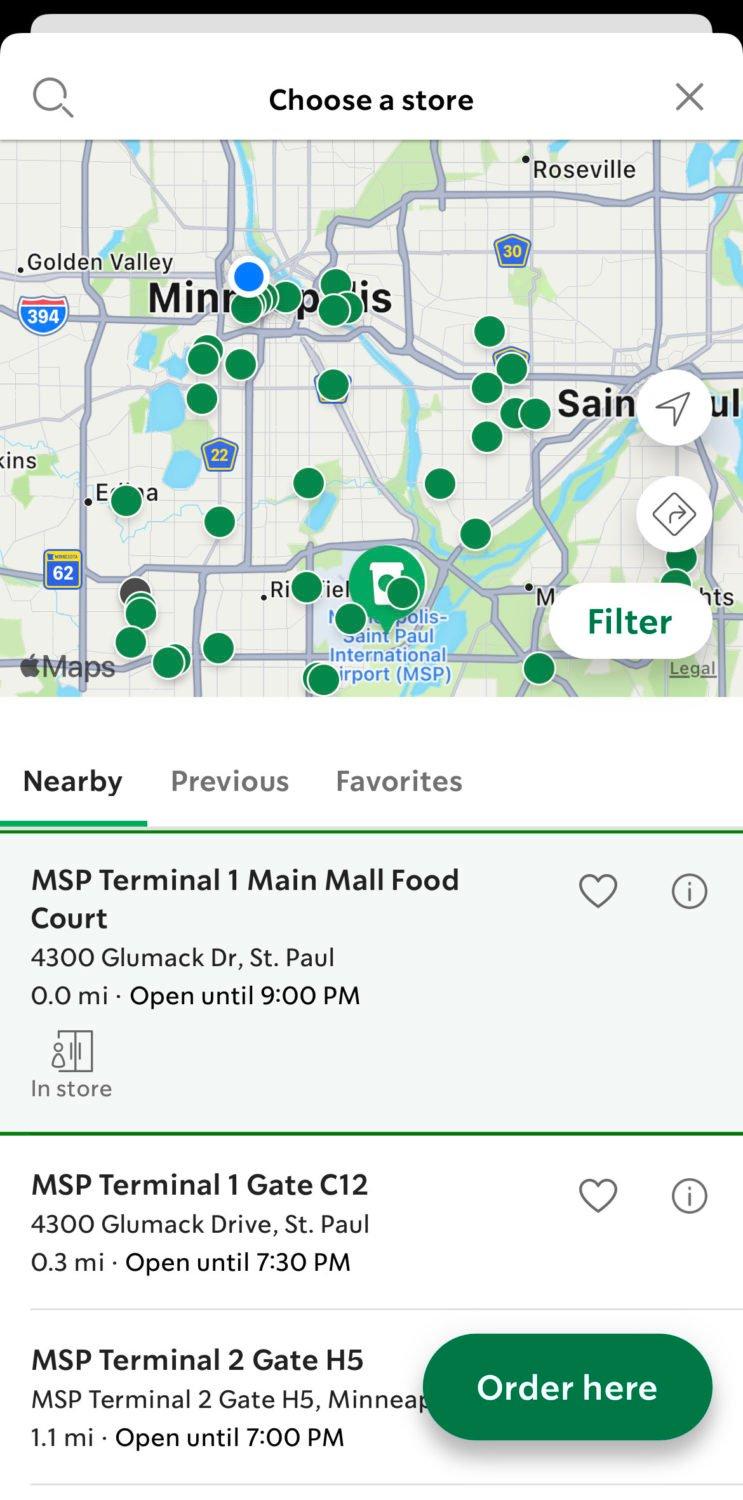 Once you have selected your location, you can press the "order here" button and proceed with your coffee order. After you complete your transaction, the app will display an estimate of how long it should take for your drink to be ready – just like ordering via mobile from any Starbucks store.
I've been using Starbucks mobile ordering for years, so it's great to see this finally roll out to airport locations. Ultimately, it should help reduce lines and make it easier for Starbucks drinkers to get a beverage before their flight.
Bottom Line
There is one less line to wait in at many U.S. airports.
Starbucks has quietly rolled out the ability to place mobile orders at over 230 locations across 70 U.S. airports – letting their Starbucks Rewards members know with an email blast earlier this week. This should help reduce – maybe even eliminate – the lengthy lines to get coffee before a flight.
While it's up and running at many of the nation's largest airports, this functionality isn't available at all airports or individual airport Starbucks stores just yet. Search the Starbucks mobile app to see if it's an option at your go-to airport Starbucks.