About five years ago, I remember an old coworker telling me he was going somewhere called the Faroe Islands. I looked the islands up, confirmed they looked spectacular, and promptly forgot about them – way too expensive and hard to get to, I told myself. Along with millions of other travelers, I headed for nearby Iceland instead.
Fast forward to present day and these tiny islands between Iceland and the United Kingdom are at the top of my list. And I'm making a bet: The Faroe Islands could be the next Iceland, one of the hottest destinations on the globe in the years ahead.
We mean tiny: 17 of 18 Faroe Islands are inhabited – and altogether, this Danish archipelago is a third the size of Rhode Island. Yet it's got the same impossibly beautiful scenery as Iceland … with a fraction of the crowds. But most importantly, they're about to be much easier (and cheaper) to reach from North America: The first-ever nonstop route from the U.S. to the Faroe Islands takes off this summer while Icelandair will add flights to the islands next spring, eventually making simple one-stop flights a cinch.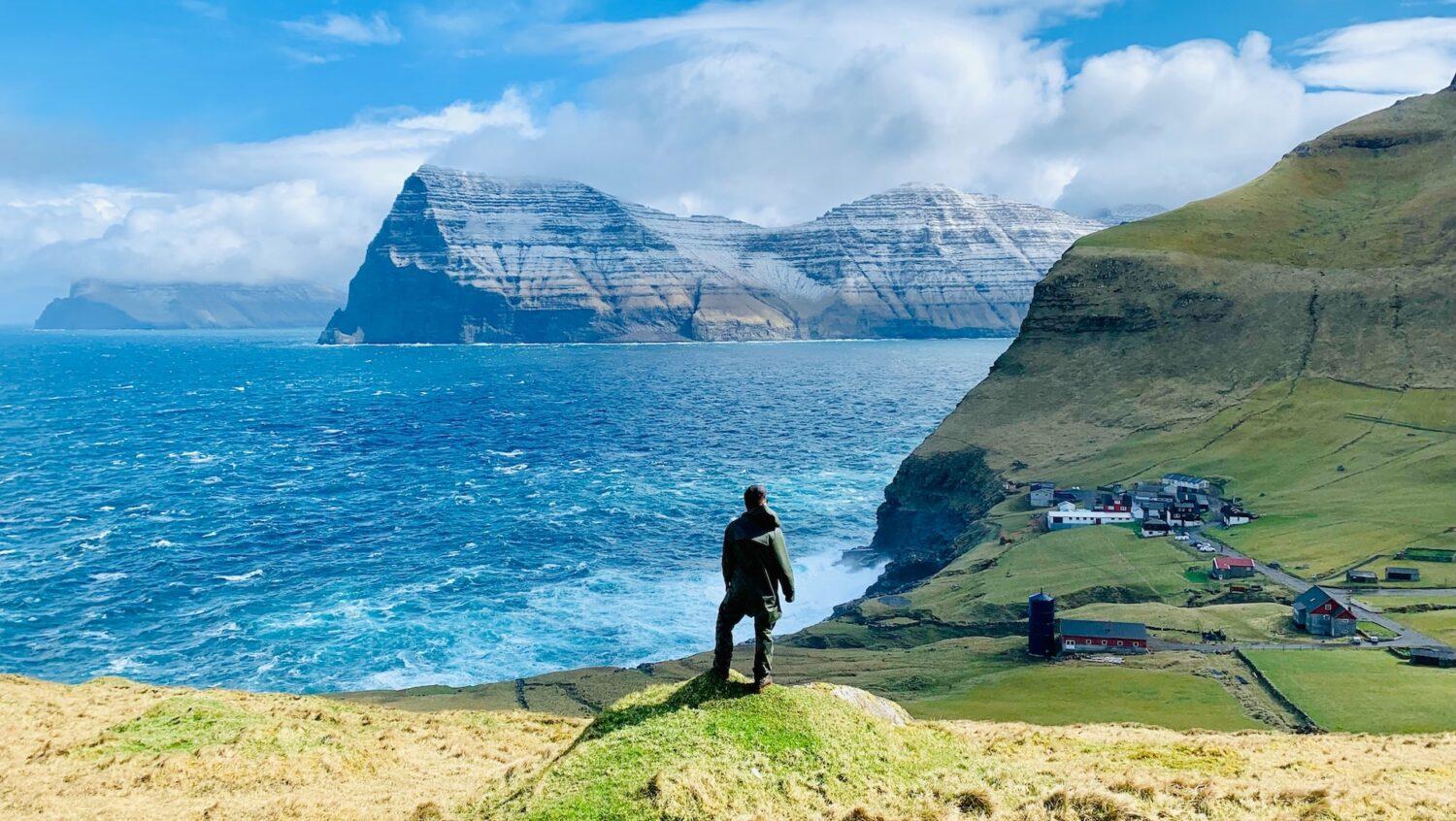 With the new flight options launching later this year and even more on the way next spring, 2024 is going to be the best year to go see dramatic landscapes like these before the secret gets out.
What are the Faroe Islands?
Perfectly triangulated between Iceland, Scotland, and Norway, the Faroe Islands are an increasingly popular travel destination for those looking for a lesser-tread, scenic spot.
I haven't been myself. But from photos and descriptions, the islands look like a moody mix between its neighbors … without the swelling crowds you might find in places like the Norwegian fjords or around Iceland's Ring Road.

According to Visit Faroe Islands, the territory's tourism authority, the nation has a very Icelandic landscape. The country promises lots of cliffs, moors, waterfalls, and 18 different volcanoes. Visit Faroe Islands also says to watch out for hobbit-like turf-covered houses and shaggy sheep. The website also boasts, "unimaginable beauty, mysteriously hidden like a child's fantasy world."
Part of the charm of the Faroe Islands, like its neighboring Iceland, is that the weather is … well, not great!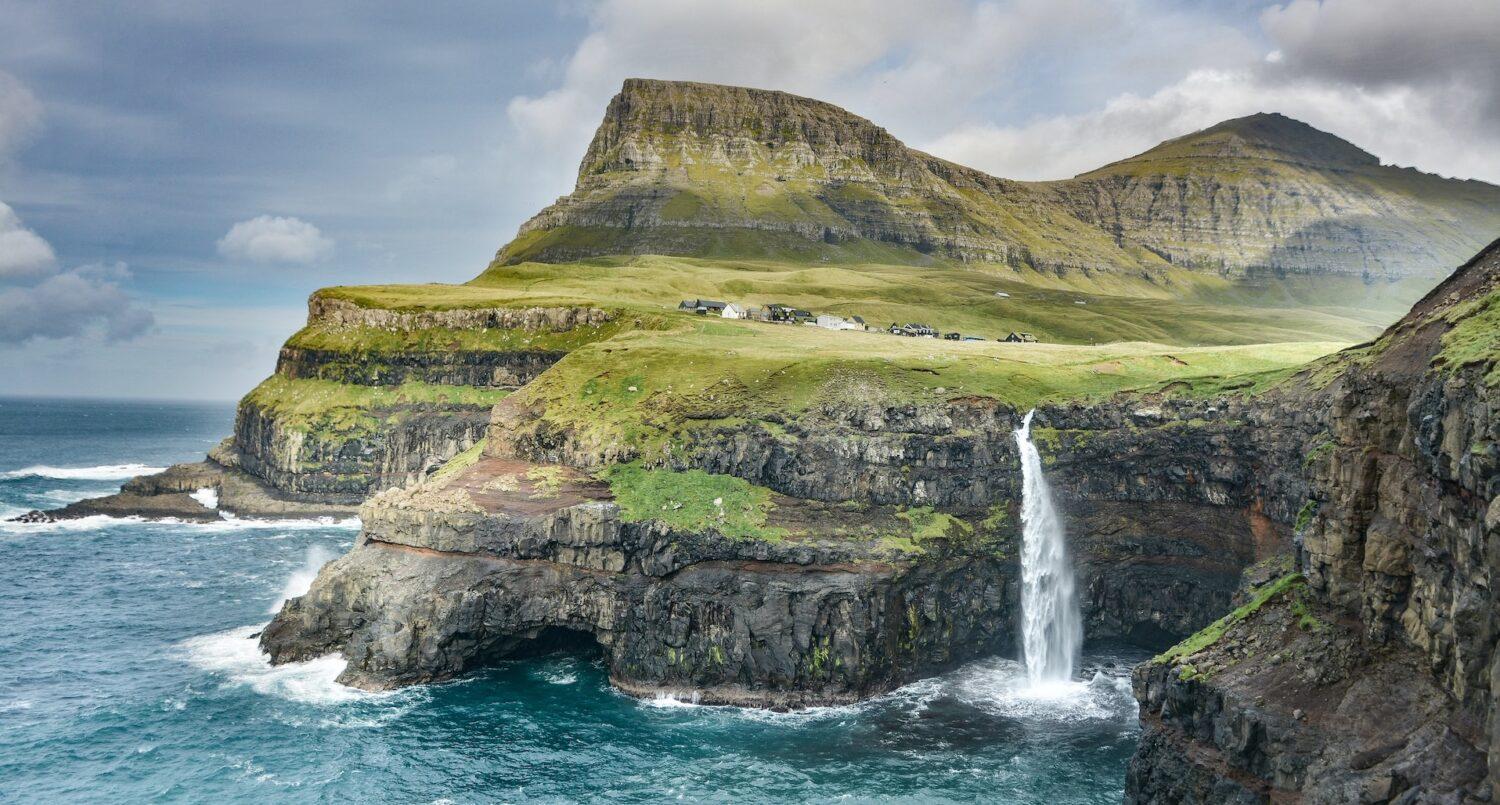 The average high temperature usually falls in August at around 55 degrees. The record high temperature for the islands was a comfortable 71 degrees. The daily mean temperatures on the islands hover between 39 and 51 degrees depending on the time of year, so you can probably leave your shorts and swim trunks at home on this adventure.
Because of its northern, seaside climate and ever-changing weather patterns, the island is a bucket list destination for birders, fishermen, climbers, mountain bikers, and even scuba divers, according to Visit Faroe Islands.
Getting to the Faroe Islands
All flights to the Faroe Islands land at the small airstrip in the town of Vágar (FAE).
Most flights in and out of Vágar are on an airline called Atlantic Airways, and it's an oddball. Atlantic is a commercial airline … and an intra-island commercial helicopter operation … and also serves as the search and rescue operation for the islands and surrounding waters. It's a strange business model borne out of necessity.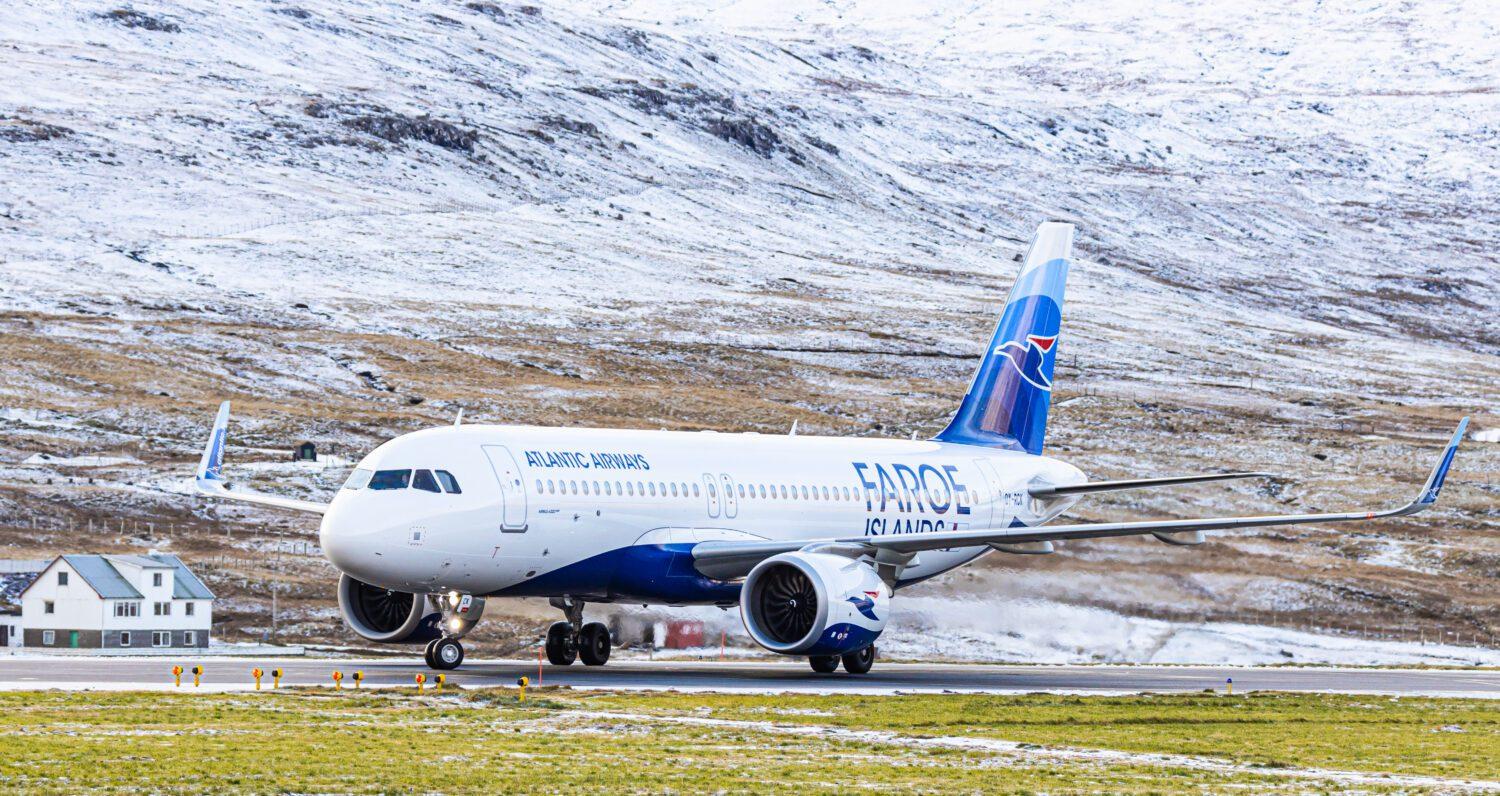 This year, Atlantic Airways is doing something else fascinating: They're adding the first-ever nonstop service between the Faroe Islands and the United States.

Although this new route only operates out of the small (and somewhat inconvenient) New York-Stewart (SWF) airport located 70-plus miles outside of Manhattan, it's a welcome first try at commercial air service to and from the U.S. And if you're a resident of Connecticut or the greater NYC area, it's a pretty amazing deal.
Provided all goes well this summer when the new route commences in August, we hope Atlantic Airways brings the U.S. flight back next year. Better yet, hopefully they fly to a better-connected airport like New York City (JFK) or Newark (EWR). Heck, maybe a successful summer could convince bigger U.S. airlines to follow suit someday with nonstop flights to the Faroe Islands of their own.
Flights to the Faroe Islands from the U.S. aren't brand new, though – you just needed to make a connection in Europe to get there. Scandinavian Airlines (SAS) has been flying travelers there for years and will continue operating those flights next year, giving U.S. travelers a great option to visit the islands with a pitstop in Copenhagen (CPH).


And it wasn't too long ago that we saw these flights go on sale – big time!


Enter: Icelandair (And its Stopover Program!)
I have a sneaking suspicion that we're going to see flights get even cheaper, too. Why? Because another major (and often much cheaper) carrier has just announced new service to the Faroe Islands (FAE) starting in May 2024: Icelandair.

Starting May 1, Icelandair will begin flying from its hub in Reykjavik (KEF) to Vágar. Crucially for U.S. travelers, the flight leaves Reykjavik at 8:30 a.m., meaning the flights from the U.S. to KEF will arrive in time for you to make the connection onward to KEF. And wouldn't you know it, those flights are already bookable today!

As you can see, the itineraries are amazingly convenient to make it to the far reaches of the Faroe Islands from the U.S. And Icelandair has a robust network of flights to North America for travelers to take advantage of.
Starting next May, you can connect one-stop to the Faroe Islands from the following airports on Icelandair:
Baltimore (BWI)
Boston (BOS)
Chicago-O'Hare (ORD)
Denver (DEN)
Detroit (DTW)
Minneapolis-St. Paul (MSP)
New York City (JFK)
Newark (EWR)
Orlando (MCO)
Portland (PDX)
Raleigh (RDU)
Seattle (SEA)
Toronto (YYZ)
Vancouver (YVR)
Washington, D.C. (IAD)
While New York-Stewart and SAS's North American hubs will have the only routings to the Faroe Islands in 2023, these 15 cities will all have one-stop connectivity to FAE starting next May. But let's not forget about the number one reason why Icelandair is one of our favorite airlines: The convenient and cheap Iceland stopover program.
When flying Icelandair, you can add a stopover in Iceland for up to seven nights on any roundtrip ticket – though for Icelandair's cheapest Economy Light fares, you're restricted to a maximum of three nights. In some cases, that stopover is only a few dollars more than the cost of a standard roundtrip ticket … but in most cases, it's the exact same price. And in a select few cases, the stopover can even be cheaper than the roundtrip fare!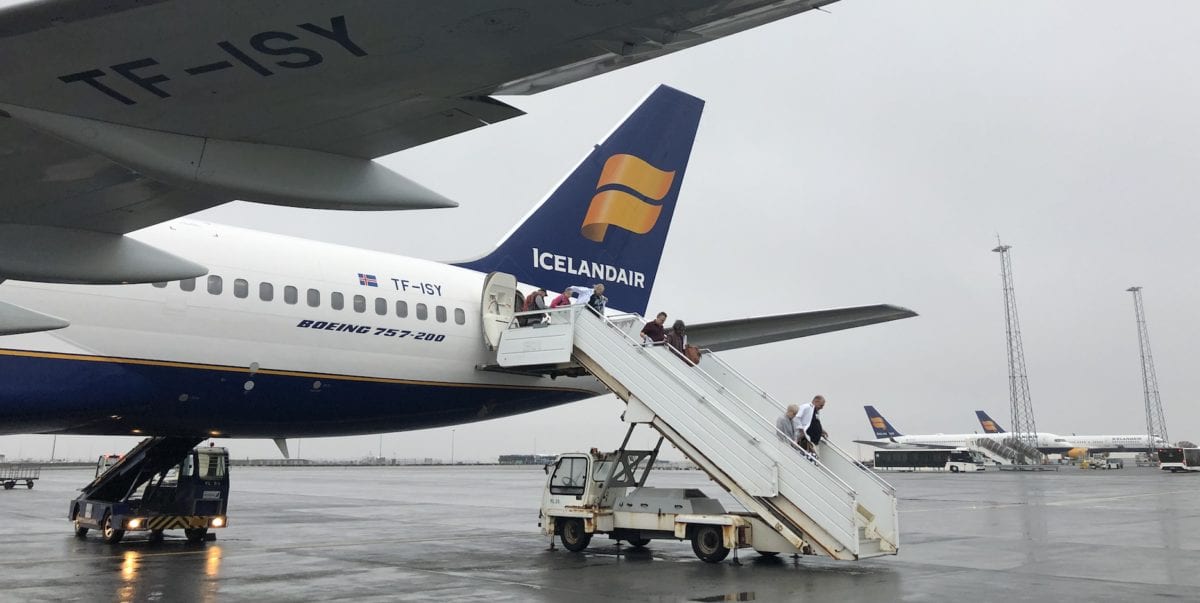 You probably see where I'm going with this. The Iceland stopover program creates a tantalizing possibility: A two-in-one trip to see both the Faroe Islands and Iceland.
Read next: How to Plan the Perfect Iceland Stopover Trip
If you don't overdose on spectacular vistas and dramatic landscapes during your journey, you could pull off one of the greatest trips I could imagine with a cheap and convenient one-stop itinerary each way. If you don't book this for next summer … I will.
Bottom Line
Get used to hearing about the Faroe Islands, because one of the next great travel destination for North Americans is going to be much easier and (we're betting) much cheaper to get to in 2024.
The addition of Atlantic Airways' nonstop service to New York and Icelandair's addition of the Faroe Islands to its route map is going to make the dreamy country a travel hotspot in the years to come.