During my recent travels to Berlin, Dresden, and Munich, Germany, I learned a few things about ways to save money. In this post, I will outline a few of my favorites ways to help you save some dough on your upcoming travel to Germany.
Most Restrooms Cost Money
If you're traveling to Germany from the US, note that nearly everywhere in Germany charges for restroom use. At malls, gas stations, and other public restrooms, there will often be a machine and turnstile. Most charge between 50 cents and 1 euro per turn, so make sure you have some coins on you and not just a card.
Make it easy to get cash out abroad by getting the Charles Schwab debit card. This debit card offers no foreign transaction fees and refunds all ATM withdrawals worldwide.
I like to use my credit card for most things abroad, but not all cities are very credit card friendly (especially Berlin). Hit the ATM with your Charles Schwab debit card on day one in a city to have cash on hand for restrooms and other cash-only establishments.
Thrifty Tip #1: Note that if you're driving or busing through Germany and stop at a gas station, the restrooms you pay for will often also print out a voucher for the 50 cents you paid for the restroom. You can redeem that voucher for 50 cents towards your purchase. Make sure you use the restroom before picking some snacks and put your voucher to use.
The Beer Chip Recycling Process
In Germany, particularly in Dresden, we learned about the system Germans use to encourage recycling. Here's how it works: you buy a beer and pay a little extra for the beer chip you get with it. When you're done with your bottle of beer (or stein, or mug), you bring your bottle back with the beer chip, and the bartender gives you your "deposit" back. Some establishments will even do this for water bottles: return your water bottle and get up to 15 cents back! This is Germany's way of encouraging recycling, and it's pretty genius.
Most Attractions in Berlin are Free
Berlin is a great place to visit as so many of the attractions, museums, and points of interest are free. Enjoy free admission to over 30 museums and points of interest in Berlin. Check out this list of free museums in Berlin to plan your itinerary.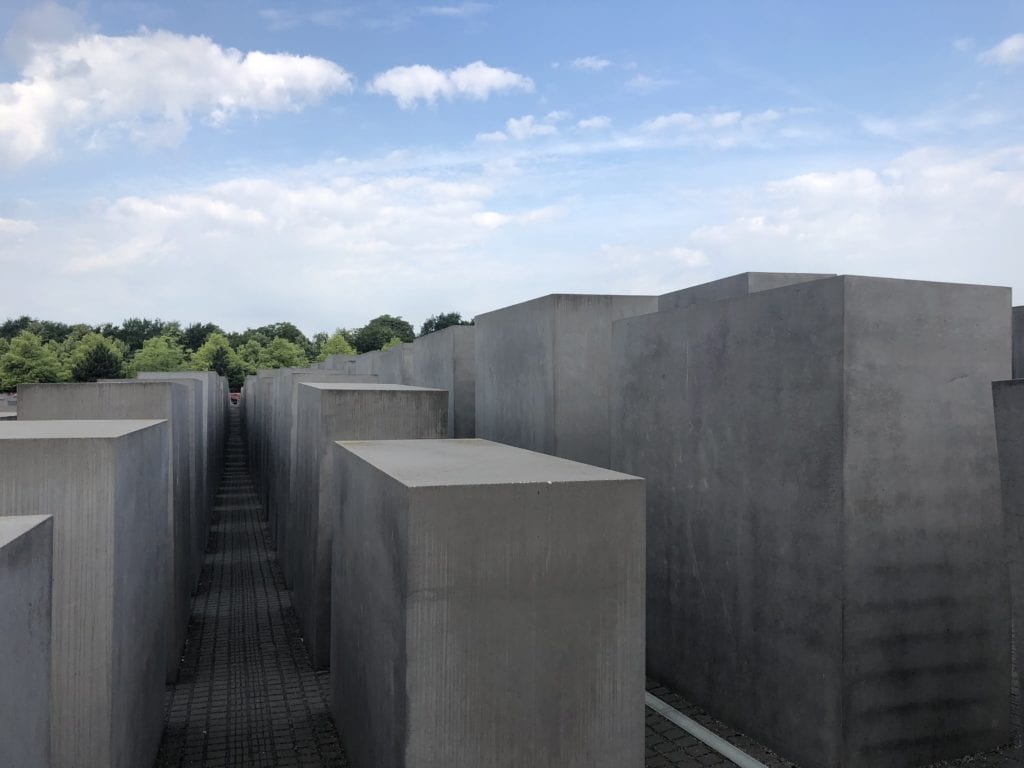 An absolute must-see in Berlin is the Memorial for the Murdered Jews of Europe. This memorial near Tiergarten and the Brandenburg Gate is controversial and thought-provoking, with 2,711 concrete blocks spread across multiple city blocks. This memorial has a museum underneath, which is also free. The museum is an extremely emotional tribute to the 6 million Jews who lost their lives during the Holocaust. This memorial and museum is my top recommendation for Berlin and it doesn't cost a penny.
The famous East Side Gallery is another free must-see in Berlin. This preserved section of the Berlin Wall is covered in a spectacular collection of murals. The gallery is about a mile long and totally free to explore.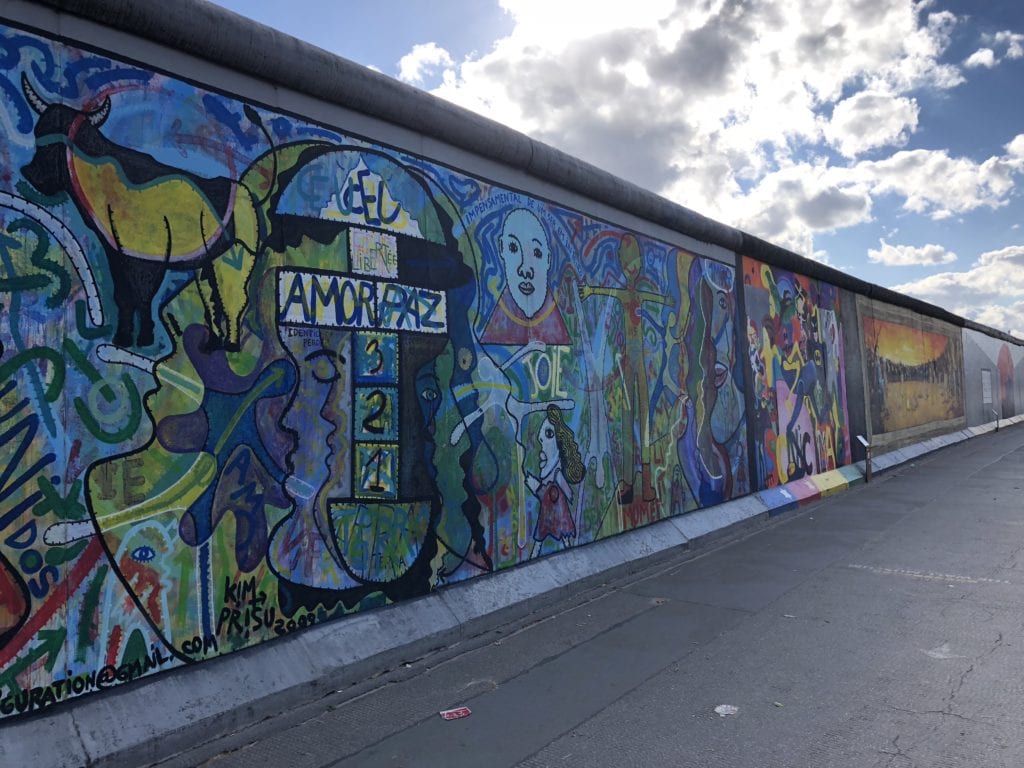 My final major recommendation for free museums and attractions in Berlin is the Topography of Terror. This indoor/outdoor museum lies on the site of the old Third Reich Security Office. This museum is dedicated to educating visitors about the crimes that were organized here with photographs and documents from the Nazi rule. If you're interested in history and the Nazi rule in Germany, definitely check this out.
Skip the Fancy Dining in Germany
Many of the local favorites and traditional meals can be found without a heavy price tag in Germany. Wurst (sausage), schnitzel, sauerkraut, and potatoes are all German classics that can taste as delicious from a food stand as it does at a fancy restaurant. Below are some other local food favorites you can get for cheap.
In Berlin, a local favorite is currywurst: a sausage covered with smokey tomato sauce and then topped with curry. This typically comes with fries as well. Currywurst stands, like food trucks, can be found all around Berlin. A plate of currywurst is typically under $5, and a must-try while in Germany.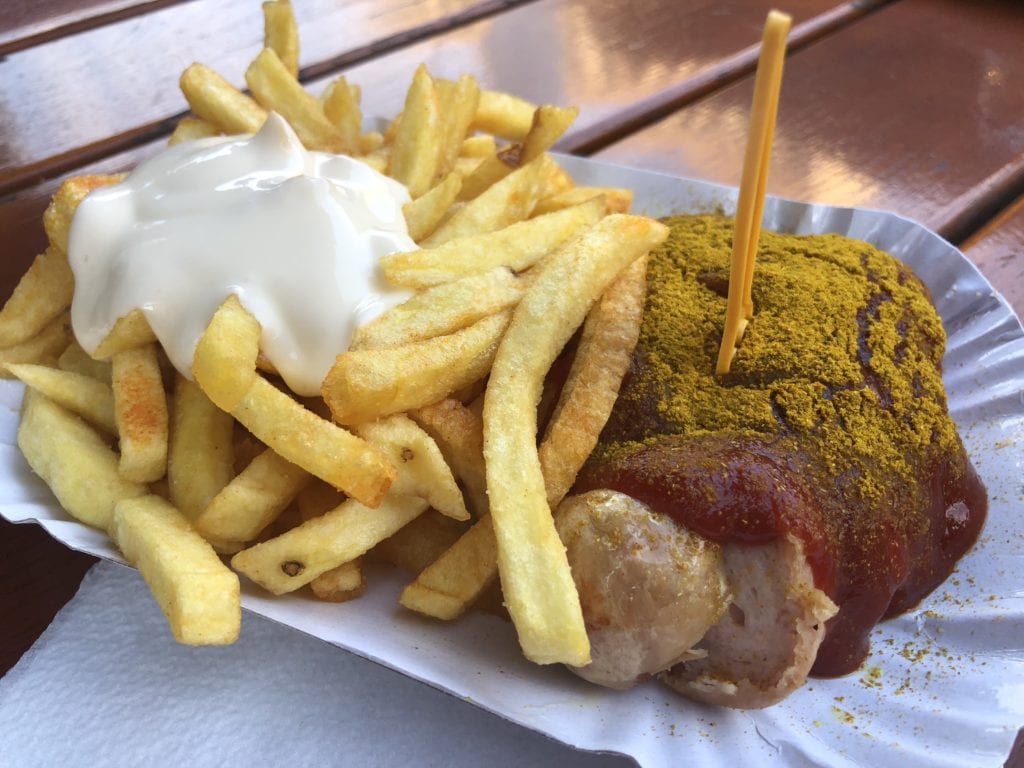 The kebab is known around Europe for being a delicious and cheap "fast food" and late night favorite. Each kebab is slightly different depending on the restaurant. The essential ingredients are: chicken or lamb meat slow cooked on a spit, vegetables (oftentimes cabbage, lettuce, and onion), fries, and a few different sauces that make for the most delicious combination. A kebab is an awesome option for a quick and cheap lunch in each German city we visited. You get huge portions like this for under $5 a plate!
How to Get Around
We used the Busabout Hop-On Hop-Off bus to get to Berlin, Dresden, and Munich. Book a Busabout Hop-On Hop-Off pass for as short or as long as you like and make your way around their European route map. Check out my article to learn more about how Busabout works. Use our Busabout promo code THRIFTY to save 10% on your booking.
Bottom Line
Use these tips to be prepared for unexpected costs in restrooms and bars, and save money on tourist attractions and dining out. And remember: the best part of traveling in most cities is walking, and that's free!