Air travel wasn't the smoothest this summer … and that's putting it mildly. But while the worst of the flight delays and cancellations may be behind us, travelers have the same goal, in good times and bad: getting through the airport as fast as humanly possible.
Airports around the world handle millions of people each and every day – some better than others. But even at the best airports, there are pinch points. Lines for security, bag drop queues, and immigration checkpoints can all bring your travels to a screeching halt.
But it doesn't have to be that way. Follow these tips and tools to make your next trip through the airport as easy and quick as you can.
Take Public Transportation To & From the Airport
Nobody wants to drive to the airport, pay astronomical parking fees, and then make the long walk (or even shuttle) to the terminal. And trust me: Your friends and family members don't want to drop you off, either.
Rideshare apps like Lyft or Uber might be your answer, but there's a better way: Take public transportation. It's the greenest, cheapest option to get to and from the airport, often costing a fraction of a rideshare or taxi. In many cities, it can be much faster than going by car, as you'll skip right past that airport-inbound traffic jam that can add another 30-plus minutes to your trip.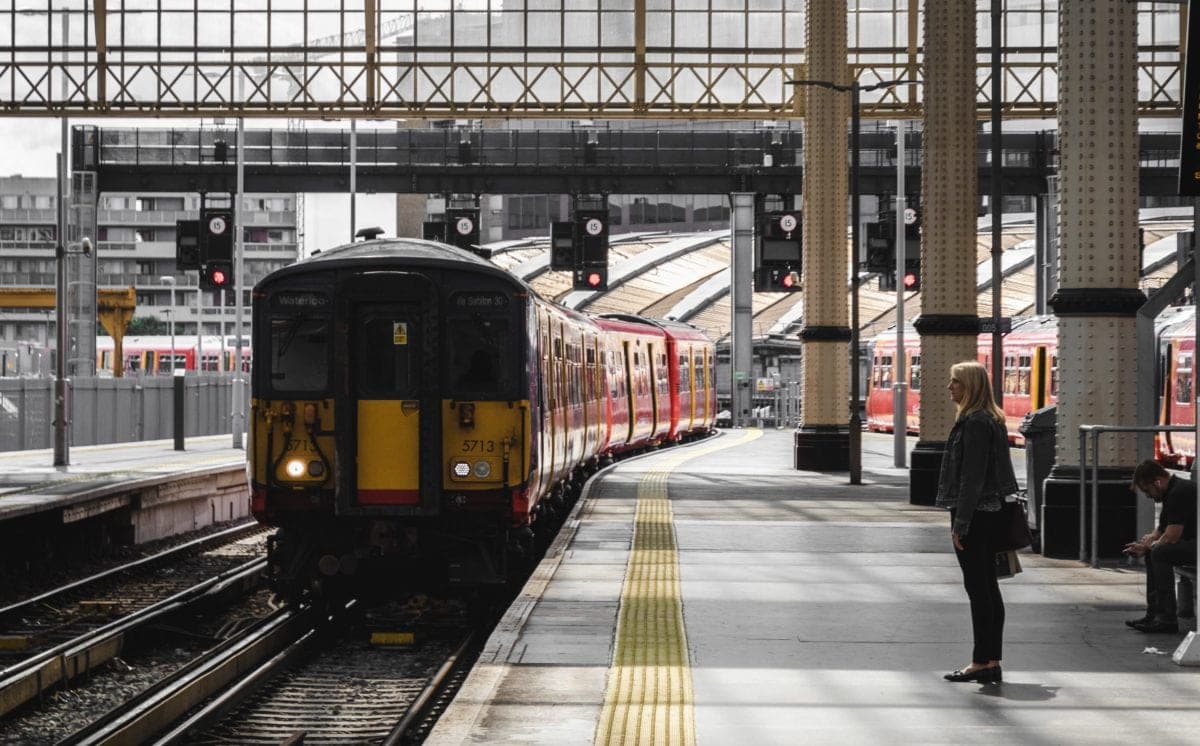 Here in the U.S., public transportation is hit or miss – and that's putting it lightly. In some cities like Washington, D.C. and New York City, getting between the city and the airport by subway or tram is a cinch. In other, smaller cities (and even some big ones), it's not so easy
Thrifty Tip: Trying to catch the Light Rail train into Minneapolis-St. Paul (MSP)? Park in downtown Minneapolis and ride the light-rail to the airport using the Ramp-Ride-Fly program! A three-day minimum stay starts at just $21, and each additional day of parking costs just $5!
But abroad – especially in Europe – public transportation is far more robust. It's often the easiest, cheapest way to get from the airport into the center of any city, or vice versa.
If you don't live close to public transportation, try getting a ride to a transit hub or taking advantage of a hotel's shuttle program, too.
Use Your Airline's App to Check In
I think there are seven crucial apps to have on your phone before heading to the airport. OK, maybe six crucial ones and then also Starbucks to order a coffee on the go.
But at the top of the list, you'll find the app for whatever airline you're flying. And that's because you can use it to skip some of the worst parts of the airport by checking in before you even arrive at the airport. packing in just a carry-on bagThat means you can check in starting 24 hours before your flight, skip the check-in counters to get your boarding pass, and simply walk to the security line with your mobile boarding pass in hand – at least so long as you're .
Here's a screenshot from Delta's app with my boarding pass ready to go from a recent flight. No check-in line for me. I'm heading straight to the security queue and onward to my gate.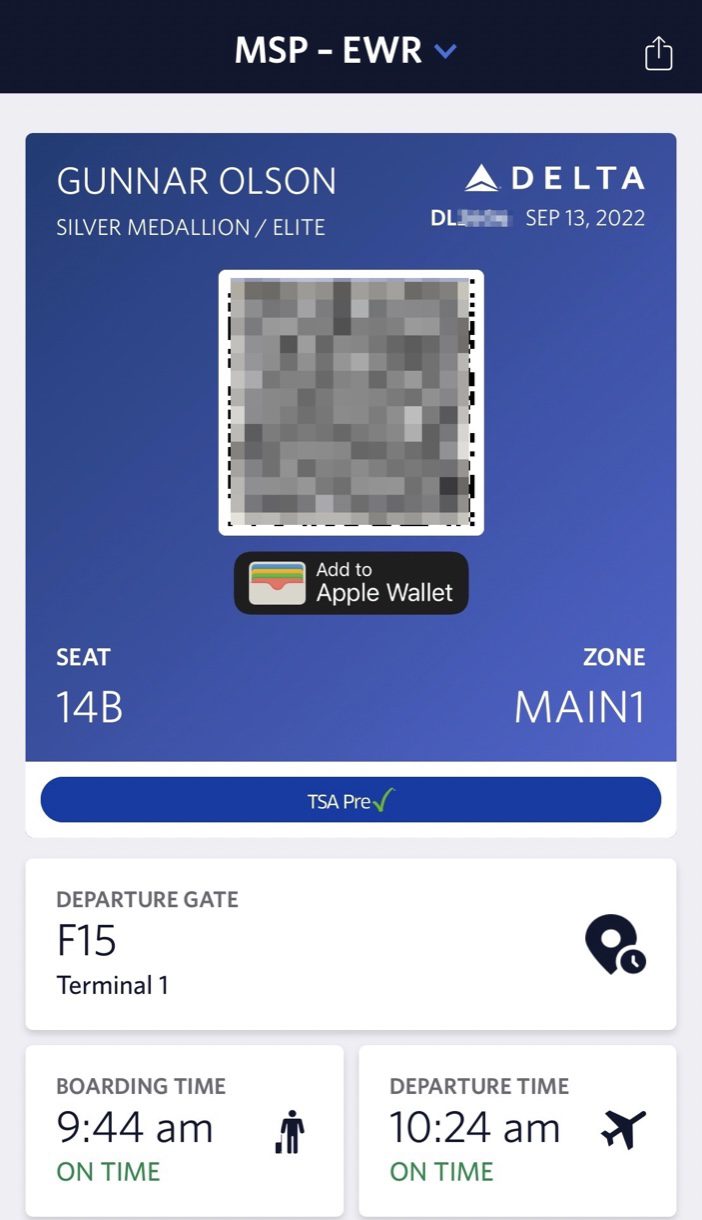 The key here is trying not to feel superior to the people standing in line at the check-in counters. Travel karma is real…
This front-end of the airport can really stall travelers as they move through the terminal. And it's not just the check-in process and security lines: Make sure you have everything you need before you walk into the airport and head straight for the TSA queue.
That is, unless you have to check a bag…
Don't Check a Bag
We know it seems hard, but this is the big one.
Avoid checking a bag if you can. It's perhaps the most important point on this list of tips to make your airport experience better. As travel demand has surged, the lines to drop a checked bag at the airport have been some of the worst pinch points – far worse than the security lines, in many cases.
Some people will insist on checking a bag. I'm an avid skier and travel with my ski bag all winter long, so I get that some things simply cannot be brought on the plane. But the travel experience is always worse (and longer) when you have to wait in line to drop a bag and then wait again to pick up the bag on the other end.
Unless you absolutely have to check a bag, don't do it! This falls under my number one rule of travel: Control what you can control.
Giving up your belongings to the airline without knowing 100% if you'll get them back on the other end is ceding control. There are too many variables in the flight experience as it is, so don't burn valuable travel time on either end of the flight just so you can give up control of your clothes, toothbrush, and extra pairs of underwear.
We have a handy guide to packing in a carry-on for any trip if you're worried about it. Unless you're golfing, scuba diving, or skiing, save yourself the headache and don't check.
CLEAR or TSA PreCheck
If you adhered to the tips above, the security line should be your first stop. You're already doing great! But this infamous airport pinch point can lead to some pain if you're in the standard, shoes-off, laptops-out security queue. But it can be a breeze if you use the tools at your disposal.
Those tools are CLEAR or TSA PreCheck – or maybe both! We have a thorough guide breaking down exactly which of these two tools would be right for you.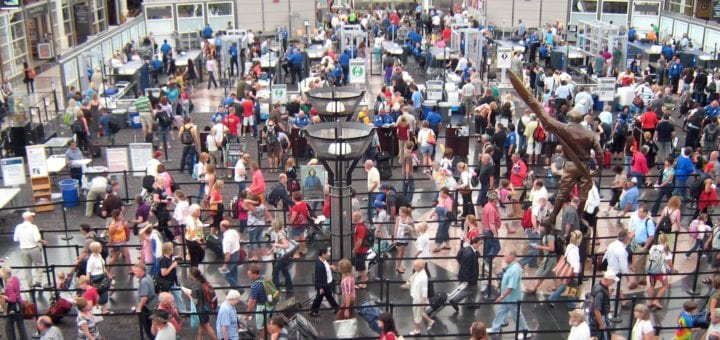 Here's the gist:
TSA Precheck is a federally run program with dedicated, expedited security lines that are typically much shorter than the normal lines. You don't have to remove your coat, shoes, or belt, nor do you need to remove electronics or liquids from your bag.
You can also get TSA PreCheck by enrolling in Global Entry (more on that later) which doubles as a fast pass through customs and immigration when you return from an international flight.
Read our full guide with everything you need to know about TSA PreCheck!
CLEAR isn't run by the government: It's a privately run trusted traveler program. CLEAR uses biometrics – like your fingerprints and iris scans – to verify your identity. That allows you to cut to the front of the airport security line. 
And that brings us to an important distinction between TSA PreCheck vs. CLEAR: The two programs really aren't related at all. If you have CLEAR but not TSA PreCheck, you'll cut to the front of the standard security line, where you'll need to take off your coat and shoes and remove any electronics in your bag. If you have both, you'll go to the front of the PreCheck line and make your way through even faster.
Read our master guide to CLEAR and how it works!
These sound great, but what will it cost you? PreCheck costs just $85 for a five-year membership, but you can cover that cost with a growing number of credit cards.
CLEAR starts at a whopping $189 each year! Woof! But you can reduce the cost of CLEAR in a bunch of ways.
Just by having a frequent flyer account with either Delta or United, you can drop the cost to $119 per year. And because creating a frequent flyer account with either airline is free, there is really no reason to ever pay full price for CLEAR. Additionally, if you've got one of Delta or United's co-branded credit cards like the United℠ Explorer Card or Delta SkyMiles® Gold American Express Card, that price falls to $109. And finally, top-tier elites on both airlines can sign up for free.
And there's a way to make CLEAR even cheaper. The Platinum Card® from American Express now provides up to a $189 annual credit to cover the cost of a CLEAR membership. The card also provides up to a $100 credit to cover the cost of either Global Entry or TSA PreCheck once every 4 1/2 years for the application fee for TSA PreCheck® and every 4 years for Global Entry.
But it doesn't end there. Because you can get CLEAR membership at a reduced cost through either Delta or United, you can actually use the CLEAR credit provided by the Amex Platinum Card to cover the cost of CLEAR membership for up to two people!
Whether or not you want to stomach the cost of CLEAR is up to you. If you have one of these credit cards to cover the cost, it's absolutely worth it. But for almost any traveler, TSA PreCheck is absolutely worth $85 for a five-year membership.
Global Entry
Customs and immigration lines can be scary, especially when returning home after a long journey. Global Entry is your fastest ticket back into the U.S. when returning from abroad and a surefire way to make sure you aren't stuck in line.
That said, getting signed up for Global Entry can be easier said than done thanks to application backlogs and delays. Finding a Global Entry interview to finalize your enrollment has become a major chore, too – though services like Appointment Scanner can help expedite that process.
But despite the horror stories, it's not all bad. I recently finalized my Global Entry from start to finish in two weeks.
Global Entry costs $100 for a five-year membership (and includes PreCheck), so it's worth the cost even if you plan to just travel internationally once.
But, it seems like more and more credit cards are covering the cost of the tool. Many top-tier cards like the Chase Sapphire Reserve , The Platinum Card® from American Express, and Capital One Venture X Rewards Credit Card offer this benefit. But then there are even cheaper options where you can cover the cost of Global Entry, like the Capital One Venture Rewards Credit Card or the new U.S. Bank Altitude® Connect Visa Signature Card, which waives its $95 annual fee for the first year.
The entire online application for Global Entry takes about 10 minutes to fill out and then travelers have to secure an in-person interview to finish the enrollment. There are a number of ways to knock out this portion of the application, though.
Read our master guide to Global Entry and how to get an interview fast!
I think Global Entry is a no-brainer for international travelers, even if you just have one trip planned. It expedites not one but two rather annoying parts of the process and takes the last potential airport pinch point out of the equation when returning home from abroad.
Bottom Line
Say it with me: The airport doesn't have to be unpleasant! If you control what you can control and use the tools at your disposal, navigating the terminal before and after your next trip can be a breeze.
Products like TSA PreCheck, your airline's app, and Global Entry can put you in the fast lane through your next airport experience. The rest is up to you.