Dreaming of far-off travels and exotic views? Join the club.
But most international travel is on pause these days with the pandemic, thanks to a patchwork of travel bans and restrictions and complicated testing requirements to get back to the U.S. So understandably, many travelers are looking closer to home for their next getaway – whether that's next month or next summer.
So behold: domestic dupes for some of your most dreamed-of sites around the world. Go here, not there. And look, we know these domestic destinations can't compare to the cultural richness of the international spots on your wish list. But at least you can get a similar view for a fraction of the price.
5. Sahara Desert, Morocco = Great Sand Dunes National Park, Colorado Springs
Yes, we have stunning sand dunes like this, right here in the U.S. Just a few hours south of Colorado Springs lies the Great Sand Dunes National Park and Preserve. Spend a day walking the dunes, getting some epic shots, or even sand-boarding down the slopes!

Thrifty Tip: Get into national parks free these five days in 2021! Plus, fourth graders (and their families) get in free to all national parks for a year.
Of course, this is no substitute for riding a camel through the Sahara. But it brings the desert experience closer to home.
Now, how to get there for less? This national park is a 2 1/2-hour drive from Colorado Springs. While you can find flights into Colorado Springs airport (COS), you'll find much cheaper fares into Denver airport (DEN). Domestic flights are cheaper than ever: We've been sending flights into Denver to our Thrifty Traveler Premium members as low as $76 roundtrip – or less!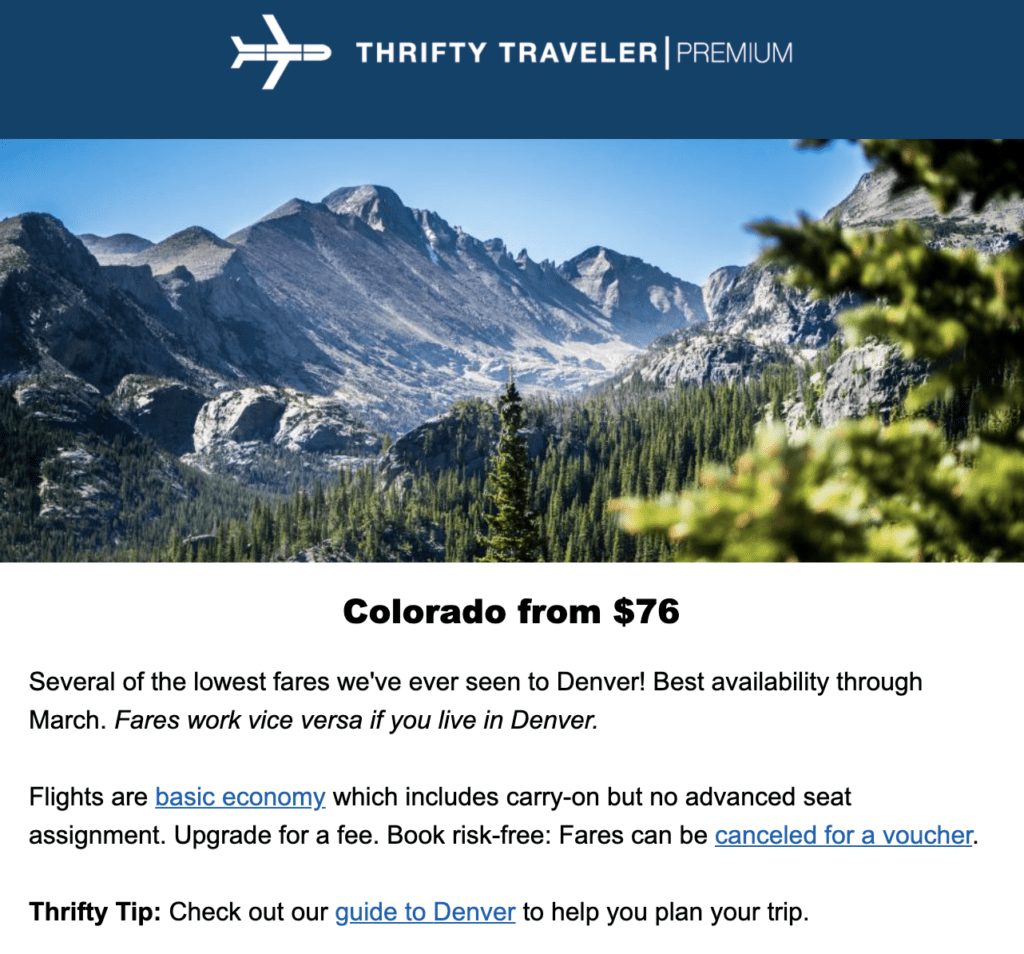 Want instant alerts for flight deals like this from your home airport? Join Thrifty Traveler Premium for $5.99 a month!
Spend a day or two exploring Denver and its different districts. Then, snag a cheap rental car and make the drive to the Great Sand Dunes!
4. Greek Islands = Tarpon Springs, Florida
Dreaming of the white and blue buildings, seascapes, and harbors of the Greek Islands? We've got a surprise for you. A little Florida town called Tarpon Springs should shoot to the top of your U.S. must-see list.

This town is known for its Greek heritage: Greek sponge divers settled here in the 1900s, and the town definitely reflects that. The best part? Tarpon Springs is just 20 minutes from Tampa (TPA), which often sees cheap flights year-round! We recently found cheap nonstop fares as low as $40 roundtrip from multiple U.S. cities through October 2021:

This deal has disappeared since we first sent it to Thrifty Traveler Premium members. Get instant alerts for the next deal from your airport!
That's a heck of a lot cheaper than a flight to Greece! And with most of Europe closed for travelers for the foreseeable future, this is your best bet for getting that Greek charm closer to home. Walk the Historic District with a gelato in hand: you can thank us later.
3. Swiss & German Alps = Leavenworth, Washington
Dreaming of European architecture, ski chalets, and the feeling you're in a completely different country? As it turns out, you don't have to leave the U.S. to find a piece of that.

You can get that same vibe in Leavenworth, Washington. If you've never heard of this dreamy little town, now you won't be able to stop thinking about it. Leavenworth is a Bavarian-style village, complete with alpine chalets, German beer halls, ski areas, and much more. Go for winter sports, or hiking in the summer: any season is the perfect time to enjoy the European-inspired architecture right in central Washington state!
How to get there for cheap, you ask? The Wenatchee (EAT) Airport is the closest, but doesn't connect to many other airports, and flights are typically sky-high. If you're willing to do a bit of a drive through Washington, flying into Seattle (SEA) airport is your best bet. We've recently seen flights as low as $70 roundtrip from several U.S. airports to Seattle, through this fall!

Make the two-hour drive from Seattle to Leavenworth, and enjoy the views of Okanogan-Wenatchee National Forest on the way! Leavenworth is the perfect European-style getaway without the long flight and time change.
2. Petra, Jordan = Moab, Utah
If Petra isn't on your bucket list, it should be. But seeing as a negative COVID-19 test taken within 3 days of travel is currently required for U.S. visitors, many travelers will wait on that trip to Jordan.
Want stunning red rock formation views in the meantime? We know just the place.

Moab, Utah is home to some of the most famous U.S. National Parks: Arches, Canyonlands, and more. These stunning parks will definitely scratch that itch for amazing hikes and views.
Now: to get a cheap flight there! Your best bet? Start in Salt Lake City (SLC) or Las Vegas (LAS). Flights to Vegas have been as low as $50 roundtrip lately – some of the cheapest we've ever seen! Here's a recent deal we sent to Premium members:

Fly into Las Vegas and make a whole road trip out of it! Do the Utah "Mighty Five" National Parks all in one big road trip loop.
Thrifty Tip: Read our tips for planning the perfect road trip, and how to make it all free on points and miles!
1. The Bahamas = U.S. Virgin Islands
We know there's no substitute for sailing around the hundreds of Bahamian islands, but if you're looking for a domestic option, the U.S. Virgin Islands are just the ticket.

No passport is required to get to the USVI, which makes it the perfect Caribbean getaway. And while you need a recent negative COVID-19 test to enter, there are no requirements for your return flight – unlike international trips to other Caribbean islands.
The Thrifty Traveler team loves St. John, St. Thomas, and St. Croix. Check out our top recommendations for the U.S. Virgin Islands.
And this Caribbean getaway doesn't have to break the bank! We recently found flights as low as $69 – yes, that's roundtrip – from the mainland U.S.
Don't believe us? Here's the flight deal alert we sent Thrifty Traveler Premium members: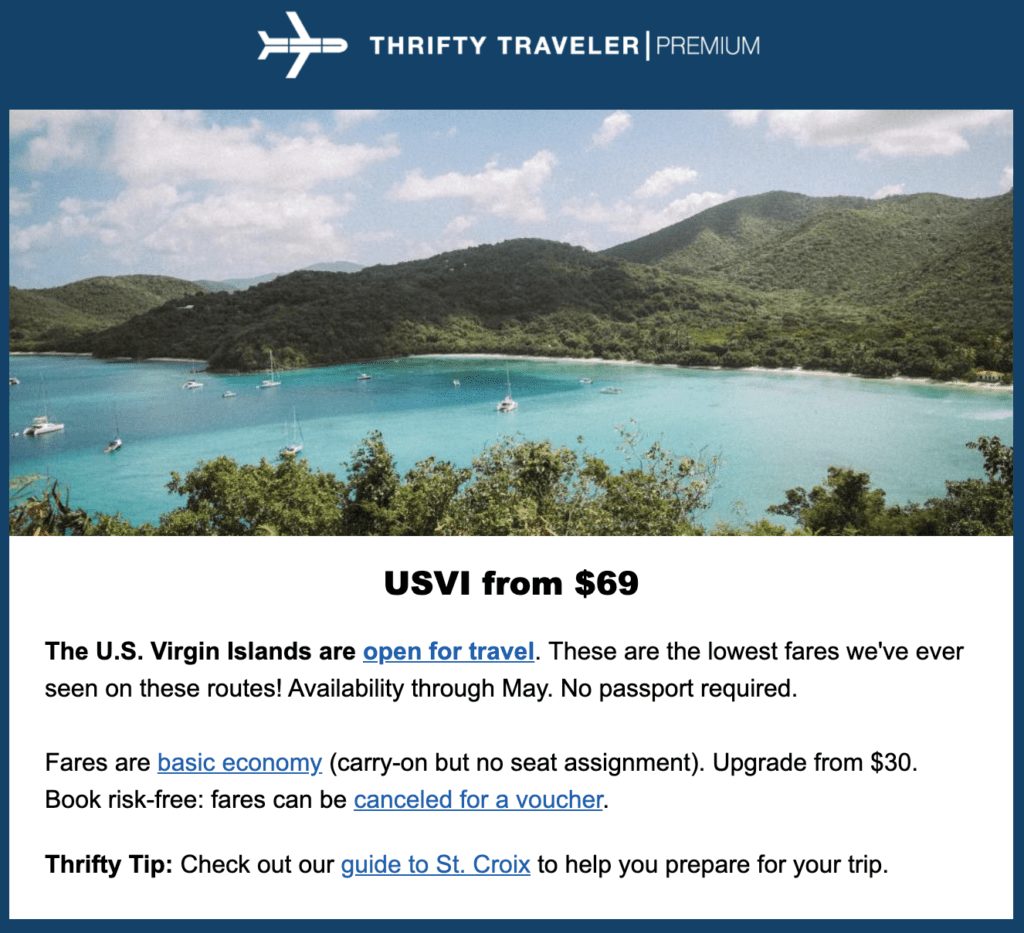 We could hardly believe our eyes either. With prices that low, making the USVI your tropical getaway is a no-brainer!
Bottom Line
We know there's no comparison to boarding that international flight to a completely different country, with new views, new cultures, new languages, and experiences. But while international travel as a whole is a bit more complicated, we've come up with some U.S. destinations that can scratch that itch whenever you're ready to travel again.
Want instant notification when we find the next cheap domestic flight deal? Join Thrifty Traveler Premium for just $5.99/month!