Traveling is full of twists, turns, and surprises. Just ask Aaron's partner, Anjelica.
Without saying a word, Aaron jumped on one of our Thrifty Traveler Premium flight deal alerts to book a dirt-cheap trip to Barcelona (BCN) using Delta SkyMiles for a trip together in February. Anjelica didn't know where she was headed until they were ready to hop on the plane across the Atlantic.
And she definitely didn't know what was in store once they made it to Spain.
A Flight Deal Fuels a Surprise Trip
We heard from Thrifty Traveler Premium members near and far this Valentine's Day about special trips they had taken with their favorite travel companions. But Aaron's story takes the cake.
It all started with one of the best deals to use Delta SkyMiles we've ever found: Delta slashed round-trip flights from the U.S. to Europe on partner airlines down to just 30,000 miles round trip. It got Aaron thinking, and he acted fast.
"I choose to book two (2) tickets to Barcelona on the first weekend in February and planned for it to be a surprise anniversary trip for my girlfriend," Aaron said.
Aaron kept their destination a secret, only giving her the dates they'd be gone and clues for what clothes to pack. He kept her in the dark about where they were flying until they were already on their way to Barcelona.
"Well, the day came for our trip and I finally let my girlfriend know where we were going when we had our layover at JFK. She was so excited once she found out!"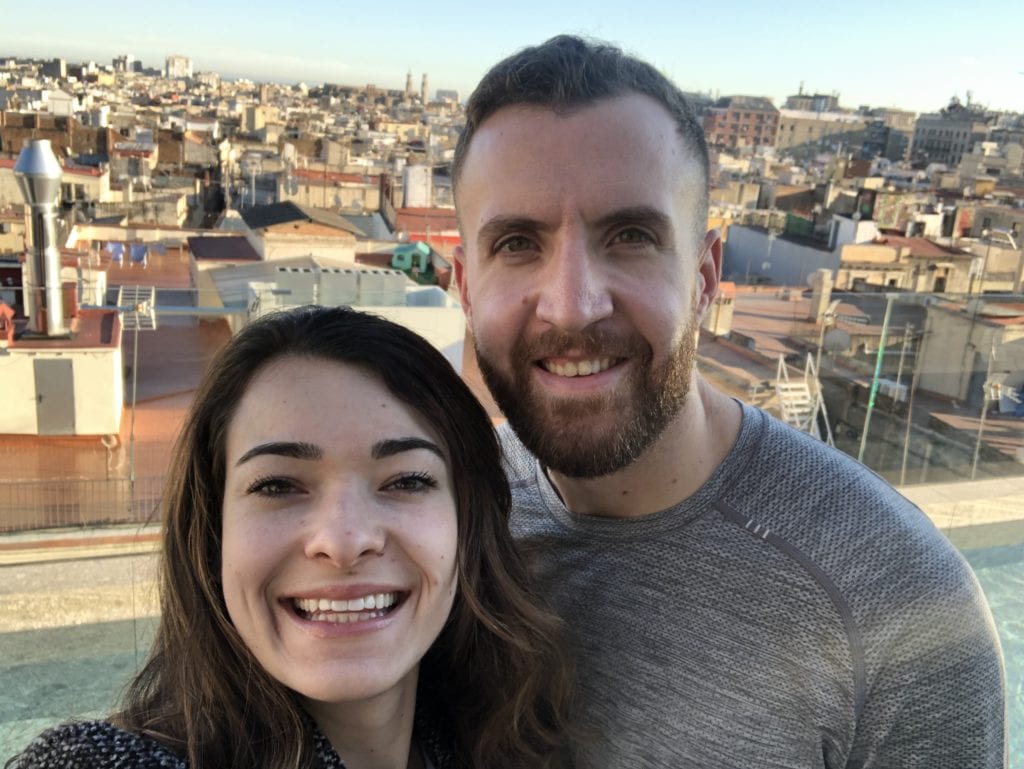 But Aaron had already started planning several surprises for their trip. For starters, he booked a special dinner at one of the world's most sought-after restaurants: Tickets.
That was just the start.
The Biggest Surprise of All
The two enjoyed their first day in the city. But day two had a bigger shock in store.
"On the second morning of the trip, I was able to convince her to get up early with me to take in the sunrise over Barcelona," Aaron said. Together, Aaron and Anjelica soaked in the view of the city before Aaron dropped down on one knee. She said yes. 
"All of my plans came together, I proposed to her that morning and the surprise photographer I hired was able to capture the moment so perfectly," Aaron said. 
But Aaron and Anjelica's love story fueled by cheap travel isn't over. They just booked flight for their honeymoon … once again, thanks to Thrifty Traveler Premium. The two are flying from Minneapolis-St. Paul (MSP) to Tokyo-Haneda (HND) in January 2021 – for just $350 round-trip!
"Thank you guys for the work that you do!! Without your service, I would have never dreamed about being able to create such a perfect moment, day, and trip that we will remember for the rest of our lives!!" Aaron said.
Bottom Line
Hearing stories of fellow travelers making memories that will last a lifetime with the flight deals we find makes us excited about thrifty travel every day. Thank you for being a member, Aaron, and for sharing your story. Cheers to more adventures with your lifelong travel partner.
Have a fun story to share of a Thrifty Traveler flight deal you booked? Drop us a comment below, we'd love to hear about it!
Lead image courtesy of Martina Zancan