If you're on the hunt for the best street art, it's time to book a flight to Denver.
It's not hard to spend hours – heck, even full days – walking amongst some of the most impressive murals scattered across the Mile High City. And don't worry, these works of art aren't hard to find … at least so long as you know where to start.
Check out the Google My Maps I made for a recent trip to Denver. It includes markers (blue camera icons) on some of the best spots to find street art around the city. Read on to learn more about some of the many must-see murals.
Where to Start
If you've only got a day or two, you've got to head to RiNo.
RiNo (short for River North) is definitely the most concentrated area for street art in Denver. Before visiting Denver for the first time, I had plotted the locations of several murals on my Google My Maps so I would be able to find them. Little did I know, you can hardly walk anywhere in RiNo without running into the next masterpiece.
If you're driving, find a street parking spot on Larimer Street or park in the parking lot next to the Denver Central Market (stop in for a bite to eat!)
Thrifty Tip: Looking for the best markets, restaurants, bars, and things to do in Denver besides mural-hunting? Check out our guide to Denver.
Once you've parked, it's time to explore RiNo by foot – or by scooter, if you're so inclined. We rented a few scooters and cruised around the area. There's a dedicated "wheels" lane (with a rhino riding a bike instead of a person painted on the asphalt!), so stick to that instead of riding on the sidewalks.
I promise you won't have a hard time finding street art in this area around Larimer Street. But there are a few standout favorites in the RiNo neighborhood.
RiNo, Larimer Street
If you're starting near the Denver Central Market, this is likely one of the first you'll see. The "Power and Equality" mural by Shephard Fairey is in the parking log of the market, along with a few other remarkable works. You may also recognize her work from the iconic "Hope" Obama campaign art. You can find this one at 2631 Larimer Street.

This "Dripped Colors Mural" by Luis Valle can be found at 3111 Larimer Street. It was one of my favorites and is impossible to miss since it faces the street.

If you didn't take a photo in front of this mural, did you really go to Denver? The "Orange, Blue and Red Stencil Eyes" by Ahol Sniffs Glue is an iconic part of the RiNo street art scene. And you won't have to worry about getting a photo all to yourself with this one: the eyes cover the entire street-facing building. This old IMAC building is located at 2550 Larimer Street.

RiNo Alleys
Now that you've covered the street-facing murals of Larimer Street, it's time to wander into the alleys.
You'll be astonished by the sheer number of murals hiding back in the alleys of RiNo district. To get started, head behind Larimer Street and Denver Central Market into the alleys and follow the vibrant colors as far as they go.
The major alleys are named 1, 2, 3, 4, 5, and 6 from the Crush Walls Street Art festival that takes place every September in Denver. As you walk through the alleys, you'll notice a few of my favorites.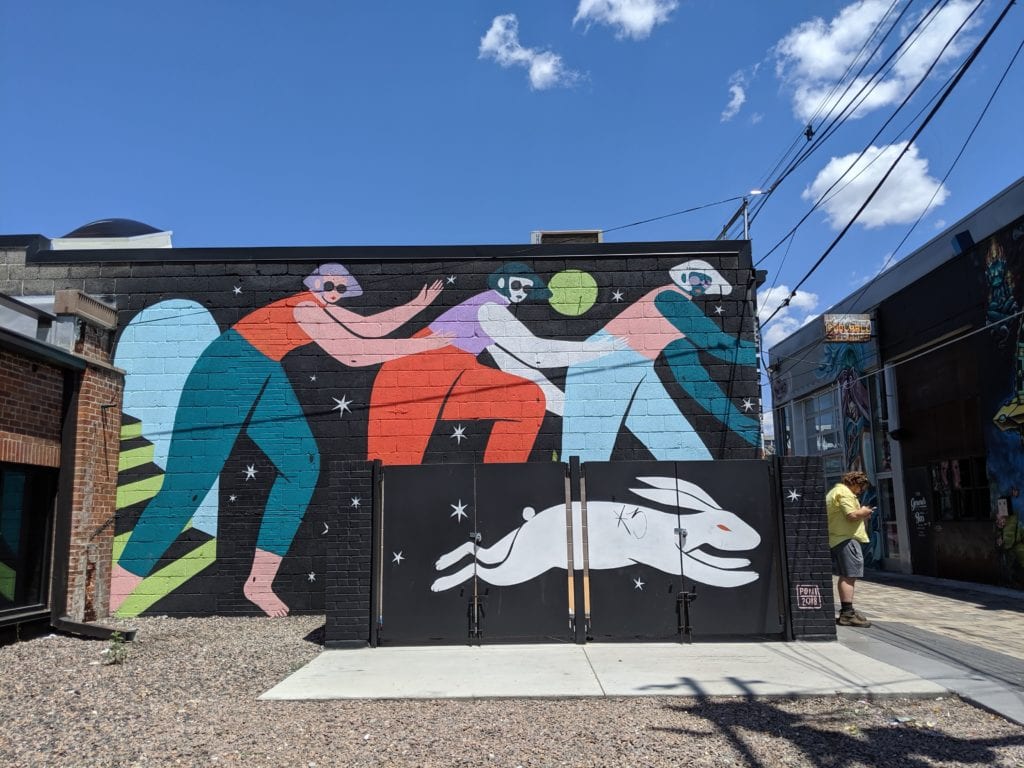 You can even enter the Denver Central Market from the alley! This is just a small taste of the many works waiting for you in the RiNo alleyways. Snap some photos, and whenever possible, be sure to tag or give credit to the talented artists behind the murals.
If you're ready for a bite to eat with a side of street art, I highly recommend heading to Improper City at 3201 Walnut Street. They've got drinks and food trucks to satisfy that hunger, with an alley of their own within their outdoor patio. This is the perfect spot to relax after a day of exploring RiNo.
Ready for a cold one before heading out of RiNo? Visit Our Mutual Friend Brewing Co. at 2804 Larimer Street. Sit out on their patio and admire the sweet paint-job on this fun brewery.
Outside of RiNo
Beyond RiNo district, there is so much more street art to see! The other mural hot-spots are East Colfax, Confluence Park, the Art District on Santa Fe, and South Broadway. If you've got the time, check out these other areas for more street art fun.
Bottom Line
If you're heading to Denver soon, an afternoon of mural-hunting should be on your to-do list. Head first to RiNo district to explore Larimer Street and the many colorful alleys that highlight the amazing work of Denver's street artists.
Want the best flight deals and travel tips delivered to your inbox?
Sign up for Thrifty Traveler, and like us on Facebook or follow us on Twitter & Instagram

Editorial Note: Any opinions, analyses, reviews, or recommendations expressed in this article are those of the author's alone, and have not been reviewed, approved, or otherwise endorsed by any card issuer.