Petra is a mysterious and magical place.
This ancient city of Jordan is called the Rose-Red City, for the hue of the rocks bathed in sunlight. Forgotten for hundreds of years, today it's the prime attraction in the country of Jordan. Yet archeologists are uncovering new sites and learning more about the people that lived there.
For all the photos of the Treasury and other jaw-dropping features, photos cannot do the immense expense of this city justice. It's simply a place you need to visit for yourself.
Here's how to do it.
A Little History Before You Go
The ancient city of Petra was completely forgotten for over 500 years until a European explorer rediscovered it in 1812. Soaking in the majesty of this place, it's hard to imagine how it could ever have been forgotten.
This area was first mentioned in the Old Testament as the site where Moses struck a rock to release water for the Israelites – today it's called the Ain Musa, or the Spring of Moses. Petra was the creation of Nabateans, who inhabited the area starting around 647 B.C. until roughly 750 A.D.
Their settlement eventually reached nearly 30,000 people, with temples, caves, and buildings carved right into the rock. Archeologists are still uncovering signs of the complex and thriving people, including an extensive irrigation and plumbing system.
Thrifty Tip: Before you go, watch the National Geographic documentary on Petra available on Disney+ or the History Channel documentary available in full on YouTube. It's hard to truly grasp how ingenious the Nabatean people were without seeing how they constructed the city.
Despite the wonder of Petra, shifting trade routes eventually led people away from the area and to the sea. As resources and trade dried up, people moved away – it was no longer lucrative to trek through the desert. Petra was forgotten until an explorer heard of a secret and mysterious city.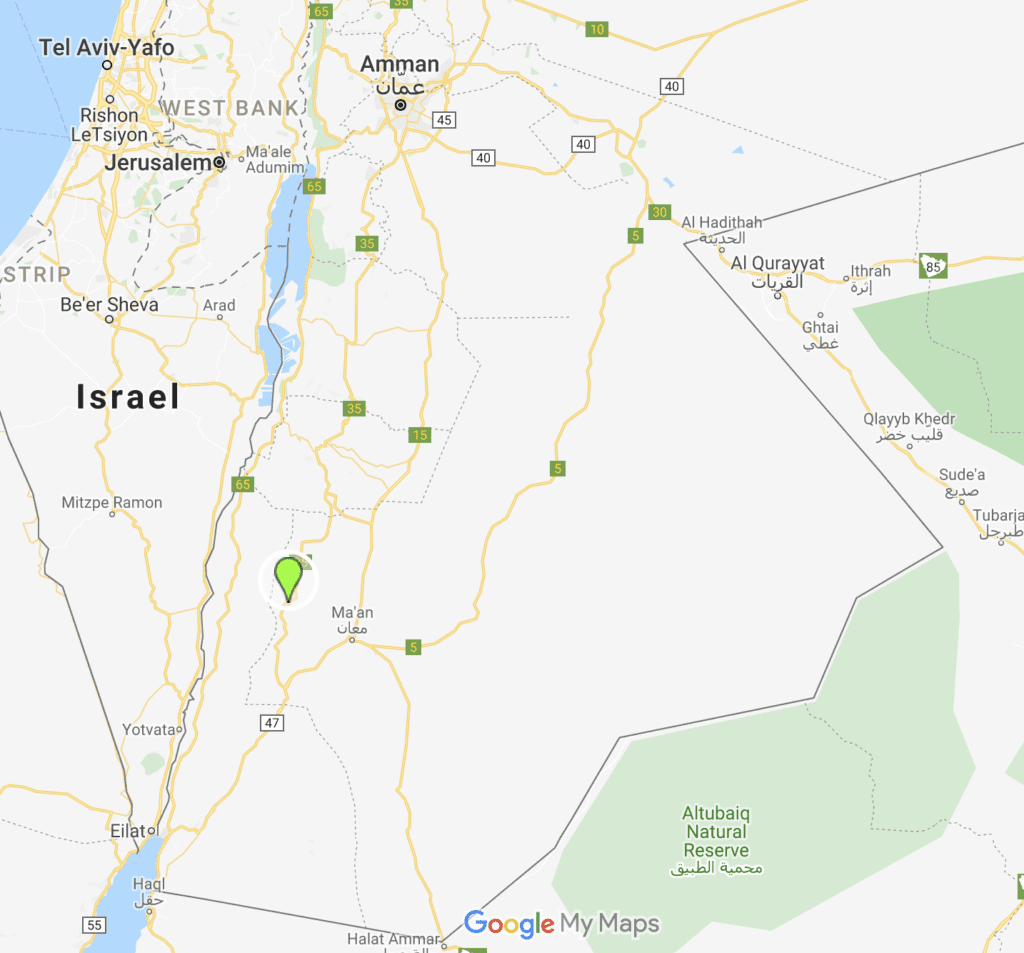 When to Go, Getting There & Tickets
Petra is located about three hours south of Jordan's capital city of Amman and two hours north of Aqaba on the Red Sea. You can visit any time during the year, although winter hours are shorter due to less daylight (but you may find fewer tourists, too!)
To get there, you can either book a tour that will take you there or rent a car. Work at least a full day (but preferably two) into a trip through Jordan. Read our guide for everything you need to know traveling to Jordan.
Thrifty Tip: Petra is huge! You will want a decent amount of time to explore, but many of the tours only allow for a few hours and you won't be able to see it all. So if you do book a tour, double-check how much time you will actually have at the site.
It costs 50 dinar ($70 USD) for a one day ticket, 55 dinar ($77 USD) for a two-day ticket, and 60 dinar ($84 USD) for a three-day ticket. Instead, decide how many days you want to go and get the Jordan Pass ahead of time: It includes your Jordan entry Visa, Petra entrance, as well as entrance to forty other sites.
Getting the Most out of Your Visit
Devote at Least Two Days to Petra
Don't try to squeeze Petra into just one day. It will leave you exhausted from all the walking and you'll have covered just a fraction of the city.
Take your time on the first day, wander,  and really just let it sink in. Then make a plan for the second day so you can get the most out of your time.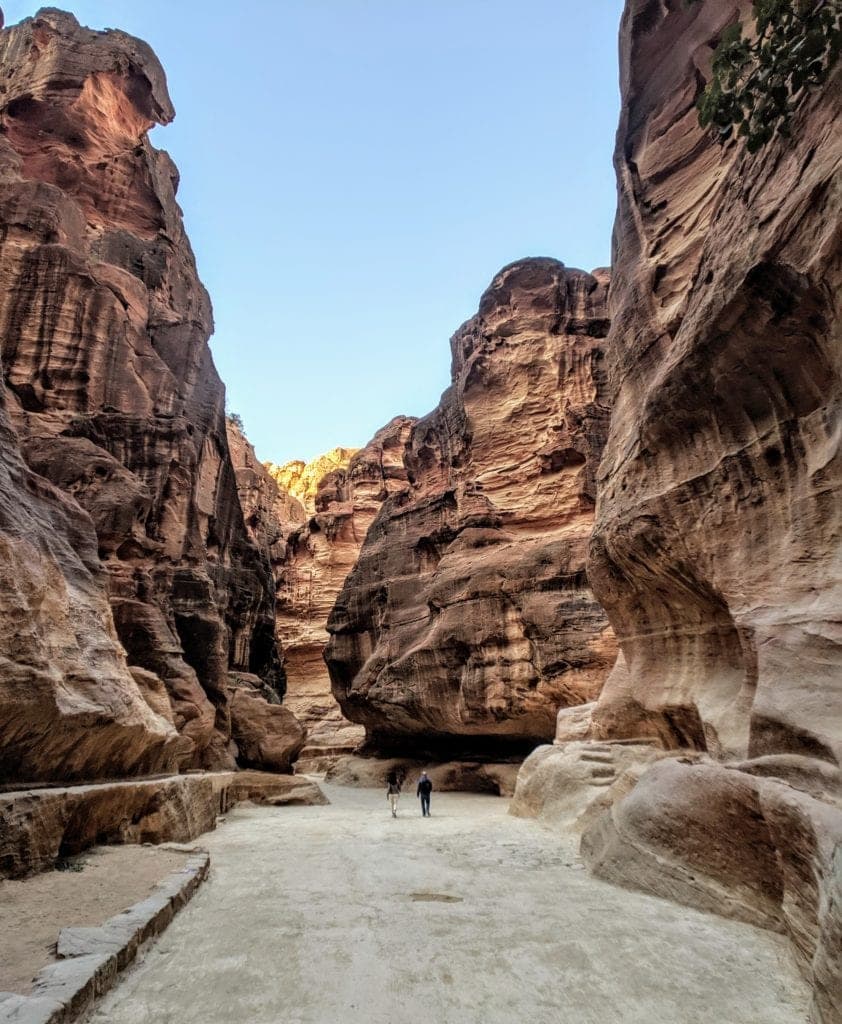 Get there Early
At least one day, get there by 6 a.m. right when it opens! Walking through the Siq (the gorge) towards the Treasury with hardly any other tourists is magical.
Wear Layers and Bring Water
The temperature in the desert can swing pretty drastically throughout the day. Wear layers so you're prepared for the cool morning and midday heat. And bring at least a bottle of water or two. There are a few cafes and shops selling water, but they're far and few between.
Be Prepared to Walk … A Lot
Walking the main route from the entrance to the Monastery can take 2 1/2 to 3 hours. And it's not the easiest stroll.
And the main trail is dotted with plenty of offshoots and hiking paths you won't want to miss. You'll find temples, tombs, churches, caves, and monuments around every corner and up every hill. Really exploring Petra takes a lot of time, and a lot of steps.
You may be offered donkey and camel rides multiple times along the way for an extra fee. Keep in mind the animals don't seem to be treated well.
Even if you don't walk the whole way, comfortable and sturdy shoes are a must. Some of the pathways are groomed but many are not. Plus, there are quite a few uneven roads and old cobblestones to navigate.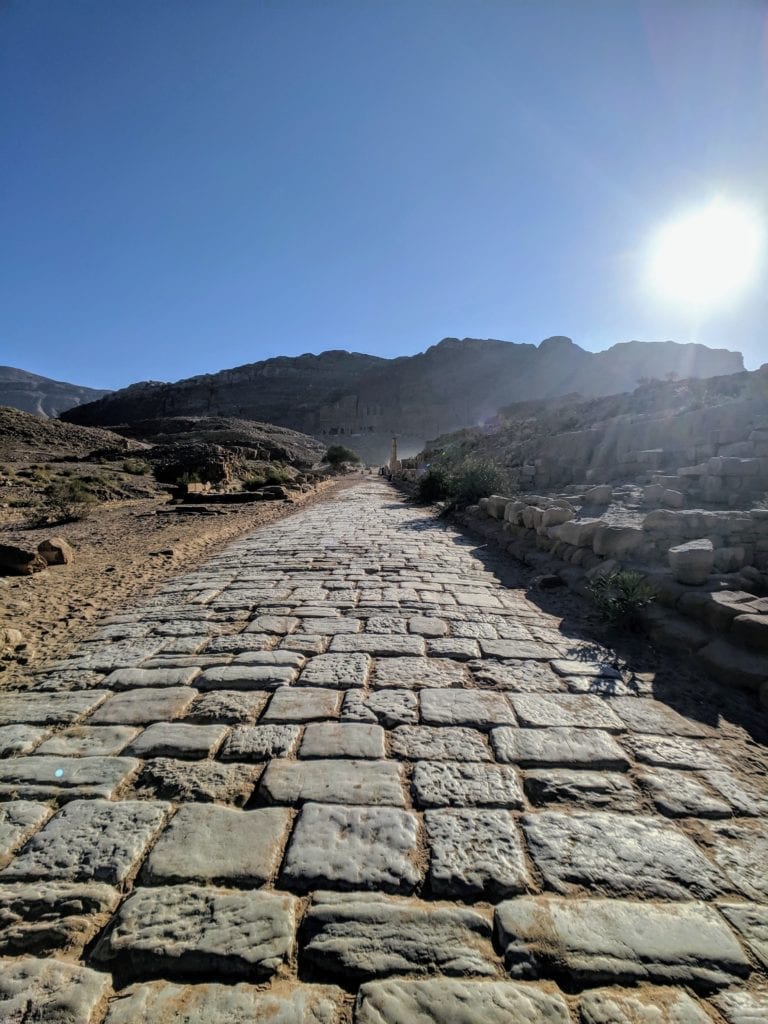 Must-See Sites
It's all incredible, but there are a few must-see sites among the dozens of ruins, caves, temples and more within Petra.
You can't miss the Treasury, as it's the first thing you will see when you walk out from the Siq (the gorge).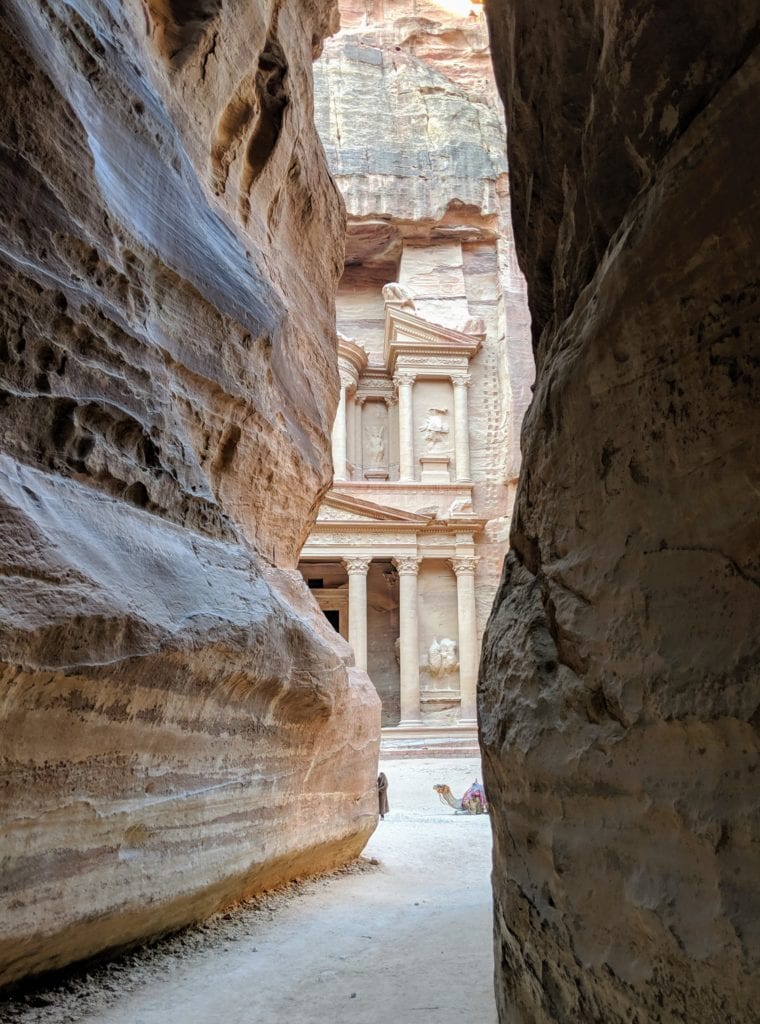 But The Monastery is actually larger than the Treasury. It's well worth the hour-long hike up from the main street (Colonnaded Street).
Thrifty Tip: Stop at the cafe overlooking the Monastery to enjoy some drinks and snacks after your long hike up. Also, take some time to climb up just a little bit more. Follow the signs that say "best view" to get a great view of the valley below and a photo of the Monastery above.
Many of the main sites to see will be along the main trail in between The Treasury and The Monastery. Bring a guidebook with you, like The Rough Guide to Jordan, so you know exactly what you're looking at. You can find guides to walk you through but the going rate is 50 dinar ($70 USD) for a one-hour tour.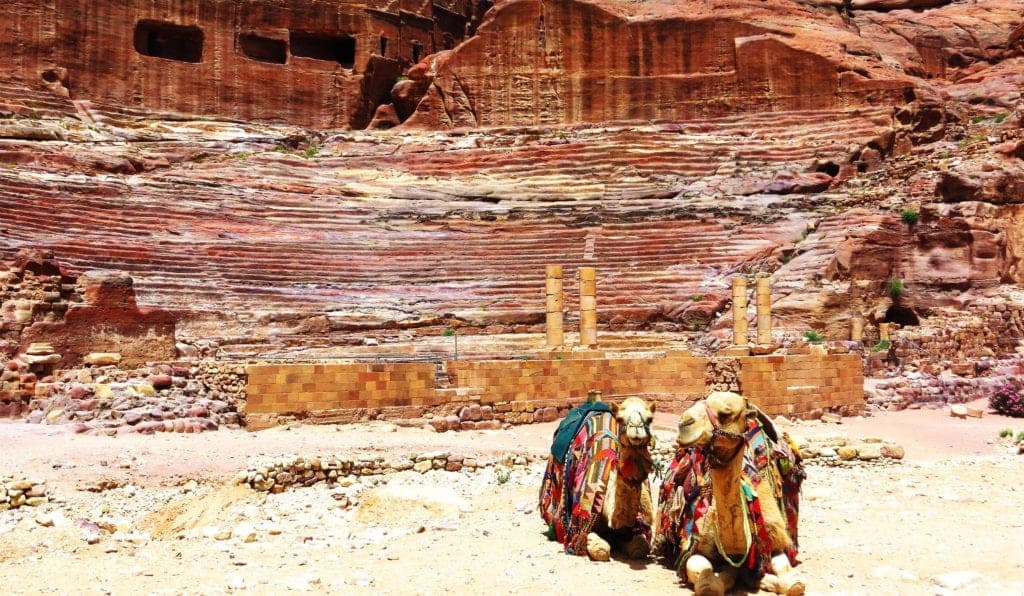 Learn about the Theatre that looks exactly like a roman amphitheater but was in fact built before the Roman times. Make sure to walk up the steps to where the Royal Tombs are and learn all about how the archeologists named them.
There isn't a lot left of the Great Temple due to earthquakes, but notice the pieces of wood between the stones of the walls left standing. The Nabateans used some wood so the walls would be more flexible during an earthquake.
There are a ton of little details like this throughout Petra. Take your time to notice them all.
A Secret Spot for Photos of the Treasury
As you walk toward the Treasury, take a look to your right and then up just across from the magnificent building. You may see a few people climbing up there to get some photos. It's not a park-sanctioned spot, so the trail to get up is a little precarious. If you're afraid of heights I wouldn't recommend it.
Depending on what time of day you're there, there might be a few enterprising locals charging tourists to get to the photo spot. Give them 1 dinar ($1.40 USD) per person and make your way up to soak in the view.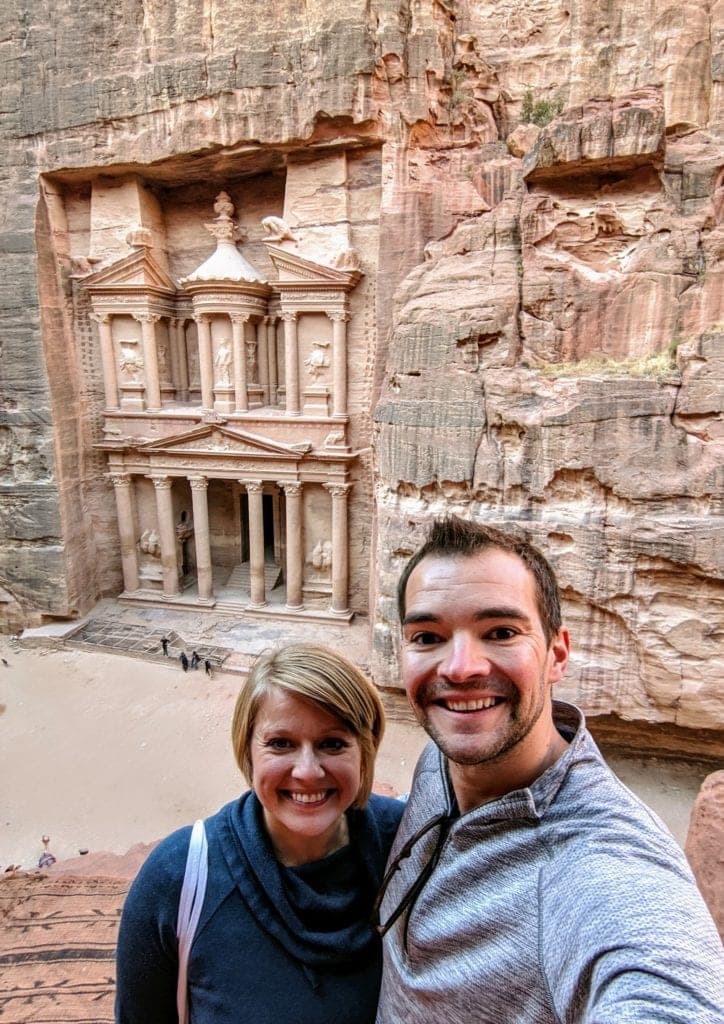 Visit the Museum
You'll find a beautiful and brand new Petra museum right at the entrance. It's the perfect spot to end your visit.
This free museum stays open a few hours later than Petra itself, until 8:30 p.m. during peak season and 7:30 p.m. during the winter season. It's also good to visit after Petra for a little context. The history and artifacts in the museum will make more sense after seeing where they come from.
Thrifty Tip: Before heading to the Museum, stop at the Cave Bar, located to the left as you exit the trail, but before the Museum. Grab a local beer and an array of Arabic mezze, like hummus and tabouleh.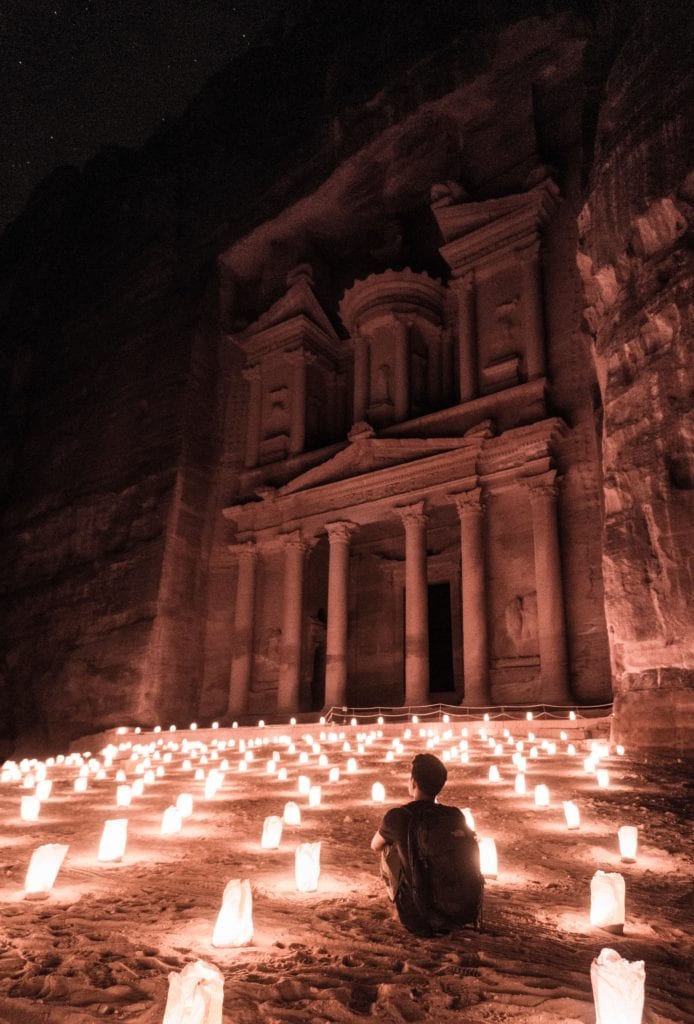 Petra by Night
There is a night tour that runs every Monday, Wednesday, and Thursday night at 8:30 p.m. The Treasury is lit up by over 1500 candles. On a clear night, the stars are supposedly spectacular.
You'll have to pay an extra charge of 17 dinar ($24 USD) even if you have an entrance ticket. Read reviews before you buy tickets to make sure it will be worth it for you.
Bottom Line
Petra is everything you've hoped for and seen in photos – and even more. No words or photos can capture its magic or mystery.
Add it to your bucket list. And while you're at it, visit the other places that make Jordan amazing.
Want the best flight deals and travel tips delivered to your inbox?
Sign up for Thrifty Traveler, and like us on Facebook or follow us on Twitter & Instagram

Editorial Note: Any opinions, analyses, reviews, or recommendations expressed in this article are those of the author's alone, and have not been reviewed, approved, or otherwise endorsed by any card issuer.