There's almost too much to love about Greece. Where else in the world can you find ancient ruins, amazing food, dreamy islands, and some of the most scenic beaches in the world in one place?
Add in cheap flights to get there and no more entry restrictions to get into the country, Greece has earned its spot on your wish list as the world reopens to travel. At least it did for me.
I had been to Greece just once before the pandemic – spoiler alert, I loved it – so I was thrilled to return last month to see what has changed as the country welcomes back tourists without the COVID-19 restrictions that have kept many travelers closer to home. And I'm happy to report that the architecture, rugged landscapes, and old-world feel were as charming as ever.
If that's not enough to put Greece on your radar, there's this: We're seeing plenty of cheap flights to Greece popping up for a trip later this year or next. We're talking flights as low as $503 roundtrip in recent months – and even the chance to use your points and miles to fly roundtrip to Greece for 45,000 miles in economy or 90,000 miles in business class. Plus, once you're there, Greece can be one of the most affordable places in Europe.
Here's what to expect for a trip to Greece – and how you can get there for less.

Greece Travel Restrictions
Greece was among the first European countries to re-open to American travelers back in the spring of 2021. But for more than a year, the Greek government required either proof of vaccination, a recent negative test, or proof of recovery from COVID-19.
As of May 1, Greece removed all entry restrictions for COVID-19. That means visiting Greece is much like it was back in 2019. When traveling from the U.S., Americans simply need to flash their passport at immigration.
As luck would have it, my trip to Greece fell just a week after travel restrictions dropped, flying straight from Dublin (DUB) to Chania (CHQ) on the Greek island of Crete. Since I was traveling from a non-Schengen country (Ireland) to a Schengen Area country (Greece), all passengers on my Ryanair flight had to pass through immigration control. Although the line was long, it went pretty quickly.

Are Masks Required in Greece?
At the time, both Ryanair and Greece had required masks to be worn while flying but both of these requirements have since been lifted. Along with EASA and ECDC guidelines, Greece has lifted all mask mandates within the country as of June 1, according to a report by Reuters. This means it's no longer required to wear a mask when visiting Greece.
No More Testing Required to Return to U.S., Either
Another hurdle to international travel has fallen recently, and that's a win for a stress-free trip to Greece.
On June 12, the U.S. dropped its return testing rules for international travel. That means Americans no longer need to track down a COVID-19 test the day before flying home – or worry about getting stuck in Greece for days if they test positive. However, foreign tourists will still need to provide proof of vaccination.
The end of the international testing rules makes it much easier to travel abroad and should mean a quicker check-in experience at the airport for your return flight. It's a win for travelers and sure makes for an exciting time to get back to the old world.
So, what's it like in Greece right now? One word: Amazing!
What It's Like and What to Do in Greece in 2022
From ancient history to booze cruises and gorgeous beaches, Greece has something for just about any type of traveler.
This Mediterranean nation has been welcoming tourists throughout the pandemic with certain restrictions, but now that all restrictions have been lifted, life in Greece feels very similar to what it was like pre-pandemic.
Greece is Cheap
There is one big difference in 2022: The exchange rate.
The U.S. dollar is nearly on par with the euro, which makes Greece even cheaper than before. This chart from Xe.com shows how the USD has compared to the EUR over the past five years. You can see it's the best it has ever been in recent memory. That's a win for making your dollar go further.


Since many hotels and tourist-dependent locations are eager to welcome back visitors, you can easily make an affordable trip to Greece happen. I shared a very luxurious Airbnb with friends for a weekend and then got my own private studio Airbnb in the center of the old town in Chania. In total, I paid around $55 per night for my accommodation in Greece.

Booking an Airbnb? Read our guide on the best credit cards to use for Airbnb stays!
The budget-friendly prices don't end with accommodation. You can often grab an inexpensive meal for around 10 euro (under $11) per person and the 20 min. taxi ride we took into town usually cost around 15-18 euro ($16-$19). That's pretty cheap compared to what you might pay for a cab or Uber in New York City.
All-day tours to some remote beaches on the island of Crete start from around $30 per person and you shouldn't have any trouble finding a pint of beer or a glass of wine for around 4 euro.
So, what is there to do in Greece? Plenty.
Explore the Ruins
Although I didn't stop in Athens on this trip, most routes to Greece go through its capital city. And that's not a bad thing.
Athens is full of history and some of the most famous sites in the world. The Odeon of Herodes Atticus theater on the southwest slope of the Acropolis is one of my favorites. It was built in AD 161 and renovated in 1950.

If you want to unleash your inner athlete, go for a run at Panathenaic Stadium, which was home to the original Olympic games back in 1896.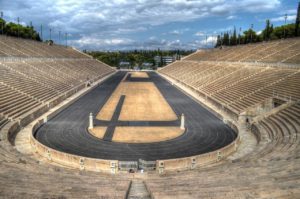 Read more: All the Top Things to Do in Athens

Go For a Boat Ride
The Greek Islands are some of the best places to visit in Greece. What better way to cruise around the islands than going on a boat ride?
On the island of Crete, you can easily get to some of the coolest beaches by boat, such as Elafonisi Beach, known for its pink sand, or, Balos Beach, which is a little closer to the town of Chania.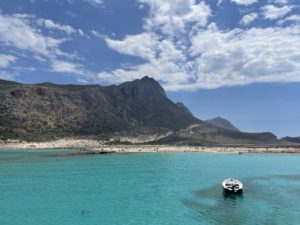 Thrifty Tip: Some boat tours in Greece are BYOB so you can bring along your beverage of choice on the cheap. Make sure to double-check with your boat tour company to know its policy.
Party at a Beach Club
Whether you're living it up in Mykonos or exploring Greece's largest island, Crete, the beach club party scene is a big part of modern Greek culture.
While it may be primarily tourists, there's no denying the lively ambiance of a beach club in Greece. With beds, jacuzzis, pools, and entertainment right on the beach, it's a great way to celebrate a birthday or special event. Plus, you can get a cheap massage while enjoying the ocean breeze.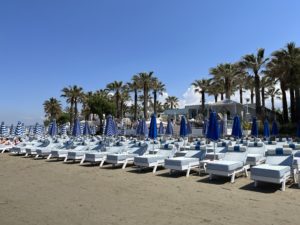 Roam the Streets of Old Town
Nearly every city in Greece will have some sort of old town. And in my mind, one of the best aspects of a visit to Greece is seeing how the country continues to utilize ancient structures in modern-day life.
I'd highly recommend taking a walkabout around the old town wherever you go in Greece. You'll see some incredible architecture like this cool building I came across in Chania.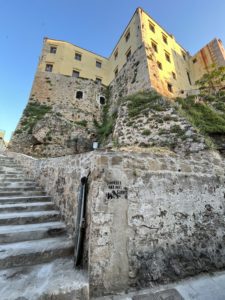 Hike to a Remote Beach
There are many remote beaches to explore on Greece's 200-plus islands.
On Crete, you can make a full day of it and hike the Samaria Gorge to Marmara Beach. If you don't have all day, another great beach to visit is Seitan Limani. It's one of the most beautiful beaches I've seen in the world and definitely worth renting a car to drive out there and then hike down to this remote beach.

It's a popular spot for tourists so you won't be alone, but you'll be able to take a refreshing swim in the turquoise waters of the Sea of Crete after your hike. Due to the high salinity, it's extremely easy to float.

Eat All the Food
Of course, a trip to Greece is not complete without stuffing yourself with delicious Greek cuisine.
From moussaka to souvlaki, tzatziki dip, and endless amounts of seafood, you won't go hungry in Greece. In Chania, you'll find plenty of restaurants along the Venetian harbor. It's a great place to enjoy an evening meal.

Want to learn more about the Greek Islands? Read Thrifty Traveler's complete guides to Crete and Paros.
Finding Cheap Flights to Greece
For all these reasons you've read about and 1,000 more, Greece is extremely popular. Yet despite its reputation and location, getting there doesn't have to be expensive.
Look at this.

We sent our Thrifty Traveler Premium subscribers this flight deal to Athens, Greece (ATH) earlier this month. It included a handful of U.S. departure cities, with the cheapest roundtrip fare coming from New York City (JFK) in early fall.

But that's just one of many examples we've seen lately, proving that cheap flights to Greece are in reach. And as you can see, New Yorkers aren't the only ones getting in on the fun this year or next.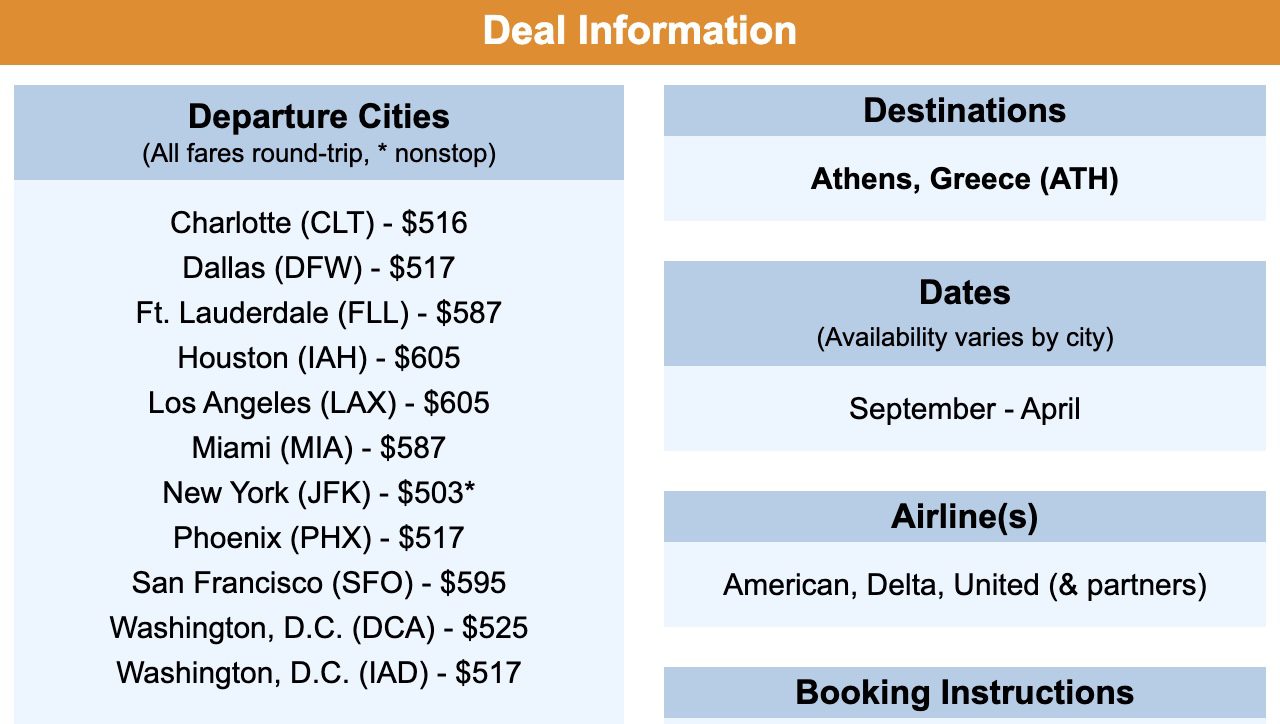 That list features coast-to-coast flight deals on all three major U.S. airlines, meaning flyers have tons of options to get to Greece for less this year. This fare from Charlotte (CLT) is another great one. For just $516, and one quick stop in Philadelphia (PHL), you have the hardest part of your trip planning done.

One of the advantages of flying to Greece is the country's popularity. That means multiple airlines fly into Athens, including Turkish Airlines. In fact, just a few weeks ago, Turkish fares to Athens got so low we just had to send them to Premium members that morning.

This deal included most of the U.S.'s Turkish Airlines gateways, including Washington, D.C. (IAD). And it could even be a two-for-one-deal – you could tack on a visit to Istanbul with Turkish's stopover program before continuing on to Greece.

Have Capital One miles or Citi points? Find out how you can use those points with Turkish Airlines Miles & Smiles to fly Turkish Airlines business class for less!
Most flights to Greece head straight into Athens, but can you find a good flight deal to the islands? Of course, why else would I bring it up?
If you've heard of the Greek Islands, you've probably heard of Mykonos and Santorini. But you've probably never seen prices this low.


Read next: Our Guide to Island-Hopping in Greece
This one-stop fare from New York City (JFK) to Mykonos (JMK) is a crazy good value. Just one stop in London (LHR) and you're flying straight to the islands to start your trip. But once again, New Yorkers aren't the only ones who can get to the Greek Islands for cheap.

These five different Greek Islands were all included in this fantastic flight deal that included some record low fares from places like Phoenix (PHX) this year. This flight to Chania was less than $529 roundtrip!

Want to use points and miles and fly in style to Greece? This award fare alert we sent to Thrifty Traveler Premium members unlocked one of the most comfortable ways to get to Greece: Emirates Business Class … and at just 90,000 miles roundtrip!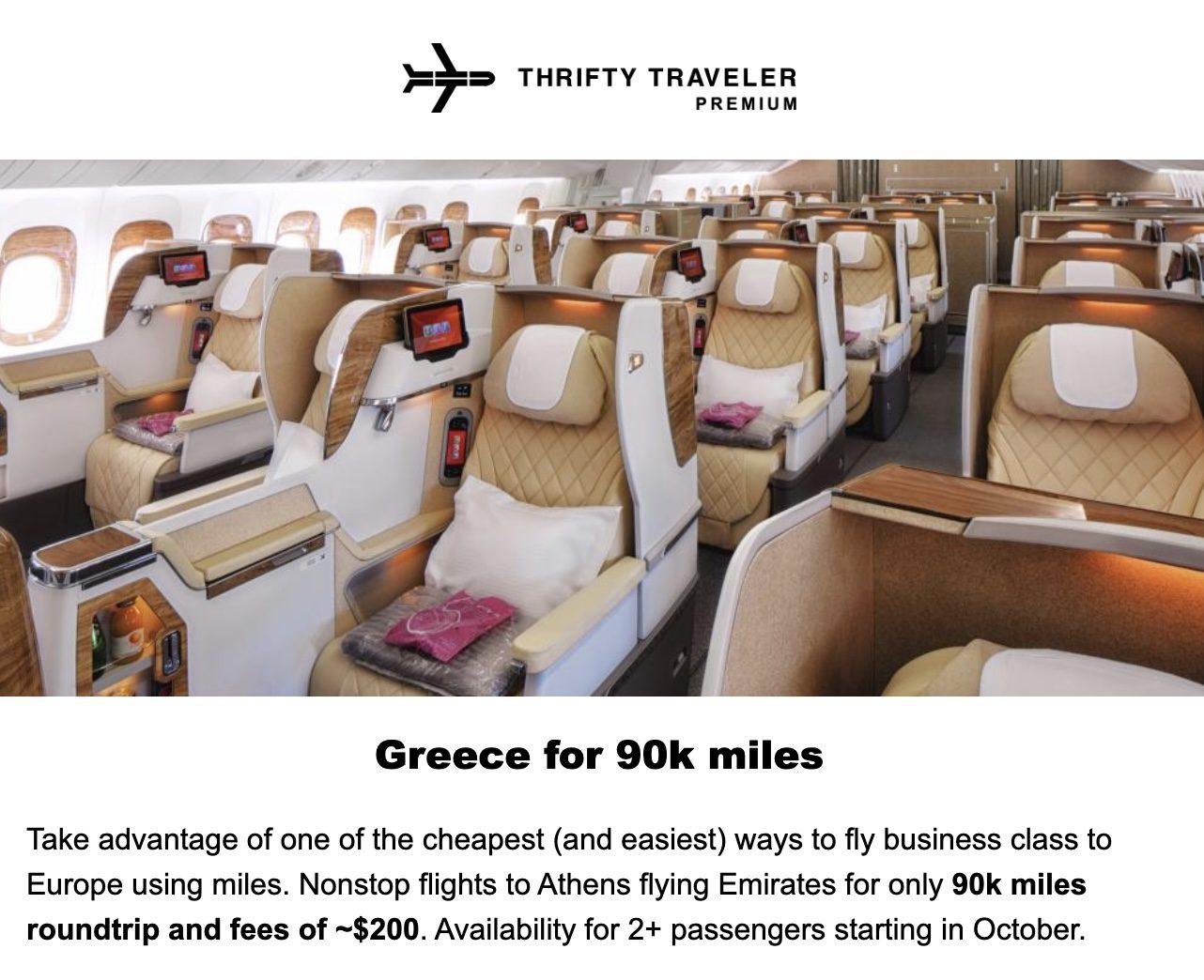 We unearthed a bunch of availability on 90,000-mile roundtrip fares to Athens from Newark (EWR), flying nonstop! Emirates generally flies its older Boeing 777 with angle-flat business class seats on this route, but it's still a positively dreamy way to fly to your Greek getaway if you are looking to ride in style.
Whether you're looking at a $300-something fare to plan a budget trip to Greece, a $500-something flight straight to the Greek Islands, or a honeymoon-like glamorous trip to Athens on Emirates, we've sent Thrifty Traveler Premium members just about every option there is.
FAQs About Traveling to Greece
What time of year should I travel to Greece?
The most popular time to visit Greece is during the summer months of June through August.
That's when the weather is warmest … but also when the tourist numbers are the greatest. If you want to avoid some of the crowds, try visiting in April, May, September, or October when flights will be cheaper and the weather is still warm.
If you decide to go between November and March, it may not be perfect beach weather. But you'll likely find some of the best deals … and temperatures rarely fall below 50 Fahrenheit.
What should I pack for Greece?
Don't forget to pack your swimsuit.
Hanging out at the beach is a big draw on the Greek Islands. You may also want to pack a hat to keep the sun out of your face and your hair from blowing all over the place on your boat cruise.
Naturally, lightweight, breathable clothing works best in Greece. It rarely gets cold by North American standards, but a pullover or long-sleeved shirt can help during some cooler evening ocean breezes.
Is Greece Expensive?
Greece is one of the cheapest places to visit in Europe.
Of course, depending on what you do and where you go, it can be expensive (especially on the major islands like Santorini or Mykonos). But if you have a budget in mind, it's very easy to take an affordable trip to Greece.
Numbeo, an excellent crowd-sourced tool collecting data on the cost of living around the world, states that a one-way ticket on local transport is around 1.20 euro ($1.26), a beer is 4 euro ($4.22), and a three-course meal for two people at a mid-range restaurant is around 40 euro ($42.26).
I found these numbers to be pretty accurate during my recent trip to Greece.
Bottom Line
Greece is ready for you.
It's one of the most affordable European destinations, where you can indulge in luxury or enjoy the simpler things without breaking the bank. With a strong U.S. dollar and cheap flight deals to get there, it's time to put Greece at the top of your list.
Thrifty Traveler reporter and flight deal analyst Gunnar Olson contributed to this story.