If you've been searching for the perfect Greek island with that classic whitewashed Cycladic architecture, secluded sandy beaches, and fresh seafood for days, you're looking for Paros. 
And there's a bonus: It's half the price of Santorini, with a fraction of the tourists you'll find on other popular Greek islands. So if you want the feeling like you're the only person soaking up the sun on the beach, you may find it in Paros.
Here's everything you need to know about this hidden gem in the Aegean Sea. 
How to Get to Paros
Paros is nestled in the South Aegean about 65 miles north of Santorini and 110 miles southeast of Piraeus, the port of Athens. You can get there either by ferry or flight.
A ferry from Piraeus will take about 5 1/2 hours and is not always the cheapest or fastest option. Direct flights operate a few times daily from Athens on Olympic Air. The flight takes around 40 minutes and can sometimes be less than $30 one way (with baggage).
We arrived after a three-day stay in Santorini and took a 2 1/2-hour ferry between the islands for about $25 per person. At the end of our stay in Paros, flying back to Athens ran us $35 a person with baggage for a one way flight on Olympic Air. The Paros airport is definitely the smallest I have been to but it got the job done! Just don't expect to arrive too early for your flight or you'll be waiting outside while they board other flights through the airport's only gate.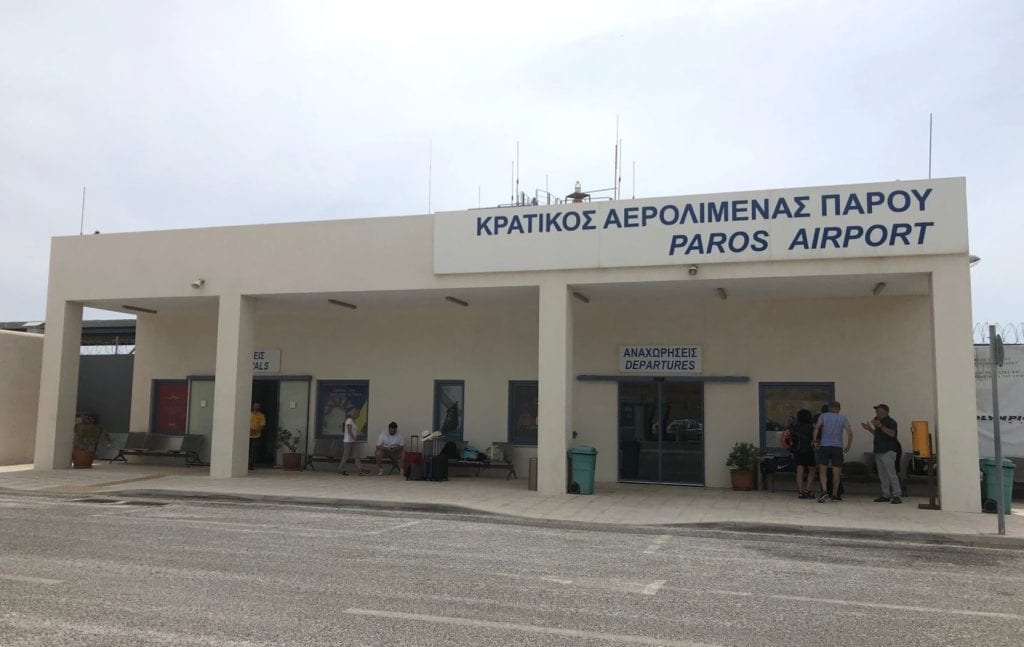 Thrifty Tip: Pre-book your ferry tickets with Direct Ferries to compare ferry operators, routes, and ferry times.
Where to Stay in Paros
There are two main towns on the island, Parikia and Naoussa. Parikia is the main port town with plenty of restaurants and things to do. Naoussa is located on the northern point of the island and boasts a marina, lots of fresh seafood, and a quieter vibe. We stayed in Parikia and discovered it was a very walkable town with excellent food along the seafront.
Overall, hotel options are limited so Airbnb is more than likely the best option. Accommodations are affordable but expect to pay a bit more if you choose to stay in Naoussa.
Read our guide to make sure you choose the best Airbnb no matter where you're going.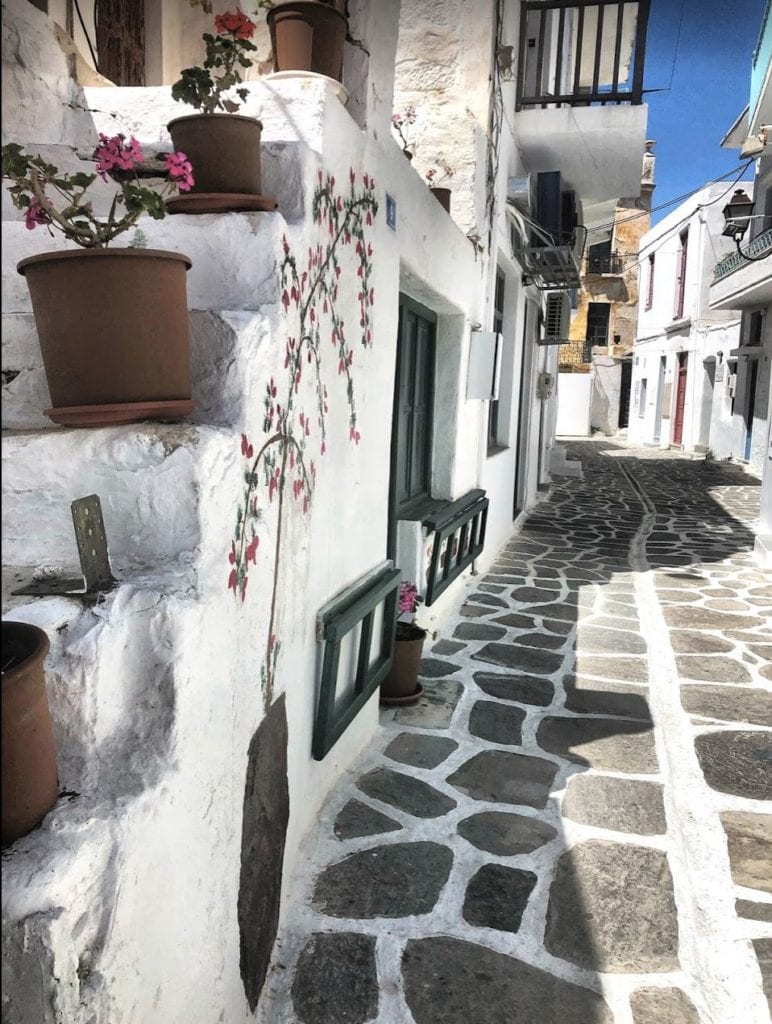 This one bedroom studio in Parikia ran $84 a night, and it was pretty typical for many of the listings at that price. It had a GIANT rooftop facing the sea and is located on a quiet whitewashed pedestrian street. 
Thrifty Tip: New To Airbnb? Sign up using our link and you will receive $40 towards your first stay (we will get $20 as well).
Rent a Car in Paros and Explore!
In order to see all this gorgeous island has to offer, you'll need to rent a car. Paros is a small island and a day with a vehicle is all you'll need to see most of the island. The roads are small and only partially paved, which makes for a dusty adventure!
Catch breakfast along the marina in Naoussa before continuing on to secluded Waves Beach near Santa Maria. Santa Maria has a number of other beaches to visit. You can also drive out onto a peninsula that offers incredible views of the sea and the neighboring island Naxos.
From there, head up the hillside to the picturesque village of Lefkes. Spend some time wandering the winding streets and exploring the local shops. Lefkes offers a cozy, local feel, and we only saw a few other travelers while we were there. Most of the patrons at the restaurants and cafes were locals.
End the day by driving along the southern coast of the island and making your way back toward Parikia. If you have extra time, Agia Irini is a perfect small beach to stop for a while and enjoy the sun. There are a few taverns along the beachfront as well as a church nearby.
Thrifty Tip: Wait to rent a vehicle until you arrive on the island. Negotiate with a local rental shop on the price versus what you can find online.
What to Do on Paros
Renting a car will fill up one day of your itinerary, but there is plenty more to see and do on Paros. 
Neighboring Antiparos is even more secluded and has many beaches great for snorkeling. A visit to the island makes a great day trip as it's located very close to Paros. The ferry to Antiparos leaves from the main port in Parikia and takes about 20 minutes.
Paros is also located just five miles from Naxos, another Cycladic island. Consider making a day trip to Naxos or if you have more time in your itinerary, splitting some nights between Paros and Naxos.
The Paros Archaeological Museum in Parikia allows you to get up close and personal with excavated ruins dating back to 400 BC. The entrance fee for the museum is just 2 euro per person, and it's outstanding – so great that we skipped the busier (and more expansive) Acropolis Museum a few days later in Athens. 
Wine buffs should pay a visit to Moraitis Winery near Naoussa. The facility is beautiful and offers tastings as well as wine for sale. 
Where to Eat in Paros
No matter where you choose to eat while visiting Paros, the food will be fresh and delicious.
For traditional Greek cuisine with a sea view in Parikia, Taverna Mira is a solid choice. The restaurant is locally owned and the owners are happy to mingle with patrons and share their story. We came for a great meal and left with some olive oil produced and bottled by the owner's extended family to take home with us.
Need a great spot for lunch? Head to DIONYSOS Garden Restaurant,  just off a pedestrian street under a large shade tree for an amazing Greek salad. Brizoladiko Steak House offered outstanding gyros along the seaside.
Last but not least, Vanilla boasted the best gelato I've had—possibly ever. It was so good, I had it every night.
Bottom Line
The island of Paros is an excellent option for anyone looking to get away from the crowds and enjoy island life affordably. With its pristine waters, secluded beaches, and towns laced with winding whitewashed streets, Paros might be the best of the many Greek islands.