Imagine a natural wonderland full of sheer cliffs, ancient castles, friendly locals, and beautiful waterfalls.
It's the Isle of Skye.
A gem and a must-visit in northern Scotland, visiting this island needs to be on your list. Make it there, and you'll feel like you've been transported right into a scene out of Lord of the Rings.
Getting to the Island of Skye
The Isle of Skye is the largest island of the Inner Hebrides in the Scottish Highlands. It is located about 2 1/2 hours west of Inverness, or five hours northwest of Edinburgh. You'll definitely need a vehicle so plan to arrange a car from one of these towns in advance.
Plan to spend two to three full days here. Two days will allow for plenty of sightseeing in various areas of the island. If you are a big hiker or really want to dig in, three days may be best.
Head for Portree to set up your home base. With a population of around 4,500, it's the largest town on the Isle of Skye, home to the most lodging and dining options and is also fairly centrally located. This makes getting around from day to day easier than other remote areas of the island.
Day One: The Trotternish Loop
The most popular loop on the island with the highest concentration of landmarks is the Trotternish Loop. If you only have one day, this is definitely how you should spend it. The loop is just over 50 miles round trip from Portree and can be driven either clockwise or counterclockwise.
Without stopping, it's almost two hours of driving so the loop easily occupies a full day. It's a good idea to get started by 8 a.m. and be sure to pack a lunch – there are very limited options on the loop.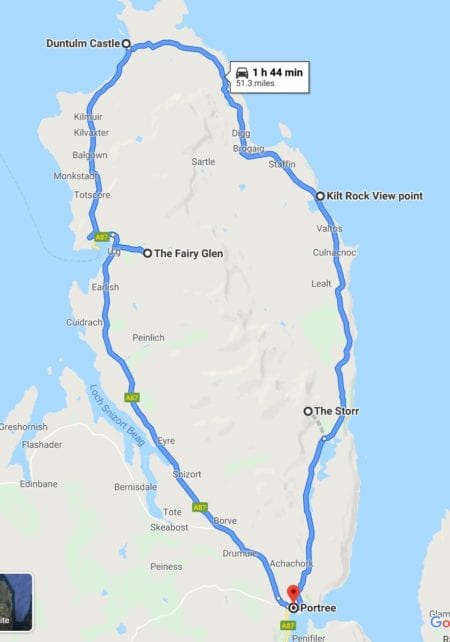 And here's what you'll find on the Trotternish Loop.
Old Man of Storr
This landmark comprised of ancient rock formations is the most popular on the island, located just 6.8 miles outside of Portree. Old Man of Storr can only be seen by hiking nearly 2 1/2 miles round trip.
Start at the car park and enjoy a moderate hike uphill on a well-marked path. If you want to beat the crowds, consider making this your first stop of the day – by mid-morning you'll be joined by plenty of other hikers. Plan for 1 1/2 to 2 hours here, as the hike takes around an hour and 15 minutes with no stops.
Kilt Rock
This will likely be the quickest stop of the day.
Kilt Rock is a sheer cliff composed of basalt columns and looks exactly like a pleated kilt (hence the name). Mealt Falls spills over the cliff into the water below, making it truly a sight to behold.
A car park is located very near the observation area, making it just a quick five-minute walk to the rock. The area is gated off so there's not much hiking around here either. I spent about 15 minutes looking around and taking pictures before continuing on around the loop.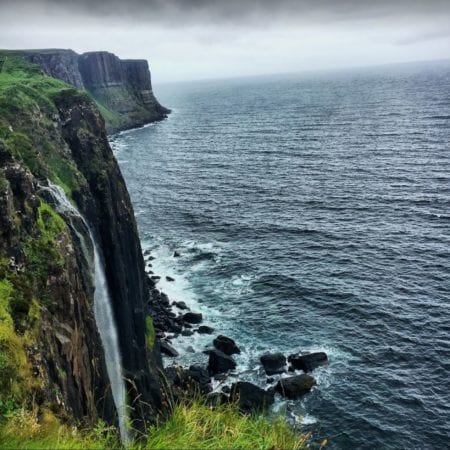 Duntulm Castle
This set of castle ruins was abandoned in 1732 and is a nice place to stop and look around. There isn't much to see as far as the castle itself, but the area has tons of open space and incredible views of the coastline.
As a bonus, there's weren't many people around. So if the weather is nice, consider making this your stop for an afternoon picnic.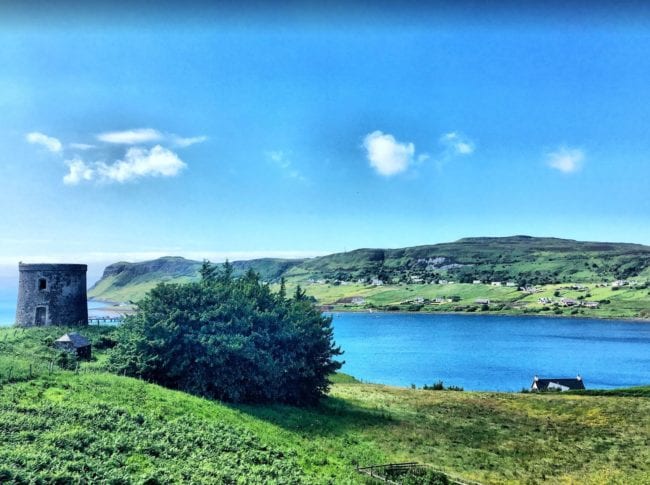 Fairy Glen
Fairy Glen is located a little off the beaten track outside the small village of Uig.
There is a small car park partway down the road leading to the Glen, but the landmark is still about a 15-minute walk from the parking area.
The rock formation itself is somewhat of an optical illusion, as the backside is more gently sloping with a short steep climb to reach the top. These lush hills and towering rock formations will make you feel like you've been transported right into another world.
Plan for about an hour between the walk to and from the car and the time you'll spend looking around. When you're finished, head back to Portree for dinner and to get some sleep!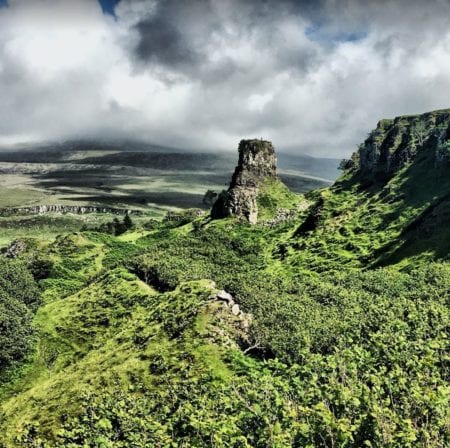 Day Two: Sightseeing & Fairy Pools
Your second day on the Isle of Skye will be a little more laidback, with less hiking and a similar amount of driving. The day begins and ends in Portree and includes a stop for lunch (and a tour of a whiskey distillery!) so no need to pack anything today.
Dunvegan Castle
Get on the road by 9:30 a.m. to start your morning with a visit to Dunvegan Castle & Gardens.
This well-preserved castle and its grounds are part of the 42,000 acre MacLeod Estate. The entrance fee is 14£ ($17 USD) per person, which will get you into both the gardens and the castle. Expect to spend a couple of hours here which will take you right to lunchtime.
If you have more time or want to head out on the water, loch cruises, fishing trips, and seal sightseeing can be arranged from the castle as well.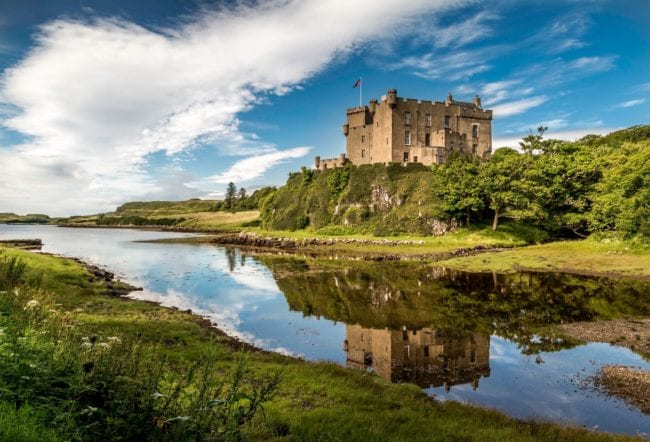 Carbost
From Dunvegan Castle, head to the small town of Carbost. There are a couple of options for food in town, the most popular being The Old Inn pub. Catch a bite to eat before heading over to Talisker Distillery. It's the oldest distillery on the island and tours range from 45 minutes to two hours depending on the experience you choose. Read up on the distillery to learn more.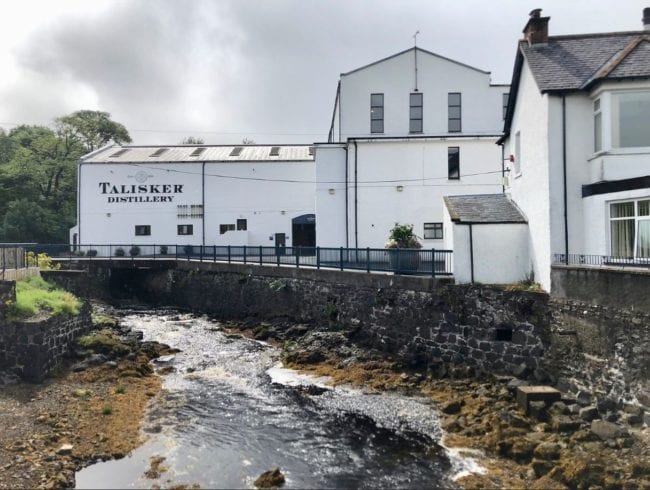 Fairy Pools
End your day at the famous Fairy Pools before heading back to Portree to wind down for the evening.
This site is best seen in the afternoon. In the chance it's sunny out – never a sure thing in Scotland – the afternoon sun will hit the crystal clear water just right and make for an unforgettable experience.
The Fairy Pools are a spring-fed waterfall wonder. You can see the first of them after just a five-minute walk from the car park area, but if you want you can hike up the hillside another 30-45 minutes to get some of the best views. This is also a popular natural swimming area, but you may want to consider bringing a wet suit due to the frigid water temperatures.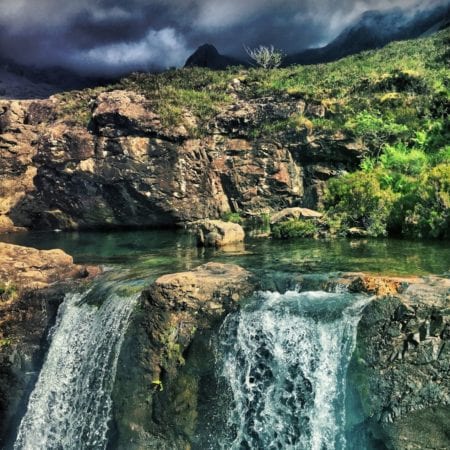 Bottom Line
The Isle of Skye is a beautiful island full of natural wonders and amazing hikes. This remote island also has its share of whiskey, quaint villages, and all things Scottish. With everything Skye has to offer, it's a must-do for two to three days of your Scotland itinerary.