Before Spirit Airlines gave budget airlines a bad name, there was Ryanair in Europe.
Ryanair is the quintessential budget airline, best known for the dirt cheap fares that can get you across Europe for just 10 or 20 euros. But much like Spirit and Frontier in the U.S., it strikes fear into the heart of many travelers.
So what's it really like, and is it worth that cheap fare to fly Ryanair? I found out on a recent flight from Barcelona (BCN) to Marrakech, Morocco (RAK)
Booking a Ryanair Fare
From the time you buy your ticket until you get on the plane, there are some important quirks to keep in mind with Ryanair.
Like most bare-bones budget airlines, you'll only get a personal item for free with your ticket. Until recently, all passengers were allowed a standard carry-on bag for free, as well.
But starting in 2018, Ryanair began selling those bags as a separate add-on fee. So if you're skipping the big checked bags and traveling with only a carry on, you'll need to resist Ryanair's constant effort to get you to upgrade your fare.
Eventually, Ryanair will give you a chance at going for Priority Boarding – a separate line for boarding that also gets you a carry-on. Depending on where you're traveling, it will normally cost between $10 and $12 USD.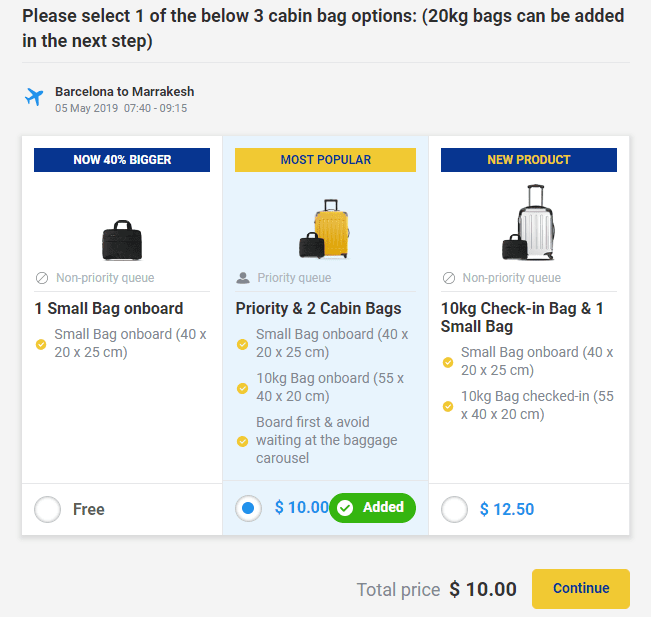 And Ryanair will also tempt you with paying for a seat assignment, starting at $5 each for the most basic seat. Otherwise, you can try the seat roulette and see where you wind up.
Check-In and Boarding
If there's one thing you take away about flying Ryanair, let it be this: You have to check in online.
If you wait until you get to the counter at the airport to check in, Ryanair will slap you with a whopping $73 USD airport check-in fee. It's undoubtedly the worst among Ryanair's seemingly endless set of fees.
Use the Ryanair app or go to Ryanair.com, but whatever you do, don't forget to check in online.
If you've paid for a seat assignment in advance, you can check-in online up to 60 days in advance. Otherwise, that check-in window opens 48 hours prior to departure. Online check-in closes 2 hours before departure. 
One warning about boarding passes: While Ryanair has a mobile app complete with mobile boarding passes, they don't work for U.S. citizens – or anyone from outside the United Kingdom or European Union. Several airports Ryanair flies to also don't accept mobile boarding passes.
So odds are, you'll need to print out your boarding pass and bring it with for your Ryanair flight. 
Come boarding time, there are just two lines: Priority, and non-priority. This is where Ryanair gate agents make sure you're not sneaking on carry-on baggage that you're not allowed to have.
Seats on Ryanair
Now it's time for the main event.
Unless you sprang for a Premium seat up front or an exit row, you know what you're getting with Ryanair. The airline has a fleet of more than 500 Boeing 737 planes, and the seating is more or less the same on all of them. Some have newer interiors like this one, while others are a tad older. But it's all basically the same.
Each seat has 30 inches of legroom and measures just 17 inches across. There's no denying this is a tight squeeze. That's a few inches more legroom than what's available on Spirit Airlines, but the seats are more narrow. Win some, lose some.
That doesn't leave much room to stretch out. But it's not as bad as it sounds, thanks in large part to how slim these seats are. The seats themselves take up so little room.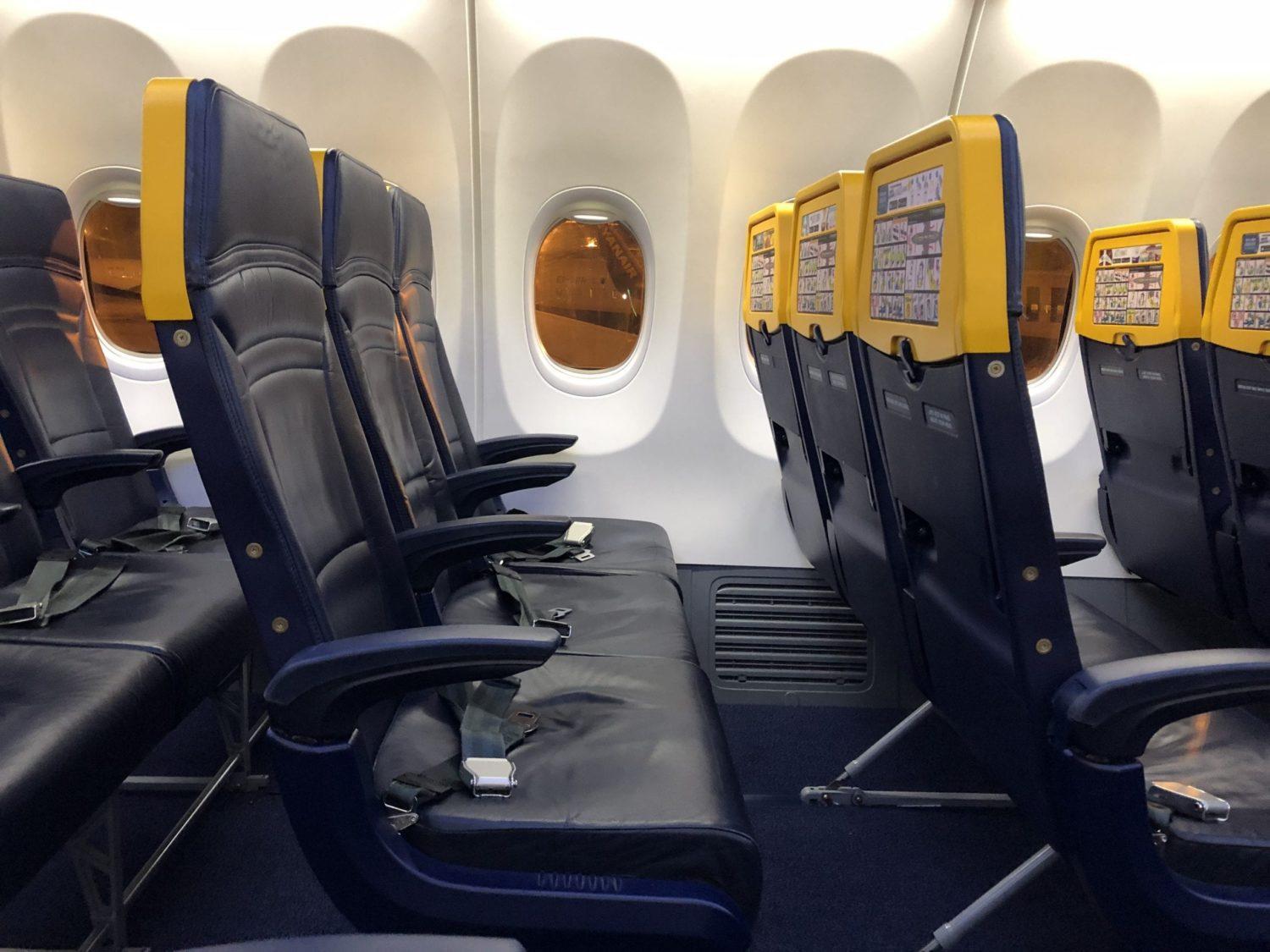 But that also comes with a downside. Namely, these seats have very little padding. Scope out the headrests, and you'll notice there basically is none. These seats are stiff. Your back and butt will not have much support, as the padding in these seats is borderline nonexistent. And your seat will not recline.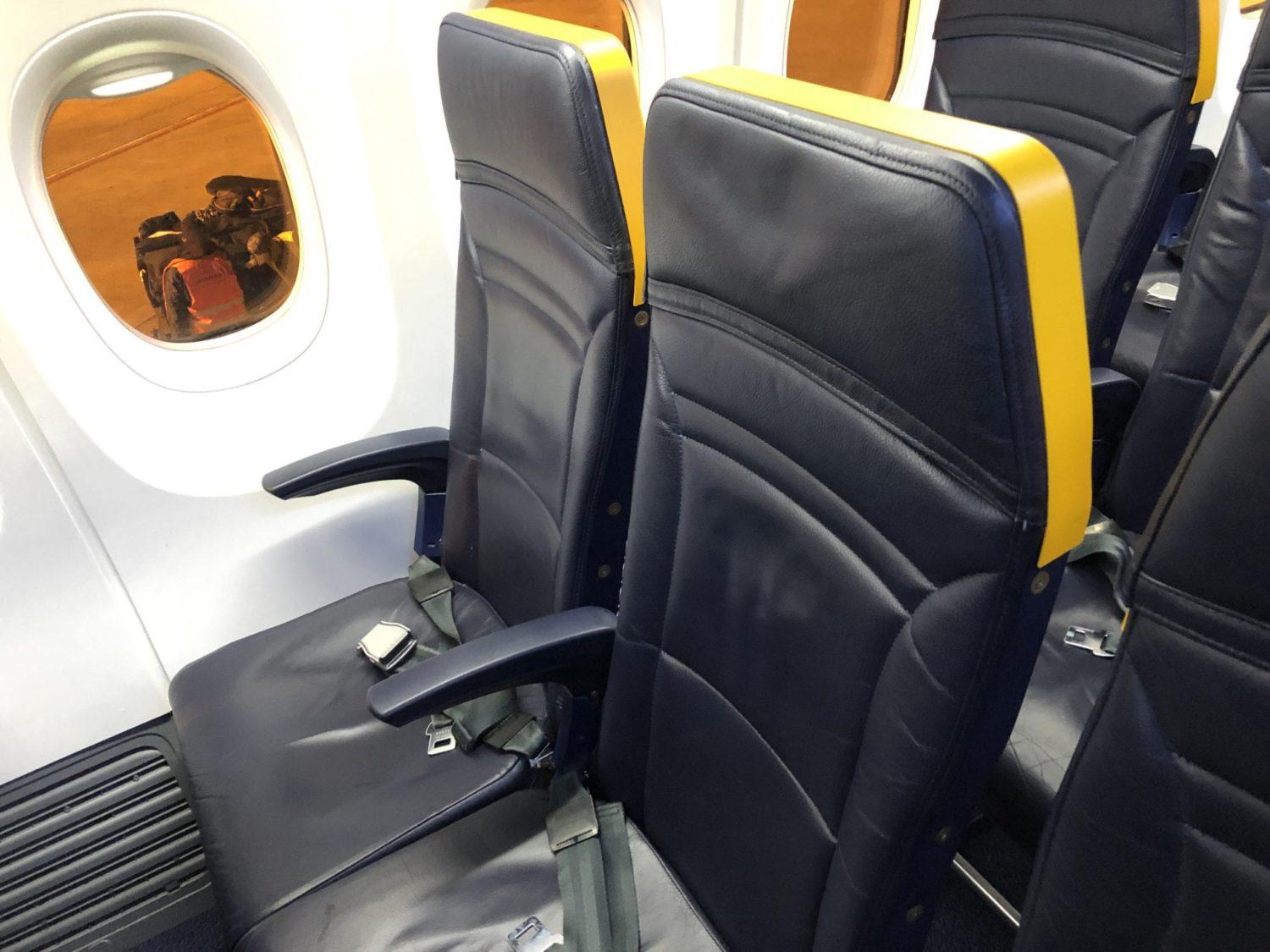 On the flipside, I've dealt with less legroom on even major U.S. domestic airlines. It still shocks me to say it, but the legroom on Ryanair is … not bad.
You may notice something lacking from this photo: any additional storage. As more and more airlines are doing away with seatback pockets and replaced them with some basic netting, Ryanair has gotten rid of seatback storage altogether.
And this shouldn't be a shocker, but don't expect any seatback entertainment, either.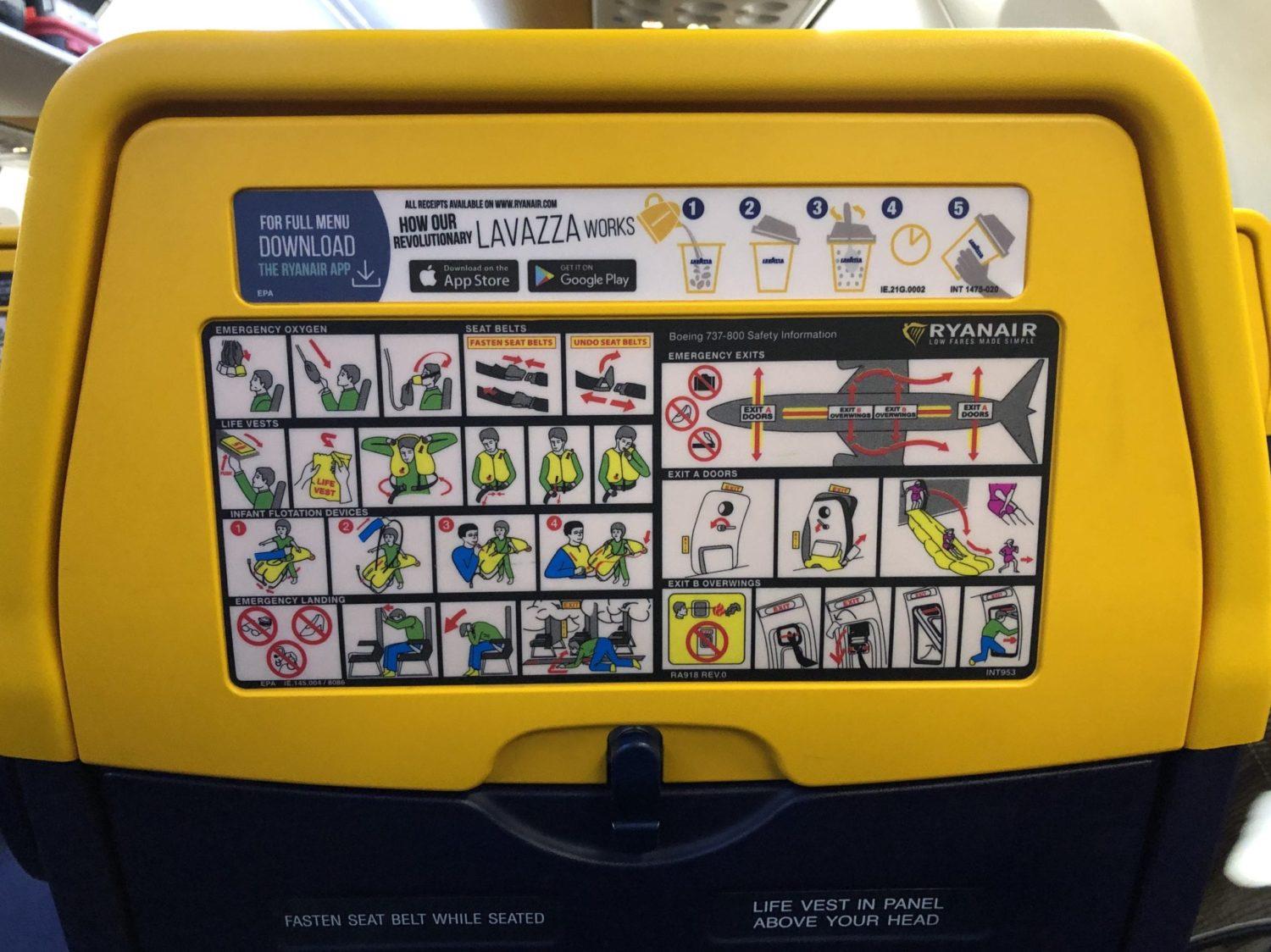 But in all, Ryanair is not much different from the bulk of airlines that are flying across Europe. The seats are a tad stiffer than the likes of Iberia, TAP Air Portugal, Lufthansa, and other major carriers. But the amount of space you get is more or less the same.
And when you're paying $20 USD or less, that's worth keeping in mind.
In-Flight Experience
If there's one thing that sets Ryanair apart from other airlines in Europe, it's the constant barrage of upselling.
From the moment you book your flight, you'll get email after email trying to get you to add a rental car, trip insurance, or even hotels to your booking. And it doesn't end when you get onboard.
There's the normal food and drink cart, but there's no free water or drinks. So you may be tempted to buy a water bottle for 2 euro.
But there's also a duty free cart that will be rolled through during your flight. And even a scratch-off lottery game, the proceeds of which go to a Ryanair charity. And every single one starts and finishes with an onboard announcement.
It's easy enough to tune out, and in the end it's simply a mild annoyance. But it's definitely a different experience than you're used to on full-service airlines.
Bottom Line
Don't believe the haters. Would I want to fly Ryanair for six hours? Not really.
But at the end of the day, Ryanair is plenty spacious and comfortable to skip across Europe. And when you're paying less than $20 – and sometimes less than $10 – to fly for a few hours, it's more than worth that cost.