Now you know just how much you've been nickeled and dimed.
You read that headline right: U.S. airlines made a record $6.8 billion just on baggage fees alone in 2022, according to data from the Bureau of Transportation Statistics released on Monday. What was once an expected benefit of any plane ticket (and still is on Southwest Airlines) become a huge moneymaker for the airlines.
Take a look – and remember, these numbers are only for U.S. airlines.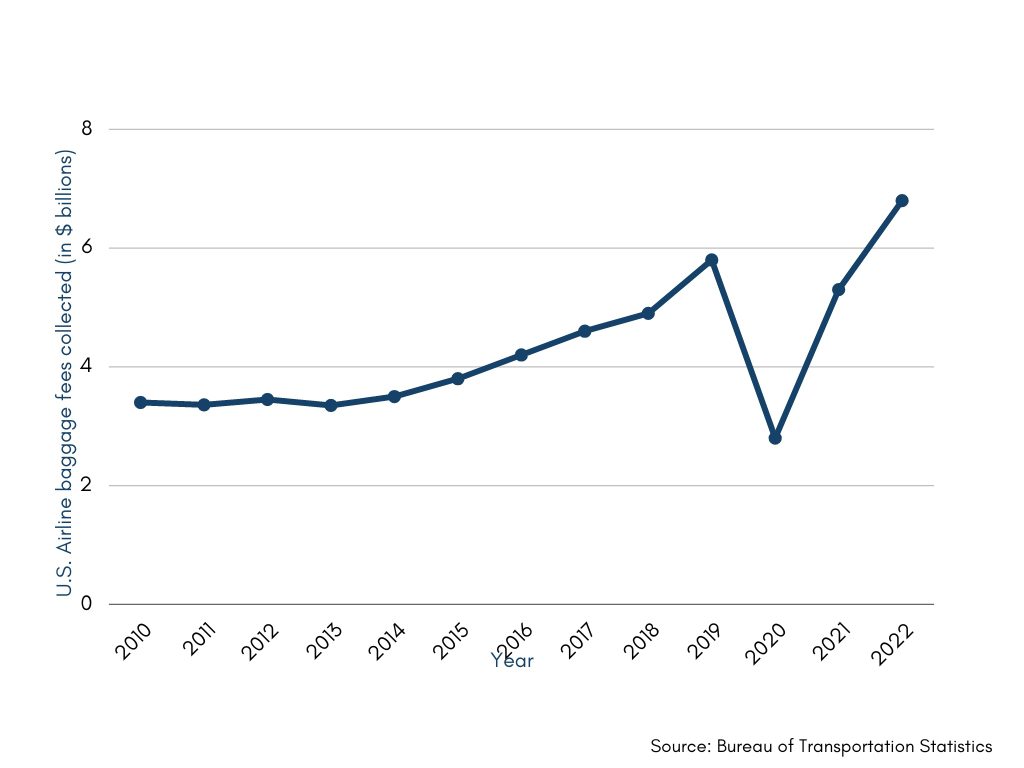 That's another $1 billion in fees above what the airlines made on bags in 2019, the last full year of normal travel – even though airlines still didn't fly as many passengers in 2022 as they did pre-pandemic. Travelers are checking more bags than ever … and airlines are charging more for those bags, too.
Bag fees helped U.S. airlines collectively rake in nearly $8 billion in profits before taxes last year, returning to profitability after several years of bruising pandemic losses. Yet despite their reputation for squeezing every dime they can out of travelers, airlines are collecting less of another notorious fee: change and cancellation fees. 
That same federal data shows U.S. airlines collected less than $1 billion in change fees last year – down from more than $2.8 billion in 2019. That's because the big carriers did away with those fees altogether during the pandemic, hoping that the additional flexibility would give travelers confidence to keep booking tickets.
Unless you bought a stingy basic economy ticket or are flying with a budget carrier, you're typically off the hook for these fees now. Whew.
But the trend for baggage fees is undeniable.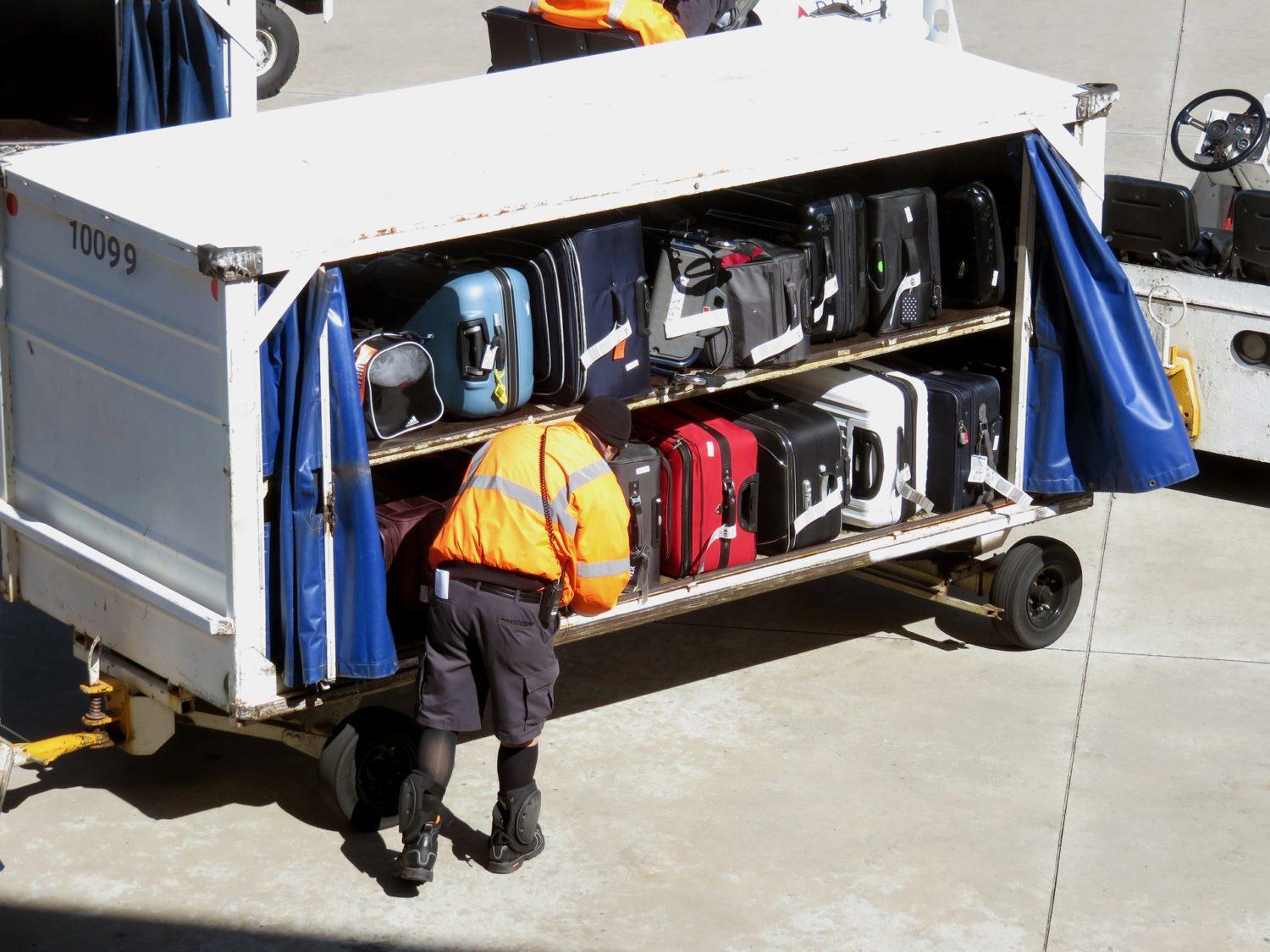 It started more than a decade ago when even the major carriers like Delta, United, and American started charging separately for bags. And airlines' revenue from baggage fees has increased steadily ever since, as those fees just keep going up and up. Nearly every major carrier raised its baggage fee from $25 to $30 each way before the pandemic. Some, like JetBlue and United, now charge more if you pay for a bag at the airport instead of online ahead of time.
Meanwhile, ultra-low-cost carriers like Spirit seem to raise their baggage fees once a year, whether you're checking luggage or just stowing a suitcase overhead. And both Delta and American have raised bag fees to a whopping $75 each way when flying to Europe on a basic economy ticket.
More recently, JetBlue and United started charging $35 for travelers who don't pre-pay for a bag before getting to the airport. And American raised its baggage fee to a whopping $75 for basic economy flights to Europe.
How to Avoid Baggage Fees
Pack in a carry-on bag
The simplest way to stop padding airlines' wallets is also free.
We urge all readers to pack in a carry-on whenever possible. Sure, it saves you money … but it also saves you time at airport check-in desks and baggage carousels, not to mention the stress of possibly losing your belongings.
The one caveat here is that budget airlines charge for carry-on bags – often more than they charge for a checked bag. And United's basic economy fares don't include a free carry-on. Neither does JetBlue basic economy, sadly.
Carry your airline's credit card
Whether you're flying Delta, American, United, or another major airline, a free checked bag is one of the best perks of having a co-branded airline card in your wallet.
Considering most of these airline credit cards carry a $95 to $99 annual fee, that benefit will pay for itself after just two round-trip flights. Better yet, most of these cards extend the benefit to two, four, or maybe even eight other passengers traveling on your reservation.
And finally, many airlines don't require you to actually pay with the credit card to get free bags – it's automatically attached to your frequent flyer number.
Fly the right route
Flying within the U.S. or down to Mexico or the Caribbean, expect to fork over some money when checking a bag. Heading even farther away? You might be able to count on a free checked bag.
It depends on your airline, where you're flying, and what kind of ticket you bought.
So long as you bought at least a main cabin ticket to Europe or South America, most airlines will give you one free checked bag – but not with the cheapest basic economy fare
Even many basic economy tickets (like Delta basic economy, for example) to far-away destinations like Australia and Asia now include one checked bag
Stick with Southwest
While the rest of the airlines worldwide started charging for checked bags long ago, Southwest is the lone holdout.
You still get two free checked bags with every Southwest fare. It's one of the things that make Southwest stand out. And the airline's CEO says that isn't changing anytime soon.
"We're not going to charge for bag fees," former CEO Gary Kelly promised years ago, before taking a shot at his competitors: "They unbundle, and we don't."
Bottom Line
Airlines have turned the once-free checked bag into a consistent money maker. And the amount of money airlines make when you check a bag keeps growing and growing.