Capital One has flipped the travel world on its head in the last few years, transforming Capital One Venture Miles into an indispensable program for travelers who want to do more for less.
In fact, no other credit card points give you more flexibility and versatility to redeem miles toward travel. That includes flights, hotels, rental cars, and much more. Whether you're just getting started earning and redeeming miles and want a simple option or you consider yourself an advanced traveler who's ready to put the nearly 20 Capital One transfer partners to use to maximize your miles, there's a path for you.
Here are some of the best ways to redeem Capital One Venture Miles.

Use Miles to Cover Recent Travel Purchases
Let's start with the easiest route. This is what Capital One is really known for.
No airline or credit card company makes it easier to redeem points and miles toward travel than Capital One. Just charge your flight, hotel, Airbnb, or almost any other travel expense to your Capital One card. A few days later, you can go in and remove that charge from your statement using miles.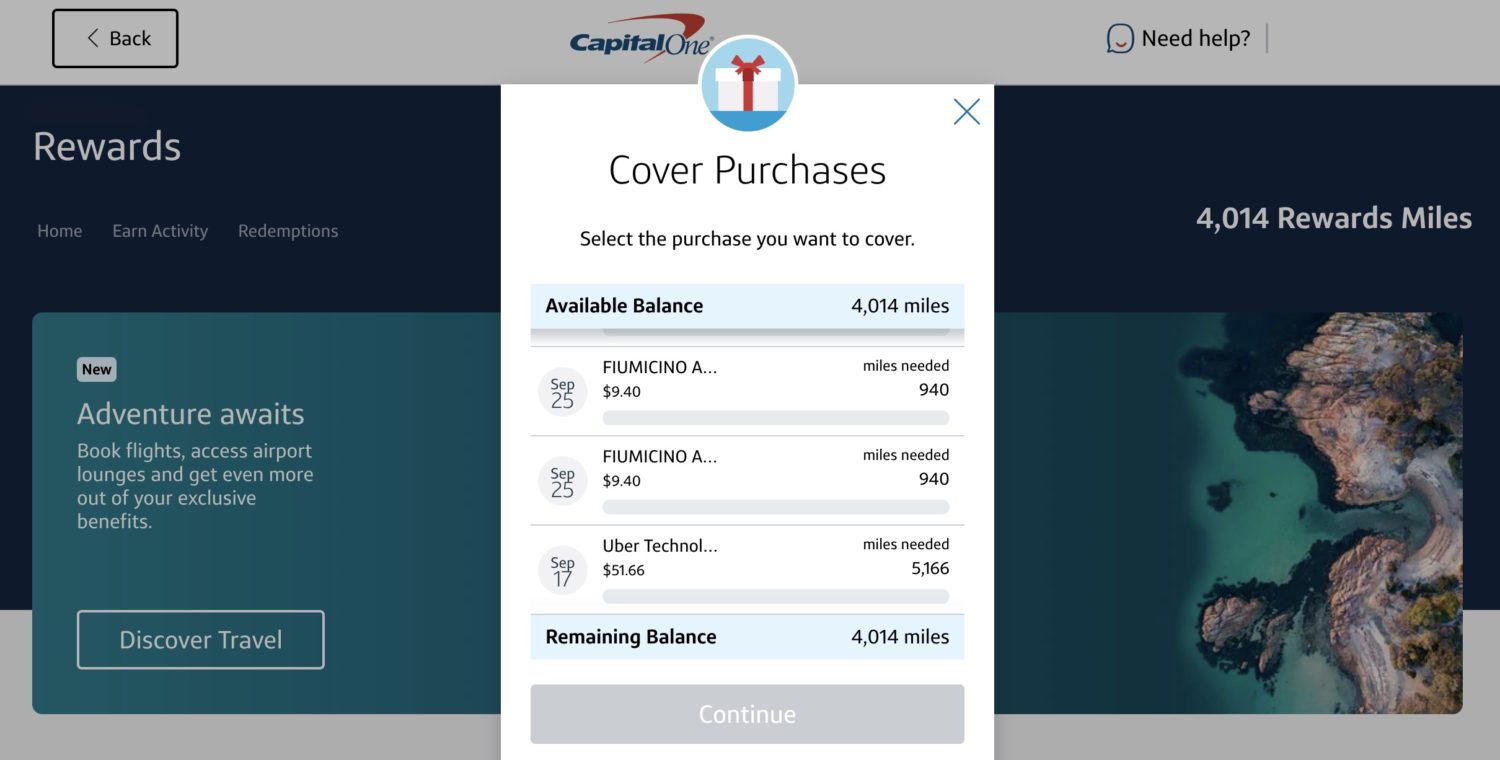 Read our step-by-step guide to covering travel purchases to see how it's done!
Using this method, every Capital One Venture Mile is worth 1 cent. That means you can book a $500 flight using 50,000 Capital One miles. That may not be earth-shattering value, but it's easy as can be – and it goes far when you find a cheap flight.
Here's a real-world example. Let's say you're a Thrifty Traveler Premium member and just received this alert for $158 flights from Minneapolis-ST. Paul (MSP) to Boston (BOS) this spring.

Just pay for that flight with your Capital One card, go to your account a few days later, and remove it from your statement for 15,800 Venture miles. That's all it takes: It really is that easy.
This tailor-made for travelers who want a quick-and-easy way to use their miles. Don't want to deal with booking through third-party portals where or decode the mystifying world of how airlines set award rates when using their miles? This method is for you.
There are a few advantages to covering travel charges with miles beyond convenience. For starters, it's one of the few ways to make a flight completely free, as your Venture Miles will cover the taxes and fees that traditional airline miles will not. And you'll still earn miles with the airline you're flying.
But the real beauty is that it can go, far, far beyond booking flights. Think of any travel expense, and you can cover it using your Venture Miles – including expenses that other credit card points can't cover. For example…
You could cover a $500 Airbnb or VRBO reservation for 50,000 Venture Miles
Charge your $40 train ticket anywhere in the world to your Capital One Card, then erase it using 4,000 Venture Miles
Book a tour or excursion through Viator or Airbnb Experiences, then use Venture Miles to cover the cost
Ubers, Lyft rides … you name it, you can cover it with miles
The list goes on and on. Needless to say, there's a ton of flexibility and ease when using miles to cover travel purchases.
Book Through the Capital One Portal
Just like Chase, Capital One has its own travel portal where you can directly search for flights, hotels, car rentals, and more, then book using points. And the Capital One Travel Portal is new and improved, with some great features you won't get elsewhere.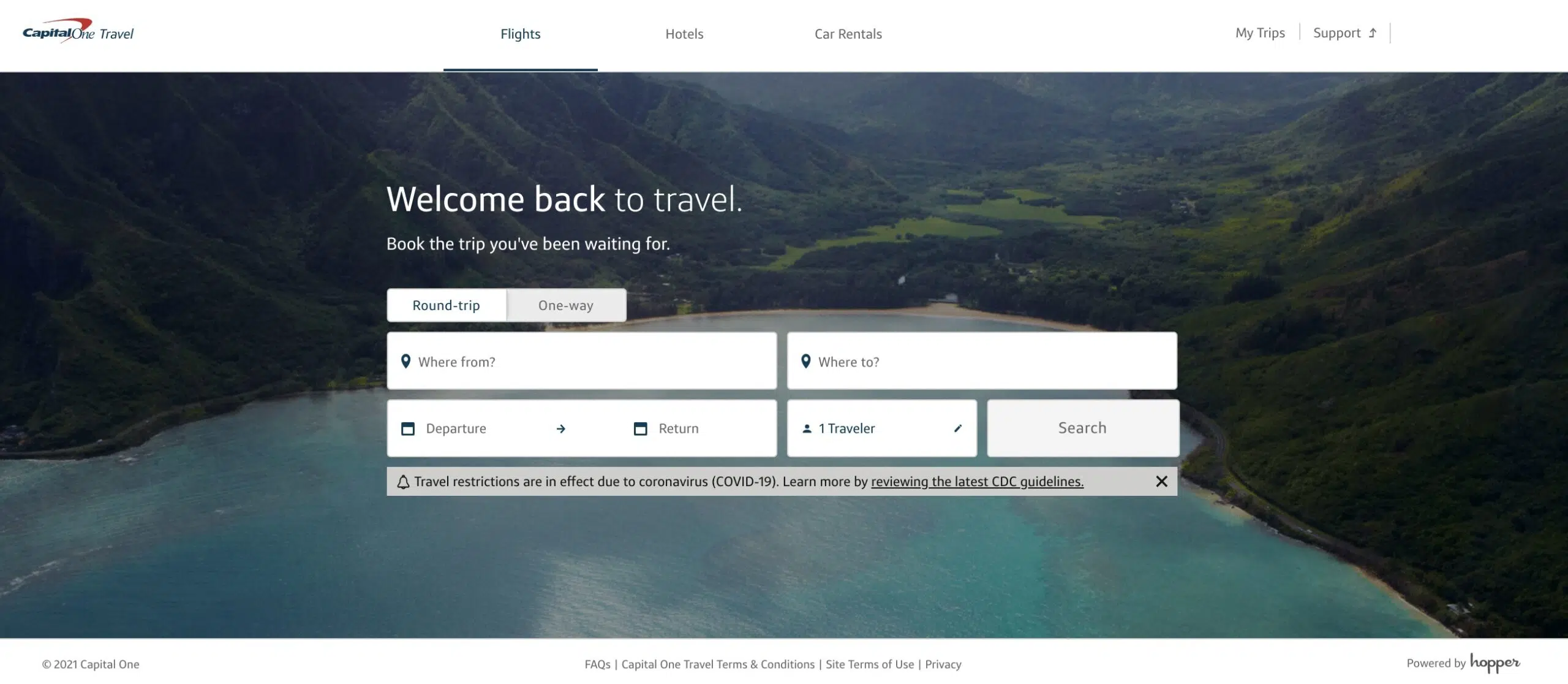 The new flight-booking engine is powered by the popular travel app Hopper. That means you should generally find the same prices you see directly through the airline or via Google Flights – but not always. Just tap in the details of the flight or hotel you're hoping to book with Venture Miles and start searching.
Thrifty Tip: Capital One offers a price match guarantee if you find a lower price elsewhere, though you'll be required to call Capital One Travel at 844-422-6922 to submit a claim.
You won't get a bonus when using miles through the Capital One Travel portal as you do with Chase cards like the Chase Sapphire Preferred® Card or the Chase Sapphire Reserve®. Just like covering travel purchases with miles, every Venture Mile is worth 1 cent toward travel through the portal. 
That means you can once again book that same $158 flight to Cozumel for 15,800 Venture Miles. And whether you don't have enough miles in your account or want to save some, you can apply as many (or as few) miles to the purchase to reduce the cost.


While you may not be getting more bang for your buck by using Venture Miles through the travel portal, Capital One has given travelers a few compelling reasons to consider it:
Capital One will automatically refund you if the price of your flight drops after booking. Those Price Drop Protection refunds are only available on flights where Capital One and Hopper predict that prices won't fall, and they're capped on up to $50 – or 5,000 Venture Miles – in refunds total. Still, that's a nice feature.
You can freeze a fare through the portal for up to 14 days, then decide and come back to buy it later at that price. Capital One charges a small fee to freeze a fare.
Much like Google Flights, Capital One allows you to set price alerts for the flights you want to book. That means you'll get an email if the flights you're looking at drop or increase in price.
Capital One offers an add-on "cancel for any reason" travel insurance policy, which is quite reasonably priced.
If you're paying with cash rather than using miles, you'll earn 5x miles per dollar spent on flights booked through the portal and a whopping 10x points per dollar on hotels and rental cars.
Level Up Using Capital One Transfer Partners
For years, the beauty of Capital One Miles has been their simplicity. Charge a flight to your Capital One card, then go back and cover the cost using miles.
But if you want to get more value from your Venture miles, you'll want to look into Capital One transfer partners.
Capital One added the ability to transfer miles straight to airline programs back in late 2018. After steadily adding more and more partners and making significant improvements, it's now a bonafide option with some killer value. With few exceptions, every 1,000 Capital One miles you transfer gets you 1,000 airline miles or hotel points.
Here's the full list.

| Program | Type | Ratio | Transfer Time |
| --- | --- | --- | --- |
| Aeromexico | Airline | 1:1 | Instant |
| Air Canada Aeroplan | Airline | 1:1 | Instant |
| Air France/KLM | Airline | 1:1 | Instant |
| Avianca LifeMiles | Airline | 1:1 | Instant |
| British Airways | Airline | 1:1 | Instant |
| Cathay Pacific AsiaMiles | Airline | 1:1 | Up to five business days |
| Emirates | Airline | 1:1 | Instant |
| Etihad | Airline | 1:1 | Up to 1 day |
| EVA Air | Airline | 2:1.5 | Up to five business days |
| Finnair | Airline | 1:1 | Instant |
| Qantas | Airline | 1:1 | Instant |
| Singapore | Airline | 1:1 | Instant |
| TAP Air Portugal | Airline | 1:1 | Same day |
| Turkish Airlines | Airline | 1:1 | Same day |
| Virgin Red | Other | 1:1 | Same day |
| Accor | Hotel | 2:1 | Up to two business days |
| Wyndham | Hotel | 1:1 | Same day |
| Choice Hotels | Hotel | 1:1 | Same day |
Read our guide to Capital One transfer partners and learn how you can transfer your miles!
It gets even better, as Capital One regularly offers transfer bonuses, giving you a 15% to 40% bonus when sending your Venture Miles to select partners on this list – including, as of publication, a 30% bonus on transfers to Virgin Red! That's a great way to maximize your Venture Miles.
Thrifty Tip: Unlike many other banks, Capital One allows you to fine-tune your transfers in increments of 100 (so long as you transfer at least 1,000 miles).
With that many options, the world is your oyster. But here are a few of our favorites to redeem your Capital One miles for big value.
Fly to Hawaii for 26K to 35K Miles RT (Or Less!)
American Airlines may not be a Capital One transfer partner, but you can still fly American to Hawaii and back using these miles – often at a huge discount. And the same goes for Alaska Airlines.
How? British Airways. You can transfer miles to British Airways, which you can use to book flights to Hawaii on American Airlines or Alaska. And while both airlines regularly charge 45,000 of their own miles (or more) for a round-trip from the West Coast, you can book the exact same flights for just 26,000 British Airways Avios. 
The trick here is that you have to fly from the West Coast – specifically Los Angeles (LAX) or Phoenix (PHX) with American or Los Angeles, San Francisco (SFO), San Jose (SJC), San Diego (SAN), Portland (PDX), or Seattle (SEA) with Alaska. So long as there's a nonstop flight, you can fly from all those cities to all four major Hawaiian airports at this low price. Venture Miles transfer to British Airways on a 1:1 basis, so 26,000 Venture miles is all you need.


But if you're not on the West Coast, you're probably better off booking flights on Delta … using miles from Virgin Atlantic. The airline charges just 45,000 miles roundtrip all the way from Minneapolis-St. Paul (MSP) to Honolulu (HNL) – a fraction of what Delta itself regularly charges.
Venture Miles also transfer 1:1 to Virgin Red – the overarching loyalty program for all things Virgin – so 45,000 miles means you're set. Just beware that finding the Delta flights you want can be a bit of a challenge, so be sure to read our guide on how to book these Delta flights for huge savings. And never transfer miles before you've confirmed the flights you want are available.

Prefer to fly United? You can get a great deal using Singapore KrisFlyer miles to book United flights to Hawaii and back: 35,000 miles roundtrip! One thing to be aware of: Transfers to Singapore can take up to five days to hit your account, so there may be a holdup.


If you time it right, these redemptions get even cheaper. Capital One regularly rolls out transfer bonuses to select airline partners, giving you a 15% to 40% bonus on top of the miles you're transferring.
…Or Just 15K to Hawaii and Back!
This one requires a bit more work, but the savings are worth it. Those exact same United flights from above? You can book them for just 15,000 miles roundtrip. 
It hinges on using Turkish Miles & Smiles program, another 1:1 transfer partner and perhaps the single-most valuable option in Capital One's arsenal. Case in point: Turkish's award chart makes it possible to fly from almost anywhere in the U.S. to Hawaii and back for just 15,000 miles roundtrip – or 25,000 miles in first class.
So what's the problem? Well, booking is a bit of a pain. For starters, you'll need to find award availability through United.com or another site like Singapore's. From there, you might have luck finding and booking straight through Turkish's website, but it can be incredibly hit or miss.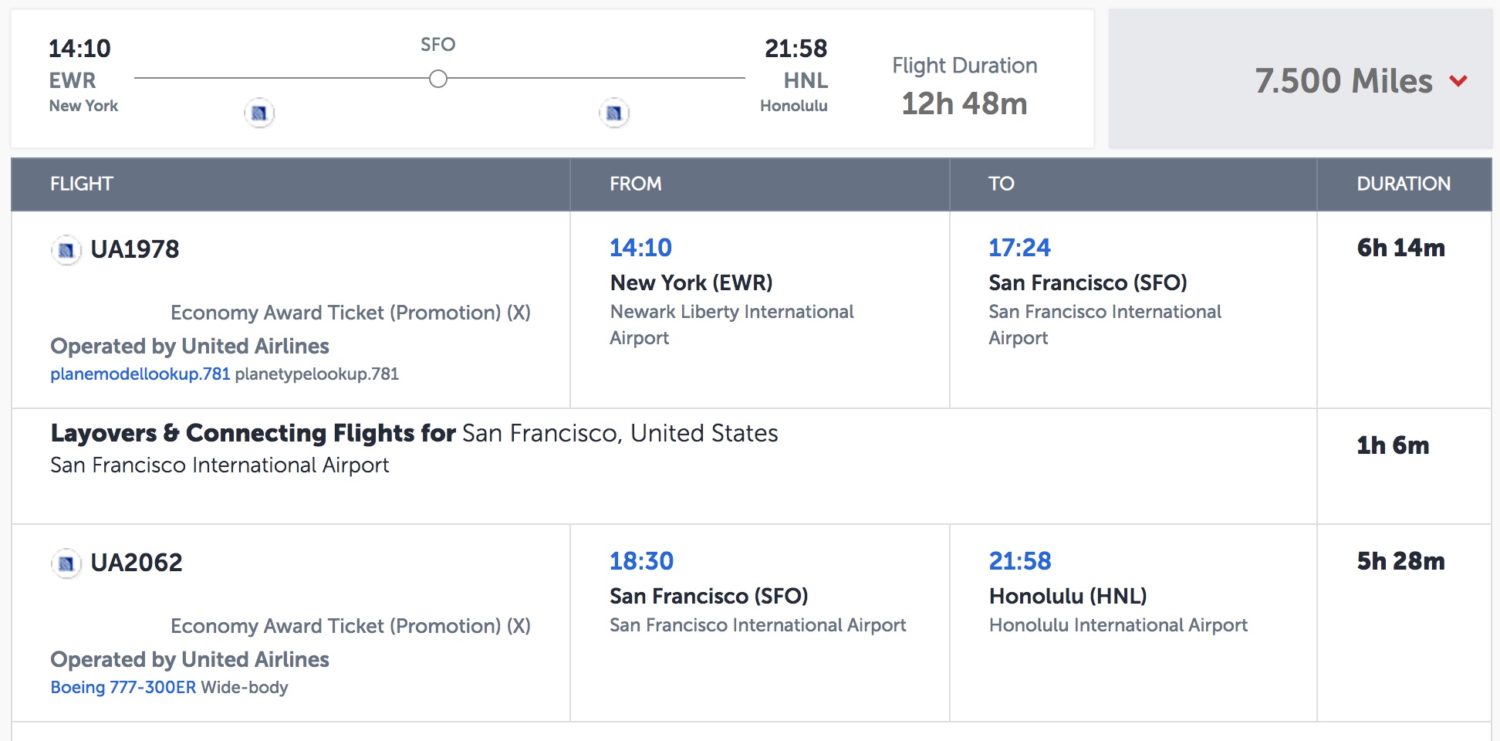 Read our full walkthrough on how to book these incredibly cheap flights to Hawaii through Turkish!
At times, nonstop flights simply won't show up at all. So odds are, you'll need either email Turkish or call them at 1-800-874-8875 to book.
Considering United itself would charge 45,000 miles or more for these exact same flights, this is a steal. You won't find a cheaper way to get to Hawaii using Capital One miles.
Business Class to Europe for 45K – Or Less!
Turkish has the cheapest way to fly from the mainland to Hawaii, but they've also got one of the most economical ways to fly business class to Europe.
For just 45,000 miles each way, you can book a business class seat between the U.S. and Europe thanks to the incredible Turkish Airlines Miles & Smiles program. With a 1:1 transfer ratio, 45,000 Venture Miles is all you need. Most airlines charge close to double that or more!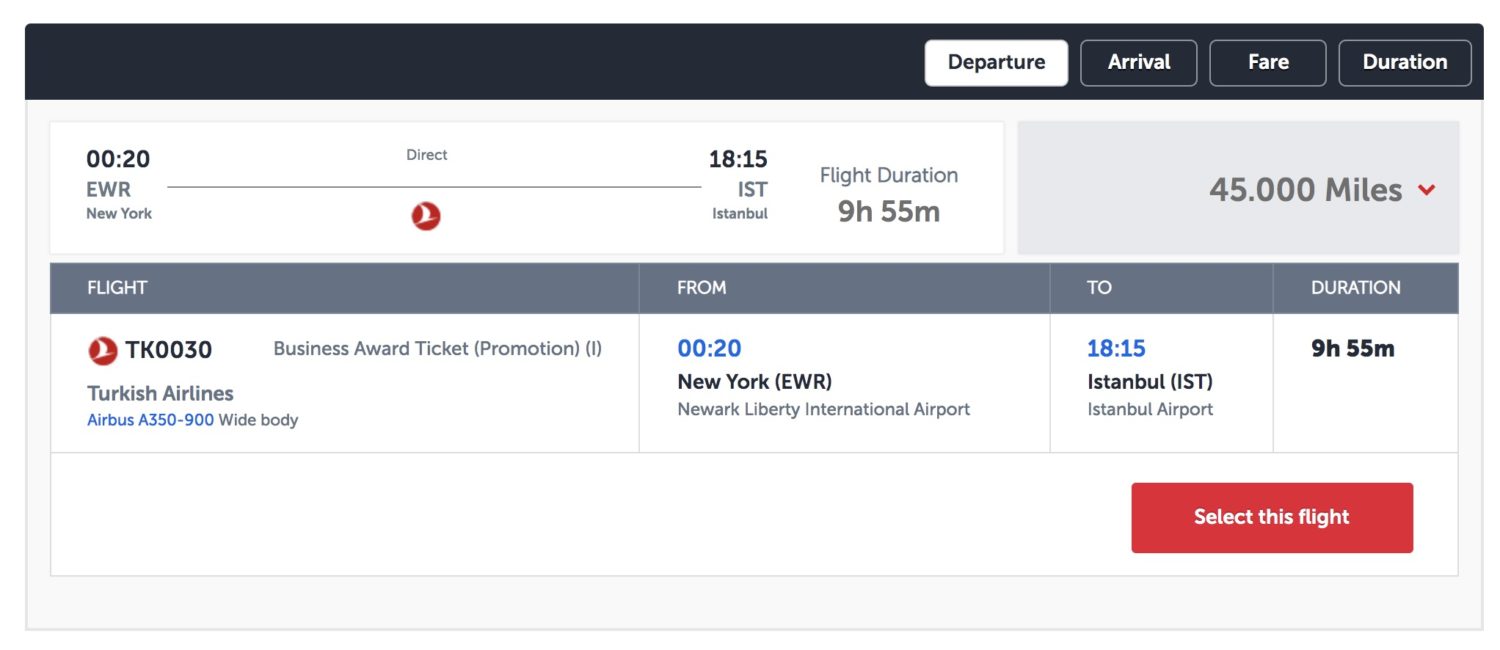 You can fly almost any Star Alliance airline to Europe for 45,000 miles each way, but you'll want to focus on airlines that don't pass on hefty fees like United or SAS. But if you ask us, your best bet is going to be flying Turkish Airlines itself – and that's not a bad thing. The airline is renowned for its inflight catering and solid service. Look for flights on the airlines' newest Boeing 787s or Airbus A350.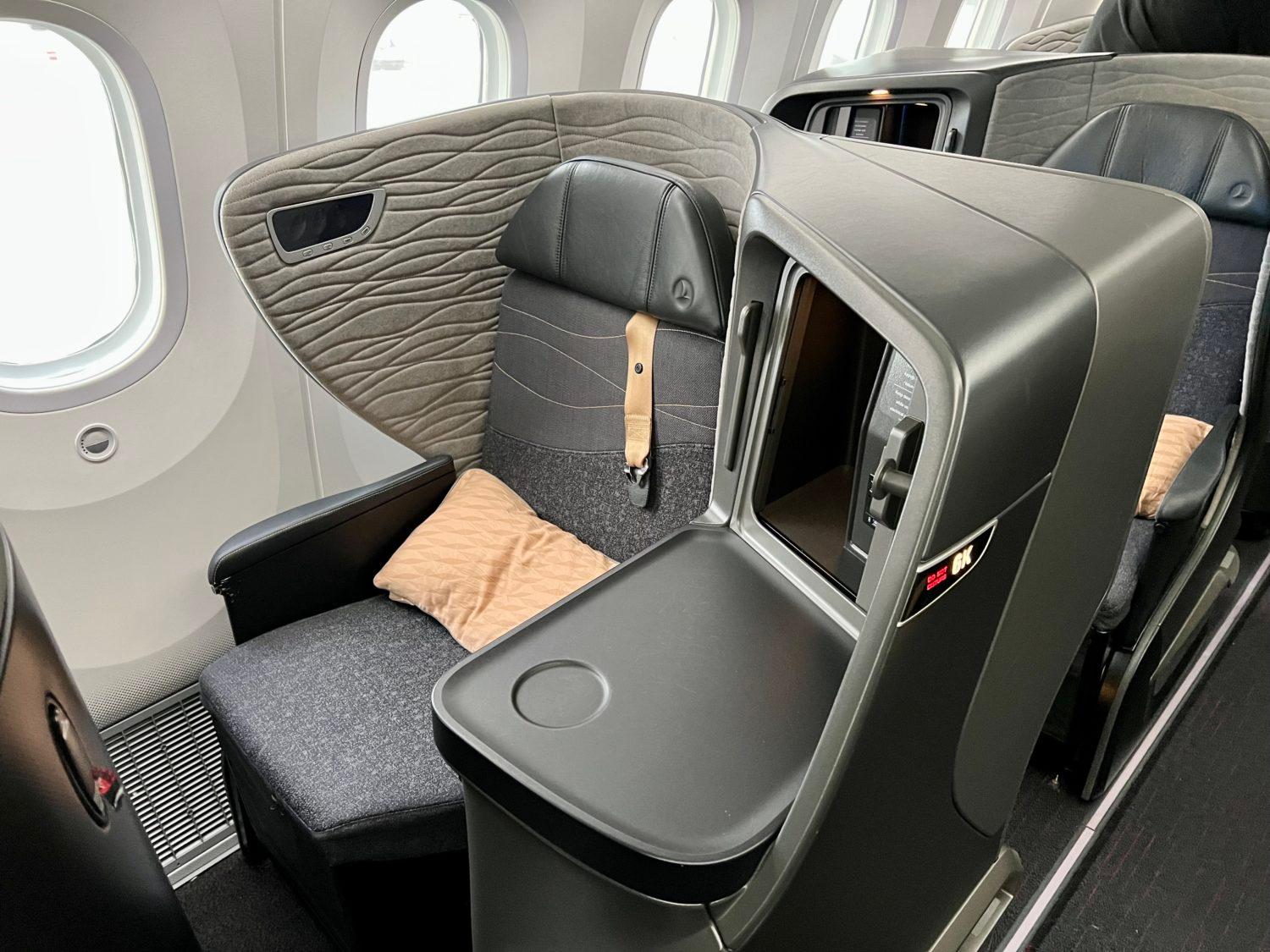 Read our full review of Turkish Airlines business class!
Fly Lufthansa First Class for 87K Miles
Lufthansa First Class has earned its place on many diehard travelers' and avgeeks' bucket lists. Who doesn't want caviar at 36,000 feet, a ride to straight to your plane in a private Porsche, and an insanely private Lufthansa First Class Terminal, a lounge reserved just for first class passengers?
Although Lufthansa has brought back its first-class equipped Boeing 787-8i's and Airbus A340s to the U.S., booking these flights can still be a chore. But for this, it's worth it.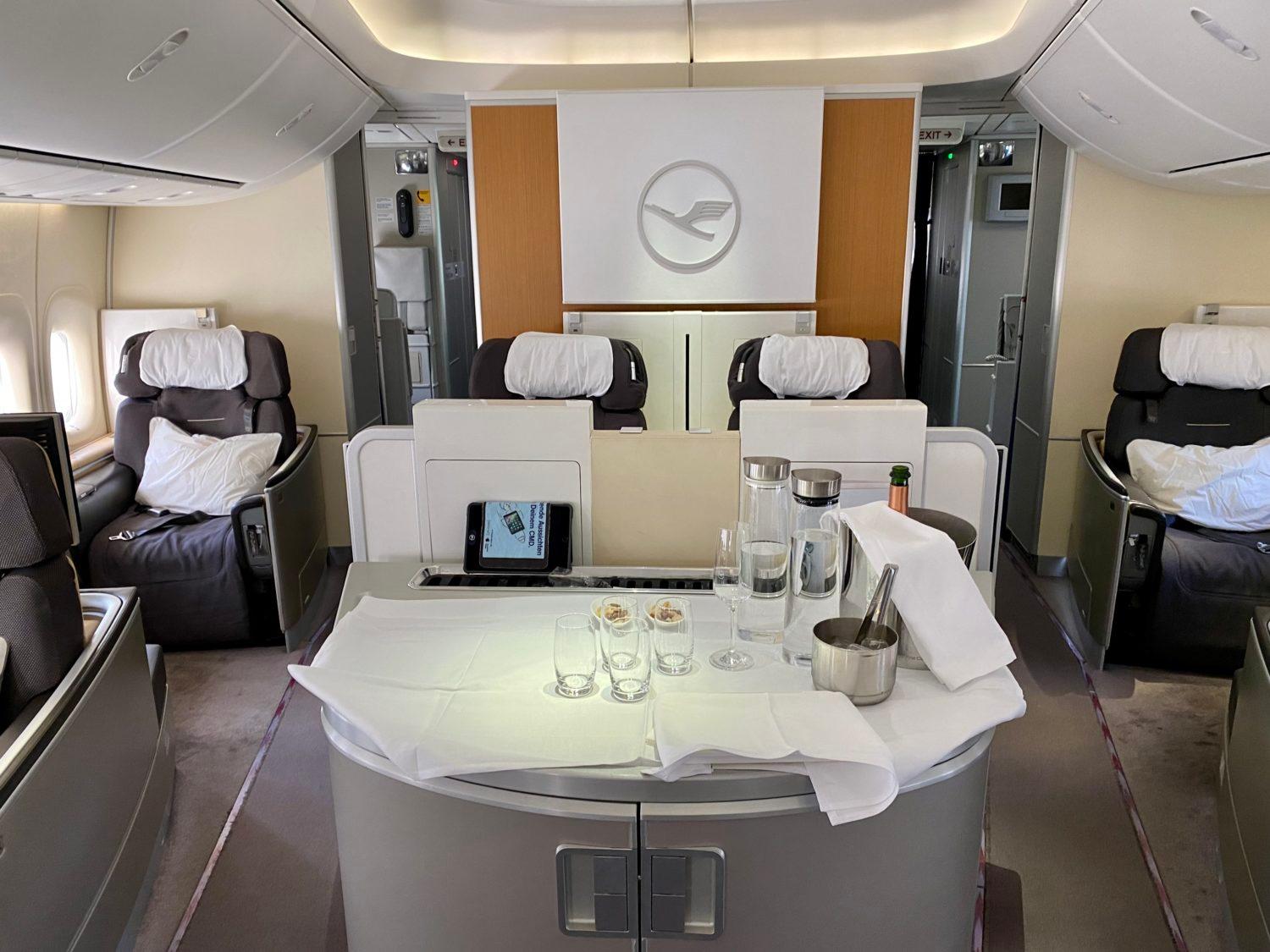 You'll want to transfer miles to Avianca LifeMiles, which charges just 87,000 miles for a one-way seat between the U.S. and Frankfurt. Sometimes you can even cut that price by adding in another segment in economy or business class, thanks to LifeMiles' mixed-cabin award pricing.

But don't transfer those miles yet. Booking is no sure thing. 
Lufthansa doesn't release first class award space to partner airline programs until just 30 days before departure. And in our experience, the sweet spots tends to be just five to seven days before departure. That means you'll be getting down to the wire to make this work.
So you'll need to be flexible – and not just when you fly, but where you depart from. Cast as wide a net as you can by searching from Houston-Intercontinental (IAH), Chicago-O'Hare (ORD), and Miami (MIA), along with Los Angeles (LAX) and San Francisco (SFO).
Get to the Caribbean for Less
Pining for the beaches of Aruba (AUA), Saint Martin (SXM), or elsewhere? Transferring your Capital One miles to British Airways is your answer.
British Airways uses a distance-based chart, where the number of miles you need to book a flight depends on how many miles you're flying. That means short flights are often a bargain – even after a recent price hike for using British Airways Avios on partner airlines like American.
To keep things short and cheap, the best play is flying from East Coast American Airlines hubs like Miami (MIA), Charlotte (CLT), Philadelphia (PHL), or New York City-LaGuardia (LGA). British Airways charges for flights per segment, so you'll want to make sure to find nonstop flights on American.
When you do, it can be a goldmine for getting to even far-flung Caribbean islands – like St. Lucia (UVF) – using miles.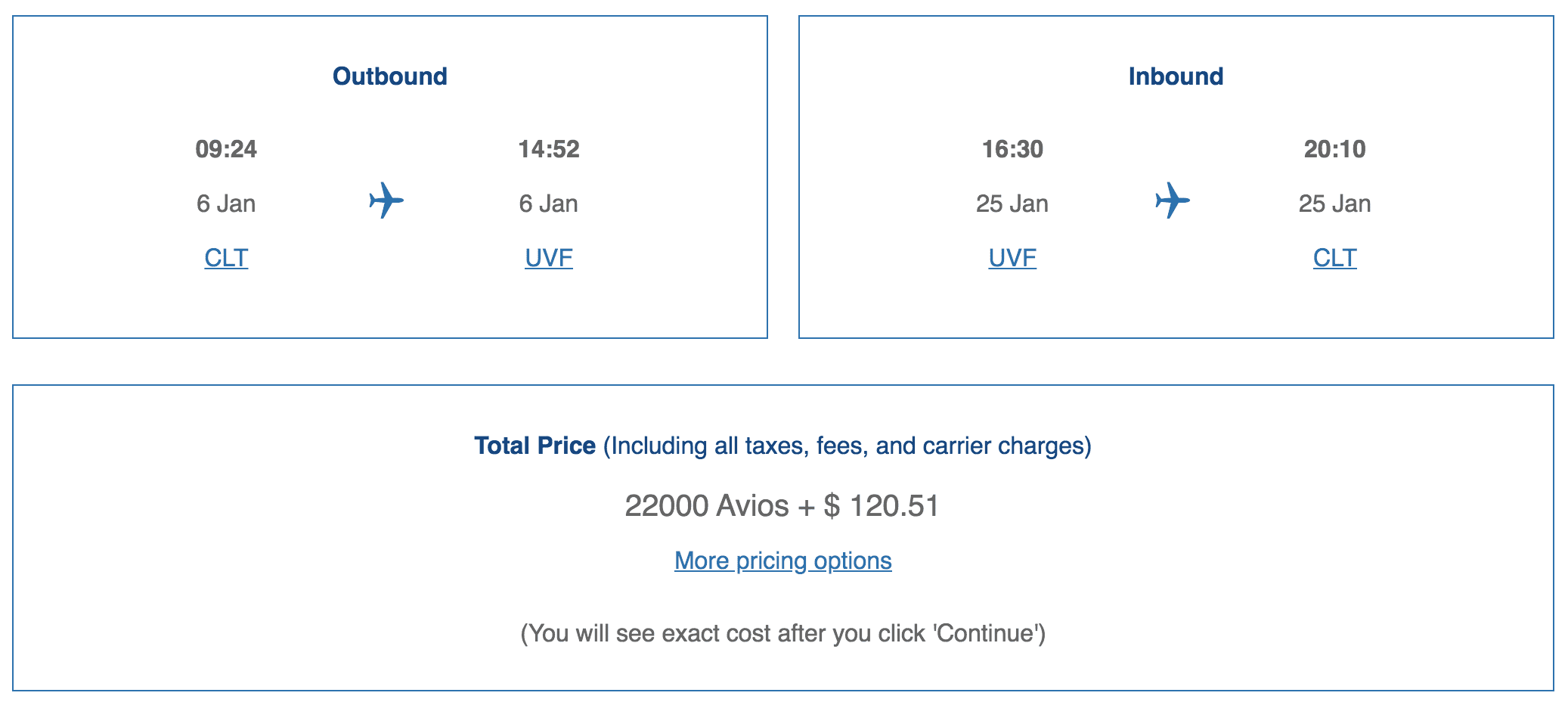 One-Way to Lisbon in Biz for 35K
You can transfer your Capital One to Avianca LifeMiles on a 1:1 basis, then use them to book a business class flight to Europe. Normally, that'll take you 63,000 miles each way, which isn't bad. But there's one incredible sweet spot for almost half the cost.
You can fly from New York-JFK (JFK) to Lisbon (LIS) in TAP Air Portugal business class for just 35,000 miles. Just that one route prices out that low – that's it. Every other Star Alliance business class redemption from JFK will run you 63,000 miles. Even the same flight from nearby Newark (EWR) and the return flight from Lisbon back to JFK cost nearly twice as much.
At 35,000 miles, this is an absolute steal. Plus, LifeMiles passes on less than $25 in taxes and fees. That means you can book a $2,000-plus business class flight for just 35,000 Venture miles and a few bucks.


Most days TAP flies its new Airbus A330-900neo on this route, which means you'll get the best business class seats TAP has to offer, with lie-flat seats in a spacious 1-2-1 arrangement.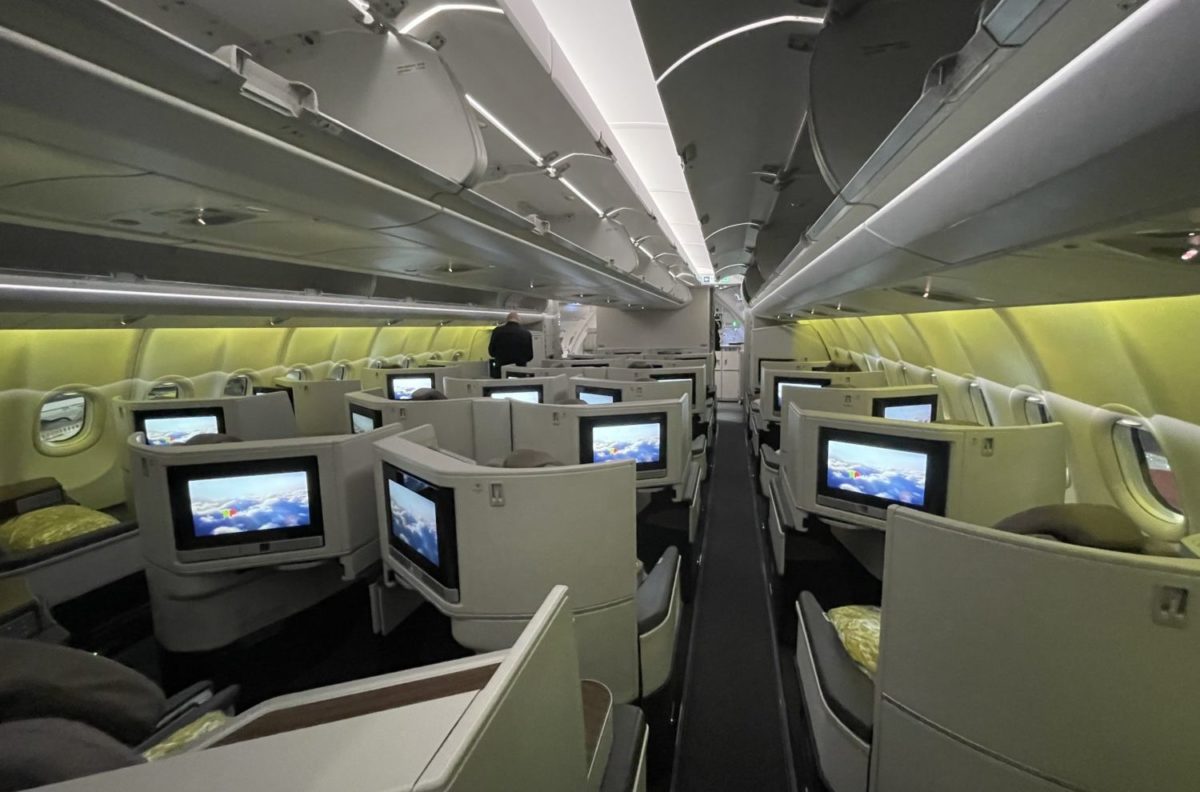 How Much Are Capital One Venture Miles Worth?
That depends. There's no one-size-fits-all answer, as it depends on how you use them.
With the ease of redeeming them by covering travel purchases with miles or the travel portal, Venture Miles are worth a bare minimum of 1 cent each. But by using some of Capital One's excellent transfer partners – especially some of the options we've laid out above – that could be more like 2 cents apiece. In fact, it's not too hard to get 4 cents or more in value out of Venture Miles with the right redemptions.
In the end, we'd feel comfortable pegging the value of Venture Miles at about 1.5 cents to 1.7 cents apiece. But that's incredibly subjective: It all comes down to how you redeem Venture Miles.
Do Capital One Venture Miles Expire?
No. Not really.
So long as you've got a Capital One account open, your Venture miles will never expire. That means there's no rush to put them to use – they aren't going anywhere.
But if you close your Capital One account, you'll forfeit any unused Venture Miles. Poof, they're gone. That means you'll want to have a plan in place to use up your stash of Venture Miles before closing a card.
How to Earn Capital One Miles
To spend Capital One Venture miles wisely, you've first got to earn them. You're in luck: There are a handful of cards that can help you bolster your balance of Venture miles, including a brand new option.
The Capital One Venture X Card
The Venture X card might just be the best travel credit card we've ever seen.
The Capital One Venture X Rewards Credit Card is the bank's very first premium travel card. Think of it as a souped-up version of the ever-popular Capital One Venture Rewards Credit Card that's chock full of extra benefits: Access to Capital One Lounges and Priority Pass lounges, a $300 annual travel credit, a credit for Global Entry or TSA PreCheck, great travel and rental car insurance protection, and more. The annual fee clocks in at $395 a year, but the benefits can easily outweigh that.
Here's the best part: You can currently earn 75,000 Venture Miles after spending $4,000 in the first three months. Considering you earn at least 2x for every dollar you spend on the Venture X Card, you'll earn a total of at least 83,000 Venture Miles.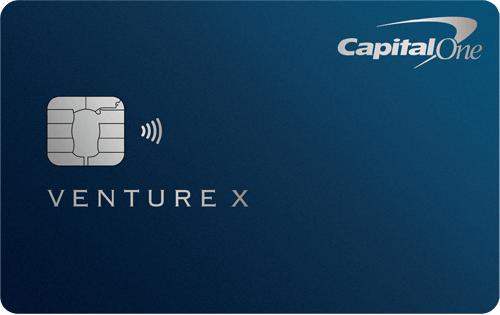 Click Here to learn more about the Capital One Venture X Rewards Credit Card.
Capital One Venture Card
The Capital One Venture Rewards Credit Card has been a fan favorite among travelers for years – and for good reason. It's truly one of the best travel credit cards for beginners.
You earn 2x points on every purchase and even get a credit that covers the cost of Global Entry or TSA PreCheck – all for a card with a $95 annual fee.
Capital One currently offers a welcome bonus of 75,000 miles once you spend $4,000 on purchases within three months from account opening. This is equal to $750 in travel expenses – or get even more by transferring those 75,000 miles to partner airlines or hotels.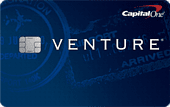 Click Here to learn more about current offers for the Capital One Venture Card. 
Capital One VentureOne Card
Think of the Capital One VentureOne Rewards Credit Card as the littlest sibling to the Venture X and Venture Card.
It's a no-annual-fee card that will earn you 1.25x miles per dollar you spend. The welcome bonus is smaller, too – though still quite nice. You can currently earn 40,000 Venture Miles after spending just $1,000 in the first three months.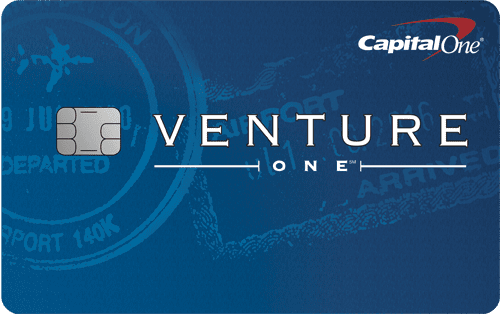 Click Here to learn more about the no-annual-fee Capital One VentureOne Card. 
Bottom Line
There are some incredible ways to redeem Capital One Venture Miles. As the credit card company has improved its transfer partner program, that list has only grown.