Readers Megan and Jon have jumped on the Thrifty Traveler bandwagon and Megan was nice enough to submit their points game success story:
In the spirit of full disclosure, I have to say I was skeptical when I first heard how Mr. and Mrs. TT travel for free. It didn't seem possible. Credit card points? Free miles? Free flights? How does this possibly work? However, my husband and I were intrigued and curious. We both love traveling and want to make it a priority in our life, but it's not the cheapest hobby out there…or so I thought. So, we sat down with Mr. TT and asked him a million questions about the points game. After an extensive question and answer session, my husband and I realized that what Mr. TT is doing is incredibly smart. We were ready to ease into the points game for ourselves.
We decided to start off slowly, and using Mr. TT's Beginner's Guide we opened the Chase Sapphire Preferred Card, the SPG Card, and the Delta Skymiles Gold Card. We already had the Southwest Card, which ended up being very complimentary to the Chase card. Using Mr. TT's suggestion, we signed up for AwardWallet but over time we have found that we like tracking points and credit cards on our own spreadsheet. We also set up alerts in our Google calendar so that we know when it's time to close a credit card and open another.
I was surprised to learn that opening and closing credit cards has not hurt our credit score in any way, occasionally it fluctuates by a few points and we are careful to responsibly monitor the credit cards that we have using Credit Karma. So far, my husband and I have been using these credit cards for five months. We use our credit cards for all purchases and are very diligent in paying them off on time. Personally, I have found this to be not much of a switch from using a check card except that now I'm getting rewarded for my weekly trips to the grocery store!
Now that I've outlined my journey into the points game, let me fill you in on the really fun part…so far, my husband and I have used points to take a five-day trip to Colorado, and we have booked a weeklong, January vacation to Belize, all flights and lodging free!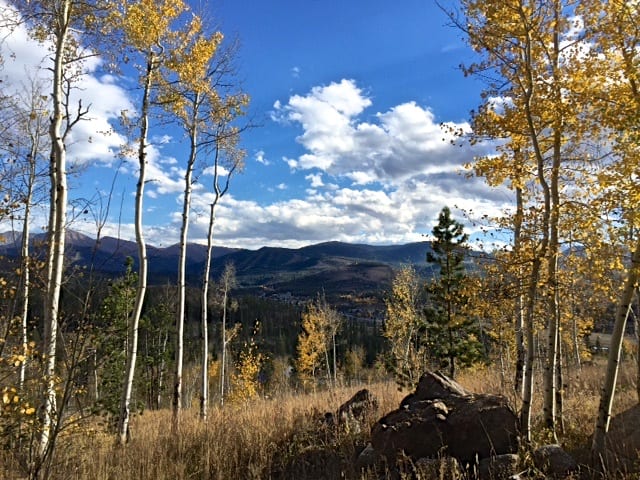 Our trip to Colorado was very spontaneous; one evening my husband casually mentioned how it would be nice to go see the beautiful fall colors in the mountains. Twenty minutes later, we booked our very first free flight! Even after booking our Colorado and Belize trips, we still have an excess of points and we're thinking there's a trip to Istanbul coming in our near future. This is after just five months of typical, weekly spending. It's exciting to see how quickly our points add up and it's a huge relief to know that we can continue to travel for so little cost.
Megan and Jon are definitely on the right track. When you first start out in the points game, it's important to take it slow and develop a game plan on what you'd like to do with the points. The Chase Sapphire Preferred card is always a great starter card since you can transfer it to both airline and hotel programs. If you frequently fly with a spouse or friend in the United States, Caribbean, or Mexico,  I always recommend the Southwest Companion Pass. It's honestly the best deal in the points game.
For hotels, I'd start with the SPG card, Hyatt card, and also consider the IHG card. This way you can stay at all three chains during your trip, which should add up to at least six free nights.
Don't forget one of my favorite credit cards, which is the Barclays Arrival Card. It offers $400 in statement credits for travel-related expenses. It's a must-have for expenses that can't be covered with points such as trains or non-flagged hotels.
Starting off in the world of points and miles is exciting but also confusing at times. There are so many airline and hotel loyalty programs with so many different rules. Thrifty Traveler is here to help you cut through the confusion and help you master the points game. If you have a question it's safe to say, you're not the only one. Leave questions in the comments section below each post and I'll be sure to answer!