If you're still writing checks to rent your apartment or home, you could be leaving valuable points and miles on the table. You can pay rent with a credit card. How? Plastiq.
Plastiq is a popular but misunderstood service that allows you to pay rent and some other big expenses with a credit card for a small fee. It acts as a middle man, processing your payment through a credit card, then cutting a check or electronic deposit to the recipient to make the actual payment.
And at a time when you might be spending less, it's a great way to help you meet that big minimum spending requirement to earn a sign-up bonus offer on a new credit card.
Want to know how to get more out of your rent payments or bills by paying with credit card? Curious why you might want to do so in the first place? Keep reading.
How Plastiq Works
Paying your rent with a credit card through Plastiq couldn't be simpler.
Once you've signed up for a free Plastiq account, you'll enter your credit card information and the landlord's name and address. Confirm how much you want to send and the date to complete the process. Your landlord will then receive a paper check via mail (or direct deposit, if that's how you pay rent). You can also do a wire transfer or ACH bank transfer through Plastiq.
That's right: Your landlord doesn't even need Plastiq to use this service. All you need to know is your landlord's name and the address where you send your rent each month.
As for the fees, Plastiq charges a 1% fee for debit card payments and a 2.85% fee for credit card payments. From time to time, they run special promotions with lower fees.
So let's say you pay $2,000 a month in rent. At 2.85%, you'll pay a $57 fee by paying rent via Plastiq.
You'll have to do the math for yourself to decide whether that fee justifies putting it on a credit card. But generally speaking, if you're using Plastiq to work towards a minimum spending requirement for a big points bonus, the fee will almost always be worth it.
But here's a critical caveat: You should only use Plastiq to pay rent if you can immediately pay off the credit card you use. Racking up big payments on a card without paying them off is a recipe for bigtime debt. And any points and miles you'd earn won't be worth it.
Read: How to Hit Minimum Spend (And Earn That Bonus) Responsibly on Credit Cards. 
What Other Bills Can Be Paid with Plastiq?
While paying your rent is the most practical use of Plastiq, The service works for bills and payments as well. You can send payments for nearly anything: from contract work to utilities. Here's a list of the ways you can use Plastiq for business or personal use: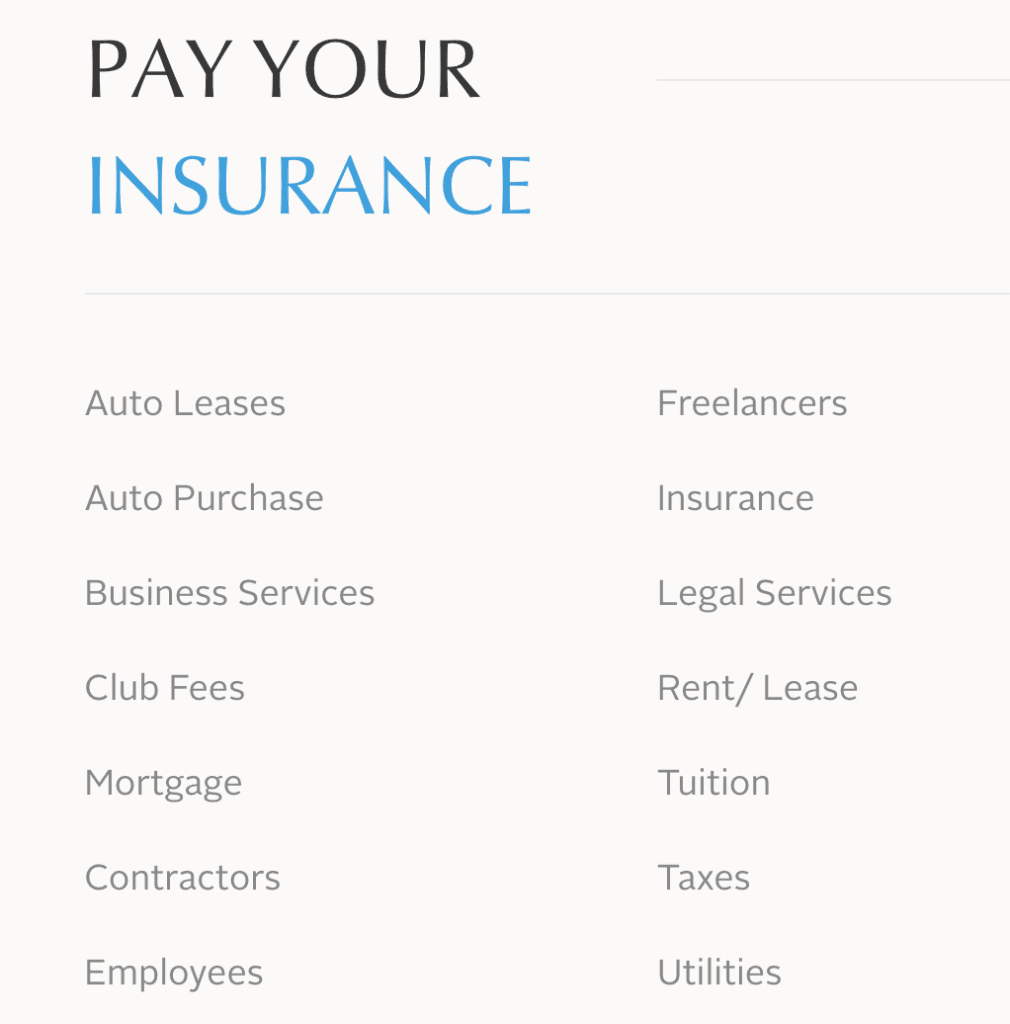 There are some other services that allow you to pay rent with a card (like RadPad), but they charge 2.99% and up for their service. Plastiq's fee is the lowest, and I've found their service to be the most user-friendly.
If you're trying to pay a mortgage, you may be out of luck – depending on which credit card you're using. Specifically, American Express and Visa do not allow mortgage payments.
How to Pay Rent with a Credit Card on Plastiq
First, go to Plastiq's website to sign up. Once you've verified your email, it's time to schedule your first payment. Next, add the card you'd like to make a payment with. Then, click "Start a Payment" to make your first payment on Plastiq.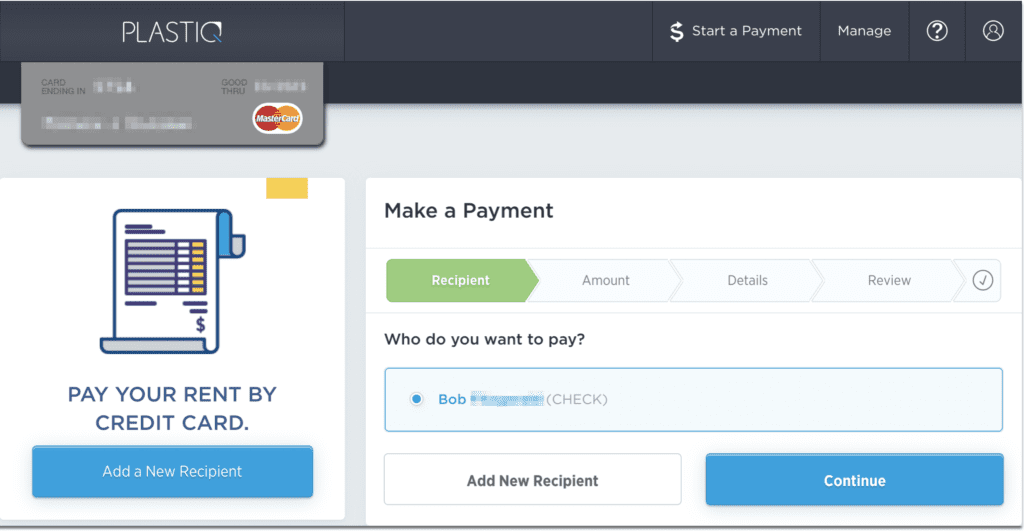 You'll first need to enter the information of the payment recipient: your landlord, or any other service you are paying for. Enter his or her full name and address to mail the paper check.
Next, you'll enter the amount to pay the recipient, and then the payment needs to arrive. You can also select whether you'd like to use Plastiq to repeat the payment or just use it as a one-time payment.
Note that you need to schedule your Plastiq payment at least eight days prior to the date you want the check delivered. This means you can't wait for the last minute and schedule the check to get there tomorrow – unless you want to pay their "expedited delivery fee."
Why Pay Rent with a Credit Card Using Plastiq
Because Plastiq charges a 2.85% fee for credit card payments, using Plastiq to pay every single rent payment you have may not be the best option. However, there are two main reasons I use Plastiq to pay rent every so often. I use it when:
Of course, the convenience of being able to pay online comes in handy if you're traveling and need to make a payment in a week or two. But where Plastiq really shines is the ability to put a large monthly payment on your card, something that wouldn't likely be possible otherwise. Let's look at an example.
Say you just got the Chase Sapphire Preferred® Card, one of our top-recommended cards for points and miles beginners. You can earn 60,000 Chase Ultimate Rewards points by spending $4,000 on the card in the first three months of card membership.
Spending $4,000 in the first three months can seem daunting, but it doesn't have to be! Say your rent is $2,000 a month. Pay rent with your card twice, and you don't have to do anything else to hit that spend requirement and make those points yours! This is a key example of using credit cards right to earn points and miles – expenses you'd be paying anyway.
Want to know about other ways to hit your minimum spend requirement easily? Read our guide to earning your sign-up bonus without spending more than usual.
You'll be charged that 2.85% fee – $57 on each $2,000 payment. But that's a small price to pay for the convenience of not worrying whether you'll hit the required amount to unlock a bonus. And you'll eventually earn 60,000 points, which are worth at least $750 or much more in travel rewards.
Read more: Great Ways to Use Chase Ultimate Rewards Points
But using Plastiq to earn normal everyday points may not be worth the fee. The Chase Sapphire Preferred Card earns 1 point per dollar on most spending and 2x points on travel and dining.
So absent that big points bonus, you'd be earning just 2,000 points on the same rent payment for $50 in fees. This strategy works far better when you're earning a big sign-up bonus.
Bottom Line
I've used Plastiq many times to pay rent while I'm traveling and to hit a minimum spend requirement. Plastiq is simple and fairly cheap to use, and it's a great way to make paying rent (or other big bills) easy while helping you reach your travel goals.