Imagine being welcomed into a local's home and sipping wine with a stunning view of the Acropolis while being fed a 10-course Mediterranean feast.
If this sounds like your idea of a fantastic meal, it's time to try EatWith. EatWith is an immersive dining website that shares a lot of similarities with Airbnb. But instead of renting a home, you're just visiting for dinner. Founded in 2012, it now has spread to over 130 countries and is quickly becoming popular.
Here's why you need to add an EatWith experience to your next trip.
Experience Someone's Home
One of the most rewarding parts of traveling is the gift of a different perspective and opportunity to learn about different cultures. EatWith ticks all those boxes, giving you a chance to be welcomed into someone's home who has likely spent most of their life living in a place you are merely passing through.
You'll get a glimpse into local daily life, as well as home life during your visit. Odds are your host(s) will probably share stories of growing up in their country and how food played a role in it. Oh, and the home-cooked meal. 
During a recent EatWith in Athens, I was delighted to learn about the host's passion for Greek food. He shared the stories of learning to cook from his mother. We even got to spend some time with the resident dogs between courses!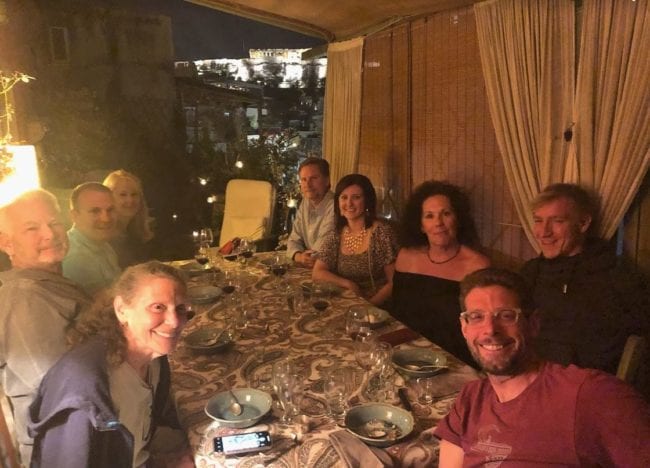 Meet Other Travelers
EatWith is often structured for group sizes of around eight people, which means you will be meeting other travelers. For me, it's one of the best parts of the experience.
You'll likely meet other dinner guests from around the world, who share a common passion for traveling. It's so rewarding to spend a few hours talking with others about where they're from, where they've been, and where they hope to go. Everyone who sits around the table at an EatWith is there because they're open-minded and curious, which makes for some very robust conversation. Come prepared to share stories and ideas!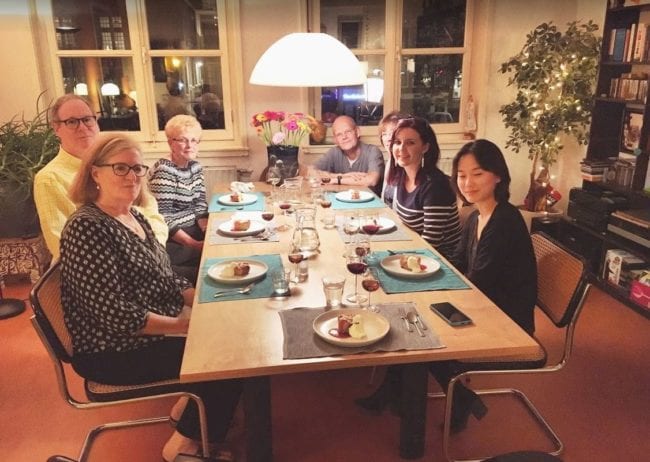 Eat Amazing Food
EatWith is a great way to have an authentic and expertly prepared meal.
Many of the hosts have professional culinary experience. This means they know how to prepare a dinner that's on par with what you'd get at most restaurants, if not better.
At an average price point of $40 to $90 per person, the cost is in line with a high-end dinner at a restaurant. But EatWith takes it a great meal and turns it into an outstanding experience. I was lucky enough to do an EatWith in Amsterdam with Martine and Olav who owned a traditional French restaurant for many years. After selling their restaurant, they started hosting EatWith dinners in their home to continue providing a high level of culinary excellence to guests.
Let's just say it was one of the best meals I've ever had.
Where Is EatWith Available?
EatWith is available in over 130 countries throughout the world including throughout Asia, Europe, the U.S., South America, and Africa. Overall, EatWith seems to be most popular in Europe and the U.S. But most large cities and tourist hotspots have dining experiences available.
Some examples of cities with good availability and top experiences include:
Rome
Barcelona
Paris
Athens
Lisbon
Amsterdam
New York City
San Francisco
Istanbul
Cape Town, South Africa
Kuala Lumpur
Tokyo
Search for your next destination on the website to get an idea of the options available. It can be advantageous to book early especially for high demand experiences.
How to Book
Now that you know why you need to do one, here's how to book an EatWith experience.
First, visit EatWith.com and browse for brunches, lunches, or dinners served in local homes. The descriptions on the website will introduce you to the host(s) and also give you a good idea of what will be served. You'll also be able to see how many other people may be joining you.
EatWith charges the full cost of the meal at the time of booking. After completing the booking process, you will receive a detailed email with instructions and directions for the event. Then, just show up and enjoy!
If stepping into a stranger's home has you feeling a little uncertain, rest assured that you'll be dining with a carefully vetted host who has completed an extensive application process. For further peace of mind, EatWith covers all diners and hosts with an insurance policy.
Thrifty Tip: Many of the top experiences appear on Trip Advisor right alongside traditional restaurants. Checking Trip Advisor before booking can help you get an idea of the most highly rated EatWiths in a particular city.
Bottom Line
With the ability to choose your hosts and dining experience, EatWith is quickly becoming the Airbnb of food. EatWith offers unparalleled immersion in the local culture and gracefully balances delicious food, excellent company, and unique experiences. Make sure to leave room on your next itinerary for a dinner through EatWith.
Subscribe to our Daily Beat, like us on Facebook, and follow us on Twitter & Instagram

Editorial Note: Any opinions, analyses, reviews, or recommendations expressed in this article are those of the author's alone, and have not been reviewed, approved, or otherwise endorsed by any card issuer.