Meet Portland's little brother.
With a population of just 94,000, the small town of Bend, Oregon sits on a pristine river nestled near the Cascade Mountains.
And while Portland and the rest of the Pacific coast get all the attention and tourists, tiny Bend offers a perfect combination of small-town atmosphere, outdoor activity, and amazing food.
Here's why Bend is worth a visit and what to do once you arrive.
Getting to Bend
Bend is located in central Oregon, about 165 miles southeast of Portland. Your cheapest option is to fly to Portland (PDX) itself and then rent a car and make the 3 1/2-hour drive.
It's a scenic drive and if you're looking to break up the trip a little, plan for a stop at Mt. Hood about halfway.
Thrifty Tip: Follow our tips to rent the cheapest car possible.
Alternatively, a number of airlines including Alaska, American, Delta, and United fly to Redmond (RDM), about 20 miles from Bend. Unless you're coming from a regional Western hub for one of these airlines, you'll likely need to take a layover and flight deals are often hard to come by.
The best time of year to visit Bend is arguably summer and early fall, but there's plenty to do year-round.
Take a Day Trip to Crater Lake
Crater Lake is a beautiful national park that is easy to visit in just a single day.
This incredible lake is famous for its gorgeous color and sweeping mountain views. Created by the collapse of a volcano, it's the deepest lake in the United States and third deepest in the world by average depth.
Hop in the car and travel about two hours south to the park. Plan to arrive early for a morning hike on one of the many trails surrounding the lake. Then enjoy lunch at the visitor's lodge before driving the rim of the lake in the afternoon. The drive around the lake takes approximately two hours with stops for photos, which leaves plenty of time to get back to Bend by dinner time.
Enjoy the Outdoors
Attention, outdoors lovers: Bend is calling you.
Nature is inescapable in and around Bend. The Deschutes River runs through downtown and you'll find plenty of shops where you can rent paddleboards, kayaks, or canoes. Mirror Pond is a wider area of the river that's very calm and popular with paddle boarders. The area is lined by Drake Park, so if being on the water isn't your thing, you can still take a walk along the riverside and soak in the beautiful setting.
Hiking enthusiasts will want to head about 30 minutes west to Mount Bachelor and South Sister in Deschutes National Forest. These areas have plenty of challenging hikes with rewarding views and are a great way to spend a day. Mount Bachelor also offers excellent skiing during the winter months.
Hike A Volcano … In Town!
Bend is one of just four cities in the United States with a volcano inside its city limits.
You can reach Pilot Butte by hiking the 45-minute paved path to the top. The summit is also easy to reach by vehicle, with a roadway leading to the top with a parking area. You'll be able to see the entire town from the top as well as the Cascades off in the distance.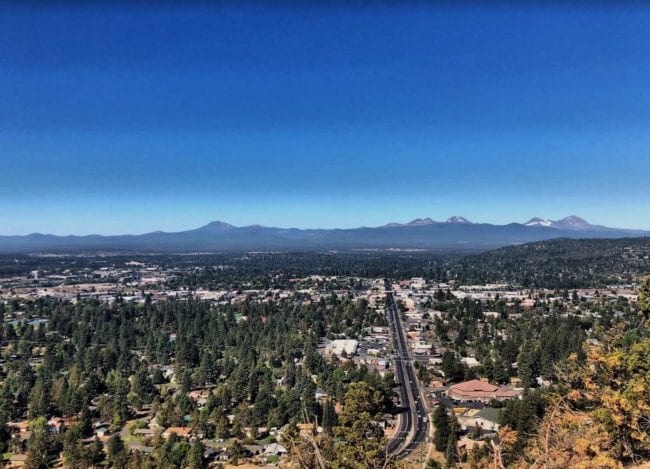 Eat Your Heart Out
After working up an appetite from all that activity, head back to downtown Bend and take your pick of any number of highly-rated restaurants.
Funky Barrio offers inventive cocktails and upscale Latin fare, while Citizen Bar + Kitchen serves delicious American-style concoctions. Feeling adventurous? Wild Rose Northern Thai will have you thinking you've been transported to Chiang Mai.
For dessert, walk over to Bonta Natural Artisan Gelato for a taste of the best ice cream in town.
Catch a hearty breakfast at Rockin' Daves, with a killer patio and seriously delicious bagel sandwiches. Lastly, make sure to leave some room for a famous Ocean Roll (it's a cinnamon roll, but with cardamom!) from Sparrow Bakery. There's usually a line, but coffee is free while you wait and it's an interesting way to meet people too!
Drink Craft Brews on the Bend Ale Trail
You won't have to look hard to find a good beer in Bend.
With more breweries per capita than almost any city in the U.S, it's easy to find some top-notch craft brews just about anywhere you go. Bend has taken their brewery experience to the next level by making the Bend Ale Trail experience. You can collect stamps from 18 breweries in town (don't try this all in one day) and turn in your Ale Trail passport for a prize at the Bend Visitor's Center.
With all these breweries and so little time, it may leave you wondering which to visit first.
Crux Fermentation Project has a great outdoor space and high-quality beers. Deschutes Brewery is a must-stop for its 31-year history in the area, gaining national prominence and helping put Bend on the map. Finally, Bend Brewing Company offers a cozy spot near the river and excellent food. But at the end of the day, you really can't go wrong with any of the outstanding establishments on the Ale Trail.
Thrifty Tip: Download the Bend Ale Trail app and simply scan the QR code inside each brewery. Collect more than 10 for a prize!
Bottom Line
Bend might not be the first place that comes to mind when planning a trip to Oregon. But with plenty to do, a welcoming atmosphere, and access to some of the best outdoor activities in the area, Bend should make your list for your next vacation.