Getting help from your airline is rarely easy. As travelers try to use credits or vouchers heading into a busy summer travel season, they're flooding airline call centers. Delta call wait times, in particular, have been horrendous for months.
There's a better way than sitting on hold for hours on end: Message your airline on Twitter instead. In our experience, there's no easier or faster way to get a problem solved. But if you're trying to sort out travel plans with Delta, there's just one problem – Delta halted customer service requests via Twitter or Facebook. Instead, the airline is directing travelers to use its "Message Us" chat function on its website or in the Delta smartphone app.
The good news? While not quite perfect, this feature works like a charm, allowing you to chat back and forth with a Delta agent rather than sit on hold for ages. After slow response times through much of the last year, it seems to have sped up recently – and now, Delta even estimates how long you'll have to wait.
Here's how it works.
Need to talk to someone on the phone? Check our tips on the best ways to reach Delta faster!
How to Access the Delta Messaging Feature
There are two ways to message Delta: in a chat window on its website or via text message through Delta's mobile app. And one method reigns supreme.
You'll want to text message Delta rather than use the website for one simple reason: On the site, you'll have to wait by your computer for an agent to eventually respond. But if you use the app to text message Delta, you'll simply get a text on your phone when an agent is ready. Much better!
To use the Delta text messaging feature, you'll need to have the Delta mobile app. Once you've got the app, select the "More" option on the bottom menu bar.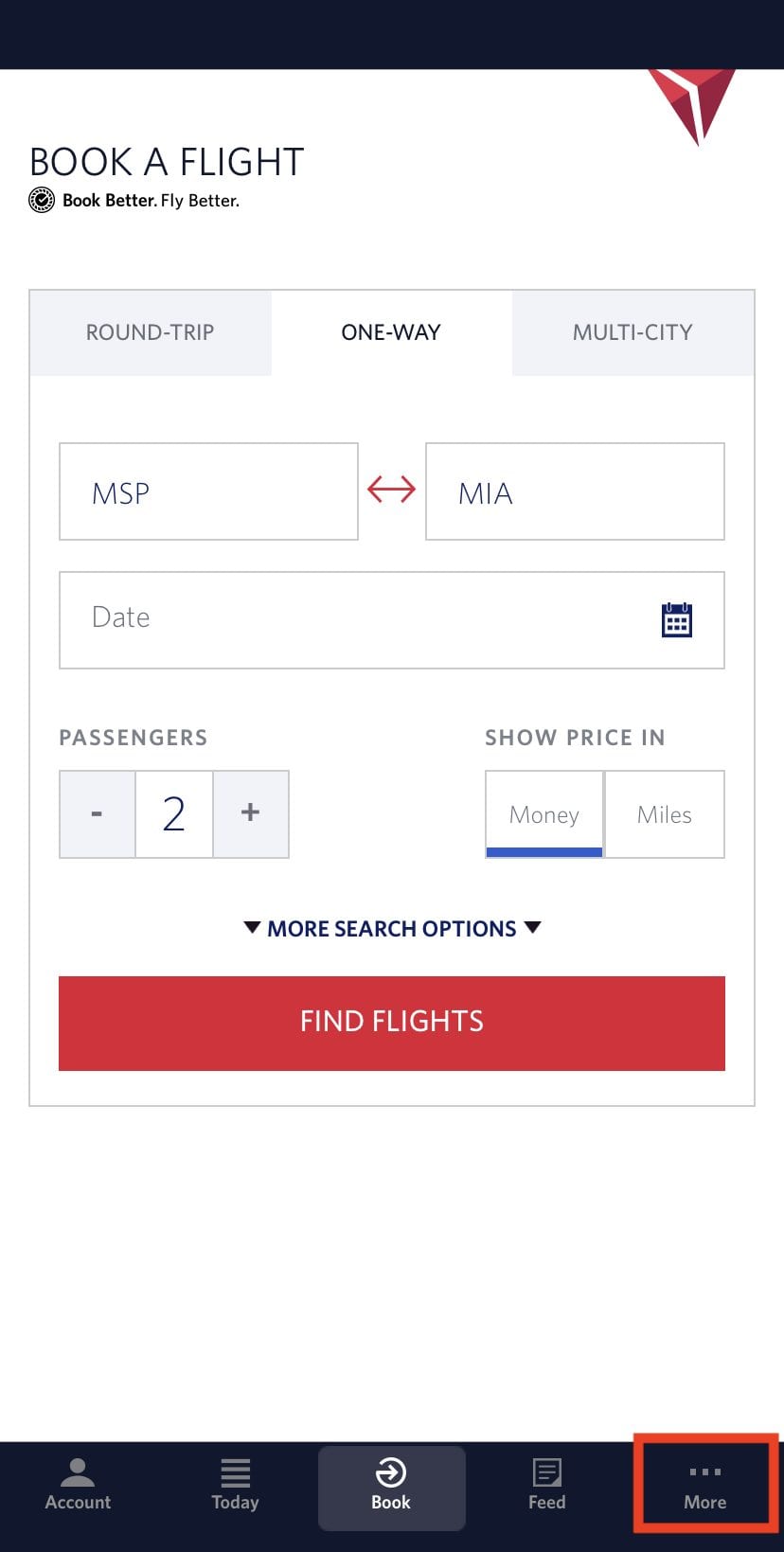 Here, you'll see a list of menu items. Scroll all the way to the bottom, and you'll see the last option is: "Message Us". Click this when you're ready to start your customer service conversation.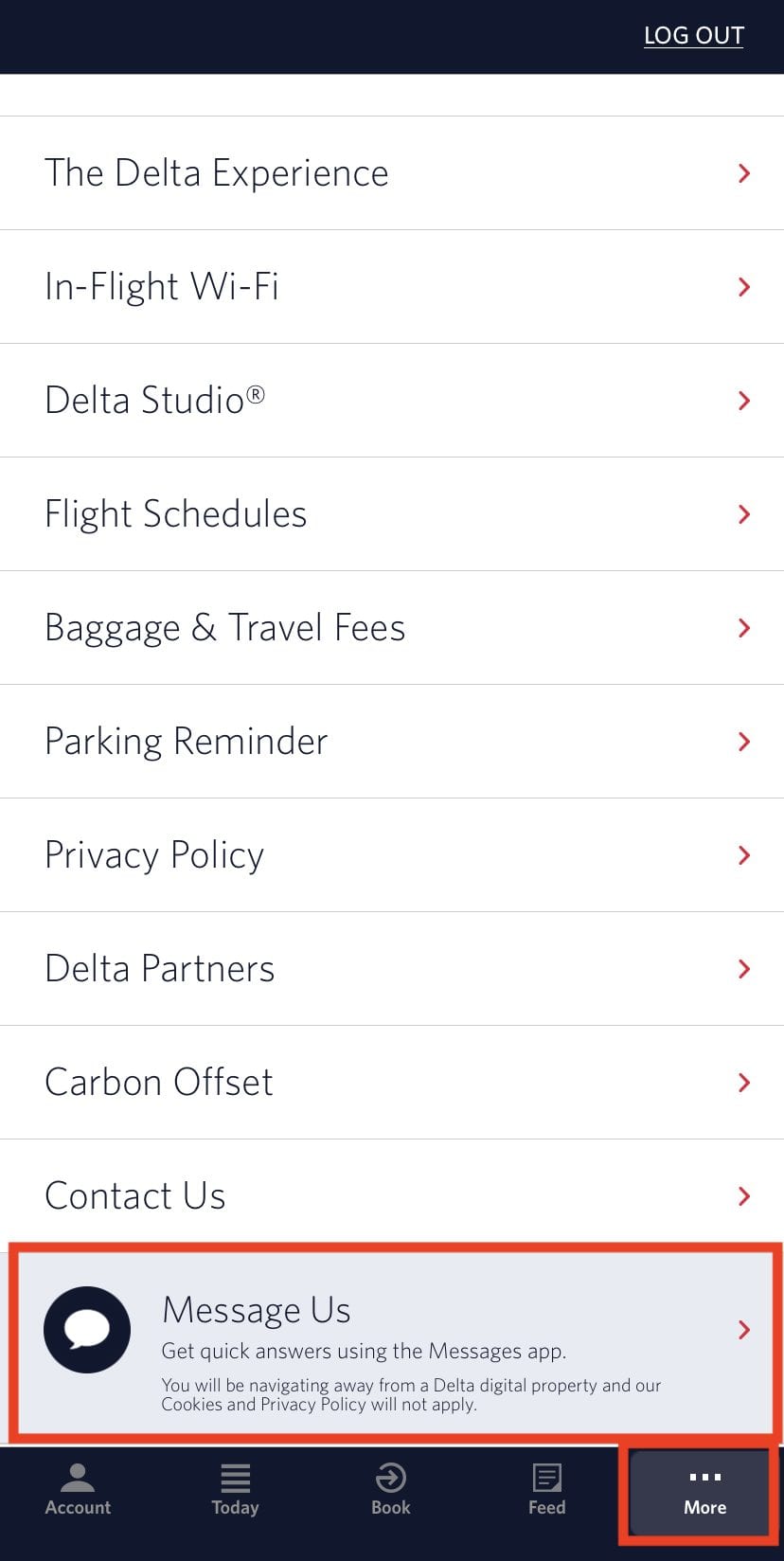 How to Text with Delta
Once you've selected the "Message Us" option, your phone will bring you from the Delta app to a new text message within your Messages app. Yes, this is just like texting Delta as if it were a person in your contacts list!
The message screen will be blank, so to begin, simply write your question or what you'd like help with. The process is automated to start, running you through some multiple-choice questions to see if it can handle your inquiry without passing you off to an agent.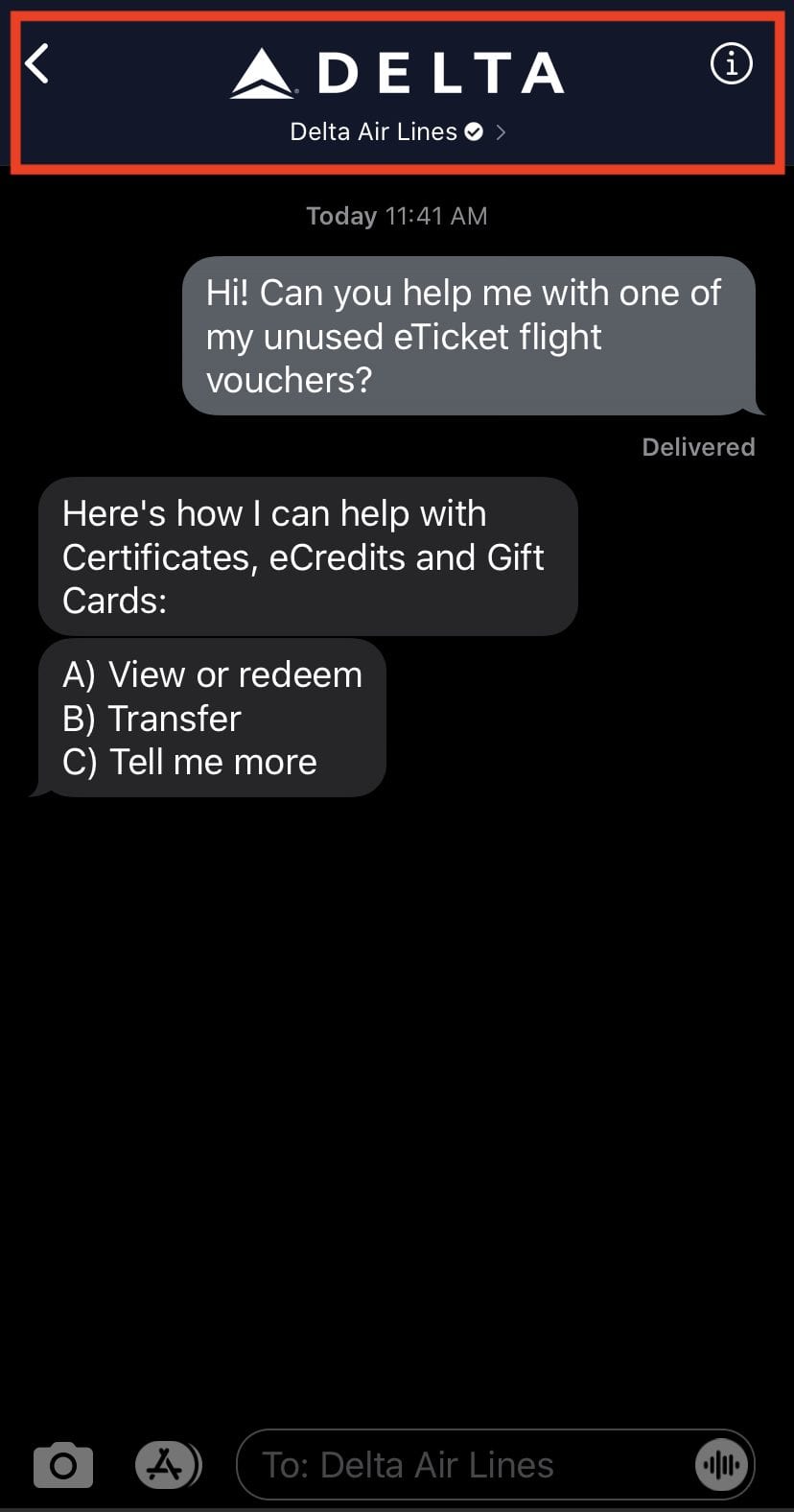 Depending on your issue, you might receive a link to more information, multiple-choice options to resolve your issue further, or an option to work with a representative.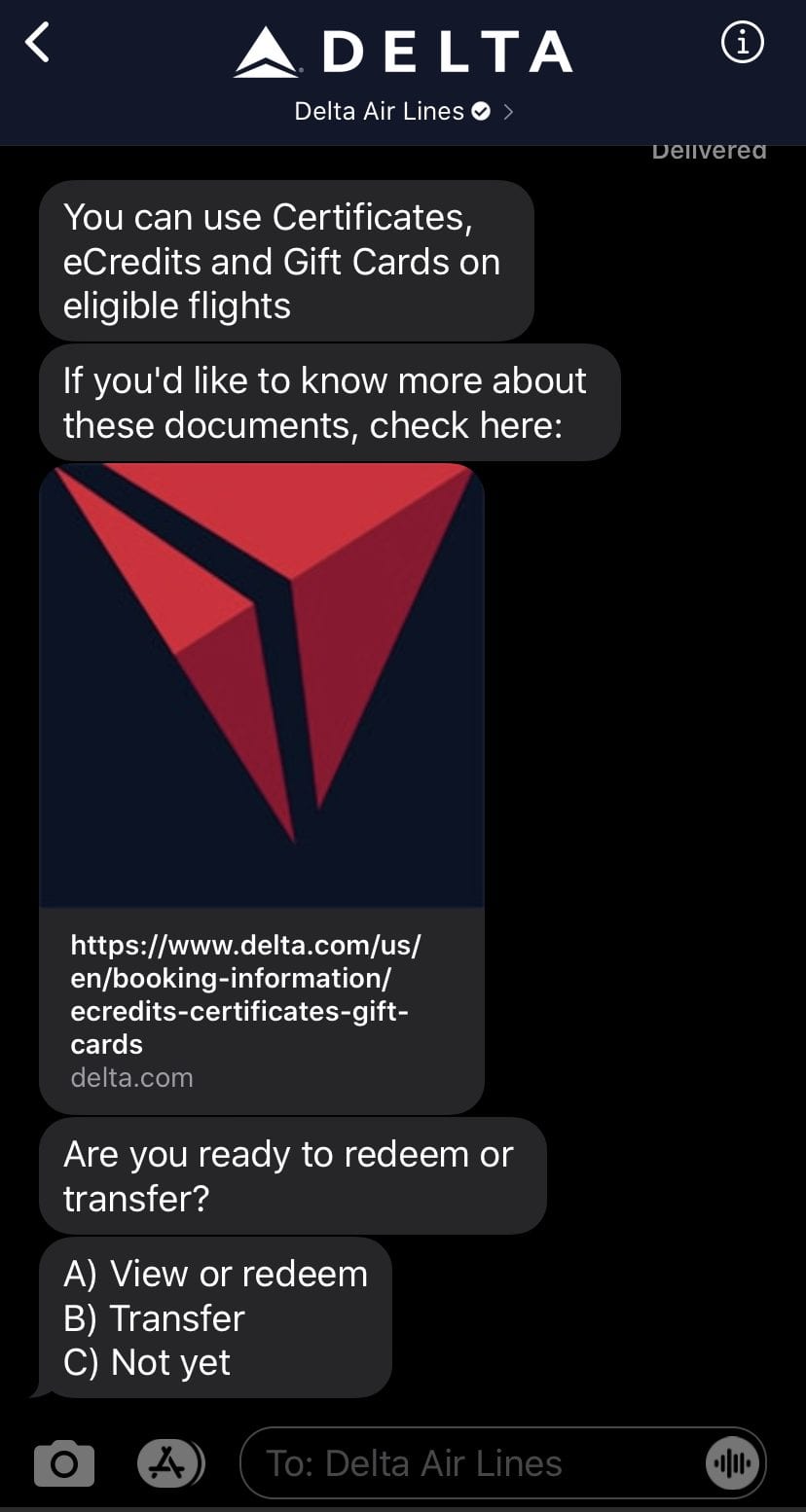 Otherwise, you can simply say "representative" and automatically get placed into a queue to speak with the next available agent.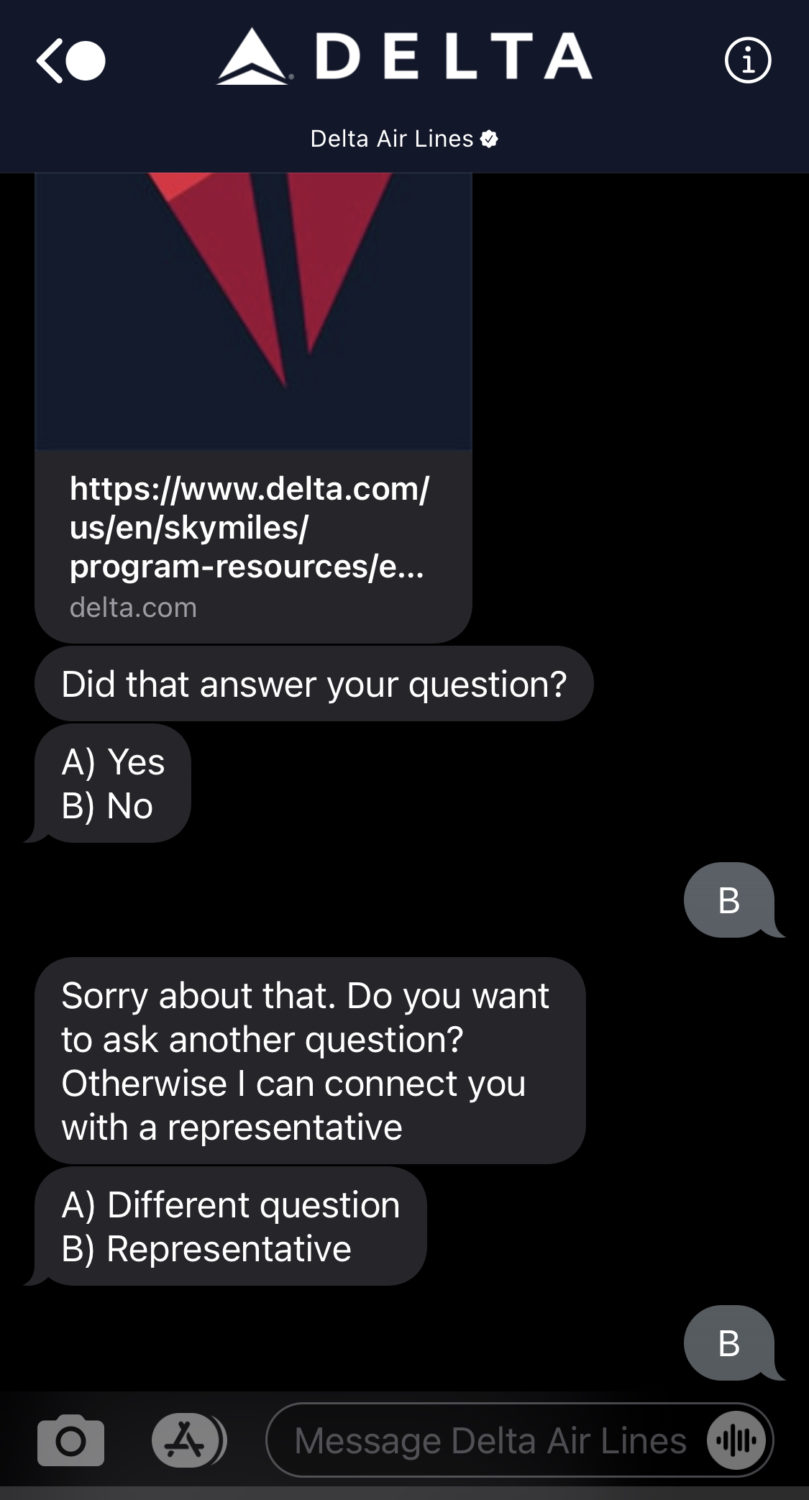 Delta has recently made this feature even better: Now, the airline estimates how long you'll have to wait before a representative is available for some one-on-one help. While their estimates aren't exact, in our experience, it's been close enough.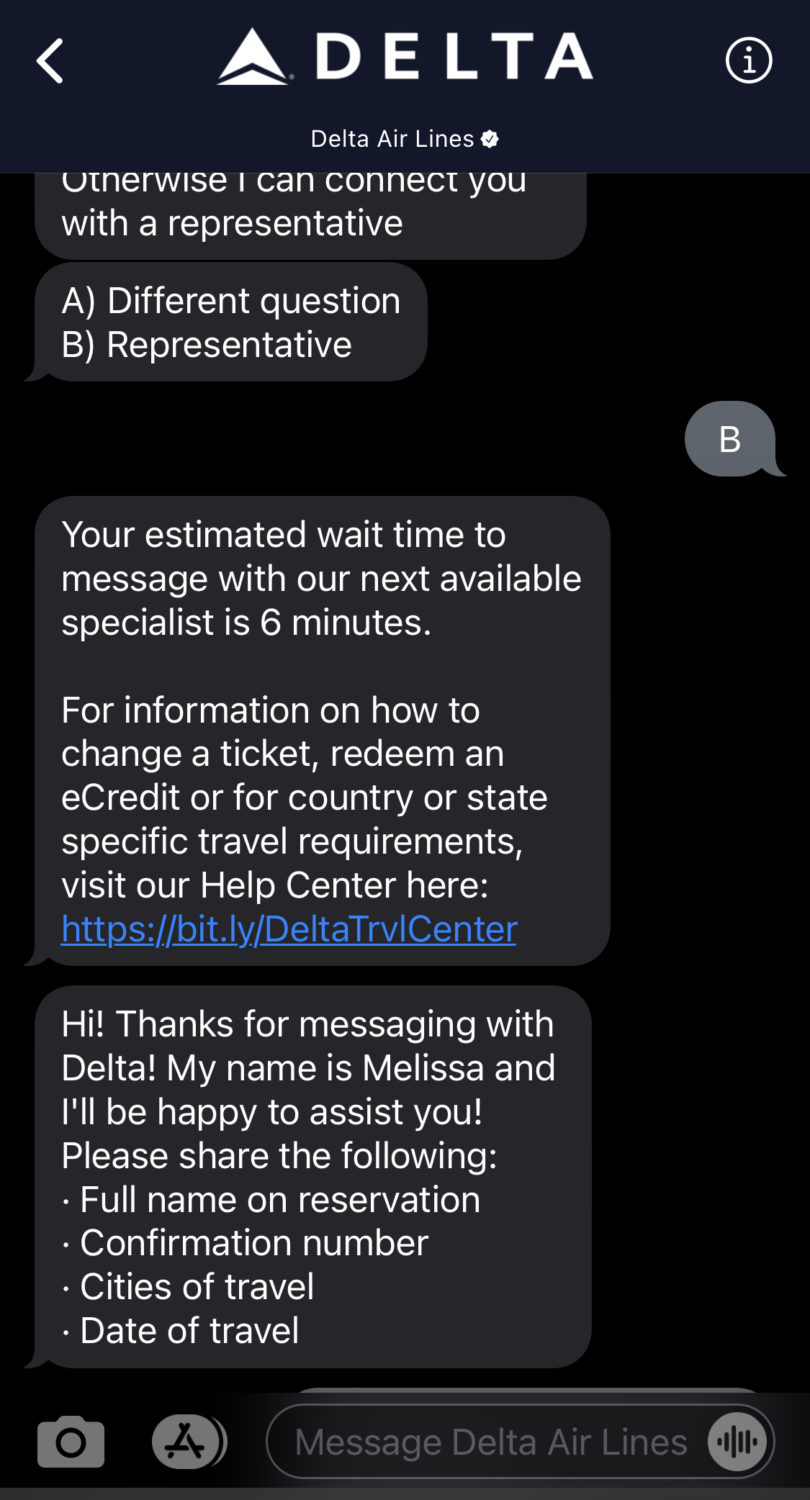 It's that simple. In our experience, the agents working these lines are competent and fairly fast, able to resolve almost any issue you put in front of them. Text back and forth with the automated help and representatives to resolve your issue without putting the phone to your ear or hearing the dreaded hold tunes.
Bottom Line
We were crushed when Delta pulled customer support via Twitter or Facebook direct messaging. Delta has promised that feature will eventually return, but it's unclear when that may happen.
Still, we have to admit that this text messaging feature accessible through the Delta is quite slick. Stop sitting on hold for hours on end. Next time you need help with a voucher, flight change or delay, or getting a refund, use this feature to message directly with Delta.