Delta has been making headlines for all the wrong reasons after announcing some sweeping changes to how travelers earn Medallion Elite status and who can (and can't) get into Delta Sky Club lounges. While the Atlanta-based airline walked back some of those changes, travelers are still rethinking their loyalty – and what's in their wallets.
And no card is getting hit harder in this shakeup than the *delta skymiles platinum card*. In the last few weeks, we've heard from countless readers and travelers wondering whether it's time to get rid of their once-favorite Delta card.
As Delta raises how much spending it takes to climb the tiers of Medallion status, the value of using this card day in and day out is less clear. Travelers who relied on their Delta Platinum Card to visit the Sky Club a few times a year will be left outside the lounge. And then there's the annual Delta companion certificate, which even many savvy flyers have been struggling to use recently.
So what should you do with big changes on the horizon in the New Year? Cancel it? Switch to the *delta skymiles gold card* – or even move up to the pricey *delta reserve card*? Or something else altogether?
Let's dive into what's changing with the Delta SkyMiles Platinum Card and what you should do if you're mulling a change.

What's Changing with the Delta Platinum Card?
After making massive changes, then rolling some (but not all) of them back, your head might be spinning about what's really happening with Delta – and what it means for your SkyMiles Platinum Card. We can't blame you.
Let's back up.
Delta's changes to the Medallion Status program and Sky Club access policies are all about thinning the ranks of flyers with elite status and alleviating overcrowded Delta Sky Clubs. If you currently hold the Delta Platinum card, you might be taking a major a hit on both of those fronts.
Here's what's changing starting in 2024.
No More MQD Waiver
As it stands today, there are two basic building blocks to earning Delta status:
You have to rack up a certain amount of miles on Delta flights (called Medallion Qualification Miles or MQMs, which are different than SkyMiles) or a sheer number of flight segments – Medallion Qualifying Segments (MQSs)
Then, there's also a spending requirement, called Medallion Qualifying Dollars (MQDs).
And you've needed both. Through the end of 2023, here's what's needed to qualify for every level of Delta status from Silver to Diamond Medallion.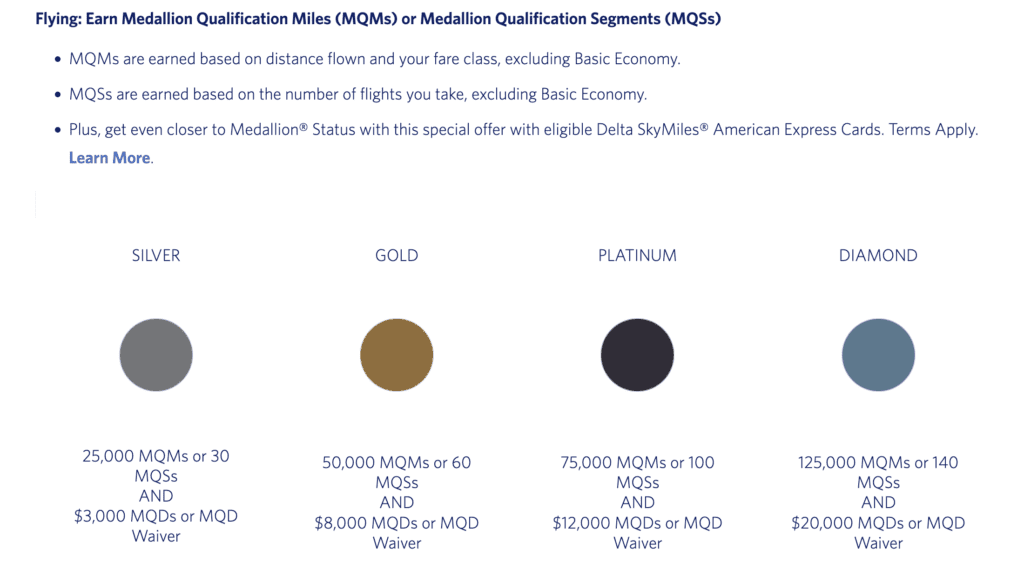 But travelers with the either the *delta skymiles platinum card* or the *delta reserve card*  had a relatively easy avenue to bypass those spending requirements called an MQD waiver.
Spend at least $25,000 on those cards in a calendar year, and you'd get an MQD waiver to satisfy the spending requirements for Silver, Gold, and Platinum Status – plus, Platinum cardholders get an MQM boost of 10,000 MQMs for every $25,000 they spend, too. To get an MQD waiver for Diamond status, you need to spend a whopping $250,000 on your card in a calendar year.
But that's all changing starting on Jan. 1, 2024, as Delta flyers begin working towards requalifying for Medallion status under an entirely new system that only measures spending – and requires a lot more of it. The MQD waiver on the Delta Platinum and Reserve Cards will disappear.
That's a big blow, as it's an avenue that many Delta flyers relied upon to get Delta status.
How to Earn MQDs & Delta Status Starting in 2024
After making some tweaks to their original plans just last week, here's a look at how many MQDs you'll need to earn with each level of status starting next year. Fair warning: It's a lot.

| Medallion Tiers | 2023 MQD Thresholds | Original MQD Thresholds for 2024 | New MQD Thresholds for 2024 |
| --- | --- | --- | --- |
| Silver | 3,000 MQDs | 6,000 MQDs | 5,000 MQDs |
| Gold | 8,000 MQDs | 12,000 MQDs | 10,000 MQDs |
| Platinum | 12,000 MQDs | 18,000 MQDs | 15,000 MQDs |
| Diamond | 20,000 MQDs | 35,000 MQDs | 28,000 MQDs |
To put this into context, travelers who currently have Silver Medallion status by spending $3,000 with Delta in a calendar year will have to spend $5,000 with the airline next year. Keep in mind that this new framework takes effect next year for earning status in 2025: If you've already earned Delta status for 2024 or plan to by the end of the year, you're all set.
But since the MQD waiver is disappearing, simply spending $25,000 on your Platinum Card is no longer an option. That said, Delta is giving flyers a few more ways to actually earn MQDs beyond just spending on Delta and its partner airlines.
Platinum Cardholders Get an MQD Boost…
One positive change starting next year is that Delta will dole out 2,500 MQDs each and every year to travelers with the following co-branded cards:
That means a flyer with a Delta Platinum Card in their wallet at the start of the year would get 2,500 MQDs right off the bat – half of what it takes to reach Silver Medallion status. If you've got several of these cards in your wallet (not that you should), you can stack these head-start bonuses for up to 10,000 MQDs.
But again, even though this boost would get Delta Platinum cardholders halfway to Silver Medallion status, you'd still have to make up the difference through flying with Delta, spending a lot on your Platinum Card, or some combination of the two.
That means that if Delta status is what you're after, the Delta Platinum Card is no longer a great one to have in your wallet. And there's one big reason why.
An Awful Return on Everyday Spending Toward Status
In place of the valuable MQD waiver, Delta is creating a far-less rewarding system to earn additional MQDs for everyday spending on select Delta credit cards starting next year. And the Delta Platinum Card is taking the biggest hit.
For example, a traveler who previously earned Delta Gold Medallion status in part by spending $25,000 a year on a Delta SkyMiles Platinum Card would now have to spend as much as $200,000 on that same card starting next year. Ouch.
With these new changes, Delta is making spending towards status on a Reserve card twice as valuable as it will be on a Delta Platinum card. And that makes it a far better choice for travelers chasing status in 2024.

Let's say you'll spend $5,000 in 2024 on Delta flights. That's enough to qualify you for Silver Medallion status. But if you want to get to Gold again, you'll need to earn another $5,000 MQDs.
With either a Delta Platinum or Reserve Card in your wallet, you'll get a $2,500 MQD boost to start the New Year, meaning you've got $2,500
Since you earn 1 MQD for every $10 on the Reserve Card, that'll require spending $25,000 on the card
But since you earn half as many MQDs on the Platinum Card, it's another $50,000 in spending each calendar year.
Starting next year, if you are aiming for any level of Delta Medallion status, holding the Delta Platinum Card probably doesn't make sense. The Reserve Card is a much better choice. And while its $550 annual fee (see rates & fees) means it'll cost you another $300 to keep open, it'll make your path to status much faster.
That's not the only extra benefit you'd get.
No More Sky Club Access … Period
For years, Delta Platinum cardholders have been buying their way into Delta Sky Clubs before (or even after) a Delta flight.
Today, it costs $50 per visit – up from the previous price of $39 after an increase earlier this year. It's a great option for cardholders who may only visit a Sky Club a few times a year.
But starting on Jan. 1, 2024, this option will disappear completely. Delta Platinum SkyMiles cardholders will no longer be able to buy their way into a Sky Club. That's one change that Delta hasn't rolled back after backlash.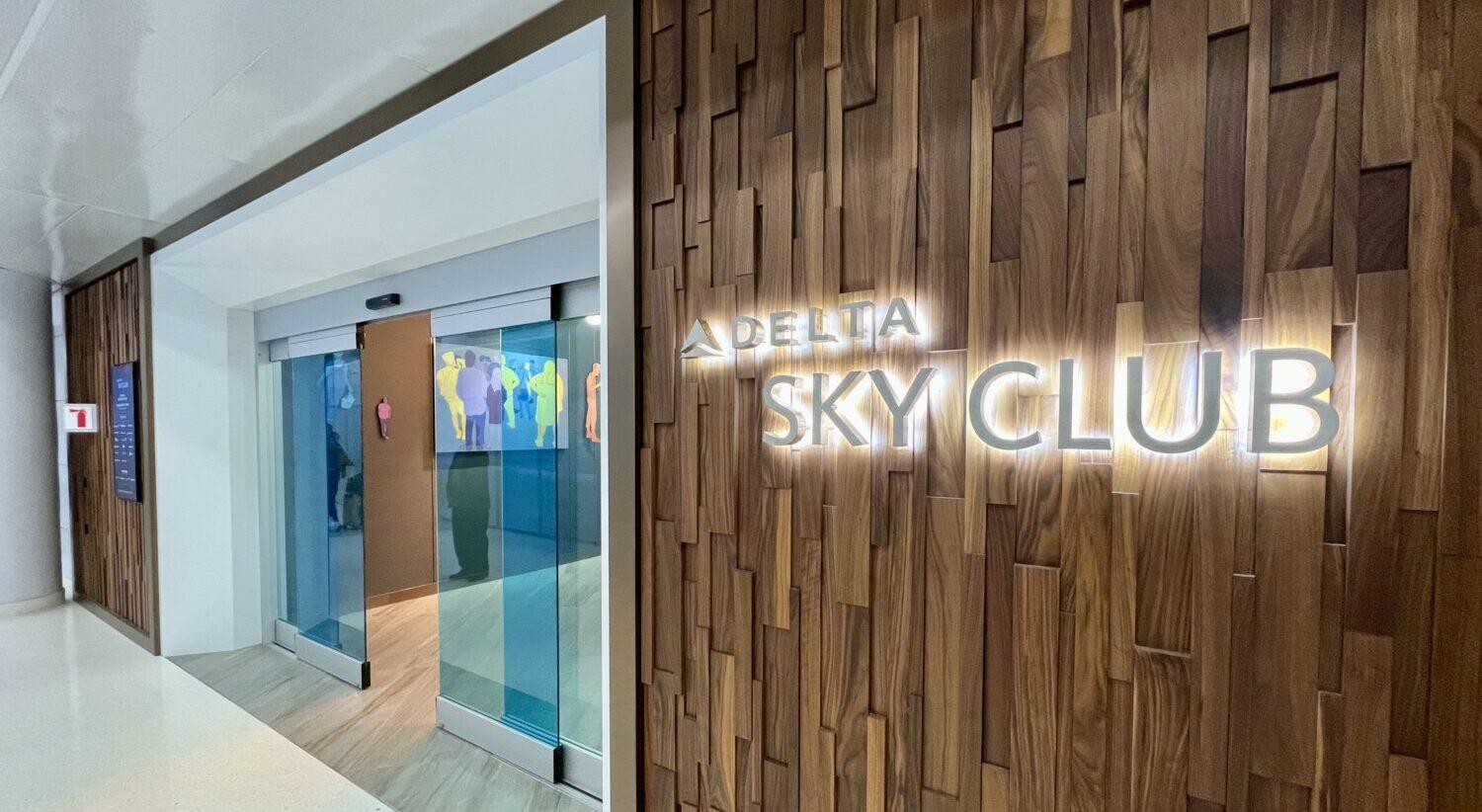 If you want to get access to the Delta Sky Club from a credit card, you'll need to have either the *delta reserve card* or *amex platinum* – not the one from Delta.
Both those cards will also see some limitations in the years to come limitations in the coming years, but they're nowhere near as harsh. Starting on Feb. 1, 2025, you can use a Reserve card to get into a Sky Club just 15 times a year. Amex Platinum cardholders will be limited to just 10 visits each year. Both cards currently offer unlimited Sky Club access.
So if you want access to the Sky Club in 2024 and beyond, you'll need to pony up for a card with a bigger annual fee. The Delta Platinum card will soon have no path for getting in.
Read our full guide to Delta Sky Club access!
Who Does the Delta Platinum Card Still Make Sense For?
If you currently hold a Delta Platinum card and are weighing your options, you'll have a decision to make about what to do with your card on your next renewal date starting next year. There's no black-and-white, one-size-fits-all answer.
Is your main concern the card's annual companion certificate – the BOGO flight you get annually starting in your second year with the card? And you've been able to use it no problem each year? Then you're set: That's the card's primary perk now. Along with other benefits like free baggage, that should be enough to justify keeping the card open for another $250 a year (see rates & fees).
Is your main concern getting into Sky Club? Or status – keeping it or maybe earning it for the first time? Then all these changes make the Delta Platinum Card worth much less than it was before. Travelers on the hunt for Medallion Status would be much better served by the Delta Reserve card: it makes all of your spending – not just spending with Delta – much more valuable. Combined with complimentary Sky Club access, it could be well worth the higher annual fee.
Leaning toward a Reserve Card? Read up on why you shouldn't simply upgrade your current Delta card!
Don't care about status or Sky Club access? The *delta skymiles gold card* might make more sense. The card has a $0 introductory annual fee, then $99 each year after that (see rates & fees) – a much cheaper alternative to the Delta Platinum Card. But it still provides some of the perks that are most important to many Delta flyers: free checked bags on each and every flight you take with Delta a 15% discount when redeeming Delta SkyMiles on any Delta award ticket, thanks to the TakeOff 15 benefit.
Of course, those two benefits are also available on the Delta Platinum card. But if it's just those key benefits you're after, the Gold card will be a much cheaper way to get them.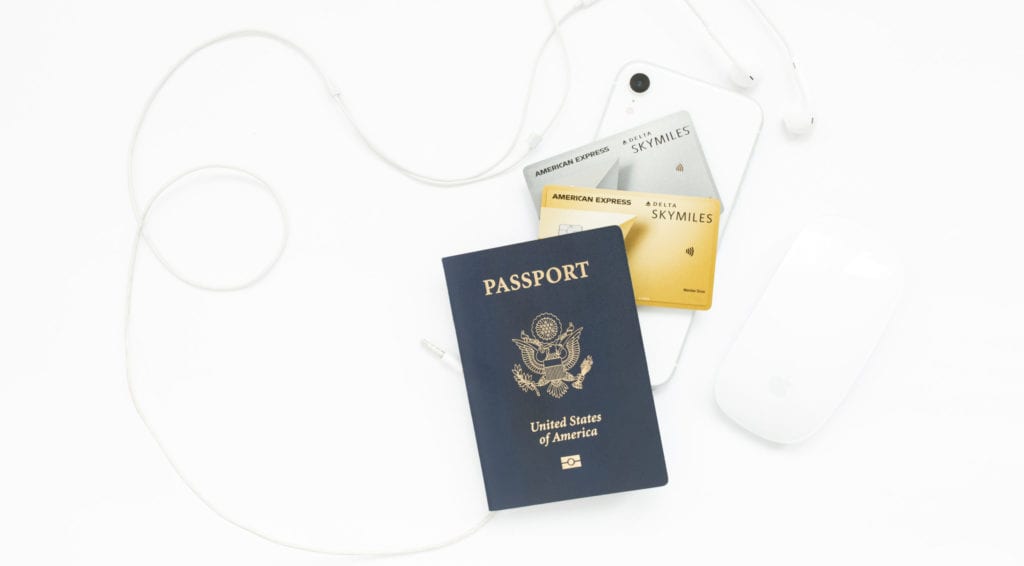 With the Gold Card instead of Delta's Platinum Card, you won't get the $100 credit to cover the cost of Global Entry or TSA PreCheck. That credit is available once every four years – and since membership in both programs is good for five years, you're set. But many other travel credit cards offer that benefit, too.
And then there's the annual companion ticket, which also isn't available on the Delta Gold Card. But that companion ticket can prove difficult to use: It's not available for just any any Delta flight – only certain fare classes are eligible. Finding the ones that work has become a struggle.
Critically, the Delta Reserve card also offers both of those benefits – including an even more valuable companion certificate that can be used for first class seats. While the card has an annual fee of $550, it also provides much more in terms of benefits like Sky Club access and an easier path to spending your way towards Delta Medallion status.
Full Benefits of the Delta SkyMiles® Platinum American Express Card
bonus_miles_full

Check your first bag free on every Delta flight, savings of at least $60 on each round-trip flight, per person
Priority boarding (even with a basic economy ticket)
Get a domestic main cabin round-trip companion certificate each year upon card renewal.
Earn 2x SkyMiles per dollar spent at restaurants worldwide (including takeout and delivery in the U.S.) and U.S. supermarkets.
Earn 3x SkyMiles per dollar spent on eligible Delta purchases, and at hotels.
Get up to a $100 credit to cover the cost for Global Entry or TSA PreCheck once every 4.5 years for the application fee for TSA PreCheck® and every 4 years for Global Entry
Get 15% off SkyMiles award tickets with TakeOff 15 when booking on delta.com or through the Fly Delta app
Get 20% off in-flight purchases such as food & drinks in the form of a statement credit
You can get into the Delta Sky Club when you're flying Delta by paying $50 (and bring up to two guests for $50 each). Effective Jan. 1, 2024, this benefit will no longer be available.
No foreign transaction fees
$250 annual fee  (See rates & fees)
Learn more about the *delta skymiles platinum card*
Alternatives to the Delta SkyMiles Platinum Card
If you've got a Delta Platinum card but aren't interested in chasing Medallion elite status or using a companion certificate each year, there's likely a better option for you.
If you plan to keep flying Delta and still want free checked bags plus a discount when you use your SkyMiles, the *delta skymiles gold card* is a great option. It gets you easy-to-use and valuable benefits at a much cheaper price point.
But the best strategy for many Delta flyers reconsidering their Delta Platinum card might be forming a tandem: One Delta card and one non-Delta card. One card to get benefits when you fly Delta, and another one to focus on earning even more points to fuel your future travels.
For that second card, we can't recommend the *amex gold* enough.
Let's get this out of the way: The American Express Gold Card has an annual fee of $250 (see rates & fees), the same annual fee as the Delta Platinum card. While that might sound steep (especially if you plan to pair it with the Delta Gold card) you should easily be able to come out way ahead on that fee by taking advantage of all its benefits – and there are many.

That's why we always encourage readers to do the math before ruling out credit cards with higher annual fees. Rewire your brain to think about those fees as investments in your future travels.
One of the easiest ways to recoup that annual fee is simply by earning points. You can earn a lot of them – many more than a Delta card, in fact.
To start with, you'll earn 4x Membership Rewards points for every dollar you spend at restaurants. You'll also earn 4x points per dollar spent at U.S. supermarkets on up to $25,000 of spending each calendar year (then 1x point). Both the Delta SkyMiles Gold and Platinum Cards earn only 2x Delta SkyMiles at restaurants and at U.S. supermarkets. Heck, the top-dollar SkyMiles Reserve card only earns 1x point per dollar spent in this category.
Not only will you earn more points, but you'll be earning flexible American Express Membership Rewards points instead of putting all your eggs in the SkyMiles basket. Delta is an Amex transfer partner, so you can instantly send these points to your SkyMiles account … or to one of 20 different transfer partners.
That flexibility is what makes them so valuable.
Read More: The Best Card for Delta Fans is … Not a Delta Amex Card?!
Bottom Line
Big changes are on the horizon for Delta flyers. And it's putting a serious squeeze on travelers with the Delta Platinum SkyMiles Card in their wallets.
Despite the backlash, some travelers can still come out ahead with the Platinum Card. But if you're on the hunt for Delta Medallion status or Sky Club access, you'll be best served by the Delta Reserve card. And for others, it might be time to switch to a Delta Gold Card to ensure you still get the benefits you really care about … and stop paying for the ones that you don't.