In the world of travel credit cards, paying big annual fees can get you big perks. That's certainly true with The Platinum Card® from American Express, the American Express® Gold Card, and the *Amex Green Card* travel credits issued each calendar year.
These Amex travel credits help offset the cost of annual fees – $150 for the Green Card (see rates & fees), $250 for the Gold card (see rates & fees), and $695 for the Platinum card (see rates & fees). It's a big part of the reason why we urge readers not to write off credit cards just because of big annual fees. Do it right, and you can come out ahead even with huge yearly costs on some of these cards.
As we say goodbye to 2022 and welcome 2023, it's also time to welcome a fresh set of Amex travel credits if you hold any (or all) of these Amex cards: Almost all of the money-saving credits on these cards re-up on a calendar year basis. That means you've likely got a new batch of credits to use.
Read on to learn more about these credits and how to take advantage of them.
Not familiar with the cards? Read our guide to help decide which one is right for you.
American Express Airline Credits
Each new calendar year, American Express Platinum cardholders get a $200 airline fee credit to be used with a selected U.S. airline. The Gold Card's previous $100 airline fee credit has officially disappeared last year.
Unfortunately, buying airfare outright generally won't trigger the credit. These credits are designed for incidental fees like checked baggage, seat assignment fees, itinerary change fees, guest access at a lounge, or other fees at U.S.-based airlines. 
As the terms & conditions below point out, you must enroll and select one qualifying airline each year to use your credit. With a new credit, the time is now to log in and choose your airline – though Amex will typically automatically select whichever carrier you chose last year, you can easily change it now. Your choices are as follows:
United Airlines
Hawaiian Airlines
Frontier Airlines
Spirit Airlines
American Airlines
JetBlue
Southwest Airlines
Delta Air Lines
Alaska Airlines
Whether you're paying for baggage, seat selections, change fees, or anything else, only one of the airlines mentioned above will trigger these credits, so be sure to log in to your Amex account and select which airline you want to designate. You'll find this under the "Benefits" tab. And be sure to select your airline before making any charges you hope the credit will cover.
It's gotten trickier and trickier to use these credits over time. But there are some other creative ways to use these credits, including:
Cover the taxes and fees on an award ticket
Use a Delta eCredit or Delta Pay with Miles first, then put the remainder on your Platinum Card – so long as the final charge is under $250, your airline credit should kick in
Buying flights under $100 with Southwest has typically worked, though your mileage may vary
Buy an airline lounge day pass or a guest pass to the Delta Sky Club
Read our guide on all the best ways to maximize your Amex Airline Credits!
$200 Hotel Credit on the Amex Platinum Card
Platinum cardholders were dealt a blow in 2021 when Amex raised the annual fee to a whopping $695 a year (see rates & fees), using questionable new benefits like credits for entertainment services and Equinox gym memberships to justify that hike. But one new credit shines: The Amex Platinum Hotel Credit.
Every year, Platinum cardholders get a $200 credit to use toward prepaid stays at Fine Hotels and Resorts and Hotel Collection properties through Amextravel.com. This credit is based on the calendar year – not when you opened your card – so you've got a new, $200 credit at the ready.
All you need to do is log in at Amextravel.com, search for a property, pay with your Platinum Card, and that $200 credit will kick in automatically – typically within a few days, though sometimes it can take weeks or longer.
One tip: Focus on Fine Hotels and Resorts (FHR) to get the most bang for your buck. This is Amex's collection of luxury properties across the world that also comes with a handful of special perks like free room upgrades when available, free daily breakfast for two, an experience credit of $100 or more for dining or spa services, noon check-in when available, and guaranteed 4 p.m. late checkout.
Plus, Hotel Collection properties require a two-night stay to trigger the credit. With FHR, a one-night stay will do.
Read our full guide to putting this hotel credit to use!
Uber Cash on the Platinum Card (And Now the Gold Card!)
The American Express Platinum card might put some tighter strings on travel credits, but they make up for it with up to another $200 reserved for trips with Uber or food orders from the Uber Eats platform. 
This one's a bit easier to spend by year's end, as it's not given in a $200 lump sum. Instead, you get up to $15 in free Uber rides (or Uber Eats food orders) each month – except one. In December, you can get up to $35 in Uber credits for the final month of the year.
Make sure you've added your American Express Platinum Card to your Uber account, as that's the key to unlocking the monthly credit. It will apply automatically to your ride no matter whether you "pay" with your Platinum card or another card. 
And as of 2021, the Amex Gold Card now has Uber Cash of its own, too. Add your Gold Card to your Uber account and each month automatically get $10 in Uber Cash for Uber Eats orders or Uber rides in the U.S., totaling up to $120 per year.
This credit is "use it or lose it." You'll forfeit any unused balance each month will be forfeited if you don't use it up.
Up to $189 for CLEAR Membership
Haven't signed up for CLEAR Plus, the privately run airport security program? If you've got either the Platinum or Green Card, you've got no reason not to.
Both cards carry annual credits that can get you signed up for CLEAR, allowing you to cut to the front of the line at dozens of U.S. airports. Amex even improved the Green Card's credit late last year, bumping it up to $189 a year – enough to cover the full cost.
These credits reset with the calendar year. Just use either card to pay for your annual CLEAR Plus membership and it should trigger automatically within a few days. But you can do better than just using these credits to pay for your own membership.
Here's how. All Delta SkyMiles or United MileagePlus frequent flyer members can enroll in CLEAR for just $119. Even if you're not a frequent flyer with either Delta or United, you can quickly sign up for a free SkyMiles or MileagePlus account to capitalize on this lower cost. Once you have a frequent flyer account number with either program, you can enroll through the specific link above and link your frequent flyer account number.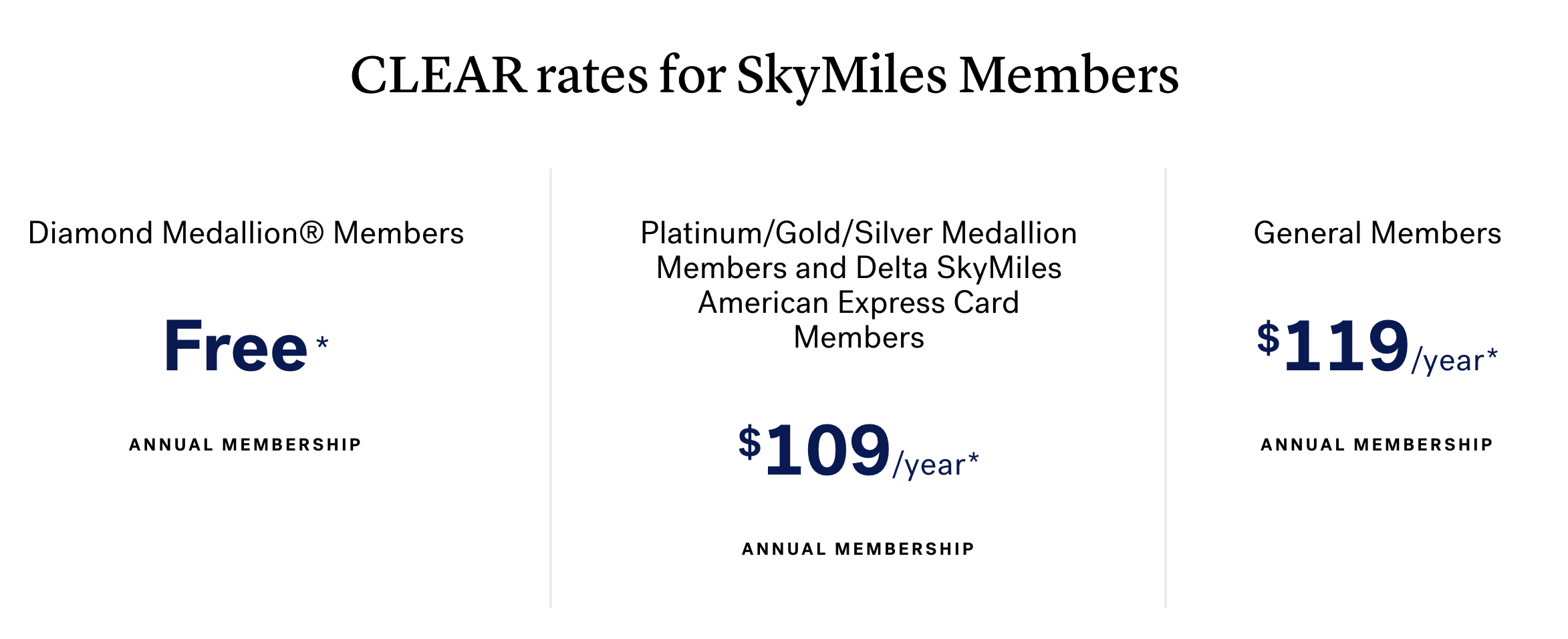 From there, CLEAR allows you to add up to three adult "family members" to your account for an additional $60 each year per family member. Kids under the age of 18 can accompany CLEAR members through the CLEAR lane for free – there's no need to add them to your plan. And members on your Family Plan can use CLEAR anytime they're traveling: You don't have to be traveling with them to unlock that benefit.
So long as you signed up for CLEAR at a discounted price through either Delta or United, the new $189 credit on the Green Card or Platinum Card will completely cover your own membership and up to one additional traveler on a Family Plan.
Up to $100 Off Saks Fifth Avenue for Platinum Cardholders
Each year of Platinum card membership, you get two up to $50 credits to use at Saks Fifth Avenue.
One $50 credit is available from Jan. 1 through June 30, with another $50 available July 1 through Dec. 31. Like the other credits available on the Platinum card, you will lose any remaining balance you have after the expiration date. Enrollment is required.
The offer can be used both in-store and online, but per the terms and conditions of this offer, it will not work to purchase gift cards.
Saks Fifth Avenue isn't the cheapest place to shop, but you should be able to find a few things each year to use your credit on. And make sure to stack any purchase you make with a shopping portal like Rakuten (formerly Ebates) to earn cashback – or American Express points.
Read our post on 7 ways to use your Saks Fifth Avenue credit.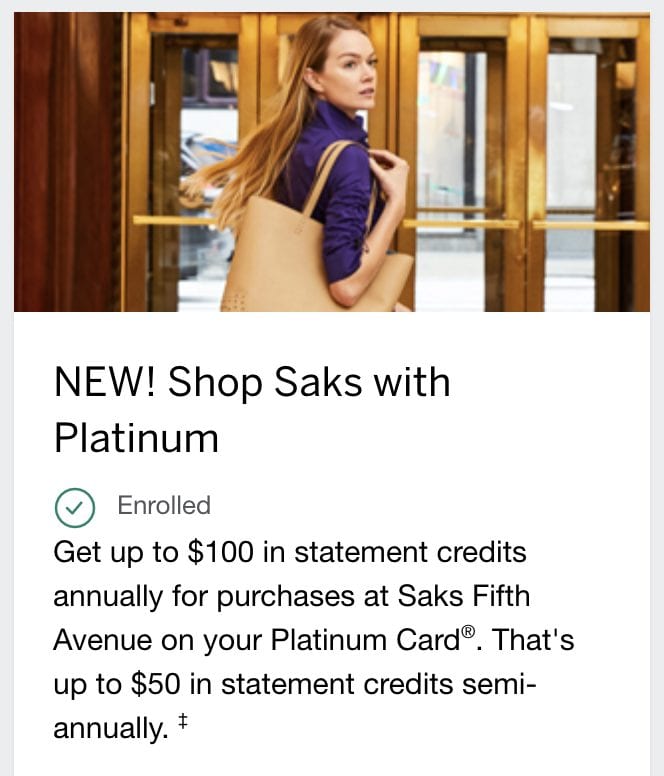 Amex Gold Card Dining Credit
Each year of Amex Gold Card membership, you get $120 worth of dining credits. Each cardholder will be issued $10 each month, and like the other credits from Amex, you will lose any remaining balance you have after the expiration date.
The credits can be used at GrubHub, The Cheesecake Factory, Wine.com, Goldbelly, Milk Bar, and participating Shake Shack locations. This benefit is not available to Amex Platinum or Green cardholders.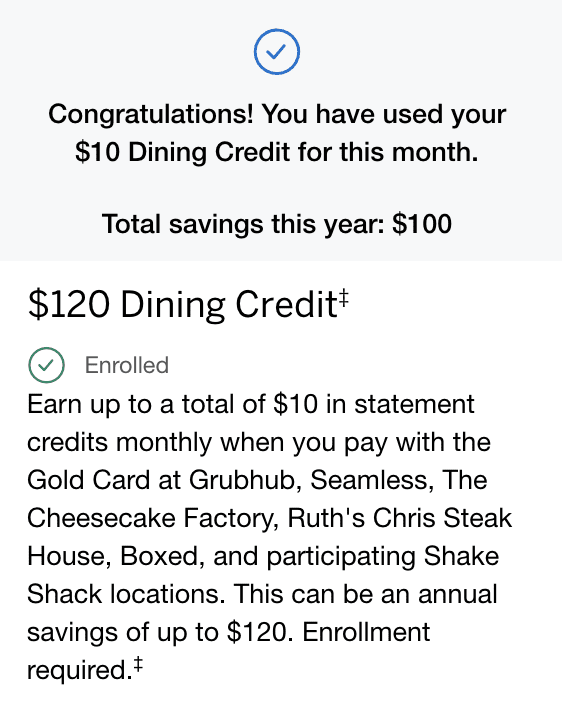 Amex Green Card Lounge Buddy Credit
The Amex Green card now offers an annual $100 credit to use at Lounge Buddy, a Priority Pass competitor. Lounge Buddy offers single-use airport lounge access passes starting at just $25 each. That means, the credit can get you into lounges up to four times each calendar year at no additional cost. That makes it a decent option if you don't have any airport lounge access from another card, like the Platinum Card® from American Express.
Like all Amex credits, the balance will not roll over into 2024 if you don't use the full $100 this year.
Up to $400 in Dell Credits on the Amex Platinum Business Card
There are plenty of reasons for small business owners to open the Business Platinum Card® from American Express. And one of those is the up to $400 in credits issued each year for purchases at Dell.com.
Similar to how the Saks credit works on the Personal Platinum Card, you will get one $200 credit available from Jan. 1 through June 30, with another $200 available July 1 through Dec. 31 each year. Amex doubled these credits and added other perks last year when it announced it would raise the annual fee from its current $550 to $695 (see rates & fees) for new applicants last year.
You might be surprised at how many products are available on Dell's website. It is far from just computers. Think Bose headphones, Google Home & Nest products, and much more. Just make sure to stack any purchase you make with a shopping portal like Rakuten.
Bottom Line
Now is the time to take advantage of the refreshed Amex travel credits on your American Express Membership Rewards cards.
But first, make sure to enroll for these credits on the benefits tab of your American Express online account. Using these Amex travel credits is key to taking full advantage of your card membership – no matter which version you have.