The COVID-19 pandemic has scrapped travel plans across the country – and the globe. If you're like us, canceling flights has left you with more airline vouchers and credits than you know what to do with.
But there's a silver lining if you've got vouchers for future travel with Delta and leftover airline fee credits from American Express credit cards like the Platinum Card® from American Express or the American Express® Gold Card. You can put both to use to save more on your next trip. And this method may still work when these airline credits reset in 2021.
Here's how it works.
Pairing a Delta eCredit with Amex Airline Credits
Top American Express credit cards come with up to $250 a year in airline fee credits. The Amex Gold gets you $100 yearly (at least through 2021), while the Amex Platinum clocks in at $200. The Hilton Honors American Express Aspire Card card's annual credit is the largest, at $250.
And they seem straightforward … until they're not. Workarounds to use these credits to buy airfare or airline gift cards have slowly disappeared over the years. That leaves fees like seat assignment, baggage, and additional taxes and fees on award tickets booked with miles as the easiest ways to put them to use.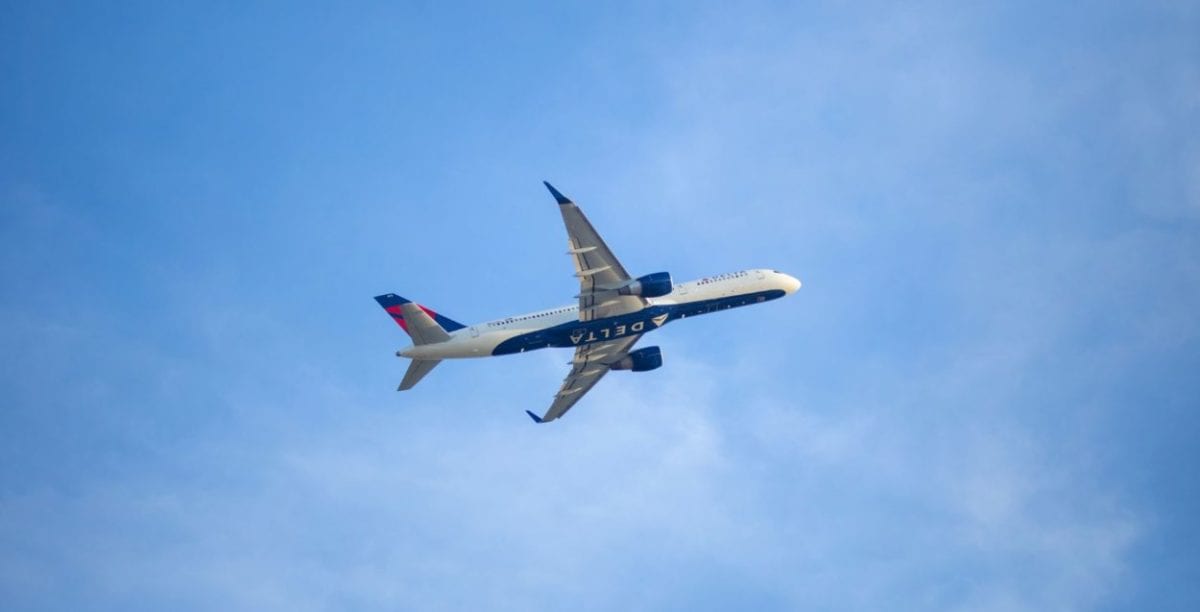 Not following? Read our complete guide to using Amex airline fee credits.
But our team has confirmed a new way that you can get these fee credits to kick in when purchasing a new Delta flight. You can do it by applying a Delta eCredit or voucher and putting the remaining balance on your American Express card with outstanding credits.
First things first: You have to pick just one airline each year to use these credits through your American Express account. If you haven't already, make sure you've chosen Delta.
Thrifty Tip: Already pick another airline? Start an online chat with Amex and see if they'll allow you to switch to Delta.
Find a new flight you'd like to book and put your Delta eCredit(s) toward the cost. In our case, it involved a $411 flight using a $266 Delta eCredit, bringing the balance down to about $145. We charged it to a Platinum Card from American Express with $200 in unused credits and voila – those credits kicked in a few days later.

Our testing suggests that the final charge to your card (after applying a voucher or eCredit) should be under $250 for this method to work. That's the same threshold for other ways to trigger these credits, like using Delta's Pay with Miles. And that's true whether you've got $100 or $250 in Amex airline credits.
We've tested this method repeatedly and confirm it works. That said, there's no guarantee it won't get shut down or clawed back by American Express, which is constantly rooting out unintended workarounds to put these credits to use.
But it's perhaps the best way we've found to use up your Amex airline credits this year – or put them to use again in 2021. Pairing those credits with Delta vouchers is a great way to save on rebooking a trip for 2021.
Keep in mind that the American Express Gold Card will lose its $100 in annual airline fee credits starting in 2022, gaining up to $120 in Uber or Uber Eats credits starting next year in its place.
Other Ways to Use Up Your Amex Airline Credits
With vouchers burning a hole in plenty of travelers' pockets, we think this is a great way to maximize any leftover Amex airline credits this year. That said, there are plenty of other ways to put those credits to use:
Charge the taxes and fees when booking an award ticket – especially when booking with SkyMiles, as they're one of the best ways to book travel right now – to your Amex card and they'll kick in.
Cover seat selection fees if you're flying basic economy with United, American, or Delta – or upgrade to the Big Front Seat with Spirit
Buy a lounge pass with American or United – or get a buddy into the Delta Sky Club with your Amex Platinum card
Buy a cheap Southwest flight, as most airfare under $100 should trigger the credit
Bottom Line
This is a great way to put your Amex airline credits and any unused Delta vouchers to use. And given how many travelers have both due to the great travel pause of 2020, that's no small matter.