Resolved to travel more in 2023? You're not alone. And you're in luck: It's a great year to get back out there.
It's looking more and more like 2023 will be the first year of "normal" travel since the start of the pandemic. That means more flights to more destinations and fewer restrictions to get in than we've seen in years.
Now's the time to make your plans to start seeing the world – but you don't have to break the bank to do so. Here are some tips and tricks to help you travel more for less in 2023.
Book the Cheap Flight First
Most travelers decide on a destination and choose their travels, request time off from work, and then start looking for a flight. But by locking yourself into those dates, it could limit your options for finding a cheaper flight.
Instead, follow the Flight First Rule. Book the cheap flight first, then put the other pieces in place. Being flexible with your travel dates and waiting for a flight deal to come around can save you a ton on airfare – one of the biggest costs of travel. Flip your planning process around to save on flights, then use that extra cash on the actual trip.
Choose your location and maybe even a general time in which you'd like to travel, then fire up a Google Flights search and pick the cheapest days to fly – or just wait for a better deal to come to you. Flexibility can go a long way towards lowering the cost of your flight. Even departing just a day earlier or later than you initially planned or traveling the cheaper shoulder season, you'll be surprised how much you can save.

Last year, I overpaid (by a lot) to fly to Hawaii because I set my dates, then booked my flights. This time around, I waited for a Thrifty Traveler Premium alert in my inbox for a cheap flight to Hawaii: Just $350 from Minneapolis-St. Paul (MSP) to Maui (OGG). I snapped it up, and built my trip around those dates rather than the other way around.
Our advice? When you see a good fare, book it. You have a 24-hour window after booking to determine whether you can make the trip work, or cancel it for your money back. The federal government requires airlines to fully refund any fare for flights to, from, or within the U.S. within 24 hours of purchase – so long as they're booked directly with the airline.
If your schedule is set in stone, set a Google Flights price alert to track flight prices and get notified when prices drop. But our general rule of thumb for saving money on travel still stands: Book the flight first, then figure out the details later.
Search for Airfare with Google Flights
There's one tool that can't be beat when it comes to finding the cheapest flights: Google Flights.
Google Flights is a powerful search engine tool that helps you narrow in on the flights you want, and avoid the ones you don't. Nearly every airline lists its fares directly on the platform, allowing you to sort through flight schedules and prices on hundreds of thousands of tickets – including taxes. It also pulls in information on additional fees to avoid basic economy as well as baggage fees.
You can use filters to see only the flights you want to book, and you can even set Google Flights price alerts to track fares and book when prices drop. If you're not sure where you want to go, Google Flights Explore mode will show you the cheapest places to fly from your home airport.


Read our master guide to using Google Flights
At the very least, Google Flights should be your first stop for every flight search in 2023. After that, you can always check other online travel agencies (OTAs) like Kayak or Expedia to see if you can find an even better deal, and decide if the savings are worth it.
Get Notified About Cheap Flights
I've resolved to work smarter, not harder in 2023. If you feel the same, let us do the work for you to travel more for less.
The easiest thing you can do is subscribe to our free daily newsletter, with all the tips and news you need to save on your next trip. You can also sign up for alerts for cheap flights that we'll send straight to your inbox.
But if you're ready for a ton of domestic and international flight deals from your home airport, saving travelers $250 to $500 or more on each flight, it's time to get yourself a Thrifty Traveler Premium membership.
Thrifty Traveler Premium is our flight deal notification service for international and domestic flights. Sign up and you'll start getting the best flight deals we find every day sent straight to your inbox to destinations across the U.S., along with Europe, Asia, South America, Africa, Australia, and more. You can set your preferences to receive alerts for all airports (we cover 200-plus cities in the U.S. and Canada) or just your home hub.
Check out the rundown of some of the best fares we found in 2022, including flights to Norway and elsewhere in Scandinavia from just $230 roundtrip as well as sub-$600 flights to South Africa. And we're already seeing great fares for trips in 2023, like roundtrip flights to Chile starting at $514 or a flight to Greece and back for $483.

Got points and miles you want to put to use, too? Upgrade to Thrifty Traveler Premium+, the only flight deal service on the market that sends travelers award alerts to use their points plus the cheap cash deals that travelers love. You'll get points and miles deals, discounted business class and first class fares, and the first heads-up on ultra-rare mistake fares like $900 business class flights to London-Heathrow (LHR)!
Not sure? Read up on how Thrifty Traveler Premium (and Premium+) work!
Start Using Points and Miles to Fly for Free
Credit card points and airline miles can open doors to travel more affordably, but only if you know how to use them. Whether you want to fly first class, finally cross off that bucket list trip, or just travel more in general, this is the year to start learning and leveraging points and miles.
You can earn points and miles from taking flights, staying in hotels, and making purchases online through shopping portals. But the easiest way to earn a lot of points and miles quickly is to open a new travel rewards credit card.
Many cards offer huge bonuses of 60,000 points, 100,000 mile, 150,000 points (or more) if you hit a minimum spending requirement within the first few months of being approved. Then you've got a stash of points to put toward travel, whether you use them to book flights through a travel portal or transfer them to your airline of choice.
Some of our favorite travel rewards cards are the Capital One Venture X Rewards Credit Card and the Chase Sapphire Preferred® Card. I opened the Capital One Venture X Card last year, then used that bonus to cover an expensive, last-minute $450 flight to Washington, D.C.
Read our guide to getting started with travel rewards cards. It'll teach you the basics of how to get started, which credit cards out there might be the right fit for you, and give you a few recommendations for building up points and miles.
Just remember: Credit cards are serious business. You shouldn't open one if you can't afford to pay it off right away. Make payments on time, and always pay in full – never carry a balance. And if you already have credit card debt, pay it off before opening a new credit card.
We know the world of points and miles can be daunting. But we're here to help you out.
Keep An Open Mind
We all have a list of places we're dreaming of visiting someday. Actually taking the trip is often another story.
I keep a list of my dream destinations on the Notes app on my phone, so when the right Thrifty Traveler Premium flight deal alert hits my inbox, I don't hesitate and just book it. I've also set up Google Flights price alerts for places I'm interested in. For instance, I'm hoping to finally get to Iceland this year, so I've got alerts set up for a few different time frames to notify me when prices drop.
But the key to finding cheap travel is not limiting your options. At Thrifty Traveler, we've seen flight deals to places we'd never considered traveling to before, and have now added to our list. From cheap fares like those to the Seychelles Islands off the coast of East Africa to Colombia's San Andrés Island to Yuma, Arizona that we found in 2022 – sometimes it's best to let the flight deal lead you to your destination.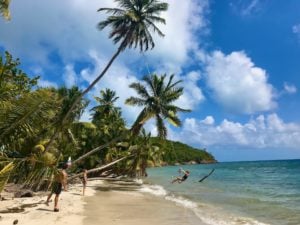 Being open-minded on when you travel can also help you save on everything from flights, to hotels and more. Traveling in the heat of the summer will rarely be cheap, so you may want to aim for the shoulder season instead. We find tons of flight deals for travel in May to early June and late August through October.
I've got a number of places in mind I'd like visit in 2023, but I'm keeping an open mind to other destinations (and other seasons) I wouldn't have previously considered.
Bottom Line
We're optimistic about travel in 2023. You should be, too.
By heading into the new year with the right tools and tactics, you can see even more of the world while spending less in 2023.