There are some tried and true destinations where you're almost always guaranteed to find a cheap flight. But we're in the midst of a run of cheap airfare all over the world, and that means destinations that might not have been on your radar before (but should have been) are suddenly within reach. 
Typically, cheap flights to New York, London, or Rome are what lead travelers there. We always recommend travelers follow the best deal when booking travel. It's a smart way to save money. But these aren't normal times.
Right now, airfare is as low to Innsbruck as it is to Zurich if you want to fly to the Alps this year. Oaxaca flights are just as cheap as Cancún flights and you can get to the Irish countryside for the same price as Dublin, too.
What's going on, here? Well, we're in a sweet spot on the calendar I like to call "Booking Season." Fares are typically low this time of year, and award availability is easier to come by, too.
If you want to fly somewhere off the beaten path in 2024, this is the best time to book. Let me show you.
Innsbruck, Austria
If a trip to the Alps is on your list, you might think you have to fly to Geneva (GVA), Zurich (ZRH), or even drive from Munich (MUC) or Milan (MXP) to make it happen.
Don't settle! Right now, you can fly straight into the alpine city of Innsbruck in Austria for similar prices (INN) as those other, more well-known destinations.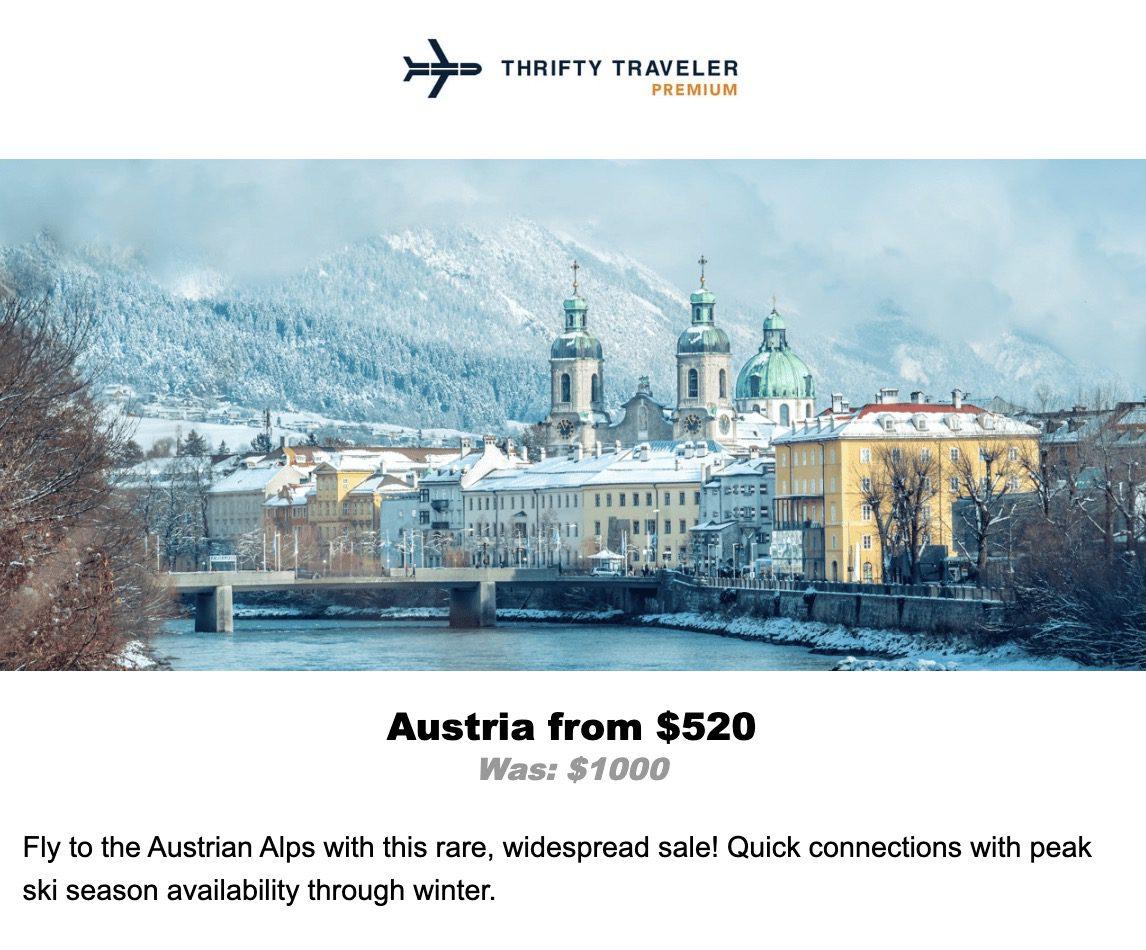 Peak ski season flights straight into the heart of the Alps don't come around all too often. But this widespread deal connecting tens of thousands of Thrifty Traveler Premium members with the slopes of Innsbruck would make for a magical winter trip.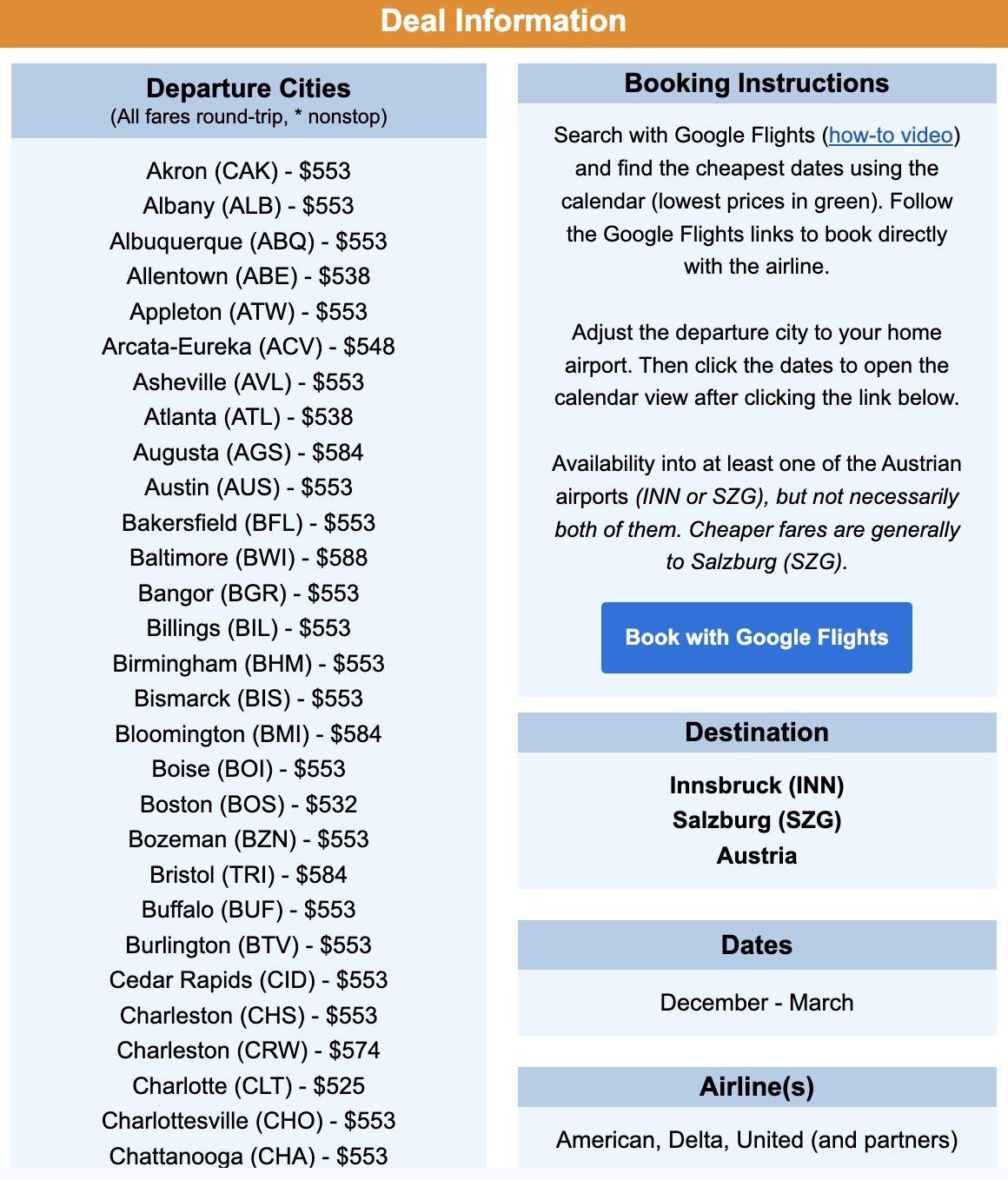 Faroe Islands
Move over, Iceland. There's a new, hot Nordic travel destination: The Faroe Islands.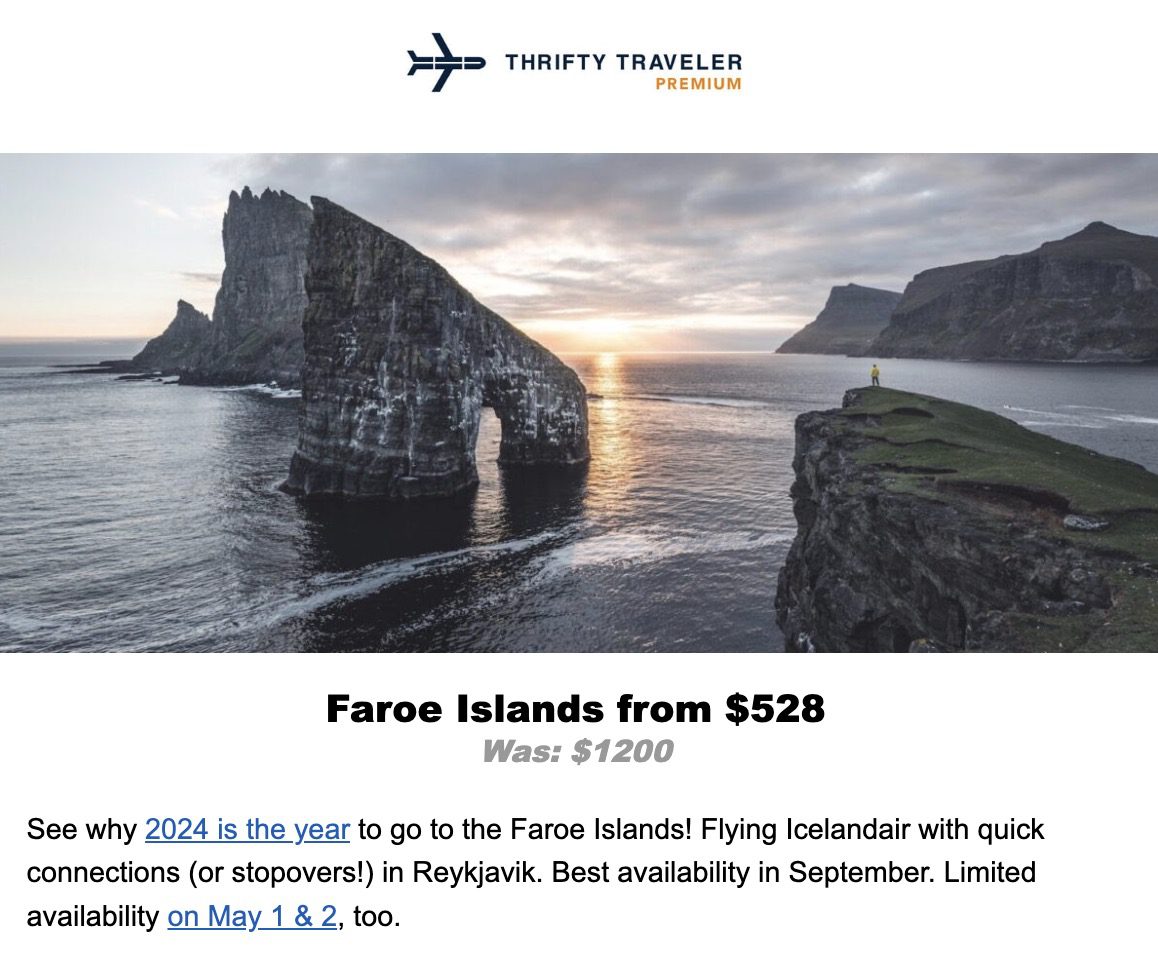 The Faroe Islands have long been hard (and expensive) for Americans to get to, but Icelandair recently added one-stop flights to Vagar (FAE) in the Faroe Islands, giving U.S.-based travelers a solid new option to visit the dramatic archipelago in 2024.
It's just one of the reasons why we think 2024 is the year to visit the Faroe Islands. Oh, and that flight prices are starting to drop!

South Padre Island, TX
As a Minnesotan, my northern bias seeps into many of my travel experiences, so please don't blame me for including someplace that only recently entered my radar: South Padre Island.
What illuminated my interest in South Padre? Cheap flights, of course.
The Gulf of Mexico beach town is possibly most famous as a hotspot for party-hearty college kids, but the island itself is home to world-renowned birding, and great paddle boarding, and has quickly become a popular spot for space enthusiasts as Space X and NASA have recently moved into the region too.
And to make a quick, domestic getaway to South Padre Island work, all you need is a quick flight to Brownsville (BRO), Harlingen (HRL), or McAllen (MFE).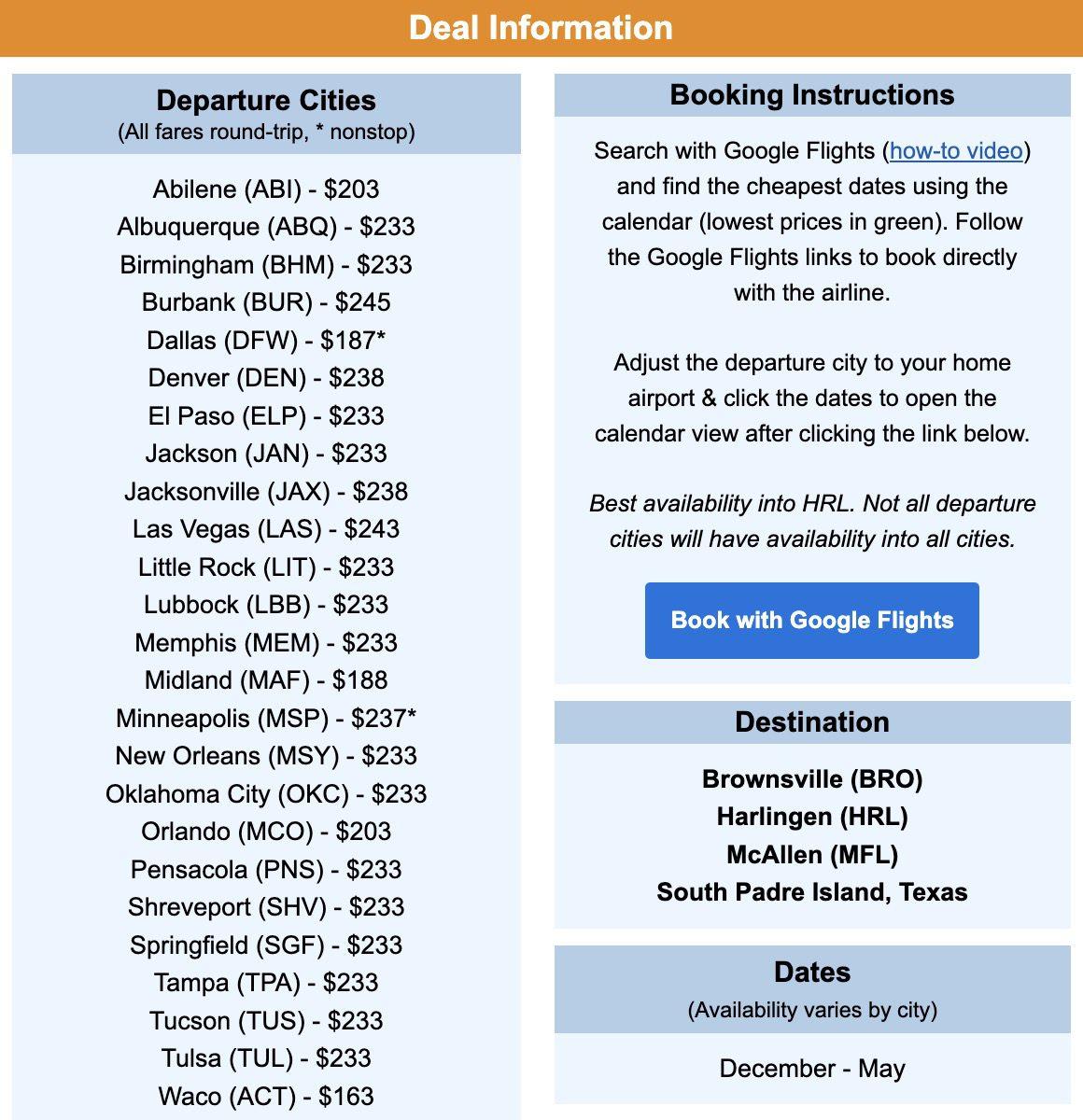 Oaxaca, Mexico
Let the masses pile into their Mexico all-inclusive resorts. Travelers – real travelers – should want to see Oaxaca if Mexico is high on their travel wish list.
Drink the best mezcal in the world and soak in the foodie haven that is the southern Mexico cultural hub. Cheap flights to Oaxaca are rare, but wouldn't you know it, we unearthed this flight deal recently.
When you tell your friends you're going to Mexico, make it someplace they won't guess on their first try.
Sicily, Italy
Everyone you know is going or wants to go to Italy. And I'll bet that 90% of those people are heading to Milan, Rome, or Venice.
Flights to those three places are cheap right now, but it's similarly cheap to fly straight into the island of Sicily, too.
Not-so-Thrifty Tip: Fan of the HBO show "The White Lotus"? Season two of the show was filmed at the Four Seasons San Domenico Palace Taormina near Catania. While not cheap, the resort looks unbelievable on TV, and likely lives up to the hype.
It's all the incredible food, gorgeous coastline, and sunny beaches of Italy and it's all right about the same price as flying to one of the busier spots, too.
Mauritius, Seychelles, and Zanzibar
Until I started writing flight deals for Thrifty Traveler Premium, I had never heard of any of these three Indian Ocean islands.
After searching for cheap flights and award availability on these far-flung islands for years now, I'm much more familiar. I even honeymooned in Zanzibar!
People always think of the Maldives when they think of a stunning chain of islands in the Indian Ocean, but these other three options have many of the same things to offer – including the low fares to get you there.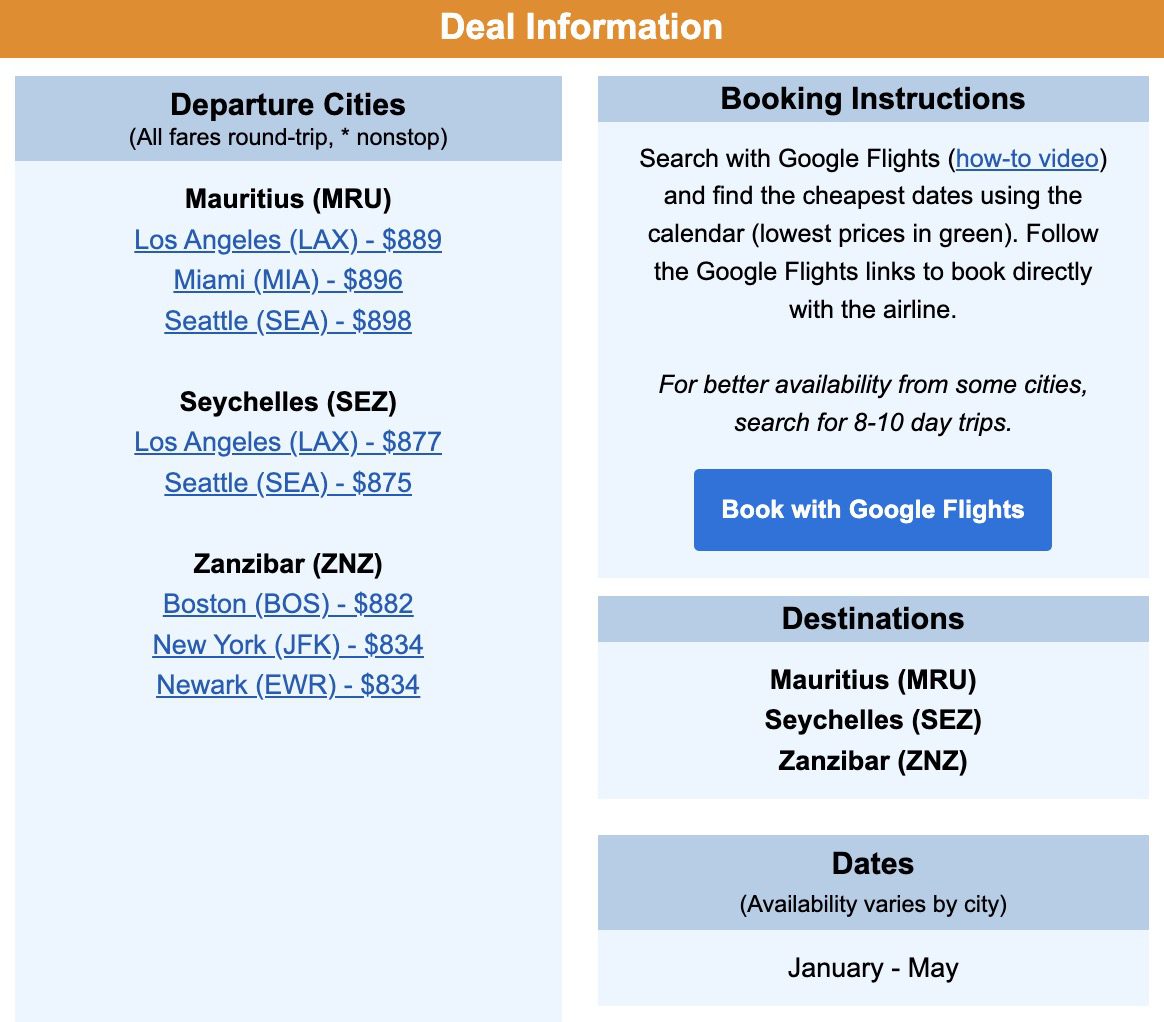 Thrifty Tip: Stay at the Park Hyatt Zanzibar and book day trips to Mneba Island, Nakupenda Beach, and Prison Island from there!
Northern Europe (in Premium Economy!)
When the flight deals are this good, it's hard to even narrow some of these places down.
This SAS deal was just that. SAS's premium economy seats are one of the best values in travel across the Atlantic, and this latest SAS sale put dozens of unique, smaller northern European cities in your crosshairs.
This was the cheapest flight in the deal. It's a one-stop itinerary from Boston (BOS) to Gothenburg, Sweden (GOT), which is a few hours west of Stockholm, nestled between Oslo, Norway to the north, and Malmo and Copenhagen to the south.
But that was just the beginning. Here are some of the other off-the-beaten-path locales you could fly to for less than $900 roundtrip in SAS premium economy.
Bergen, Norway (BGO)
Stavanger, Norway (SVG)
Vilnius, Lithuania (VNO)
Warsaw, Poland (WAW)
Aarhus, Denmark (AAR)
Gdansk, Poland (GDN)
and more!
Cork, Ireland
If you're thinking of traveling to the Emerald Isle, you're probably envisioning a road trip through the lush green hues of the Irish countryside.
But the airport in Dublin (DUB) is hours away from the Blarney Stone, the Cliffs of Moher, and these magical pieces of Irish lore that exist far out of town.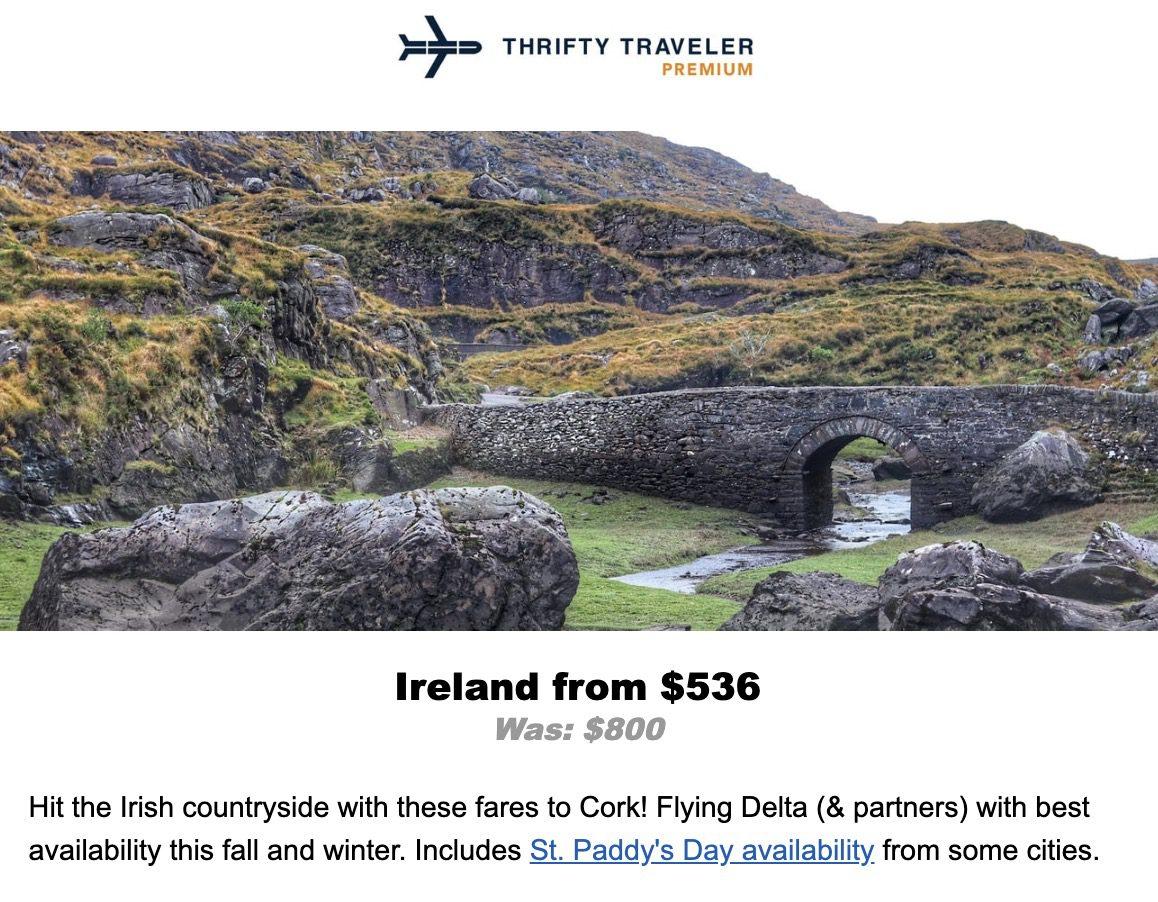 Luckily, Ireland isn't a single-airport country. Cork, Ireland (ORK), in the country's southwest, is a perfect jumping-off point to see the Irish countryside, but travelers from all of these Thrifty Traveler Premium cities will also be able to enjoy the pub-lined streets of a European city, too.
Ketchikan, Alaska
Say it five times fast!
Ketchikan, Alaska, along Alaska's famed Inside Passage, is an outpost along the long, skinny Alaskan peninsula that is typically flyover country for travelers heading to and from Anchorage (ANC) and the mainland U.S.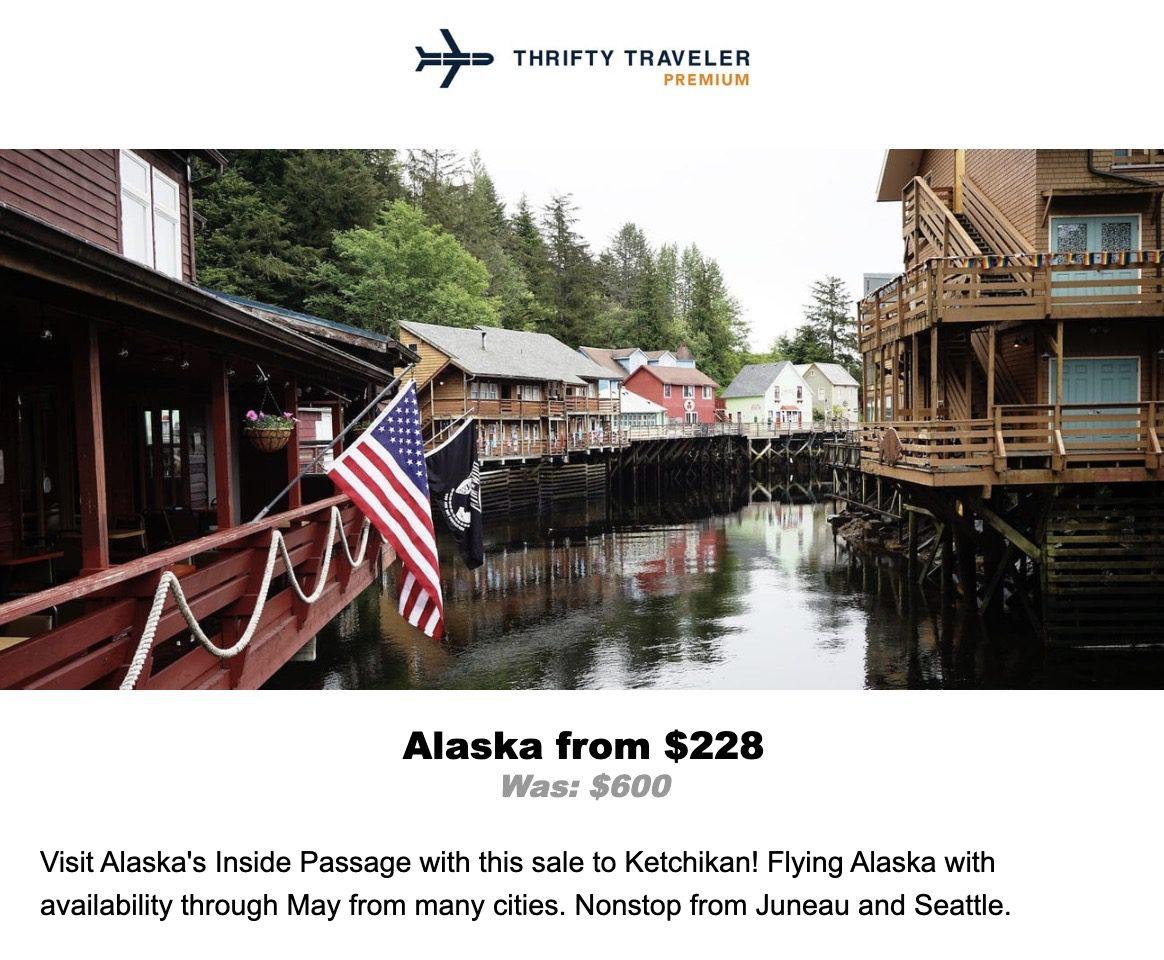 But flights to Ketchikan (KTN) flights have been cheap lately, and catching one of these low fares could put you in the way of stunning mountains, some epic fishing, and an even quieter, more low-key escape to beauty than you'll find near Anchorage.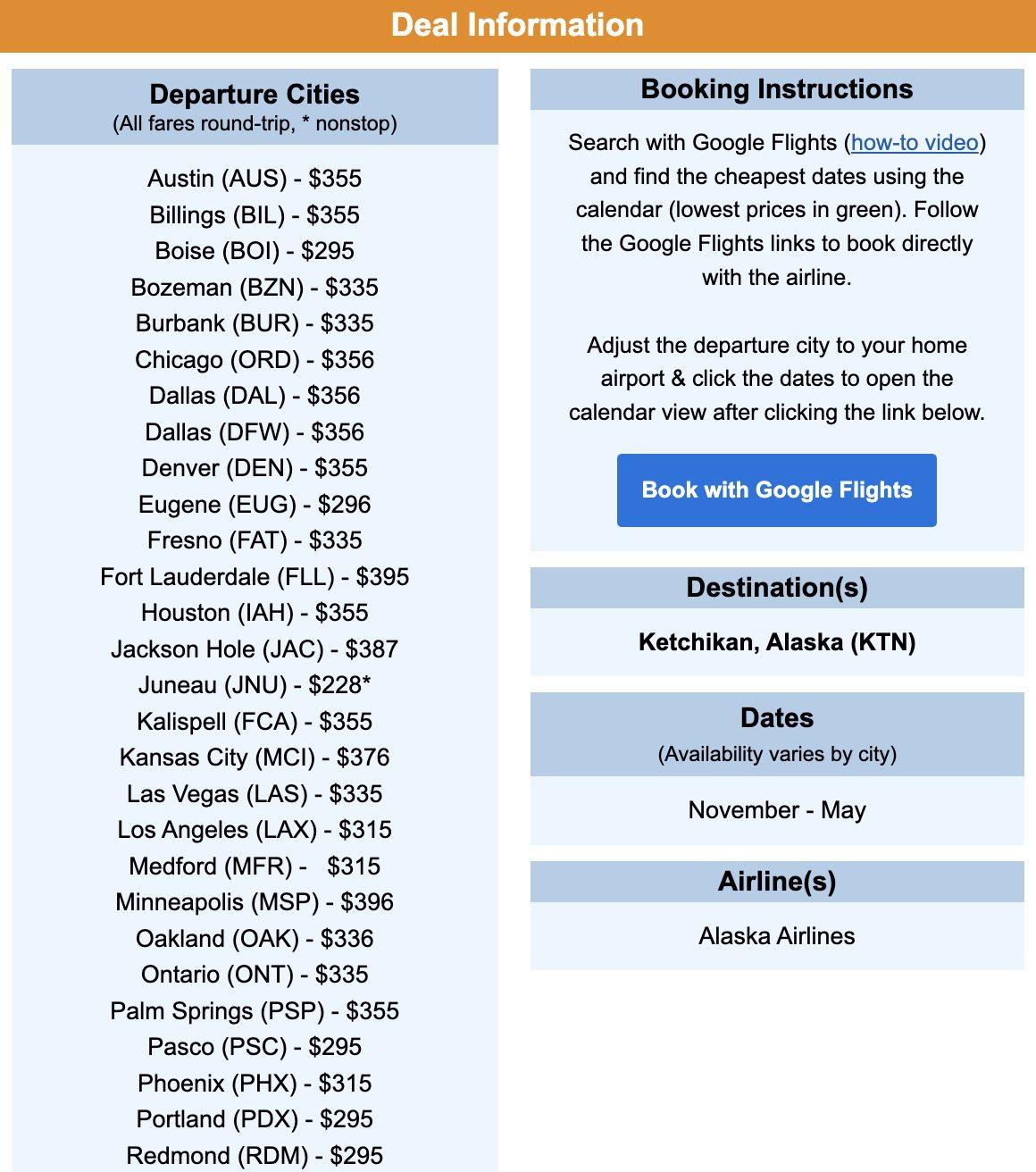 Bottom Line
You don't have to choose between a cool, off-the-beaten-path destination and cheap airfare.
Airfare is low almost everywhere right now, meaning you can book a trip to some of the world's most unique destinations for the same price as the major travel hotspots.