We're always on the hunt for cheap flights to Europe – and lucky for us (and you), flight prices are ticking down again. But from the windswept shores of Iceland to the islands of Greece, one destination stands out for deals: Cheap flights to Ireland are flowing like Guinness right now.
Even as flight prices skyrocketed this summer, airfare to Ireland stayed fairly reasonable. But with that trend reversing, a ticket to Ireland is getting even cheaper … in many cases dropping below $400 roundtrip. If you've got the luck of the Irish on your side, you might even see a roundtrip fare to Dublin (DUB) under $300 total.
We've sent Thrifty Traveler Premium flight deal alerts to three different Irish airports over the last few months, and the cheap fares just keep on coming. If Dublin is your scene (and it's definitely ours), the flight deals into Ireland's capital city are in regular supply. But even if your ideal Ireland trip is trekking along the Cliffs of Moher, there are deals that can help you cross that off your bucket list, too.

Whether you're bellying up to a pub or exploring smaller countryside villages (or both), there's no one right way to do Ireland. But there is something we will insist on: You have to book a cheap flight to get there. And you're in luck there…

Get cheap fare alerts like this one straight to your inbox with Thrifty Traveler Premium!
We found this Dublin deal just a few weeks back, featuring fantastic fares as low as $386 roundtrip and wide-open availability for a trip this fall all the way through next spring. Best of all, it included March … and that put a St. Paddy's Day Trip to Ireland on the books from dozens of U.S. cities.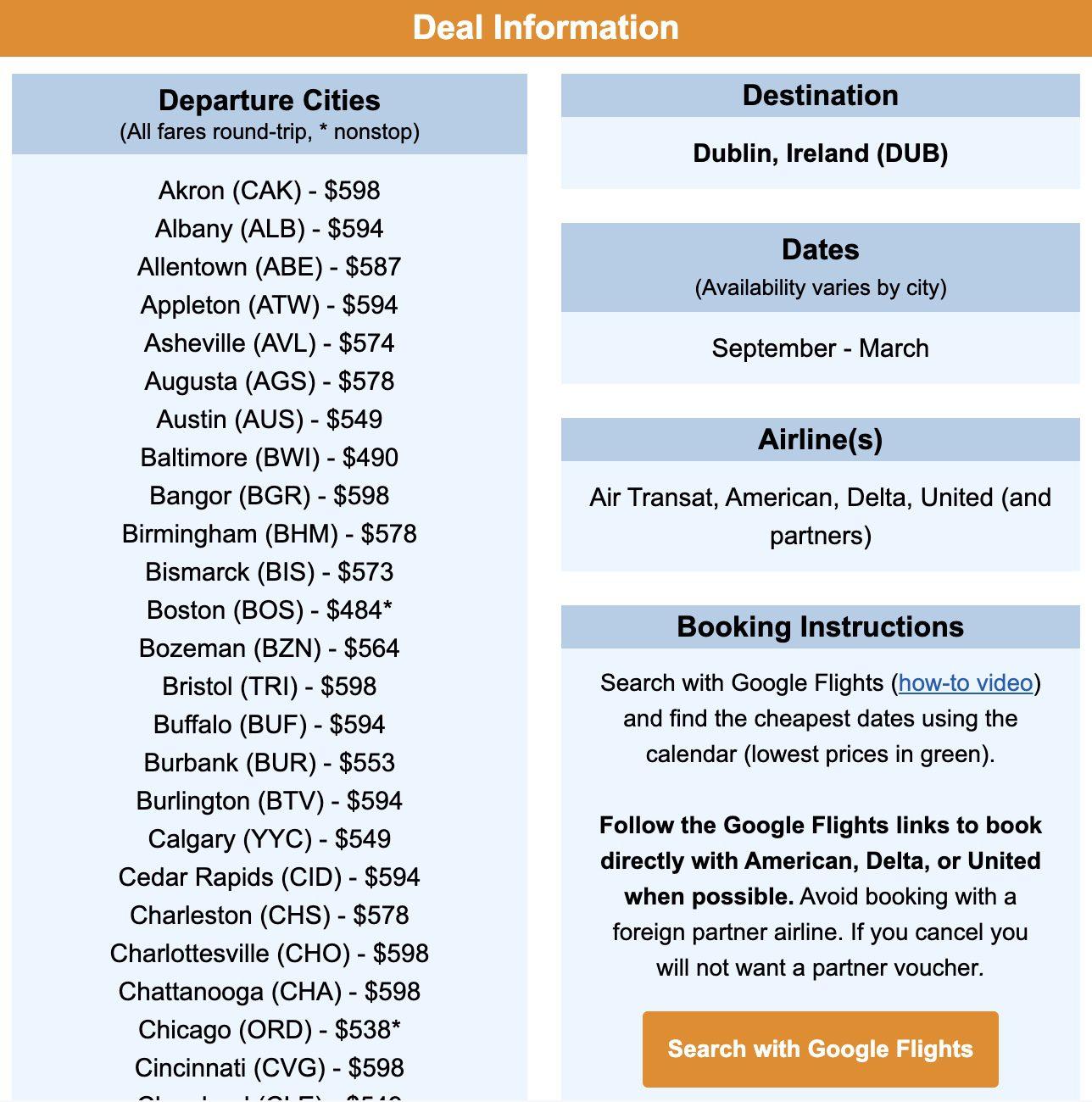 Why is Ireland so ripe for cheap flights? It's one of the shortest European flights you can take from the mainland U.S., and that certainly helps. But the most important factor is competition between the airlines – and Ireland has a national carrier offering some excellent fares, regularly forcing the likes of American, Delta, and United to match.
Yes, you can thank Aer Lingus for these cheap flights to Ireland. It's a hybrid between a budget carrier and a full-service airline and a perfectly comfortable ride across the pond – especially at prices like these.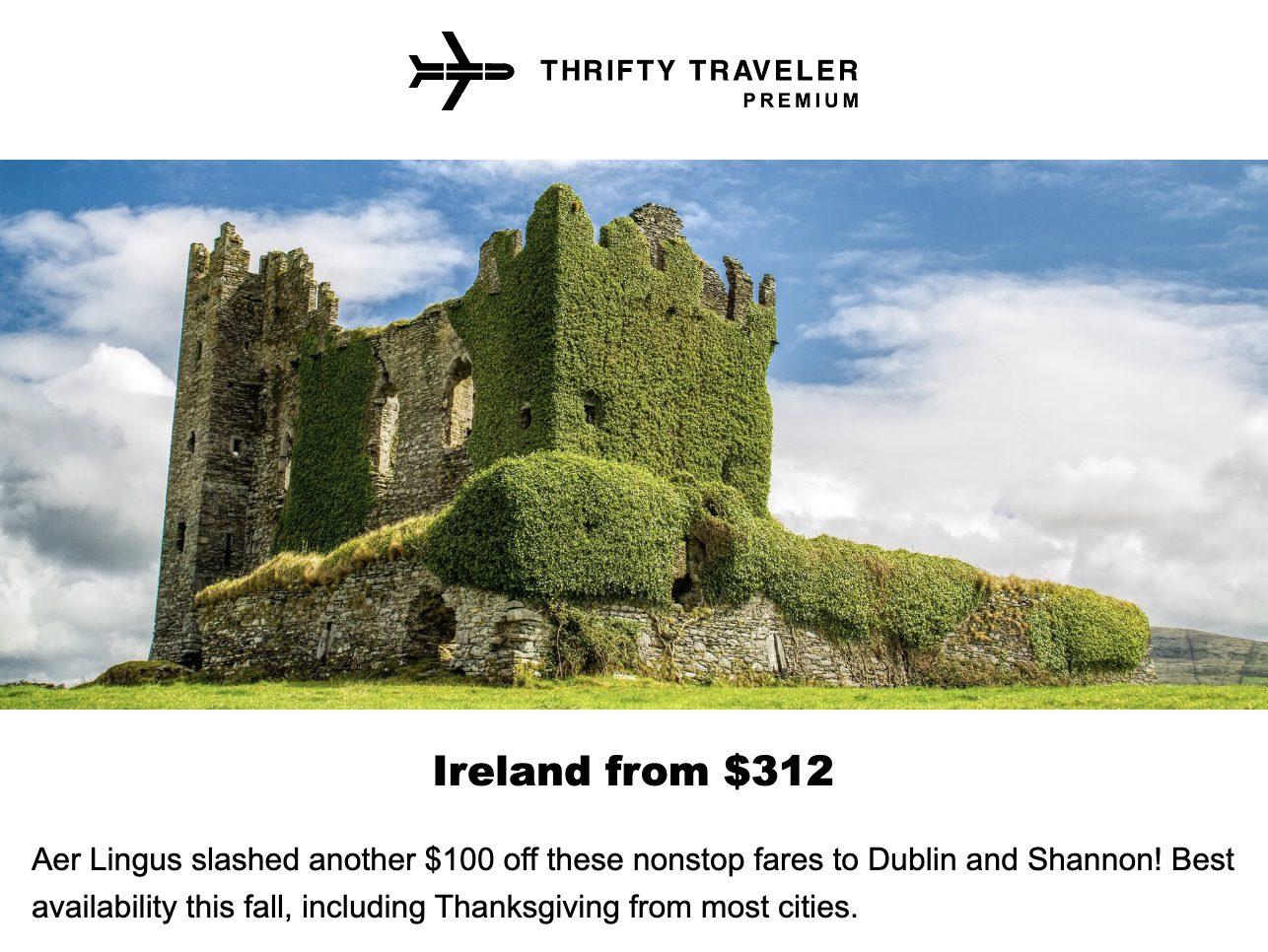 Aer Lingus runs sales on their nonstop routes to Dublin (DUB) pretty routinely. With Thrifty Traveler Premium, you'll get the heads up whenever they do for a shot to book a trip to Ireland at prices like these.

And would you look at that! Aer Lingus even put its two nonstop flights to Shannon (SNN) on sale in this one. You can fly to Shannon from both Boston (BOS) and New York (JFK). Dublin isn't your only option when flying nonstop to Ireland.
If we haven't sold on you on Aer Lingus yet, we'll let this next fare take a crack (or should we say "craic" as the Irish do) at you. Fares to Europe don't get much cheaper than this.


This fare was crazy! From Canada's biggest city to Ireland's for a fraction of what that route usually costs.
We've come to expect some super low fares from the budget-friendly carrier. But just because it's low cost doesn't mean Aer Lingus has no style. Aer Lingus offers an excellent business class seat flying across the Atlantic, and it could have been yours with the right points and miles…

That's right: You can also fly to Dublin in lie-flat business class on Aer Lingus. Just a few weeks ago, we spotted a ton of availability on the route from Washington, D.C. (IAD) to Dublin. You could book these flights with 60,000 miles from United MileagePlus, British Airways Avios, or Alaska Mileage Plan!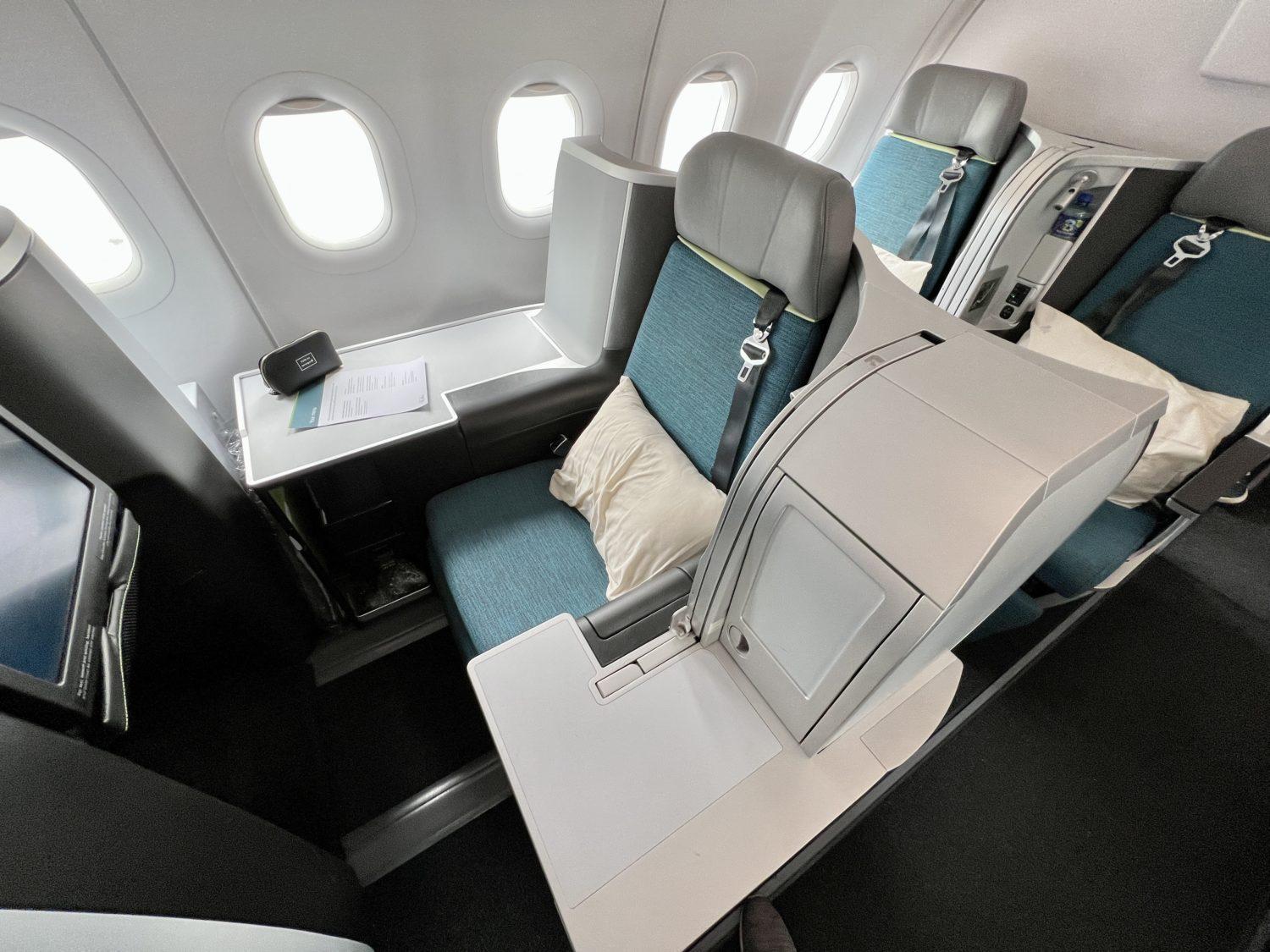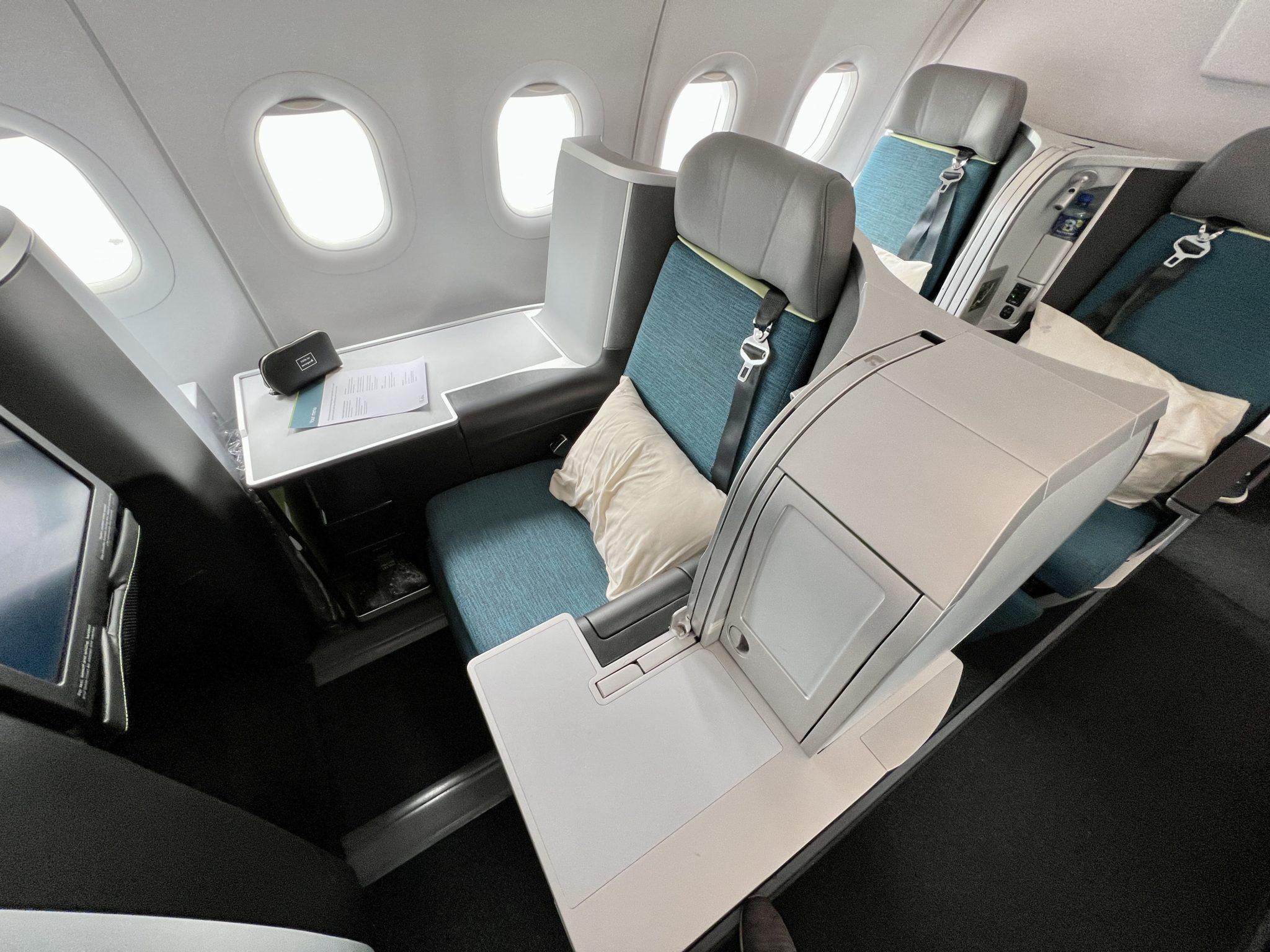 We've been to Dublin and Shannon, but there's another airport in Ireland that deserves your attention: Cork (ORK). Cork is home to the Blarney Castle and its famous Blarney Stone. Kissing the stone gives you the gift of eloquence, so I just told on myself that I've never been…
But hey, look over here! More cheap flights.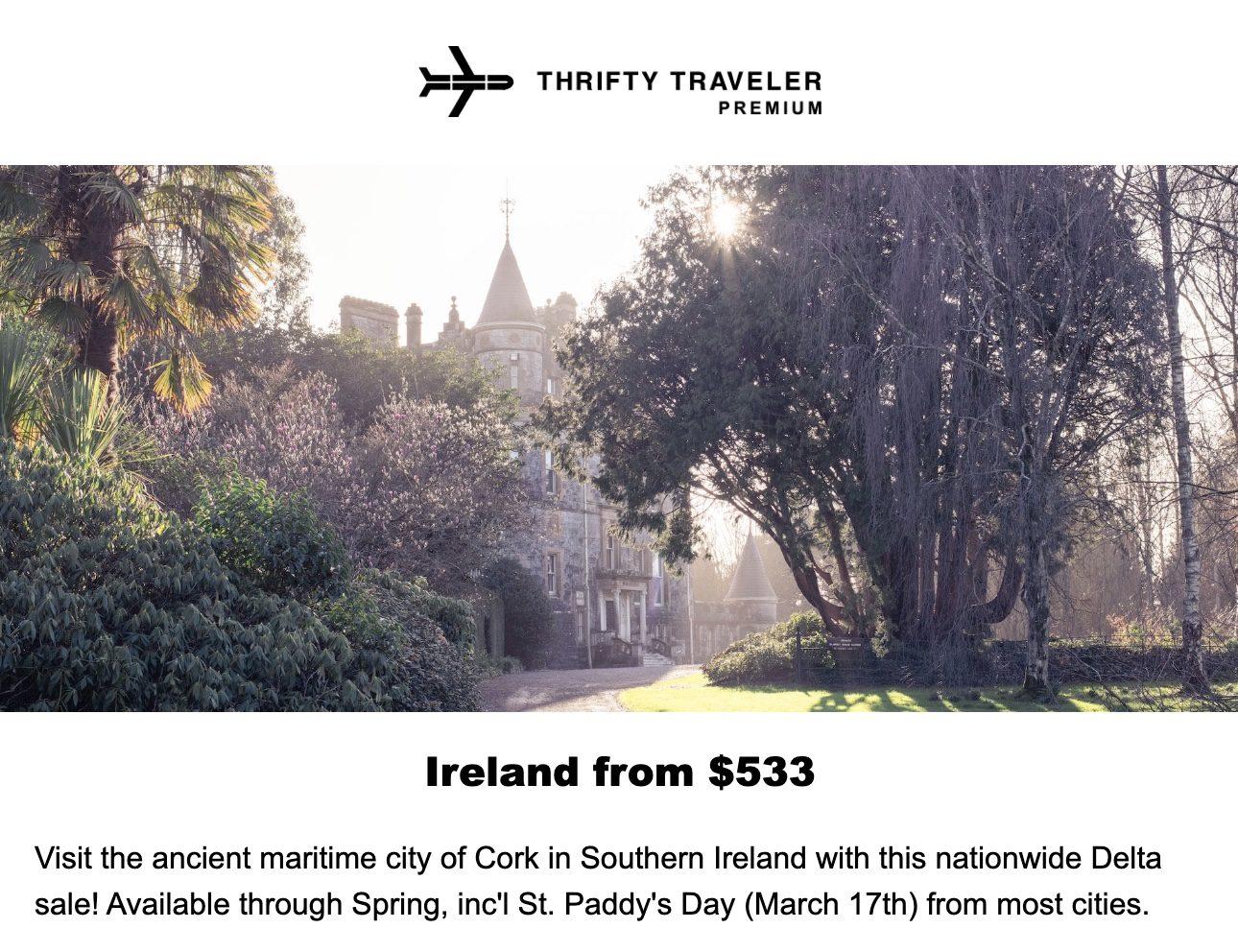 This Cork deal we unearthed just last week featured nearly every single U.S. airport with Delta service. It was a phenomenal value that included St. Paddy's Day availability from nearly every city! And this was the lowest fare of the bunch and a sweet, sweet KLM ride to Ireland.


Cork isn't atop everyone's mind when they think of Ireland, but it should be. Maybe a few of these prices helped convince you.
Bottom Line
Ireland flight prices are low right now, and the latest volley of Thrifty Traveler Premium flight deal alerts proves it.
We think it's time to get booking if you're looking for an Irish vacation this fall or over St. Paddy's Day. The Emerald Isle is waiting!