Spending over half a day flying in an economy seat isn't fun – especially for those of us on the larger side. At 6 feet, 3 inches tall, the right airline and the right seat can make or break a flight for me. Some 12-plus hour flights I've taken feel like they'd never end.
But flying Emirates recently was a different story. Even the nearly 15-hour flight from Dubai (DXB) to New York City (JFK) wasn't just decent – it was downright enjoyable. Emirates' fairly spacious, up-to-date seats on their massive Airbus A380 made it more comfortable than most economy flights. The food was great and Emirates' in-flight entertainment system is truly unparalleled, which helped the flight go by even faster.
Read on for a review of my entire Emirates economy experience, from booking to arrival.
How to Book Emirates Economy
Emirates flies to countless cities around the globe from its hub in Dubai (DXB) in the United Arab Emirates. And you've got plenty of cities in the U.S. to choose from to start (or end) your journey.
Emirates operates flights to 12 U.S. cities – from Boston (BOS) down to Miami (MIA), over to Chicago-O'Hare (ORD) and Seattle (SEA) down to Los Angeles (LAX) – as well as Toronto (YYZ) north of the border. On top of nonstop service to Dubai, the airline also operates two fun fifth-freedom routes to Europe: Between New York City (JFK) to Milan (MXP) and from Newark (EWR) to Athens (ATH).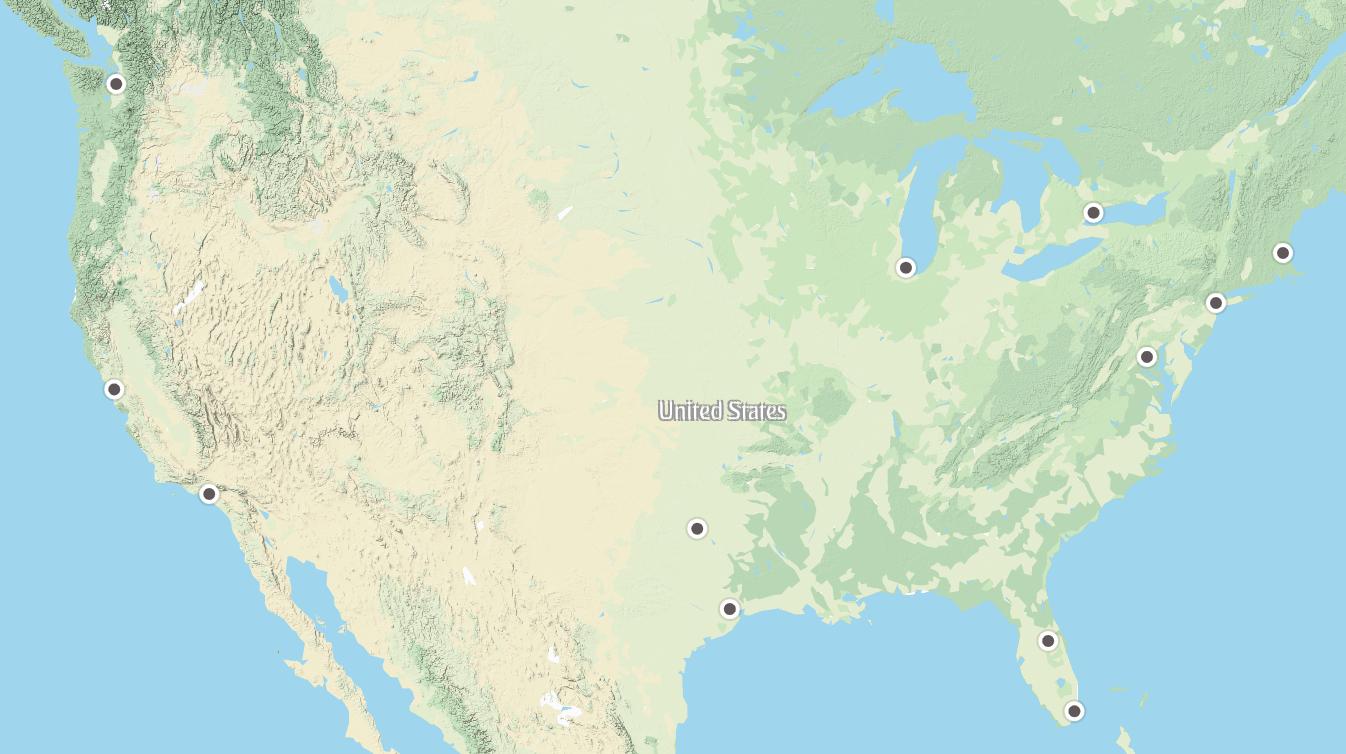 From the U.S., Emirates is a great choice to get you if you're looking for the fastest route directly to Dubai. But they connect throughout the world, which can make it a great option if you're looking to explore elsewhere in the Middle East, Africa, or even Asia.
There are a few great ways to book Emirates economy flights, including if you're just looking to purchase a ticket with cash. From time to time our Thrifty Traveler Premium members some of the best deals possible on this carrier. It doesn't get much cheaper than this $698 alert we sent last summer to fly nonstop to Dubai and back.
Want help finding a cheap flight on Emirates? Check out Thrifty Traveler Premium, our flight deal alert service that finds deals on Emirates with savings of $600 or more! 
When digging for cheap Emirates flights on your own, make sure you're using Google Flights and filter only to display routes on Emirates. Your best bet will almost always be to search for roundtrip flights – not a one-way.
Once you've found what you want to book, finalizing your purchase directly on Emirates' website is fairly easy. Emirates doesn't sell basic economy fares, so every ticket includes two checked bags, a carry-on, meals, and more.
That said, the cheapest Emirates Saver fares do not include free seat selection: That'll cost you $15 to $35 each way for a standard seat – or up to $80 for a preferred seat at the front of the cabin. Extra legroom seats located at bulkheads cost even more.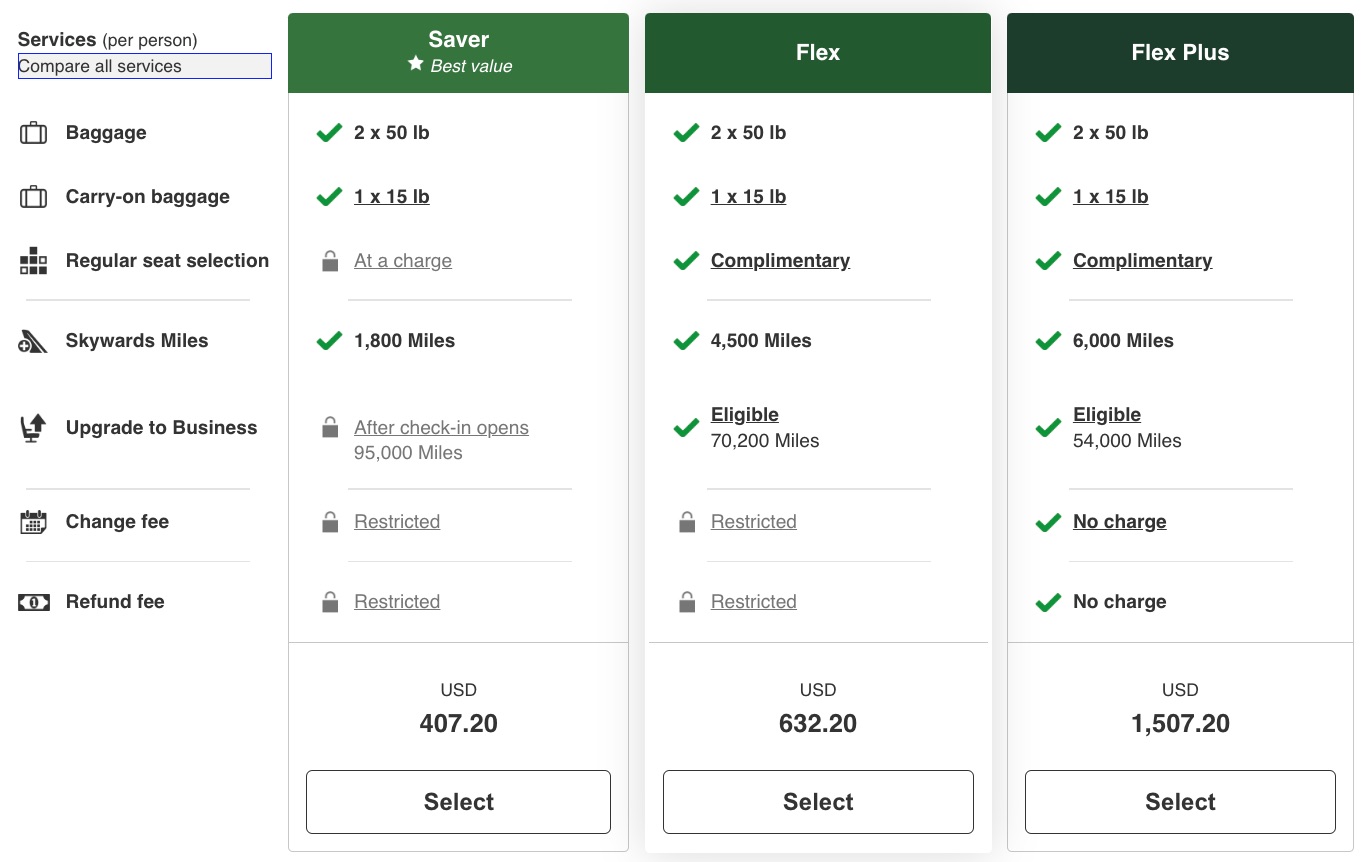 But booking with miles is a strong option, too – especially because it's so easy to earn Emirates Skywards miles as you can transfer them from American Express, Capital One, Chase, and Citi. But while these Emirates economy flights are fairly easy to book, you'll need a fair amount of miles to book … especially if you only want to book a one-way flight.
Just like buying a cash flight, Emirates now saves the best deals for roundtrip award flights. You can generally expect to pay about 72,500 Skywards miles for a roundtrip in economy to Dubai from the East Coast and Chicago or 82,500 Skywards miles from Texas or the West Coast. One-way flights on these nonstop routes, meanwhile, start at 61,250 miles.
Lesson learned: Book roundtrip flights for the best deal using your Emirates miles. Emirates also tacks on about $320 or so in fees on these roundtrip flights.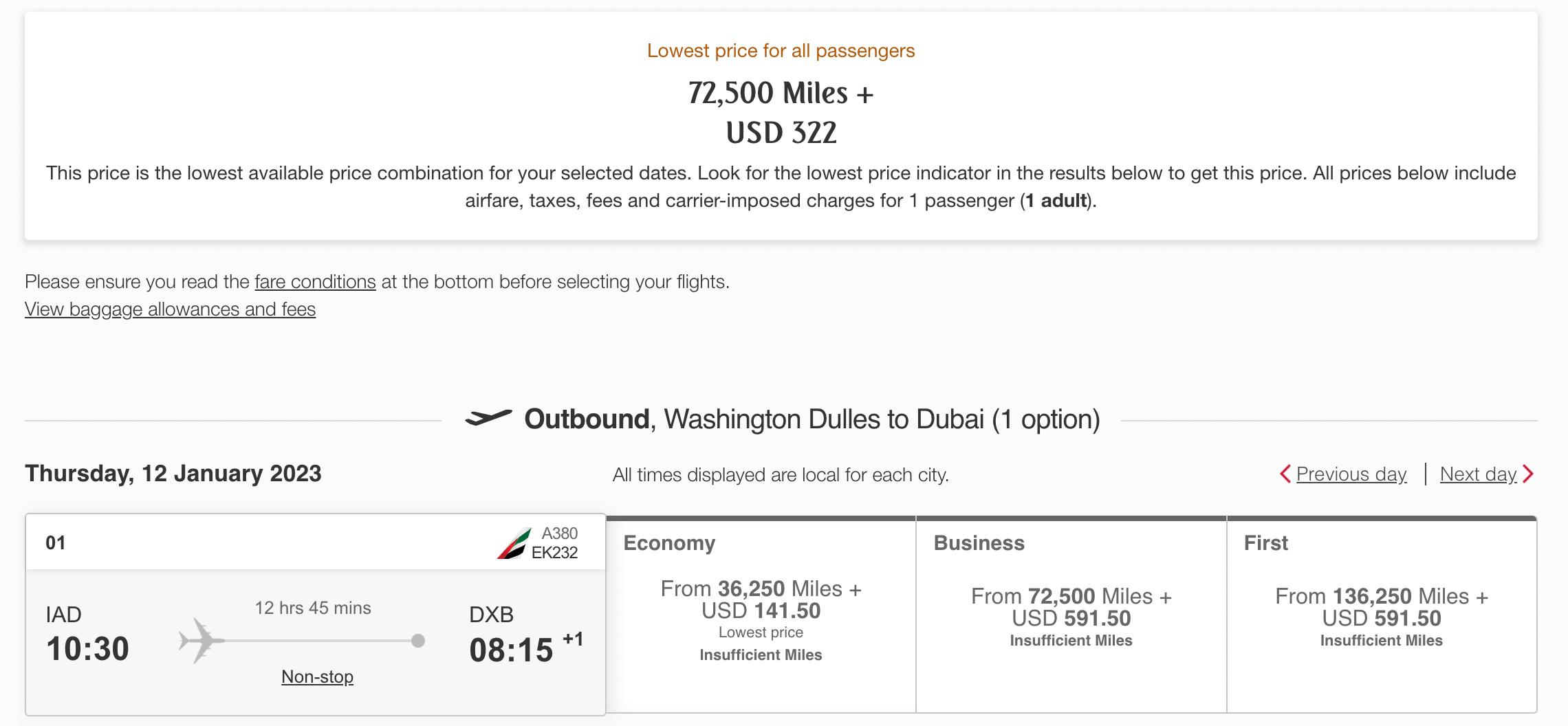 Emirates primarily operates Airbus A380s or Boeing 777s on its routes to and from the U.S. Trust me: You'll want to find a flight on the Airbus A380 if you can. These are Emirates' flagship jets and the biggest in the world, known for offering one of the smoothest rides, especially in economy.
Check-In & Boarding
Check-in for my Emirates economy flight opened 24 hours before departure.
If you haven't already paid for your seats, you can select a seat at this time. But with all the international travel restrictions and paperwork required to travel abroad these days, you'll need to finalize your check-in at the airport desk like me.
My flight departed from Dubai (DXB), Emirates' gargantuan hub. There were several different check-in zones scattered throughout the airport, and you'll need to be sure you check in at the right one for your flight – in this case, Emirates had a zone for all U.S.-bound travelers, so that's where I headed. I made my way to the check-in desk where I was greeted by an Emirates employee who provided me with a boarding pass after I provided the required paperwork needed for entering the U.S. – including a negative COVID-19 test taken no more than a day before my flight.
After showing my test results and getting my boarding pass, I made my way through security, which starts with an automated passport check at the security lines in Dubai (DXB). Shortly after this first check, I cruised through the bag scanners and continued on to my gate. 
But I quickly realized I was not yet done with the pre-boarding requirements. Once again I had to present my negative COVID-19 test along with my passport and boarding pass to get even closer to the boarding gate. And even after that, Emirates had several lines set up with agents going through and hand-checking everyone's luggage prior to entering the boarding area. These manual baggage checks before boarding have become more common in foreign countries over the last two years.
After multiple steps just to get to the boarding area, Emirates began the boarding process. The double-decker Airbus A380s have two separate levels: The top level for business and first class and the lower level for economy.
Emirates agents began to call for different economy classes as the passengers shuffled on board. You'll need to show your boarding pass again to the flight attendants as you enter the aircraft, who will then direct you to your seats. 
Cabin & Seats
This is the biggest commercial plane in the world with more economy seats than you've probably ever seen before.
It varies from plane to plane, but most Emirates A380s have roughly 400 or more economy seats occupying the entire lower level of this massive plane. Economy seats are laid out in a 3-4-3 configuration, split into several cabins by galleys in the center.
I was hoping that my flight to New York City (JFK) would not be stuffed, but no luck: This was a completely full flight. Boarding as early as possible was a good decision, as overhead bin space was full within minutes. Even then, I ended up stashing my carry-on in an overhead bin a few rows behind my seat in one of the last open sections I could find.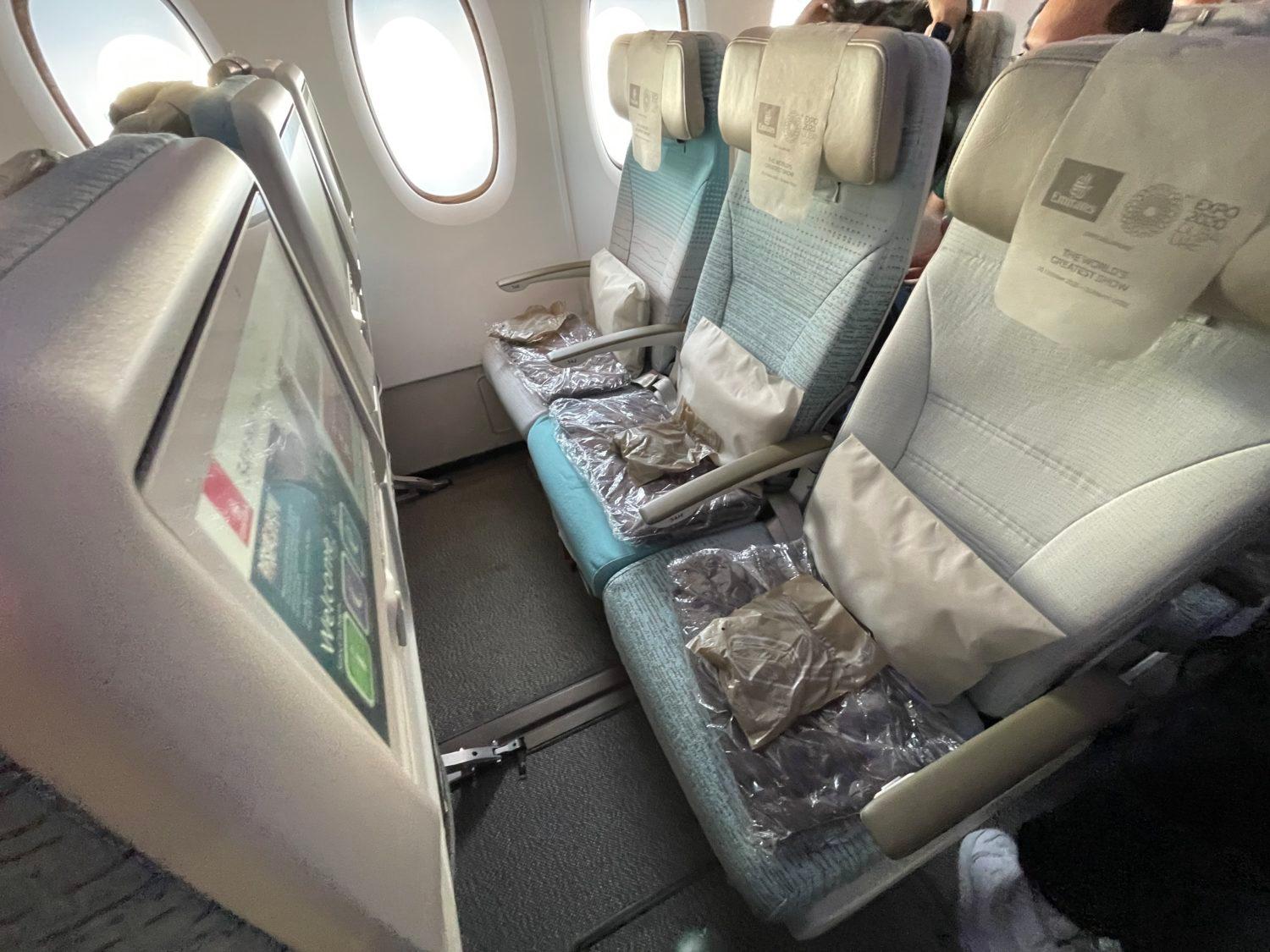 This is why you want to fly the Airbus A380: The seats are just bigger. On Emirates, economy seats measure in at 18 inches wide, one of the widest seats you'll find in economy. Consider this: On many American Airlines or United Airlines Boeing 777s or 787s, you'll get seats that are just 17 inches or so wide.
That extra inch pays off for a long flight, and I found it to be plenty comfortable. The seats themselves were fairly well padded – especially a comfortable, adjustable headrest.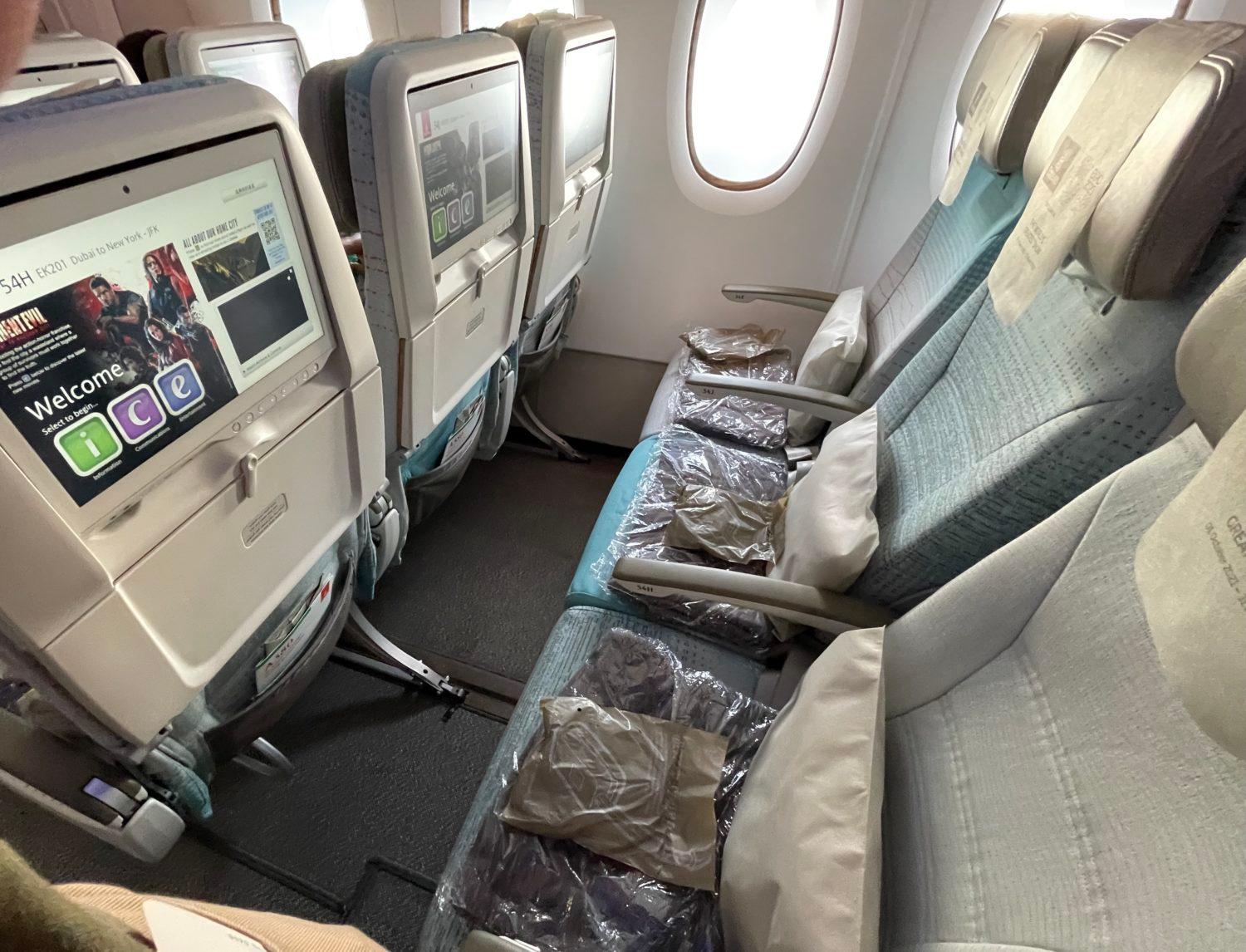 With about 32 inches of legroom, I thought it was spacious enough for my legs, too – even as a taller guy, I did just fine on the 14-hour flight.
I selected seat 56F, which wouldn't have been my first choice. It's located right in the middle of the aircraft, in one of the four-seat middle sections which meant I had a passenger to my left and right. I usually make an effort to pick an aisle seat to get even more room for my legs, but I wasn't so lucky this time. This was one of the only few options available at check-in. 
But even with limited room on either side and a full cabin, I found it very comfortable. The combination of a nicely-padded seat with plenty of room to recline made it a very enjoyable long-haul flight in coach.
Every seat was prepared with an amenity kit, blankets, and pillow, all laid out neatly on top. I happened to use the blanket as the temperature seemed fairly chilly compared to other carriers. Having these kits was a nice feature provided by Emirates – it's something you don't get with every airline.
I was a pretty big fan of the overall layout in economy. Even though I was sitting smack dab in the middle, I still felt like I had ample enough space to make it comfortably through my journey. The overhead lights had a nice neon glow to them, which had a calming effect in the cabin.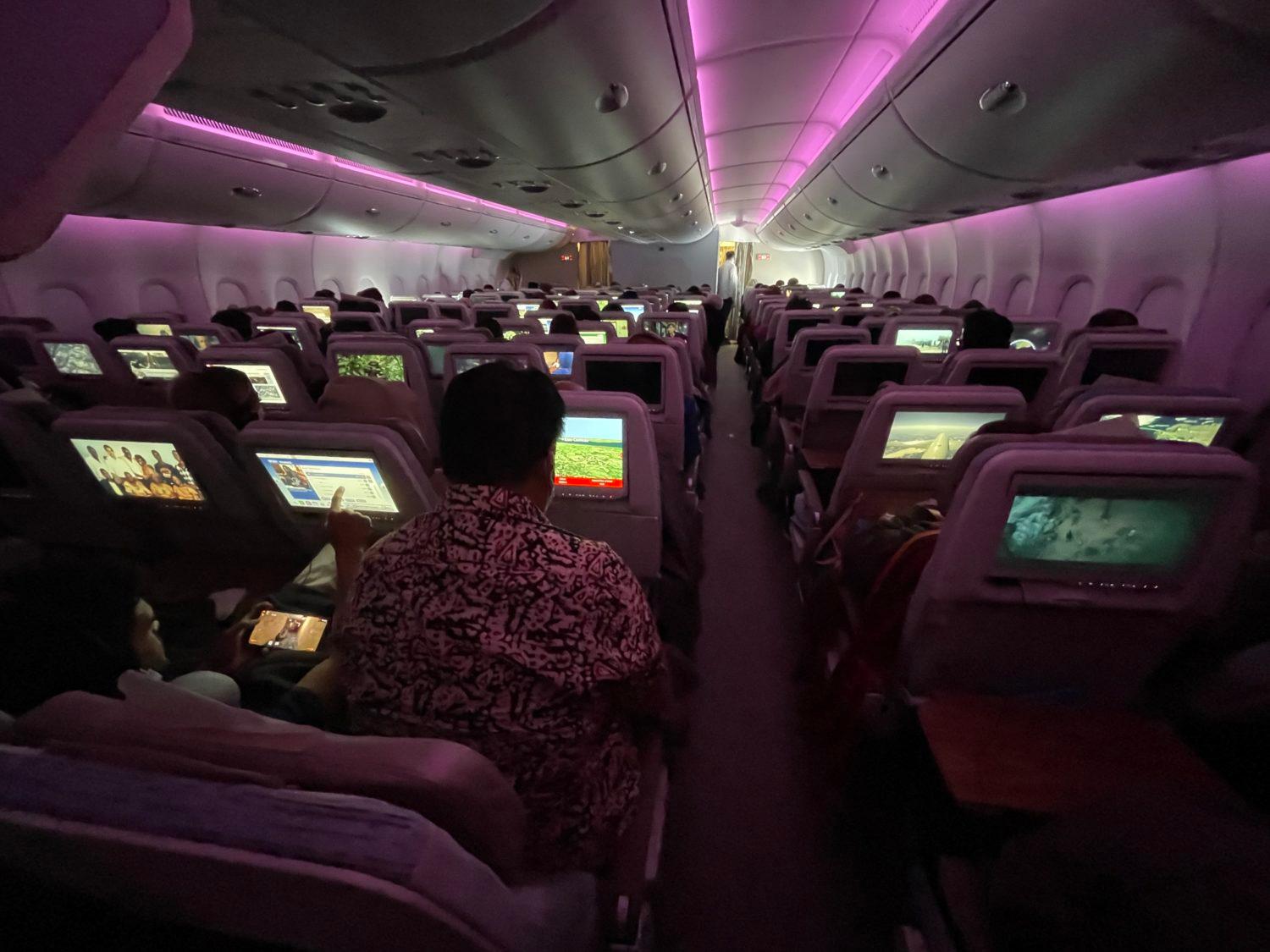 Lavatories in economy are typically nothing to write home about. But the restrooms even in Emirates economy were far above average.
For starters, I actually fit in there without having to bend over. And, at least during my visits, they were kept in a very clean condition. Not that a restroom is a make-or-break factor in choosing an airline to travel with, but it is a surprising bonus when they are so thoughtfully built and well maintained.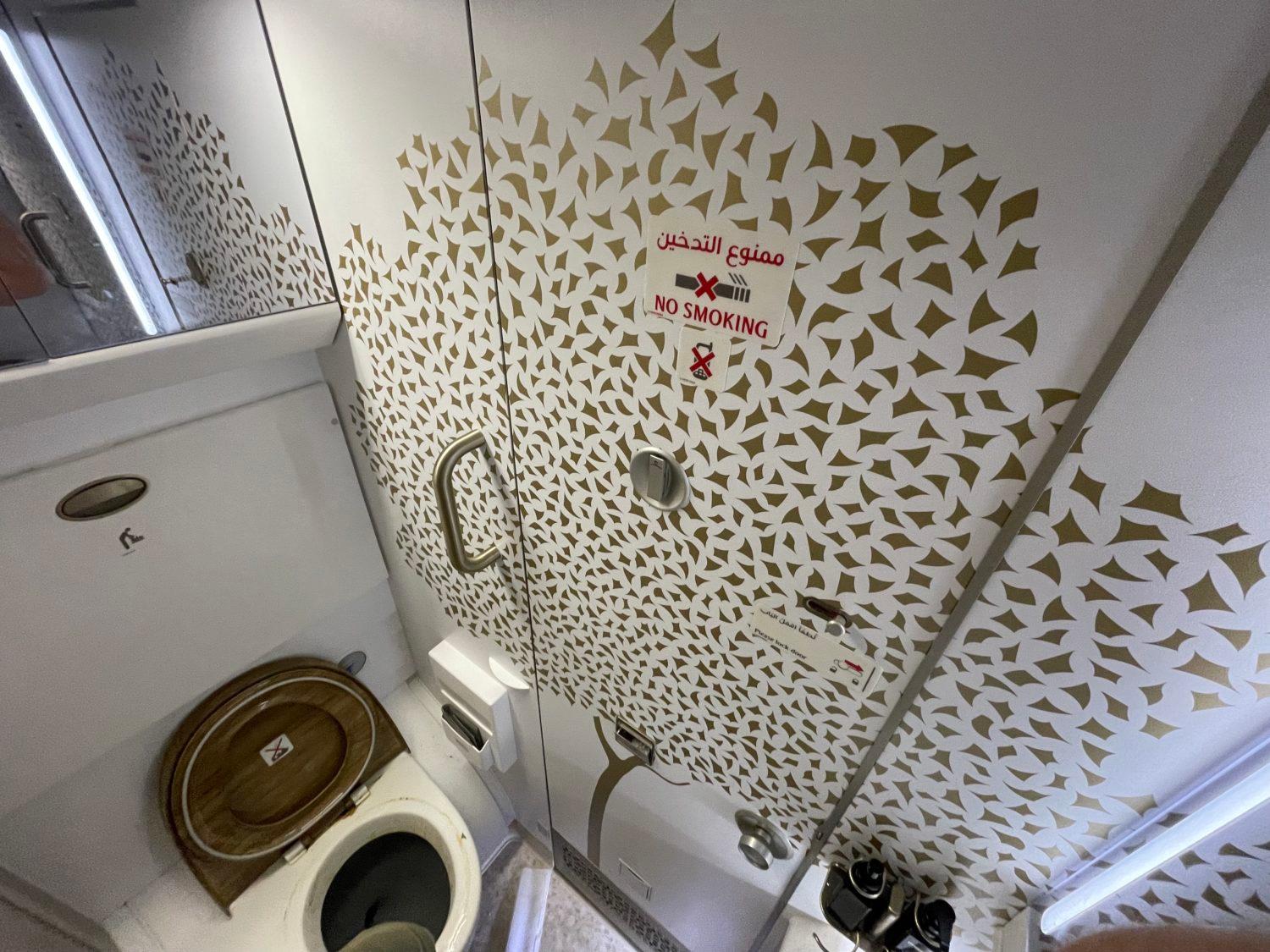 Food, Drinks & Service in Emirates Economy
Economy or not, the service on this Emirates flight was extraordinary.
The flight crew made an obvious effort to greet passengers as they entered the aircraft and indicated the quickest ways to our seats. Throughout the flight, I noticed the crew consistently made their way throughout the cabin, doing their best to assist quickly. They quickly dished out food and cleared trays during the meal service. I noticed they seemed to always to working as quickly and efficiently as possible.
Emirates economy passengers received free drinks, including alcohol, along with two full meals on these long flights to New York City (JFK).
Shortly after departure, the first meal service began with breakfast  I chose the cheese omelet, which came with some spinach and a tomato relish and sausage, along with some fresh fruit, a croissant and water. A nice glass of apple juice also was a helpful refreshment to wash down the big breakfast.
Due to continued COVID-19 precautions, all the food was served in sealed packages. But surprisingly, the silverware was metal – a nice touch compared to the plastic utensils that are standard in economy on many other airlines.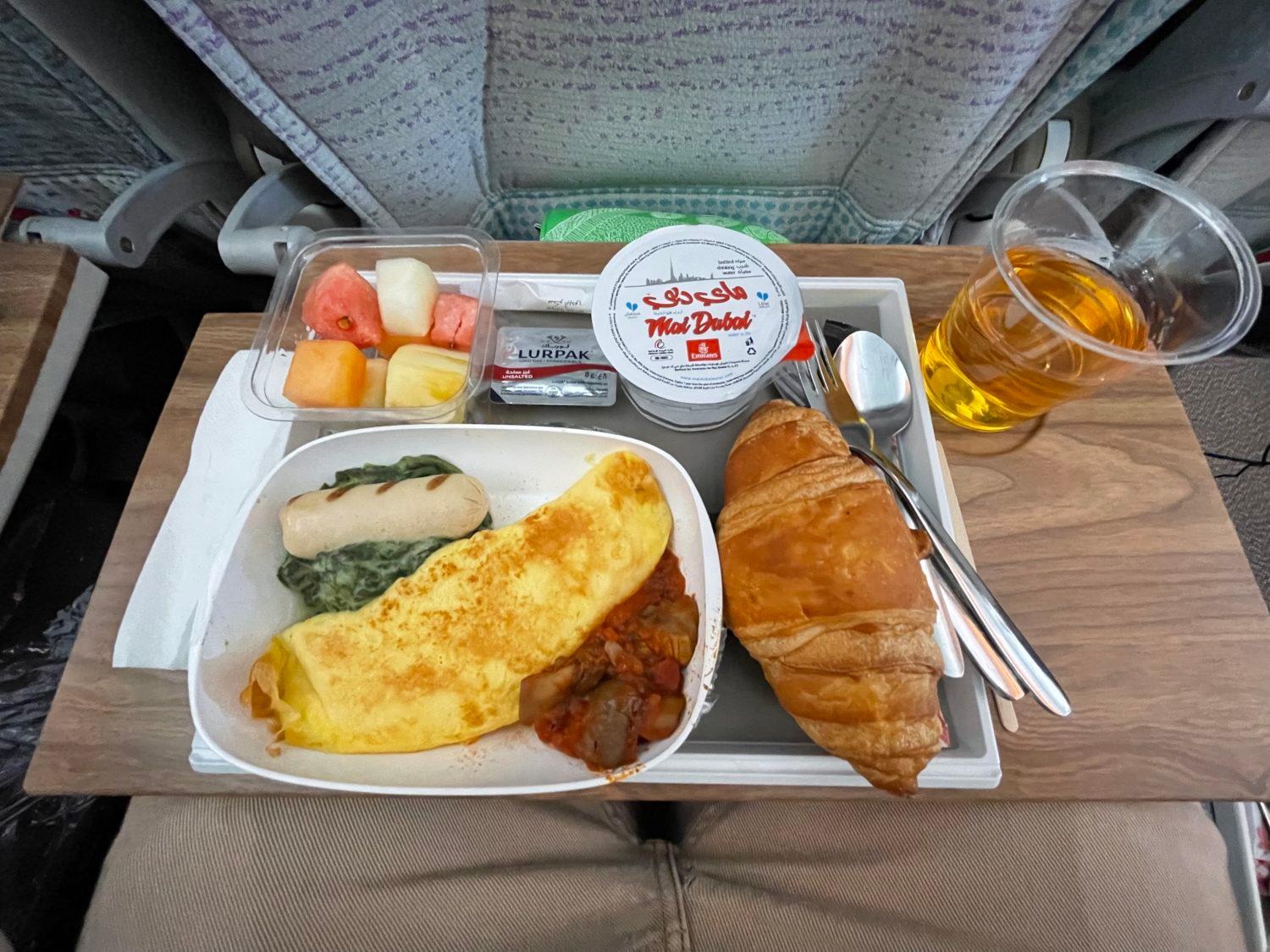 Soon after breakfast service began, flight attendants made another walk around the cabin to refill waters or any other drink orders. It seemed like right as I finished my meal, they were there to gather the finished plate from my tray. 
Many hours later into the long flight on the way to New York, dinner was served. Similar to breakfast, I was happy with what was served: A hot dish of chicken and rice, along with a side of vegetables, crackers, and even a warm roll. The chocolate mousse for dessert complemented the meal very nicely.
I just had a Sprite to wash things down, but alcohol and other soft drinks were freely available.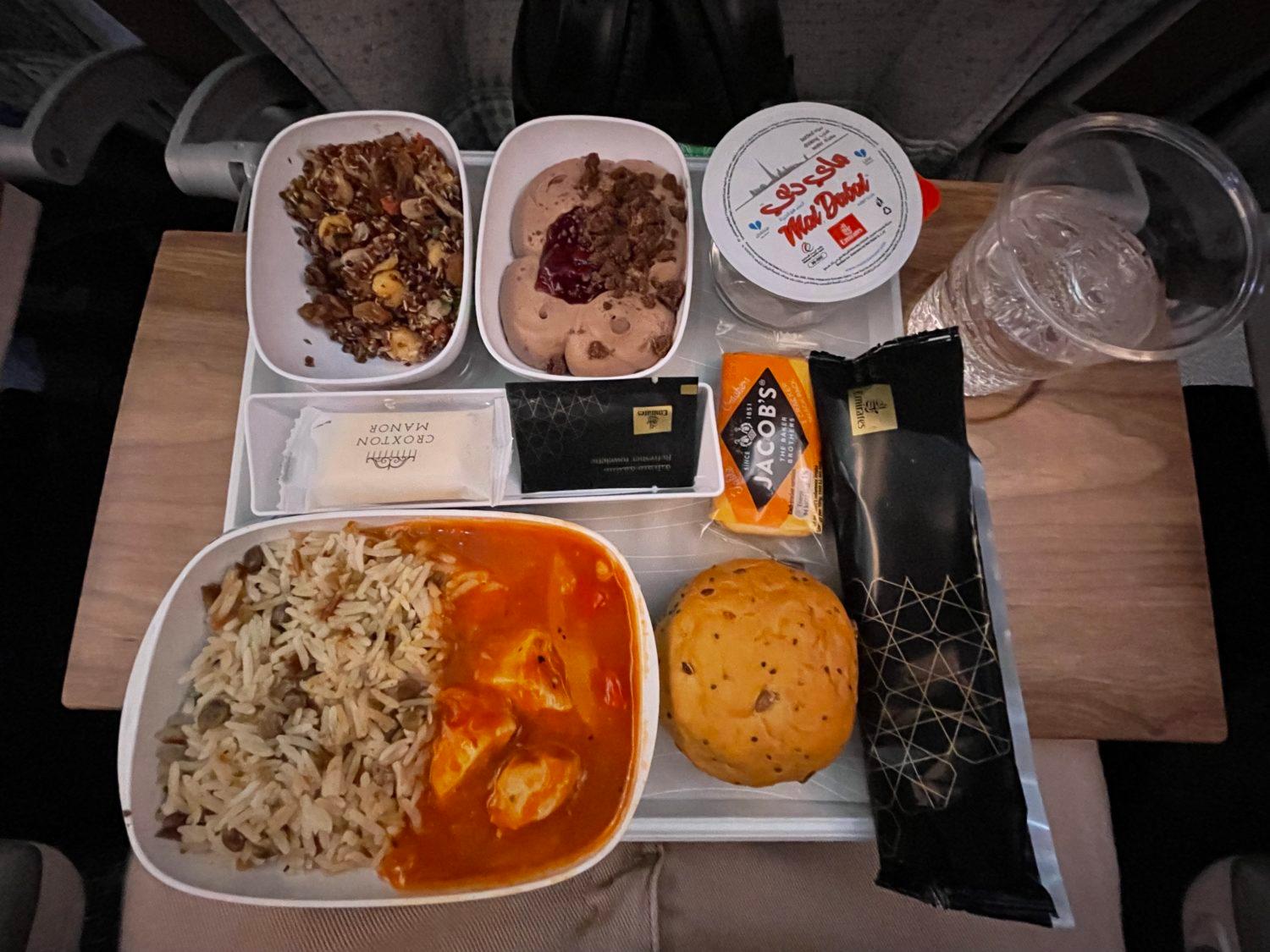 My overall thoughts on the dining and service experience on Emirates were very positive. The serving sizes, excellent quality, and variety of food proved to be a great combination. In addition, the flight attendants' impressive effort to serve and clear these plates did not go unnoticed.

Entertainment
Emirates has put a ton of effort into its in-flight entertainment, and it shows. No wonder they've clinched "World's Best Airline Inflight Entertainment" for a decade straight.
Each seat is equipped with some of the biggest, crispest screens you'll find in economy at 13.3 inches. More importantly, the options seemed to never end, with more than 4,500 movies, shows, and other bits of entertainment to pick from no matter which class you are traveling in. 
This state-of-the-art "ICE" entertainment system is extremely easy to operate on a touch screen. What I liked most were the live television options. I ended up watching live Premier League games to eat up the majority of my flight … and with what seemed to be like a perfect live stream with no interruptions, I was extremely impressed.
After getting my fix of live soccer matches in England, I narrowed down a few movies selections that I had not seen and watched. Sneaking in a quick nap between films made the flight move by fairly quickly.
If you want to use your own devices to pass the time, there are also USB and HDMI inputs at every seat to keep your devices fully charged during your journey.
In-flight Wi-Fi was available for just $12 for the full flight and seemed to operate fairly well for what I needed to accomplish.  
Bottom Line
Flying Emirates First Class is practically a status symbol, but what about traveling in economy?
After comparing my experience flying Emirates economy to the many other airlines I've flown across the world, I would rank this flight very high. The overall comfort of seats, high-quality service, and tasty meals along with likely the best entertainment options I've seen on a plane made this an excellent flight.
When the price is right, I'd never turn down a chance to fly Emirates economy again.