When you're looking for a great flight deal, there are thousands of different places to start your search – and even more routes to get you where you want to go. But sometimes, the best deal is also the latest-and-greatest option.
Year in and year out, airlines are tinkering with their route networks, launching new nonstop routes – and even brand-new destinations – a few times each year in hopes of luring in new customers as they expand. Our advice? Follow the news and search for cheap cash (or award fares to use your points and miles) in the wake of these announcements … because they regularly lead to huge savings. 
Again and again over the last few years, we've seen major U.S. and foreign carriers launch new flights to exciting destinations all around the world. And it's not long after that we find some incredible deals on those upcoming new routes for our Thrifty Traveler Premium members.
Here's just a small sample of the new routes we've seen pop up in the last year or two:
American Airlines is adding nonstop service from Philadelphia (PHL) to Copenhagen (CPH), Nice (NCE) in France, Naples (NAP) in Italy as well as Dallas-Fort Worth (DFW) to Barcelona (BCN) next summer.
Delta has added its first-ever nonstop routes to both Tahiti (PPT) and Auckland (AKL), while expanding nonstop options to Europe – like a flight from Minneapolis-St. Paul (MSP) to Dublin (DUB) – as well as Mexico and the Caribbean.
United Airlines has gone big on ultra-long-haul routes like San Francisco (SFO) to Christchurch (CHC) in New Zealand and Los Angeles (LAX) to both Auckland (AKL) and Brisbane (BNE). Oh, and cool new routes to Europe like nonstops from Newark (EWR) to Malaga (AGP) in Spain as well as Stockholm (ARN).
Alaska Airlines is expanding its reach down south with flights from Las Vegas (LAS) to Cabo San Lucas (SJD) as well as Los Angeles (LAX) to Nassau (NAS) in the Bahamas
Same with JetBlue, which is adding nonstops from  Boston (BOS) to Grenada (GND) and New York City (JFK) to Belize (BZE)
Both Air Canada and WestJet have been on a tear with new service throughout North America – especially WestJet, with plenty of new routes connecting U.S. cities with Western Canada
European carriers like Aer Lingus, Lufthansa, Finnair, British Airways, and others have added many new U.S. cities to their route maps in the last few years
As soon as we catch wind of these new routes, we always cover the news and pass it along to you, dear reader. But we also start searching for the best deals for our Thrifty Traveler Premium members … and we routinely find them.
For example, when JetBlue announced its brand new nonstop service to Paris-Charles de Gaulle (CDG) earlier this year followed by Amsterdam (AMS), we were betting JetBlue would try to make a splash with some cheap fares on these new routes. And wouldn't you know it…
The Paris fares in economy debuted under $500, which is a really sweet fare flying across the Atlantic nonstop. And even though it's much more expensive than economy, these JetBlue Mint business class fares to Amsterdam (AMS) also emerged at roughly half-off the normal rate for transatlantic, lie-flat seats.
That's just one example of why we love new routes and why one of the best ways to save big on airfare is to watch out for them.
Why You Want to Watch for New Routes
Let me start by saying that you don't actually have to do anything. We are watching this news constantly and will always bring you the latest right here. And if we find big savings on airfare or award redemptions, our Premium members will get the deal right away, too.
But it's good to understand why a new route deserves your attention.
The number one reason is simple: New routes mean empty planes, and the airlines need to start filling those seats right away. Some airlines will offer those fares at a steep discount right from the get go, hoping to create a buzz in order to get people onboard. You could be one of those people!
Plus, when airlines add new routes, it can put competitive pressure on the other airlines – and competitors often respond by slashing prices on their own flights. For instance, when Irish carrier Aer Lingus re-added Minneapolis (MSP) to Dublin (DUB) to its nonstop route network, it took Delta Air Lines all of five hours to announce they were launching the route, too. And what did that lead to? Great opportunities to get to the Emerald Isle using your hard-earned points.
Get alerts for cheap flights and points deals like this one with Thrifty Traveler Premium!
The list of new routes leading to stellar deals goes on and on. Delta launched a new route from New York City (JFK) to Buenos Aires (EZE) in February. Fast forward to just a few days ago, those fares went on sale at about half-off the usual rate.
It was a wonderful opportunity to fly nonstop to Argentina on that special route, but sometimes a simple domestic route can help you find epic flight deals like this one to Las Vegas (LAS).
Read next: New Routes (& Great Deals) to Mexico and the Caribbean Ahead This Winter
Delta Air Lines added nonstop flights from Austin (AUS), Sacramento (SMF), and San Diego (SAN) to Las Vegas earlier this year. Not long after, we found an excellent Delta SkyMiles flash sale: 11,000 Delta SkyMiles roundtrip on a brand-new route to Vegas!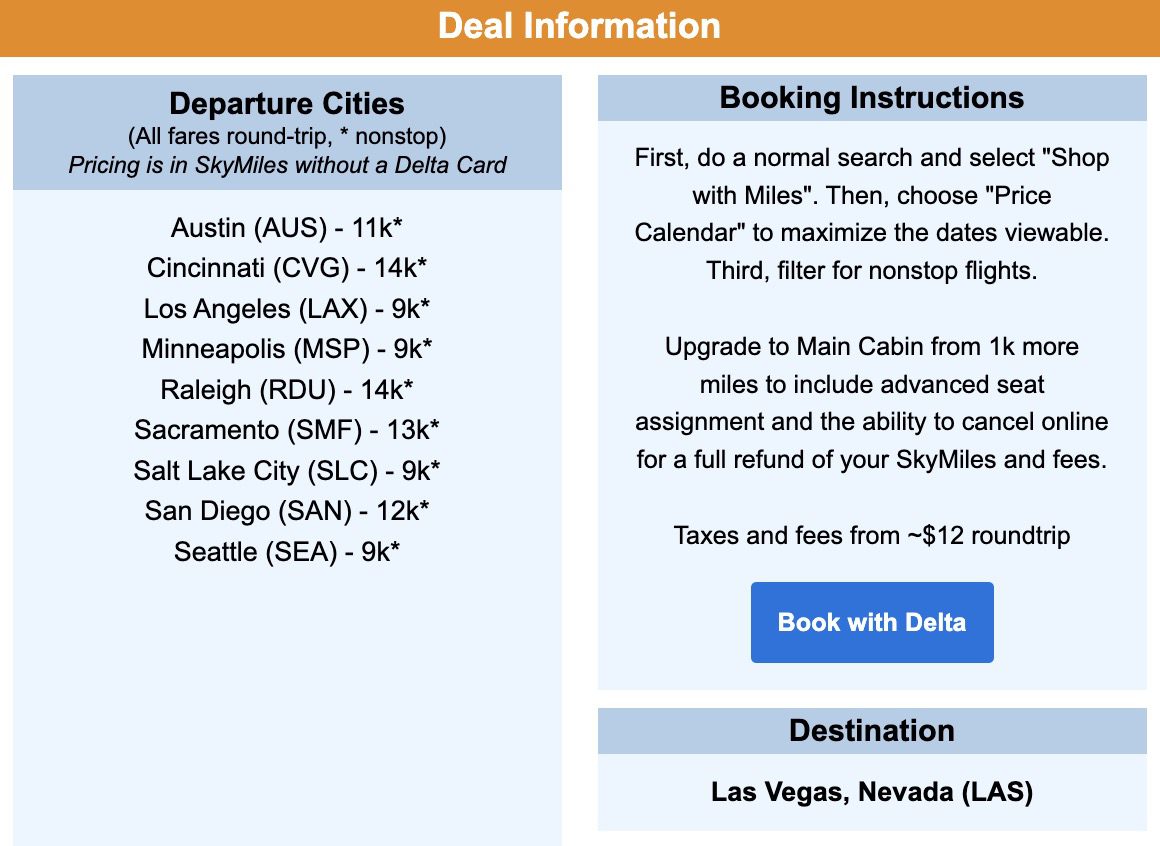 One new nonstop flight that nobody saw coming was flying an airline you might not have heard of: Atlantic Airways. The Faroe Islands-based air carrier only flies a few routes connecting the Faroes with Europe and the Faroe Islands with each other, but they briefly added a nonstop flight to New York-Stewart (SWF) for the end of the summer season.
We sent this flight deal alert to Thrifty Traveler Premium members the day fares went on sale. Before this, connecting to the Faroes on other airlines would easily cost you closer to $1,500 or more.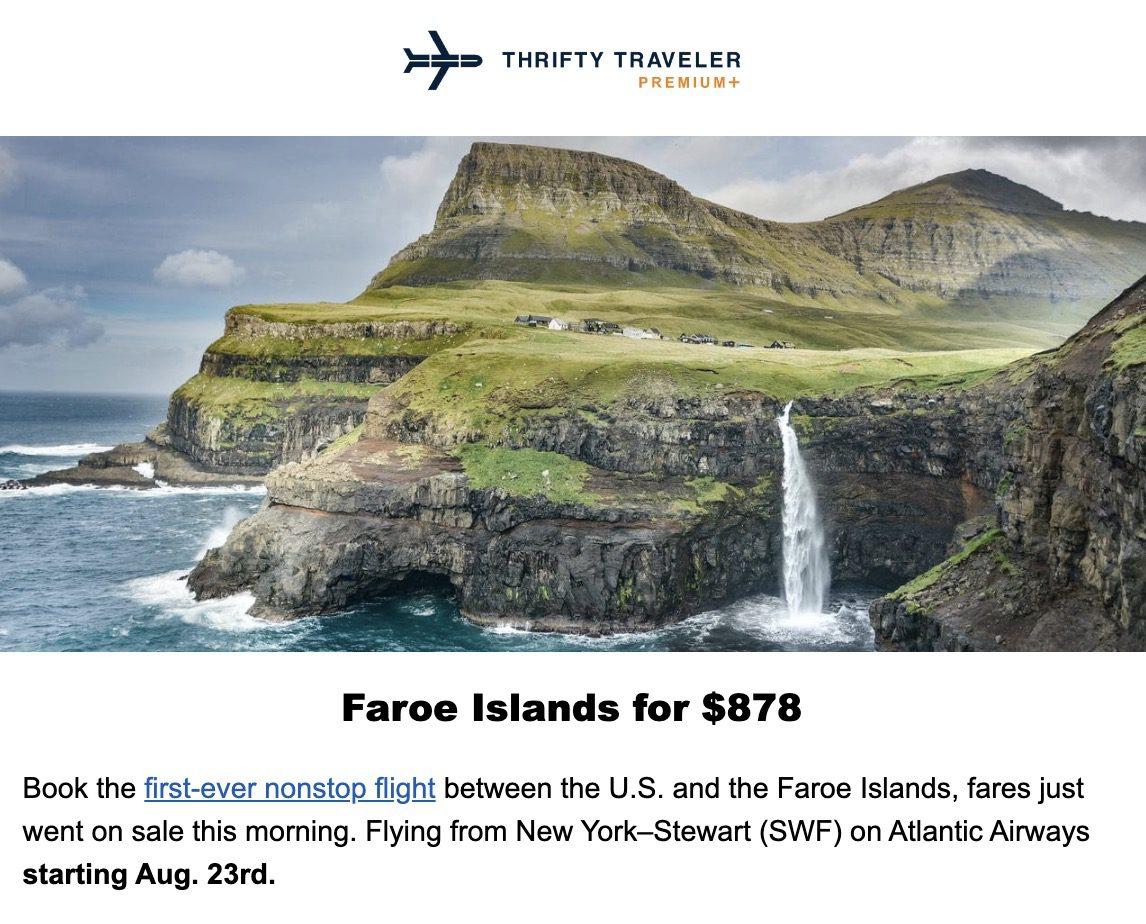 You know how to guarantee you're flying a brand new route? By flying to a brand new airport.
It's rare that we catch wind of a brand new airport, but that's exactly what's happening in Tulum (TQO) in Mexico. The Mexican government is working quickly its newest commercial airport in the resort town south of Cancún. Starting Dec. 1, the airport is set to welcome its first-ever commercial service on Aeromexico and Viva Aerobus.
And while the first flights will only head to TQO from Mexico City (MEX), Aeromexico's route map into the United States means flyers can visit Tulum with one quick connection at some awesome prices.
Book Business Class with Points on New Routes
Want to fly business class using your points and miles? New routes might be your single best bet to make it a reality.
Booking any premium cabins using your points and miles can be a chore, as award availability can be tough to find to actually put those points to use. But we've seen an undeniable trend: When airlines add a new route, they often open up those top-dollar seats to be booked with miles, too – including by airline partners.
That can lead to deals like these.
Traditionally, getting to Australia in lie-flat seats is one of the toughest redemptions to pull off. But just after Australian carrier Qantas added service between Dallas-Fort Worth (DFW) and Melbourne (MEL) earlier this year, it made a bunch of business class seats available to travelers with Qantas miles, American miles, British Airways Avios, or Alaska miles, too.
The same goes for this new nonstop route between Detroit (DTW) and Istanbul (IST). These excellent Turkish business class seats were bookable for just 45,000 miles each way when you booked with Turkish. Because the route was brand new, the seats were available nearly every day between January and May. That's a huge window of award availability!
This deal is gone now – get the next business class award alert with Thrifty Traveler Premium!
Minnesota travelers have gotten very lucky lately with a slew of new routes in and out of Minneapolis-St. Paul (MSP). One of the most exciting new flights is flying Lufthansa nonstop from both Minneapolis and Raleigh (RDU) to Frankfurt. The end result? This business class deal:
Just 70,000 points each way would put you in one of these seats flying across the Atlantic next summer and beyond. And when the fares went on sale, you could book up to nine passengers into the business class cabin. Unreal!
Finally, SWISS announced two new routes of its own  last month, too: Toronto (YYZ) and Washington, D.C.-Dulles (IAD) to Zurich (ZRH). You probably get the pattern at this point…
Availability on business class seats like this doesn't come around unless the planes are empty on brand new routes. It's a surefire way to book the trip of your dreams in a lie-flat seat.
Bottom Line
That old saying goes "Newer is better," and it can easily apply when you're looking for a great deal on a new flight.
As airlines try to drum up interest and fill seats on their newest routes, we regularly see deeply discounted fares (or amazing points deals) to some of your favorite – or soon-to-be favorite – destinations. So stay up to date on the latest new routes here at ThriftyTraveler.com and subscribe to Thrifty Traveler Premium so you don't miss out on the next great surprising deal.