When it comes to the suite of different Delta credit cards, two of them stand above the rest as the best options for most travelers: The Delta Gold vs Platinum SkyMiles cards.
But even between these two popular Delta cards, there are some key differences and factors for each traveler to consider, from a big SkyMiles bonus to annual companion certificates to the yearly fees. The card_name might be a slam dunk for you while the card_name just doesn't make sense for your travels – or vice versa.
Thrifty Tip: Already had the SkyMiles Gold Card? You're still eligible to earn the bonus on the Platinum SkyMiles card … but not if you upgrade your card!
With bigger bonuses out on Delta cards and an excellent new benefit that gets cardholders 15% off when using SkyMiles, it's time to put these cards head to head. We'll help you decide which one is best for you.
But before we break down the differences between these cards, let's take a look at what each one brings to the table.
Current Offers on the Delta Gold vs Platinum Cards
Delta SkyMiles® Gold American Express Card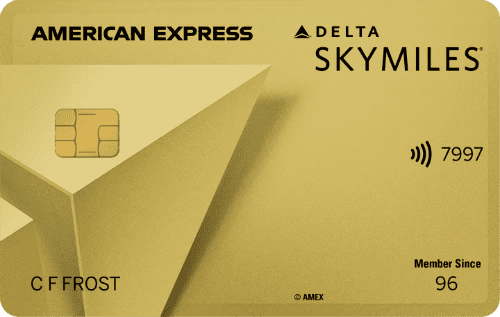 Learn more about the card_name
Delta SkyMiles® Platinum American Express Card
Learn more about the card_name
Annual Fee
One of the biggest differences between the Gold and Platinum versions of the Delta SkyMiles credit cards from American Express comes down to the upfront cost. That alone can be a make-or-break for many travelers weighing the Delta Gold vs Platinum SkyMiles cards.
The Platinum version has an annual fee of $250 each year, which is not waived for your first year of card membership.
The Gold card, meanwhile, has an introductory annual fee of $0 in year one – that's right, you won't pay anything for your first year with the card. After that, you'll pay just $99 a year to keep your Gold Card open.
Just what you get in exchange for that annual fee differs, and we'll take a look at that shortly. However, the Delta SkyMiles Gold card waives the $99 annual fee in the first year (see rates & fees).
Regardless of any other benefits, that makes it the clear winner in this category.
Read more: The Best for Delta Fans: A Full Review of the Delta SkyMiles Gold Card.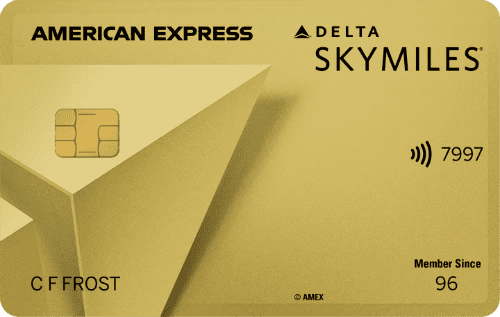 Winner: The Delta SkyMiles® Gold American Express Card
Welcome Bonuses on Delta Gold vs Platinum Cards
While the card carries a much heftier annual fee, in a vacuum, the welcome offer bonus on the Delta SkyMiles Platinum Card is stronger.
Winner: The Delta SkyMiles® Platinum American Express Card
Although the annual fee is more and you'll have to pay it in year one, you will simply earn more SkyMiles with the current offer on the Delta SkyMiles Platinum Card.
Companion Certificate
Perhaps the biggest and most important difference between the Gold and Platinum versions of the Delta SkyMiles cards is the annual Delta companion certificate issued to Platinum Delta SkyMiles cardholders.
You'll get the pass after you've held the card for a year, so you can't use it immediately after opening your account. After your first card renewal, you'll get this companion certificate good for one main cabin, roundtrip fare in the continental U.S. – sorry, buy one get one (BOGO) flights to Hawaii or Alaska are out. Simply pay for your ticket and you can bring your companion at no additional cost.
But there is an important restriction to keep in mind when using this great perk. The companion certificate only works for fare classes L, U, T, X, and V in the main cabin. That means basic economy fares are off-limits, as are some of the cheapest-priced economy fares. Many Delta flyers have had some difficulty putting these companion tickets to use, though Delta recently made it easier by adding a calendar view to find more dates that work.
Make sure to read our full guide to using the Delta companion certificate – including some great tips to find the fares that work!
Still, utilizing this pass can be a great way to save money on airfare. And it should be fairly easy to get much more out of this perk than the card's $250 annual fee. And since the Gold version of the card does not offer a companion certificate, it makes the Platinum card the clear winner here.
Winner: The Delta SkyMiles® Platinum American Express Card
15% Off When You Use SkyMiles
Having either of these Delta credit cards in your wallet automatically unlocks a brand new benefit: A 15% discount (or more) anytime you're redeeming Delta SkyMiles for an award ticket.
Delta calls it TakeOff 15. This marquee new benefit for Delta Amex credit cards officially rolled out in early February 2023 after several weeks of leaks and rumors. It's available on both the SkyMiles Gold and SkyMiles Platinum Card as well as the top-tier Delta SkyMiles® Reserve American Express Card.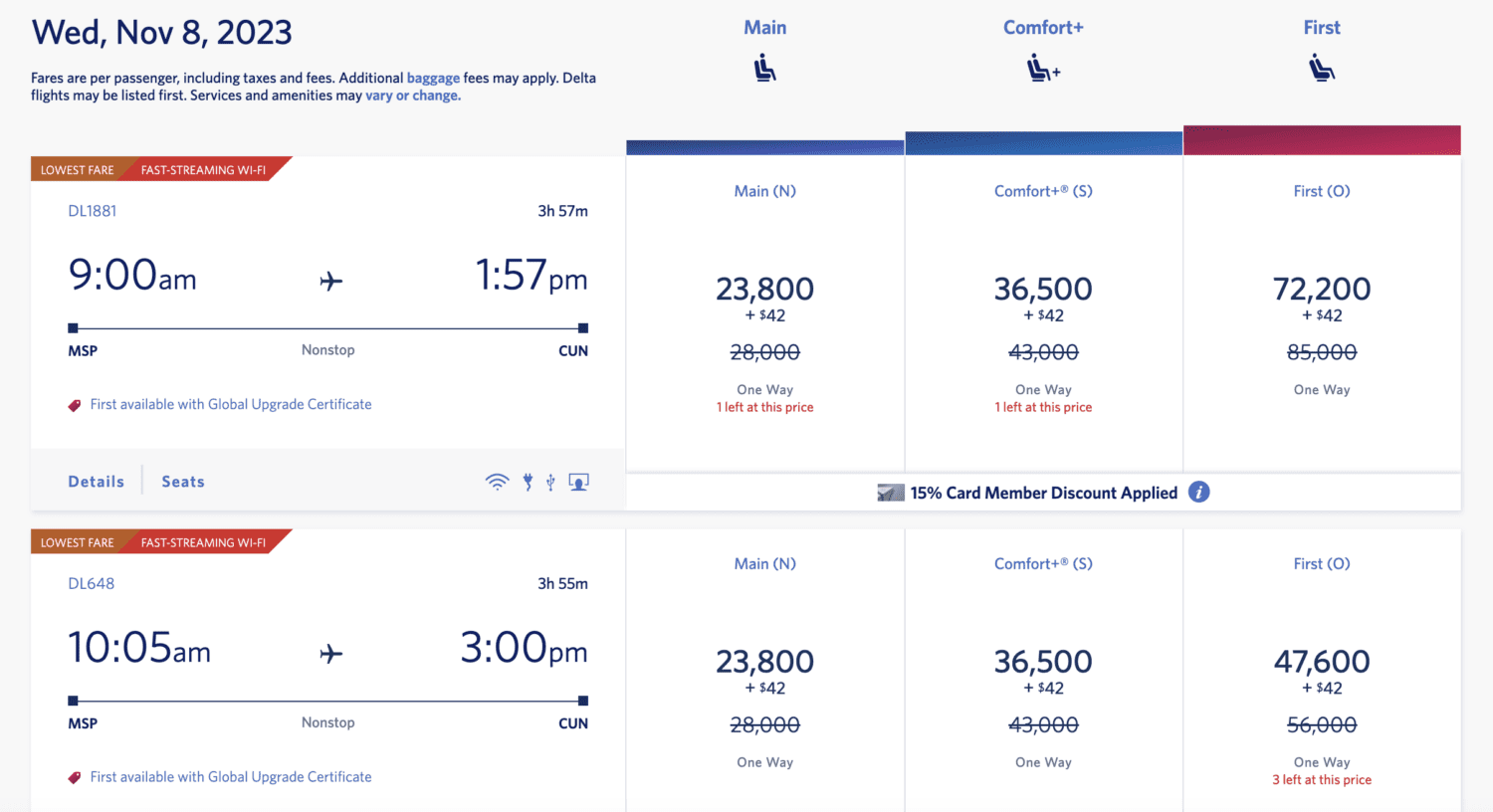 Read more: It's Live! Delta's New Credit Card Benefit for 15% Off Award Flights
It's a great new benefit that goes further than what you'll find on any other major airline … with a catch. While it's not black and white, we've seen signs that Delta has increased award rates to book tickets with SkyMiles after introducing this TakeOff 15 discount.
Regardless, having either one of these Delta cards will get you the lowest award rates when using SkyMiles thanks to this new discount. And there's no difference between the Gold and Platinum card: They both get an identical 15% discount.
Winner: Tie.
Earning More SkyMiles
Once you've earned the big welcome offer bonus, these two cards still earn SkyMiles differently.
The Gold Delta SkyMiles card earns 2x SkyMiles per dollar at restaurants, including delivery and takeout, U.S. supermarkets, and on purchases with Delta.
Just like the Gold Card, the Platinum Delta SkyMiles card will earn 2x SkyMiles on both restaurants and U.S. supermarkets like the Gold card. But it also earns 3x SkyMiles per dollar spent on Delta purchases and at hotels – giving it a slight edge in this category.
Both cards will also provide you with 20% off in-flight purchases such as food & drinks in the form of a statement credit.
Other travel credit cards out there can be much more lucrative for racking up points on your everyday spending. That's why we tell travelers not to swipe your favorite airline's co-branded credit card day in and day out: You can do much better with another, more flexible card like the (non-Delta) American Express® Gold Card.
But if a Delta card is all you've got, there's a clear winner in this category.
Winner: The Delta SkyMiles® Platinum American Express Card
Free Bags When You Fly Delta
Both cards still get you – and up to eight others booked on your reservation – a free checked bag on every Delta-operated flight.
And we mean every Delta flight. Whether it's a regional hop operated by Delta Connection, a Delta flight to a bigger city, or a trip to Europe with Delta, you get your first checked bag free. Only bags with partner carriers like Air France or KLM will incur a cost.
Considering checking a bag costs at least $30 each way, those savings can add up fast. Best of all, you don't need to pay for your flight with your Delta card to get that benefit.
Read more: You May Not Have to Pay With Your Airline Card to Get Free Baggage
Neither card gets you an edge here. But given the far lower upfront cost in annual fees, the Delta Gold Card is your best bet if free bags are what you're after.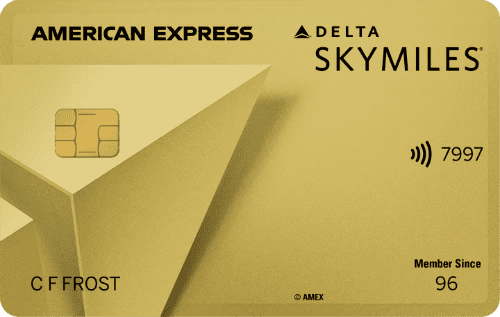 Winner: The Delta SkyMiles Gold American Express Card from American Express
Delta Sky Club Access
A few years back, Delta and American Express made some big changes to all of the co-branded Delta cards. It included a new look and a lot of new benefits. But one change could matter to anyone looking to hop into the Delta Sky Club before a flight.
After a recent increase, Platinum cardholders can get into Delta Sky Clubs by paying $50 per person (so long as you're flying Delta that day). Those day passes are no longer available to Gold cardholders, period.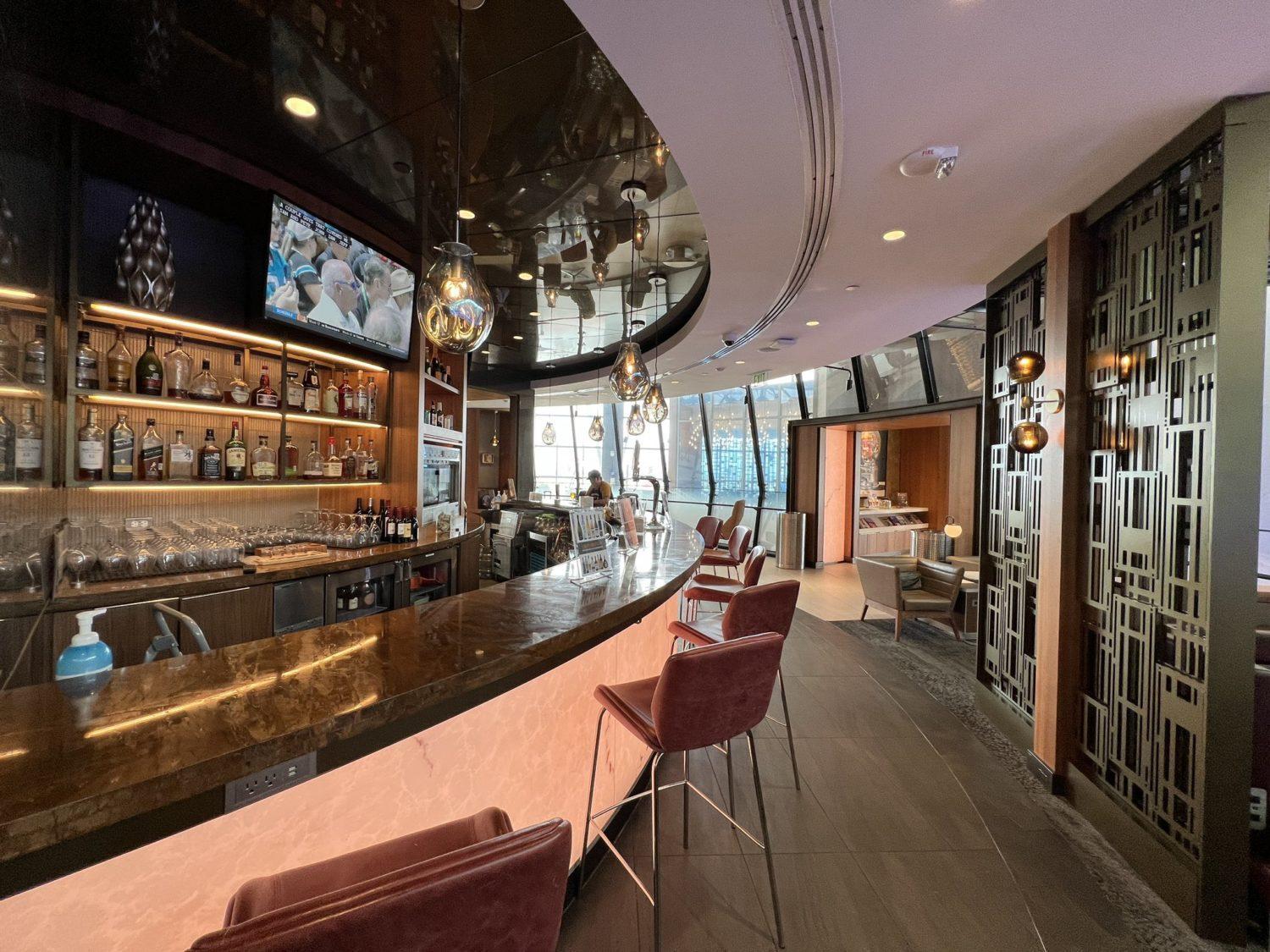 Read our full guide to getting into the Delta Sky Club!
Other credit cards like the Delta SkyMiles® Reserve American Express Card or The Platinum Card® from American Express can get you into Sky Clubs (and many other lounges) for free, though those cards come with much heftier annual fees.
But if you're looking for a way to get into the Sky Club every now and again, Delta's Platinum Card is your only option between these two cards.
Winner: The Delta SkyMiles® Platinum American Express Card
Other Benefits
On the Delta Platinum SkyMiles card, one great benefit added a few years back is a credit of up to $100 to cover the cost of either Global Entry or TSA PreCheck. This credit is available every four years – but since membership in both programs is good for five years, you're set.
Yet one benefit I love even more is on the Delta SkyMiles Gold card. If you spend $10,000 in a calendar year, you'll get a $100 Delta flight credit to use towards future travel. This is available in year one (when you won't have an annual fee), and every year thereafter. This opens an avenue to offset the cost of your $99 annual fee.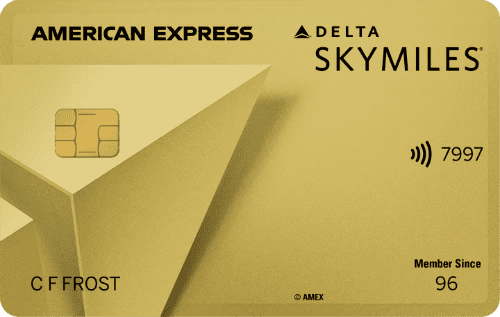 Winner: The Delta SkyMiles Gold American Express Card from American Express
Delta Gold vs Platinum: Which Wins?
By the numbers, The Platinum version won four categories here to the Gold card's three wins, with one tie. But every cardholder can – and should – weigh these individual categories differently.
At the end of the day, your decision should be based on which categories you value the highest.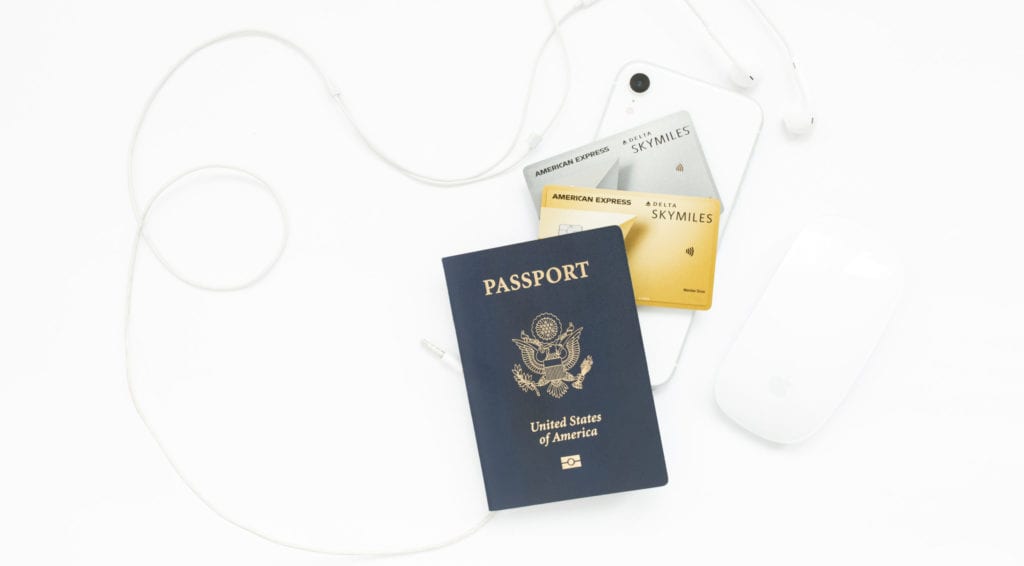 For example, if you think you can easily take advantage of the companion certificate offered by the Platinum version each year after the first year, that should be your choice. While the $250 annual fee may scare many off, the companion certificate you get starting in year two can easily wipe it out. Benefits like these are why we always encourage travelers to do the math before ruling out cards with a higher annual fee. 
But if your main objective is earning miles and to avoid paying Delta baggage fees, you should skip the Platinum and go straight for the Delta Gold SkyMiles card, which offers both at a much lower price point.
Read more: The 7 Best Delta Credit Cards for Travelers in 2023
Bottom Line
For the majority of Delta flyers, the Platinum or Gold SkyMiles cards are your best bet. Which one is the right pick is ultimately up to you and your travel goals. But at the end of the day, you can't go wrong with either one.
And remember: American Express allows you to eventually get both of them and earn the bonus on each.