Last month, I flew the American 787 Dreamliner in Business Class from Chicago to Dallas. Granted, it wasn't a long haul flight which the Dreamliner was built for, but I felt I was able to come to one conclusion; the Boeing 787 Dreamliner is an amazing aircraft.
I've been sitting on a pile of American Airline AAdvantage miles, so I decided to splurge and book a one-way business class ticket from MSP – DFW for 25k AAdvantage miles. This is more miles than I'd typically spend since we flew to Europe earlier this year in Business Class on the 767-300 for only 50k miles one-way.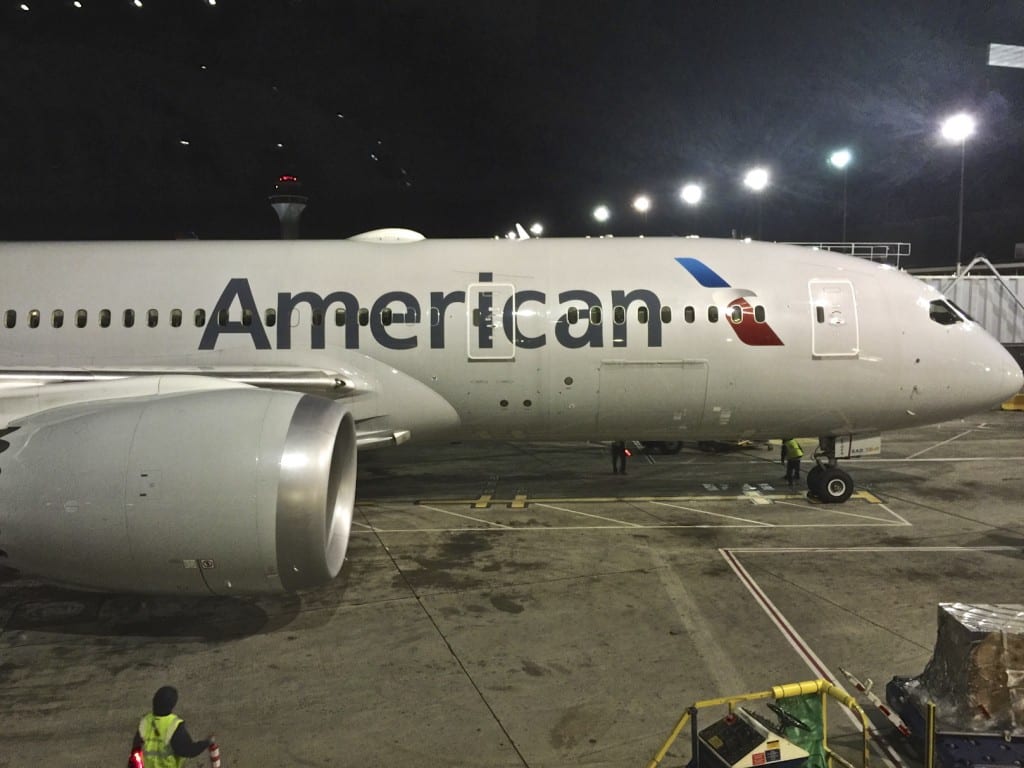 Even though American has been flying the Dreamliner since earlier this year, there were still quite a few people who were watching from the windows as the plane pulled up. Next to me was an American technician who said this 787 was the 4th Dreamliner in American's fleet. I imagine there were quite a few surprised people who thought they were flying a normal jet to Dallas, well they were in for a treat.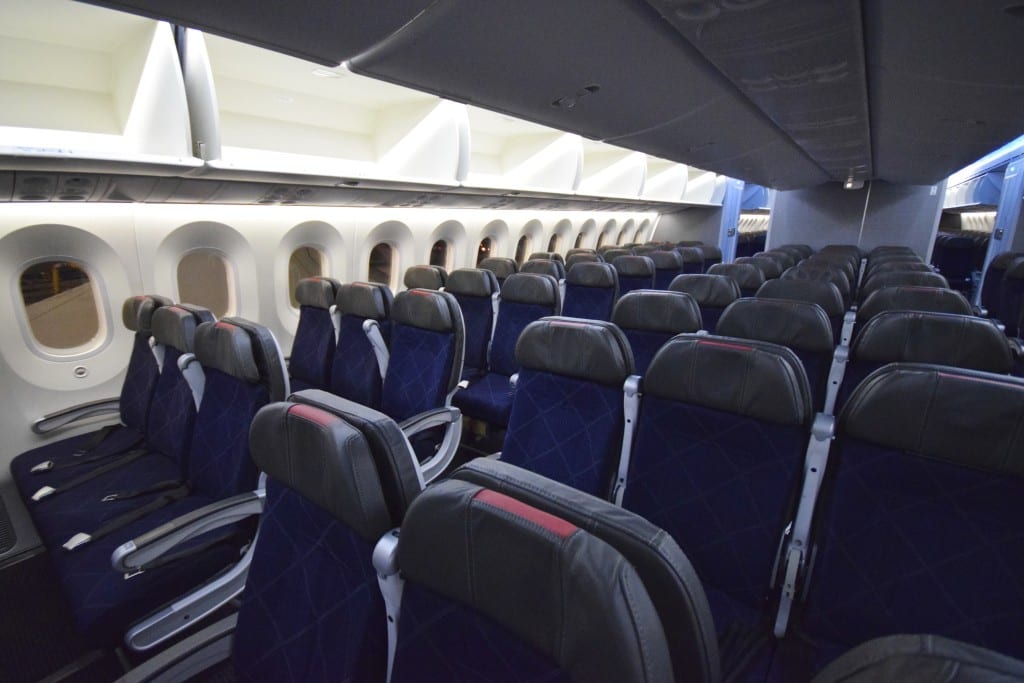 Economy is nothing special with 3-3-3 configuration, but each seat does have large AV screens for watching movies. There are spacious overhead bins and all the Dreamliner windows feature a dimming switch at the bottom of the larger than average windows.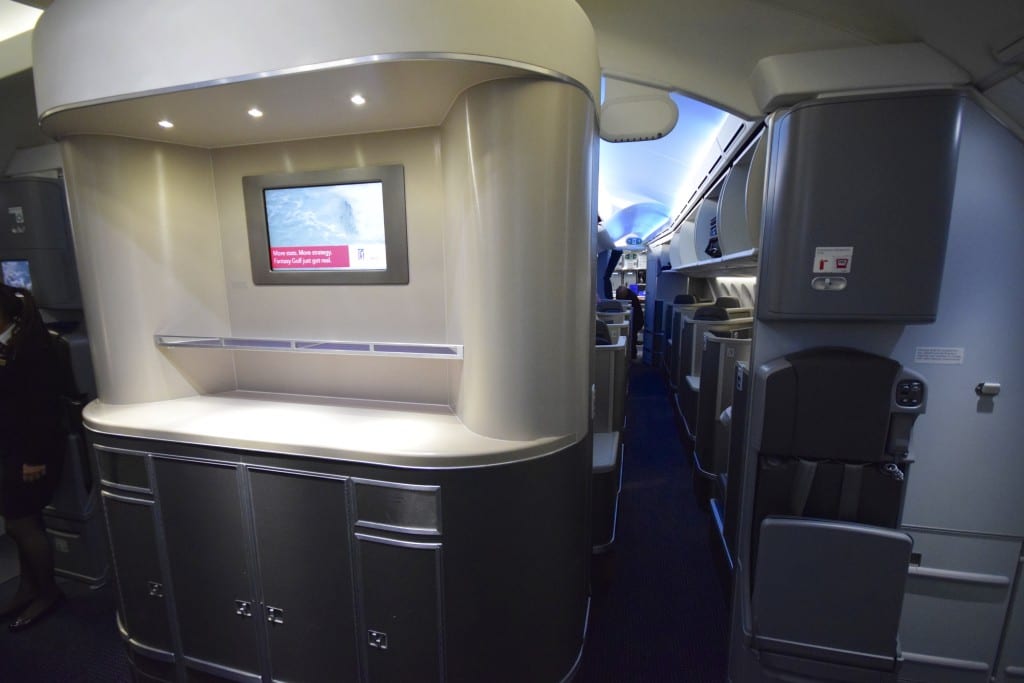 Near the main boarding door, between Economy and Business class, there is a bar area which I imagine could be used for a variety of purposes during a long haul flight. Sadly on the short trip from Chicago to Dallas, it was not in use.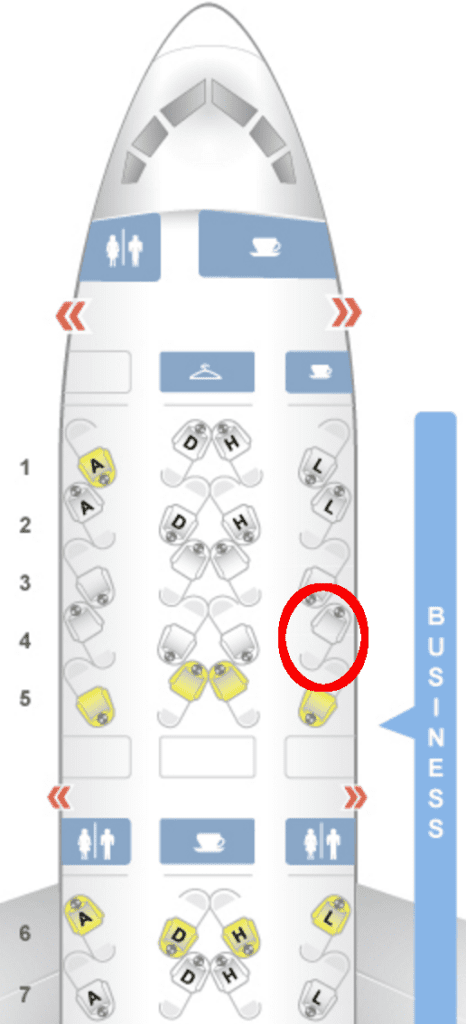 American claims to have the most spacious Business Class cabin of the 787 lineups. The business class is situated in a 1-2-1 configuration and all seats have direct aisle access. Seats are arranged in a forward/reverse configuration. I was seated backward, which made for an interesting take-off experience.
The center seats are not that great for couples as the American 767-300, which Mrs. TT and I loved flying earlier this year. The center divider is locked and I'm not entirely sure if you can unlock it or move it. I saw quite a few people trying to lower it but I didn't see anyone successfully remove it. It's great for privacy but not so much fun if you're heading somewhere with a significant other.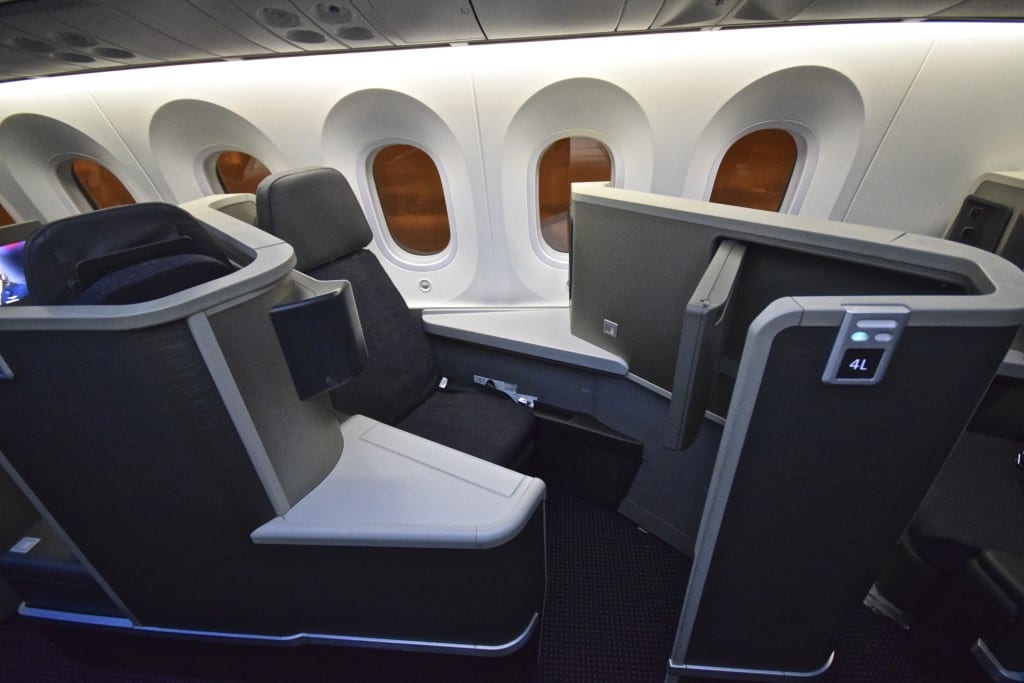 I wanted a good view of the engine and wings, so I chose one of the rear-facing seats. 4L was located near the back of the business class cabin and had good access to the lavatory and main boarding door. During takeoff individuals with front facing seats had to wear another seatbelt over their shoulders but rear facing passengers did not.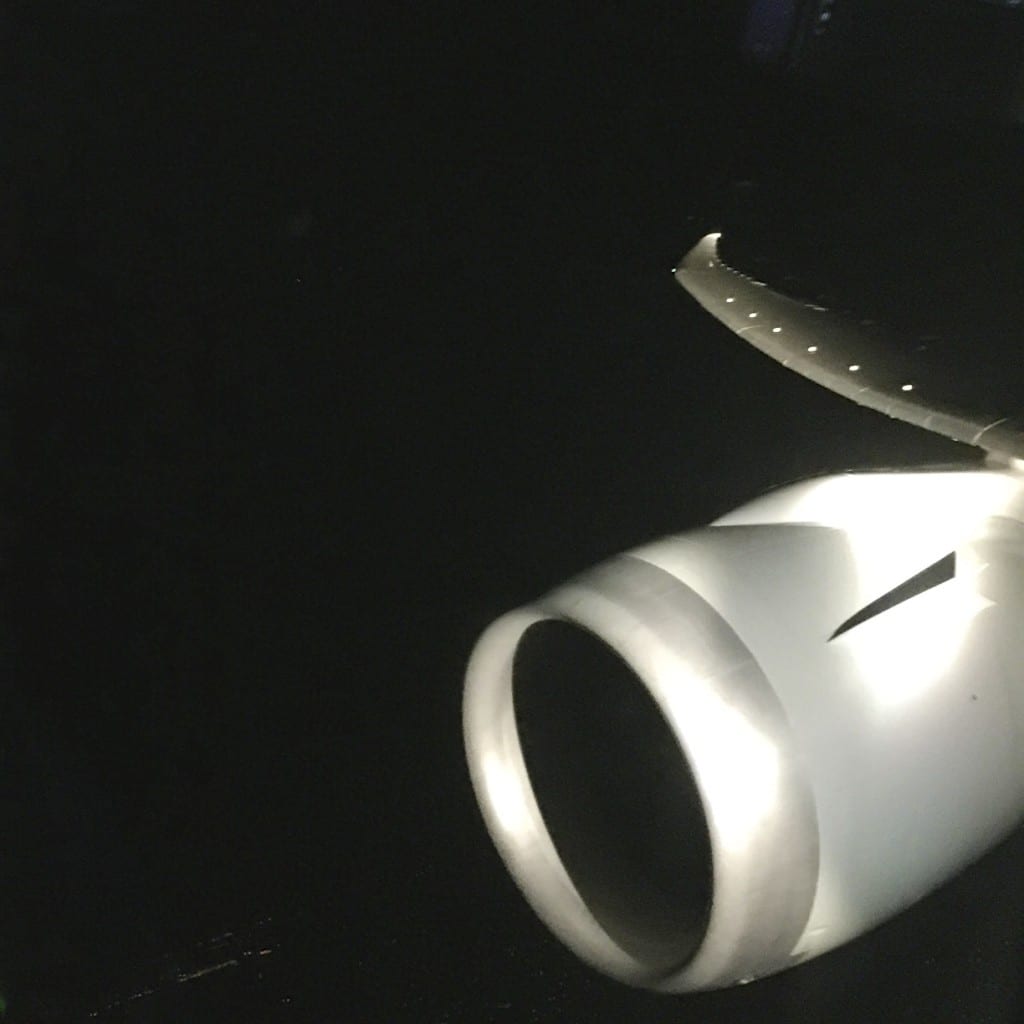 It was cool to watch how much the composite wings flex during takeoff and landing. Sadly, it was dark out so there wasn't much to see after they switched the exterior lights off.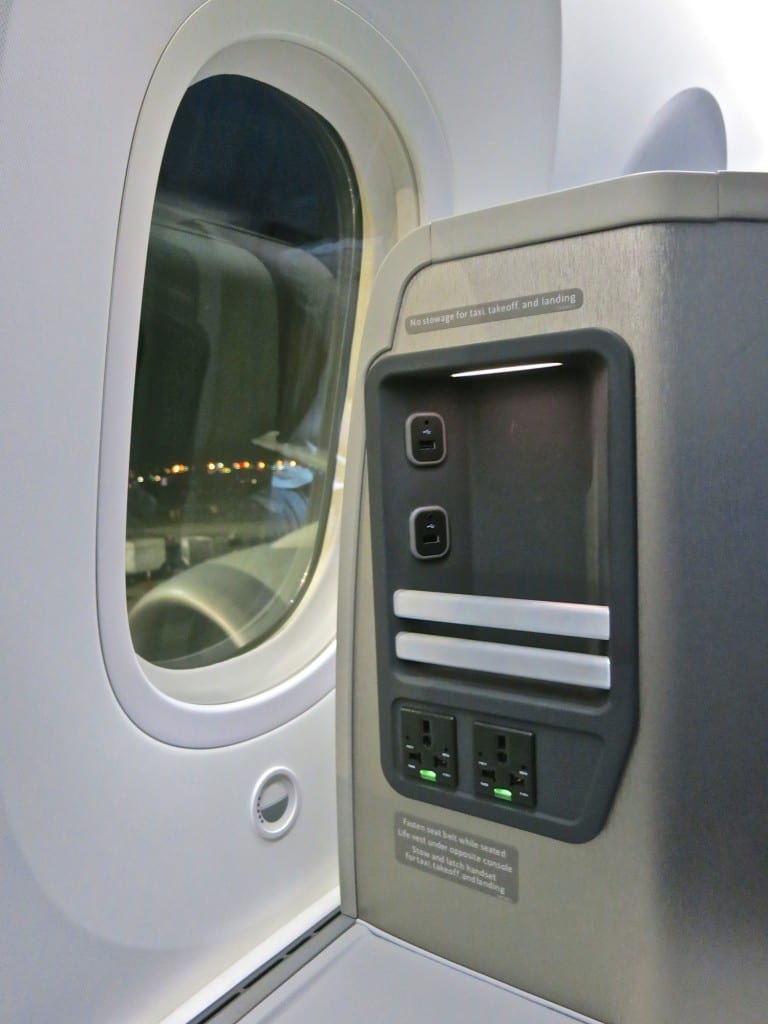 I love the larger windows with the dimming function. Each seat has two USB charging ports in addition to two international power plugs for charging your devices. Safe to say there is no shortage of charging options.
I'm 5′ 11″ and definitely had more than enough room when seated and in lay flat mode. There is a cubby for storage underneath the ottoman, where you can rest your feet.
The AV system worked great with an array of movie, TV, music, and game selections to choose from. You can use the touchscreen to choose your programming or use the AV control below.
The seat and AV controls are to your right. You also have access to an LED light. The AV control pops out of its dock and you can choose which content to enjoy. The AV screen is touchscreen but it can be quite a stretch to select what you want.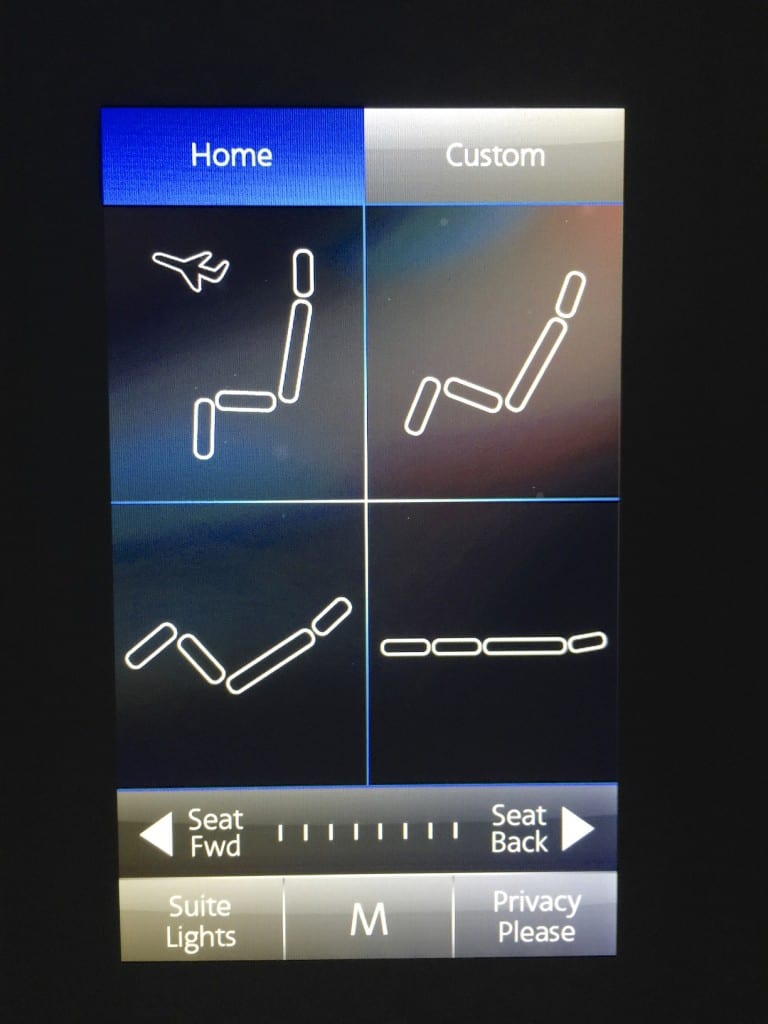 The touchscreen controls are slick and allow you to adjust the seat to a variety of positions. You also control the overhead lighting with the seat controls, which was a little confusing at first.
The tray table was designed with a lot more thought than the American 767-300, which has a horrendously engineered tray table.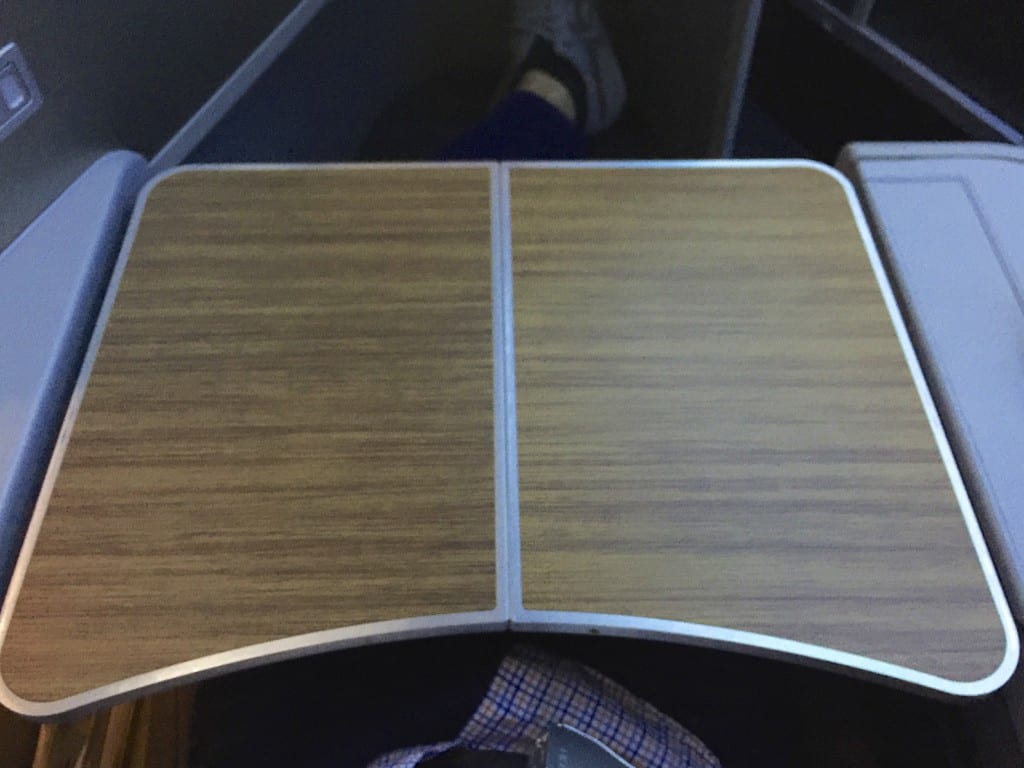 Service was mediocre and my drinks were empty for quite a while before they were refilled. It was a short flight and even so service was noticeably slow.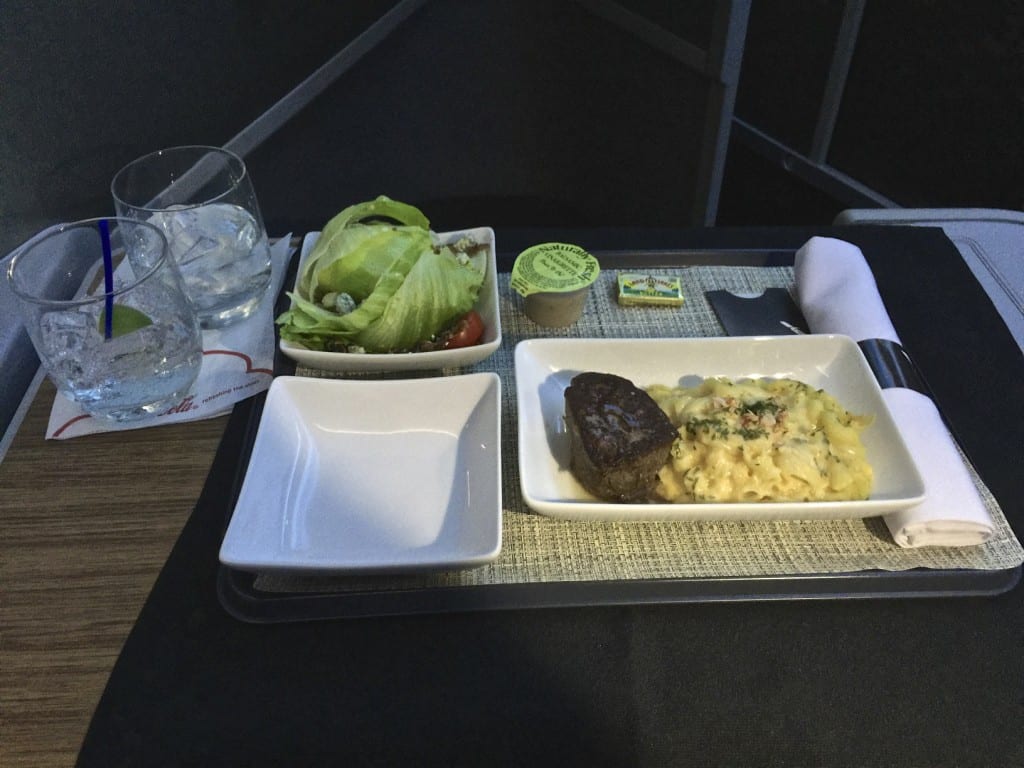 Dinner included steak, mac & cheese, side salad, and a bun. The steak was decent but a little tough. The macaroni was delicious. I washed it down with a glass of sparkling wine.
I was asked if I'd like one or two warm, delicious cookies. Obviously, I splurged for two cookies. I need to squeeze everything out of my miles.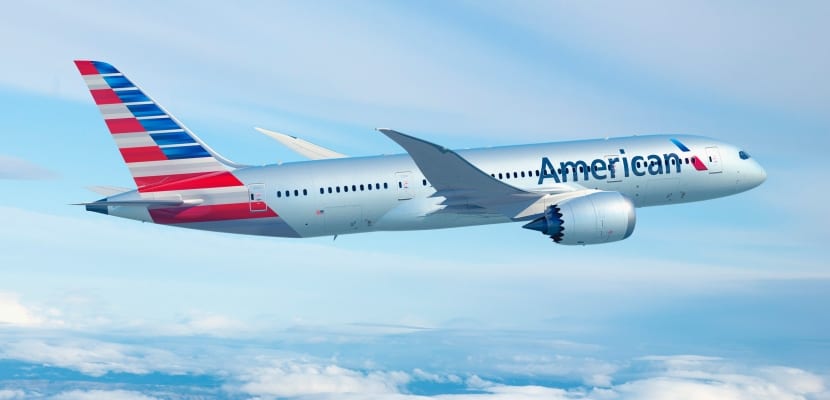 Bottom Line 
I thoroughly enjoyed my first Dreamliner experience. I'm excited to try the Dreamliner again in 2016. Mrs. TT and I are booked on Air Canada's new 787-9 in Business Class from Zurich to Toronto next fall, so it will be interesting to see how it stacks up in comparison. If you live in Chicago or Dallas you can snag a flight on the American 787 Dreamliner for $119 round-trip in Economy or $479 in Business Class. United also flies the Dreamliner on routes in the US and abroad. Check out where the 787 flies from a previous post from more info. Let me know what you think of the American 787 Dreamliner in the comments below!