Over the past few years, United Airlines has put significant efforts into the rebranding of its flagship business class product in which they call Polaris. As a part of this effort, they have been rolling out Polaris Lounges at their hub airports across the country. These lounges are their new flagship airport lounges for passengers flying in premium cabins to international destinations.
On June 29th, 2018, the airline opened the doors to the new United Polaris Lounge Houston. I recently flew from Houston (IAH) to Manchester, England (MAN) on Singapore Airline's business class which was booked for 65,000 Singapore KrisFlyer miles. Being Singapore and United are Star Alliance partners, I would have access to the United Polaris Lounge Houston. I was more than excited to check it out.
In this post, I will be doing a full review of the United Polaris Lounge Houston (IAH).
How To Access The United Polaris Lounge Houston
United Polaris Lounges are intended for international premium cabin passengers as mentioned above. Because of this, there are two ways in which you gain access to the lounges. They are listed as follows.
If you are flying United Polaris business class on a long-haul flight, you can access the lounge at departure, connecting and arrival airports on the same day your tickets are issued for. You will not be allowed to bring any guests in with you.
If you are flying on any Star Alliance airline in business or first class nonstop out of Houston. If you are accessing the lounge this way, you will only be able to access the lounge prior to the international long-haul segment of your trip. That means if you are originating in Houston but have a connection before your long-haul flight, you will not have access.
Because I was flying on an award ticket with United's Star Alliance partner Singapore Airlines nonstop to Manchester, England, I was eligible to access the United Polaris Lounge Houston before my flight.
Location of the United Polaris Lounge Houston
The United Polaris Lounge Houston is located in Terminal E, past security, near gate E12. The lounge is easily accessible from almost all United and Star Alliance partner gate locations. Additionally, the lounge is open daily from 5:30 AM until 10:30 PM. Looking at the departing long-haul international flight schedule the day we were flying, the hours covered all departing flights that would be eligible for United Polaris lounge access.
Being we were flying Singapore Airlines, we checked in for our flight in Terminal D (see the map below). Once we were through security, the Polaris Lounge was about a 10-minute walk from our Singapore Airlines departing gate (D4) as Terminals D and E are connected airside via a catwalk.
The entrance to the lounge near gate E12 isn't large and is in fact quite unassuming, so it can be easy to miss. The actual lounge is on the 2nd floor. Once you walk in and get checked in, you take an elevator up to enter the space.
Lounge Amenities
This was my first trip through one of United's new Polaris Lounges, so as mentioned above, I was excited to check it out. We arrived at the lounge almost three hours before our scheduled departure so we would have plenty of time to experience the lounge and enjoy all the amenities it has to offer.
From the second we stepped off the elevator into the lounge I was extremely impressed. The lounge was designed beautifully and it appears that no expenses were spared. Being as the lounge can only be accessed by United and Star Alliance business class passengers, it was noticeably quiet. During the three hours we enjoyed the lounge it was easily at less than half of capacity.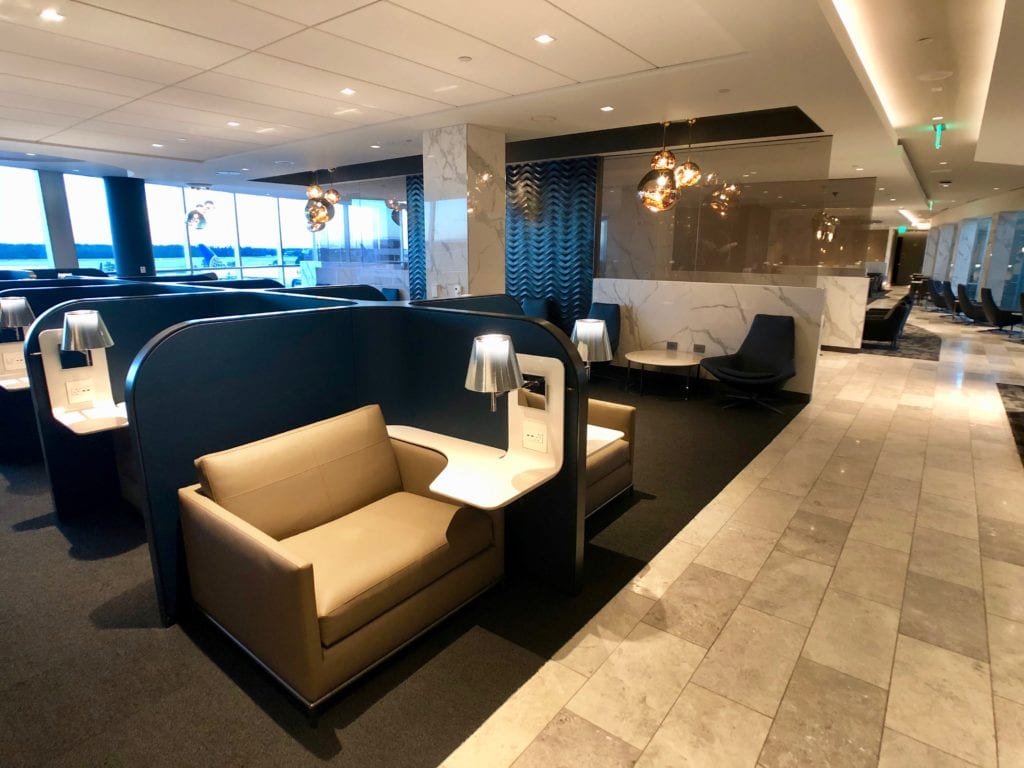 After walking around the lounge for about 10 minutes and getting a lay of the land, we decided to head into the bar to enjoy a drink. The beer, wine, and cocktail lists were impressive and more importantly complimentary.
Our bartender was fantastic and very engaging during our visit. She helped us navigate the many options and provided solid recommendations on what we needed to try.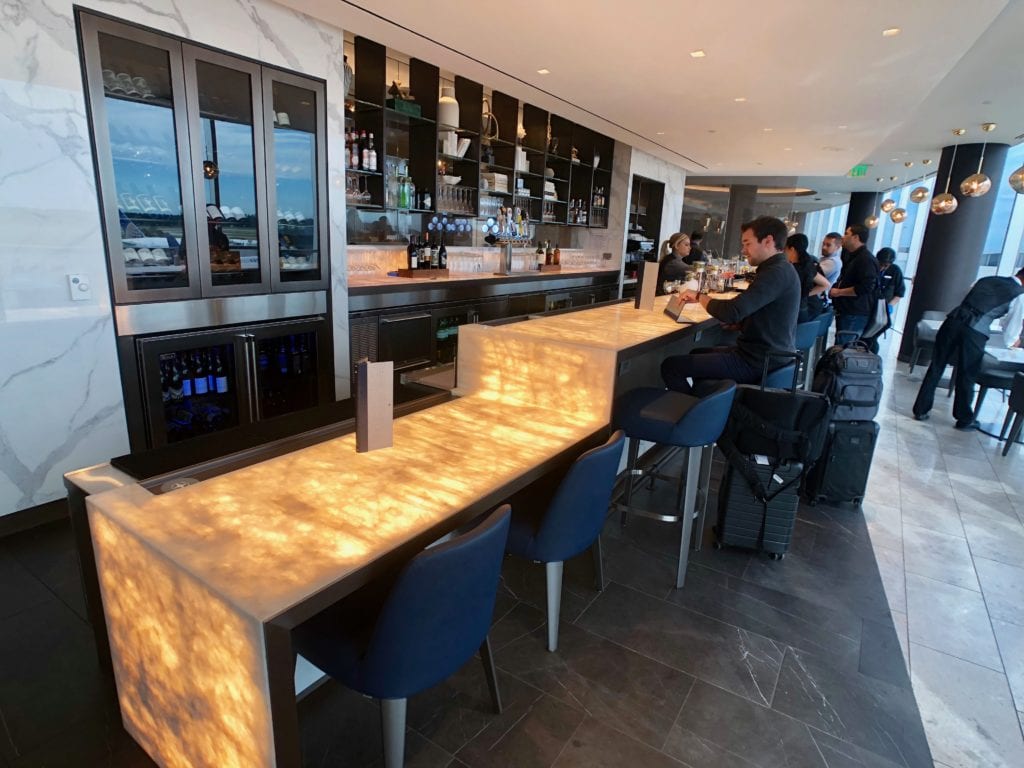 We decided to start with a glass of Piper-Heidsieck "1785" Cuvée Brut, Champagne. The champagne retails for about $45 a bottle and while it wasn't the best I have ever had it was quite good. It is hard to aruge with free champagne.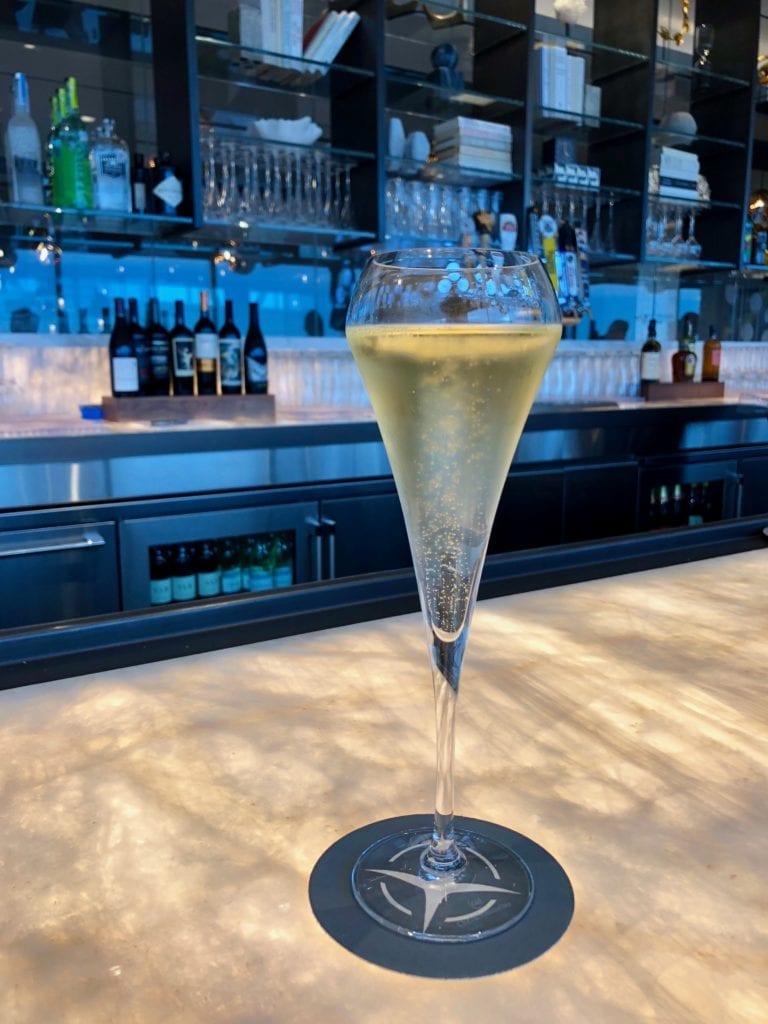 After a short while, we decided to order another drink, and our bartender highly recommended a few of the cocktails on the list. We went with a drink called the "Caliente on the Rocks" which is made with Casamigos Tequila, fresh jalapeño, orange juice, and their house-made sour mix. Finally, it is garnished with a jalepeño.
While I don't drink a lot of cocktails, I must say that this was one of the better ones I have had in a long time. Incredibly fresh, delicious & complimentary.
After our drinks at the bar, it was getting close to dinner time and we wanted to grab something to eat before boarding our flight to Manchester (MAN). There are a few different food options at the United Polaris Lounge Houston. The first of which is the self-service buffet that is just behind the bar area.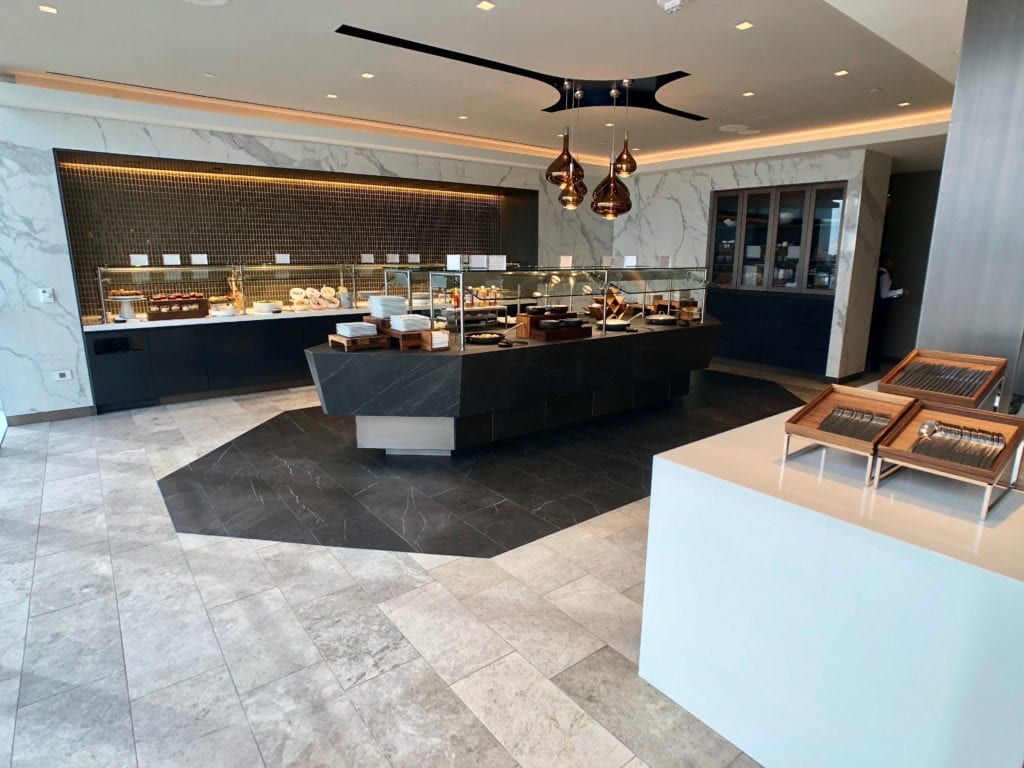 There were a lot of smaller plate food options that looked good, but since we had plenty of time, we opted for the sit-down dining room option within the lounge. As was the case with most of the lounge, there were only a few guests in the dining room when we arrived.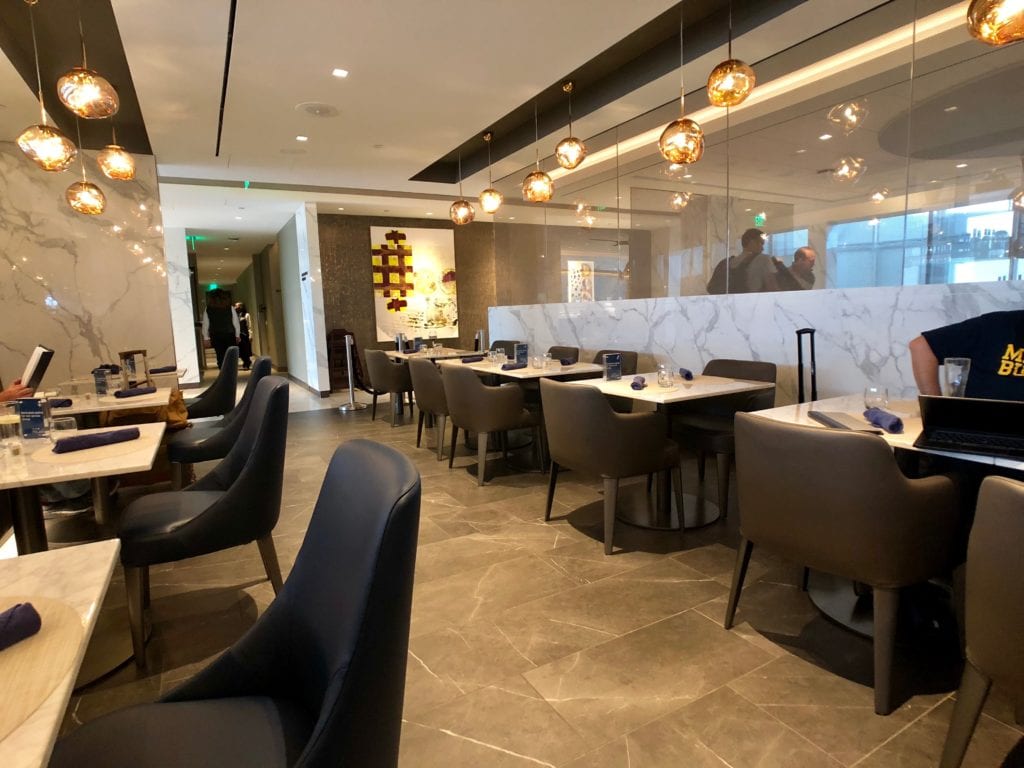 There were five options to choose from in the sit-down dining room. I opted for the Polaris burger which was served with bacon and a fried egg on top. It was delicious.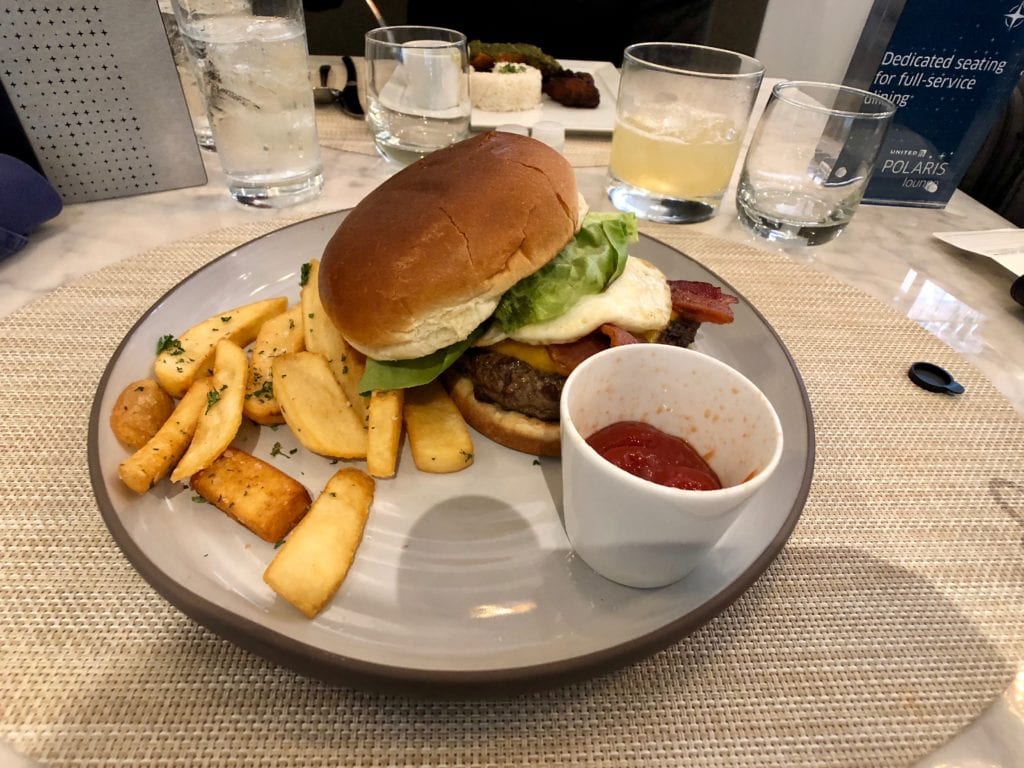 Mr. TT opted for the chimichurri chicken entree. He also thought it was very good.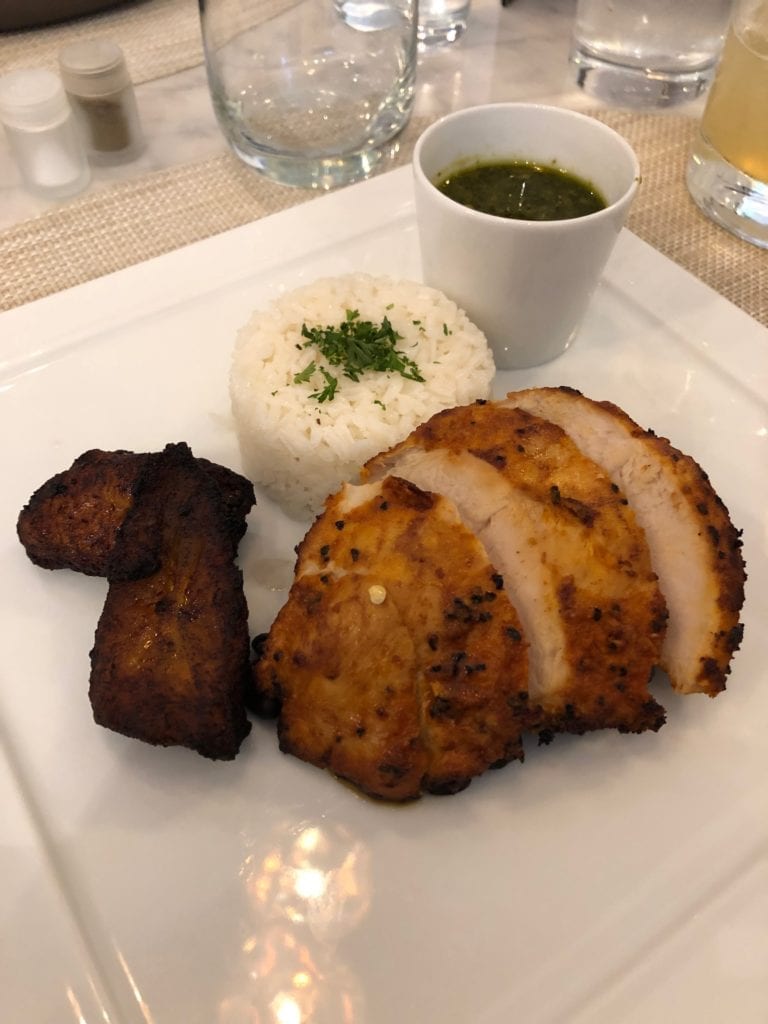 The food we enjoyed in the United Polaris Lounge dining room was easily the best food I have eaten in an airport lounge. It is all complimentary (plus gratuity) for lounge guests and the menu options were well thought out. If you have time before your flight, opt for the dining room experience. You won't be disappointed.
Lounge Seating
The lounge has a variety of comfortable seating options with plenty of outlets to plug in all of your electronic devices. As mentioned above, traffic was very minimal during our visit, so we had our pick of seating options.
There are also lots of seats facing the windows with views of the tarmac. You will have views of United flights departing out of the E gates.
Many of the seating options provided ample privacy for solo travelers. This provides a great atmosphere to get work done before your departure.
Scattered throughout the seating areas were a few different self-service drink stations offering water, coffee and a few different kinds of juices. In the fridges below, there were also bottles of water and cans of soda.
On one end of the lounge, there were showers and nap rooms. Being Houston was the start of our journey, a shower and/or a nap wasn't necessary so we didn't get to experience either of these. However, if you were flying United's long-haul business class and connecting through Houston, this is a solid option to have available.
All you have to do is talk with the staff member who is attending the showers. Provide them with your flight details and get on the schedule to use either the showers or nap rooms (or both). Judging from the foot traffic in the lounge during our visit, you wouldn't have to wait too terribly long to access either of them.
Bottom Line
United hit a home run with the United Polaris Lounge Houston. While the airline seems to be cutting corners in other areas, the Polaris Lounge concept isn't one of them.
If you are departing out of Houston on a long-haul international business class ticket with United or a Star Alliance partner like Singapore Airlines or Lufthansa, make sure to check out the Polaris Lounge before your flight. It's a great way to start your travels and you certainly won't be disappointed.