I didn't know what to expect from my first trip to Colombia last month, but I definitely didn't expect to find my new favorite hotel in the world.
My wife, Allie, and I headed to Hotel Las Islas Baru near Cartagena almost on a whim, looking to find somewhere affordable yet still nice to get off-the-beaten path on the ocean after spending several days exploring some of Colombia's busiest cities. What we found were incredible private pool villas and treetop bungalows, a private island beach retreat, and a massive yet intimate resort that somehow made you feel both immersed in nature … yet still taken care of, just as you would at even the highest-end properties.
It was simply too good not to share. And I'm convinced it's one of the best ways to use the new $200 annual hotel credit on the Platinum Card® from American Express to turn what's already luxury on a budget into an absolute steal.

The Resort & Getting There
When you think of escaping to a white sand beach on the shores of Colombia, Hotel Las Islas Baru is what you're looking for – to a T.
Hotel Las Islas is located right on the Caribbean sea on the shores of the Colombian island of Barú, not too far from the popular city of Cartagena. It's about an hour's drive from central Cartagena, though you can also get there by boat (or even by helicopter!)

This is a remote resort, built inside the mangroves that hug the coast of the Caribbean Sea. While it's just an hour or so from the bustling city of Cartagena, it feels like a world apart.
Once you make it to the property, it feels positively massive … and almost magical. At one moment you can feel lost in the tropical forest. The next, you're staring out at the crystal blue waters of the sea.

Beyond all the villas, restaurants, amenities, shops, and activities, it was a blast just to walk (or bike) through the resort grounds, winding from pathway to pathway through the forest.

There are cool spots to get lost throughout the resort, like this area with hammocks overlooking the ocean.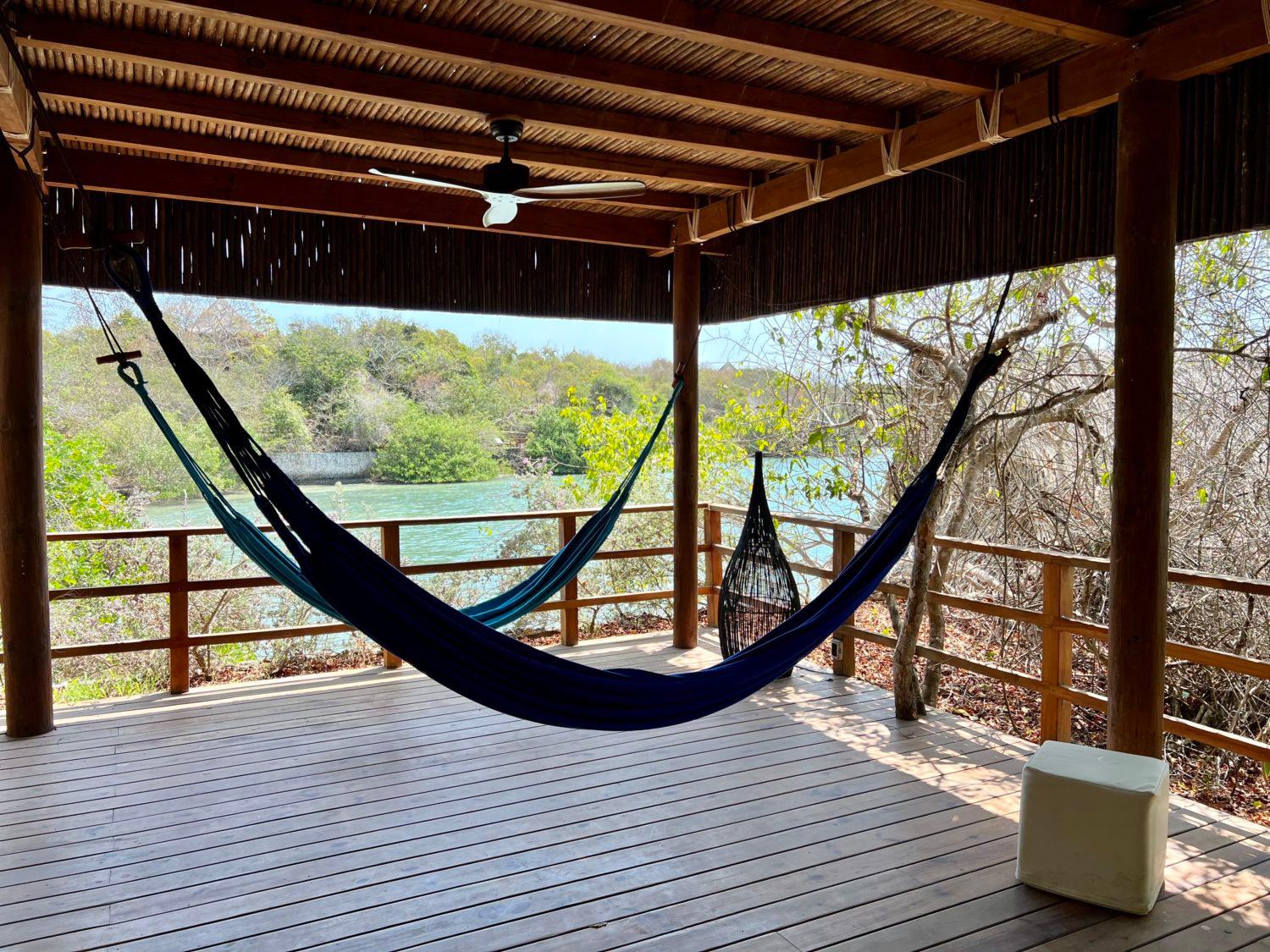 The resort has 57 private villas in all: Roughly half with private pools built along the ocean while the other half were built in the forest itself as treetop bungalows. There's an assortment of sizes with different amenities to pick from, plus a few special villas like one with direct access to the ocean.

The treetop bungalows are infinitely cool, but the pool villas set along the ocean are perfect. More on our villa later…

While it might not be in the name, Hotel Las Islas Baru is an ecotel: They take great pride in protecting the environment and the mangroves the resort calls home. That means seawater pools, an emphasis on responsible water usage, and leaving the mangroves as undisturbed as possible.
But they're not skimping on amenities that you'd expect at a high-rated resort, either. There was a dedicated dive center for those looking to head into the reefs, a store with handicrafts made by local artisans, a coffee and gelato shop, a full-service spa, a gym, and more. Hotel Las Islas has seemingly thought of everything.
Of course, there's a beach at the center of the resort. While not massive, it's a quite nice with plenty of small pockets to get some additional privacy. And yes, this is one of those near-perfect white-sand beaches with blue waters. You can take paddleboards or kayaks out here to take a spin around the bay or just relax.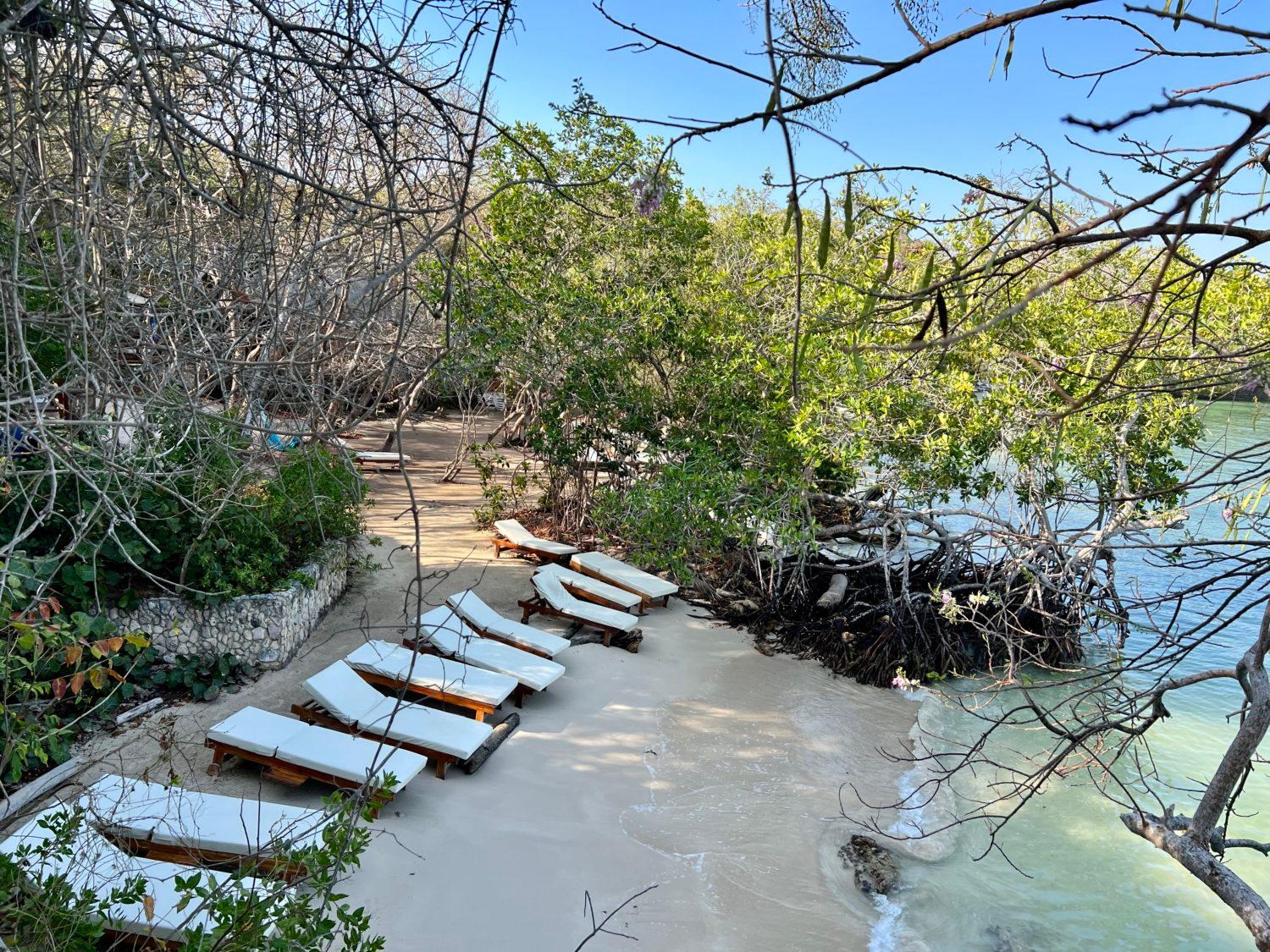 While we didn't do much beyond simply soaking in the sun in this incredible atmosphere, there's also an extensive list of activities available at the resort: some free, others paid. You can pay for a guided tour through the local mangroves, get a free nighttime tour of the bioluminescent bays nearby, go on an "astrotour" courtesy of the hotel's rooftop telescope, take a Colombian cooking class, and much more.
Or you can even make a new friend. Every hotel employee gave us a different name for this small monkey who liked to mingle with guests at the main reception area, but he was incredibly friendly – if a tad mischievous.

A Perfect Pool Villa
To me, this is perfection. I cannot fathom a better setup for a hotel room. Yes, this was all our villa. All ours.

Each of the 57 villas at Hotel Las Islas Baru is not just numbered but also named, in honor of one of the many Colombian islands. We were in villa #17, named Providencia. Each of these sea villas has a large deck with a table to eat, sun loungers, and a private infinity pool with water spilling into the ocean below. It's beautiful and tranquil.

The two-tier deck made our private space feel even larger.

Our villa faced to the west, which made for some incredible sunsets from our private deck.

But it wasn't just the outdoor space that made it so great. While the villa itself wasn't massive, it was absolutely beautiful. There's one large room with a desk, two closets, a safe, plenty of storage, and even a small seating area. On top of an overhead fan, the room had excellent air conditioning as well as a TV mounted from the ceiling. There was also a fairly well-stocked minibar.

The bathroom was great, too. While there was no bathtub, it had a double vanity as well as a large shower. The bathroom was stocked with nice L'Occitane amenities and the toilet was even equipped with a Japanese-style bidet seat.

Perhaps my favorite villa amenity were the two dedicated bikes – labeled with our room number and everything – that we could use to get around the resort.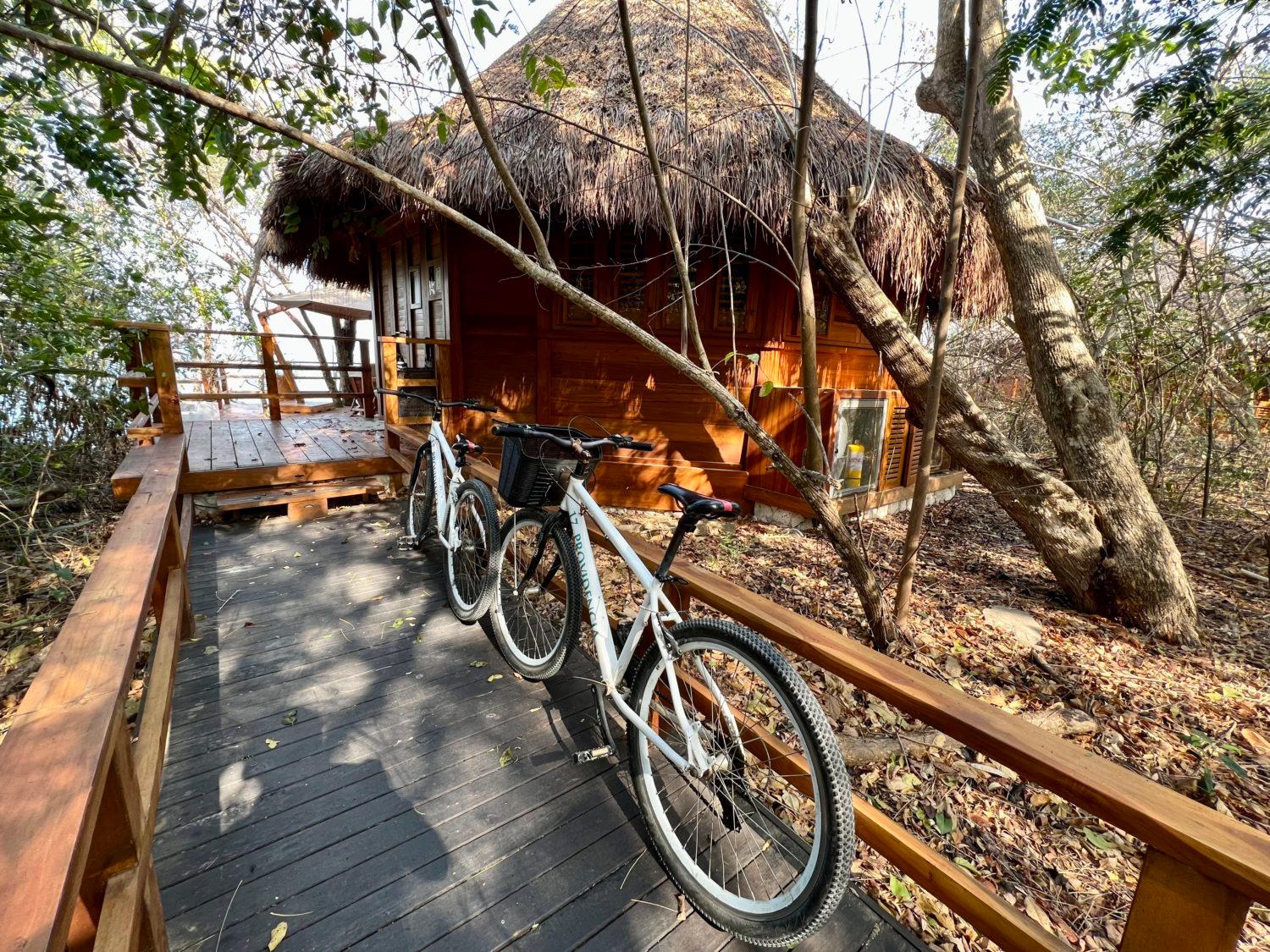 A Private Beach, Too
The beach at the resort itself is great. But there's another sandy spot to go at Hotel Las Islas … on a private island they call Isleta.
This small island is just a five-minute boat ride from the resort, and it's free. There's no need to make a reservation through the hotel, either: Just head to the main maritime reception area and hop on a boat, which runs constantly from about 10 a.m. until 5 p.m. or so.
Isleta is actually home to a massive private villa, which can be rented out for large groups. It's also where a houseboat dubbed "Casa Navegante" docks.
Much like the resort itself, Isleta is a stunning spot … with an even nicer beach.

There's also a great pier sticking out into the ocean, another great spot to soak up some sun.

There's also another infinity pool looking out over the ocean.

There is a bar onsite at Isleta, but no food. Hotel Las Islas Baru has solved that, too: We ordered lunch via WhatsApp with the hotel, which was delivered within an hour or so.

Food & Drink
Hotel Las Islas Baru was full of surprises when it came to dining and beverages … in a good way.
Let's get the big thing out of the way: Prices. You typically pay a premium (and a big one) to eat and drink at a five-star resort in a fairly remote location without other dining options nearby. So we were surprised to see that prices were more or less on par with Cartagena.
A Colombian beer at Las Islas cost 15,000 pesos – a hair under $4 USD. An entree at lunch or dinner could run anywhere from about $12 USD to as much as $25 or so. You get the picture: While certainly expensive compared to the cheapest spots in Colombia, it still seemed fairly affordable.
Aside from our beachside lunch on Isleta, each meal was hosted at a different site on the resort. Otherwise, you can have any meal delivered to your room through room service 24 hours a day – usually within 30 minutes or so.
Breakfast each morning is at Restaurante Tía Coco, which is set on the water in another (stop me if you've heard this before) stunning setting.

Breakfast was a two-part affair. First, you order drinks and any-made-to order eggs you'd like from a waiter. Don't pass up on the freshly made arepas, which you can have stuffed with an egg and even cheese inside. Then there's an impressive buffet spread with fresh fruits, baked goods, and meats and cheeses. The fresh-squeezed juices were a highlight too.

Lunch is served at the main beach area at a restaurant called Restaurante & Bar Choco. Don't miss the Mona Prieta ceviche, which I may or may not have had for lunch every single day during our stay.

And dinner is served at Restaurante Las Guacas at the main club house, a beautifully designed and tastefully decorated open-air setting with multiple levels.

One night I had the Cartagena seafood stew with patacones and rice – and my wife had it the following night. It was that good: We both agreed it was one of the best things we'd eaten during our entire trip to Colombia.

Head up the stairs afterward for a nightcap at the bar on the third level of the clubhouse – and don't forget to look down as you wind your way up the staircase.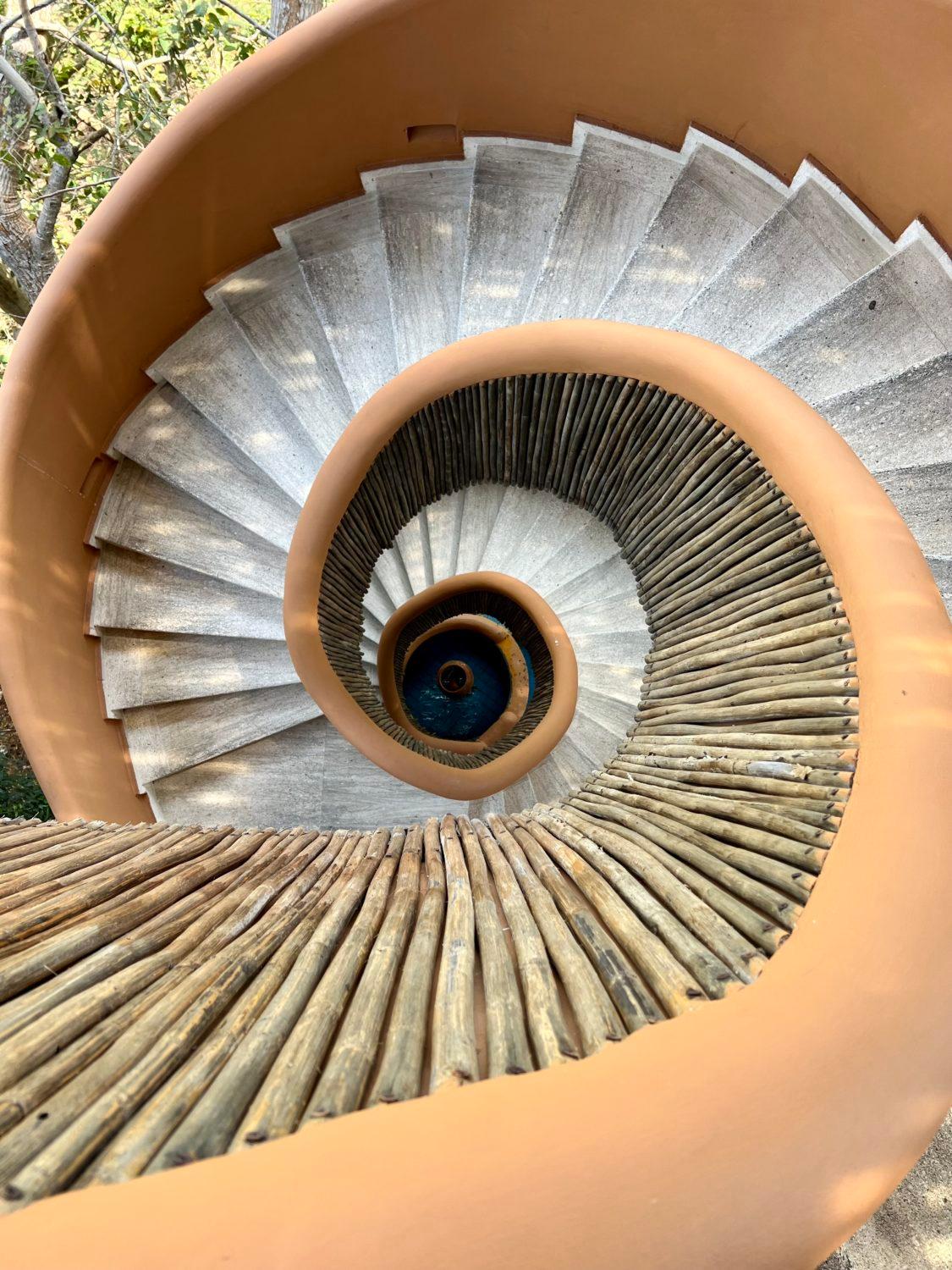 Throughout our stay, all the food and drinks at Hotel Las Islas were somewhere between great and excellent. After three days at the resort, I could see getting bored of the options on each menu or running out of new things to try over the course of a longer stay. With all the space at the resort, it might be nice to see Las Islas set up additional restaurants offering distinct menus at each spot.
A Few (Small) Complaints
No resort is perfect. As dreamy as Hotel Las Islas Baru was, there were a few things worth nitpicking during our stay.
The service may not be exactly up to the loftiest five-star standards – but this isn't your typically five-star hotel in the middle of the city, either. The resort handles many requests through either phone calls down to the front desk or WhatsApp messages, and in some cases the responses were a tad slow. But friendly staff also offered nightly turndown service, bringing an ice-cold jug of drinking water and shutting the blinds – no small task in this wood-paneled villa with a wall of windows.
Personally, the service was exactly what I wanted. I much prefer a hands-off approach where employees will happily get you anything you need rather than being constantly doted on. As is the case throughout much of Colombia, a little bit of Spanish can go a long way in improving your experience. I found everyone warm, kind, ready to chat in either Spanish or English when my Spanish failed me.
The water pressure in the shower could be a bit spotty: At times it was hardly a trickle, while others it was just fine. That's not unusual for properties in such a remote setting. While the bathrobes were great, the towels and other linens could have been a bit fluffier – though, on the plus side, the bath towels were massive. And though I slept just fine, the bed itself was certainly on the soft side – just in case that's a dealbreaker for you.
But I'd still go back to Hotel Las Islas Baru in a heartbeat. In fact, I'm planning on it.
How to Book Hotel Las Islas Baru
Last year, American Express overhauled its Platinum Card® from American Express, hiking the annual fee while adding a slew of new benefits including a $200 annual hotel credit to the to use to book Fine Hotels and Resorts and The Hotel Collection properties.
Lucky for us, Hotel Las Islas is part of Fine Hotels and Resorts – it's how we found this resort, in fact. And I can't think of a better way to use up that credit than this property.
Fine Hotels and Resorts bookings made through Amextravel.com are eligible for a handful of perks that sweeten an already incredible stay, including early check-in, guaranteed late-checkout, free daily breakfast for two, and a special amenity worth up to $100 – in this case, one-way transportation from Cartagena's airport to the resort.
Nightly rates at Hotel Las Islas Baru seem to hover around $385 to $400, though that can get much more expensive during peak travel times. In my experience, those rates are nearly identical when booking through Amextravel.com. There's no reason not to book through Fine Hotels and Resorts … especially when you've got a $200 hotel credit to use.


That's exactly what we did – actually, we booked our two-night stay in a creative way to save even more. I booked the first night of our February stay at the end of the December 2021 and a second night on Jan. 1. The Amex Platinum Card's new hotel credit resets on a calendar-year basis, which meant that the $200 credit kicked in for each night.
That brought what should have been a $772 charge for a two-night stay down to just $372 total. At many other places on the globe, a two-night stay at a resort like this would have cost $1,500 … if not much, much more.
And because we booked two one-night stays separately, we also received complimentary roundtrip transportation to and from the resort. It was easy and seamless to set up our drive from Cartagena to the resort and then back to the airport by chatting with the hotel directly through Amex.
Bottom Line
Weeks after our stay, I'm still dreaming about Hotel Las Islas Baru.
This resort had absolutely everything I want out of a high-end hotel stay: A private villa with plenty of outdoor space (and even our own private pool), plenty to see and explore around the property, great service, and good food and drinks onsite, too.
But to stay here for less than $200 a night after using a credit card perk? Pinch me. I'll be back.