The new benefit for Delta SkyMiles American Express cardholders that gives you 15% off SkyMiles award tickets is a massive boon for Delta flyers, and that's especially true for travelers with existing SkyMiles bookings.
On Thursday, Delta and American Express officially launched TakeOff 15 – a sweet new benefit for both new and existing Delta SkyMiles American Express credit cardholders that gets you at least a 15% discount on SkyMiles award tickets booked through Delta on Delta-operated flights.
But you might be thinking, what about the SkyMiles flights I've already booked? Can I get that same discount on those fares? The short answer: You can get the 15% discount, but you're going to have to cancel and rebook the flights to do so. 
While it's not as simple and easy as changing your flight to get an e-credit for the difference like you can with flights booked with cash, rebooking your existing SkyMiles reservations to take advantage of the new TakeOff 15 discount is probably a smart move, and relatively straightforward.
Here's everything you need to know if you have an existing SkyMiles reservation and want to take advantage of the new 15% off benefit.
What is the TakeOff 15 Benefit?
TakeOff 15 is a new benefit for Delta SkyMiles American Express cardholders that provides at least a 15% mileage discount when redeeming SkyMiles for Delta-operated award flights.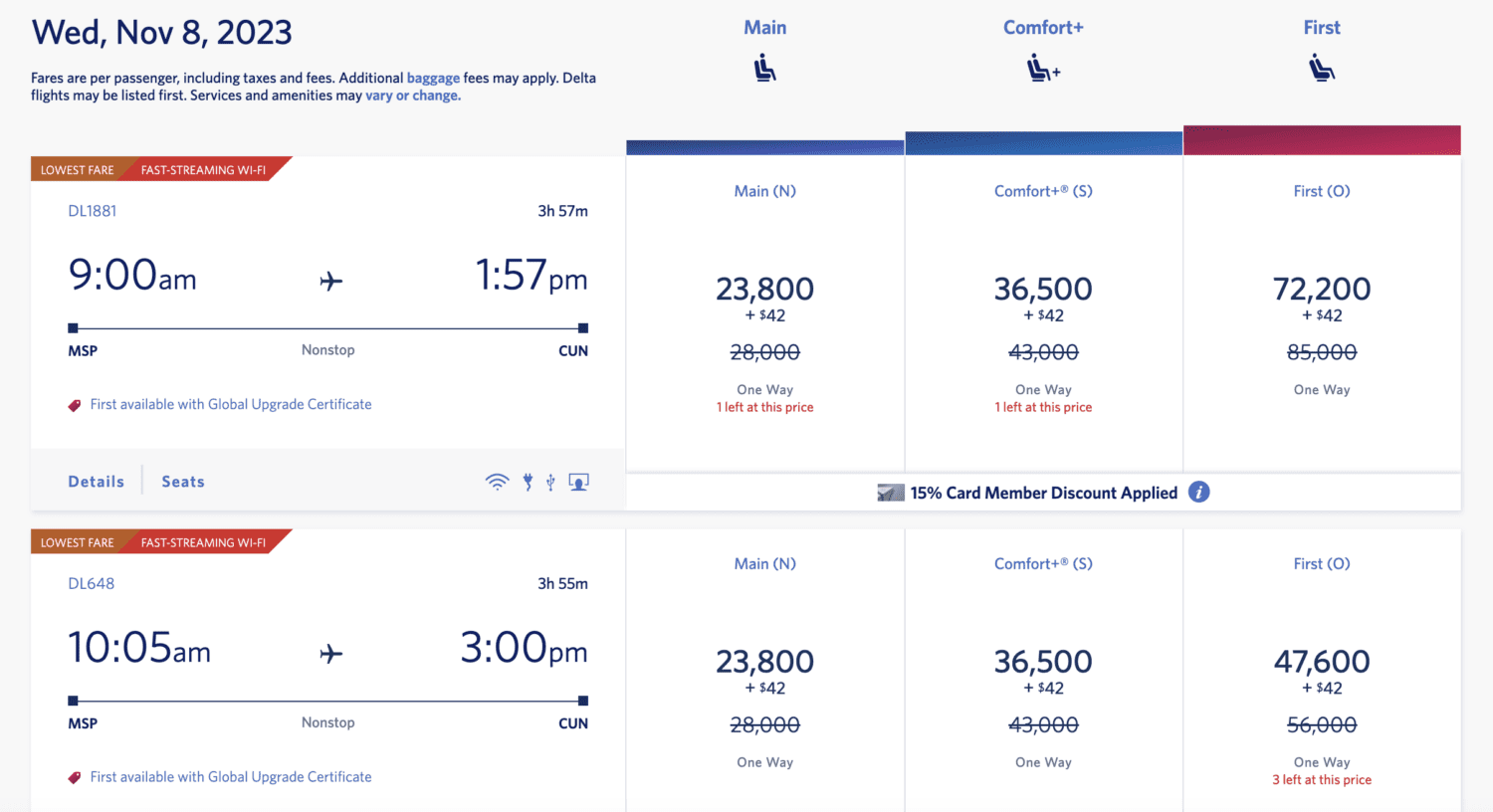 It's available on both consumer and business versions of the Delta SkyMiles Gold, Platinum, and Reserve credit cards. Only the no-annual fee Delta SkyMiles® Blue American Express Card won't have access to the new benefit.
The TakeOff 15 discount will be automatically applied at checkout when you are booking with SkyMiles as long as you are logged into a Delta account associated with a SkyMiles credit card.
The TakeOff 15 discount will only apply to Delta and Delta Connection-operated flights. It won't be available on flights operated by other carriers like Air France, KLM, and other SkyTeam alliance partners.
There is no limit to the number of times the TakeOff 15 benefit can be used.
The TakeOff 15 discount does not apply to any taxes and fees associated with the award booking. Per the terms and conditions, you must use your eligible Delta credit card to pay those taxes and fees.
The discount is only available to the primary cardholder. Authorized users won't see the 15% discount reflected.
You must be logged into your SkyMiles account and book through either delta.com or the Delta mobile app for the discount to apply.
The benefit will not apply to Pay with Miles or Miles + Cash bookings.
The benefit will not apply to seat upgrades made with SkyMiles after the purchase of your original flight. It also won't apply to other Delta products or services.
So, what if already have one or more Delta SkyMiles bookings in your "My Trips" tab on the Delta app? Well, importantly, the TakeOff 15 discount doesn't appear to be available when trying to change an existing SkyMiles booking. You'll need to cancel for a refund of miles and rebook to get the TakeOff 15 discount.
More on that later.
What Delta Cards are Eligible for the TakeOff 15 Benefit?
If you have one of the following Delta credit cards, you are eligible for 15% award tickets booked with SkyMiles on flights operated by Delta or Delta-Connection.
How Does the TakeOff 15 Benefit Work?
As long as you hold one of the cards above and you are logged into a SkyMiles account, you should already see the TakeOff 15 benefit reflected when searching for flights.
TakeOff 15 isn't a points rebate that gets credited at a later time, but rather an instant discount on award tickets booked with Delta.
You'll see the original mileage price crossed out and the new TakeOff 15 pricing which reflects the 15% discount. You'll also see a small image of your card with the text "15% Card Member Discount Applied."
The TakeOff 15 benefit is available for all booking classes. That means whether you are booking a basic economy ticket or all the way up to a Delta One business class ticket, you should see the 15% discount applied.
How Do I Get the TakeOff 15 Discount on Existing SkyMiles Bookings?
Let's say you carry a SkyMiles credit card and already have a SkyMiles booking in your account, but would like to take advantage of the TakeOff 15 benefit. Unfortunately, there's no e-crediting process to simply and easily get some SkyMiles back without rebooking.
Here's what you should do instead:
1. Search For the Flights You Already Have Booked
You should start by replicating the search for the flights you've already booked with Delta SkyMiles. One important note: Make sure you're logged in to your Delta account so the discount is reflected.
Once those search results come up, compare the price you're quoted to the price you already paid for your SkyMiles.
Important: This only applies to Main Cabin fares and above. You cannot make free changes to your Basic Economy SkyMiles bookings. 
An easy way to check the amount of SkyMiles you paid for an existing booking is to head into your specific trip and click on the "Need To Cancel?" button. Don't worry, this won't instantly cancel your booking.

This will show you the number of SkyMiles and the associated taxes and fees you paid for the booking.
If the price you're quoted for the new booking is higher, then just keep your existing booking (and maybe try checking again in a few days or weeks to see if it drops).
If the price you're quoted is lower, then it's time to go get a better rate.
2. Dump Your Existing Reservation
If the price is lower after you searched with the new TakeOff 15 benefit, it's time to cancel your existing reservation and rebook the better fare.
Take a look at this example for a flight we had booked from New York (LGA) to Minneapolis (MSP) for this summer.
If you booked a Main Cabin fare like we did here, you can simply cancel the reservation on Delta.com or on the app for a full, instant refund of your SkyMiles back into your account and the taxes and fees back onto your credit card.
Note: This is slightly riskier for flights that are within a week or two because the availability might not be there for a new SkyMiles fare. I recommend you check the seat map of your flight before you officially cancel. It's better to keep your seat on the plane at a slightly higher rate than miss out entirely chasing after a 15% discount.
3. Rebook Your SkyMiles Fare at the Lower Rate
Once your old reservation is canceled, use those same points (only fewer of them) to book your new, much lower SkyMiles flight.
Here's the same LGA – MSP example as we had above, but when we go to rebook, the prices are showing the 15% discount.
While these savings on this trip are modest, for long-haul flights or expensive fares, that could be the difference in being able to afford your next trip.
After you re-select your flights at their new fare, you'll see this checkout screen with the "Card Member Savings" explicitly outlined on the right-hand side.
It's important to note that because you have to rebook the reservation, you could possibly lose out on your original seat assignment.
But even if you're saving just a few thousand SkyMiles like we did in this example, it's certainly worth it to try and rebook.
Just remember, you need to have booked a main cabin fare or higher. This won't work for Delta basic economy award bookings. 
Bottom Line
If you have an existing SkyMiles reservation and want to take advantage of the brand new TakeOff 15 discount for Delta SkyMiles American Express credit cardholders, you'll have to cancel and rebook your flights.
While it's a little bit of extra work, it's well worth the effort for most flyers to save 15% or more on SkyMiles flights this year or next.